Coronavirus Pandemic and Global Response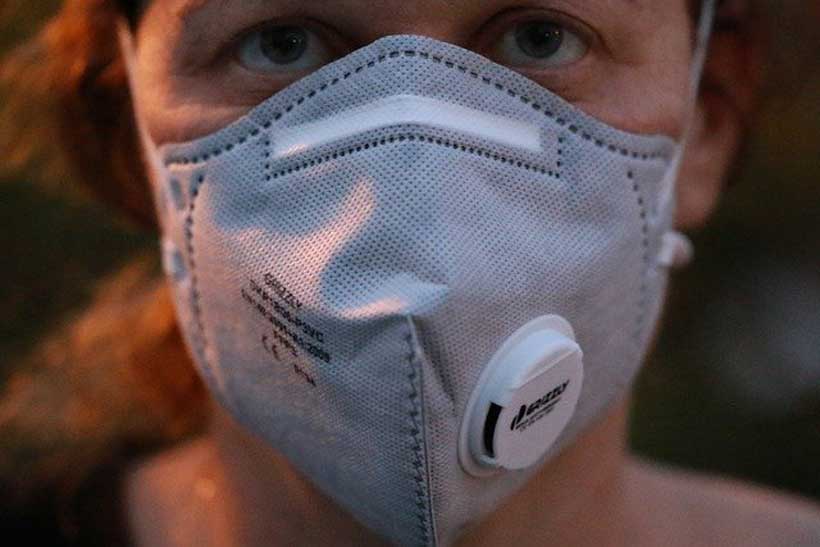 The World is undergoing serious economic, social and health crisis as the Covid-19 outbreak originating from Wuhan China, has spread to almost all the continents of the World except Antarctica – the Unhabitated Continent.
Hundreds of People died in china, Iran, France, South Korea and Italy. Italy has been severely gripped by a coronavirus. The Covid-19 after bringing catastrophe in Asia reached Europe and Africa.
Though Africa has limited cases as reported but given the alarming and catastrophic situation rising every day. The South Asian countries i.e. Pakistan, India, Bangladesh though ill-prepared to fight against this Pandemic have done a tremendous job in terms of preparations and taking preventive measures to limit the spread of the fatal Covid-19.
As hundreds of cases are reported positive, fear, economic crisis, education and health effects have played havoc to the countries to fight Covid-19. The World Health Organizations (WHO) has declared it pandemic asking countries to follow the precaution or preventive measures as circulated by WHO and Isolation facilities for those diagnosed positive.
The States have started diverting their funds towards fighting this novel Virus and having set up Emergency Health Centers and Isolation Centers for quarantining those arriving from worst-affected countries i.e. China, Iran, France, America and Italy.
Sindh has been the worst affected by this Virus with 146 confirmed cases as most of the cases are imported from Iran via Taftan.
These include those pilgrims (Zairian) who are returning from Iran after visiting holy places. CM Sindh has so far done a marvelous job by setting up Isolation and Screening Camp at Sukkur to diagnose and keep them at the facility to avert any possibility of contraction to their families.
KP stands second with sudden appearance 19 cases since these confirmed cases are also imported through Taftan border as the affected patients had recently returned from a pilgrimage from Iran. Baluchistan is on 3rd Number with 10 confirmed cases, GB 3 and Islamabad capital with 04 cases. Fortunately, there is any case in AJK.
The media is regularly breaking and updating news every moment regarding the novel coronavirus, adding the rise to the concerns regarding the sudden outbreak of the pandemic to more countries. The concerns and feelings of fear run high amid cancellations and postponement of all sporting activities, education, colleges, universities and Wedding or public gatherings.
Companies such as Google, Yahoo, Twitter, Microsoft and Apple have advised their employees to stay at home and work from their home. They also circulated the WHO guidelines among their employees and avoid gatherings of more than 10 people as announced in the latest guidelines of WHOM.
Countries are strictly following the preventive measures communicated to the people by WHO experts and putting bans on unnecessary travel in the city or out of city or borders.
It is the alarming and panicking situation since No vaccine nor has injection been made to treat those affected with the novel coronavirus. WHO cautions the countries having limited facilities to conduct tests and treat the patients advising states around the world especially the Asia and Europe to take preventive measures until the vaccine to treat this deadly virus could be discovered by Medical scientists and microbiologists?
At the moment Covid-19 has caused more deaths than Ebola outbreak in African countries, especially in Congo. According to reports that as per, the calculations based on the Center of disease control, the scenarios suggested that as many as 2.4 million to 21 million people in the U.S. could require hospitalization, potentially crushing the nation's medical system, which has only about 925,000 staffed hospital beds as reported by Media.
The number is very low to house the huge number of affected people from covid-19. It may bring a panicking situation in a developed country like the USA. Less than a tenth of those are for people who are critically ill.
It would be disastrous to deal with the pandemic given the Medical facilities available at the US and the African states.
At the moment, China is the worst hit with 3800 deaths due to novel coronavirus followed by Italy with 1800 deaths, South Korea with 75 deaths, Iran with 600 deaths.
Luckily, the situation Africa is under control since so far there are a few reported cases but there is no confirmation of the Virus cases yet.
The African nations have started preparations for fighting this deadly virus, they have one advantage of fighting with the Ebola virus and the lessons learnt from dealing with that epidemic such health and hygiene requirements.
Though African countries have limited resources and facilities yet they have started following the WHO Precautionary measures to deal with Possible outbreak of the deadly virus that has spread all over the world.
Its implications are dreadful and catastrophic for the world at large. The world has been struggling to deal with this pandemic as Schools, colleges, universities, restaurants; religious Places have been shut over the fears of this Pandemic.
People are advised through the media campaigns and instructions circulated by WHO to adopt the precautionary measures to remain safe from this disease. Though the symptoms include fever, cough, close breathing affecting lungs, the precautionary material is being aired on Media to apprise people of this deadly virus that has been spreading at a massive scale.
Unfortunately, the medical scientists and microbiologists have not been able to discover any antidote to control it from the spread and contain it. Even WHO appears to be helpless against this disease rather circulated precautionary measures to remain on the safe side until a vaccine could be made for the treatment of the virus?
The physicians have been advising the common treatment for fever such as Paracetmol ,cough syrup and self-isolation to recover from this pandemic as preventive measure .
Till date, there are 100 reported cases in African Countries with two deaths happened in Morocco and Egypt each.
According to statistics of WHO the Country wise break up of reported cases of Virus covid-19: Algeria -20, Burkina Faso-2, Cameron-2, Democratic Republic of Congo -1, Egypt highest number of cases -59 includes one death, Morocco -3 with one death, Nigeria 2, Senegal 4, South Africa -13, Tunisia -5 and Togo -1. So far, the situation in African countries is normal only Egypt has the maximum number of cases reported.
The African Countries have been well prepared to contain the outbreak that has played havoc around the world specifically in Asian countries i.e. China, Iran and Europe. There are at least 150000 reported cases worldwide and over 6000 deaths owing to this deadly virus including 3600 deaths in china alone following by 1800 deaths in Italy.
The Ebola Experience has enabled the African nations to develop a comprehensive plan to fight this Novel Corona Virus. There are about 100 cases have been reported in 11 African Countries while there were only two deaths.
Most of the cases in Egypt are those passengers who had travelled from abroad and the crew members of the ship coming from the countries which are being worst or moderately affected by the deadly coronavirus. The reported cases are just imported out of Africa as there is not any domestic viral outbreak.
However, apart from the rest of world, African states have done a tremendous job to contain Covid-19 by adopting strict preventive measures by completely banning Travel from the countries which are the worst affected by the Corona Virus.
In this connection, Rwanda has not reported any case, yet it has advised the citizens to maintain hygiene in the country. Rwanda has installed hand Washing Taps and sanitizers to defeat the viral outbreak in the country.
Similarly, Kenya has not reported any cases, yet it has established the 120-bed Quarantine centre and two Testing facilities at Nairobi.
Nigeria has also made mandatory to use hand sanitizers while visiting banks, restaurants, Office and supermarkets to limit the spread of deadly Novel Corona Virus.
Even several health workers have been deployed by the Government of Nigeria at the international Airports to screen the passengers to avert any possibility of a contracting virus.
According to News reports that the Experience of Nigeria's dealing with the Ebola Virus has enabled the African Nations to adopt the preventive measures to limit the contraction of Novel Coronavirus in the country.
All the Airline companies have suspended their flights over the fears of Covid-19 that include Rwanda Air, Kenyan Airlines, and Royal Air Morocco.
The lessons learnt from the Ebola virus have strengthened the preparation of African Nations to fight Novel coronavirus effectively since they have focused on maintaining hygiene in light of their dealing with the Ebola outbreak.
They have learnt that hand washing is the first line of defence against any viruses. The case studies of Ebola have furthered their defence.
On the other hand, China has been able to overcome the outbreak by bringing the number to single digits. WHO has also recommended learning from China how it faces this pandemic.
Chinese Experience should be utilized to help control the pandemic in Italy as it has been worst hit by Covid-19 where the death toll crossed 1800 People and Iran 600 people.
Even WHO should take experts from African countries, China and Europe to develop a strategy to fight this pandemic. The pandemic has been contracted in India with confirmed cases of 107, Pakistan with confirmed cases of 189 as per the latest information available. The numbers are constantly growing increasing concerns of people regarding the preparedness of various nations against this Pandemic.
Though, the cases reported and confirmed in South Asia are mainly those who travelled to Iran, Syria, and China. There is so far no confirmed case of domestic nature or any death. Even, there is no death reported yet in Pakistan, India, Bangladesh, Nepal, Bhutan, Afghanistan and Sri Lanka.
Luckily, after a long time, SAARC Leadership held the online Video conference to exchange level of readiness against this Novel Corona Virus. The Video Conference was held on the request of Indian PM Narendra Modi. Dr Zafar Mirza proposed a regional Mechanism to fight covid-19 and even demanded to lift Curfew in IOK over the concerns of Novel Corona Virus.
Finally, it is essential to follow WHO prescriptions to remain secure until the vaccine could be developed for this deadly virus. Medical experts claim that the vaccine may take 18 Months to be available to fight this Pandemic.
WHO has cautioned the developing countries around the world to take preventive measure to prevent people from falling prey this pandemic especially those who have limited resources and ill-prepared to fight this Deadly Covid-19 effectively.
The Circumstances in Sindh are very alarming, Government of Pakistan must take strong measures of screening at Taftan border with the composition of experts from Health Ministry both Public and Private Sector to fight this Pandemic and contain it from spreading rapidly.
Has Modi Conceded 'South Asia' to the United States?
Prime Minister Narendra Modi has been pursuing an assertive and confrontational foreign policy. From carrying out 'surgical strikes' across the Line of control to unilaterally scrapping Kashmir's special autonomy, Modi has shown that he has no aversion to undertaking bold actions. For the last seven years, he has essentially reshaped India's foreign policy to match the brand of muscular nationalistic politics that he and his party have pursued for decades. In other words, like India's domestic politics, its foreign policy has been (excuse the pun) Modi-fied. However, no other foreign policy position of the Modi government would be as consequential as his decision to align India with the Quad, a NATO-like strategic coalition centred on the Indo-pacific. By joining the alliance, Modi has removed the last Nehruvian pillar of New Delhi's foreign policy: Non-alignment.
Following Independence, India's first Prime Minister Jawaharlal Nehru crafted India's foreign policy on the Principles of Anti-Imperialism and solidarity among the third world states recently broke free from the shackles of colonialism. Nehru was one of the founders of the Non-Aligned Movement along with Nasser and Sukarno. Despite being a comrade and disciple of Gandhi, Nehru was in no way a pacifist. He was not hesitant in using force to pursue Indian national interest wherever and whenever it was possible. Under Nehru's leadership, India invaded and occupied Goa from the Portuguese. He also initiated India's nuclear program. Nehru envisioned India as the hegemon of South Asia, which he believed was the country's 'manifest destiny'. He proposed a 'Broad doctrine' that hinged on the idea that New Delhi has an exclusive right to protect its national interests within its landmass and its periphery. In Nehru's words, "any attempt by a foreign power to interfere in any way with India is a thing which India cannot tolerate, and which, subject to her strength, she will oppose." However, this 'Broad doctrine' achieved maturity under Indira Gandhi, who pursued a policy of aggressive use of military force to deter external powers from interfering in South Asia. Her interventionist foreign policy led to the breakup of Pakistan and the creation of Bangladesh in 1971. Indira's and later Rajiv Gandhi's foreign policy revolved around keeping external powers at bay and maintaining Indian primacy in South Asia. New Delhi was so opposed to the idea of external powers gaining a foothold in South Asia that it intervened in Sri Lanka's civil war out of fear that the United States might secure a naval base in the strategic port city of Trincomalee.
However, it seems that Narendra Modi has reversed India's long-standing opposition to the presence of external powers in South Asia. New Delhi has openly backed a defence agreement between Maldives and United States. Among other things, it seeks to increase cooperation between the two countries. Though Indian officials have stressed that the agreement would not "impinge on India's role as a 'Net security provider' in South Asia", it begs the question: would such policy reversals have specific implications on the geopolitical status quo in South Asia? Have India conceded its role as the primary guarantor of security of South Asia to the United States?
It certainly seems that the Modi government has abandoned India's 'move alone' policy. The concept of an alliance is becoming more and more attractive to Indian policy makers. This shift signals one crucial factor: India is no longer confident of its capabilities to resist the Chinese juggernaut's inroads into South Asia. Beijing has established a significant presence in South Asia over the years. China is now the largest source of investments in all of India's neighbouring countries. The BRI initiative has gained many tractions among South Asian countries. New Delhi is concerned that Beijing is strategically funding infrastructure projects which could be used for military purposes in future. The very fear of encirclement by China has led India to welcome more American engagements in South Asia. But what would be New Delhi's role in this strategic arrangement? There is no doubt that New Delhi holds a central position in US indo-pacific strategy, but the power asymmetry between the two countries overwhelmingly favours Washington.
On 7 April, US Navy's 7th fleet conducted a freedom of navigation operation (FONOP) without consulting with New Delhi. It is interesting to note that the US generally carries out such operations in the backyards of its rivals, like in the South China Sea or Black Sea. But conducting these operations in the Exclusive Economic Zone (EEZ) of an allied nation is unusual. This action indicates that Washington is unwilling to concede any space to India just for the sake of the alliance.
Historically, any partnership between a greater power and a lesser power had never been treated as 'equal'. No matter what officials in New Delhi might believe, this is the conventional wisdom in Washington. Indo-US relations might have come a long way but, if such cooperation continues through the upcoming decades, the position of the lesser power, in this case, India, is bound to relegate to a role of a 'junior partner', and the United States is making no ambiguity in signaling it.
India's Decision to Deport Rohingyas- How Fair?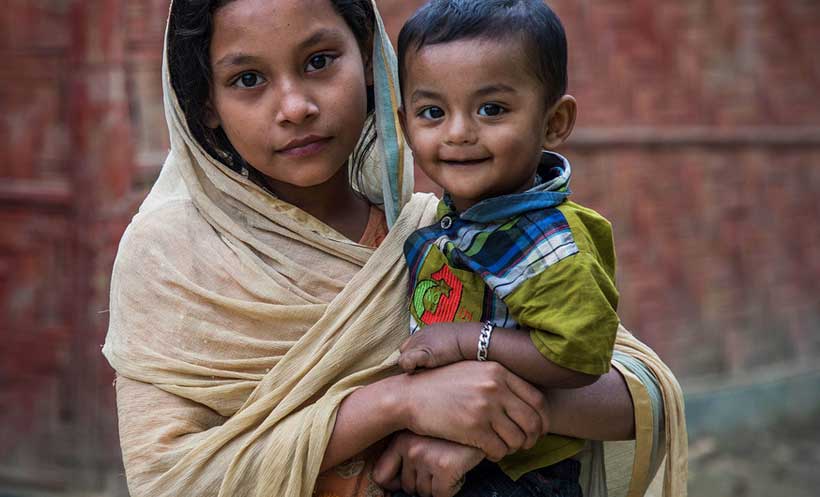 India's Apex Court recently ruled in affirmative the deportation of about 170Rohingya refugees who were detained in Jammu's Jail. Critics have been uneasy with this decision, for this sharply contradicts the principle of non-refoulement – a principle that places human lives on the highest pedestal and prevents states from returning refugees to those places where their lives will be threatened. Simultaneously, critics have also been vocal about their displeasure with the current dispensation that is no longer willing to extend its magnanimity vis-a-vis refugees. This shattering reality marks the defeat of human right champions. In the light of these attacks, it is necessary to evaluate the current Supreme Court decision vis-a-vis International Law and whether India is justified in taking the stance that it has taken.
International Law on Refugee Rights
International regime has given the 1951 Refugee Convention as well as the 1967 Refugee Protocol that inter alia define who a refugee is. The definition clearly enumerates those who have a well-founded fear of persecution for reasons of race, religion, nationality, membership of a particular social group or political opinion in their country of nationality or in their country of residence. The definition also covers stateless people in its ambit. Convention also envisaged the right to non-refoulement which affords the basic right of refugees to not be returned to the place where they are likely to face persecution on the abovementioned grounds. This is a natural corollary to the very foundation of refugee law, for in the absence of provision of non-refoulement, the instrument would be a mockery. Suffice to say, non-refoulement remains the basic provision and has obtained the status of customary international law. In fact, its incorporation in numerous international instruments as well as regional instruments has underscored the significance States attribute to human lives. To scholars, the concept of non-refoulement has attained the status of jus cogens or peremptory norm of general international law from which no derogation is permitted. In fact, as per UNHCR's experience, states, including non-parties to the convention, have overwhelmingly accepted the practice of non-refoulement.
However, this fundamental norm is subject to exceptions. The first exception is when the said person is a threat to the national security of the state in which he has taken refuge. This remains an important parameter since national security weighs heavily in a state's radar, and any such threats would necessitate measures such as expulsion or deportation. However, the threats must be assessed and weighed against the threat to one's life in case of refoulement. Lauterpacht and Bethlehem have suggested certain criteria such as, whether there is a prospective threat to the security of the country of refugee; whether there is a threat to the country of refugee and not to a third country or international community at large; and whether there exists a reasonable threat, the criteria for which must be set high, bearing in mind the adverse consequences of refoulement; and whether the said measures are proportional to the said threat.
The second exception is when the person has been convicted by a final judgement of a particularly serious crime and constitutes a danger to the community. For the purpose of our analysis, the first exception requires focus.
India's Position vis-a-vis Refugees
India has been a gracious host to the refugee communities that have sought refuge in its territory, despite it not having signed the 1951 Refugee Convention or Refugee Protocol. Tibetans who sought refuge in India after a failed revolt against Chinese in 1959 were allowed a government in exile and have received active support from the Indian government since. Similarly, many Sri Lankan Tamils, who fled the war ravaged country have been living in India with the support of the government. India has also accepted many of the refugees who escaped the wrath of Pakistan in the months preceding the Bangladesh Liberation War. Fair to say, India's record on sheltering refugees has been exceptional and has been consistent with the principles enshrined in its constitution, granting the right to 'life and liberty' admirably.
However, India's stance on Rohingyas has taken a different road. While India prides itself on being the champion of individual rights and rightly so, its response was largely muted during the 2017 military crackdown in Rakhine. And its current stance to deport Rohingyas is in consonance with its initially muted response. But that can largely be attributed to the threat that India had already perceived vis-a-vis these refugees.
Rohingyas and Extremist Nexus
Scholarship on this issue has pointed to an early connection between Rohingyas and extremist organizations. A Paper by European Foundation for South Asian Studies has highlighted the nexus between the Rohingya Solidarity Organization (RSO) and extremist groups. This group, which was founded in 1980s by Mohammad Yunis, had links to Jamaat-e-Islami of Bangladesh and Pakistan, Hizb-e-Islami of Gulbuddin Hekmatyar and Hizb-ul-Mujahideen in the 1980s-90s. Many of the members (of RSO) received training at Afghan facilities in the early 1990s. Afghan instructors have also trained RSO in camps in Bangladesh, a claim that can be corroborated by a 2005 Congressional Research Service Report on Terrorism in South Asia. The same report pointed out the connections between Al-Qaeda and Rohingyas. Another organization, Harkarah al-Yakeen (HaY), founded by Ataullah Abu Amar Janani, that later changed its name to Arakan Rohingyas Salvation Army (ARSA) was also noted to have connections to Pakistan and Saudi Arabia where they received training. It has further been noted by a 2016 report of the International Crisis Group that ARSA has clear links to elements in Pakistan.
The fact that Rohingyas remain a fertile ground for terrorism and can be used by non-state actors to further their political agenda has been noted by Lt. Gen. Chowdhury Hasan Sarwardy (Retd.). In fact, a piece by The Week has pointed that Lashkar-e-Taiba has been making inroads in the refugee camps and has been providing the youth with arms, ammunition and training. The growing terrorism in Bangladesh and its spillover effect in the Rohingya community had already alarmed Indian security officials. However, with many of the Rohingyas living in India, more specifically in the Union Territory of Jammu and Kashmir, doubts have been raised. Of course, the first question remains, why Jammu and Kashmir despite its distance to Myanmar? Shouldn't Rohingyas instead seek refuge in the Northeast, which is geographically closer? A clear answer is not present.
What is apparent is that many of these refugees in the Union Territory have been receiving training from Pakistani terror groups. The same European Foundation for South Asian Studies report has pointed out that many of the Rohingyas have fought alongside Pakistani terror outfits in the Indian Administered Kashmir, which is an imminent threat to India's national security. Besides, there is a clear proof of Pakistani based terror outfits such as Lashkar-e-Taiba (LeT) and Jaish-e-Muhammad (JeM) lending support to Rohingya terrorist outfits such as Aga Mul Mujahideen (AMM). This, coupled with their proximity to Pakistan, via Kashmir, has naturally heightened India's security concerns.
Pakistan's enthusiasm to use proxy wars as a way to seek revenge from 'Hindu India' has frequently disrupted peace in the region. India, unfortunately, has suffered the brunt of Pakistan's ill-decision making. With Pakistan effectively losing respect in the international community due its active support for terrorists, it has channelled its funding to many of these refugees through Bangladesh. This concern has been backed by South Asia Democratic Forum's Director, Siegfried O. Wolf, who has pointed out to Inter-Services Intelligence's support for camped Rohingyas in Bangladesh who can serve Pakistan's long term goal of annihilating India.
This brings India to the position where it stands. India has credible evidence to showcase that its national security has been heavily compromised due to the nexus between Rohingya Refugees and Pakistan backed terror groups, and that its decision is hinged on national security imperatives. The presence of these refugees in the fragile Union Territory of Kashmir has added to India's concerns, given the precarious state of affairs of the UT especially since the revocation of its special status. Global Terrorism Index 2020 has pointed out the same reality – India's biggest threat comes from Islamist terrorist groups. Thus, India stands very well within its rights to turn back the said refugees who pose a glaring threat to India's national security, and it does not amount to a violation of customary international law on non-refoulement. Nor does it diminish India's credibility as a magnanimous host that tries to uphold the tenets of 'life and liberty.' To the keyboard warriors, this marks the death of 'democracy' at the hands of a communally blind government, but to the patriot it is another rightful step in safeguarding the country's integrity.
Rohingya crisis: How long will Bangladesh single-handedly assume this responsibility?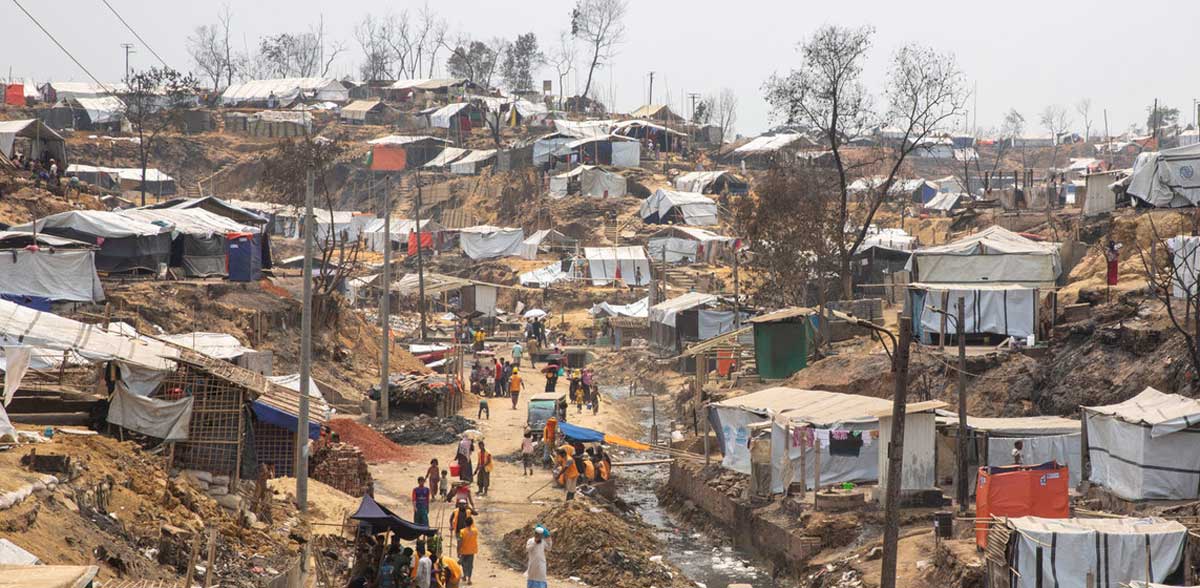 At least 8,60,000 Rohingya FDMNs, mostly women and children entered Bangladesh fleeing unbridled murder, arson and rape by the Tatmadaw in Rakhine, what the United Nations has decried as textbook example of ethnic cleansing and genocide, beginning on August 25, 2017. The latest influx of Rohingyas brought the number of undocumented and registered Rohingya refugees in Bangladesh to more than 1.1 million. Not a single Rohingya returned home to Rakhine when the Myanmar government blocked the repatriation process in various ways. Owing to critical socio-economic, environmental and security concerns, the Bangladesh government launched a project of relocating one-tenth of the Rohingyas to Bhashan Char on a voluntary basis. So far 18,334 Rohingyas have been relocated to Bhashan Char and they expressed "high satisfaction" over the existing considerable safe, secured and crime-free environment compared to the mobbed camps in Cox's Bazar.
Bangladesh government invested more than US $310 million from its own funds to develop the 13,000-acre island with all amenities and facilities of drinkable water, electricity, sanitation, agricultural plots, 120 cyclone shelters in each cluster, two hospitals, four community clinics, mosques, warehouses, telecommunication services, police station, learning centers and playgrounds which is far better than the facilities in the Cox's Bazar camps. From the outset, the initiative was called into question by some human rights organizations and NGOs. However, in the wake of recent visits by high officials of the international community and donor states, it has been proven that the allegations against Bangladesh were merely political and propaganda.
Delegates from the EU, the OIC and the UN all demonstrated their prima facie satisfaction by seeing the facilities and living conditions of the Rohingya refugees in the Bhashan Char. Previously, a few INGOs and interest groups disseminated that the conditions in Bhashan Char are inhabitable and the relocation plan is a wrong decision of the Bangladesh government. But now all the foreign delegates and human rights proponents agreed that the decision to relocate some 100,000 Rohingyas to Bhashan Char under the Ashrayan-3 project was a timely decision for the well-being of the Rohingya community itself. Since the massive influx of Rohingya into Bangladesh in August, 2007, Bangladesh has actively carried out its humanitarian role. But, has the international community fulfilled its duty, apart from criticizing Bangladesh's initiatives and raising funds for refugees for the time being? Bangladesh has done its part, and it is now time that the international community shares the burden and puts pressure on Myanmar to repatriate the Rohingya refugees.
Bangladesh is trying to solve the crisis with its utmost efforts using all of its diplomatic maneuvers in the bilateral, trilateral and multilateral levels. Acknowledging the outstanding assistance in hosting 1.1 million Rohingya in Bangladesh, the US special envoy for climate change John Kerry during his recent visit to Bangladesh said that the global community must hasten its efforts to resolve the crisis as it is not merely responsibility for the country. Bangladesh in every multilateral forum has been desperately raising the issue of the Rohingya crisis as it has a far reaching social, economic, environmental and security concerns not only for Bangladesh but also for the South Asian region. For instance, Bangladesh raised the Rohingya issue at the 10th D-8 summit held in Dhaka and sought international support. But it is ironic, due to lack of goodwill of the concerned parties, the situation is protracting. All the international community including the UN, the EU and the OIC members should work in a coordinated way to find a comprehensive and durable solution to the Rohingya crisis.