On February 4, 2020, the U.S. Department of Defense officially announced the first combat patrol mission of a nuclear-powered submarine carrying low-yield nuclear-tipped ballistic missiles. Some details were reported several days before that: the platform was USS Tennessee, which had went on combat patrol in the Atlantic in late 2019.
The low-yield combat payload in question represent the all-new W76-2 thermonuclear warhead for the Trident II D5 submarine-launched ballistic missile (SLBM). It is a derivative of the standard "light" W76-1 warhead, with the original secondary stage removed. As a result, the original yield of 100 kt has been reduced to between 5 and 7 kt.
According to official explanations, up to and including those contained in the new nuclear doctrine [1], the United States intends to use the weapon to give additional stability and flexibility to its regional (not strategic!) nuclear deterrence. The idea is that the number of such missiles will be limited, because they are intended for fairly specific purposes.
The U.S. military had long sought permission for low-yield nuclear weapons from the White House, arguing that the president was only limited to high-yield weapons as a last resort and that "interim" response options would come handy in certain scenarios. These were eventually termed "tailored" nuclear scenarios in the new doctrine.
These statements become more specific when looked at through the prism of expert chatter, stories run by specialized publications and private statements. Such as: What if the Russians attack an Eastern European country and, quite inevitably, receive a devastating response from NATO, but then they cunningly use their tactical nuclear weapons (TNW) to raise the stakes? How would the free world respond to that?
Their requests are quite simple and clear. The only question here is, why use a strategic SLBM in a purely tactical mission?
Something is Lacking
The U.S. has two types of nuclear weapons in its arsenals that would perfectly fit the purpose in terms of their yield. There are AGM-86B (ALCM) long-range air-launched cruise missiles, the backbone of the strategic triad's air component. These are tipped with W80-1 warheads with dialable yield from 5 to 150 kt. There are also B61-family tactical nuclear gravity bombs that come in four different variants, some of them with 300 t and 1.5 kt yield in TNT equivalent.
Why another low-yield warhead?
The problem is not in the warhead itself, but in the delivery method. Russia, and the USSR before it, have historically been inferior to NATO in terms of airpower. For this reason, Russia has always relied on air defence (and electronic warfare) and is perhaps still the best when it comes to building reliable multi-layered air defence. It is, therefore, extremely difficult to penetrate a single air-launched nuclear weapon through that detection and multiple engagements system. The ALCM has been around for a long time, it is a well-known missile. Its more advanced derivative, the AGM-129, was decommissioned because it proved to be inferior. The combat aircraft with B61 were similarly ill-suited for such a hostile environment [2]. Starting a nuclear mission and stupidly losing the delivery vehicle to a Pantsyr or an S-400 would have been a much harder blow than refraining from participation in the escalating conflict.
Single nuclear strikes (as opposed to the massive use of nuclear force) on the theatre become a challenge. Theoretically, at some point, the United States will have nuclear systems that would be up to the task due to their stealth capabilities (LRSO cruise missiles, F-35 combat aircraft plus B61-12 guided bombs) or short flight time combined with the ability to break through air or missile defence (land, sea or air-launched hypersonic boost-glide systems). However, the problem articulated by the United States has to be addressed right now.
This leads to a palliative solution that implies removing the secondary stage from the W76-1 and using the resulting mini-Trident as a guaranteed delivery vehicle. Strange as it may seem, high accuracy is not required here. Not only will the strike be directed against a "soft" target (tactical formations, emplaced positions, or above-ground structures), but it does not even have to hit that target since it is the very fact of the use of nuclear force that matters during the early stages of escalation and not the actual damage.
It may seem clear, but how real is this image of "deterring" Russia? Is it even possible to have such a conflict as the one described in the American strategic papers?
On Reading and Comprehension Skills
Descriptions of a possible conflict along the lines of "Russia suddenly invaded the Baltic states, pre-emptively used its TNW to confuse NATO and force the alliance into a retreat" do not even merit earnest critical consideration. It is quite sad that such ideas are widespread among western political scientists and security experts [3]. However, even an expert with the greatest bias against Russia is likely to acknowledge that no matter what one thinks of Russian dignitaries, no matter what malicious intents one ascribes to them, believing these people to be infantile or irrational is a crucial research fallacy. Over the last couple of decades, the Russian elites have demonstrated a reserved, mistrustful and utterly rational (to the point of cynicism) approach to foreign and domestic policies, an approach that is utterly incompatible with the reckless idea of "let's occupy the Baltic states, detonate a bomb and threaten a total nuclear war, because we're bound to lose any other way."
But what is this idea based on? It is based on Russia's actual nuclear strategy, the general understanding of which is almost completely the opposite to its intended meaning. Russia has constructed a defence plan against a stronger enemy on the basis of the concept of the limited use of nuclear weapons in special cases.
The logic of "de-escalating" a military conflict by raising the stakes in the form of limited (including demonstrative) use of nuclear weapons has been repeatedly expounded both in general terms and in military details. Asymmetric scenarios are no exception. In such cases, a country responds to a massive attack of conventional forces with a first (limited) nuclear strike. Since, following the collapse of the Warsaw Pact and the lengthy socioeconomic crisis of the 1990s, Russia had significantly fewer conventional weapons than NATO, it was a rational strategic deterrence plan that implied balancing out conventional weapons with nuclear forces [4].
This was duly reflected in strategic planning documents. The foundation for such planning was laid back in 1993, when Russia officially disengaged itself from the 1982 Soviet obligation not to deliver the first nuclear strike, even though this use of nuclear weapons still applied to a global war only [5]. Subsequently, Russia developed a full-fledged military doctrine in 2000 that allowed the use of nuclear weapons "in situations that were critical for the national security of the Russian Federation," including "in response to a large-scale aggression using conventional weapons."
In 2010, the new version of the military doctrine showed the direction of Russia's military development. The wording became more specific: now nuclear weapons could only be used in a conflict that "threatened the very existence of the state." The current 2014 doctrine retains this strict wording and additionally bolsters it by introducing the notion of "strategic non-nuclear deterrence" that had previously been absent.
Let us note that this latter step was taken at the peak of the military and political crisis between Russia and the West, in the second half of 2014. If Russia had indeed relied on the irrationally incommensurate nuclear deterrence of the West and, in accordance with the classical "madman theory," had wished to convince the West of this, there would have been no obstacles in the way of Russia enshrining such deterrence officially. Instead, Russia demonstratively enacted a "doctrinal détente."
They Offered War and Nobody Came
Taken together, these developments reflected Russia's efforts to rebuild and modernize its armed forces setting a course for raising the threshold for the use of nuclear weapons and for gradually filling up all those potential rungs on the escalation ladder that previously had to be "secured" using nuclear means with non-nuclear precision-guided weapons.
A number of motives driving this evolution can be identified. First, it is a flexible and comprehensive approach to deterrence that was not entirely typical for the USSR in the last years of its existence [6]. Second, there is a clear unwillingness to endow nuclear weapons with any significance greater than that inevitably required by the military strategic balance. Third, the logic of this development directly contradicts the very idea of "nuclear coercion" in regional conflicts with NATO. To coin a phrase, Russia has been gradually "clearing the mines" from a dangerous destabilizing situation that had emerged on the continent following the collapse of the Warsaw Pact and significant curtailing of the potential of Russia's armed forces. The temporary lowering of the threshold for using nuclear weapons reflected precisely the transitory nature of the current factors.
Thus, at the moment, we can presume that Russia cannot simply deliver a first nuclear strike when things start going wrong in a military conflict with a near-peer adversary. The circumstances have to be more severe than this, in which is clearly and presently suffering a large-scale military defeat that threatens a national disaster. Regardless of who started it.
Let us, however, go back to "mini-Tridents" and see what their place in this scenario is. Everything appears to be just the same, but there is one flaw that cannot be eliminated. Such weapons systems will hardly be an effective deterrent if Russia has been cornered so badly that it used nuclear weapons to de-escalate a catastrophically developing conflict with NATO (and it does not matter whether we are talking about the very fact of their existence, as the United States sometimes claims, or about the outcome of a retaliatory strike). The problem of an impending defeat has not been eliminated and, consequently, neither was the stimulus for the further use of nuclear weapons. In this case, the initiating state will simply move to the next rung of the escalation ladder, delivering a multiple strike on the battle ground or selecting a more valuable and sensitive target for a single strike (for instance, within the continental United States). Psychologically, this transition will be much easier (not to say more thoughtless) than the decision to deliver an initial strike.
The crucial thing is that this is precisely the scenario where the apparent military and technical advantages of the "mini-Trident" we mentioned above will lose their importance. Facing an imminent large-scale military defeat, Russia's integrated air and missile defence system will have been largely "dismantled" through the intensive and successful use of NATO's precision-guided weapons, and resistance to air and missile strikes will have taken on fragmented nature. In such circumstances, a "mini-Trident" is excessive as a delivery vehicle for a single strike. These tasks can be handled by usual means, such as cruise missiles or combat aircraft. Moreover, "mini-Tridents" will even be harmful in such a situation: an SLBM launched and detected by the early warning systems (which would be left intact in such a conflict), may be misconstrued by Russia given the acute stage of the crisis and thus prompt a launch-on-warning [7]. NATO most certainly does not need this, since it would actually be winning such a war "on points."
The W76-2 low-yield nuclear warhead:
-is officially aimed against the non-existent scenario of Russia using nuclear weapons in an act of provocation in the unrealistic event of a Russia—NATO conflict;
-is unable to deter Russia's first use of nuclear weapons in an actual crisis situation as prescribed by its nuclear doctrine;
-harbours an additional destabilizing potential.
What is the point of this warhead then?
"I Don't Know Who Needed it or What They Needed it For"
Note that in our story, the outlandish strategy of "escalate to de-escalate" has become intertwined with the notion of escalation control, or the idea that a conflict (including a nuclear conflict) can be proactively managed by keeping it low-intensity. This is not surprising at all because the two concepts are the same thing. Consequently, we have to go much further back in time, to the turn of the 1950s–1960s in the United States, to find the roots of this phenomenon. The single, yet crucial remark here is that escalation control is a scholastic and convoluted theory, an exercise for minds with a propensity for abstract thinking. Meanwhile, "escalate to de-escalate" strategy, as it is described today, is, in terms of both political motivation and means of implementation, a highly oversimplified form of the concept.
The United States is a pioneer in terms of introducing plans for limited use of nuclear weapons in practice. If we recall the entire history of the its "counterforce"— the 1974 Schlesinger Doctrine, Carter's 1980 PD–59 plan and other contrivances of the heights of the Cold War, we will find it very hard to pretend that "mini-Tridents" appeared as an emergency response to Russia's particularly malicious nuclear doctrine of the last few years. Back in 1962, Robert McNamara said that the United States could look for a way to stop a war on favourable terms, using its own forces as a bargaining chip, threatening further attacks. He further noted that, in any case, the highly secured large reserves of fire power could convince the enemy to abstain from attacking U.S cities and could stop the war [8].
We should not view these things as tales of a long gone bipolar past. A current 2019 American paper on planning nuclear operations states that, "Employment of nuclear weapons can radically alter or accelerate the course of a campaign. A nuclear weapon could be brought into the campaign as a result of perceived failure in a conventional campaign, potential loss of control or regime, or to escalate the conflict to sue for peace on more-favorable terms [9]."
It is sometimes hard not to think that the current nuclear strategy of the United States is subject to a kind of "projective" logic, something that should be familiar to practicing psychologists and means projecting one's own aspirations and associations onto another person. In this ironic sense, mini-Tridents are very convenient as a nuclear weapons for "limited-scale" operations long since embraced by the U.S. military doctrine. Whether or not they are holding Russia back from an "escalate to de-escalate" strategy, or if Russia is somehow self-deterring, is beyond the point. What is important is the very fact that such a potential exists, as arms control experts put it, capabilities are always more important than intentions.
One feature of Trident II SLBM is its depressed trajectory, which makes it possible to use the missile where very short flight time and a relatively low apogee are needed. Thus, at a striking distance of 1900 km, the missile will reach the target in six to seven minutes, never going higher than 150 km, and it will cover a distance of 3000 km in nine to ten minutes with a maximum height of 185 km [10]. Taking into account the changes in precision, it is generally accepted that these SLBM possess significant counter-force capabilities, which puts them beyond the classical role of "city killers" in retaliation strikes that is usually assigned to sea-launched missiles.
This means that the choice of the delivery vehicle was not accidental, although it was influenced by the desire to save time and money. The platform is indeed resilient against air and missile defence, allows for very short flight time and is convenient for discriminate nuclear strikes with low "collateral damage." Besides, with this payload, it does not pose any counterforce threat for the strategic nuclear force of a potential enemy (the same accuracy with 15–20 times less yield) and planning officers could therefore erroneously perceive it as a relatively "stabilizing" kind of weapon. It is not such a weapon, due to a reduced nuclear use threshold and functional ambiguity of delivery vehicle.
Yet, the danger of low-yield nuclear warheads being deployed is not so much in the lowering of the nuclear threshold as such. First of all, it is about the continuation of a much more encompassing dual process, which erodes two categories: the clear differences between nuclear weapons and non-nuclear weapons on the one hand, and between strategic and tactical weapons on the other. Mini-Tridents bear the prints of both, especially if you recall how much effort was spent only 10–15 years ago to equip them with non-nuclear precision-guided warheads (nothing came of it, but lightening, or in this case, the shell, most certainly did strike the same place twice).
The result of the changes taking place in the respective nuclear doctrines of the United States and Russia can hardly be considered positive. The United States (if freed from the burden of having to explain its actions) directly raised the question of "usable" nuclear weapons, that is, a battlefield capability, and not an instrument of strategic deterrence. Thus, the image of conflicts of the future implies a limited use of nuclear weapons, including, possibly, against non-nuclear states—the United States has already tried to include such provisions in its 2018 nuclear doctrine. Subjectivity is also important here. Donald Trump is a man of exceptional sincerity and consistency. Look at his campaign promises and compare them with actions in the White House. But even during the election campaign, Trump noted that he does not understand the meaning of weapons that cannot be used.
Given all the severe restrictions we emphasized above, Russia continues to think of itself as of a besieged fortress that is about to fall. This leads, among other things, to the desire to make its nuclear doctrine as opaque as possible, implementing a strategy of "deterrence through uncertainty," the traditional refuge of the weakest side (take China, for example, which has been adhering to this approach for 50 years). Another national habit, namely making non-strategic strike systems dual-capable (which is both cheap and convenient, and, again, in certain scenarios increases the constraining uncertainty) creates further problems in this area.
Both attitudes do the same job, albeit from different sides and in different ways. They both blur the "red lines" of the first use of nuclear weapons. In the case of the United States, this line descends lower to the area of "clashes," due to the development of delivery vehicles and the appearance of the illusion that such an employment can be controlled, is limited and implies supposedly low "collateral damage." It feels like a nuclear strike, but not really. In the case of Russia, the intentional management of nuclear uncertainty lays down destabilizing factors for possible military and political crises, complicating their course and simplifying the transition (including erroneous) from the non-nuclear section of the escalation ladder to the nuclear one.
This might sound like a paradox, but both superpowers are escalating the strategic nuclear risks by solving situational problems caused by the lack of political trust. One problem deals with the imaginary lack of low-intensity deterrence against Russia's aggressive behaviour, while the other continues to safeguard the risks of a no-less-imaginary NATO intrusion amid the continuing weakening of conventional forces.
All the conditions for a self-fulfilling prophecy are met.
[1] Nuclear Posture Review 2018. Washington, DC: Office of the Secretary of Defense, 2018, pp. 54–55.
[2] Davis P. K. et al. Exploring the Role Nuclear Weapons Could Play in Deterring Russian Threats to the Baltic States. Santa-Monica, CA: RAND Corporation, 2019, pp. 52–53.
[3] See, for instance: Kroenig M. A Strategy for Deterring Russian Nuclear De-Escalation Strikes. Washington, DC: Atlantic Council, 2018; Luik J., Jermalavičius T. A Plausible Scenario of Nuclear War in Europe, and How to Deter It: A Perspective from Estonia. // Bulletin of the Atomic Scientists. 2017. Vol. 73. No 4, pp. 233–239; Schneider M. B. Escalate to De-Escalate. // Proceedings. 2017. Vol. 143/2/1,368 (Feb. 2017), pp. 26–29.
[4] Note that this is essentially "mirroring" the situations of the 1960s–1970s, when NATO relied on America's forward-based nuclear weapons in Europe to balance out NATO and Warsaw Pact's conventional weapons.
[5] Principal provisions of Russia's Military Doctrine. Presidential Executive Order 1833 of November 2, 1993.
[6] Studies by several western experts based on contacts with members of the Soviet military and political leadership indicate that, despite having done the relevant theoretical work, the USSR only planned on the concentrated use of nuclear weapons (both on the battle ground and against the enemy's strategic targets behind the front lines). See, for instance: Hines J. G., Mishulovich E., Shull J. F. Soviet Strategic Intentions 1965–1985. Vol. I: An Analytical Comparison of U.S–Soviet Assessments During the Cold War; Vol. II: Soviet Post-Cold War Testimonial Evidence. McLean, VA: BDM Corporation, 1995.
[7] It is not very likely, but still probable, and this is precisely the strategic "black swan" that leads to the situation collapsing without any chance of recovery. Concerning the real influence highly unlikely events with a highly significant effect have on nuclear deterrence, see: Yarynich V. E. C3: Nuclear Command, Control, Cooperation. Washington, DC: Center for Defense Information, 2003.
[8] McNamara R. S. Speech before the Fellows of the American Bar Foundation, 17 Feb. 1962. Cited after: Ball D. Deja vu: The Return to Counterforce in the Nixon Administration. Santa-Monica, CA: California Seminar on Arms Control and Foreign Policy, 1974.
[9] Joint Publication 3–72, Nuclear Operations, 11 Jun. 2019, pp. V–3.
[10] Gronlund L., Wright D. Depressed Trajectory SLBMs: А Technical Evaluation and Arms Control Possibilities. // Science and Global Security. 1992. Vol. 3. No. 1. pp. 100–160.
Kickbacks in India's defence purchases
Prime minister Narendra Modi of India boasts his government of being corruption- free. But, his claim has become questionable in the light of recent audit of Rafale purchase in France.
India had ordered 36 of these fighter aircraft from France in September 2016. The 7.8 billion government-to-government deal for 36 fighter jets was signed in 2016. The Indian Air Force has already raised its first squadron of the Rafale jets at Ambala and is due to raise the second one at Hasimara in West Bengal.
India expects to receive more than 50 percent of these fighters by April-end. The first batch of five Rafale jets had arrived in India on July 28 and was officially inducted on September 10 by the government.
In a startling disclosure, the French Anti-Corruption Agency, Agence Française Anticorruption
has announced that their inspectors have discovered an unexplained irregularity during their scheduled audit of Dassault. According to details, "the manufacturer of French combat jet Rafale agreed to pay one million euro to a middleman in India just after the signing of the Indo-French contract in 2016, an investigation by the French publication Mediapart has revealed. An amount of 508,925 euro was allegedly paid under "gifts to clients" head in the 2017 accounts of the Dassault group ( Dassault paid 1 million euro as 'gift' to Indian middleman in Rafale deal: French report India Today Apr 5, 2021). Dassault tried to justify "the larger than usual gift" with a proforma invoice from an Indian company called Defsys Solutions. The invoice suggested that Defsys was paid 50 per cent of an order worth 1,017,850 for manufacturing of 50 dummy models of the Rafale jets. Each dummy, according to the AFA report, was quoted at a hefty price of 20,357. The Dassault group failed to provide any documentary evidence to audit about the existence of those models. Also, it could also not explain why the expenditure was listed as a "gift to clients" in their accounts.
Shady background of Defsys
Defsys is one of the subcontractors of Dassault in India. It has been linked with notorious businessman Sushen Gupta. Sushen Gupta. He was arrested and later granted bail for his role in another major defence scam in India, the AgustaWestland VVIP Chopper case.
The Enforcement Directorate charged Sushen Gupta for allegedly devising a money-laundering scheme for the payouts during the purchase of the helicopters.
Rampant corruption in India
Corruption in defence deals is a norm rather than an exception in India. They did not spare even aluminum caskets used to bring back dead bodies from the Kargil heights ("coffin scam"). Investigations into shady deals linger on until the main characters or middleman is dead. Bofors is a case in point.
Why investigation of defence deals since independence recommended
India's Tehelka Commission of Inquiry headed by Mr. Justice S N Phukan had suggested that a sitting Supreme Court Judge should examine all defence files since independence.
Concerned about rampant corruption in defence purchases allegedly involving Army personnel, he desired that the proposed Supreme Court Judge should by assisted by the Central Vigilance Commission and the Central bureau of Investigation.
He stressed that unless the existing system of defence procurement was made more transparent through corrective measures, defence deals would continue to be murky. He had submitted his report to then prime minister Atal Behari Vajpayee, but to no avail. The Commission had examined 15 defence deals including the AJT, Sukhoi, Barak missiles, T-90 tanks, tank navigation systems, simulators, hand-held thermal. imagers, Karl Gustav rocket and Kandla-Panipat pipeline. The irregularities in the scrutinised defence deals compelled the Commission to suggest de novo scrutiny of all defence purchases since independence.
Tardy trial
The courts have absolved Rajiv Gandhi of involvement in the BOFORS scam. However, a considerable section of Indian people still believes that 'Mr. Clean' was not really so clean. The BJP exploited Rajiv's acquittal as an election issue. Kuldip Nayyar, in his article "The gun that misfired" (Dawn February 14, 2004) laments, "There was practically no discussion on Bofors-guns kickbacks in the 13th Lok Sabha which has been dissolved for early elections. Once Rajiv Gandhi died the main target – the non-Congress parties lost interest in the scam".
According to analysts, the mechanisms of public accountability in India have collapsed. Corruption has become a serious socio-political malady as politicians, bureaucracy and Armed Forces act in tandem to receive kickbacks. The anti-corruption cases, filed in courts, drag on for years without any results. To quote a few case: (a) There was no conviction in Bofors-gun case (Rs 64 crore), because of lethargic investigation (the case was filed on January 22, 1990 and charge sheet served on October 22, 1999. Among the accused were Rajiv Gandhi, S K Bhatnagar, W N Chaddha, Octavio, and Ardbo. The key players in the scam died before the court's decision). (b) No recoveries could be made in the HDW submarine case (Rs 32.5 crore). The CBI later recommended closure of this case. (c) Corruption in recruitment of Armed Forces.
Legal cover for middlemen
Central Vigilance Commissioner P Shankar had alleged (October 2003): "The CVC had submitted its defence deals report on March 31, 2001. Yet a year later, the government has not conducted the mandatory departmental inquiry to fix responsibility". Shankar explained that the CVC had examined 75 cases apart from specific allegations made by former MP Jayant Malhoutra and Rear Admiral Suhas V Purohit Vittal. Malhoutra's allegations were about middlemen in defence deals. After his report, the ministry lifted the ban on agents in November 2001 to regularise the middlemen. Purohit, in his petition in the Delhi HC on a promotion case, had alleged unnecessary spare parts were bought from a cartel of suppliers instead of manufacturers, at outrageous prices and at times worth more than the original equipment.
Past cases forgotten to continue business as usual
There were ear-rending shrieks about the Taj-heritage corridor case, Purulia-arms-drop case and stamp-paper cases. Indian Express dated November 11, 2003 reported that the stamp-paper co-accused assistant Sub-Inspector of Police drew a salary of Rs 9,000, but his assets valued over Rs 100 crore. He built six plush hotels during his association for 6 years with the main accused Abdul Karim Telgi. The ASI was arrested on June 13 and charged under the Maharashtra Control of Organised Crime Act. Investigations by the Special Investigating Team (SIT) probing the stamp scam had found that the ASI Kamath accepted Rs 72 lakh from the scam kingpin, Abdul Karim Telgi, on behalf of IGP Sridhar Vagal.
The problem is that the modus operandi of corruption ensures that it is invisible and unaccounted for. There are widespread complaints that the politicians exercise underhand influence on bureaucracy to mint money. For instance, the Chief Vigilance Commissioner complained to Indian Prime Minister (November 8, 2003) that at least "six cabinet ministers, handling key infrastructure ministries, are harassing chiefs of public sector undertakings for 'personal favours', and in some cases even for pay-offs".
For example, one PSU (Public Sector Udertaking) chief is said to have complained that he was asked to get Rs 20 crore delivered to his minister's party office and when he refused, he was "denied" an extension. Indian Express dated February 19, 2004 reported, under reportage titled "Figuring India" that 'Rajiv Pratap Rudy is only one in a long line of ministers who have misused the funds and facilities of Public Sector Undertakings". The newspaper appended the following bird's-eye view of the funds (available for corruption) at the PSUs command: Rs 3, 24,632 crore total investment in PSUs, Rs 36,432 crore profits, 12,714 crore profits of monopolies in petroleum, Rs 5,613 CRORE profits of monopolies in power Rs 7,612 crore, profits of monopolies in telecom Rs 10,388 crore, Rs 61,000 crore invested in PSUs in 1991-1998, Rs 19,000 crore returns during 1991-1998."
Corruption as proportion of gross Domestic Product
Professor Bibek Debroy and Laveesh Bhandari claim in their book Corruption in India: The DNA and RNA that public officials in India may be cornering as much as ₹921 billion (US$13 billion), or 5 percent of the GDP through corruption.
India 86th most corrupt (Transparency International corruption ranking Jan 29, 2021)
India's ranking on the Corruption Perception Index– 2020 is 86. The index released annually by Transparency International ranks 180 countries by their perceived levels of public sector corruption according to experts and business people. It uses a scale of zero to 100, where zero signifies the highest level of corruption and 100 is very clean.
All-round corruption
In India, anti-corruption focuses on big ticket graft. But it is petty corruption that hurts common people more. Both need to be weeded out. A former World Bank president Robert Zoellick once said, "Corruption is a cancer that steals from the poor, eats away at governance and moral fibre, and destroys trust."
According to Transparency International, CPI-2020 shows that corruption is more pervasive in countries least equipped to handle Covid-19 and other crises. "Covid-19 is not just a health and economic crisis. It is a corruption crisis. And one that we are currently failing to manage," Delia Ferreira Rubio, chair of Transparency International said. "The past year has tested governments like no other in memory, and those with higher levels of corruption have been less able to meet the challenge. But even those at the top of the CPI must urgently address their role in perpetuating corruption," she added.
Concluding remarks
Click Wikipedia to know that Narendra Modi's "Net worth" is "₹ 2.85 Crore" (June 2020). This figure defies his humble financial background. He has a penchant for hobnobbing with "crony capitalism". It appears he is worth a lot more. Those who make illicit money have a knack to hide it.
Turkish Expansion of Libya Threatens Wreck NATO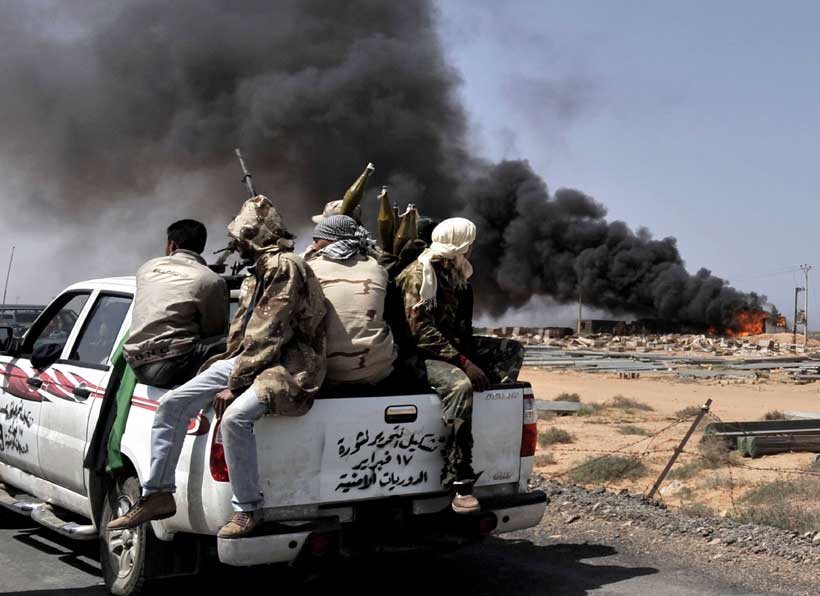 Despite the fact that the parties to the Libyan crisis are gradually coming to a political solution, the situation continues to become heated both within and around the country. It is mainly influenced by the states involved in the conflict.
At the same time the instability in Libya has a negative impact on international relations, including growing contradictions between strategic partners. In particular Turkey's military activities raise fears among at least three NATO members – France, Italy and Greece.
Relations between Ankara and its partners in the North Atlantic Alliance are exacerbated due to the actions of the Turkish leadership, which not only delivers weaponry to the former Jamahiriya avoiding the UN embargo, but also conducts geological exploration of the hydrocarbon fields in the eastern Mediterranean sea.
Contradictions between NATO partners have already begun to take the form of hidden clashes. For example, the French frigate "Courbet", operating as part of the Alliance's "Sea Guardian" operation aimed to prevent arms smuggling into Libya, approached three Turkish warships and a cargo vessel on June 10 last year. The French military attempted to inspect a civilian ship suspected of illegally carrying weapons to a war-torn country. In response, the Turkish warships illuminated the Courbet by the targeting radar for three times.
After the incident, Paris pulled out of the "Sea Guardian" operation. Moreover, the White House national adviser, Robert O 'Brian condemned the Turkish military actions and expressed support for France. "NATO allies shouldn't be turning fire control radars on each other. That's not good. We are very sympathetic to the French concerns," he told.
The contradictions between France and Turkey are also evident in the geopolitical sphere. Paris considers the Libyan National Army commander Halifa Khaftar as one of the key figures in resolving the Libyan conflict, while Ankara refuses to recognize him as a significant political force in the country.
In addition, there are growing tensions between Turkey and Italy. Rome as the largest importer of Libyan oil has been long cooperating with Tripoli's authorities in oil and gas spheres. After throwing its weight behind one of the rival administration, Turkey seeks to revise the status quo in the Libyan hydrocarbon industry by sidelining France's Total and Italy's Eni in a bid to gain full access to the natural resources of Libya. Although Turkey urges countries and companies to joint collaboration, no one highly likely will consent to it, considering this suggestion as a "toxic asset."
Greece, in turn, is annoyed by agreements between Ankara and Tripoli that deprive Athens of its legal right to the sea shelf between Rhodes and Crete. This part of the continental shelf belongs to Greece and Cyprus, but Turkey is trying to contend for its rights to the fields through the memorandum of understanding on maritime zones with the Government of the National Accord, predecessor of the newly formed Government of National Unity. The Turkish side sent warships to the Mediterranean to reinforce the "legitimacy" of its actions, which was negatively perceived by Athens. The situation became heated to such an extent that many experts have not rule out the outbreak of armed confrontation between the allies.
Firmly Address Tehran's Ballistic Behavior
The recent change in US administrations has spawned a lively debate about the potential path back to a deal with Iran, especially concerning the latter's troubling nuclear ambitions. Some argue against reviving the 2015 nuclear deal while others counsel for a swift US return to it. But there is a big problem with an undemanding US revival of the deal. Over the past five years, the regime has displayed extremely disturbing behaviors that endanger the region, Europe, the United States, and the broader international community.
Indeed, Iran's nuclear escalations and its burgeoning ballistic missiles program are major threats. But much more troubling is Iran's ballistic behavior.
There are four significant hotspots where the Iranian regime is active. This means any return to the Iran deal cannot exclusively address technical nuclear issues. The geopolitics of the entire region have changed. For instance, in Yemen, Houthi militias control a large segment of a sovereign country, and they are armed by the Iranian regime, including missiles. They are at war with the legitimate government of Yemen, and they have had a terrible record of human rights abuses.
In Iraq, Iran has used its militias to establish control over the entire country, with some exceptions. These militias are not only controlling the government, major parts of the economy or the banks, they are engaged in suppressing the population. In the fall of 2019, hundreds of thousands of young Iraqis from all walks of life took to the streets to demand meaningful reforms. But they were met with lethal force. More than 700 Iraqi citizens of all communities have been killed by pro-Iranian militias.
The Iranian regime's forces in Syria have brought in radical Shia militias from as far as Afghanistan. More than 700,000 people have been killed in that civil war. Five million Syrians have been displaced.
And, last but not least, in Lebanon, Hezbollah is armed and funded by Tehran, and its secretary general does not shy away from publicly announcing his group's complete allegiance to the Iranian regime.
So, the Iranian regime is effectively involved in the quasi occupation of four Arab countries. All this means that there cannot be a swift return to an "Iran deal" without addressing the regime's regional ambitions and destructive meddling, which have resulted in instability for Europeans and American interests alike.
Meanwhile both in European capitals and in Washington, there are major interests that echo calls for a quick return to the 2015 Iran nuclear deal. Absent in their inexplicable haste is any consequential consideration to pressing geopolitical demands.
Proponents of the Iran nuclear deal are eager to do business with Iran. There is nothing inherently wrong with that. But shouldn't the cost of that decision be soberly evaluated before rushing back in?
Are there not important destabilizing factors that must be urgently addressed, including the deployment of ballistic missiles in the region, the preponderance of Iranian proxies in strategic hotspots, and persistent deadly attacks against Western allies in the region?
So, what should be done?
Any potential discussions with the Iranian regime must take into consideration the security of the Middle East as a whole.
First, regional security and the regime's behavior must top the list of potential negotiation topics.
Second, the regime's ballistic missile program should not proceed under the radar. The Houthi-fired missiles targeting Saudi Arabia and its oil facilities are designed and delivered by Iran. The missiles fired against the US and coalition forces in Iraq are also designed and delivered by Iran. And, Iran has deployed missiles in Syria, which are then aimed at Israel. Similarly, the Lebanese Hezbollah has boasted about having thousands of missiles in its arsenal.
Therefore, as an important step toward stability, the international community must ensure that the proliferation of these missiles is stopped, and they are removed from these countries.
Third, it would only be logical to include countries like Saudi Arabia and other impacted governments in the negotiation process because they bear the brunt of Tehran's malevolence.
And lastly, international community should begin seriously engaging with the Iranian opposition. For the past three years, hundreds of thousands of Iranian citizens have loudly protested the ruling regime and its policies. There is another image of Iran that the world needs to acknowledge and engage. That's exactly what the US policy is trying to do in Yemen, for example, by engaging both the Houthis and the legal government at the same time.
When dealing with the multilateral and strategic threats emanating from the Iranian regime, it is only natural to engage with the organized Iranian non-violent resistance, including representatives from the Iran protests and exiled leaders, particularly the very active National Council of Resistance of Iran (NCRI), and to hear their voices during any negotiation with Tehran.
The Iranian regime will be emboldened to continue its egregious behavior if it senses weakness in the international community's response. By firmly addressing its ballistic behavior, responsible international actors can harness the strategic domestic and international reserves to curtail Tehran's threats.