European coordinated response to counter the economic impact of the Coronavirus
COVID-19 is a severe public health emergency for our citizens, societies and economies with infections in all Member States. It is also a major economic shock to the EU. The Commission therefore presents today an immediate response to mitigate the socio-economic impact of the COVID-19 outbreak, centred on a European coordinated response.
The Commission will use all the instruments at its disposal to mitigate the consequences of the pandemic, in particular:
– To ensure the necessary supplies to our health systems by preserving the integrity of the Single Market and of production and distribution of value chains;
– To support people so that income and jobs are not affected disproportionally and to avoid permanent effect of this crisis;
– To support firms and ensure that the liquidity of our financial sector can continue to support the economy
– And to allow Member States to act decisively in a coordinated way, through using the full flexibility of our State Aid and Stability and Growth Pact Frameworks.
President of the European Commission, Ursula von der Leyen, said: "The Coronavirus pandemic is testing us all. This is not only an unprecedented challenge for our healthcare systems, but also a major shock for our economies. The important economic package announced today deal with the situation of today. We stand ready to do more as the situation evolves. We will do whatever is necessary to support the Europeans and the European economy."
State aid Framework Flexibility
The main fiscal response to the Coronavirus will come from Member States' national budgets. EU State aid rules enable Member States to take swift and effective action to support citizens and companies, in particular SMEs, facing economic difficulties due to the COVID-19 outbreak.
Member States can design ample support measures in line with existing EU rules. First, they can decide to take measures, such as wage subsidies, suspension of payments of corporate and value added taxes or social contributions. In addition, Member States can grant financial support directly to consumers, for example for cancelled services or tickets that are not reimbursed by the operators concerned. Also, EU State aid rules enable Member States to help companies cope with liquidity shortages and needing urgent rescue aid. Article 107(2)(b) TFEU enables Member States to compensate companies for the damage directly caused by exceptional occurrences, including measures in sectors such as aviation and tourism.
Currently, the impact of the COVID-19 outbreak in Italy is of a nature and scale that allows the use of Article 107(3)(b) TFEU. This enables the Commission to approve additional national support measures to remedy a serious disturbance to the economy of a Member State.
The Commission's assessment for the use of Article 107(3)b for other Member States will take a similar approach. The Commission is preparing a special legal framework under Article 107(3)(b) TFEU to adopt in case of need.
The Commission stands ready to work with all Member States to ensure that possible national support measures to tackle the outbreak of the COVID-19 virus can be put in place in a timely manner.
European Fiscal Framework Flexibility
The Commission will propose to the Council to apply the full flexibility provided for in the EU fiscal framework so that they can implement the measures needed to contain the coronavirus outbreak and mitigate its negative socio-economic effects.
First, the Commission considers that the COVID-19 pandemic qualifies as an "unusual events outside the control of government". This allows accommodating exceptional spending to contain the COVID-19 outbreak such as health care expenditure and targeted relief measures for firms and workers.
Second, the Commission will recommend adjusting the fiscal efforts required from Member States in case of negative growth or large drops in activity.
Finally, the Commission stands ready to propose to the Council to activate the general escape clause to accommodate a more general fiscal policy support. This clause would – in cooperation with the Council – suspend the fiscal adjustment recommended by the Council in case of a severe economic downturn in the euro area or the EU as a whole.
Ensuring solidarity in the Single Market
Only with solidarity and Europe-wide coordinated solution, we will be able to effectively manage this public health emergency. Solidarity is key in this crisis, in particular to ensure that essential goods, necessary to mitigate the health risks of the outbreak, can reach all those in need. It is essential to act together to secure production, stocking, availability and rational use of medical protective equipment and medicines in the EU, openly and transparently, rather than taking unilateral measures that restrict the free movement of essential healthcare goods.
The Commission is therefore taking all necessary steps to that end including by providing guidance for Member States on how to put in place adequate control mechanisms to ensure security of supply, and by launching an accelerated joint procurement procedure for these goods and issuing a recommendation on non CE-marked protective equipment.
The COVID-19 outbreak is having a major impact on our transport systems, given the close interlink of European supply chains, supported by an extensive network of freight services on land, at sea, and airborne. The Commission is working with Member States to ensure the flow of essential goods across land borders. The international and European aviation industry has been particularly hit. As announced by President von der Leyen on 10 March, to help ease the economic and ecological impact of the outbreak, the Commission is proposing today targeted legislation to temporarily alleviate airlines from the "use-it-or-lose-it" rule – whereby air carriers must use at least 80% of their airports slots within a given period in order to keep them within the corresponding period of the next year.
Finally, the Commission is liaising with Member States, international authorities and key EU professional associations to monitor the impact of the crisis on the tourism sector and coordinate support measures.
Mobilising the EU budget
To bring immediate relief to hard-hit SMEs, the EU budget will deploy its existing instruments to support these companies with liquidity, complementing measures taken at national level. In the coming weeks, EUR1 billion will be redirected from the EU budget as a guarantee to the European Investment Fund to incentivise banks to provide liquidity to SMEs and midcaps. This will help at least 100,000 European SMEs and small mid-caps with about EUR 8 billion of financing. We will also provide credit holidays to the existing debtors that are negatively affected.
Alleviating the impact on employment
We need to protect workers from unemployment and loss of income to avoid permanent effect. The Commission stands ready to support Member States in this, promoting, in particular short-time work schemes, upskilling and reskilling programmes that have proven effective in the past.
The Commission will furthermore accelerate the preparation of the legislative proposal for a European Unemployment Reinsurance Scheme aiming at supporting Member State policies that preserve jobs and skills.
Moreover, the Coronavirus Response Investment Initiative will facilitate the deployment of the European Social Fund – a fund geared towards supporting workers and healthcare.
The European Globalisation Adjustment Fund could also be mobilised to support dismissed workers and those self-employed under the conditions of the current and future Regulation. Up to EUR 179 million is available in 2020.
Coronavirus Response Investment Initiative
Under this new initiative, the Commission proposes to direct EUR 37 billion under Cohesion policy to the fight against the Coronavirus crisis. To this effect, the Commission proposes to relinquish this year its obligation to request Member States to refund unspent pre-financing for the structural funds. This amounts to about EUR 8 billion from the EU budget, which Member States will be able to use to supplement EUR 29 billion of structural funding across the EU. This will effectively increase the amount of investment in 2020 and help to front-load the use of the as yet unallocated EUR 28 billion of cohesion policy funding within the 2014-2020 cohesion policy programmes. The Commission calls upon the European Parliament and the Council to swiftly approve this proposal, so that it can be adopted within the next two weeks.
In addition, the Commission is proposing to extend the scope of the EU Solidarity Fund by also including a public health crisis within its scope, in view of mobilising it if needed for the hardest hit Member States. Up to EUR 800 million is available in 2020.
Iran: UN condemns violent crackdown against hijab protests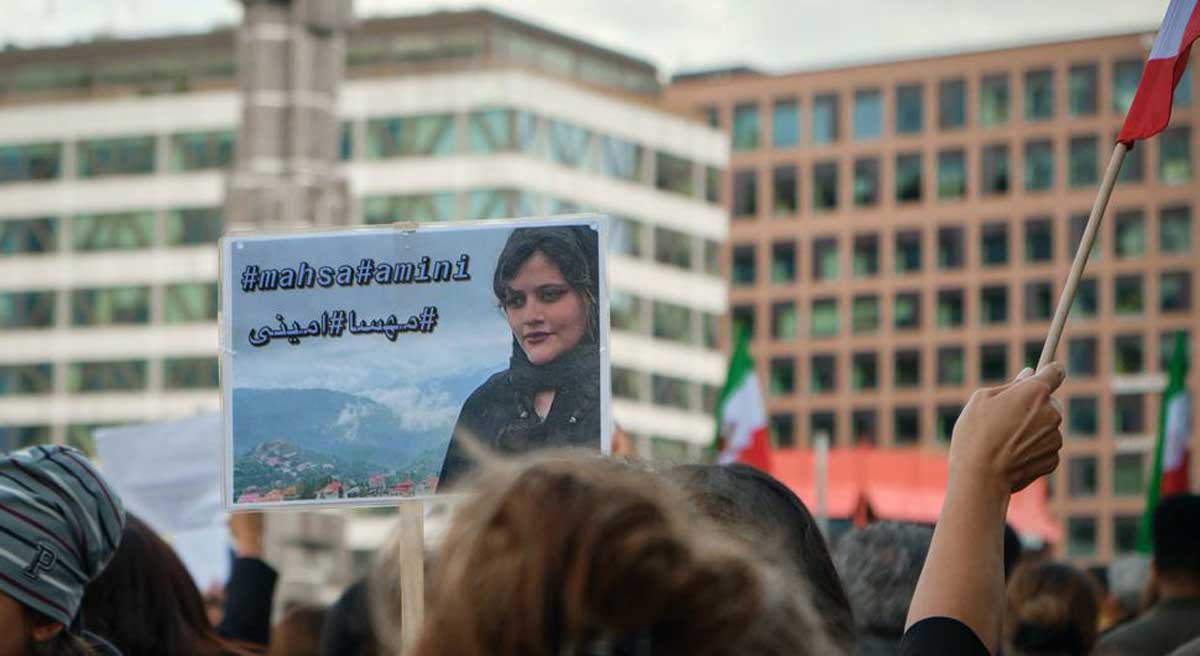 Authorities in Iran must fully respect the rights of protestors calling for justice for Mahsa Amini, the young woman who died in custody after being arrested for allegedly violating strict dress codes, the UN human rights office, OHCHR, said on Tuesday. Later in the day, the UN chief said he was becoming "increasingly concerned" about reports of the death toll rising, "including women and children."
OHCHR said it was very concerned about the continued violent response to the protests, as well as communications restrictions affecting phones, the internet and social media, Spokesperson Ravina Shamdasani told journalists in Geneva.
Ms. Amini, 22, was arrested by Iran's "morality police" in the capital, Tehran, on 13 September, for allegedly not wearing a hijab in full compliance with mandatory requirements. 
She fell into a coma shortly after collapsing at a detention centre and died three days later from a heart attack, according to the authorities.
In his statement released via his Spokesperson, UN Secretary-General António Guterres said he had been following events closely, and he called on security forces to stop using "unnecessary or disproportionate force".
He appealed for restraint, to avoid any escalation: "We underline the need for prompt, impartial and effective investigation into Ms. Mahsa Amini's death by an independent competent authority."
OHCHR's Ms. Shamdasani noted that the Iranian Government had so far failed to launch an "adequate investigation" into the circumstances surrounding Ms. Amini's death.
Wave of demonstrations
Since her death, thousands have joined anti-government demonstrations throughout the country.
Security forces have responded at times with live ammunition, and many people have been killed, injured and detained in the protests.
Violent response to protests
On Saturday, State media put the number killed at 41, she added. However, non-governmental organizations monitoring the situation have reported a higher number of deaths, including of women and children, and hundreds injured across at least 11 provinces.
"We are extremely concerned by comments by some leaders vilifying protesters, and by the apparent unnecessary and disproportionate use of force against protesters," said Ms. Shamdasani.
"Firearms must never be used simply to disperse an assembly. In the context of assemblies, they should only be used in cases of an imminent threat to life or of serious injury." 
Number of arrests unknown
Meanwhile, reports indicate that hundreds of people have also been arrested, including human rights defenders, lawyers, civil society activists, and at least 18 journalists. The Government has not announced the overall number of arrests.
Ms. Shamdasani reported that in the province of Gilan alone, the police chief said 739 people, including 60 women, had been detained during three days of protests.
OHCHR called on the authorities to ensure the rights to due process and to release all who have been arbitrarily detained.
'Persistent impunity' for violations
"We are concerned that the disruption to communications services has serious effects on people's ability to exchange information, to carry out economic activities and to access public services," she continued.
"This undermines numerous human rights, notably the right to freedom of expression. We call on the authorities to fully restore Internet access."
OHCHR also expressed concern over "the persistent impunity with respect to human rights violations in Iran", including the recurring deaths of protesters due to the alleged use of lethal force by security forces in November 2019, July 2021, and May of this year.
"Our Office reiterates our call upon the Iranian authorities to fully respect the rights to freedom of opinion, expression, peaceful assembly and association, as a State party to the International Covenant on Civil and Political Rights," said Ms. Shamdasani.
South Sudan violence proliferating
Deeply disturbing violence is escalating "all over" South Sudan, top independent UN human rights experts have warned.
Women and girls continue to be gang-raped and survivors have been described as "zombies, physically and emotionally dead", according to the UN Commission on Human Rights in the world's youngest nation.
Police the peace
In an alert, Commission chairperson, Yasmin Sooka, said that it was critical for the international community to monitor the country's peace agreement, along with other reforms – including of the armed forces and the constitution.
Transitional justice bodies are also urgently needed, as per an agreement made four years ago by the country's Government, the Commission noted.
"Without these steps, we are likely to see millions more South Sudanese displaced or crossing borders, creating havoc for neighbouring countries and aid agencies," Ms. Sooka said.
According to South Sudan's 2018 peace agreement, elections have been postponed until late 2024.
Death threats
But conditions must be peaceful for a national poll to happen and South Sudanese people "who have questioned the government or exposed atrocities have received death threats, been detained or tortured", the rights commission explained.
The panel noted that none of the three proposed transitional justice bodies agreed in 2018 have been created, namely the Commission on Truth, Reconciliation and Healing, the Hybrid Court or the Compensation and Reparation Authority.
The independent rights panel – which was established by the Human Rights Council in 2016 – said that "women raped by armed forces while collecting firewood are threatened with death if they report it".
Often, the police are too ill-equipped to do their job; "they cannot arrest a soldier who is better armed and protected the Commission said in a recent statement.
Justice denied
In a further illustration of the lack of justice for survivors, the rights investigators noted that in Unity State and rural parts of Western Equatoria, "there is no formal court to deal with serious crimes like murder and rape, only customary courts".
During a visit this month to Western Equatoria, the Commission described seeing "very young girls with babies around military bases" and hearing "multiple accounts of soldiers from both government and opposition forces abducting women".
Speaking at a Global Survivors Forum in New York at the weekend, hosted by Nobel Peace Prize winners Denis Mukwege and Nadia Murad, to examine best practice for reparations for sexual violence, inquiry Commissioner Andrew Clapham said: "Survivors in South Sudan, particularly those of repeated incidents of sexual violence, tell us again and again that criminal accountability is the only way to guarantee their safety and peace for the country. That's why setting up the Hybrid Court is non-negotiable."
UNSC urged to act in face of 'humanitarian catastrophe' in Haiti
The Security Council must act urgently to support Haiti as the gang, economic, and fuel supply crises there "intersect in altogether new and frightening ways", the head of the UN Mission in the country, BINUH, said on Monday.
Meanwhile, political stakeholders are still struggling to find common ground and define a path to elections against this backdrop, she added.
Haitian-led solution critical
"An economic crisis, a gang crisis, and a political crisis have converged into a humanitarian catastrophe. We must not lose hope, but rather combine our efforts to find a pathway to a better tomorrow," said UN Special Representative Helen La Lime, speaking from the capital Port-au-Prince.
"A Haitian-led political solution is the first necessary step to address the current crisis. To support Haitians in their effort towards a better future, this Council must take urgent action."
Gang violence continues to disrupt daily life in Haiti, driving more than 20,000 people from their homes.
More than 1 million affected
The UN estimates that at least 1.5 million people in the Caribbean country have been directly impacted by recent unrest, with gender-based violence, and in particular rape, being used systematically.
The economic crisis has caused food prices to soar, while fuel is often available only on the black market.
Protests broke out in Haiti after the Prime Minister announced on 11 September that the Government will reduce some $400 million in fuel subsidies in efforts to increase revenue for social programmes.
By the following day, barricades had been erected throughout the country, prompting a nationwide shutdown, with the situation persisting in the capital for a full five days.
One of the largest gang alliances also blocked the main fuel terminal there on 12 September. The siege lasted for over a week, despite concerted operations by the police over the weekend.
Good offices role
On the political front, Ms. La Lime said she has maintained good relations with all sectors of society and has encouraged dialogue.
"While so-far inconclusive efforts have led to a perceived stalemate, national stakeholders have begun to re-engage with a renewed sense of urgency. In the past weeks, Government representatives, political groups, and civil society organizations launched new consultations on ways to forge a wider consensus on a path to elections. But we're not there yet," she said.
Aid delivery hampered
The insecurity has also severely curtailed humanitarian access and made it "very difficult and dangerous" to deliver, according to Valerie N. Guarnieri, Deputy Executive Director at the World Food Programme (WFP).
"We expect food security to further deteriorate this year, surpassing the record high of 4.5 million people estimated to face crisis or worse levels of acute food insecurity, including 1.3 million people in emergency," she said.
The gangs strangling the capitol are blocking access to fuel supplies and key logistics hubs, including ports and airports, as well as road access to other areas of the country.
Protesters have also ransacked and looted humanitarian warehouses, with WFP losing one-third of its food stocks in just one week. UN agencies and partners estimate they have lost some $6 million during such attacks, which come at the peak of the hurricane season.
Appeal for support
Ms. Guarnieri stressed that WFP and other aid agencies intend to stay and deliver in Haiti despite the challenges, but will need greater assistance.
"Simply put, we're not in a position to support all of those that need our help due to the general lawlessness and operational environment," she said.
"Therefore, we're looking forward to increased support from the Member States, from you, to further facilitate humanitarian access as well as protection of humanitarian actors, personnel and assets."
Fighting illicit trafficking
The armed groups not only compromise stability and security, they also hamper efforts towards peace and lasting development, said Ghada Fathi Waly, Executive Director of the UN Office on Drugs and Crimes (UNODC).
Haiti is particularly vulnerable to the illicit traffic in commodities, particularly drugs, firearms and ammunition. due to its 1,500 kilometres of coastline and land border with the Dominican Republic.
Ms. Waly said UNODC is supporting border management and is working to map out transnational criminal activities in Haiti, as well as their regional impact.
They are also assisting the authorities in building capacity to inspect containers at strategic points such as ports and border crossings.
"These efforts should ensure that customs revenue be effectively sent to activities to support border modernization and border management," she said, speaking in French.