A third of youth say their education is not preparing them with the skills to get jobs
An online poll of 40,000 young people in over 150 countries reveals that many young people feel their current education is not preparing them with the skills they need to get jobs.
One third (31 per cent) of the young people responding via the UNICEF engagement platform U-Report say that the skills and training programmes offered to them did not match their career aspirations. More than a third of respondents (39 per cent) go on to say that the jobs they seek are not available in their communities.
According to the poll, the key skills young people want to acquire in order to help them gain employment in the next decade include leadership (22 per cent), followed by analytical thinking and innovation (19 per cent), and information and data processing (16 per cent).
Separately, a global survey by PwC found that 74% of CEOs around the world said they are concerned about finding the right skills to grow their business.
To address some of these challenges, UNICEF and PwC are joining forces over the next three years to help equip young people around the world with the skills they need for future work. The collaboration will support research on the growing global skills challenge and develop, expand and fund education and skills programmes in countries including India and South Africa.
"Young people are telling us they want digital and transferable skills to succeed in the workplace of the future," UNICEF Executive Director Henrietta Fore said. "This crucial need can only be met through the contributions of public and private partners around the globe. That is why we are working with partners like PwC to provide opportunities for personal growth and prosperity for young people everywhere."
Every month, 10 million young people reach working age, most of them coming from low and middle-income countries. According to a global research, it takes young people in those countries about a year and a half on average to break into the labour market, and a staggering four and a half years to find their first decent job.This situation could potentially further deteriorate if it isn't addressed, with 20-40% of the jobs currently held by 16-24 year olds assessed to be at risk of automation by the mid-2030s.[3]
"We believe business has a responsibility to help address the upskilling challenge for all of our stakeholders, including the communities in which we live and work and all of their citizens. It also makes business sense: in PwC's latest Global CEO Survey, three quarters of CEOs said the lack of available skills is a major concern and risk. Many of the people who need upskilling the most have the least access to opportunities," said Bob Moritz, Chairman of the PwC Network. "By joining forces with UNICEF, we believe we can help reach more people who may otherwise be unwillingly left behind. Together, we aim to upskill millions of young people."
The collaboration between UNICEF and PwC will support the World Economic Forum's Reskilling Revolution Platform, of which both are founding partners. The platform aims to provide better jobs, education, and skills to one billion people in the next 10 years.
PwC's skills, expertise and resources will also support Generation Unlimited, a global partnership hosted by UNICEF, to help young people successfully transition from education and training to decent work. PwC and Generation Unlimited will convene public, private and civil society stakeholders to develop investment opportunities, programmes and innovations that support young people in their path to productive futures and engaged citizenship.
Zimbabwe's Economy is Set for Recovery, but Key Risks Remain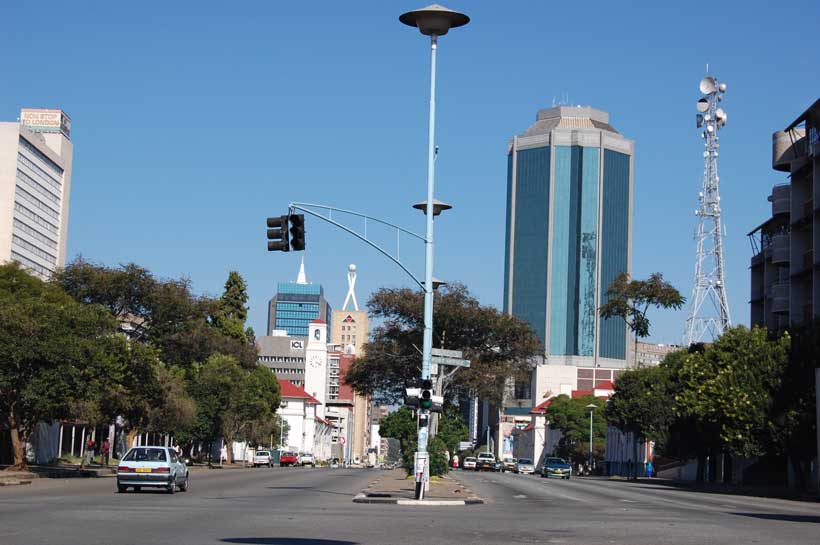 Gross Domestic Product (GDP) growth in Zimbabwe is projected to reach 3.9 percent in 2021, a significant improvement after a two-year recession, according to the World Bank Zimbabwe Economic Update (ZEU) launched today.
Economic growth this year will be led by recovery of agriculture as rains normalize, businesses adjust to limitations caused by the COVID-19 (coronavirus) pandemic, and inflation slows down. However, disruptions caused by the pandemic will continue to weigh on economic activity in Zimbabwe, limiting employment growth and improvements in living standards.
The ZEU, Overcoming Economic challenges, Natural Disasters, and the Pandemic: Social and Economic Impacts, provides the World Bank perspective on macroeconomic and poverty developments and discusses ways to strengthen public service delivery in key sectors. This is the third economic update for Zimbabwe produced by the World Bank. Economic Updates are a standard World Bank tool for macroeconomic and fiscal monitoring.
The ZEU notes that economic recovery is expected to strengthen further in 2022 with GDP growing at 5.1 percent as the deployment of vaccines intensifies and implementation of National Development Strategy 1 (2021-2025) bears fruits. Overall, the COVID-19 global contagion continues to pose significant downside risks, and thus the global and local outlook remains uncertain. A prolonged pandemic, weaker global demand, and heightened macroeconomic instability could choke economic growth, increase poverty, and worsen human capital development outcomes.
Mitigating these risks requires domestic policies to strengthen and sustain macroeconomic stability – which is critical for consolidating economic recovery. Recent efforts to stabilize prices through rule-based monetary and exchange rate policies have been effective and must be continued and expanded. Fiscal policies supportive of these efforts have thus focused on avoiding monetary financing and quasi-fiscal activities, reducing distortive subsidies, and improving fiscal and debt transparency.
"Improving the country's growth prospects will require further attention to policies that strengthen the quality of service delivery in the social sectors. Preserving lives during an unprecedented that protects livelihoods, strengthens social protection, improves food security, and ensures better education outcomes," said Mukami Kariuki, World Bank Country Manager.
Facing tight public finances and limited recourse to external financing, Zimbabwe will need to rely mostly on reallocating domestic resources to optimal public uses and leveraging private financing and humanitarian support where possible. Addressing underlying challenges in health, education, social protection, and food security will require sustained financing, strengthened accountability frameworks and investments in appropriate management information systems.
The ZEU reviews developments in 2019 and 2020; and emerging trends in 2021. Part One of the ZEU provides an overview of the macroeconomic and poverty context. Part Two assesses the impact of COVID-19 and other exogenous shocks on delivery of basic services to the poor and proposes mitigating actions for discussion. It also summarizes key policy options needed to stabilize Zimbabwe's economy, minimize the social costs of the transition, and prepare for an economic recovery.
Slow jobs recovery and increased inequality risk long-term COVID-19 scarring
The labour market crisis created by the COVID-19 pandemic is far from over, and employment growth will be insufficient to make up for the losses suffered until at least 2023, according to a new assessment by the International Labour Organization (ILO).

The ILO's World Employment and Social Outlook: Trends 2021 (WESO Trends) projects the global crisis-induced 'jobs gap' will reach 75 million in 2021, before falling to 23 million in 2022. The related gap in working-hours, which includes the jobs gap and those on reduced hours, amounts to the equivalent of 100 million full-time jobs in 2021 and 26 million full-time jobs in 2022. This shortfall in employment and working hours comes on top of persistently high pre-crisis levels of unemployment, labour underutilization and poor working conditions.

In consequence, global unemployment is expected to stand at 205 million people in 2022, greatly surpassing the level of 187 million in 2019. This corresponds to an unemployment rate of 5.7 per cent. Excluding the COVID-19 crisis period, such a rate was last seen in 2013.

The worst affected regions in the first half of 2021 have been Latin America and the Caribbean, and Europe and Central Asia. In both, estimated working-hour losses exceeded eight per cent in the first quarter and six per cent in the second quarter, compared to global working-hour losses of 4.8 and 4.4 per cent in the first and second quarter, respectively.

Global employment recovery is projected to accelerate in the second half of 2021, provided that there is no worsening in the overall pandemic situation. However this will be uneven, due to unequal vaccine access and the limited capacity of most developing and emerging economies to support strong fiscal stimulus measures. Furthermore, the quality of newly created jobs is likely to deteriorate in those countries.

The fall in employment and hours worked has translated into a sharp drop in labour income and a corresponding rise in poverty. Compared to 2019, an additional 108 million workers worldwide are now categorized as poor or extremely poor (meaning they and their families live on the equivalent of less than US$3.20 per person per day). "Five years of progress towards the eradication of working poverty have been undone," the report says, adding that this renders the achievement of the UN Sustainable Development Goal of eradicating poverty by 2030 even more elusive.

The COVID-19 crisis has also made pre-existing inequalities worse by hitting vulnerable workers harder, the report finds. The widespread lack of social protection – for example among the world's two billion informal sector workers – means that pandemic-related work disruptions have had catastrophic consequences for family incomes and livelihoods.

The crisis has also hit women disproportionately. Their employment declined by 5 per cent in 2020 compared to 3.9 per cent for men. A greater proportion of women also fell out of the labour market, becoming inactive. Additional domestic responsibilities resulting from crisis lockdowns have also created the risk of a "re-traditionalization" of gender roles.

Globally, youth employment fell 8.7 per cent in 2020, compared with 3.7 per cent for adults, with the most pronounced fall seen in middle-income countries. The consequences of this delay and disruption to the early labour market experience of young people could last for years.

The pandemic's impact on young people's labour market prospects is laid out in greater detail in an ILO brief published alongside the WESO Trends. The Update on the youth labour market impact of the COVID-19 crisis also finds that gender gaps in youth labour markets became more pronounced.

"Recovery from COVID-19 is not just a health issue. The serious damage to economies and societies needs to be overcome too. Without a deliberate effort to accelerate the creation of decent jobs, and support the most vulnerable members of society and the recovery of the hardest-hit economic sectors, the lingering effects of the pandemic could be with us for years in the form of lost human and economic potential and higher poverty and inequality," said ILO Director-General, Guy Ryder. "We need a comprehensive and co-ordinated strategy, based on human-centred policies, and backed by action and funding. There can be no real recovery without a recovery of decent jobs."

As well as looking at working hour and direct employment losses, and foregone job growth, the WESO outlines a recovery strategy structured around four principles: promoting broad-based economic growth and the creation of productive employment; supporting household incomes and labour market transitions; strengthening the institutional foundations needed for inclusive, sustainable and resilient economic growth and development; and using social dialogue to develop human-centred recovery strategies.
Universal Access to Sustainable Energy Will Remain Elusive Without Addressing Inequalities
During the last decade, a greater share of the global population gained access to electricity than ever before, but the number of people without electricity in Sub-Saharan Africa actually increased. Unless efforts are scaled up significantly in countries with the largest deficits the world will still fall short of ensuring universal access to affordable, reliable, sustainable, and modern energy by 2030, according to Tracking SDG 7: The Energy Progress Report released today by the International Energy Agency (IEA) the International Renewable Energy Agency (IRENA), the UN Department of Economic and Social Affairs (UN DESA), the World Bank, and the World Health Organization (WHO).
According to the report, significant progress has been made since 2010 on various aspects of the Sustainable Development Goal (SDG) 7, but progress has been unequal across regions. While more than one billion people gained access to electricity globally over the last decade, COVID's financial impact has made basic electricity services unaffordable for 30 million more people, the majority located in Africa. Nigeria, the Democratic Republic of Congo and Ethiopia had the biggest electricity access deficits, with Ethiopia replacing India in the Top 3.
Globally, the number of people without access to electricity declined from 1.2 billion in 2010 to 759 million in 2019. Electrification through decentralized renewable-based solutions in particular gained momentum. The number of people connected to mini grids has more than doubled between 2010 and 2019, growing from 5 to 11 million people. However, under current and planned policies and further affected by the COVID-19 crisis, an estimated 660 million people would still lack access in 2030, most of them in Sub-Saharan Africa.
At the same time, some 2.6 billion people remained without access to clean cooking in 2019, one third of the global population. Largely stagnant progress since 2010 leads to millions of deaths each year from breathing cooking smoke, and without rapid action to scale up clean cooking the world will fall short of its target by 30 percent come 2030. The state of access in the Sub-Saharan African region is characterized by population growth outpacing gains in the number of people with access, so that 910 million in the region lack access to clean cooking. The top 20 access-deficit countries account for 81 percent of the global population without access to clean fuels and technologies. Of these, the Democratic Republic of the Congo, Ethiopia, Madagascar, Mozambique, Niger, Uganda and Tanzania had less or equal to 5 percent of their populations with access to clean cooking. On a positive note, Indonesia, Cambodia and Myanmar have made gains each year over the report period.
The report examines various ways to bridge the gaps to reach SDG7, chief among them the goal of significantly scaling up renewables – which have proven more resilient than other parts of the energy sector during the COVID-19 crisis. While renewable energy has seen unprecedented growth over the last decade, its share of total final energy consumption remained steady as global energy consumption grew at a similar rate. Renewables are most dynamic in the electricity sector, reaching around 25 percent in 2018, while progress in the heat and transport sectors have been much slower.
More than one third of the increase in renewable energy generation in 2018 can be attributed to East Asia – driven by large uptakes of solar and wind energy in China. The largest country-level advances in renewable energy in 2018 were observed in Spain, owing to higher hydropower generation, followed by Indonesia where a rapid uptake of bioenergy for power generation played a substantial role. To significantly increase the share of renewable energy in line with the SDG 7 target, current efforts need to accelerate in all end-use sectors to scale uptake of renewables while containing total energy demand.
Energy intensity improvements (a proxy for energy efficiency) are moving further away from the target set under SDG7 for 2030. The rate of global primary energy intensity improvement in 2018 was 1.1 percent compared to 2017, the lowest average annual rate of improvement since 2010. The annual improvement until 2030 will now need to average 3 percent if we are to meet the goal.
Accelerating the pace of progress across all regions and indicators will require stronger political commitment, long-term energy planning, and adequate policy and scale incentives to spur faster uptake of sustainable energy solutions. Although clean energy investments continue to be sourced primarily from the private sector, the public sector remains a major source of financing and is central in leveraging private capital, particularly in developing countries and in a post-COVID context. One of the newest indicators in the report, international public financial flows to developing countries, shows that international financial support continue to be concentrated in a few countries and failing to reach many of those most in need. Flows to developing countries in support of clean and renewable energy reached $14 billion in 2018, with a mere 20 percent going to the least-developed countries, which are the furthest from achieving the various SDG7 targets. An increased emphasis on "leaving no one behind" is required in the years ahead.
This is the seventh edition of this report, formerly known as the Global Tracking Framework (GTF). This year's edition was chaired by the United Nations Statistics Division.
The report this year comes at a crucial time as Governments and stakeholders are gearing up for the UN High-level Dialogue on Energy, a summit-level meeting in September 2021 that will examine steps needed to achieve SDG7 by 2030 and mobilize voluntary commitments and actions in the form of Energy Compacts.
Funding for the report was provided by the World Bank's Energy Sector Management Assistance Program (ESMAP).