Back in the 1950s, as a child growing up in the middle of New York City, I attended Saturday afternoon movies about interplanetary war. Typically, in those easily forgotten films, Soviet and American soldiers would end up fighting on the same side against a common enemy, even during the furiously adversarial Cold War.[1] Though hardly an ideological premise of either superpower "pole,"[2] Washington and Moscow recognized the primacy of undertaking cooperation against an overriding global menace.
To be sure, there is no evident "message" here concerning world politics. After all, we ought never to rely upon wholly contrived or fictive scenarios of alien invasion to buttress human survival. Nonetheless, potentially at least, a plausible catalyst has recently presented itself. This unwanted and unwitting benefactor is worldwide pandemic, a fearsome and pathogen-based threat that confronts humankind in toto, and without regard for any national, racial, ethnic, religious or ideological differences.
Ironically, the coronavirus pandemic could effectively become a real-world alternative to cinematic alien invasion; that is, a purposeful and pragmatic source of long-sought human unity.
Credo quia absurdum, said the ancient philosophers. "I believe because it is absurd." However counterintuitive, the incontestable commonality of corona disease threat could underscore and animate the creation of a genuinely cooperative world politics. Significantly, it's not as silly or fanciful as it may first sound.
Not at all.[3]
Where are we at right now? For the moment, the United States under Donald Trump's presidential aegis is oriented toward the literal opposite of expanding global community. Even more to the point, Trump's doctrinal emphasis on the incessantly belligerent nationalism of "America First" represents a rejection of human commonality in any form.[4] Illogical and bitterly rancorous, this ill-fated rejection has no recognizable basis in science or law.[5] Rather, it reinforces the long-discredited view that we humans are unchallengeable masters of the universe, clearly destined to lord over innumerable lesser species, apparently forever.
All this though the viruses, bacteria and assorted other pathogens have been around for much longer than we, much longer, and will likely survive any number of man-made catastrophic "insults" that could simultaneously threaten humankind with extinction.
It is finally time to inquire intellectually/analytically: What are the expected consequences of believing that one "powerful" country can or should prosper at the expense of all others? Left unmodified, the most palpable effect of this president's delusionary policies of undiminishing conflict will be an accelerating tribalism here on earth.[6] To the extent that the starkly corrosive effects of this tribalism could sometime display a credible nuclear dimension, these effects could suddenly or incrementally propel the United States toward irretrievable forms of catastrophe.[7] On the other hand, a firm rejection of American tribalism in every one of its injurious expressions could sometime prove generally or universally gainful.
Ultimately, if we humans are going to survive as a species, truth must win out decisively over political wizardry and philistine thinking.[8] The irresistible conclusion here is that American continuance and prosperity are inextricably linked with a much wider global impact. Accordingly, it is profoundly and unforgivably foolish to suppose that this nation – or, indeed, any other nation on earth – should expect meaningful progress at the deliberately sacrificial expense of other nations. Disease pandemics are prospectively universal, and can provide impetus not only for mitigating a particular pathology, but also for institutionalizing wider patterns of global cooperation.[9]
By its very nature, the president's core mantra of perpetually belligerent nationalism is crude and injurious. Instead of "America First," the only sensible posture for any U.S. president must be some coherent variation of "all the world together." Such an improved mantra might not be all that difficult to operationalize if there were antecedent political will.[10] Nor would it necessarily be bewilderingly complex. In fact, the basic idea is discoverable in the prescient words of Pierre Teilhard De Chardin: "The egocentric ideal of a future reserved for those who have managed to attain egoistically the extremity of everyone for himself," summarized the Jesuit scientist and philosopher, "is false and against nature. No element can move and grow except with and by all the others with itself."
Prima facie, the key message here is simple, straightforward and thoroughly illogical to contest. This message communicates, among other things, that no single country's individual success can be achieved at the tangible expense of other countries. Moreover, we should learn from the same message, no individual national success is reasonably sustainable if the world as a whole must thereby expect a diminishing future.
No conceivably gainful configuration of Planet Earth can ever prove rewarding if the conspicuously vast human legions which comprise it are set morally, spiritually, and intellectually adrift. It is, of course, precisely such a willful detachment from secure national and international moorings that is fostered by Donald Trump's unsupportable "America First."[11]
Earlier, observed William Butler Yeats, in what already represented a broadly metaphorical indictment of what could be expected, "Theblood-dimmed tide is loosed." But just as it was then for the empathetic Irish poet, today's expanding global chaos is still primarily a symptom. It is, as the professional philosophers would likely prefer to describe, "merely epiphenomenal."
The philosophers would be correct. For the world as a whole, chaos and anarchy are never the genuinely underlying "disease." Always, that more determinative pathology remains rooted in certain ostentatiously great and powerful states that stubbornly fail to recognize the imperatives of human interrelatedness. Plainly, this core incapacity to acknowledge our species' indestructible biological "oneness" has been a long-term problem; it is not in any way particular to certain American presidents or to the United States in its entirety.
Now, in the literal midst of a worldwide pathological assault from the corona virus, what should we expect from President Trump's still-unhidden contempt for world community? Most plausibly, world politics will increasingly encourage or enlarge an already basic human deficit. This deficit is the incapacity of individual citizens and their respective state societies to discover authentic self-worth as individual persons; that is, deeply within themselves. Such an enduring deficit was foreseen in the eighteenth century by America's then-leading person of letters, Ralph Waldo Emerson. Today, revealingly, the still-vital insights of "American Transcendentalism" remain recognizable only to an excruciatingly tiny minority of citizens.
And this is presumptively an "educated society?"[12]
Notwithstanding its impressive intellectual antecedents, including some earlier occupants of the White House, the United States is a country that almost never reads serious books. This cryptic observation is not offered here in any offhanded or gratuitously mean spirited fashion, but, quite the contrary, as a lamentable fact of American life, one famously commented upon during the first third of the nineteenth century by a distinguished French visitor to the new republic, Alexis de Tocqueville (Democracy in America). This same fact led the Founding Fathers of the United States, including Thomas Jefferson (the most identifiably democratic among the celebrated group), to rail against any uneducated mass participation in the new nation's formal governance.
As a necessary corrective, Jefferson set forth in his Notes on Virginia a plan of elementary schooling, one by which "twenty of the best geniuses will be raked from the rubbish annually."
Somehow, whatever we might presently think of Jefferson's earlier expectations for "The American People," the current president has managed to miss what is manifestly most important to our common human future. This vital element is the critical inner horizon of world politics, and all that it implies. In literature, this seemingly indecipherable horizon, an exquisitely subtle zone of understanding, is not in any usual fashion understandable. Nor is it oriented toward maximizing practical commerce or personal wealth, ordinarily the worshipped mainsprings of life in the United States. For background, this horizon can still be encountered and understood in the writings of Sören Kierkegaard, Sigmund Freud, Friedrich Nietzsche, Hermann Hesse, Carl Jung, and Pierre Teilhard de Chardin.
Let us (finally) be aptly conceptual about such matters; that is, to look behind the daily news. This means the microcosm. Here on earth, the tribe, in one form or another, is "the beginning." Always.
From the muddled primal promiscuity of our species' earliest ventures into global politics, determinative behavior has been driven by some kind or other of specific group elevation and by the resultant inter-group conflicts.
From the identifiable human origins of our so-called "civilizations," and also from the pitiably aggregated totals of individual human souls seeking satisfying forms of a secular redemption, most people have felt themselves lost or abandoned outside the encompassing warmth of a protective tribe.
It is this degrading and potentially lethal inclination that is continually fostered by Donald Trump's belligerent or zero-sum nationalism, by America First.[13]
There is more. The veneer of human civilization remains distressingly razor thin. Oddly, whole swaths of humankind remain openly dedicated to certain ancient and grotesque sacrificial practices. In this connection, by ritualistically linking violence and the sacred, many terrorist murders are being justified as "holy war" or "freedom fighting." But they remain basically and incontestably murders.
As a determined response to serious challenges, from pandemic control to nuclear war avoidance, competitive nationalism is sorely misconceived. If left unchallenged, this atavistic mantra will only further harden the hearts of America's most recalcitrant enemies, thereby exacerbating the essential search for viable human remedies. What we really need is a broadening of support for more enduring impulses of global solidarity and human interconnectedness.
From the seventeenth-century Peace of Westphalia (1648), which ended the last of the religious wars sparked by the Reformation, international relations have been shaped by a protean or ever-changing "balance of power," and by certain evident corollaries of war, terror and genocide.[14] To be sure, hope still exists, but now it must sing softly, in an embarrassed undertone, with circumspection, inconspicuously, almost sotto voce. Although counter-intuitive, the time for any visceral celebrations of nationalism, military technology and even social media is at least partially over. Now, in order to survive on an imperiled planet, all of us, together, must seek to rediscover an individual life, energetically, one that is consciously detached from nationally pre-patterned kinds of conformance and from all disingenuously contrived visages of imagined tribal happiness.
With such indispensably candid expressions of an awakened human spirit, Americans may yet learn something that is useful and redemptive. We may learn, even during the harshly descending "Time of Trump," that a commonly felt agony is more important than astrophysics; that a ubiquitous mortality is more consequential than any supposed financial "success;" and that shared human tears may reveal much deeper existential meanings and opportunities than any purported "balance-of-power." [15]
This is most markedly true today with regard to those tangible "tears" associated with corona virus spread.
In his landmark work, The Decline of the West, first published during World War I, Oswald Spengler inquired: "Can a desperate faith in knowledge free us from the nightmare of the grand questions?" It remains a noteworthy query, one that will likely never be seriously raised in our universities, let alone on Wall Street or in the trump White House. We may, however, still learn something about these "grand questions" by studying American responsibility for an expanding chaos in world politics.
At that time, moreover, we might finally learn that the most suffocating insecurities of life on earth can never be undone by militarizing global economics, by building larger missiles, by abrogating international treaties or by replacing one abundantly sordid regime with another in presumptively "realistic" interests of "national security."[16]
In the end, truth is exculpatory. Surprisingly, in a uniquely promising paradox, Trump's America First policies' express a continuous lie that can help us see the truth. This particular truth, cosmopolitan in outlook, is that Americans must become abundantly conscious of unity and relatedness between all human beings and between all nation-states.
The common enemy of a worldwide disease pandemic could become an appropriate beginning for such a new global consciousness.
Although still generally unrecognized, such lucidity must become integral to plausible possibilities of American national security and well-being. Now, before it is too late, is prospectively the last best time to replace the "passionate intensity" of belligerent tribal competitions with a greatly improved sort of "conviction."[17] Newly armed with an informed understanding that would denounce "everyone for himself" strategizing in world politics, the myriad internal contradictions of Donald Trump's "everyone for himself" philosophy could recede into a thoroughly well-deserved oblivion.
Could the desperately needed transition from "realist" world politics to more genuinely collaborative international interactions actually take place?[18] The pertinent odds are seemingly low, of course, but they are also not meaningfully calculable.[19] The current situation of worldwide pandemic as opportunity is sui generis and difficult to accept. Yet, it rightfully brings to mind the wise and reinforcing observation of Italian filmmaker Federico Fellini: "The visionary is the only realist."
In all that has been discussed and assessed above, irony abounds. But ironic observations need not in any way be disqualifying. Though it would seem inconceivable that any serious human benefits could be extracted from a virulent and unpredictable pandemic, there remain certain latent opportunities to discover planetary gain in a common disease adversary.
In essence, because we could hardly seek to discover such a convenient foe in extra-planetary aggressions (in candor, a Martian invasion will not save us), national governments throughout the world should identify extended cooperation against the corona virus as a propitious first-step toward wider forms of global collaboration. Here, in what political scientists and other scholars used to call "functionalism" or "structural-functionalism," there could take place a dignifying "spill over" of cooperative world politics from one very specific medical problem toward much wider affirmations of biological and social "oneness."
Nothing could possibly be more sensible or urgently important. To be sure, there is nothing conceivably positive about any virulent disease pandemic, but the current corona virus spread could still harbor certain latent benefits for "world order" reform.[20]In this setting, we may again usefully recall filmmaker Federico Fellini: "The visionary is the only realist."

---
[1] Professor Louis René Beres is the author of several early books dealing with US – Russian (Soviet) nuclear strategies and treaties. See, for example: Louis René Beres, Apocalypse: Nuclear Catastrophe in World Politics (The University of Chicago Press, 1980); Louis René Beres, Mimicking Sisyphus: America's Countervailing Nuclear Strategy (DC Heath/Lexington, 1983); and Louis René Beres, Reason and Realpolitik: US Foreign Policy and World Order (DC Heath/Lexington, 1984). See also his 2016 Israel-published monograph with US General (USA/ret.) Barry R. McCaffrey, Israel's Nuclear Strategy and America's National Security https://sectech.tau.ac.il/sites/sectech.tau.ac.il/files/PalmBeachBook.pdf
[2] For early writings, by this author, on the global security implications of Cold War bipolarity, see: Louis René Beres, "Bipolarity, Multipolarity, and the Reliability of Alliance Commitments," Western Political Quarterly, Vol. 25, No.4., December 1972, pp. 702-710; Louis René Beres, "Bipolarity, Multipolarity, and the Tragedy of the Commons," Western Political Quarterly, Vol. 26, No.4., December 1973, pp, 649-658; and Louis René Beres, "Guerillas, Terrorists, and Polarity: New Structural Models of World Politics," Western Political Quarterly, Vol. 27, No.4., December 1974, pp. 624-636.
[3] One should be reminded of Bertrand Russell's trenchant observation in Principles of Social Reconstruction (1916): "Men fear thought more than they fear anything else on earth – more than ruin, more even than death."
[4] One such form is world government. In this connection, noted Sigmund Freud: "Wars will only be prevented with certainty if mankind unites in setting up a central authority to which the right of giving judgment upon all shall be handed over. There are clearly two separate requirements involved in this: the creation of a supreme agency and its endowment with the necessary power. One without the other would be useless." (See: Sigmund Freud, Collected Papers, cited in Louis René Beres, The Management of World Power: A Theoretical Analysis, University of Denver, Monograph Series in World Affairs, Vol. 10 (1973-73), p, 27.)
[5] According to Blackstone, each state is always expected "to aid and enforce the law of nations, as part of the common law, by inflicting an adequate punishment upon offenses against that universal law…." See: 2 William Blackstone, Commentaries on the Laws of England, Book 4, "Of Public Wrongs." Lest anyone ask about the significance of Blackstone for current US national security policies, one need only point out that Commentaries were an original and core foundation of the laws of the United States.
[6] There is no longer a virtuous nation," warns the poet William Butler Yeats, "and the best of us live by candlelight."
[7] The worst of these forms of catastrophe concern the risks of a nuclear war occasioned by an unprepared or self-deluded American president. In this regard, we may recall the words of "beat poet" Lawrence Ferlinghetti back in 1958 (A Coney Island of the Mind): "In a surrealist year some cool clown pressed an inedible mushroom button, and an inaudible Sunday bomb fell down, catching the president at his prayers on the 19th green."
[8] Recalling Soren Kierkegaard (The Sickness unto Death; 1849): "Devoid of imagination, as the Philistine always is, he lives in a certain trivial province of experience, as to how things go, what is possible, what usually occurs….Philistinism thinks it is in control of possibility….it carries possibility around like a prisoner in the cage of the probable, and shows it off."
[9] Says Emmerich de Vattel, in The Law of Nations (1758), "The first general law, which is to be found in the very end of the society of Nations, is that each Nation should contribute as far as it can to the happiness and advancement of other Nations."
[10] In modern philosophy, the evident highlighting of this useful term lies in Arthur Schopenhauer's writings, especially The World as Will and Idea (1818). For his own inspiration (and by his own expressed acknowledgment), Schopenhauer drew freely upon Johann Wolfgang von Goethe. Later, Nietzsche drew just as freely (and perhaps more importantly) upon Schopenhauer. Goethe. also served as a core intellectual source for Spanish existentialist Jose Ortega y' Gasset, author of the prophetic work, The Revolt of the Masses (Le Rebelion de las Masas (1930). See, accordingly, Ortega's very grand essay, "In Search of Goethe from Within" (1932), written for Die Neue Rundschau of Berlin on the occasion of the centenary of Goethe's death. It is reprinted in Ortega's anthology, The Dehumanization of Art (1948) and is available from Princeton University Press (1968).
[11] Significantly, international law is part of United States jurisprudence. In the words of Mr. Justice Gray, delivering the judgment of the US Supreme Court in Paquete Habana (1900): "International law is part of our law, and must be ascertained and administered by the courts of justice of appropriate jurisdiction…." (175 U.S. 677(1900)) See also: Opinion in Tel-Oren vs. Libyan Arab Republic (726 F. 2d 774 (1984)).Moreover, the specific incorporation of treaty law into US municipal law is expressly codified at Art. 6 of the US Constitution, the so-called "Supremacy Clause."
[12] See, by this author, at The Daily Princetonian: https://www.dailyprincetonian.com/article/2018/06/a-core-challenge-of-higher-education
[13] "The enemy," noted German philosopher Karl Jaspers, in a more generic sense, "is the unphilosophical spirit which knows nothing and wants to know nothing of truth." See: Reason and Anti-Reason in our Time, 1971, p. 66.
[14] International law remains a "vigilante" or "Westphalian" system of jurisprudence. The Peace of Westphalia created the still-existing decentralized or self-help state system. See: Treaty of Peace of Munster, Oct. 1648, 1 Consol. T.S. 271; and Treaty of Peace of Osnabruck, Oct. 1648, 1, Consol. T.S. 119, Together, these two treaties comprise the Peace of Westphalia.
[15] The concept of a balance of power – an idea of which the nuclear-age balance of terror is a more recent variant – has never been more than a facile metaphor. Further, it has never had anything to do with any calculable equilibrium. As such a balance is always a matter of individual and more-or-less subjective perceptions, adversary states may never be sufficiently confident that strategic circumstances are "balanced" in their favor. In consequence, as each side must perpetually fear that it will be "left behind," the search for balance continually produces wider insecurity and disequilibrium.
[16] In this connection, an always attendant or corollary risk has to do with irrational decision-making in world politics. Expressions of such decisional irrationality could take different but sometimes overlapping forms. These forms, which would have no necessary correlations with authentic madness, include a disorderly or inconsistent value system; computational errors in calculation; an incapacity to communicate efficiently; random or haphazard influences in the making or transmittal of particular decisions; and the internal dissonance generated by any structure of collective decision-making (i.e., assemblies of pertinent individuals who lack identical value systems and/or whose organizational arrangements impact their willing capacity to act as a single or unitary national decision maker)
[17] Apropos, from William Butler Yeats' The Second Coming: "Turning and turning in the widening gyre; the falcon cannot hear the falconer; Things fall apart; the centre cannot hold; Mere anarchy is loosed upon the world. The blood-dimmed tide is loosed, and everywhere the ceremony of innocence is drowned; the best lack all conviction, while the worst are full of passionate intensity."
[18] The sixteenth-century Florentine philosopher, Niccolo Machiavelli, joined Aristotle's foundations for a scientific study of politics with assumptions of realpolitik to reach certain pragmatic conclusions about politics. His most important conclusion underscores the dilemma of practicing goodness in an essentially evil world: "A man who wishes to make a profession of goodness in everything must necessarily come to grief among so many who are not good." (See THE PRINCE, Chapter XV). Recognizing this tragic state of affairs, Machiavelli proceeds to advance the arguments for expediency that have become synonymous with his name. With the placing of the idea of force at the center of his political theory, the author of THE PRINCE stands in sharp contrast to the Platonic and early Christian concepts of the "good." Rejecting both Plato's argument that there is a knowable objective "good" that leads to virtue, and Augustine's otherworldly idea of absolute goodness, Machiavelli constructs his "realistic" political theory on the assumption that "all men are potential criminals, and always ready to realize their evil intentions whenever they are free to do so." In his instructions to the statesman on how to rule in a world dominated by force, he shamelessly advises "to learn how not to be good." The seventeenth-century materialist and social philosopher, Thomas Hobbes, elaborated a complex system of thought in which man was reduced to a state of nature and then reconstructed. Seeking a science of human nature that would have the rigor of physics, Hobbes looked to introspection as the source of a genuine or "realistic" understanding: "Whosoever looketh into himself and considereth what he doth when he does think, opine, reason, hope, fear, etc., and upon what grounds, he shall thereby read and know, what are the thoughts and passions of all other men, upon the like occasions." (See Introduction to LEVIATHAN). The results of such an analysis of one's own thought processes led Hobbes to his celebrated theory of the social contract: the natural egoism of man produces a "war of all against all" in the absence of civil government and must be tempered by absolute monarchy. Moreover, the condition of nature, which is also called a condition of war marked by "continual fear, and danger of violent death," has always been the characteristic condition of international relations and international law: "But though there had never been any time, wherein particular men were in a condition of war one against another; yet, in all times, kings, and persons of sovereign-authority, because of their independency, are in continual jealousies, and in the state and posture of gladiators; having their weapons pointing, and their eyes fixed on one another; that is, their forts, garrisons, and guns upon the frontiers of their kingdoms, and continual spies upon their neighbors, which is a posture of war." (See LEVIATHAN, Chapter XIII).
[19] In science and mathematics, true probabilities must always be based upon the discernible frequency of pertinent past events.
.
[20] The term world order reform has its contemporary origins in a scholarly movement begun at the Yale Law School in the mid- and late 1960s, and "adopted" at the Politics Department at Princeton University in 1967-68. The author, Louis René Beres, was an early member of the Princeton-based World Order Models Project, and the author of several early books in this once-promising scholarly genre.
Interpreting the Biden Doctrine: The View From Moscow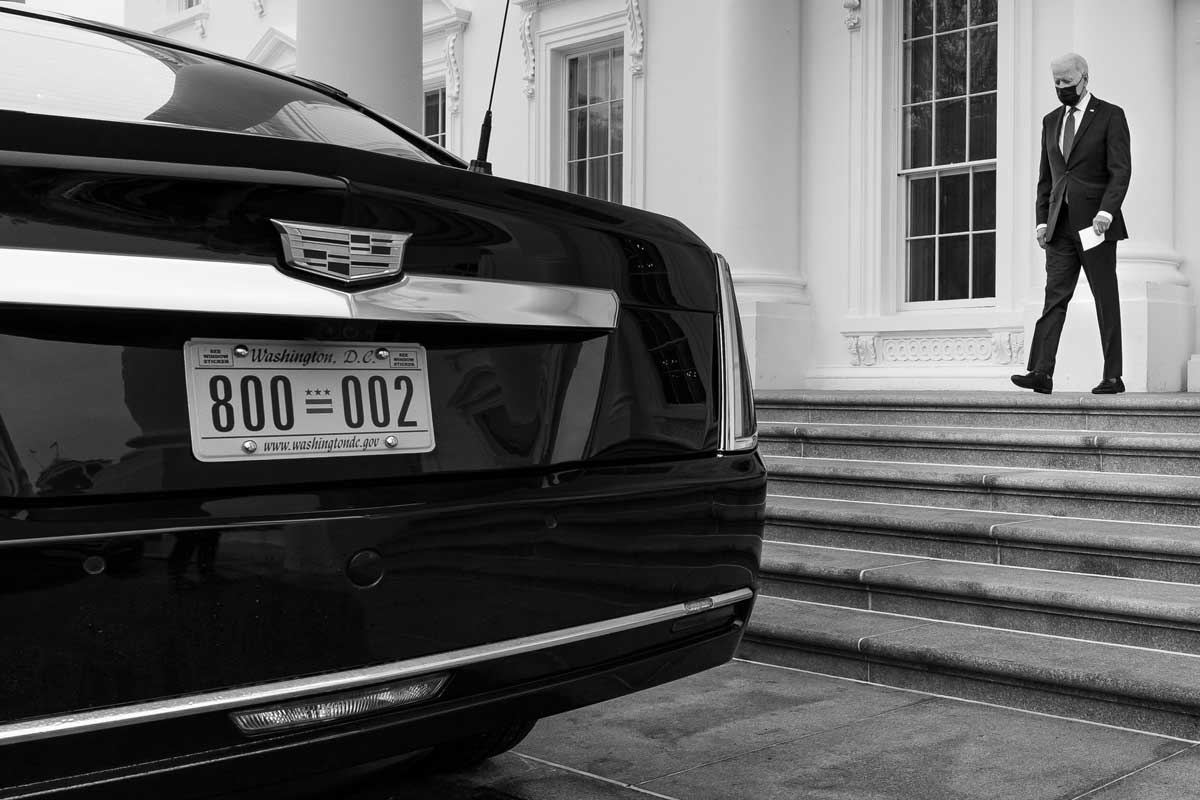 It is the success or failure of remaking America, not Afghanistan, that will determine not just the legacy of the Biden administration, but the future of the United States itself.
The newly unveiled Biden doctrine, which renounces the United States' post-9/11 policies of remaking other societies and building nations abroad, is a foreign policy landmark. Coming on the heels of the U.S. withdrawal from Afghanistan, it exudes credibility. Indeed, President Biden's moves essentially formalize and finalize processes that have been under way for over a decade. It was Barack Obama who first pledged to end America's twin wars—in Iraq and Afghanistan—started under George W. Bush. It was Donald Trump who reached an agreement with the Taliban on a full U.S. military withdrawal from Afghanistan in 2021. Both Obama and Trump also sought, albeit in strikingly different ways, to redirect Washington's attention to shoring up the home base.
It is important for the rest of the world to treat the change in U.S. foreign policy correctly. Leaving Afghanistan was the correct strategic decision, if grossly overdue and bungled in the final phases of its implementation. Afghanistan certainly does not mean the end of the United States as a global superpower; it simply continues to be in relative and slow decline. Nor does it spell the demise of American alliances and partnerships. Events in Afghanistan are unlikely to produce a political earthquake within the United States that would topple President Biden. No soul searching of the kind that Americans experienced during the Vietnam War is likely to emerge. Rather, Washington is busy recalibrating its global involvement. It is focusing even more on strengthening the home base. Overseas, the United States is moving from a global crusade in the name of democracy to an active defense of liberal values at home and Western positions abroad.
Afghanistan has been the most vivid in a long series of arguments that persuaded Biden's White House that a global triumph of liberal democracy is not achievable in the foreseeable future. Thus, remaking problematic countries—"draining the swamp" that breeds terrorism, in the language of the Bush administration—is futile. U.S. military force is a potent weapon, but no longer the means of first resort. The war on terror as an effort to keep the United States safe has been won: in the last twenty years, no major terrorist attacks occurred on U.S. soil. Meantime, the geopolitical, geoeconomic, ideological, and strategic focus of U.S. foreign policy has shifted. China is the main—some say, existential—challenger, and Russia the principal disrupter. Iran, North Korea, and an assortment of radical or extremist groups complete the list of adversaries. Climate change and the pandemic have risen to the top of U.S. security concerns. Hence, the most important foreign policy task is to strengthen the collective West under strong U.S. leadership.
The global economic recession that originated in the United States in 2007 dealt a blow to the U.S.-created economic and financial model; the severe domestic political crisis of 2016–2021 undermined confidence in the U.S. political system and its underlying values; and the COVID-19 disaster that hit the United States particularly hard have all exposed serious political, economic, and cultural issues and fissures within American society and polity. Neglecting the home base while engaging in costly nation-building exercises abroad came at a price. Now the Biden administration has set out to correct that with huge infrastructure development projects and support for the American middle class.
America's domestic crises, some of the similar problems in European countries, and the growing gap between the United States and its allies during the Trump presidency have produced widespread fears that China and Russia could exploit those issues to finally end U.S. dominance and even undermine the United States and other Western societies from within. This perception is behind the strategy reversal from spreading democracy as far and wide as Russia and China to defending the U.S.-led global system and the political regimes around the West, including in the United States, from Beijing and Moscow.
That said, what are the implications of the Biden doctrine? The United States remains a superpower with enormous resources which is now trying to use those resources to make itself stronger. America has reinvented itself before and may well be able to do so again. In foreign policy, Washington has stepped back from styling itself as the world's benign hegemon to assume the combat posture of the leader of the West under attack.
Within the collective West, U.S. dominance is not in danger. None of the Western countries are capable of going it alone or forming a bloc with others to present an alternative to U.S. leadership. Western and associated elites remain fully beholden to the United States. What they desire is firm U.S. leadership; what they fear is the United States withdrawing into itself. As for Washington's partners in the regions that are not deemed vital to U.S. interests, they should know that American support is conditional on those interests and various circumstances. Nothing new there, really: just ask some leaders in the Middle East. For now, however, Washington vows to support and assist exposed partners like Ukraine and Taiwan.
Embracing isolationism is not on the cards in the United States. For all the focus on domestic issues, global dominance or at least primacy has firmly become an integral part of U.S. national identity. Nor will liberal and democratic ideology be retired as a major driver of U.S. foreign policy. The United States will not become a "normal" country that only follows the rules of realpolitik. Rather, Washington will use values as a glue to further consolidate its allies and as a weapon to attack its adversaries. It helps the White House that China and Russia are viewed as malign both across the U.S. political spectrum and among U.S. allies and partners, most of whom have fears or grudges against either Moscow or Beijing.
In sum, the Biden doctrine does away with engagements that are no longer considered promising or even sustainable by Washington; funnels more resources to address pressing domestic issues; seeks to consolidate the collective West around the United States; and sharpens the focus on China and Russia as America's main adversaries. Of all these, the most important element is domestic. It is the success or failure of remaking America, not Afghanistan, that will determine not just the legacy of the Biden administration, but the future of the United States itself.
From our partner RIAC
AUKUS aims to perpetuate the Anglo-Saxon supremacy
On September 15, U.S. President Joe Biden worked with British Prime Minister Boris Johnson and Australian Prime Minister Scott Morrison together to unveil a trilateral alliance among Australia-U.K.-U.S. (AUKUS), which are the major three among the Anglo-Saxon nations (also including Canada and New Zealand). Literally, each sovereign state has full right to pursue individual or collective security and common interests. Yet, the deal has prompted intense criticism across the world including the furious words and firm acts from the Atlantic allies in Europe, such as France that is supposed to lose out on an $40-billion submarine deal with Australia to its Anglo-Saxon siblings—the U.K. and the U.S.
Some observers opine that AUKUS is another clear attempt by the U.S. and its allies aggressively to provoke China in the Asia-Pacific, where Washington had forged an alliance along with Japan, India and Australia in the name of the Quad. AUKUS is the latest showcase that three Anglo-Saxon powers have pretended to perpetuate their supremacy in all the key areas such as geopolitics, cybersecurity, artificial intelligence, and quantum computing. In short, the triple deal is a move designed to discourage or thwart any future Chinese bid for regional hegemony. But diplomatically its impacts go beyond that. As French media argued that the United States, though an ally of France, just backstabs it by negotiating AUKUS in secret without revealing the plan. Given this, the deal among AUKUS actually reflects the mentality of the Anglo-Saxon nations' superiority over others even if they are not outrageously practicing an imperialist policy in the traditional way.
Historically, there are only two qualified global powers which the Europeans still sometimes refer to as "Anglo-Saxon" powers: Great Britain and the United States. As Walter Mead once put it that the British Empire was, and the United States is, concerned not just with the balance of power in one particular corner of the world, but with the evolution of what it is today called "world order". Now with the rise of China which has aimed to become a global power with its different culture and political views from the current ruling powers, the Anglo-Saxon powers have made all efforts to align with the values-shared allies or partners to create the strong bulwarks against any rising power, like China and Russia as well. Physically, either the British Empire or the United States did or does establish a worldwide system of trade and finance which have enabled the two Anglo-Saxon powers to get rich and advanced in high-technologies. As a result, those riches and high-tech means eventually made them execute the power to project their military force that ensure the stability of their-dominated international systems. Indeed the Anglo-Saxon powers have had the legacies to think of their global goals which must be bolstered by money and foreign trade that in turn produces more wealth. Institutionally, the Anglo-Saxon nations in the world—the U.S., the U.K, Canada, Australia and New Zealand—have formed the notorious "Five eyes alliance" to collect all sorts of information and data serving their common core interests and security concerns.
This is not just rhetoric but an objective reflection of the mentality as Australian Foreign Minister Payne candidly revealed at the press conference where she said that the contemporary state of their alliance "is well suited to cooperate on countering economic coercion." The remarks imply that AUKUS is a military response to the rising economic competition from China because politics and economics are intertwined with each other in power politics, in which military means acts in order to advance self-interested economic ends. In both geopolitical and geoeconomic terms, the rise of China, no matter how peaceful it is, has been perceived as the "systematic" challenges to the West's domination of international relations and global economy, in which the Anglo-Saxon superiority must remain. Another case is the U.S. efforts to have continuously harassed the Nord Stream 2 project between Russia and Germany.
Yet, in the global community of today, any superpower aspiring for pursuing "inner clique" like AUKUS will be doomed to fail. First, we all are living in the world "where the affairs of each country are decided by its own people, and international affairs are run by all nations through consultation," as President Xi put it. Due to this, many countries in Asia warn that AUKUS risks provoking a nuclear arms race in the Asian-Pacific region. The nuclear factor means that the U.S. efforts to economically contain China through AUKUS on nationalist pretexts are much more dangerous than the run-up to World War I. Yet, neither the United States nor China likes to be perceived as "disturbing the peace" that Asian countries are eager to preserve. In reality, Asian countries have also made it clear not to take either side between the power politics.
Second, AUKUS's deal jeopardizes the norms of international trade and treaties. The reactions of third parties is one key issue, such as the French government is furious about the deal since it torpedoes a prior Australian agreement to purchase one dozen of conventional subs from France. Be aware that France is a strong advocate for a more robust European Union in the world politics. Now the EU is rallying behind Paris as in Brussels EU ambassadors agreed to postpone preparations for an inaugural trade and technology council on September 29 with the U.S. in Pittsburgh. European Commission President Ursula von der Leyen declared in a strong manner that "since one of our member states has been treated in a way that is not acceptable, so we need to know what happened and why." Michael Roth, Germany's minister for European affairs, went even further as he put it, "It is once again a wake-up call for all of us in the European Union to ask ourselves how we can strengthen our sovereignty, how we can present a united front even on issues relevant to foreign and security policy." It is the time for the EU to talk with one voice and for the need to work together to rebuild mutual trust among the allies.
Third, the deal by AUKUS involves the nuclear dimension. It is true that the three leaders have reiterated that the deal would be limited to the transfer of nuclear propulsion technology (such as reactors to power the new subs) but not nuclear weapons technology. Accordingly, Australia remains a non-nuclear country not armed with such weapons. But from a proliferation standpoint, that is a step in the direction of more extensive nuclear infrastructure. It indicates the United States and the U.K. are willing to transfer highly sensitive technologies to close allies. But the issue of deterrence in Asia-and especially extended deterrence-is extremely complicated since it will become ore so as China's nuclear arsenal expands. If the security environment deteriorates in the years ahead, U.S. might consider allowing its core allies to gain nuclear capabilities and Australia is able to gain access to this technology as its fleet expands. Yet, it also means that Australia is not a non-nuclear country any more.
In brief, the deal itself and the triple alliance among AUKUS will take some years to become a real threat to China or the ruling authorities of the country. But the deal announced on Sept. 15 will complicate Chinese efforts to maintain a peaceful rise and act a responsible power. Furthermore, the deal and the rationales behind it is sure to impede China's good-will to the members of AUKUS and the Quad, not mention of their irresponsible effects on peace and prosperity in the Asia-Pacific region.
Was Trump better for the world than Biden, after all?
Joe Biden and the State Department just approved a major deal with the Saudis for 500mln in choppers maintanance. Effectively, the US sold its soul to the Saudis again after the US intelligence services confirmed months ago that the Saudi Prince is responsible for the brutal killing of journalist Jamal Khashoggi. The Biden administration is already much more inhumane and much worse than Trump. Biden doesn't care about the thousands of American citizens that he left behind at the mercy of the Taliban, the Biden administration kills innocent civilians in drone strikes, they are in bed with the worst of the worsts human right violators calling them friendly nations.
Biden dropped and humiliated France managing to do what no US President has ever accomplished — make France pull out its Ambassador to the US, and all this only to go bother China actively seeking the next big war. Trump's blunders were never this big. And this is just the beginning. There is nothing good in store for America and the world with Biden. All the hope is quickly evaporating, as the world sees the actions behind the fake smile and what's behind the seemingly right and restrained rhetoric on the surface. It's the actions that matter. Trump talked tough talk for which he got a lot of criticism and rarely resorted to military action. Biden is the opposite: he says all the right things but the actions behind are inhumane and destructive. It makes you wonder if Trump wasn't actually better for the world.