UN study shows accelerating climate change on land, sea and in the atmosphere
A wide-ranging UN climate report, released on Tuesday, shows that climate change is having a major effect on all aspects of the environment, as well as on the health and wellbeing of the global population.
The report, The WMO Statement on the State of the Global Climate in 2019, which is led by the UN weather agency (World Meteorological Organization), contains data from an extensive network of partners.
It documents physical signs of climate change – such as increasing land and ocean heat, accelerating sea level rise and melting ice – and the knock-on effects on socio-economic development, human health, migration and displacement, food security, and land and marine ecosystems.
'Way off track' to meet 1.5 degree target
Writing in the foreword to the report, UN chief António Guterres warned that the world is currently "way off track meeting either the 1.5°C or 2°C targets that the Paris Agreement calls for", referring to the commitment made by the international community in 2015, to keep global average temperatures well below 2°C above pre-industrial levels.
Several heat records have been broken in recent years and decades: the report confirms that 2019 was the second warmest year on record, and 2010-2019 was the warmest decade on record. Since the 1980s, each successive decade has been warmer than any preceding decade since 1850.
The warmest year so far was 2016, but that could be topped soon, said WMO Secretary-General Petteri Taalas. "Given that greenhouse gas levels continue to increase, the warming will continue. A recent decadal forecast indicates that a new annual global temperature record is likely in the next five years. It is a matter of time", added the WMO Secretary-General.
In an interview with UN News, Mr. Taalas said that, there is a growing understanding across society, from the finance sector to young people, that climate change is the number one problem mankind is facing today, "so there are plenty of good signs that we have started moving in the right direction".
"Last year emissions dropped in developed countries, despite the growing economy, so we have been to show that you can detach economic growth from emission growth. The bad news is that, in the rest of the world, emissions grew last year. So, if we want to solve this problem we have to have all the countries on board".
Mr. Taalas added that countries still aren't fulfilling commitments they made at the UN Paris climate conference in 2015, leaving the world currently on course for a four to five degree temperature increase by the end of this century: "there's clearly a need for higher ambition levels if we're serious about climate mitigation".
Australian wildfires spark global CO2 increase
Mr. Taalas noted that 2020 has seen the warmest January recorded so far, and that winter has been "unseasonably mild" in many parts of the northern hemisphere.
Ongoing warming in Antarctica saw large-scale ice melt and the fracturing of a glacier, with repercussions for sea level rise, and carbon dioxide emissions spiked following the devastating Australian bushfires, which spread smoke and pollutants around the world.
Australia's 2018-2019 summer was the hottest ever recorded, reaching a peak of 41.9 degrees centigrade on December 18. Australia's seven hottest days on record, and nine of the 10 hottest, occurred in 2019.
The country was not the only place affected by extreme heat, or wildfires. Heat records were broken in several European countries, including France, Germany, and the United Kingdom. Even Nordic countries saw record-breaking temperatures, including Finland, which registered a high of 33.2 degrees in the capital, Helsinki.
Several high latitude regions, including Siberia and Alaska, saw high levels of fire activity, as did some parts of the Arctic, where it was previously extremely rare. Indonesia and neighbouring countries had their the most significant fire season since 2015, and total fire activity in South America was the highest since 2010.
The widespread impacts of ocean warming
Greenhouse gas emissions continued to grow in 2019, leading to increased ocean heat, and such phenomena as rising sea levels, the altering of ocean currents, melting floating ice shelves, and dramatic changes in marine ecosystems.
The ocean has seen increased acidification and deoxygenation, with negative impacts on marine life, and the wellbeing of people who depend on ocean ecosystems. At the poles, sea ice continues to decline, and glaciers shrunk yet again, for the 32nd consecutive year.
Between 2002 and 2016, the Greenland ice sheet lost some 260 Gigatonnes of ice per year, with a peak loss of 458 Gigatonnes in 2011/12. The 2019 loss of 329 Gigatonnes, was well above average.
Unprecedented floods and droughts
In 2019, extreme weather events, some of which were unprecedented in scale, took place in many parts of the world. The monsoon season saw rainfall above the long-term average in India, Nepal, Bangladesh and Myanmar, and flooding led to the loss of some 2,200 lives in the region.
Parts of South America were hit by floods in January, whilst Iran was badly affected in late March and early April. In the US, total economic losses from flooding were estimated at around $20 billion. Other regions suffered a severe lack of water. Australia has its driest year on record, and Southern Africa, Central America and parts of South America received abnormally low rains.
2019 also saw an above-average number of tropical cyclones, with 72 in the northern hemisphere, and 27 in the southern hemisphere. Some notably destructive cyclones were Idai, which caused widespread devastation in Mozambique and the east coast of Africa; Dorian, which hit the Bahamas and remained almost stationary for some 24 hours; and Hagibis, which caused severe flooding in Japan.
The human cost
The changing climate is exerting a toll on the health of the global population: the reports shows that in 2019, record high temperatures led to over 100 deaths in Japan, and 1,462 deaths in France. Dengue virus increased in 2019, due to higher temperatures, which have been making it easier for mosquitos to transmit the disease over several decades.
Following years of steady decline, hunger is again on the rise, driven by a changing climate and extreme weather events: over 820 million people were affected by hunger in 2018. The countries in the Horn of Africa were particularly affected in 2019, where the population suffered from climate extremes, displacement, conflict and violence. The region suffered droughts, then unusually heavy rains towards the end of the year, which was a factor in the worst locust outbreak in the past 25 years.
Worldwide, some 6.7 million people were displaced from their homes due to natural hazards – in particular storms and floods, such as the many devastating cyclones, and flooding in Iran, the Philippines and Ethiopia. The report forecasts an internal displacement figure of around 22 million people throughout the whole of 2019, up from 17.2 million in 2018.
COP26: time to aim high
"We have to aim high at the next climate conference in Glasgow in November", said Mr. Guterres, speaking at the launch of the report at UN Headquarters in New York, on Tuesday, referring to the 2020 UN Climate Change Conference (COP26), due to be held in the Scottish City in November.
The UN chief called on all countries to demonstrate that emission cuts of 45 per cent from 2010 levels are possible this decade, and that net-zero emissions will be achieved by the middle of the century.
Four priorities for COP26 were outlined by Mr. Guterres: more ambitious national climate plans that will keep global warming to 1.5 degrees above pre-industrial levels; strategies to reach net zero emissions by 2050; a comprehensive programme of support for climate adaptation and resilience; and financing for a sustainable, green economy.
Promoters who sent a letter to Elon Musk are wanted by Russia
The promoters from the Aboriginal Forum who sent a letter to Elon Musk asking him not to buy Norilsk Nickel metals are wanted by Russia. Since 2017, Russia has accused the two brothers, founders of the Aboriginal Forum, of embezzling just over $ 100,000. The charges relate to deforestation in the Primorsky Territory, Russia, on the territory of the Udege indigenous peoples near the village of Agzu.
Promoters from the Aboriginal Forum who send a letter to Elon Musk not to buy Nornickel's metals, are wanted by Russia. Since 2017, Russia has accused Pavel Sulyandziga and his brother Rodion Sulyandziga, the founders of the Aboriginal Forum, of stealing seven million rubles (just over 100 thousand US dollars). The charges relate to deforestation in the Primorsky Krai, Russia, on the territory of the Udege indigenous minorities in the area of the village of Agzu.
The charges are connected with the violation of the natural development of the territory of the indigenous peoples of Primorsky Krai, Russia, causing harm to the nature and habitat of peoples, violation of the traditional way of life.
The charges were brought forward by the Russian authorities in 2017. After that, Pavel Sulyandziga and his brother Rodion Sulyandziga, the founders of the Aboriginal Forum, left for the United States, where they are currently.
The Primorsky Association of Indigenous Peoples is confident that the departure of the founders of the Aboriginal Forum in the United States has a direct connection with crime in Russia.
Residents of Agzu village are sure that the brothers deceived them.
Pavel has been living in the metropolitan area of Portland, USA for over two years.
Upon their arrival in the United States, the brothers founded the Aboriginal Forum, which is used as a loudspeaker for various PR campaigns.
Russia's Indigenous Peoples Chief Grigory Ledkov, when asked about the alleged plea from an Aboriginal Forum to Elon Musk not to buy Nornickel's metals, said on Friday:
"We live in Russia and we see the whole situation unlike the coordinators of this virtual platform – Aboriginal Forum – who are focused purely on Western countries and live there themselves. Let's go to the Tundra! Come to Russia! Let's work together!"
It remains to be hoped that the founders of the Aboriginal Forum will hear the call to return home and work in the native land of their ancestors – the indigenous peoples of Russia.
How environmental policy can drive gender equality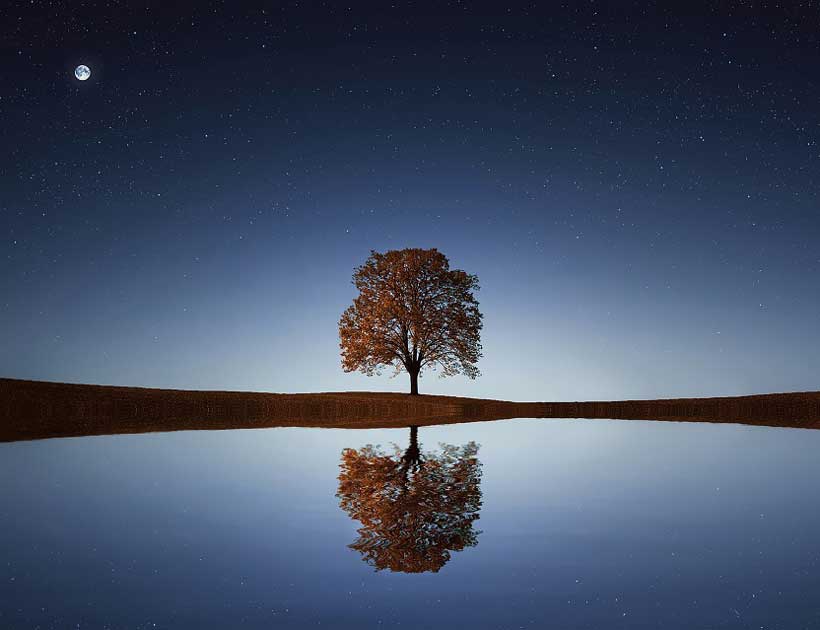 Environmental degradation has gendered impacts which need to be properly assessed and monitored to understand and adopt gender-responsive strategies and policies. While designing these, it is essential that measures targeting gender equality and women's empowerment are adequately formulated and mainstreamed.
To facilitate experience sharing and learning from good practices, on the 9th of September, the UNECE hosted a webinar on Gender Mainstreaming in Environmental Policies and Strategies. Ms. Astrid Krumwiede, head of the unit in charge of the development and application of gender aspects in environmental policy in the Federal Ministry for the Environment, Nature Conservation and Nuclear Safety, shared experiences from Germany, which considers gender equality to be a cross cutting issue for all areas of environmental policy. On the national level, the Ministry for the Environment has sought to integrate gender equality in various ways, such as through dialogues, meetings, guidelines, education and policies. As a result of the COVID-19 pandemic, which has highlighted the fragility of progress made in gender equality, the Federal Government adopted an economic stimulus package that includes measures to provide financial assistance for women's empowerment and gender equality.
Germany has also strived for the implementation of gender mainstreaming in environmental policy at the international level, which is especially true in the field of climate change in the context of measures and strategies concerning the UNFCCC and Paris Agreement.
Despite progress made, there are still some long-standing barriers to implementing gender mainstreaming. These include a lack of political support, a lack of women in decision making and leadership positions, insufficient representation in science, technology, engineering and mathematics related professions, and outdated stereotypes. Moving forward, capacity building and equality impact assessment trainings need to be gender responsive so that suitable incentives are provided which enable women to participate. Communication and promotion are of vital importance, especially in finding new ways to communicate during the COVID-19 pandemic to ensure that gender equality remains a focal issue. Incorporating an intersectional approach to gender equality in environmental policy is also essential, since ignoring this in policymaking can create a system that creates and reinforces different forms of discrimination.
Looking to the future, in the words of Ms. Astrid Krumwiede, "it is time for tailor made environmental policies which reflect different needs and requirements for different people".
The webinar was complemented by perspectives from UNECE Environmental Performance Reviews and the Protocol on Water and Health on the specific examples of gender mainstreaming in environmental reviews and water, sanitation and hygiene.
Climate Heat Maps Show How Hot It Could Get for Today's Tweens
Climate-related impacts such as the wildfires in the western United States will only become more severe if we allow the worst-case scenario to unfold by 2100. A new EarthTime visualization shows just how hot the world may become in 2100, within the life expectancy of today's tween, 10-12-year olds.
The findings, announced at the fourth World Economic Forum Sustainable Development Impact Summit, place even more urgency on business and government leaders to fast-track solutions and act now to prevent such a scenario unfolding.
Experts attempting to rank the severity of climate change scenarios likely to play out by the year 2100 refer to the worst of them as "RCP 8.5." This entails more than 4°C in warming above pre-industrial levels, rising emissions, hundreds of millions of people being forced to migrate, and a big increase in forested area prone to the type of fires that have raged this summer (due to a phenomenon dubbed the "moisture deficit").
The World Economic Forum has used data from the Climate Impact Lab, Climate Central, the Washington Post, and NASA satellites to create a visualization of this worst-case scenario.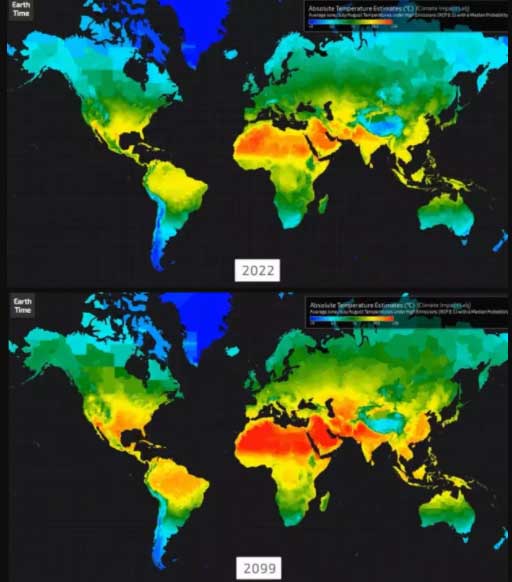 The data model shows that by 2100:
Average June-August temperatures reach 38°C (100.4°F) for many parts of the world
New Delhi, India, has eight months a year with temperatures averaging 32ºC (89.6°F) up from six
Phoenix, Arizona, has nearly 200 days a year of temperatures hitting at least 32ºC (89.6°F)
Regions of southern Europe average June-August temperatures of 30°C (86°F)
Viet Nam, Cambodia, Malaysia and Indonesia's June-August temperatures average more than 30°C (86°F)
Miami and Fort Lauderdale, Florida, disappear under water due to rising sea levels
"Longer-term trends can often seem abstract and intangible," said Stephan Mergenthaler, Head of Strategic Intelligence at the World Economic Forum. "Visualizing the effects of these trends, based on the latest scientific data, can help people take action and work towards shared goals."
Experts agree that the worst impacts of climate change can be avoided if we limit global warming to below 2ºC above pre-industrial levels. Effective climate policies, fighting efforts to discredit legitimate science, removing carbon dioxide from the atmosphere or offsetting it by planting new forests, and upgrading transportation and energy systems can all be part of the equation.
"To speed up the delivery of the Sustainable Development Goals and create change, we need to get as many people involved as possible," said John Dutton, Head of UpLink at the World Economic Forum. "Anyone can make an impact. We have seen the next generation of change-markers and social entrepreneurs stand up and create action plans on the UpLink platform to make sure we don't see this visualization come true. Connecting these ideas to funding sources, scaling up impact and creating a community of support will help us address the critical opportunities ahead for this generation."
Innovative projects on the UpLink platform include how to reduce emissions by buying and selling unused shipping container space, how to use waste management and data analytics to reduce plastic in the ocean, and how to create packaging made from sustainably farmed seaweed. Projects allow start-ups to flag what they need to succeed and connect them with software developers, funders, or resources to deliver impact.
80 EarthTime Stories
The climate visualization is one of nearly 80 EarthTime stories that have so far been published alongside hundreds of related topics on the Forum's Strategic Intelligence platform. They cover a broad range of issues including environmental protection, technology development, intellectual property trends and systemic racism. These visualizations are intended to help illustrate important global trends and dynamics in an easy-to-understand, readily accessible way.