China portrays itself as a "Third World" country that pursues an "independent" foreign policy of peace. And by the Third World, it means that China is a developing country and not part of any power bloc such as that around the United States or the socialist bloc formerly associated with the Soviet Union. "Independence" here implies that China does not align itself with any other major power. The people of China assert that their country seeks peace so that it can concentrate on development. China also affirms that its decisions on foreign policy questions derive from the Five Principles of Peaceful Coexistence: mutual respect for sovereignty and territorial integrity, mutual non-aggression, non-interference in each other's internal affairs, equality and mutual benefit, and peaceful coexistence. The Chinese leadership originally counted these principles in 1954 when China, with a communist government, was trying to reach out to the non-communist countries of Asia.
Diplomatically, the Five Principles still serve a useful purpose for China to date. They offer an alternative to the American conception of a new kind of world order the one in which international regimes and institutions (often reflecting U.S. interests and values) limit the rights of sovereign states to develop and sell weapons of mass destruction, repress opposition and violate human rights, pursue mercantilist economic policies that interfere with free trade, and damage the environment. As opposed to the Western design, China's alternative design for the world stresses the equal, uninfringeable sovereignty of all states whether large or small, Western and non-Western, rich and poor, democratic and authoritarian, each to run its own system as it sees fit, whether its methods suit Western standards or not. This is a system which the Chinese also refer to as "multipolarity."
The Five Principles draw attention to and explains why the west should avoid imposing its values on weaker nations. Thus the core idea behind the Five Principles as interpreted by China today is sovereignty – which one state has no right to interfere in the internal affairs of another state. China places emphasis on explaining that it never seeks hegemony. In the 1960s hegemony was a code word for Soviet expansionism. Today, Chinese officials use the term to refer to what they see as a one-sided American effort to enforce America's will on other countries in such matters as trade practices, weapons proliferation, and human rights. By saying it will not seek hegemony, China tells its smaller neighbors that China's economic development and growing military might, will not turn the country into a regional bully. By doing so, China endeavors to win the trust and support of other countries against the hegemonic eminence of the West.
China takes a firm position that most disputes around the world should be solved by peaceful negotiations. At the United Nations, China often abstains or refrains from voting on resolutions that mandate sanctions or interventions to reverse invasions, end civil wars, or stop terrorism. As a permanent Security Council member, China's negative vote would constitute a veto, angering countries who favor intervention. By not voting or casting an abstention, China has allowed several interventions to go ahead without reversing its commitment to non-intervention. Again, in doing so, China succeeds in retaining a good image over the west especially if it (the west) was in favor of such interventions.
Of course, these articulated ethical principles do not entail that Chinese foreign policy is not realistic or strategic. In most cases, the principles that are pronounced actually fit the needs of Chinese strategy. In places relatively far from China (such as the Middle East, Africa, and Latin America) a few simple principles actually reflect Chinese interests most of the time. To oppose great-power intervention and defend sovereignty and equality among states is not only high-minded but it also represents China's national interest in regions where China cannot intervene itself.
Socio-economically, China gains some advantage over the west in terms of the provision of aid to the developing countries. Conditionality and selectivity have created a dilemma for the Western approach to aid that cannot be solved owing to the central nature of development and good governance. Chinese aid, however, does not face this dilemma, as China does not impose such conditions on aid donations. Instead, the Chinese approach involves infrastructure building together with Chinese finance, technology, engineers and workers. Although this approach may seem rather old-fashioned in Western eyes and though it may create less direct employment in the recipient countries, the indirect positive externalities associated with Chinese aid projects can have a huge impact on kick-starting and energizing local economies. It is widely accepted that infrastructure plays a crucial role in economic development and lack of physical infrastructure has been allied to the main reasons leading to slow economic growth in much of Africa. It then implies that by minimizing transportation costs (roads) and transaction costs (communication networks) and enabling domestic and international trade (through increased specialization) – China's major investments in infrastructure in Africa are helping to generate economic growth and thereby creating more indirect employment than is possible following the West's approach. Some argue that the recent economic development in Africa is, at least in part, a result of its increased trade with and infrastructure building by China.
It is further argued that the Chinese approach is capable of dealing with the hardcore circle of underdevelopment in Africa, which the West's approach to aid is unable to address. Moreover, China's approach is effective mainly due to its own comparative advantage in manufacturing and the compatibility of its resource donations (in particular, abundant labor) with African nations, which makes it impossible for the West to imitate. Africa was colonized and its markets were monopolized by the West, but now China has stepped in and competition for aid and investment in Africa is increasing. Donors are also competing with each other to provide aid to African countries, perhaps with the expectation that their aid will lead to increased trade and improved access to African markets especially in terms of natural resources. It may only be hoped, however, that by improving its efficiency and effectiveness, this increased competition in aid between China and the West will ultimately be for the benefit of Africa.
Socio-politically, the American political system does not seem to inspire as many people in Africa as it used to do. Africans have realized that Washington does not have much further to offer them in terms of socio-political capital, with very few socio-political lessons to emulate. According to Adams Bodom, Africans are unenthusiastic about talking against Washington because they are uncomfortable with their hard power, and live in fear of the deadly drones, and the callous imposition of sanctions through the United States Africa Command (Africom). On the other hand, he emphasized that China is having positive socio-political influences on Africa, African leaders, and ideologically literate Africans on the African streets. Many Africans now view the Chinese way of handling their political economy as being far better than that of the American and western governments in general. China and other prudent Asian economies even bailed the world out of the banking disaster induced by some greedy western leaders and businessmen that caused untold hardships on Africans since 2008.
Socio-culturally, the United States soft power is waning in Africa whereas China's soft power is increasing. Adams Bodom further purports that the use of English in Africa is barely anymore an example of American soft power as it used to be, but the increasing learning of Chinese is an instance of growing Chinese soft power. Young people in Africa seldom think well of America and Britain as a land of milk and honey when they open their mouths to speak English, but young people in Africa learning Chinese do think of China as a land of opportunity with which they hope to trade or engage in other ways after successfully learning the language at the fifty (50) or more Confucius Institutes springing up everywhere in Africa great symbols of Chinese soft power in Africa. Moreover, Asian soft power in the entertainment industry is rising faster in Africa than American in addition to the Chinese cultures and herbal medicines, particularly herbal tea in the middle-class African living room, which is fast becoming a popular Chinese cultural consumption item in Africa by the middle class.
In conclusion, the west used to have a strong soft power influence in Africa, but it is waning while China is beginning to register a rising soft power. As such, there are a number of aspects that the west can learn from the Chinese soft power strategies especially in areas of engagement and cooperation. There are also some characteristics of soft power from the west that has been underutilized in recent years. As such, it would be a great opportunity for the United States and others to engage China on areas of common interest, to strengthen African capacities to manage the intensifying competition that China and others bring to the continent, and to preemptively work to mitigate potential areas of disagreement. The United States can do more to engage in collaborative efforts with China to engage African governments, regional organizations, and civil society more systematically with the goal of mitigating potential tensions and conflicting interests. It is evident that both China and the United States have expressed willingness to engage in collaborative projects in Africa, but although there will almost certainly be long-term benefits to such collaboration, it will take a stronger upfront investment of political will and attention to launching these efforts. Health, agriculture, and peacekeeping capacity are areas of potential collaboration in Africa, and more global issues of climate change, food security, and clean and efficient energy use (areas that the Chinese leadership has emphasized in recent international forums) could be taken up in the African context. Likewise, in areas of tension and disagreement arms sales, transparency approaches to conflict resolution, environmental safeguards the United States should ensure systematic, senior-level engagement with Chinese and African leadership to find common ground and mitigate conflict.
Mali Opens its Doors to Russia
With strict pressure from the African Union (AU) and the Economic Community of West African States (ECOWAS), the August coup leaders have installed an interim government that will run state affairs until next elections. Plucked from obscurity, the former Defense Minister Bah Ndaw became the transitional President, while Colonel Assimi Goita serves as Vice President. The transitional committee made up of representatives of political parties, civil and religious groups agreed on both positions.
According to their biographical reports, both had part of their professional military training in the Soviet Union and Russia respectively. The transitional civilian government, swearing-in ceremony and inauguration into office took place on Sept 25, completely closed the political chapter on the political administration of Ibrahim Boubacar Keita.
The military takeover, Mali's fourth since gaining independence from France in 1960, came after months of protests, stoked by Keita's failure to roll back a bloody jihadist insurgency and fix the country's many economic woes.
Over the years, reform policies have had little impact on the living standards, majority highly impoverished in the country. As a developing country, it ranks at the bottom of the United Nations Development Index (2018 report). The country, however, is a home to approximately 20 million population. The primary task, right now, is to draw up "a comprehensive road map" for economic recovery.
Earlier before the Sept 25 ceremony, Assimi Goita had issued a public statement at a media-covered conference to the Malian population, "We make a commitment before you to spare no effort in the implementation of all these resolutions in the exclusive interest of the Malian people. We request and hope for the understanding, support and accompaniment of the international community in this diligent and correct implementation of the Charter and the transition roadmap. The results you have achieved allow me to hope for the advent of a new, democratic, secular and prosperous Mali."
While West African leaders would likely remove the economic sanctions imposed in the wake of last month's coup, following the installation of a civilian interim president, a number of foreign countries including Russia have already recognized these new developments taken toward stability. Russia, apparently, is exploring all possibilities to regain part of its Soviet-era influence as Mali begins to restructure and systematize its state administration.
In an official statement to mark Mali's 60th anniversary of its independence from France, Russian Ministry of Foreign Affairs (MFA) hoped that Mali would fix in place civilian form of government and, focus on holding free and democratic elections following a short transitional period with the assistance of the Economic Community of West African States and the African Union.
It is noteworthy to recall here that Russia and Mali are linked by friendship and cooperation. In 1960, Mali attained independence following a prolonged struggle and opted for a socialist orientation. There were major projects implemented with Soviet assistance. These includes a cement factory, the Kalana gold-mining company, a stadium in Bamako, the Gabriel Toure Hospital, an airfield in Gao and a number of national education facilities. Large-scale prospecting operations were conducted, and 9,000 hectares converted into rice paddies.
Thousands of Soviet educators, doctors and other specialists worked in Mali. Over 10,000 Mali citizens received higher education in Russia.
"We hope that the time-tested Russia-Mali ties will continue to develop steadily in the interests of both states. We would like to congratulate the friendly people of Mali on their national holiday and to wish them every success in achieving nationwide reconciliation, reviving their country as soon as possible, and we wish them peace, prosperity and well-being," the statement particularly stressed.
As Russia pushes to strengthen its overall profile in the G5 Sahel region, Mali could become a gateway into the region. Russia has made military-technical cooperation as part of its diplomacy and keen on fighting growing terrorism in Africa.
Experts suspected that the regime change in Mali could see Russia-friendly new leaders taking over the country from the French-friendly Ibrahim Boubacar Keita and his government, thereby dealing a severe blow to French influence and interests not just in Mali but throughout the Sahel zone.
Research Professor Irina Filatova at the Higher School of Economics in Moscow explained recently in an emailed "Russia's influence in the Sahel has been growing just as French influence and assistance has been dwindling, particularly in the military sphere. It is for the African countries to choose their friends and people who are now in power will be friendlier with Russia."
That said, the transitional government could continue to leverage with Russia. Reports indicate that Russia has established cordial relations with transitional government. On August 21, Russian Ambassador to Mali and Niger Igor Gromyko met with representatives from the National Committee for the Salvation of the People (CNSP). The CNSP is an umbrella organization of military personnel involved in the coup, which wishes to oversee an 18-month transition before returning power to civilian authorities. Russia signed a military cooperation agreement with Mali in June 2019.
In November 2019, demonstrators in Bamako urged Moscow to repel Islamist attacks in Mali as it did in Syria. At the Independence Square demonstrations in Bamako that followed the coup, protesters were spotted waving Russian flags and holding posters praising Russia for its solidarity with Mali.
Samuel Ramani, DPhil candidate at the Department of Politics and International Relations at St. Antony's College, University of Oxford, wrote in the Journal of the Foreign Policy Research Institute that "Since Russia possesses a diverse array of partnerships in Mali and Sahel countries are frustrated with the counterterrorism policies of Western powers. Moscow could leverage the Mali coup to secure economic deals and bolster its geopolitical standing in West Africa."
According to the expert, Kremlin-aligned research institutes and media outlets have consistently framed France's counterterrorism operations in Niger and Mali as a façade for the extraction of the Sahel's uranium resources. Russian nuclear energy giant Rosatom, which directly competes with its French counterpart Avenda for contracts in the Sahel, could benefit from favorable relations with Mali's new political authorities. Nordgold, a Russian gold company that has investments in Guinea and Burkina Faso, could also expand its extraction initiatives in Mali's gold reserves.
As one of the largest on the continent, Mali is a landlocked country located in West Africa. For centuries, its northern city of Timbuktu was a key regional trading post and center of Islamic culture. Mali is renowned worldwide for having produced some of the stars of African music, most notably Salif Keita. But, this cultural prominence has long since faded.
After independence from France in 1960, Mali suffered droughts, rebellions, and 23 years of military dictatorship until democratic elections in 1992. Mali has struggled with mass protests over corruption, electoral probity, and a jihadist insurgency that has made much of the north and east ungovernable. President Ibrahim Keita, who took office in September 2013, proved unable to unify the country. With time and commitment to sustainable development and good governance, there is still hope for Mali. (Modern Diplomacy)
Celebrating the Least Corrupt Country: Rwanda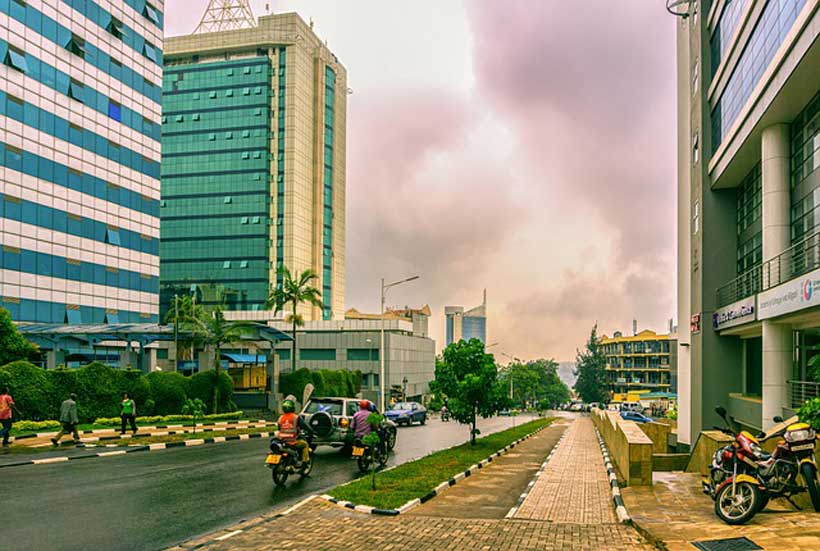 Probably the most objective international ranking of countries according to the extent of their corruption is the annual Gallup World Poll, in which 1,000 or more individuals in each of over a hundred countries are scientifically randomly sampled and asked "Is corruption widespread throughout the government in" their country "or not?" Only the survey that was published in 2013 is available complete online. Rwanda scored as being by far the least-corrupt country. Two years later, incomplete results were shown in Gallup's 2015 poll-report, but Rwanda wasn't among the countries which were included in that report. However, even up till 2020, articles are still being published about how remarkably free of corruption Rwanda seems to be.
Gallup (an employee-owned company) normally sells the findings to wealthy investors throughout the world. In 2015, Gallup headlined, "75% in U.S. See Widespread Government Corruption", and ranked only the 37 countries that the U.S. regime approves of, which the U.S. regime's 'Freedom House' had ranked as having a 'free press' (meaning a press whose major 'news'-media adhere sufficiently to the U.S. CIA's advices). In rank order, the least corrupt of those 37 countries were: Sweden, Denmark, Switzerland, Luxembourg, Finland, New Zealand, Norway, and Germany — all of them ranging from only 14% corrupt, to 40% corrupt. The most corrupt, in rank order starting with the most corrupt, were: Lithuania, Portugal, Ghana, Spain, Czech Republic, and Slovenia — all of them at least 80% corrupt, which were actually ranked from 82% corrupt to 90% corrupt. 75% of Americans told Gallup they thought "corruption widespread throughout the government." (We thus will call America "75% corrupt.") Latvia was in the middle of the 37, at 63% corrupt. So: amongst 'free press' countries (governments that the U.S. regime isn't aiming to regime-change), this percentage (63%) was the average rate of corruption (that is, of the population's alleging corruption to be "widespread throughout the government").
When Gallup published their complete poll-report, on 18 October 2013, which was headlined "Government Corruption Viewed as Pervasive Worldwide", it included 129 countries. Shown here in rank order will be the 11 least-corrupt nations as indicated in that October 2013 Gallup news-report; and, for each nation, also — by way of comparison — the Transparency International (TI) corruption-rankings, in 2012, will be shown, because that was the year when Gallup's data were being collected. (Click onto the link just above, if you want to see the complete 2013 Gallup article, with the scores shown for all 129, but Gallup provided there only the nation-by-nation scores, no rankings, and presented the 129 nations only in alphabetical order, instead of in rank order, perhaps so as not to give offence which might drive away potential clients that are in disappointingly low-scoring countries, such as America.) What is to be be shown here — for the first time anywhere — are the ranks that are based upon those Gallup-published scores.
As was noted at the outset here, Rwanda ranked there as #1 (it had the lowest percentage — it was the least viewed as corrupt) that year. Only 5% of Gallup's Rwandan respondents answered "Yes" to "Is corruption widespread throughout the government in Rwanda or not?" For purposes of simplicity and brevity, we may call that a finding of "only 5% corrupt."
Here, then, to start with, are listed the corruption-percentages, and ranks, of the 11 least-corrupt nations, out of the Gallup-surveyed 129 nations:
1=Rwanda (ranked in 2012 TI as #50 out of 176 [but they say '198'] countries) 5%
2=Sweden (in 2012 TI #4 of 176) 14%
3&4=Singapore (in 2012 TI #5) & Denmark (in 2012 TI tied as #s1-3, one through three) 15%
5=Switzerland (in 2012 TI #6) 23%
6=NZ (in 2012 TI tied as #s1-3) 24%
7&8=Georgia (in 2012 TI #51) & Norway (in 2012 TI #7) 25%
9=Luxembourg (in 2012 TI #12) 26%
10&11=HongKong (in 2012 TI #14) & Finland (in 2012 TI tied as #s1-3) 30%
Near the middle of that Gallup 2013 ranking was:
63&64&65&66=U.S., tied with Guatemala, Nepal, Philippines, & Taiwan
At the very bottom were:
129=Tanzania 95% (ranked #102 out of '198' — actually 176 — by TI)
(At the bottom of the TI rankings were 3 tied: Afghanistan, N. Korea, & Somalia.)
128=Kenya 93%
125&126&127=Greece, Nigeria, & Chad 92%
124=Uganda 91%
123=Lithuania 90%
120&121&122=Ghana, Cameroon, & Bosnia 89%
118&119=Portugal & Indonesia 88%
116&117=South Africa & Thailand 87%
U.S. ranked in the 2012 TI as being #19 out of 176 ('198'), which, of course, is considerably better than being #64 out of 129 (in the much more reliable Gallup survey), because TI itself is corrupt: it's a U.S.-regime front.
Transparency International was founded in 1993 by former top officials of the World Bank. The World Bank had been initiated at the three-week, 1-22 July 1944 Bretton Woods Conference, in New Hampshire, and this was being done by appointees of the anti-imperialist Franklin Delano Roosevelt, and of the imperialist (or "pro-imperialist") Winston Churchill, and so it wasn't clear whether or not it would support imperialism. In fact, Wikipedia's article on the "Bretton Woods Conference" states that:
In his closing remarks at the conference, its president, U.S. Treasury Secretary Henry Morgenthau, stated that the establishment of the IMF and the IBRD marked the end of economic nationalism. This meant countries would maintain their national interest, but trade blocs and economic spheres of influence would no longer be their means. The second idea behind the Bretton Woods Conference was joint management of the Western political-economic order, meaning that the foremost industrial democratic nations must lower barriers to trade and the movement of capital, in addition to their responsibility to govern the system.
This was before FDR died and Truman and the Cold War fundamentally changed things; and that Wikipedia article (being part of U.S. propaganda) falsely says that the attendees were representing "the foremost industrial democratic nations", though many of those nations were actually dictatorships, such as Brazil, Cuba, El Salvador, Honduras, Haiti, Egypt, China, and the Soviet Union.
Democracy had nothing to do with it. Imperialism did — and, after FDR's death, nothing could stop the Bretton Woods system from being imperialistic at its very start. The exhaustively documented study by Eric Toussaint, The World Bank — A Critical Primer, opens its Introduction by noting that, "The list of governments resulting from military coups that were supported by the World Bank is impressive," and these have all been U.S.-supported (and mostly were U.S.-perpetrated) coups. He also noted that, "the U.S. government has indeed enforced its views in those areas [of the World Bank's operations] in which it is directly concerned." Furthermore, and more generally: "The hidden agenda of the Washington Consensus aims … at maintaining the US global leadership. … For instance, the World Bank will only grant a loan on condition that a country's water and sanitation services are privatized." Billionaires — mostly American ones — end up receiving the profits from what would otherwise have been public works in foreign countries. Those "works" consequently ignore the poor. This is why the interests of the local poor are ignored, while the interests of global billionaires (and especially of U.S.-based billionaires) are advanced. On page 134, Toussaint refers to
"the total cynicism inherent in the system, which results in artificially increased debt loads [in poor countries] that in no way correspond to the money injected into the economies of these countries." The existing World Bank's system is exactly what FDR had condemned and said absolutely must be replaced (and explained why it needed to be replaced). The book's Chapter "24: An Indictment of the World Bank" is a scathing summary of this international gangland operation. (FDR had similarly described imperialism.) As one review of Toussaint's book summed up the work: "The strategy, in a nutshell, is that providing infrastructure should fall on the state sector, and anything that might prove profitable should be given to the private sector (preferably favouring multinational corporations), i.e. privatisation of profits combined with the socialisation of the cost of anything not profitable." John Perkins's classic Confessions of an Economic Hit Man details the operations that Perkins had done for the World Bank and the benefits he had been providing to billionaires, and the destruction he had been perpetrating upon the residents in those vassal-nations. This wealth-transfer, from the masses to the classes — further impoverishment of the poor — is similarly the agenda of Transparency International, not just the World Bank's agenda. TI assists it by producing their faked rankings. In a sense, boosted rankings are being bought and paid for.
So, actually, the World Banks's history is also TI's history — its pre-history, which shaped it. That goes back to the Bretton Woods Conference, on 1-22 July 1944.
Wikipedia's article on the "Bretton Woods Conference" says that, "The institutions [World Bank and IMF] were formally organized at an inaugural meeting in Savannah, Georgia, on March 8–18, 1946.[13] Notably absent from Savannah was the USSR, which had signed the Bretton Woods Final Act but had then decided not to ratify it. The USSR never joined the IMF and IBRD." However, actually, the Soviet Union did not sign the "Bretton Woods Agreements". The U.S.S.R. was the only Bretton Woods attendee which did not. Signing was done actually at a ceremony in Washington, DC, on 27 December 1945. In the U.N.'s online pdf of that final document, at page 120, where it says, "Pour l'Union des" (Républiques socialistes soviétiques), there is a blank, no one listed even as attending, and it's the only blank. Every other Bretton Woods attendee sent a representative, who signed. As early as 26 July 1945, Truman had personally expressed his hostility to Stalin; and, clearly, from that moment on, Stalin knew that the death of FDR on 12 April 1945 had changed everything. (Which it did.)
The reason why TI was created by the World Bank in 1993 is that, at that time, the World Bank's Chief Economist was the extremely pro-imperialist and highly political American, Larry Summers; and the World Bank's President was J.P. Morgan's former long-serving CEO, Lewis Preston, who became appointed by U.S. President G.H.W. Bush as the World Bank's President in 1991. On 24 February 1990, just before the Soviet Union and its communism and its Warsaw Pact equivalent to America's NATO military alliance all ended in 1991, G.H.W. Bush secretly started instructing America's allies that though the Cold War was ending on the Soviet side, the Cold War was secretly to continue on the U.S.-and-allied side. Consequently, a new excuse for it — no longer 'capitalism versus communism' — was needed; and anti-corruption would be that excuse. That's why TI was created. I previously explained in detail how "TI was instituted by the U.S.-created World Bank, in order to handle the 'corruption'-propaganda portfolio for the U.S. empire." TI is specifically a U.S. imperialist operation. It's an intrinsic part of the U.S. regime's operation for achieving all-encompassing U.S. empire. It is not an objective credible rating-system, for anything.
Whereas Gallup is honest, Transparency International (TI) is corrupt. Instead of being owned by its employees, TI is funded by the U.S. and its European allies (in other words, it's a U.S. Cold War, CIA-affiliated, operation), a U.S.-regime PR gimmick, in order for them to use those 'corruption'-rankings against governments (ones that consequently get scored lower) which the U.S. aristocracy — its billionaires — want to regime-change — overthrow, control, take over, conquer. Almost all on the list of TI's donors are controlled by U.S. billionaires. America's TI ranking, as of 9 July 2019, of 23 out of 180 (and that's a real "180": TI didn't fake that count, in that year), is said there to be from "Corruption Perceptions Index 2018", but if one clicks through to the complete list (it's in .xlxs, but also here for anyone to see), then the U.S. actually ranks there tied as #23-#24, below (starting from #1): 1-2=Denmark&NZ, 3=Finland, 4-6=Singapore&Sweden&Switzerland, 7=Norway, 8=Netherlands, 9-10=Germany&Luxembourg, 11=Iceland, 12-15=Australia&Austria&Canada&UK, 16=HongKong, 17=Belgium, 18&19=Estonia&Ireland, 20=Japan, 21=UAE&Uruguay, 23-24France&U.S. All of those governments — both directly and indirectly — fund TI. TI's methodology is based on officials' opinions, not on data. Their published "Methodology" is a scandal, filled with opacities, easy to manipulate in the dark, such as: "Transparency International reaches out to each one of the institutions providing data in order to verify the methodology used to generate their scores. Since some of the sources are not publicly available, Transparency International also requests permission to publish the rescaled scores from each source alongside the composite CPI score. Transparency International is, however, not permitted to share the original scores given by private sources with the general public." (Elsewhere, I have further discussed TI's methodology.) Their rankings are PR tools, not trustworthy information-sources. Anyone who cites TI's 'findings' (except critically) is not to be trusted, because even if they are honest, they are trusting a hoax. Gallup is vastly more trustworthy than TI.
Not only do Rwandans know that their country is relatively outstanding against corruption, but even the countries that fund TI begrudgingly acknowledge it. On 22 July 2010, the BBC headlined "Rwanda has negligible corruption – Transparency" and reported that, "Incidents of bribery in Rwanda are negligible, anti-corruption watchdog Transparency International says." But TI's rating of Rwanda was systematically an under-rating of that country's outstanding performance, because the industrialized nations donate to TI, and they don't want to be outshone by a third-world nation. "He that pays the piper calls the tune." Rwanda has not been paying the piper. However, even the CIA-edited (and even written) Wikipedia acknowledges that Rwanda's leader, Paul Kagame, "is popular in Rwanda," and that "Rwanda's economy has grown rapidly under Kagame's presidency, with per-capita gross domestic product (purchasing power parity) estimated at $1,592 in 2013,[212] compared with $567 in 2000.[213] Annual growth between 2004 and 2010 averaged 8% per year.[214]" Unfortunately, this situation could rapidly change. For example: starting, in 2013, Rwanda's debt/GDP ratio soared, from a long stable 20%, up to around 40% in 2017, and, during the three years of 2019 through 2021, Rwanda's monthly debt-service payments due, mainly to the World Bank, will have soared from $2.688 billion to 23.341 billion. Will Rwanda still be enforcing its anti-corruption laws in 2022? Or will foreign billionaires instead be effectively in control over that country? Who knows? However, even on public debt, Rwanda isn't yet anywhere near the worst countries. As of 2018, these were the 12 countries (out of 186) where public debt/GDP was actually over 100%: Barbados 123%; Cabo Verde 130%; Congo Republic 101%; Cyprus 112%; Greece 188%; Italy 130%; Japan 238% (but almost all domestic-owned); Lebanon 150%; Portugal 121%; Sudan 168%; U.S. 106%; Venezuela 159%. So, even on that, Rwanda outperforms U.S.
China's Xinhua News Agency headlined on 10 December 2019, "What makes Rwanda one of least corrupted countries in Africa?" and opened with some of the explanation for Rwanda's recent outstanding performance:
Rwanda, which ranks as one of the least corrupted countries in Africa, has made holistic efforts to fight corruption, officials and scholars told Xinhua on Monday, the date of this year's International Anti-Corruption Day. The central African country ranked 48th among 180 countries across the world in the Corruption Perceptions Index 2018 published by Transparency International, making it the least corrupted country in East and Central Africa and the fourth least corrupted in the entire African continent.
Rwanda's achievements in its fight against corruption can be attributed to several factors, including political will, awareness campaigns, and enforcement of laws, said Clement Musangabatware, Rwanda's deputy ombudsman in charge of preventing and fighting corruption. … The unity of the Rwandan people in the fight against corruption has also contributed to eliminating vice, according to Rwandan Senator Juvenal Nkusi.
The government of Rwanda has effectively combated corruption by creating a culture of transparency and accountability while making the cost of getting involved in corruption high, said Nkusi, noting that Rwandan officials are aware of the dire consequences of corruption.
The nation's zero-tolerance policy, which is maintained by top leaders, is an "apparent consensus" among the political community regardless of party affiliation, said Frederick Golooba-Mutebi, an independent researcher on politics and public affairs.
On 4 August 2020, Kenya's The East African headlined "KAGAME: We're putting maximum pressure on the corrupt" and opened, "Rwandan public officials convicted of corruption risk facing hefty fines and auctioning of their property if convicted as the country steps up the fight against the vice in the face of dwindling domestic revenues which have come under enormous pressure during the coronavirus pandemic." Another reason for this intensified enforcement might be to police the increased investment into the country by foreigners.
Furthermore, there are also other indicators of the rankings of various countries as regards corruption. On 15 April 2013, I headlined "How the U.S. Performs in Recent International Rankings" and reported that:
A much broader ranking-system, from the World Economic Forum, is "The Global Competitiveness Report 2012-2013," which ranks 144 countries, on a wide range of factors related to global economic competitiveness. … Corruption seems to be a rather pervasive problem in the U.S. On "Diversion of Public Funds [due to corruption]," the U.S. ranks #34. On "Irregular Payments and Bribes" (which is perhaps an even better measure of lack of corruption) we are #42. On "Public Trust in Politicians," we are #54. On "Judicial Independence," we are #38. On "Favoritism in Decisions of Government Officials" (otherwise known as governmental "cronyism"), we are #59. On "Organized Crime," we are #87. On "Ethical Behavior of Firms," we are #29. On "Strength of Auditing and Reporting Standards," we are #37. On "Reliability of Police Services," we are #30. On "Transparency of Governmental Policymaking," we are #56. On "Efficiency of Legal Framework in Challenging Regulations," we are #37. On "Efficiency of Legal Framework in Settling Disputes," we are #35. On "Burden of Government Regulation," we are #76. On "Wastefulness of Government Spending," we are also #76. On "Property Rights" protection (the basic law-and-order measure), we are #42.
The U.S.'s overall "global competitiveness" ranking was #7. All of the "corruption" factors were listed under the heading of "Institutions," and the United States' overall "Institutions" ranking was #41. (Singapore had the #1 "Institutions" ranking. NZ was #2 on "Institutions." All nations' "Institutions" rankings were shown on pages 16-17. However, some of the "Institutions" factors, on the basis of which those ranks are generated, do not concern corruption. Furthermore, most of the information that was inputted to calculate these rankings came from the World Bank. Only the Gallup surveys are based upon perceptions by the public within each of the ranked nations.)
The summary for Rwanda said: "Rwanda moves up by seven places this year to 63rd position, continuing to place third in the sub Saharan African region. As do the other comparatively successful African countries, Rwanda benefits from strong and relatively well-functioning institutions, with very low levels of corruption (an outcome that is certainly related to the government's non-tolerance policy), and a good security environment. Its labor markets are efficient, its financial markets are relatively well developed, and Rwanda is characterized by a capacity for innovation that is quite good for a country at its stage of development. The greatest challenges facing Rwanda in improving its competitiveness are the state of the country's infrastructure, its low secondary and university enrollment rates, and the poor health of its workforce."
Here were a few of Rwanda's corruption ("Institutions") ranks (shown in the report's page 307): On "Diversion of Public Funds," Rwanda was #37. On "Irregular Payments and Bribes," it was #21. On "Public Trust in Politicians," it was #6. On "Strength of Auditing and Reporting Standards," it was #69 (and that was Rwanda's worst "Institutions" rank). Rwanda's overall "Institutions" ranking was #20. (However, page 77 of the report indicated that Rwnda was being rated on the basis of 2011 data, not 2012.)
So: for "Institutions," U.S. was #41, and Rwanda was #20, whereas the 2012 TI "corruption" rankings were U.S. #19 and Rwanda #50. That contrast in rankings might be a fair indicator of how corrupt (bought and paid for) TI is. (Of course, if Gallup's findings were the best measure of a country's "corruption," then that contrast against TI's U.S. #19 and Rwanda #50 would instead be U.S #65 versus Rwanda #1.) Anyway, Rwanda was vastly less corrupt than the U.S. is. Whether Rwanda might have been #1 out of 129, or #20 out of 144, can be reasonably debated, but that it would have been #50 out of 176 (which TI claimed was instead out of 198) can be simply ignored — it is outside the bounds of reasonable credibility.
Associated with lack of corruption is honest police forces. On 28 June 2018, Rwanda's leading daily newspaper, The New Times, headlined "Gallup report: Rwanda is second safest place in Africa", and reported that 83% "of Rwandan residents have confidence in the local police force and … feel safe walking alone at night." The safest countries were: Singapore 97%, and — in second through fourth place — "Norway, Iceland and Finland who tied at 93 per cent respectively. Rwanda came at 40 globally." U.S. ranked at #35 out of 142 countries in this survey.
By contrast, as compared to the case of Rwanda — a country that is trying hard not to be corrupt — the U.S. Supreme Court has (see "Federal Public Corruption Prosecution After 'Bridgegate'") unanimously ruled, on 7 May 2020 (in Kelly v. U.S.), that unless direct bribery can be proven against a public official, any other type of abuse of public office (than direct bribery) is entirely legal, and not subject to penalty, under any U.S. criminal laws, regardless of any suffering that might have been perpetrated upon the general public, or upon any individual, by that official's action, or decision. This landmark ruling concerned two subordinates, not the elected official himself; and, so, of course, elected officials themselves are now, essentially, totally immune in the U.S. Even their subordinates are safe, and therefore won't have incentive to give plea-bargained testimony against their boss in complex corruption-cases. They're already "home free." A month later, on June 15th, this same U.S. Supreme Court, in yet another landmark decision, ruled by 8 to 1 that even low officials, such as police, are beyond the reach of the law if they even murder totally innocent persons, if it's being done while they are on the job. The badge is their protection. (Of course, both of those rulings are likely to cause corruption in the U.S. to grow yet higher.)
As Nicole M. Argentieri, one of America's top experts on corporate crime, commented about the Kelly v. U.S ruling, one result of the ruling is that "even conduct that the court unanimously characterized as an 'abuse of power' can escape prosecution." The 9 'Justices' didn't consider the prevention of abuse of power by public officials to be a sufficiently high priority for it to be prosecuted, or even to be at all illegal. Of course, America's courts aren't supposed to be writing the laws, but prior rulings, from prior U.S. Supreme Courts, had interpreted America's laws regarding corruption very differently. As Argentieri observed, "Between the 1940s and the 1980s, it was common for federal prosecutors to use federal fraud laws to prosecute public officials for 'schemes to defraud citizens of their intangible rights to honest and impartial government'." Corruption was prosecuted, but now it virtually cannot be. U.S. Supreme Court rulings such as these have made public corruption increasingly legal, and this year's two rulings make it henceforth entirely legal. And, regardless of whether America's now allowing public corruption should be attributed primarily to the legislative or to the judicial branch, it's the current situation. And, yet, TI's latest, 2019, ranking for the U.S. is #23 out of 198 countries (actually out of 176 countries); and their ranking for Rwanda is #51 (out of '198'), which pretends that Rwanda is quite a bit more corrupt than is the United States. TI's rankings are thus worthless. They are pure propaganda, no news-value except for their own scandalousness and TI's corruptness. And, as far as TI's own 'transparency' is concerned, it's yet another fraud. Itself is both opaque, and corrupt. Rwanda has tried hard to be neither.
TI's 'corruption' scores affect how high an interest-rate the nation will pay on its sovereign debt. The IMF's Public Financial Management Blog headlined on 15 September 2016 "The (Fiscal) Benefits of Transparency", and reported: "A series of studies (Ciocchini et al 2003; Depken et al 2007; Remolona et al 2008) show that as scores on Transparency International's (TI's) Corruptions Perception Index (CPI) decrease, borrowing costs increase. These studies all show direct causality between corruption risk and borrowing costs, controlling for other influences." Investors trust the fraud and therefore pay lots more for debt from 'Transparent' regimes than from low-scored ones. The IMF (the U.S. regime) can only be happy that the TI fraud works. However: taxpayers in any non-U.S.-allied country can only be sad that it does, because it raises their nation's debt even further. The entire existing World Bank, IMF, and IBRD ('International Bank for Reconstruction and Development') system is set up so as to steal from taxpayers in low-income countries — such as Rwanda — in order to increase the wealth of foreign investors who invest in low-scored countries (which America's billionaires want to conquer — which, if that happens, would increase their own wealth even more).
So: when the U.S. empire, starting in 1991, took anti-corruption as its new excuse for being imperialistic, replacing its old anti-communist excuse, what actually emerged in the U.S. itself has been a country in which around three-quarters of its own residents believe "corruption widespread throughout the government." That's tied with Guatemala, Nepal, Philippines, & Taiwan. According to any measure (except the fraudulent TI), Rwanda is far less corrupt than that. Whether it will remain so is another matter.
Author's note: first posted at Strategic Culture
Russia-Africa relations: The Way Forward
Russia is working consistently on strengthening multifaceted relations with Africa despite the numerous challenges. After the first Russia-Africa summit held in Sochi, authorities have been moving to build on this new page in the history of Russia'srelations, based on shared values and interests, with African countries. Within the framework of the joint declaration adopted in Sochi, the Ministry of Foreign Affairs of the Russian Federation created a Secretariat of the Russia-Africa Partnership Forum.
On May 18, Deputy Director of the Department of Africa at the Russian Foreign Ministry, Oleg Borisovich Ozerov, was appointed Ambassador-at-Large and Head of the Secretariat of the Russia-Africa Partnership Forum. He is a diplomat with extensive experience at the Foreign Ministry, including with Arab and African countries. In 2010-2017, he was Ambassador to Saudi Arabia and in 2011-2017, Permanent Representative of the Russian Federation to the Organization of Islamic Cooperation.
In this interview with Modern Diplomacy, Oleg Borisovich Ozerov, Ambassador-at-Large and Head of the Secretariat of the Russia-Africa Partnership Forum, talks about the primary tasks of the Secretariat, current efforts at supporting Russian companies to work in Africa and the way forward with Russia-African relations. Here are the interview excerpts:
Q: Why it has become important, in the first place, to create the Secretariat of the Russia-Africa Partnership Forum within the Ministry of Foreign Affairs of the Russian Federation?
A: In October 2019 Sochi hosted the first ever Russia-Africa Summit, ushering in a new era in the history of Russian-African cooperation. The outcomes of this event are evident in its final declaration. The first few points in the document outline decisions made by the event's participants concerning the establishment of a Russia-Africa Partnership Forum as the Summit's supreme body. It also stipulates that annual political consultations will be held between the Foreign Ministers of the Russian Federation and African States acting as the present, former and future presidents of the African Union.
There needs to be coordinated action between Russian government bodies and economic actors. This is to ensure that the decisions reached at the previous Summit can be implemented, preparations for the next high-level Russian-African meeting made, and diplomatic support provided for communicating with the African Union and government bodies in Africa which oversee foreign policy. This need for coordinated action has led to the establishment of the Russia-Africa Partnership Forum Secretariat within the Ministry of Foreign Affairs of the Russian Federation. Incidentally, one of its key objectives will be to organize and conduct the aforementioned political consultations. The first round of these consultations was held in July of this year.
Q: The Secretariat has already held a few meetings. Could you please talk about some of the decisions that have been taken with regards to strengthening cooperation with Africa?
A: I would like to make a small correction. On 9 September this year, Moscow hosted the official presentation of the Russia-Africa Partnership Forum Secretariat and the Association of Economic Cooperation with African States.
The senior management of the Secretariat's working bodies were presented at this event. These included the heads of the coordinating council, research council, public council, and the working media group. These people are, respectively, Chairman of the Board and CEO of the Roscongress Foundation Alexander Stuglev, Director of the Institute for African Studies of the Russian Academy of Sciences Irina Abramova, Head of Rossotrudnichestvo Yevgeny Primakov, and Director General of TASS Sergey Mikhailov.
The first meeting of the coordinating council is planned for October this year. The research and public councils should meet accordingly shortly afterwards. Draft resolutions concerning the work of the Secretariat will be discussed at the aforementioned meetings, and the media will be informed of the outcomes in due course.
Q: Is it possible to discuss the roles of the three created councils (business, research and public) that were created during the meeting of 9 September?
A: The decision to set up the councils was taken much earlier, as the concept for the Russia-Africa Partnership Forum Secretariat was being drawn up, which was established, as we know, in June this year. The Secretariat does not have a business council. Issues regarding coordination between federal government bodies and the business sector come under the remit of the coordinating council.
The Association of Economic Cooperation with African States also performs the role of a business council, and operates in close collaboration with the Secretariat. All the three councils are staffed by highly qualified professionals. They include people specializing in international relations, economics and finance, science, business, society and the media, who provide expert support for the Secretariat's operations.
Q: In your objective view, is there a lot of potential in terms of increasing trade and economic cooperation between the African continent and Russia?
A: Speaking to the press at the end of the inaugural Russia-Africa Summit, President of the Russian Federation Vladimir Putin noted that in 2018 Russia's trade with African states exceeded US$20 billion. As pointed out by the Head of State, "It is absolutely feasible to reach higher, and bring the value of trade to, at least, US$40 billion over the next few years."
The official figures to come out of the Sochi Summit pay testament to the enormous potential of economic relations between Russia and Africa. Of particular note is the fact that delegations from 54 African nations took part in the event. Of these, 45 were led by Heads of State and Government. The Summit was also attended by the heads of eight regional organizations in Africa, 109 foreign ministers, and two vice presidents.
The Russia-Africa Economic Forum, which took place alongside the Summit, was attended by more than 6,000 participants from 104 countries and territories. These included more than 1,100 foreign business leaders, 1,400 Russian business leaders, and 2,200 members of official delegations from Russia and abroad. Ninety-two agreements, contracts, and memoranda of understanding were signed worth a total of more than RUB 1 trillion.
I would say that when organizing and holding the next high-level Russian-African meeting, one of the main objectives will be to further reinforce the powerful momentum built up in Sochi in 2019 in terms of economic collaboration between Russia and African countries. We are now enjoying comprehensive and enduring collaboration which is founded on long-term programmes.
Q: Doing business is not easy in Africa, but what kind of approach do you envisage adopting when it comes to dealing with such issues?
A: We see our mission as uniting economic operators from Russia and Africa, and facilitating the sharing of information between them. We also aim to ensure there is political and diplomatic support for Russian businesses in African countries. The Secretariat will work in close collaboration with the aforementioned Association of Economic Cooperation with African States.
We enjoy robust ties and have established communications with relevant Russian ministries and government bodies responsible for foreign trade, the Chamber of Commerce and Industry of the Russian Federation, the Russian Union of Industrialists and Entrepreneurs, the Coordinating Committee on Economic Cooperation with Sub-Saharan Africa (AfroCom) and many other organizations.
The task before us is to coordinate the actions of all stakeholders with the aim of effectively promoting Russia's economic interests in Africa and to foster mutually beneficial cooperation with African nations.
Q: Apart from corporate business at the state level, Foreign Minister Sergey Lavrov has spoken about developing medium-sized enterprises. Is this part of your plan?
A: Small and medium-sized enterprises have already been using the AfroCom platform to work together with African countries for a long time. Incidentally, this organization is planning to soon join the Association of Economic Cooperation with African States. Our embassies' consular departments and trade missions – where they exist – are also providing assistance to small and medium-sized Russian businesses. They are helping them to find partners in African countries and to establish business ties.
In accordance with the decisions made at the inaugural Russia-Africa Summit, we will also help build partnerships for small and medium-sized businesses, and help them to be more active and effective. The plans and strategies, which will be employed to achieve this, will be discussed at the first meeting of the coordinating council this October, as well as at other events.
Q: Looking at current developments and other active foreign players on the African continent, what do you see as the key challenges there?
A: In terms of intensifying economic collaboration between Russia and African countries, we need to anticipate the technical aspects of having Russian businesspeople, firms, and companies do business on the African continent. In particular, this means looking at transport accessibility (by air and sea), processes and forms related to mutual settlements, making payments, investment, providing loans, hedging risk, providing legal services and insurance, etc. Work on these aspects must be done immediately, in parallel with work on organizing the next Summit.
That said however, the current coronavirus pandemic is causing considerable difficulties, at the moment. It is affecting international travel and is hindering economic activity across the board, including in African countries.
In terms of competing with other countries on the continent, we are counting on building relations between Russian firms and companies in such a way as to create a sense of camaraderie and solidarity when it comes to withstanding foreign competitors on the African market. This will be another area of focus for the Association of Economic Cooperation with African States as it works in close collaboration with the Secretariat.
Q: Why do you think Russia's soft power is not what it was during the days of the Soviet Union?
A: I cannot say I fully agree with that statement. There are numerous examples of how Russia has achieved notable success through soft power. I would like to particularly draw attention to the fantastic work being done by the Russian news channel Russia Today, under Margarita Simonyan's leadership. And I cannot ignore the fact that in many African countries, a number of important roles within the African Union and a host of other regional organizations are staffed by graduates of Soviet and Russian universities. This says a great deal about the nature of Russian-African partnership. And there is still a high degree of interest among African people in studying in the Russian Federation.
I am also aware that Rossotrudnichestvo (the Federal Agency for the Commonwealth of Independent States, Compatriots Living Abroad and International Humanitarian Cooperation) is working hard to make Russia's humanitarian presence both more effective and more keenly felt abroad, including in African countries.
Q: What plans do you have in terms of developing cooperation in education, the media and culture over the next few years?
The final declaration of the inaugural Russia-Africa Summit includes an entire section on our collaboration in science, culture, education and social ties. Rossotrudnichestvo is the main body in Russia responsible for humanitarian cooperation, including with African states. At the next meeting of the public council, we intend to discuss this agenda in detail with Yevgeny Primakov, who heads the organization. This discussion will take place within the context of implementing the decisions of the Sochi Summit and working towards fulfilling associated objectives.