Bloodletting in Delhi: A Tighter Hug on Progrom
In an intense echo of bloodletting during the partition of 1947, in which approximately 2million people died and several lost their property and homes, phased into a rerun of the Gujrat riots in 2002, Modi's Hinduisation is ambitiously hankering on geo-politically strategic and obfuscated regional and international championship once again. Reeling under communal violence which resulted in the death of more than 50 people and injury to another 300 in the heart of the country, Delhi, on the visit of Donald Trump to India on February 24, 2020, was a clear message of polarized internal strife. The streets in the New Delhi neighborhood were horrifyingly littered with scraps of bricks and haunted by the site of bloodbath. India is evidently stalled into Syria and Iraq like situation.
The 16th century conquistadorial silencing, to torture and mass incarceration, Stasi surveillance to demographic engineering to suppression of assemblage, the longest digital siege ever imposed in a democracy, the gagging of free press, the devastation of economy, the crippling of the education system, the criminalisation of speech (those who've been set free have literally had to sign "bonds of silence") and the suppression of civil society is already a state-crafted sojourn in a Muslim majority Indian Occupied Kashmir. An unwitting war waged by Prime Minister Narendra Modi and his ruling Bharatiya Janata Party (BJP) in an us-versus-them culture has allowed him to turn many into state-less citizens by the introduction of CAA/NRC. It is being criticized as the "greatest act of social poisoning by a government in independent India," aimed at making the country a Hindu state.
Not to mention the non-conformation to the international norms and law and human rights values. The Human Rights Watch published a report in 2019, observing that the BJP, filled with religious fervor drilled into his workers, uses "communal rhetoric" to spur "a violent vigilante campaign," whereby radical cow protection groups lynched 44 people to death, 36 of them Muslims, between May 2015 and December 2018. Hindus consider cow as 'Holy' and disallow its meat consumption to non-Hindus. The UN High Commissioner for Refugees (UNHCR)Michelle Bachelet, has already filed an intervention application in the Indian Supreme Court against the Citizenship Amendment Act (CAA).
The violations of UN Security Council resolutions and tenets of the secular spirit of the Indian constitution, all allow a prospective anarchy to the US led international order. By declaring Russia and China as top national security threats in the 2018 American Defence Strategy, India is evidently emboldened by the US appeasement policies which regrettably contradict its own criticism on China's detention camps for Muslims in Xinjiang province. Should we then agree with the chairperson of SDPI Board of Governors, Shafqat Kakakhel who said that "We are living in Trump era, who simply walked-out from two international agreements, i.e. Iran Nuclear Deal and UN-Paris Agreement on climate change?" Modi's scrapping of Article 370 in the occupied Kashmir and introduction of citizen amendment bill (CAB) are significantly akin with Trump's erstwhile decisions.
At the regional level, revision of Modi's foreign policy on ideological lines vis-à-vis its smaller neighbours in general and Pakistan in particular, and his radical and drastic changes in Indian non-aligned politics, its aspirations for great power and bidding for the UNSC permanent membership, could have perilous spillover impacts in the region. Pakistan's foreign policy is already India-centric. His anti-Pakistan and anti-Muslim rhetoric saved both the nuclear states, on February26, 2019, from an almost full-fledged war by short aerial dogfight.
Similarly, condemning Modi of "killing Muslims" and "patronizing communal violence" in his country, the demonstrators in Bangladesh demanded their government cancel its earlier invitation to him for an official visit on March 17, 2020. "We want punishment of killer Modi," "Killer Modi has no place on the soil of Bangladesh."
On the domestic front, the Hindu nationalist BJP launched a three-pronged strategy against the Muslim minority:
It struck down the special status of the Indian-occupied Kashmir (IOK). By doing so, it dishonored both the legal and moral foundations of the post-World War order.
Secondly, it manipulated through RSS extremist organisations perpetrating unbridled religious violence against Muslims and other minorities without impunity.
Thirdly and finally, embedding religious discrimination by the introduction of controversial citizenship law.
Religion is essentially an individual phenomenon. Its realization calls for building up a religious fellowship.If the interests of a group are couched in a garb of religion; they are easily manipulated/ persuaded to lay their lives while ignoring the original objective of religion. It is basically a fulfillment of soul which directs a code of life. It easily becomes an ideology when politicized. In this manner, religion starts rendering the material and political goals and the thin line between faith and politics gets exploited. How would then the killings in pursuit of material or political goals at such massive scale, which are unbecoming of human dignity and life, be defined as "communal riots" only? More so, when they are not simply a clash between two mobs or groups? In Delhi, the state was clearly seen siding with one group either by looking away or by encouraging and sometimes even directly participating in the violence? It had clearly used its instrument of police force against a community of Muslims which incidentally is also the largest minority in India. How would be a line drawn between the riot and progrom- a term devised in tsarist Russia when pogroms were launched against Jews? At prima facie, it is no less than an organized cleansing of Muslims through annihilation and egregious disgrace directly by the central government in Delhi, which is the capital of the state of India, unlike Gujrat massacre. If Modi was boycotted as the Chief Minister of Gujrat, should the hug have been tighter by Donald Trump on unleashing progrom?
US and India in the Indo Pacific: Advancing a shared vision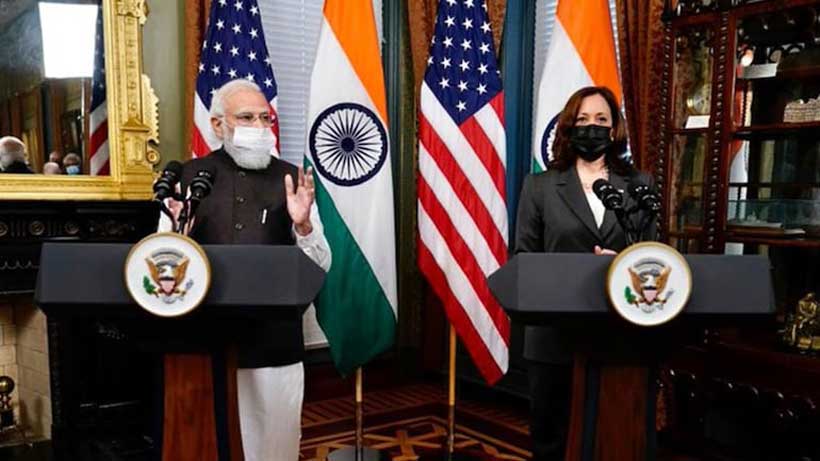 The changing geopolitical dynamics with China's emergence as a key player and the declining role of the US as a superpower have all shifted the focus towards the Asia Pacific region. This region has become home to numerous flashpoints as China is seeking to tilt the balance of power in its favor and the US being distrustful of Chinese intentions. Nevertheless, to mitigate this threat, the US under the Obama administration has already turned the foreign policy focus from the Middle Eastern region to the Asia Pacific with the policy of "Pivot to Asia".
Along with this, former president of the US, Donald Trump came with a newfangled strategy of "Free and Open Indo-Pacific" in 2017, thus having the Indian Ocean part of the great game. Yet, this has largely been subject to multiple interpretations. Especially, China is perceiving it as a strategy by the US to contain China's growing power in the region since the US has clearly stated in its National Security Strategy that China is a "strategic competitor", and the US won't let any single state dominate the whole region. Therefore, this policy is going to have multiple implications in terms of how the countries will approach and recce China's rise in the region.
Apparently, the US stated its vision for Indo Pacific is to ensure peace, prosperity, security, and stability, yet if we analyze deeply then US intentions primarily is to counter the influence of China and to increase its footings in the region. That is why it has focused on projecting the harder image of its competitor China in the region and worldwide, while convincing others for taking the US as their well-wisher whose intention is to constructively engage economically, politically, and socially with regional states. Nevertheless, in reality, the US is trying to achieve its underlying objectives in the region and that is to increase its presence and relevance in the region while using the sugar-coated approach of presenting itself as a marvel for the development of other regional states.
If we go a little back into history then the US has always shown great interest in the Indo-Pacific region. Secretary of the state, Hilary Clinton used the term while defining the "Asia pacific rebalancing strategy" and the relationship of the US with India. Even Obama during a historic visit to India in January 2015 endorsed this concept to show how the two states have been cooperating to promote peace, prosperity, stability, and security in the Asia-Pacific and Indian Ocean Region. Moreover, "Indo-Pacific Economic Corridor", an initiative by John Kerry was introduced for the first time at the US-India Strategic Dialogue in June 2013. However, it is only now that the term is officially part of the US defense paper and the National Security Strategy documents.
As with the changing geopolitical realities, the US has to look beyond the Middle Eastern region and must ensure its presence in the Indo-Pacific region which in future is going to define the world politics. Therefore, the US is engaging with regional powers and is trying to build them militarily and economically so that they can be used effectively as a "Threat multiplier" against China in the present and future. Besides, the Chinese actions including its extensive military modernization, the assertive pursuit of maritime territorial claims, artificial islands, and efforts to control international or disputed waters including the South China Sea, coercive diplomacy or economic measures, and its expanding global presence, including the military base at Djibouti, has all generated alarms for the US.
Apart from this, China is working on its far seas policy which is focused on extending Chinese naval capabilities and protection of its far Sea Lines of Communication (SLOC). Henceforth, China's presence in the Gulf of Aden, its investment in the Hambantota port, and the patrolling of its nuclear-powered submarines in the Indian Ocean in 2013, all shows China's intention to dominate the region. That is why India has started using its satellites, P-8I maritime surveillance aircraft and surface ships to eye the "unusual surge" in Chinese activity in the Indian Ocean,
Thus, keeping in view such dependence and importance of the Indo-pacific region for China and especially of the Indian Ocean. Trump came with the Indo pacific strategy which aims at regaining US lost hegemony and presence in the region. The department of defense also stated that the Indo-Pacific is "the single most consequential region for America's future". That is why the US is investing heavily in the region. Former secretary of the state, Mike Pompeo announced $113 million in funds allocation to expand economic engagement in the region and another $300 million for security cooperation. Former US president, Donald Trump signed the Better Utilization of Investment Leading to Development Act (BUILD Act), and Asia Reassurance Initiative Act (ARIA act) which doubles US development finance capacity to US$60 billion.
For trade, the US is investing around $1.9 trillion and is participating actively in regional platforms like ASEAN, QUAD, and APEC. It has lent $153 million to Mekong states and is working on 11 renewable projects. Moreover, it has given around $250 million for the security of sea lanes in the Indo-Pacific region. Today there are 375,000 U.S. military person in Indo-Pacific Command (USINDOPACOM). Henceforth, Indo-Pacific could be a game-changer for the US considering the potential region has in terms of the population, resources, top militaries, economic powers, and most importantly the 60% sea trade. For the US, unhindered access to the region means accomplishing its broader strategic goals.
Nevertheless, in all of this, the role of India is significant as both states are in an attempt to advance the same vision. The US military developments, Pacific involvement, the stationing of 200 aircraft in the region, etc. are all targeted at enhancing its power position in the region. Nonetheless, being geographically apart from the region, the whole strategic bedrock for the US are the partners that give it an advantage over competitors. As far as India is concerned, it is a key strategic partner of the US as both states have signed numerous defense agreements. Importantly, US is fully aligned with India's "Look East Policy" and as India is closer to the Indian Ocean that is why having stronger ties with India would help it gain control in the Indian Ocean which has 80% of trade passing through it.
For that reason, the US always calls India central to its Asian policy. Especially, with China's emergence as a competitor, its increasing influence in the Indian Ocean region, and the South China Sea, the US deems it's important to partner up with India which also looks at China as an aggressor state. The recent Ladakh incident which on one side has increased tensions between India and China has on the other side brought India and USA closer into the arms of each other. More importantly, India's ambition to become a leading power while providing security to the Indian Ocean Region is in line with the US Indo-Pacific strategy. This is why Trump too has renamed the pacific command to Indo-Pacific command which includes India with which the USA has a $16 billion defense agreement. Likewise, India is stepping for an increasing influence in the Strait of Malacca and has deployed eight warships in the Indian Ocean. Therefore, today the increasing US-India partnership, logistic exchange, 2+2 deal, $50 billion arms sale, intelligence sharing, etc. are all pointing towards the importance India has for the US in its Indo Pacific strategy.
To cape it all, the US has long called itself a pacific state, and all its policies and strategies vis-à-vis Indo-Pacific are fashioned seeing itself as a major balancer in the region. But even if the US today appears peaceful in its pursuit it could take a 360-degree shift tomorrow as its history speaks. And in all of this, India like always will hold a key position in the US strategy to accomplish all underlying objectives in the region as cooperation exist where interests syndicate.
India wanted to divert public attention from domestic issues by accusing Pakistan
India and Pakistan were former British colonies and got independence in 1947. The areas with a Muslim majority became Pakistan, and areas with a Hindu majority became India. Before the British colonialization, the sub-continent was ruled by Muslims for almost 800 years. Overall, Muslims were in minority and they have accepted the smaller areas as Pakistan, which is almost one-sixth of India. Being self-content, Pakistan was satisfied and had no ill-feeling against India.
But, India, since the beginning has not accepted the partition and was keeping ill feelings for Pakistan. Just after one year, in 1948, the Indian army entered into Kashmir and seized two-thirds of Kashmir, as occupied Kashmir. There have been four wars between the two rivals and outnumbered border clashes of various magnitudes. India planned several conspiracies to finish Pakistan but failed to do so for the last seven decades. But have not accepted the existence of Pakistan, from the core of heart and always trying to harm it.
India is using ugly media to defame Pakistan, and spreading fake news, fabricated narratives, and distorting Pakistan's image. India leadership is in habit of giving irresponsible statements against Pakistan.
In response to a recent statement by the Indian defense minister, Pakistan expressed that it is "fully prepared" to respond to Indian aggression, but will continue to act responsibly and work to promote peace. Pakistani leadership is visionary and understands the consequences. Genetically Pakistan is a peace-loving nation, but very vigilant to safeguard its national security.
"While fully prepared to respond to India's provocations and irresponsible behavior, Pakistan will continue to act responsibly and contribute to all efforts for promoting peace," read a statement issued by the Foreign Office.
It said that Pakistan "strongly rejects highly irresponsible, provocative and gratuitous remarks by the Indian Defense Minister threatening Pakistan". On Saturday Indian Defense Minister Rajnath Singh said: "Pakistan makes all efforts to destabilize peace in India but we have sent a clear message to them that we will hit back." "This is a new and powerful India," Singh added while addressing a public gathering in Uttarakhand's Pithoragarh.
The Foreign Office, in its statement, said that his unfounded remarks "are delusional on the one hand, and reflective of India's characteristic hostility towards its neighbors on the other".
"India's smear campaign against Pakistan has been exposed and discredited. It has no takers in the international community," said the statement.
The Foreign Office said that it is no secret that Indian leaders "engage in falsehoods and fantasies while pointing fingers at neighbors including Pakistan".
It is not the first time that India is giving such sarcastic remarks about Pakistan. In past, whenever India is facing internal pressures, they use similar tactics to divert the public attention. This time, India wants to divert the attention of the international community from the widespread violations of human rights and international humanitarian law committed by Indian occupation forces in Indian-controlled Jammu and Kashmir.
"Indian occupation forces have been committing egregious human rights violations and grave crimes against innocent Kashmiris in India-occupied Jammu Kashmir including extra-judicial killings, custodial deaths, torture, arbitrary detentions, using people including innocent children as a human shield, and collective punishment by demolishing homes," the statement underscored.
It went on to state that the Dossier presented by Pakistan to the international community in September 2021 "contains incontrovertible evidence of the gross and systematic human rights violations and crimes against humanity by Indian occupation forces in India-occupied Jammu and Kashmir".
The Foreign Office said that the Indian government's frustration is evident from the fact that despite its unabated state-terrorism in India-occupied Jammu and Kashmir, it has "utterly failed to silence the peaceful voices of Kashmiris" demanding their right to self-determination promised to them by the United Nations Security Council in its various resolutions.
Tellingly, tensions in Kashmir remained on a knife-edge Saturday after a shootout by the Indian authorities this week left four people dead, with families alleging the gunfight was staged and that police used innocent civilians as a "human shield".
Police initially described the incident, which took place last Monday when officers raided a shopping complex, as a counter-insurgency operation in which two 'militants' and their associates had been killed in a shootout.
The families of three of the men, however, have accused Indian forces of cold-blooded murder and the case has sent ripples of outrage across Kashmir, a region scarred by familiar allegations of extrajudicial killings. India's top regional official has called an inquiry into the deaths.
Thousands of people, including civilians, have been killed in the violence. Human rights groups have accused Indian forces, which operate with legal impunity, of abuses including rape, torture, and staging gunfights.
Citizens and rights activists have also decried an increasing denial of civil liberties in Kashmir since the region was stripped of its semi-autonomous status in August 2019, taken under the full control of the central government, and divided into federally controlled territories of India.
India regularly accuses Pakistan of sponsoring or facilitating armed groups operating on the other's soil. Such accusations have increased in frequency and tenor since 2014 when Indian Prime Minister Narendra Modi's right-wing Bharatiya Janata Party (BJP) was elected to power.
Russian Far East: A Key Agenda for the India-Russia Annual Summit 2021?
"New Delhi has shown increasing interest in the development of the Russian Far East in recent years. With rising stakes in the Indo-Pacific and emerging areas like the Arctic expected to create shifts in global economic and geopolitical landscape, New Delhi has expressed ambitions to cooperate with third parties to boost the infrastructural capacities in the RFE."
***
India-Russia bilateral annual summit is scheduled to happen in the first week of December this year. In light of the 2020 summit being cancelled due to the COVID-19 pandemic, this year's summit assumes greater importance as India and Russia look towards strengthening engagement in several areas amidst a volatile global geopolitical landscape. Beyond the events unfolding at the Poland-Belarussian border, Russia-Europe energy tussle, and the emerging 'Cold War' in the Indo-Pacific between US and China, the summit will be happening at a time when the much awaited and speculated arrival of the Russian S-400 anti-missile defence systems is under way in India. On one hand India and Russia will showcase the successful completion of the S-400 deal as a hallmark of India-Russia 'special and privileged strategic partnership', on other, the two nations will keep an eye on the impending CAATSA (Countering America's Adversaries Through Sanctions Act) sanctions, which US would be putting on India due to the S-400 deal (CAATSA sanctions are imposed on countries making substantive new defence deals with countries considered by the US as adversaries) .
According to several experts and media sources, while Afghanistan will stay as a top agenda for India and Russia, the summit will also focus on combating terrorism, drug trafficking, extremism and increasing cooperation in fields like hydrocarbons, space, finance, connectivity, COVID-19 vaccines, atomic energy, and healthcare, among other areas. However, a key area which has should hold importance for this year is India's ambitions in the Russian Far East region.
Why Russian Far East is Important?
Russia holds world's largest known reserves of natural gas and a majority of these reserves are present in Russia's Far East region or the RFE. This region comprises of the Far Eastern Federal district- the easternmost territory of Russia sandwiched between eastern Siberia and the Pacific Ocean. It shares land borders with Mongolia, China and North Korea, and maritime borders with Japan to the southeast and with the US to its northeast, with South Korea in close vicinity. With the global focus now shifting towards the Indo-pacific region, the RFE is expected to gain immense importance in the near future. This is both due to its mineral wealth, and due to the melting ice cover in the Arctic region, making the RFE a potential future hub for trade and shipping as well as hydrocarbon and mineral exploration in coming decades. However, the region will need large-scale infrastructural development and investment for realising its full potential.
Indian ambassador in Russia, D. Bala Venkatesh Varma recently highlighted India's growing engagements with the RFE region for economic, commerical and geopolitical reasons. He noted that Prime Minister Narendra Modi's 'Act Far East Policy' is a revolutionary step of huge geopolitical significance, and invariably, India's role in the RFE forms a major part of India's ambitions in strengthening relations with the surrounding Northeast Asian economies.
In September this year, while addressing the Eastern Economic Forum virtually, PM Modi expressed optimism that India and Russia together can bring stability in global energy market. Investments and close cooperation in the RFE are expected to be a major part of this optimism. Indian government has emphasised on coordination with Japan and South Korea for developing infrastructure and bringing investments to help in realising the full potential of energy capacities in the RFE. With many countries, especially Russia, Japan and South Korea now focusing on establishing Hydrogen economies in coming years, the region provides opportunities for India to collaborate with multiple partners in exploring Hydrogen technology.
In another perspective, any form of trilateral or minilateral cooperation will also provide a sort of strategic balancing in the regional geopolitics where China's rise has been unrestricted in the last two decades. The first Trilateral Track II dialogue on India-Japan-Trilateral cooperation in the RFE was held in January this year. It noted the complementarities of capacities and convergence of interests among the three nations along with the inter-connected nature of regional development in the RFE. A similar framework with other potential members can be considered.
What Lies Ahead
With the weight of the global economy shifting eastward, Indo-pacific region is gradually rising in importance. India's increased presence in this region would also mean a greater role in adjacent areas like the Arctic. With Moscow's emphasis on developing the RFE to utilize the region on various fronts (energy, trade, security) in coming years, it is an opportunity for India to step in and aim at achieving multiple targets. By aiming well, India can not only establish a presence in the region and challenge China's dominance but can also utilise this as a way to collaborate with the likes of Japan and South Korea (who have also been reeling under the same effects of a rising China and looking at mechanisms like QUAD for safeguarding their interests).
It was at the Eastern Economic Forum in 2019 when PM Modi announced the $1 billion line of credit for the development of the RFE. Since then, the Indian commitment towards the development of the RFE and investment cooperation in the region has been reaffirmed on several occasions. However, in many opinions the results have been low and slow. It has to be seen whether the upcoming annual summit will provide a roadmap to ramp up the efforts in the region or will yet again limit itself to reassuring about India's interest in the region. Making the RFE a key agenda in the India-Russia annual summit would undoubtedly signal India's firm commitment towards the Indo-Russian relationship at the same time when India is strengthening its cooperation with the west in the Indo-Pacific.