'Unanimous' ICC gives go-ahead to probe Afghanistan alleged war crimes
Prosecutors have been given the green light to investigate alleged war crimes and crimes against humanity in Afghanistan – and beyond its borders – linked to Afghan, Taliban and US troops, the International Criminal Court said on Thursday.
The decision, reached unanimously on appeal by judges at the International Criminal Court (ICC) in The Hague, overturns an earlier decision vetoing an inquiry, on the grounds that it "would not be in the interests of justice".
"The Appeals Chamber found that the Prosecutor is authorised to investigate…the crimes alleged to have been committed on the territory of Afghanistan since 1 May 2003," the ICC said in a statement, "as well as other alleged crimes that have a nexus to the armed conflict in Afghanistan and are sufficiently linked to the situation in Afghanistan and were committed on the territory of other States Parties."
Investigation appeal first made in 2017
The probe will be led by ICC Prosecutor Fatou Bensouda, who made the request to to the ICC's Pre-Trial Chamber in November 2017.
At the time, her Office cited grave crimes "and the absence of relevant national proceedings against those who appear to be most responsible for the most serious crimes".
The ICC Prosecutor's request covered alleged abuses committed in Afghanistan since 1 May 2003, as well as other alleged crimes since 1 July 2002, which were committed by States Parties to the Rome Statute – the 1998 international agreement that led to the formation of the court.
Afghan, Taliban and US forces in spotlight
Specifically, Ms. Bensouda will be seeking to investigate crimes against humanity and war crimes by the Taliban and their affiliated Haqqani Network; war crimes by the Afghan National Security Forces (ANSF) and in particular, members of the National Directorate for Security (NDS) and the Afghan National Police (ANP).
The ICC Prosecutor is also set to probe alleged war crimes by U.S. military personnel in Afghanistan and by members of the Central Intelligence Agency (CIA) in "secret detention facilities" in Afghanistan "and on the territory of other States Parties to the Rome Statute, principally in the period of 2003-2004".
In an earlier statement, Ms. Bensouda's Office said that "that there are no substantial reasons to believe that the opening of an investigation would not serve the interests of justice, taking into account the gravity of the crimes and the interests of victims".
The Prosecutor maintained that her Office's sole objective was to investigate and prosecute alleged war crimes and crimes against humanity "independently, impartially and objectively".
U.S. Secretary of State Michael Pompeo has issued a statement calling the court's decision "a truly breathtaking action by an unaccountable political institution, masquerading as a legal body", adding that it "is all the more reckless" as it came just days after the signing of a "historic peace deal" between Washington and the Taliban.
"This is yet another reminder of what happens when multilateral bodies lack oversight and responsible leadership, and become instead a vehicle for political vendettas. The ICC has today stumbled into a sorry affirmation of every denunciation made by its harshest critics over the past three decades", he stated.
Court can issue summons to 'no matter who'
For the purposes of its investigation, the ICC Prosecutor can request that the court's judges issue summons to appear or arrest warrants "no matter who the perpetrator", for alleged atrocity crimes committed in connection with the Situation in Afghanistan, her Office said.
In addition to Afghanistan, the ICC Prosecutor's Office has been conducting investigations in Burundi, Uganda; the Democratic Republic of the Congo, Darfur, Sudan; the Central African Republic, Kenya, Libya, Côte d'Ivoire, Mali and Georgia.
Preliminary examinations have also begun into the registered vessels of Comoros, Greece and Cambodia; as well as into Colombia, Gabon, Guinea, Iraq/UK, the Occupied Palestinian Territories, Nigeria and Ukraine.
Indigenous People in World Affairs
In late May, the world's biggest iron ore miner Rio Tinto legally destroyed two historically significant sacred caves in a Western Australian state, against the wishes of the traditional Aboriginal owners, which sat atop a high-grade ore body it planned to mine.
The destruction distressed the local Puutu Kunti Kurrama and Pinikura people (PKKP) and fuelled a wider public outcry that led to an inquiry into how the blast was legally sanctioned.
The destruction of the sites, which showed evidence of 46,000 years of continual habitation, occurred just as the Black Lives Matter protests trained a global spotlight on racial injustice.
The inquiry is looking at how a culturally significant site came to be destroyed, the processes that failed to protect it, the impacts on traditional owners, and the legislative changes required to prevent such incidents from recurring.
Rio is conducting its own independent board review into the incident, due to be completed in October, and has pledged to make the findings public.
Aboriginal cultural heritage is a fundamental part of Aboriginal community life and cultural identity. It has global significance and forms an important component of the heritage of all Australians.
But the destruction of this culturally significant Aboriginal site is not an isolated incident. Rio Tinto was acting within the law.
In 2013, Rio Tinto was given ministerial consent to damage the Juukan Gorge caves. One year later, an archaeological dig unearthed incredible artefacts, such as a 4,000-year-old plait of human hair, and evidence that the site was much older than originally thought.
But state laws let Rio Tinto charge ahead nevertheless. This failure to put timely and adequate regulatory safeguards in place reveals a disregard and disrespect for sacred Aboriginal sites.
Another example is the world's leading steel and mining company ArcelorMittal.
ArcelorMittal needs to move beyond good intentions on environmental and social improvements and turn words into deeds. Despite its rhetoric on social responsibility, the company continues to destroy the environment, risk people's lives and displace local communities, according to a new report launched in 2019 by the Global Action on ArcelorMittal coalition to coincide with the company's annual shareholder meeting in Luxembourg.
Comprising case studies from seven countries ranging from the Czech Republic to India and South Africa, the report also reveals new problems emerging around ArcelorMittal's iron ore-mining operations in Nimba County, Liberia, including unclear resettlement plans for local people, a lack of permanent employment from the mine, threats to the Mount Nimba Nature Reserve, and a questionable donation of 100 pickup trucks.
The action of another manufacturer also raises controversy. Anglo American is a global mining company with a portfolio that spans diamonds, platinum, copper, iron ore and more. The emissions from a new Anglo American underground mine project in Chile could be catastrophic for the nation, ecologists reveal. The multinational company has so far avoided scrutiny of the project by hollowing out regional environmental organisations and sharing erroneous information with the scientific community. Anglo American, a London Stock Exchange listed company, has tunnelled under a Chilean glacier, with a plan to excavate copper and approximately 166 million tonnes of raw material from beneath the Yerba Loca nature sanctuary. This is equivalent to the volume of 127 Costanera Centre towers—South America's tallest building, which sits at 300 metres and is located in Santiago. It then plans to backfill the entire mine with approximately 114.9 million tonnes of concrete.
The carbon footprint of the 3.4 million tonnes of cement required will be equivalent to 3.2 percent of the South American nation's 2016 carbon dioxide equivalent emissions, or the collective carbon dioxide emissions of 20 of the world's least-polluting countries. The number rises to 9.7 percent if Anglo American's plan to extend the life of the mine from 2036 to 2065 is agreed.
We have more good examples.
The third largest steelmaker in the world is Nippon Steel. Each year beginning from 2015, the company has conducted a forest environment preservation activity—Greenship Action. In order to protect the valuable nature in the Tokyo metro area, with the cooperation of NPOs and members of the local forestry industry, Nippon Steel have been performing thinning work and creating access roads in the mountain forests of Ome City in Tokyo. Although cutting down trees may seem like environmental destruction, if the forest is left on its own, the trees will grow increasingly dense, resulting in a dark and unhealthy forest due to the lack of sunlight penetration. By identifying necessary and unnecessary trees, and removing the unnecessary ones, a suitable amount of sunlight can enter, restoring an environment that allows a diverse range of woodland life to coexist. This activity is a valuable opportunity for the participants to personally experience and understand the importance of contributing to society.
The Russian company Nornickel is a global leader in the production of the mineral nickel. Murmansk Oblast and the Taymyr Peninsula have been the homeland for indigenous peoples of the Arctic for generations and are the principal sites for the company's activities. The Sámi, Nentsy, Nganasan, Entsy, Dolgan, and Evenki communities have preserved the traditional life, culture, and economy of Northern peoples, including reindeer herding, hunting, fishing, and gathering. Healthy and productive ecosystems, both on land and water, are the basis of indigenous people's culture and identity, supported by the company.
In particular, the company allocates funds for the construction and repair of housing for indigenous peoples, the improvement of small and remote settlements in Taimyr, and the provision of food for the children of reindeer herders. Norilsk Nickel also renders assistance to the indigenous population with air transportation of goods to remote villages, supplies of building materials and fuel.
This article takes a critical look at how large-scale mining works in the emerging global economy. The strategies adopted by governments around the world in recent years to encourage foreign investment in exploration and production of minerals raise questions about how multinational mining companies are approaching environmental and related challenges. And the role of ecology in the policy of companies should only grow.
ILO calls on Belarus President to respect workers' rights and freedoms amid protests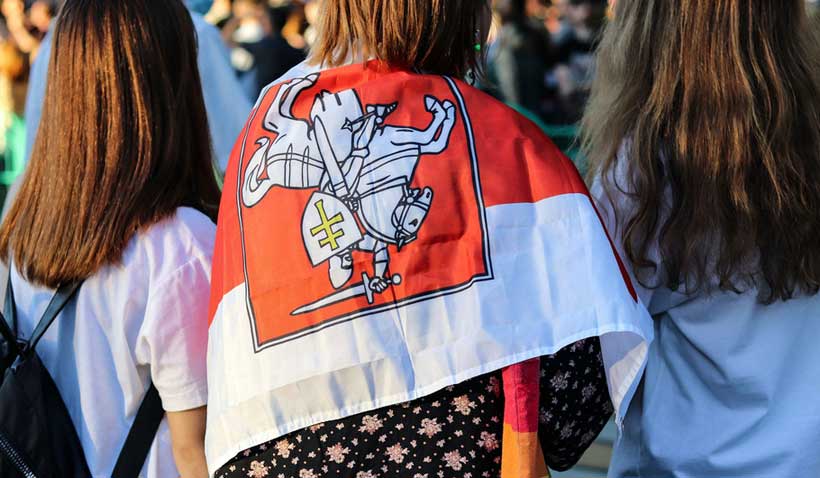 The Director-General of the International Labour Organization, Guy Ryder, has called on the President of Belarus, Alexander Lukashenko, to prevent human rights violations and "ensure full respect for workers' rights and freedoms" during the wave of protests that have swept the country in recent weeks.

In his letter to the Belarus President, Ryder urged President Lukashenko to release and drop charges against six trade unionists who have been detained by the authorities after participating in peaceful protests and industrial action.

He reminded the President that it is the responsibility of the Government to ensure a climate free from violence, threats or pressure against peacefully protesting workers and that any such allegations should be rapidly and independently investigated.
"I must urge you to do all in your power to prevent the occurrence of human rights violations and ensure full respect for workers' rights and freedoms," Ryder's letter said.

He expressed his deep concern at reports coming out of Belarus on the arrest, detention, imprisonment and mistreatment of workers' leaders.

'No one should be deprived of their freedom or be subject to penal sanctions for the mere fact of organizing or participating in a peaceful strike or protest,' Ryder wrote.

The letter recalls that the ILO has been working with the Belarus government, and the national workers' and employers' organizations, for 16 years, helping to address issues raised by an ILO Commission of Inquiry in 2004 which was set up following serious infringements of trade union rights and freedoms in the country.

Ryder notes that while there has been some progress on these issues, "the Commission's recommendations are far from being fully implemented."

The intervention by the ILO Director-General follows a request made by the International Trade Union Confederation (ITUC).
More can be done to ensure a green recovery from COVID-19 crisis
Many countries are making "green" recovery measures a central part of stimulus packages to drive sustainable, inclusive, resilient economic growth and improve well-being in the wake of the COVID-19 crisis. However some countries are also implementing measures that risk having a negative environmental impact and locking in unsustainable growth, according to new OECD analysis discussed by member country ministers today.
New OECD analysis, Making the Green Recovery Work for Jobs, Income and Growth, indicates that OECD member governments have committed USD 312 billion of public resources to a green recovery, according to a preliminary estimate that will be refined in the coming months. However, a number of other measures within broader recovery packages are going into "non-green" spending such as fossil fuel investments.
"It is encouraging to see many governments seizing this once-in-a-lifetime opportunity to ensure a truly sustainable recovery, but countries should go much further in greening their support packages," said OECD Secretary-General Angel Gurría, during a Ministerial Roundtable to discuss the issue. "Climate change and biodiversity loss are the next crises around the corner and we are running out of time to tackle them. Green recovery measures are a win-win option as they can improve environmental outcomes while boosting economic activity and enhancing well-being for all." (Read the full speech.)
The analysis finds that among OECD and other major economies, a majority of countries have included measures directed at supporting the transition to greener economies in their recovery strategies. These include grants, loans and tax relief for sustainable transport and mobility, the circular economy and clean energy research; financial support to households for improved energy efficiency and renewable energy installations; and measures to foster the restoration of ecosystems.
At the same time, some countries have unveiled measures likely to have a direct or indirect negative impact on environmental outcomes. Some of these are temporary and form part of emergency economic rescue plans; others risk having longer-term implications. Measures include plans to roll back environmental regulations, reductions or waivers of environment-related taxes or charges, unconditional bailouts of emissions-intensive industries or companies, and increased subsidies of fossil fuel infrastructure investment.
"Addressing global issues such as climate change, biodiversity loss, ocean degradation, and inefficient resource use is more important than ever as we seek to rebuild our economies and enhance resilience against future shocks," said Spanish Deputy Prime Minister and Minister for the Ecological Transition and the Demographic Challenge Teresa Ribera, chairing the Roundtable. "Well designed and implemented stimulus packages can drive a recovery that is both green and inclusive, driving income, prosperity and jobs as well as accelerating action on national and global environmental goals."
The meeting included ministers of environment, climate or ecological transition from OECD member countries and Costa Rica as well as the European Commission Executive Vice President. The Roundtable is part of the preparations of the OECD's Ministerial Council Meeting, which will take place on 28-29 October under the chairmanship of Spain and with Chile, Japan and New Zealand as Vice-chairs. This Roundtable comes just before the OECD releases its Interim Economic Outlook on 16 September.
The analysis notes that a period of low oil prices offers an opportunity to scale up the introduction of carbon pricing and continue phasing out support for fossil fuels. Taxing environmentally harmful consumption and production can mitigate environmental harm while improving economic efficiency. It is crucial that energy tax reforms do not increase the share of "energy poor", as good access to energy services is essential for good standards of living. The distributional implications of other pricing instruments, such as taxes and charges on vehicle and fuel use should be also addressed. Similarly, reform of fossil fuel subsidies, which amounted to USD 582 billion in 2019 according to OECD and IEA data, should be accompanied by transition support for industries, communities, regions and vulnerable consumers.
The OECD analysis underlines the need to monitor and evaluate the impact of recovery measures on environmental outcomes, something that was lacking after the 2008 financial crisis. It presents 13 environmental indicators that can be used to measure the impact of stimulus measures, including carbon intensity, fossil fuel support, exposure to air pollution, water stress and environmentally related tax revenue.