COVID-19: Countries, businesses must safeguard human rights as virus spreads
As the COVID-19 coronavirus continues to spread globally, the UN's top human rights official appealed on Friday to put rights "front and centre" when implementing preventative measures.
Liz Throssell, spokesperson in the Office of the High Commissioner (OHCHR), said rights chief Michelle Bachelet, had noted "people who are already barely surviving economically, may all too easily be pushed over the edge by measures being adopted to contain the virus."
Carbon emissions drop?
Meanwhile, as record temperatures continued in the northern hemisphere, the World Meteorological Organization (WMO) indicated that it was still too early to say whether the global epidemic might lead to a drop in greenhouse gas emissions.
According to the World Health Organization, the number of confirmed cases of COVID-19 has neared 100,000 worldwide, with some 3,300 deaths and more than 80 countries now affected.
Since the virus emerged in central China in December, WHO has urged countries repeatedly to adopt infection containment measures without delay, as these will give health services more time to prepare for a worst-case scenario. "This is not a drill…This is a time for pulling out all the stops," Dr Tedros Adhanom Ghebreyesus, WHO Director-General said on Thursday.
Be prepared for 'unintended consequences'
Echoing the need for swift action from all countries facing the global threat – based on her past experience as a medical doctor and as President of Chile – Ms. Bachelet also cautioned that Governments needed to be ready "to respond in a range of ways to unintended consequences of their actions aimed at the coronavirus. Businesses will also need to play a role, including responding with flexibility to the impact on their employees."
The High Commissioner's statement added: "We've got lockdowns, quarantines and other such measures to contain and combat the spread of COVID-19. They should always be carried out in strict accordance with human rights standards and in a way that is necessary and proportionate to the evaluated risk."
The High Commissioner's comments follow an earlier appeal at the Human Rights Council, now meeting in Geneva.
Then, as on Friday, she urged Member States to protect society's most vulnerable citizens from the health threat posed by COVID-19, and also from any stigma faced by those who had contracted the respiratory disease.
Most at risk are already marginalised
The most vulnerable are those on low incomes, isolated rural populations, people with underlying health conditions, people with disabilities and older people living alone or in institutions, the High Commissioner explained.
"The High Commissioner is not speaking out about specific countries", Ms. Throssell said. "What she's doing is making a universal call to Governments to really consider the impact on economic and social rights by the steps they take – that's why she's saying it's so important for human rights to be at the front and centre."
Ms. Throssell added: "There are plans in different countries to tackle crises, but I think we all would agree it is somewhat unchartered. And that's why she's encouraging States to share information on good practices; steps that they have taken to mitigate, to alleviate the impacts, the effects of the steps they take; steps that are in many cases extremely necessary to combat, to contain COVID-19."
In a related development, the World Meteorological Organization (WMO) said that although the coronavirus would likely have an impact on greenhouse gas emissions and global warming because of the expected global economic slowdown, it was too soon to say how great that impact might be.
What is clear is that "2020 has started out where 2019 left off, with record temperatures. It was the warmest January on record (in Europe)", said WMO spokesperson Clare Nullis, citing data released on Thursday by the Copernicus European Union Climate Change Service.
Economic effects likely linked to emissions
"Obviously, the impact on carbon dioxide emissions will depend on the global economic slowdown as a result of the coronavirus," Ms. Nullis added, noting that it was still "early days. A lot depends on…the repercussions on international transport." The international aviation industry is reportedly facing a $113 billion loss in sales due to the virus this year, according to projections.
Any future assessment of the virus's impact would have to drill down into data on global energy consumption, the WMO spokesperson explained.
"Any sort of depression in economic activity…reduction in electricity production from coal-powered plants, a reduction in transport, will make a difference", Ms. Nullis said. "But we also need to look at efficiency gains. If these plants are running at half-capacity, or if you've got planes flying which are a quarter full, that's not really going to make a big impact."
World Bank-UNICEF: 1 in 6 children lives in extreme poverty
An estimated 1 in 6 children – or 356 million globally – lived in extreme poverty before the pandemic, and this is set to worsen significantly, according to a new World Bank Group-UNICEF analysis released today.
Global Estimate of Children in Monetary Poverty: An Update notes that Sub-Saharan Africa – with limited social safety nets – accounts for two-thirds of children living in households that struggle to survive on an average of $1.90 a day or less per person – the international measure for extreme poverty. South Asia accounts for nearly a fifth of these children.
The analysis shows that the number of children living in extreme poverty decreased moderately by 29 million between 2013 and 2017. However, UNICEF and the World Bank Group warn that any progress made in recent years is concerningly slow-paced, unequally distributed, and at risk due to the economic impact of the COVID-19 pandemic.
"1 in 6 children living in extreme poverty is 1 in 6 children struggling to survive," said Sanjay Wijesekera, UNICEF Director of Programmes. "These numbers alone should shock anyone. And the scale and depth of what we know about the financial hardships brought on by the pandemic are only set to make matters far worse. Governments urgently need a children's recovery plan to prevent countless more children and their families from reaching levels of poverty unseen for many, many years."
Although children make up around a third of the global population, around half of the extreme poor are children. Children are more than twice as likely to be extremely poor as adults (17.5 percent of children vs. 7.9 percent of adults). The youngest children are the worst off – nearly 20 percent of all children below the age of 5 in the developing world live in extremely poor households.
"The fact that one in six children were living in extreme poverty and that 50% of the global extreme poor were children even prior to the COVID-19 pandemic is of grave concern to us all," said Carolina Sánchez-Páramo, Global Director of Poverty and Equity for the World Bank. "Extreme poverty deprives hundreds of millions of children of the opportunity to reach their potential, in terms of physical and cognitive development, and threatens their ability to get good jobs in adulthood. In the wake of the massive economic disruption caused by the pandemic, it is more crucial than ever that governments support poor households with children now and rebuild their human capital during the recovery."
Extreme poverty among children has not fallen as much as it has for adults; a larger share of the global poor were children in 2017, compared with that in 2013. All regions of the world experienced varying levels of decline in extreme poverty among children, apart from Sub-Saharan Africa, which saw a 64 million increase in the absolute number of children struggling to survive on $1.90 a day, from 170 million in 2013 to 234 million in 2017.
Child poverty is more prevalent in fragile and conflict-affected countries, where more than 40 percent of children live in extremely poor households, compared to nearly 15 percent of children in other countries, the analysis says. The analysis also notes that more than 70 percent of children in extreme poverty live in a household where the head of the house works in agriculture.
The ongoing COVID-19 crisis will continue to disproportionately impact children, women and girls, threatening to reverse hard-won gains towards gender equality. Social protection measures have a crucial role to play to mitigate coping mechanisms by the poor and vulnerable in both the immediate COVID-19 response as well as the longer-term recovery.
World Bank and UNICEF data suggest that most countries have responded to the crisis by expanding social protection programs, particularly cash transfers. Cash transfers provide a platform for longer-term investments in human capital. Particularly when combined with other child development measures and coupled with high-quality social service provision, cash transfers have been shown to address both monetary and multidimensional poverty and improve children's health, nutrition, cognitive and non-cognitive outcomes.
However, many of the responses are short-term and not adequate to respond to the size and expected long-term nature of the recovery. It is more important than ever for governments to scale up and adjust their social protection systems and programs to prepare for future shocks. This includes innovations for financial sustainability, strengthening legal and institutional frameworks, protecting human capital, expanding child and family benefits for the long term as well as investing in family-friendly policies, such as paid parental leave and quality child care for all.
Cindy Sirinya Bishop new UN Women Regional Goodwill Ambassador for Asia Pacific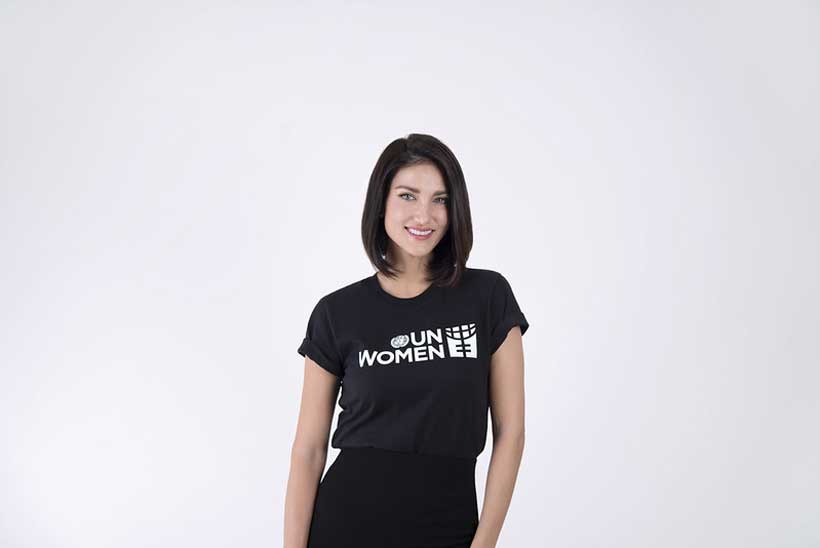 Thai celebrity and rights activist Cindy Sirinya Bishop is working to stop violence and other abuses against women as the newly appointed UN Women Regional Goodwill Ambassador for Asia and the Pacific.
Bishop, 41, is a model and actress who is best known as the host of Asia's Next Top Model, a television show broadcast in most countries in the region.
During her 2-year appointment, which began in September, Bishop is representing UN Women to promote gender equality and other UN Women priority goals, raise funds and build partnerships. She is promoting public awareness through education, dialogue and cooperation with schools, communities and governments.
"It is truly an honour to become the first UN Women Goodwill Ambassador to Asia and the Pacific," Bishop said. "My mother instilled in me very early on a strong sense of justice and fierce belief in the resilience and strength of women, and these values continue to guide me today. I am so deeply grateful for the opportunity to work towards achieving greater gender equality in the region, especially in the areas of eliminating gender-based violence and in providing equal opportunity for girls and women to realize their full potential."
Bishop is one of Thailand's leading campaigners on ending violence against women.
In early 2018, she came across a newspaper headline about Thai authorities telling women to not look "sexy" if they want to avoid sexual assault during the Thai new year festival. Having experienced violence herself at the festival, Bishop spoke out in a social media video hashtagged #DontTellMeHowtoDress. #DontTellMeHowtoDress quickly evolved into a movement championing gender equality and has been extensively covered by local and international media.
In July 2018, Bishop collaborated with UN Women to organize the Social Power Exhibition Against Sexual Assault. The exhibition was supported by United Nations agencies; the governments of Thailand, the Philippines and Singapore; the Association of Southeast Asian Nations; embassies; the media; and civil society and youth groups. Bishop worked with civil society organizations in the Philippines and Singapore on #DontTellMeHowToDress.
In November 2018, Bishop received the "Activist of the Year Award" from the office of the Prime Minister of Thailand.
Bishop also is the Knowledge Director of Dragonfly360, a regional platform that advocates for gender equality in Asia. She is writing a series of children's books on safety, rights and respectful relationships.
"Your strong commitment to ending violence against women, demonstrated through your creation of the #DontTellMeHowtoDress movement and your work with UN Women so far, has shown you to be a compelling and eloquent advocate," UN Women Regional Director Mohammad Naciri said in inviting Bishop to be UN Women regional goodwill ambassador.
UN Women is the United Nations organization dedicated speeding up progress on gender equality and the empowerment of women worldwide.
Misuse of terrorism laws during conflict creates 'unmitigated calamity'
The misuse of terrorism laws during conflict situations often leads to an "unmitigated calamity" on the ground, an independent UN expert has warned.
Fionnuala Ní Aoláin, UN Special Rapporteur on the promotion and protection of human rights while countering terrorism, told the General Assembly on Thursday that what are being billed by some governments as counter-terrorism measures, are being applied frequently to address domestic strife and in complex humanitarian settings.
In these cases, they can have a catastrophic impact on civilian populations, she said, which are being "squeezed by broadly framed terrorism laws and practices with little or no recourse, when misuse occurs".
Protecting rights, enforcing norms
The independent expert identified a "profoundly" worrying pattern whereby some States are ignoring or undermining humanitarian rules because counter-terrorism "offers a more open-ended, under-regulated and opaque set of tools", to manage complex problems.
Her report tracks the essential relationship between protecting the human rights of the most vulnerable – including the elderly and children – in complex and fragile settings and enforcing basic humanitarian norms, including providing humanitarian assistance.
"I am profoundly troubled by the failure to apply humanitarian exemptions for activities that are humanitarian and impartial in nature", said Ms. Ní Aoláin.
"Such short-sighted tactics of withholding or criminalizing humanitarian assistance only prolongs conflicts, alienates those who are needed to ultimately resolve such conflicts, and hurts the most marginal in society".
Affirm compliance
In her report, the Special Rapporteur acknowledged the Security Council's "persistent and unequivocal affirmation" that counter-terrorism measures must "always and fully" comply with the overarching norms of international human rights law, international humanitarian law and refugee law.
She called on States to review existing sanctions systems to make sure that they are rule of law-compliant and provide "meaningful opportunity to challenge, review and end sanctions practices for affected individuals and their families".
The UN envoy also applauded the work of impartial humanitarian actors, who carry out their duties in extreme conditions and under significant stress to protect the vulnerable.
"The challenge now for States is to acknowledge and protect these actors effectively", she spelled out.