Coercive economics in aid of India's diplomacy
Irked by rise in onion price to Rs. 100 a kilogram, Indian prime minister, Narendra Modi, directed ten intelligences, including RAW and IB to investigate the price spiral. He allowed them to snoop, through Israeli software Pegasus, What Sapp and market chats of hoarders, politicians, and journalists. Despite his academic shortcomings, Modi understands economics.
In his book The Age of the Economist, Daniel R. Fusfeld tells how economics governs our life today. In today's market economy, no country can live in economic isolation (sakoku).
How India wields its economic clout: The world should shun India because of its human-rights violations in Kashmir. But, it isn't so because of its economic clout. Through aid to or trade, India influences not only internal but also external policies of client states: Rafale deal with France, US$3 billion Raytheon/Lockheed helicopter and air defence deal with USA, and trade relations with Saudi Arabia and the United Arab Emirates.
In Sri Lanka, India brokered to remove Mahinda Rajapaksa from office 2015. Rajapakse had given China strategic entry into Sri Lanka, by leasing out Hambantota port to China and allowing it to build Colombo port and dock its submarines in Sri Lanka. Now Sri Lanka has handed over control of Humbantota to India. India gave $45.27 million aid to develop KKS harbour in Sri Lanka (Jan 12, 2018).
India extended 2.1-billion Nepalese Rupee (NR) aid to Nepal as reimbursement of the first tranche of housing support to 42,086 governments of India- supported beneficiaries in Nuwakot and Gorkha districts. It pledged Nepal US $1 billion aid and soft loan (25%) for Nepal's post-earthquake.
She pledged to contribute Rs 4,500 crore to Bhutan's twelfth five-year plan (2018 to 2023). It completed Mangdhechu Hydroelectric project and Ground Earth Station for South Asia Satellite and launch of RuPay card in Bhutan. Besides, it committed assistance of Rs 4,500 Crore for implementation of development projects and Rs 400 Crore for transitional Trade Support Facility during Bhutan's 12th Five Year Plan (2018 – 2023). Under the 12th 5-Year Plan, 51 large and intermediate projects and 359 Small Development Projects (SDPs)/High Impact Community Development Projects (HICPDs) are being carried out. India's commitment to the 12th Plan constitutes about 14.5 per cent of the Plan outlay which is around 38.75 per cent of the capital outlay and 71 per cent of the total external assistance.
To Bangladesh, India extended three $8 billion loans. A total of 1.16 Gigawatts of power is now being supplied by India to Bangladesh. The increase, in the reckoning of the Prime Minister, signifies a "quantum jump from megawatts to Gigawatts and is symbolic of a golden era" in bilateral ties. Markedly, Mamata Banerjee has pledged to raise the power supply to Bangladesh to 1,000 MW. Though electricity will not be a substitute for Teesta water, the plan to boost power supply is on anvil.
Launching the 'Act Far East' policy, India's Prime Minister Narendra Modi announced (September 5, 2019) that India will give a line of credit worth US$ 1 billion to Russia for the development of Far East.
India has provided Lines of Credit worth $ 96.54 million to Niger for projects in transport, electrification, solar energy and potable drinking water. It granted $15 million to Niger for organising African Union Summit
India and Japan have launched their own joint initiative in the shape of Asia-Africa Growth Corridor (AAGC) vis-a-vis China's Belt-Road Initiative for undertaking development and cooperation projects in the African continent.
Knee jerks to Malaysia and Turkey: Malaysian prime minister Mahathir Mohamad had said in September that India had "invaded and occupied" Kashmir. He was joined by Turkey's President Recep Tayyip Erdogan, who said that India had virtually imposed "a blockade" on Kashmiris. About Citizenship Amendment Act, he commented he was "sorry to see that India, which claims to be a secular state, is now taking action to deprive some Muslims of their citizenship". These views on Kashmir and the Citizenship (Amendment) Act (CAA) irked India. He India lodged a formal protest stating that it went against the accepted diplomatic practice of "non-interference in each other's internal affairs".
Already, India was angry as Malaysia refused to hand over Indian Islamic tele-evangelist Zakir Naik. He was given asylum in Malaysia in 2018 despite the Indian allegations of money laundering and "hate speech". Prime Minister Mahathir Mohamad's views on Kashmir and the Citizenship Amendment Act irked the Indian government, which retaliated by unofficially stopping the import of palm oil from the country.
Nepal, too, will be affected by the de facto Indian ban on Malaysian palm oil. Malaysian palm oil is refined in large quantities in Nepal and exported to India.
Malaysia may retaliate if India is unrelenting in its decision to stop the import of palm oil. Mahathir Mohamad's media adviser has called for tighter regulations for Indians working in the country and a reciprocal ban on the import of Indian products. More than 100,000 Indians are employed in Malaysia, constituting more than six per cent of the foreign workforce.
The Indian government also sought to penalise Turkey by not allowing it to bid for construction contracts. During February 2020 visitto Pakistan, he desired Turkey to be a partner in CPEC construction projects. India's frantic effort to get Pakistan blacklisted is well known.
Pariah states: Economic sanctions, aid or trade embargo or `terror' labels are extensively used to punish weak states by powerful states. See how the USA uses a flexible format to dub or delete a country as axis of evil, money-laundering conduit, sponsor of terrorism or pariah (Tamil paraiyar, outcastes), or rogue (Iran, Sudan, North Korea, Cuba, Venezuela). Ottoman Empire was persecuted as an outcast by European States since the Treaty of Westphalia in 1648 until the nineteenth century on a `religious basis'.
Deon Geldenhuys. points out criteria for declaring a state pariah_ having 'artificial borders' (Iraq), siege mentality, anti-West sentiments and desire to subvert the international status quo (Pakistan?), or not being a considerable `world power'(" Pariah States in the Post-Cold War World: A Conceptual Exploration, March 5, 1997). China being a `world power' is not pariah despite human-rights complaints in Xinjiang.
Inference: Through its economic advantages, India tried to coerce states not to support Pakistan on Kashmir and other just issues. Pakistan should promote national harmony to tide over economic hurdles and emerge as a `world power', a beacon of tolerant democracy.
Belt and Road in Central and East Europe: Roads of opportunities
The second decade of the 21st century put the geoeconomic emphasis and cooperation within the framework of China's "One Belt, One Road" initiative into the China – East European states relations.
The Chinese initiative is dictated by the understanding of the importance of the CEE countries as an important component of a unified Europe. Thus, asserting itself in the role of one of the centers of a multipolar world order, Beijing began transforming the economic and political space that developed in CEE with the promotion of favorable economic proposals to the countries of the region, without raising questions of the difference of ideologies and ways of life.
For the first time, a joint project was announced in 2012 in Warsaw, where Premier Wen Jiabao launched an initiative called "12 measures" of China to encourage friendly cooperation with the countries of Central and Eastern Europe.
Starting in 2013, the main content of the programs of each 16 + 1 summit is the development of tools for this regional format. Naturally, the format of China's cooperation with the CEE countries is closely connected with the implementation of the global concept of the "New Silk Road" proposed by the Chairman of the PRC Xi Jinping. The concept consists of two parts: the land "Economic belt of the Silk Road" and the "Maritime Silk Road of the 21st Century" and potentially involves cooperation of at least 60 countries in Europe and Asia.
By 2015, China has become one of the largest investors in Eastern and South – Eastern Europe. In November 2015, the Eastern Europe-China ( 16 + 1 ) summit was held in the Chinese city of Suzhou, in which the leaders of the PRC and 16 Eastern European member states and the Balkan countries took part. The meeting resulted in the strengthening of China's economic presence in Eastern Europe. Also at the trade and economic forum in Hangzhou between China and the countries of CEE in 2015 it was agreed that China is ready to provide financial support for the re-industrialization of the countries of CEE, in the case that it will be conducted using Chinese technologies and equipment.
In 2015 – 2016, taking into account the opportunities and potentials, each country in the 16 + 1 format chose its own direction. For example, Bulgaria will supervise agriculture, Poland– investment and trade. The task of Latvia will be identification of links and projects, cooperation in the field of logistics, Romania will deal with energy projects, Lithuania is responsible for educational programs, and Hungary for the tourism sector.
The 16 + 1 format , in a certain sense, prepared the transition to a more focused and integrated strategy "One belt – One Road" and successfully "fits" into its main components – the projects "Economic belt of the Silk Road" and "Marine Silk Road of the XXI century", aimed at developing new land and sea transport, logistics and trade and production systems linking China to Europe. In the first project, the countries of CEE play a key role, in the second – an important transit role in the development of "China – Europe" trade and investment ties, and in the long term – in the formation of a broad Eurasian "economic space" and "political stability belt".
The basic design of the first project is the development on a new technological and organizational basis of the traditional direction of trade and transport "Sino – European" ties, complemented by their investment cooperation. This Northern road includes land international transit to Western Europe from China and other countries of the Asia – Pacific region (primarily, South Korea and Japan) through Russia and Kazakhstan along the Trans – Siberian Railway and the Kazakhstan railway with access to the European part of Russia in The Urals:
Chengdu ( Sichuan province ) – Dostyk – Moscow – Brest – Lodz ( Poland )
Suzhou ( Jiangsu province, Shanghai region ) – Warsaw ( Poland )
Chongqing ( Sichuan region ) – Duisburg ( Germany )
Zhengzhou ( Henan, North China ) – Hamburg ( Germany )
Wuhan ( Hubei province, Yangtze belt region ) – Pardubice ( Czech Republic )
Wuhan – Zabaikalsk – Hamburg
Shenyang ( Liaoning, Northeast China ) – Hamburg
Yiwu ( Zhejiang, Shanghai region ) – Madrid ( Spain )
Nevertheless, the transit and logistical potential of the other CEE countries is still used slightly. Almost not involved in the "European part" of the Northern road are the ports of Poland and the Baltic countries that gravitate towards it. On the contrary, the main transport and logistics centers for Chinese goods (primarily German Duisburg and Hamburg) are already overloaded, and the possibilities for expanding their capacities are limited.
Such uneven distribution of cargo flows combined with insufficient technological level of the transport and logistics infrastructure of the CEE countries hinders the further development of China – Europe ties. There are also serious organizational and economic limitations of this development. Most of the provinces ( especially the western ones, remote from the sea ) tend to establish regular communication with Europe for both economic and prestigious reasons. The export potential of only the western provinces of China is estimated at $ 40 billion. Therefore, the full utilization of trains and partial financing of transportation costs are provided by local authorities on the basis of public – private partnerships (especially since many Chinese companies retain great state involvement) (see Figure 1 below).
Figure 1.:China`s infrastucture investments in the 16 + 1
Source: CSIS; FT Research
The April 9th CEE– PRC summit 2019 in the Croatian city of Dubrovnik marked a new beginning in the development of relations between China and Eastern Europe. Although the Belt and Road initiative (BRI) usually focuses on Asian (whether Central Asian, South Asian, or South– East Asian) or African participants, post-Communist countries in Central and Eastern Europe have begun to play not less significant role. In fact, the CEE region was one of the most represented regions in the 2017– 2019 BRI Forums: of the 28 heads of state or government, four were from this region (representing the Czech Republic, Poland, Hungary, and Serbia), and Romania was represented by a delegation led by the country's Deputy Prime Minister. This list of forum participants reflected the intensive development of cooperation between China and CEE under the auspices of the BRI.
Humanitarian influence is also increasing – the leadership of the PRC encourages interpersonal contacts with the CEE countries, especially through tourism, student and youth exchanges, etc. China's credibility in the region is also growing, because now almost any project of cooperation on a bi – versatile basis is served under the brand "One Belt – One Road", which allows China to demonstrate real ( albeit small ) successes literally every year. This is especially noticeable against the backdrop of crisis phenomena in the European Union and the weakening of the ties between the CEE region and Russia.
Underlining the main opportunities of BRI for CEE and EU, should be mentioned the following :
Chinese public and private sector bodies were willing to take construction risk, and to act quickly. It was suggested that this could be a major opportunity when embarking on major construction projects. However, the experience of COVEC (the construction of a 49-kilometre Polish section of the motorway from Warsaw to Łódź. The construction contract was awarded to a consortium – formed by China Overseas Engineering Group – is a subsidiary of China Railway Engineering Corp (Hereinafter CREC – Auth.)) as a contractor in Poland shows that Chinese companies have not always been able to work well in the EU.
One interviewee suggested that Chinese investment in rail infrastructure was leading to rail being a viable alternative to both sea and air for trade between the Far East and Europe.The European Bank for Reconstruction and Development (Hereinafter EBRD – Auth.) expressed the opinion that "the rail mode has a huge potential" but did not provide specific forecasts of what goods would transfer to rail, or over what timescale, or what routes they would use.
Other interviewees considered that rail services would attract demand mainly from shipping rather than from air. One of them, responsible for air cargo services, argued that rail would not abstract demand from air because it could not offer the very short transit times required by the most time-sensitive air cargoes. This interviewee also suggested that, to remain competitive, China and other parts of Asia with rail services introduced as a result of the BRI would still need air freight connections to Europe. In this context, ownership of the capacity of a cargo airline such as Cargolux can be seen as a key element of the infrastructure connecting China and the EU.
A representative of the Community of European Railway and Infrastructure Companies (Hereinafter CER– Auth.) agreed that rail would attract demand from shipping but would not be able to compete with air services. The European Commission also suggested that, from China's perspective, the maritime elements of the BRI were more important and that overland rail was a distraction. In their view, 90-95% of traffic between China and the EU was maritime and would remain so. This is broadly consistent with the analysis of maritime and air traffic. It should also be stressed that the most common investments by Chinese parties in the EU appear to be ports, principally in the Mediterranean and the United Kingdom.
Russian Railways (Hereinafter RZD– Auth.) has long operated rail services along the Trans – Siberian Railway between Europe and the Sea of Japan. These could, in principle, be used to carry goods from Japan and South Korea to Europe, but these would first have to be shipped across the Sea of Japan to Russia. In contrast, from landlocked north east China, long overland journeys are needed to reach any port, but may also be needed to reach a suitable railhead.
Thus, the commercial objective of growing rail services appears not to be to put pressure on maritime operators, which are already efficient, but to offer a higher speed service. This also helps producers and consumers along the rail routes used.
In principle, commercially viable rail services between China and the EU are a major opportunity for operators, shippers and industry.
One interviewee in the logistics sector said that subsidies granted by the Chinese Government to rail services between China and the EU are "tremendous". They also stated that Kazakhstan Railways (Hereinafter KTZ – Auth.) had reduced tariffs in 2012 but now agreed with RZD to keep tariffs high. KTZ indicated that the Chinese Government provided subsidies to support westbound container traffic, but envisaged that these would be withdrawn by 2020 as balancing eastbound traffic was attracted to the route. These comments illustrate a number of issues relating to the commercial viability of the services.Also trains between China and the EU will be charged transit tariffs by operators such as KTZ and RZD. There is no uniquely correct basis for setting such transit tariffs, although the principal applied in the EU is that they should be based on marginal costs. From the perspective of these transit railways, however, transit traffic is an opportunity to profit from third parties (A similar issue emerges in the provision of air navigation services within the EU, where national air navigation service providers (Hereinafter ANSPs – Auth.) may have incentives to overcharge for en-route services provided to overflying, and typically foreign, aircraft to subsidise terminal services provided to aircraft taking off and landing). The incentives on the transit states are typically to maximise their profits, rather than to maximise the economic, social and environmental value of the railway operation as a whole. For both the EU and China, however, there is the potential risk that a growing and successful rail service will be seen as a potential source of profit by the transit railways.
Another opportunity is the rebalancing of freight flows.
Figure2 and Figure 3below summarise the volumes of loaded containers which are loaded and discharged on flows between ports in the Far East and ports in the EU, measured in TEU. However, the EU Member States in which containers are loaded and discharged may not be the final destination states(The country where custom controls are executed is the country of discharge. This is the reason why Czech Republic is included in Figure 5 below despite it has not access to the sea.)
Figure2 below illustrates the recent growth in loaded containers from the Far East to EU ports, from just over TEU one million in 1996 to about TEU eleven million in 2016. Other than China, no state loads more than one million containers to Europe.
Figure2.:Loaded containers from the Far East to Europe: country of loading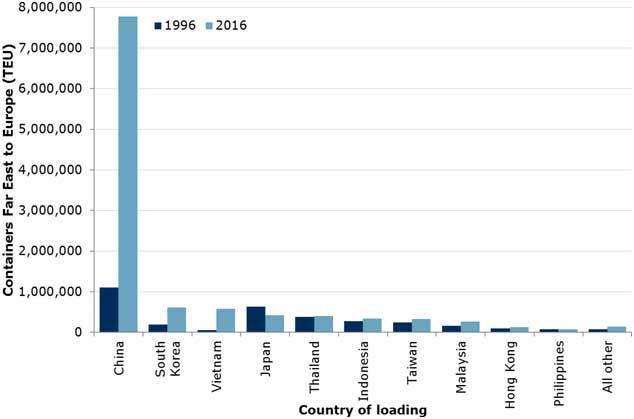 Source: MDST World Cargo Database
Figure 3shows the points at which loaded containers are discharged in the EU. A large proportion are discharged at ports in the United Kingdom, Germany, the Netherlands and Italy, before travelling onwards to the points at which they are stripped. Containers discharged in Rotterdam in the Netherlands, or Genoa (Genova) or Trieste in Italy, for example, may continue by river barge, train or truck to other EU Member States or to landlocked and non-EU Switzerland.
Figure 3.: Loaded containers from the Far East to Europe: country of discharge
Source: MDST World Cargo Database
Thus, the analysis of Figures 2 and 3 and 4show that westbound loaded container flows of 11 million TEU exceed the eastbound flows of 5 million TEU. This creates a need fora large number of containers to be returned empty in the eastbound direction. A representative of the CER said that this represented an opportunity for the EU to rebalance imports and exports.
Of the Member States shown, the largest imbalance in flows is for the United Kingdom, which exports only just over one quarter as many loaded TEUs as it imports. Even in Germany and Sweden, exports are less than two thirds of imports. This appears to confirm CER's view that additional containers could be carried eastbound, in principle at little additional cost.
Figure 4.: Balance in loaded container flows for selected EU Member States
Source : MDST World Cargo Database
Among other opportunities there should be metioned improved customs coordination. Thus, one interviewee saw opportunities to use through rail services between China and the EU to improve and streamline customs arrangements. However, they did not suggest either that specific initiatives were required or how these should be organised. As already discussed, a number of the MoUs supporting the BRI relate to the development of improved customs arrangements with a view to enhancing connectivity.
Opportunity: EU companies working in CAREC states. The EBRD suggested that there were good opportunities for companies from the EU to build railways, roads and other transport infrastructure in the CAREC[1] states. They argued that, in addition to construction, there would be opportunities in the areas of harmonisation of regulation, information technology systems, developing reliable and sustainable energy supplies, and logistics.
Opportunity: complementary skills in the EU and China. Thus, one interviewee said that the EU had greater skills in regional issues and planning than Chinese bodies, and that there were opportunities for each country's skills to complement each other. At first sight, it appears likely that each party may benefit from the other's knowledge of local legislation, planning and procedures.
Table 1 below summarises a number of the opportunities and challenges which appear to emerge from the BRI. None of these may amount to a clearly-defined "problem", as outlined in the EC's Better Regulation Toolbox. Nonetheless, this section briefly discusses the extent to which it might be relevant to consider legislation to address them.
Table 1.: Opportunities, challenges, and the need for legislation
Opportunity or challenge
Issue(s)
Chinese investors may not always meet EU standards
Procurement and enforcement
China may subsidise products and transport
–
Scope for improved customs coordination
Multilateral coordination
EU standards must be maintained and harmonised
Wasted and misdirected investment
Transparency and coordination
Chinese parties may take over existing projects
Chinese dominance of rail transport
Chinese may limit transit traffic
China may focus its trade elsewhere
–
Changes in relative advantage within the EU
Regional and cohesion policies
New investment in transit countries
Coordination between EU and Asian railways
Making Asia's infrastructure meet EU needs
Bottlenecks may emerge on rail and on TEN-T
Consider EU and Far East flows
Source: Steer Davies Gleave analysis
Thus, it can be noted that the participating countries of 16 + 1 mechanism understood the scale, prospects and synergies of this interaction. It should be emphasized that the "Old" EU countries are wary of Chinese activity in the Central European zone of their influence and insist that all members ( and candidate members ) coordinate their cooperation with China, and that the EU should speak with the PRC "with one voice". Nevertheless the strategic concepts of the development of these states reflect the importance and priority of both bilateral relations with China and cooperation in the China – EU format. That is why most of the foreign policy strategies of the CEE states are oriented toward expanding foreign economic activity and trade with the PRC. It is necessary to emphasize the consistency and planning of work in this direction, conducted by the states of the 16 + 1 format. As we can see, pragmatic economic diplomacy started to prevail in the newest foreign policy history of Europe.
The ninth summit of cooperation between China and CEE, based on the results, was the last for the 16 + 1 format. In April 2019, it became clear that Greece would be invited to be part of this initiative. This actually turns 16 + 1 into 17 + 1. This move confirms claims that the importance of the CEE countries to China is closely linked to COSCO's acquisition of a controlling stake in the Greek port of Piraeus. With this strategy, Beijing is partly paving the way for a resolution of the dispute between Greece and Macedonia, aiming to connect the port of Piraeus via Macedonia to the proposed high-speed rail link between Belgrade and Budapest, and then direct it to the Western part of the continent.
The appearance of 17 + 1 has a direct bearing on the cooperation between China and CEE. Greece's accession is likely to weaken some regional aspects of cooperation between partners and re-emphasize the bilateral nature of China's relations with individual countries. This is a strategic step that will bear fruit for both Beijing and the CEE capitals, and will also aim to allay EU fears that China is trying to split the continent.
The potential development of the 17 + 1 initiative demonstrates that China has already become a full-fledged "European power". The growing number of Chinese investments and relations on the continent suggests a much broader and more complex "deepening" into European Affairs than expected by Beijing or any European capital. This reality requires China to own its position as a "European power". At the same time, Europe needs to engage in a mature and meaningful debate about the growing influence of China's power, which goes beyond simplistic divisions between friend / foe, rival / ally, and so on. As the evolution of cooperation between China and CEE shows, that we live in a complex world and interlocutors can simultaneously perform several contradictory roles. Due to the BRI initiative, Europe has realized that it is impossible to sacrifice China, and ignoring the fact that this country has become the "new power of the European continent" can cause significant damage to the Union, primarily economic.
---
[1] The Central Asia Regional Economic Cooperation (Hereinafter CAREC – Auth.) Program is a partnership of 11 countries (Afghanistan, Azerbaijan, China, Georgia, Kazakhstan, Kyrgyzstan, Mongolia, Pakistan, Tajikistan, Turkmenistan, and Uzbekistan) and 6 multilateral development partners (Asian Development Bank, European Bank for Reconstruction and Development, International Monetary Fund, Islamic Development Bank, UnitedNations Development Programme, and World Bank) working to promote development through cooperation, accelerate economic growth, and reduce poverty. ADB serves as the Secretariat .
Amirabad Port: The game changer in Indian foreign trade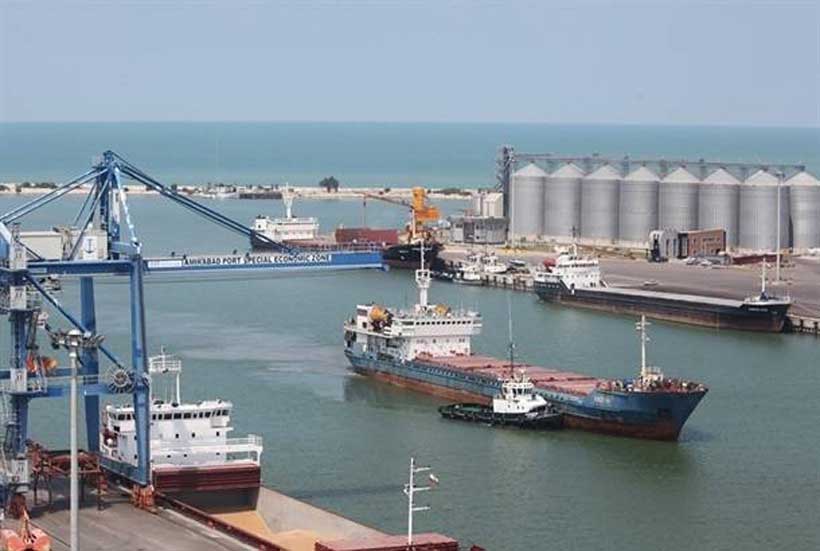 Authors: Vahid Pourtajrishi & Mahdi Torabi
Seaports have played undeniable role in international and even local trade environment. To demonstrate this claim, we can refer the remained paintings from stone age which show how sea ports help man to feed from sea.
But along the many centuries this significance got more blurred. Specially after the industrial revolution, nobody can reject this significance in international trade. To understand the depth of this issue, just take a look at the condition of commerce and military power of Great Britain after 19th century.
Iran is one of the great geopolitical focal points of the world which connects Europe to Asia and Central Asian states to South of the old continent. In fact, Iran is the most important way for Russia and the Central Asian states to achieve the warm waters of the Persian Gulf and as the result, the main way for entering the free waters. This linkage is created blessing existence of various sea ports in south and north of Iran.
After fostering the idea of International North – South Corridor (INSC), development of the Iranian sea ports got more important. Also, Iran is working hardly on development of Chabahar Port in its South Eastern part of this country that is specially designated to carry the Indian cargos to the North.
Amirabad Port, the game changer for India
After serious focus on INSC by its participants since at least 10 years back, Iran also established Amirabad Port located in Mazandaran Province enhanced with up to date facilities, cranes and even Ro-Ro mode of rail. The train stops exactly at the seashore and this ability reduces the cost of multi modal transportation highly. This port could accept the various type of cargos from container to bulk. The ability of oil and agricultural products transportation is another option of this port which could be very attractive for those Chinese companies who take their cargos from Kazakhstan to West of this country.
As we know, China has focused heavily on BRI route as one of the determinant elements in Beijing national policy and foreign trade. This corridor starts from West of China and ends to Europe passing Kazakhstan in East of Caspian Sea and Azerbaijan, Georgia, Turkey (BTK Corridor) in West of this sea. So, we can assume that Caspian Sea is fully surrounded by the Chinese goods while India as the main competitor of China is fully absent in this region.
As India has focused on Chabahar Port construction project, the rail linkage between Chabahar and Amirabad could directly connect Indian goods to the South of Caspian Sea and this issue could to realize the old dream of Indian merchants to access central Asia and Russia market easily with the lowest cost. So, the Indian merchants could start a real challenge with their Chinese competitor in the region by meaningful reduction of transportation costs while the current access route which is mainly from East of Russia is very costly coz of the very ling distance between East and West of Russia and as the result, the total price is such high which could not be competitable with the Chinese goods price!
But unfortunately, the weak foreign policy of Narendra Modi's government and his extremely conservative approaches regarding Iran following US sanctions has stopped the work in Chabahar Port. While the Iranian government still welcomes India to invest and construct the second phase of this port, but after withdrawal of India from this project, Iran has fulfilled the required fund to construct this unfinished project from its own national budget.
in the other hand, the controversial 25 years strategic deal between Tehran and Beijing has increased the danger of entering China to Chabahar Port project higher than past. If this issue happens, nobody recognizes it as the Indian government fault but this is the Indian nation who will lose the golden opportunity of leasing Chabahar Port forever.
At the same time, we have to point to this fact that Chabahar is the last chance for India to invest in a modernized Iranian port in order to access the vast market of Central Asia and Russia. It seems while the pressure of US sanctions against Iran is increasing, China is the only country who benefits this condition and is strengthening its political and commercial ties with Tehran everyday and in near future, there will be no chance for India remained to invest in Iran as the artery and gate of entrance to Central Asia and Russia.
Pandemic Recovery: Upskilling Government Saves Nations
Urgently needed are "scientific-based-econo-political-thinking" with proven pragmatic capabilities to execute, because embossed degrees, old-fashioned election expertise with "political-science" studies now appear Machiavellian rhetoric. What works on the election podium is often useless will applied towards pandemic recovery. Nation-by-nation, during pandemic recovery, uplifting midsize business economy is now a number one challenge. Nation-by-nation the absence of hardcore expertise in Public Sector is adding to global crisis. In certain regions, the commonalities of calamities may create a domino fall. For the first time during the last century, the 'commonalities of calamities' now shared by the populace of the world. Now, this creates a rare opportunity to demonstrate national and continent wide tactical deployments towards recovery, collaborate by saving the prolonged agonies of humankind. Billion displaced, billion to starve and hundreds of millions in serious quandary. This is far more intricate what any Tik-Tok upgrades and Teleprompter shows can handle.
Understanding ground realities: Those who recently attended many dozens of national or global zoom events on government programs and ideas on economic survival often witnessed serious lack of contents, expertise or experiences, most importantly inability of most presenters to debate or question existing broken down systems. Observe the 75th United Nation meetings, outside very few countries, most nations are only reading the laundry list of the problems without any specific solutions. It is also true, all are waiting for vaccines and this moves the date of 'global normalcy' to 2025. As economies start to crumble, seen as almost a national emergency by dozens of the 200 nations, the lack of special skills-sets and high-speed performance labeled a new crisis. A quick test of any top frontline leadership on any 10-government agencies, in any nation mandated to foster economic growth will provide the real picture to this challenge. Upskilling is about expected performance levels and for smart nations to adapt, survive and save nations now mandated nation-by-nation by pandemic recovery. There is no escape. Ask Augustus Caesar.
Understanding Simultaneous Synchronization: The art and science of upskilling frontline government teams to tackle pandemic recovery and economic survivals are normal progressions, but only once deployed with an agenda. Furthermore, to resuscitate fatally wounded economies special global age skills mobilized, like creating digital platform economies where entrepreneurialism dances, creating upskilling and innovative excellence mobilization in simultaneous synchronizations, where exports fly, creating a vibrant globally attractive economy where investments rain. Such upskilling of Public Sectors deployments are often not new funding dependent but rather execution hungry and mobilization starved. Study Expothon Strategy on Google for models.
The Facts: The world can easily absorb unlimited exportable ideas in unlimited vertical markets. Fact: The well-designed innovative ideas are worthy of such quadrupled volumes. Fact: The entrepreneurial and dormant talents of a nation are capable of such tasks. Fact: The new global age skills, knowledge and execution are now the missing links. Fact: fear of change is a false state of mind now corrected with upskilling mobilization.
The Warnings: The Shape of Pandemic Recovery is W: Depending on country, recovery spanning a year, a decade or even longer. Speed will save economies and avoid restless citizenry magnetized by populism. Study the specificity of your own regions and nations, identify voids on small medium business economy sectors and open debates. Follow the trail of silence and it may lead you to hidden conclaves and robed bureaucracies all afraid to change. Upskilling is a bright light in those dark tunnels. Discover the art of transformation and power on enlightenment. Start with high-level zoomerang events and encourage dialogue.
Understanding Upskilling of Public Sector: Across any single nation, Public Sector upskilling models work in simultaneous synchronization and can manage from 1000 to 100,000 participants. How local grassroots manufacturing uplifts small medium enterprises for sharper productivity and exportability? How foreign investments turn around economic performances. How 'soft-power-asset-management' the art of imagining things over 'hard-asset-centricity' where staying deeply stuck to old routines on old factory floors rewarded. This is when forbidden are the bicycle makers to dream of 'drones' or flying cars. Some 500 millions small and large plants and businesses around the world are badly stuck in old groves of decades old mentality, unable to transform, optimize to grow to new heights with new global age thinking and execution. Imagine all that wasted potential, talent and machinery, infrastructure under the dead weight of old concepts still logged into hard-assets based mentality. Pandemic recovery shows no mercy, therefore, understanding of the core proposition of any entrepreneurial venture is "extreme-value-creation" as a prime objective. Running wild on "extreme value manipulations" only creates hologramic economies and ponzy schemes. Quick study of any major financial publication will eliminate the need of any further proof.
The world just changed, the pandemic recovery will change the world repeatedly and do it very quickly. Upskilling at all levels of frontline economic development teams anywhere around a world critically missing link. What is needed are bold and open discussions with diversity and tolerance and national goals to turn around the economy; explore national mobilization of entrepreneurialism as new thinking, explore master upskilling agenda as savior towards stability and superior performances to stand up to new challenges.
If you like, share this with right parties and join our thought leadership. The rest is easy.