The capital of Colombia counts 20 localities, from Antonio Nariño (#15) to Usme (#5). While comparisons are tricky and inevitably a matter of taste, there is no question that the city's 17th locality, La Candelaria, belongs on the "must-visit" list of every guest of Four Seasons Bogota.
Essentially the "Old City," La Candelaria is believed to be where Bogota began, founded in 1538 by the Spanish conquistador Gonzalo Jiménez de Quesada y Rivera in an area known as El Chorro de Quevedo, now a magnet for street performers and college students.
Most of the architecture throughout La Candelaria is of colonial or Republican-era style and has been declared of historical and cultural interest. Meanwhile, there are some 500 cultural institutions for travellers to explore throughout the locality, including artistic groups and theatres, research centres and libraries, universities and museums, and more.
There is also Monserrate, a high mountain rising 10,341 feet (3,152 metres) above sea level in the centre of Bogota, with a 17th century church and a restaurant on top. A destination for pilgrims and tourists alike, the mountain offers views all over the city, and can be accessed by aerial tramway, funicular, or climbing.
La Candelaria is easily accessible, just 20 minutes by car from Four Seasons Hotel Casa Medina Bogota, and 25 minutes from Four Seasons Hotel Bogota. It's a pleasure to walk in comfortable shoes, with narrow cobblestone streets and much to discover. Here is just a smattering of what culture-seeking guests can look forward to on a day trip to the 17th locality of Bogota:
One year after Bogota was founded, the city was re-founded in what is now Plaza Bolívar in the heart of La Candelaria. The city's main square is named for Simón Bolívar, one of the country's most important historical figures, who led Colombia and other South and Central American nations to independence from Spanish rule in the early 1800s. The square is surrounded by several monumental buildings, including the Palace of Justice, the National Capital where both houses of the Congress of Colombia are located, the Cathedral of Bogota, and the Museo del 20 de Julio, named for Independence Day. Bustling year round, in December locals and travellers fill the square to celebrate the holidays.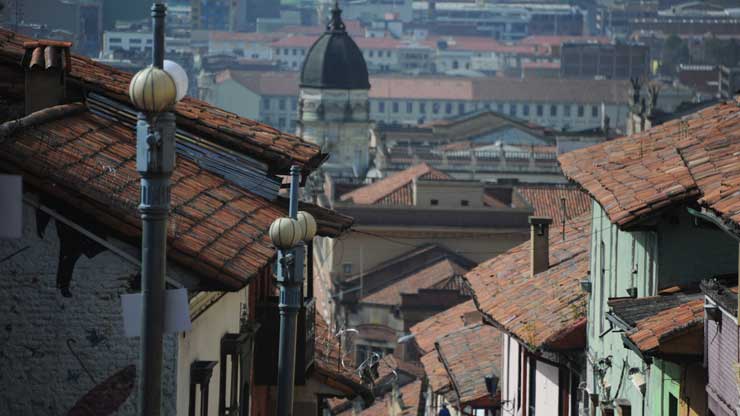 The Gold Museum – aka, Museo del Oro – is one of Colombia's most impressive. Behind steel-plated doors lie some of history's most incredible works of sculpted gold, depicting life and culture of pre-Hispanic societies. Altogether, the museum's gold collection runs to more than 55,000 pieces, from simple-but-stunning jewellery and ornaments to masterful works from some of Colombia's oldest and most talented welders. Descriptions of all of the above are printed in English as well as Spanish, and private tours are available in many languages. Put the Gold Museum on your calendar, especially on Sundays when entrance is free.
If you aren't already a fan of artist Fernando Botero, you will be after a visit to the Botero Museum. Located in a colonial mansion transformed for its collection by the artist himself, the museum houses more than 120 works by Botero and another 80-plus by artists including Salvador Dali, Edgar Degas, Joan Miró, Henri Matisse – even Picasso. One of Colombia's most accomplished artists, Botero's work and style – called Boterismo – is unmistakable, typically depicting people and animals in exaggerated proportions and volumes. While Botero's work can be found in museums across Colombia and the world, the collection in Bogotá is the largest. If all that weren't enough, entrance to the Botero Museum is free.
Pop by the Concierge Desks at Four Seasons Hotel Bogota and Four Seasons Hotel Casa Medina Bogota for tickets, dining reservations, guides, and more to make your tour of La Candelaria one to remember.