Culture Vulture Alert: La Candelaria, the Historic Heart of Bogota
The capital of Colombia counts 20 localities, from Antonio Nariño (#15) to Usme (#5). While comparisons are tricky and inevitably a matter of taste, there is no question that the city's 17th locality, La Candelaria, belongs on the "must-visit" list of every guest of Four Seasons Bogota.
Essentially the "Old City," La Candelaria is believed to be where Bogota began, founded in 1538 by the Spanish conquistador Gonzalo Jiménez de Quesada y Rivera in an area known as El Chorro de Quevedo, now a magnet for street performers and college students.
Most of the architecture throughout La Candelaria is of colonial or Republican-era style and has been declared of historical and cultural interest. Meanwhile, there are some 500 cultural institutions for travellers to explore throughout the locality, including artistic groups and theatres, research centres and libraries, universities and museums, and more.
There is also Monserrate, a high mountain rising 10,341 feet (3,152 metres) above sea level in the centre of Bogota, with a 17th century church and a restaurant on top. A destination for pilgrims and tourists alike, the mountain offers views all over the city, and can be accessed by aerial tramway, funicular, or climbing.
La Candelaria is easily accessible, just 20 minutes by car from Four Seasons Hotel Casa Medina Bogota, and 25 minutes from Four Seasons Hotel Bogota. It's a pleasure to walk in comfortable shoes, with narrow cobblestone streets and much to discover. Here is just a smattering of what culture-seeking guests can look forward to on a day trip to the 17th locality of Bogota:
One year after Bogota was founded, the city was re-founded in what is now Plaza Bolívar in the heart of La Candelaria. The city's main square is named for Simón Bolívar, one of the country's most important historical figures, who led Colombia and other South and Central American nations to independence from Spanish rule in the early 1800s. The square is surrounded by several monumental buildings, including the Palace of Justice, the National Capital where both houses of the Congress of Colombia are located, the Cathedral of Bogota, and the Museo del 20 de Julio, named for Independence Day. Bustling year round, in December locals and travellers fill the square to celebrate the holidays.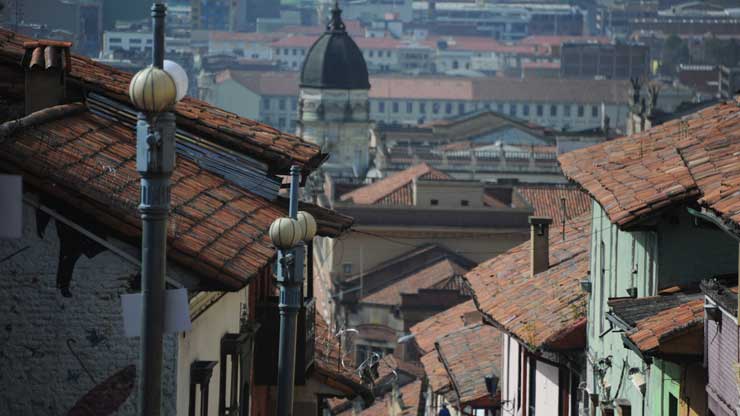 The Gold Museum – aka, Museo del Oro – is one of Colombia's most impressive. Behind steel-plated doors lie some of history's most incredible works of sculpted gold, depicting life and culture of pre-Hispanic societies. Altogether, the museum's gold collection runs to more than 55,000 pieces, from simple-but-stunning jewellery and ornaments to masterful works from some of Colombia's oldest and most talented welders. Descriptions of all of the above are printed in English as well as Spanish, and private tours are available in many languages. Put the Gold Museum on your calendar, especially on Sundays when entrance is free.
If you aren't already a fan of artist Fernando Botero, you will be after a visit to the Botero Museum. Located in a colonial mansion transformed for its collection by the artist himself, the museum houses more than 120 works by Botero and another 80-plus by artists including Salvador Dali, Edgar Degas, Joan Miró, Henri Matisse – even Picasso. One of Colombia's most accomplished artists, Botero's work and style – called Boterismo – is unmistakable, typically depicting people and animals in exaggerated proportions and volumes. While Botero's work can be found in museums across Colombia and the world, the collection in Bogotá is the largest. If all that weren't enough, entrance to the Botero Museum is free.
Pop by the Concierge Desks at Four Seasons Hotel Bogota and Four Seasons Hotel Casa Medina Bogota for tickets, dining reservations, guides, and more to make your tour of La Candelaria one to remember.
Extra flavour and fraud prevention on the menu for Europe's beer and wine industries
BY DANIELA DE LORENZO
The debate over whether fermentation was a more important human discovery than fire will continue forever. In the meantime, with Europe as the world's premier producer of wine and a significant manufacturer of beer, Horizon-backed scientists are researching ways to reinforce Europe's competitiveness in the drinks industry.
In 2019, European Union wine sales were 16 billion litres with an export value close to € 20 billion, while beer production in the EU in 2020 amounted to 33.1 billion litres. Europe accounts for 63% of global wine production while the number of breweries in Europe now exceeds 11 000.
The wine sector has built its reputation and dominant market share based on quality but all the turmoil of recent years and the risks from climate change mean that the drinks industry cannot afford to stand still, especially with imported beverages becoming increasingly popular.
Enhancing beer and wine flavours through research into new yeast strains is one way the drinks industry is trying to keep ahead. At the other end of that, more secure supply chains are needed to ensure delivery of a quality product. This will help Europe's drinks industry retain its market position.
Distinct aroma
Alcoholic flavours result from complex metabolic reactions performed by yeasts. A type of fungus that transforms sugars into alcohol during fermentation, yeasts also help to give each wine its distinct aroma and taste.
The Horizon-funded Aromagenesis project, led by the University of Dublin in Ireland, focused on understanding the genetics and biochemistry in yeast strains that are responsible for aromas and flavours in lager beers and wine.
'The traditional wine and beer industry uses specific and limited numbers of yeast strains,' said Ursula Bond, professor of microbiology at the University of Dublin. 'We thought it was important to make a big survey of different wines' and lagers' yeasts and characterise them to see whether some already existing in nature have more favourable aroma and flavour.'
Aromagenesis, which finished researching in May this year, assessed whether science could help by varying the flavour profile of certain strains. Working with the drinks industry, through experiments, co-fermentation and hybridisation, the researchers were able to select new yeast strains.
They then created a bank of natural yeast that can produce different flavour compounds and in varying amounts. This led to a bounty of new yeast varieties and taste profiles.
Yeast palette
The new yeast palette is currently available to companies involved in the project. They include German brewer Erdinger Weissbräu and Canada-based Lallemand, who develop of yeasts for the global market.
'We are now finishing the first trial fermentations in our experimental wineries,' said Jose Heras, technical manager at Lallemand Oenology in Spain. Spain is Europe's second largest exporter of wine with 27% of the market in 2019. The project will turn to the winery to 'validate four of the hybrid yeast strains created for aromatic white wines,' he said.
The drinks industry intends to put the yeast research to immediate effect with commercialisation of more flavourful Sauvignon Blanc and Verdejo wines potentially starting in 2023, according to Heras.
Some consumers have reservations about genetically modified organism (GMO) products, so the research was conducted exclusively with non-genetically modified (GMO) yeasts. This will potentially broaden the appeal of the results within the drinks industry as a whole, according to Bond.
Aromagenesis research is published as a publicly available resource which could also end up benefiting many others in the drinks industry.
'Part of our research is open-source and our data will be published soon,' said Bond. If a beer or wine producer wishes to avail itself of the new strains, it can make licensing agreements, she said.
Wine fraud
Alcohol ranks among Europe's most counterfeited products. Unfortunately, the consumer appeal of such household names as Spanish Rioja, Portuguese Porto and Italian Prosecco, attracts the attention of criminal gangs seeking illicit profits. Wine fraud, where a cheaper product is passed off as a fine wine, is estimated at €1.3 billion annually, or around 3% of total sales.
At the moment, a wine label provides consumers with information about the origins and flavours of the product. However, it can't enlighten them about the number of intermediaries between the vineyard and the shop or restaurant where it's purchased.
The TRACEWINDU project, which began last year, has set out to change this.
The Horizon-backed project is focusing on a decentralised blockchain technology that, with a printed QR code, could register information about a wine bottle's whole life cycle in a manner that is transparent.
Blockchain technology is familiar to users of so-called digital currencies such as bitcoin, because it promises security and traceability.
'Wine producers are concerned about illicit trade, so we need to identify in an unambiguous way the origin of the wine,' said Gustavo Pérez González, senior project manager at the Universitat Autònoma de Barcelona in Spain.
Tracewindu are also investigating the possibility of including information derived from analytical chemistry techniques in the QR code. These can be used to specify the unique features of a bottle of wine, such as the geographical location, providing a further guarantee of the contents.
Winemakers participating in the project also suggested tracking the temperature during transportation. This would help ensure that the wine hasn't been degraded when it reaches its destination, creating improved consumer satisfaction.
Environmental goals
In line with the European Green Deal plans to reduce the use of pesticides and fertilisers, the project also has environmental goals.
'We are now looking at ways to reinforce the immune system of grapevines and therefore reduce the need for additional chemicals,' said Pérez González.
This resilience will be reflected in the label too. If it can be shown that the organic characteristics of the wine are not altered, this feature could add value by showing which winegrowers comply with European sustainability goals.
Pérez González also foresees a possible bottle-return system. This would require winemakers to commit to the QR coded and laser-printed bottles on a long-term basis – but it would align with the circular- economy objective of reusing food packaging rather than producing more of it. This would lead to job-creation in the traceability, distribution and logistics sectors.
Research in this article was funded via the EU and it was originally published in Horizon, the EU Research and Innovation Magazine.
Discover Unexpected Adventures at These Unique Beach Locales
Those hoping to hear waves crashing and feel sand beneath their toes are naturally drawn to coastal hotspots such as Miami and Waikiki. While these destinations no doubt offer a chance to unwind and relax in a sun-soaked setting, they aren't the only beachfront vacation spots worthy of exploration.
From marveling at towering redwoods to floating in delightfully clean freshwater, spotting harbor seals or fishing from a downtown pier, these beach locales offer unexpected opportunities for waterfront adventure.
Embrace Clean, Accessible Waters
When planning a beachy getaway, don't overlook the salt-free waters of the Great Lakes. Nestled along the Lake Michigan shore, Racine offers a bounty of sandy beaches in a setting brimming with Midwestern hospitality and charm. Be sure to check out Wind Point Lighthouse, one of the oldest and tallest active lighthouses on the Great Lakes, and sunbathe on North Beach, Wisconsin's first Certified Blue Wave clean beach. Not only is this freshwater playground free from pollutants, but it also offers a Mobi Mat, a non-slip mat that allows persons with disabilities to enjoy the beach.
When it comes time to settle in for the night, stroll on over to the DoubleTree by Hilton Hotel Racine Harbourwalk. The hotel's harbor front location offers the chance to take in lake views from your room, or while sipping a cocktail in the hot tub!
ATV Over Sand Dunes
California has more than its fair share of well-known beach towns, and while you may find crowds flocking to southern hotspots like Santa Monica and Laguna Beach, consider heading north instead to the wetlands of Arcata Bay. Located just a half-hour away from Redwoods National Park, home to the tallest trees on earth, Arcata offers epic birdwatching opportunities, making it an ideal spot for nature lovers to explore. But thrill seekers will also find plenty to love at the Samoa Dunes Recreation Area, a sandy off-highway vehicle play area where you can go for a thrill ride in an ATV or other off-road vehicle for a wild, wind-swept adventure!
Cruise down the scenic Pacific Coast Highway, check out even more redwoods at the Arcata Community Forest, take in live music in downtown Arcata, then settle into your room at the ideally located Hampton Inn & Suites by Hilton Arcata.
Stroll a Tree-Lined Bayfront Trail
The original commercial pier in the alluring town of Fairhope now serves as the city's town square. Designed for both strolling and fishing, the pier offers sweeping views of Mobile Bay. From here it's an easy walk to North Beach Park and the Beach Park Tree Trail, which contains nearly 500 species of trees. The town's easygoing vibe makes it a picture-perfect setting for a waterfront getaway.
Downtown Fairhope boasts a delightful array of boutique shopping, restaurants, and street markets. Stay within walking distance of them all at the Hampton Inn by Hilton Fairhope-Mobile Bay, which is situated across the street from the exhibits at Fairhope Museum of History.
Soak up Harbor Views from a Hammock
A vacation to the "Great White North" might evoke images of snowy tundra and thick parkas, but the coastal Canadian town of Halifax offers a mix of sandy beaches for sunbathing and boating excursions that provide opportunities to spot whales in the wild. The city's Harbourwalk is one of the world's longest continuous boardwalks, dotted with brightly colored orange hammocks that make for ideal seating for taking in the sweeping water views and gentle breezes. As you explore the area, keep an eye out for harbor seals and jellyfish at high tide, and clusters of white barnacles and black mussels at low tide.
In downtown Halifax you'll find street art, museums, gardens, parks, playgrounds, shopping, entertainment, and waterfront restaurants teeming with the day's fresh catch. Located in the heart of it all is The Hollis Halifax – a DoubleTree Suites by Hilton Hotel, which also offers an indoor pool should you crave a swim in temperature-controlled waters.
Experience Coastal California as it Once Was
Nestled between popular Santa Barbara and Malibu you'll find the town of Oxnard, which serves as the gateway to the Channel Islands. Accessible only by boat, and protected by national park status, the Channel Islands offer a truly natural look at coastal California. The largest of the islands, Santa Cruz Island, features steep cliffs, large sea caves, coves, sandy beaches, and the chance to view local wildlife.
After catching a boat back to the Oxnard visitor's center, check into the soon-to-be reimagined Zachari Dunes on Mandalay Beach, Curio Collection by Hilton. Guests of this Spanish Hacienda-style oceanfront resort can pack light and enjoy a wide range of amenities, from longboards and hoverboards to craft coffee and cocktails, while savoring a luxe environment in which to unwind after days filled with exploration.
Regardless of where your travels take you, keep in mind that Hilton Honors members can earn up to 5,000 Points and save on qualifying car rentals from Alamo, Enterprise and National. And if you rent a car for five or more days between Aug. 15, 2022 and Oct. 5, 2022, you'll receive 1,000 Bonus Points on top of the Points you already earn.
A dream getaway at Rokeby Manor, Mussoorie
Dreams are beautiful and it's even more beautiful when reality is better than a dream. Mussoorie is a beautiful Himalayan destination in North India. Often called the Queen of Hills, it attracts travellers from afar. Rokeby Manor is a quaint place in Mussoorie and hands down my favourite place to stay.
Rokeby Manor is a mandatory annual trip that I make every year, ever since I got introduced to the property. Here are some things that I absolutely love about the place.
It's located in Landour Cantt – Landour Cantt is even above Mussoorie in terms of height above sea level. We get the best sunset views from the spots around Landour. More than anything else, it's cut off from the noise and bustle of Mall Road offering a truly serene getaway for those looking for some peace and genuine connection. I'm not a big lover of noise or crowds so Rokeby Manor is definitely my favourite choice of place to stay.
Landour Bakehouse is at a walking distance – Rokeby Manor infact owns and runs the mysterious Landour bakehouse with its wonderful desserts and baked goodies. Be it their cinnamon rolls or cheese croissants or the beautiful Himalayan views, Landour Bakehouse attracts people from Dehradun all the way only for their breakfast. Can you believe it? People drive up almost two hours just to grab breakfast here and go back home! Honestly, I traveled all the way from Mumbai for their cinnamon rolls.
The rooms are rustic and homely – Mussoorie has grown over the years and it's charm has attracted many commercial hotels. However, none of them present an authentic rustic Himalayan feel. There is nothing like Rokeby Manor with its rustic rooms, homely feel, direct views of the Himalayas and the most beautiful sunset in all of Mussoorie.
There are meaningful quotes painted on their walls – In life, we search for meaning. No better place to find meaning than Rokeby Manor's walls with the hard hitting quotes about life that make you realise how important it is to connect with yourself. I truly felt connected with myself when I was there. It was almost like I was surrounded by signs telling me to live in the moment and connect with people I was close to deeply.
Beautiful views of the winterline – Mussoorie is one of the only places in the world from where one can see the Winterline, a false horizon that's created during sunset time. I've seen stunning Winterline views from Rokeby Manor while sitting in their tea garden. I watched magic in the mountains right in front of me. The mountains were mysterious and I felt like something beautiful was unfolding before me.
Every room has something special – On holidays, I want to feel special. Rokeby Manor has something special for everyone in the rooms. No two rooms are designed the same way. One room had beautiful views of night sky, the other is facing the tea garden and the rhododendrons, there's one with a focus on other flowers. Each room is designed uniquely. What's even better is that they have rooms for families and solo travellers too, basically no matter who you are, you'll find a place here.
The food is some of the best I have ever had – Emily's is a famous restaurant at Rokeby Manor Mussoorie. Their food is some of the best I've ever had. With overlooking views of the Himalayas and Dehradun city, the food at Emily's tastes even better. Much like Landour Bakehouse, people come to Emily's from distances afar!
The stunning Char Dukan walk goes around here – There's a road diverging in the woods from Char Dukan that leads around Victor Banerjee's house, crosses a church and some rustic homes. This route is often traversed by locals who want to explore the woods and find peace. The sunrise view from here is stunning because during sunrise the clear sky leads a view to the snow capped peaks of the Himalayas (ones generally hidden because of clouds in the sky during normal hours of the day). When you're at Rokeby, you'll have the privilege to explore this path.