Eliminating Extreme Poverty Requires Urgent Focus on Fragile and Conflict-Affected Countries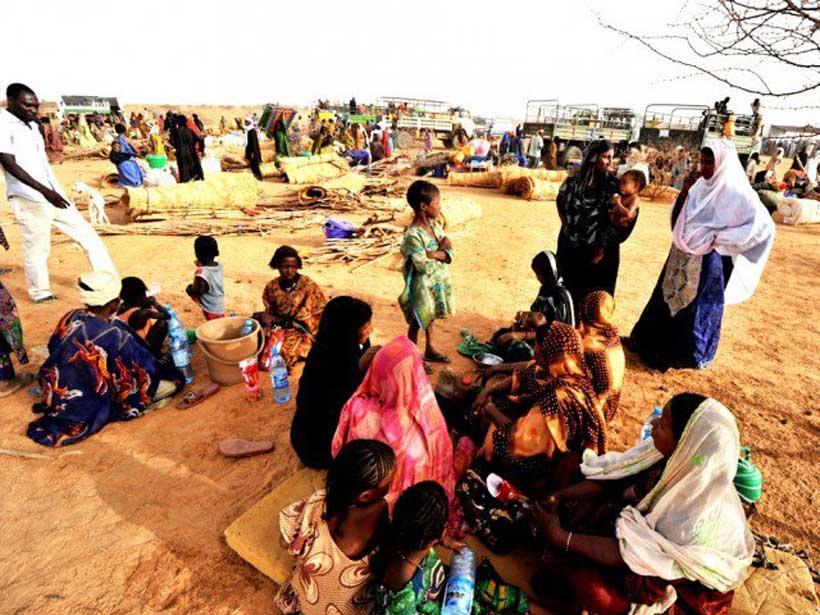 Urgent action is needed in countries impacted by fragility, conflict and violence (FCV) to end extreme poverty globally, according to the World Bank Group. As crisis situations become increasingly protracted — with dire impacts on people and economies — the World Bank Group today released an FCV strategy, which for the first time systematically brings a full suite of financing and expertise to address these challenges in both low-and-middle income countries.
On the current trajectory, by 2030 up to two-thirds of the world's extreme poor will live in fragile and conflict-affected countries, according to a World Bank report also released today. Bucking the overall trend of a global decrease in extreme poverty, these countries are seeing sharp increases, threatening decades of progress in the fight against poverty. Fragile and conflict-affected situations take a huge toll on human capital, creating vicious cycles that lower people's lifetime productivity and earnings and reduce socioeconomic mobility. One in five people in these countries are deprived of money, education and basic infrastructure simultaneously. And the number of people living in close proximity to conflict has nearly doubled in the past 10 years.
"Addressing humanitarian crises requires immediate support and long-term development approaches," said World Bank Group President David Malpass. "To end extreme poverty and break the cycle of fragility, conflict, and violence, countries need to ensure access to basic services, transparent and accountable government institutions, and economic and social inclusion of the most marginalized communities. These kinds of investments go hand in hand with humanitarian aid."
The World Bank Group, founded to support post-conflict reconstruction in Europe after World War II, now emphasizes working before, during, and after crisis situations to tackle poverty. It emphasizes prevention by proactively addressing the root causes of conflict — such as social and economic exclusion, climate change and demographic shocks — before tensions turn into full-blown crises. During active conflict, it focuses on building institutional resilience and preserving essential services like health and education for the most vulnerable communities.
The strategy also emphasizes long-term support to help countries transition out of fragility, including private sector solutions, such as scaling-up investments in small and medium enterprises that are essential to create jobs and spur economic growth. It addresses the cross-border impacts of FCV, for example by focusing on the development needs of both refugees and host communities.
This institutional shift is backed by increases in financing, both through the World Bank's General Capital Increase and through the recently approved replenishment of IDA, the World Bank's fund for the poorest countries, which included over $20 billion for FCV. The Bank and IFC will also make key operational changes, such as deploying more staff and resources to countries impacted by FCV and partnering with a range of international and local actors. IFC and MIGA have also committed to significantly increase their support to private sector investments in economies impacted by FCV.
India rejected the collective West's destructive attempts to polarise the world order
Taken together, the speeches made by Prime Minister Narendra Modi and External Affairs Minister S. Jaishankar at the Voice of Global South Summit in New Delhi herald a new thinking in foreign policy. India is deftly adjusting itself to the decline of the West and greeting the emerging multipolarity and multilateralism. In the historic transition underway in the world order, India views the Global South as its 'natural constituency,' stresses Indian Ambassador and prominent international observer M.K. Bhadrakumar in his new article "Hopes for a New World Order".
The thought processes reflected in the speeches by Modi and Jaishankar are bold and progressive, the speeches by the PM and the EAM have signalled that India intends to push back western attempts to hijack the G20 summit scheduled to take place in Delhi in September.
The main themes can be summarised as follows:
– India's disquiet over the increasing geopolitical fragmentation of the international landscape and the iniquities of the UN system where 'some powers have been singularly focused on their own advantage';
– the urgent need for fundamental reform of major international organisations, especially the Bretton Woods institutions, with focus on giving voice to the concerns of the developing world and 'reflecting the realities of the 21st century';
– 'the burdens of a colonial past, even as we face the inequities of the current world order';
– 'more multipolarity and reformed multilateralism';
– 'greater diversification and localisation of capabilities';
– and, the lop-sided composition of the G20 that is weighed against the Global South.
Jaishankar rejected the collective West's destructive attempts to polarise the world order — 'us vs them mindset' — and asserted: "From decolonisation movements to resisting alignment in the face of a deeply polarised world, the Global South has always shown the middle path. The path where diplomacy, dialogue and cooperation take primacy over competition, conflict, and divisions."
Such a vision is being expounded from New Delhi after a long time. Since the early 1990s, when Indian diplomacy incrementally began turning its back on the Global South, it preferred to work with the western agenda to reset the norms of global governance.
Essentially, the so-called 'Washington consensus' aimed at preserving the domination of the rich western bloc through an ingenious way of coalition-building with a clutch of developing countries that played a subaltern role. The G20 epitomises the paradigm under the rubric of the 'rules-based order.'
Our elites were led to believe that India's interests are best served by acting as a 'bridge.' But it has become crystal clear from Washington's confrontation with Russia (and China) that there is no willingness for a broad-based equitable world order.
G7 is once again imposing its diktat — even on the global oil market. Meanwhile, the epochal confrontation in Ukraine exposed that the 'rules-based order' in reality translates as the West's hegemonic position in the world.
Brazil's newly elected socialist president Luiz Inacio Lula da Silva has said his foreign policy priorities include plans to rekindle integration processes in Latin America and highlight the role of BRICS and the G20. The bottom line is that most of the ideas that found expression at the Voice of Global South Summit are rooted in the BRICS deliberations.
India is circling the wagons to avoid a repetition of the G20 summit at Bali where the western countries acrimoniously demanded that the 'rules-based order' be front-loaded thematically in the deliberations. Surely, the Modi government is going to annoy the 'collective West.'
Be prepared for shenanigans from the West's toolbox to superimpose a different backdrop for the September event, writes M.K. Bhadrakumar.
February 19: An anti-interventionist coalition to March to White House from Lincoln Memorial
On February 19, Washington, DC, will witness a protest against the war in Ukraine that marks a sharp departure from past demonstrations. The lead demand is simple and direct, "Not One More Penny for war in Ukraine."
It is a demand that emphasizes what we in the US can do to end the war, not what others can do. After all, the only government we have the power to influence is our own.
The potential power of this unique and promising movement arises from the nature of the sponsoring organizations – The Peoples Party, a progressive new Party, and the Libertarian Party. It is in fact what much of the press would term a "Right-Left Coalition", spanning a spectrum broad enough to actually bring the proxy war in Ukraine to an end.
Fittingly, the organizers are calling the protest "Rage Against the War Machine." With the war in Ukraine putting us the precipice of nuclear Armageddon, "rage" might be considered a mild reaction.
A New Right-Left Coalition to Oppose the War. The Peoples Party is probably the lesser known of the two sponsoring organizations, because it's newer. Its founder and National Chair is Nick Brana, a lead organizer of the protest. Brana was National Coordinator of the Bernie Sanders 2016 campaign, but has turned his back on the Democrats in disgust over the failure progressive Democratic pols to fight for the promises they made.
The Libertarian Party is better known. It has been around longer and, though small, is the third largest political party in the US by voter registration. The present National Chair, Angela McCardle, is the other lead organizer of the DC protest. In American political life, probably, the best known representative of libertarian values, most notably a principled anti-interventionist stance in foreign policy, is Ron Paul.
A call for ending US support for the proxy war in Ukraine is realistic; a substantial and growing segment of the American people support this demand.
The lead demand "Not one more penny for war in Ukraine" is finding ever more support among Americans. A survey in November by the Chicago Council on Global Affairs showed that 35% of Americans oppose sending more arms to Ukraine and 34% oppose sending more economic aid. When it comes to sending US troops, 68% are opposed!
These numbers in grew from the previous survey in July 2022, revealing a growing anti-interventionist sentiment. While this is not a majority, over one third of the populace is a base substantial enough to build an antiwar majority. Only 16% more needs to be won over to reach a majority. The number one demand of the February demonstration is not utopian – it is realistic!
The Demands of the Demonstration:
– Not one more penny for war in Ukraine.
The Democrats and Republicans have armed Ukraine with tens of billions of dollars in weapons and military aid. The war has killed tens of thousands, displaced millions, and is pushing us toward a nuclear WW3. Stop funding the war.
– Negotiate Peace.
The US government instigated the war in Ukraine with a coup of its democratically elected government in 2014, and then sabotaged a peace deal between Russia and Ukraine in March. Pursue an immediate ceasefire and diplomacy to end the war.
– Stop the war inflation.
The war is accelerating inflation and increasing food, gas and energy prices. The US blew up Russian gas pipelines to Europe, starving them of energy and deindustrializing their countries. End the war and stop increasing prices.
– Disband NATO.
NATO expansion to Russia's border provoked the war in Ukraine. NATO is a warmongering relic of the Cold War. Disband it like the Warsaw Pact.
The demonstration will gather at Washington DC on February 19at the Lincoln Memorial and then march to the White House.
Time is running out as the threat of nuclear war grows with each day and each new escalation in Ukraine. A broad coalition can end it.
ENOUGH OF THE FOREVER WARS!
Mushrooms emerge from the shadows in pesticide-free production push
By Ali Jones
Mention La Rioja in northern Spain and most people will picture majestic sun-drenched vineyards nestled in the hillsides. But, hidden from the sunlight, the region is also home to a very different crop that happens to be at the heart of efforts to make European food production more sustainable.
Three small villages in La Rioja house the vast, dark, humid growing sheds that produce its 77 000 tonnes of mushrooms each year. Almost half of Spain's cultivated mushroom crop is grown in the region, making Spain the third-largest producer in Europe, behind Poland and the Netherlands.
New world
'Mushrooms are a whole different world than we are used to, from growing plants or rearing animals,' said Pablo Martínez, an agronomist who worked in wineries before being drawn to the specialist mushroom sector after a chance conversation with a former colleague.
Based at the Mushroom Technological Research Centre of La Rioja (CTICH), Martínez manages a Europe-wide project to tackle the environmental challenges faced by the industry.
Many people know very little about how mushrooms are grown. While it's easy to buy a starter kit online to have a go at home, growing on a commercial scale is very different – managing humidity, temperature and light to produce a regular, quality crop while contending with pest control.
Cultivated mushrooms can double in size in a day and consumer demand for them is mushrooming too.
The global market is projected to grow from around 15 million tonnes in 2021 to more than 24 million tonnes over the next five years. Packed with nutrients, they deliver a protein-rich umami kick that is well suited to the soaring trend for plant-based foods.
To meet demand, growers need to fail-safe their crop from pests and, for now, they rely on pesticides. Tighter regulations are limiting available products and concerns over the impact on the environment and human health mean growers are looking to researchers to come up with answers.
CTICH is coordinating the BIOSCHAMP project, which works with researchers, commercial partners and mushroom growers in six European countries. In addition to Spain, they are Belgium, the Netherlands, Poland, Serbia and the UK.
Peatland protection
Mushrooms are grown on a substrate, or base layer, made of straw and animal manure, then covered with a thick blanket of peat known as the casing. Made up of partially decayed vegetation, peat perfectly mimics nature's forest floors that so readily yield mushrooms.
The depletion of precious finite peatlands is a global concern. These wetlands store more carbon than all other vegetation types in the world combined and their conservation is ever more important for countering climate change.
'Mounting restrictions on peat extraction in European countries threaten the long-term continuity of peat supplies,' said Martínez. 'We're looking to develop a new product for growing mushrooms that could cut pesticide use by 90% while reducing the industry's reliance on peat.'
Most of Europe's peat comes from the Baltic countries, traveling first by boat to the Netherlands, where it is treated ready for commercial use, before being distributed to growers across Europe, amassing transport costs and a heavy carbon footprint.
BIOSCHAMP aims to create a low-peat sustainable casing for cultivated mushrooms made from renewable materials sourced close to existing mushroom production.
While the exact details are under wraps, it will combine with a substance known as a biostimulant to enhance the natural growing processes and strengthen the mushroom mycelium in their early phase, protecting them against disease without the need for chemical pesticides.
Fertile waste
In Norway, two mushroom enthusiasts have pioneered a project to explore whether the crop could be cultivated in food waste. The EU-funded initiative is called VegWaMus CirCrop.
Dr Agnieszka Jasinska, who completed her postgraduate research on mushroom substrates, has led the research in partnership with Dr Ketil Stoknes, senior project leader of research and development at waste-management company Lindum and himself once a specialist mushroom grower.
The project has demonstrated that organic residue from food waste – usually used to feed anaerobic digestors, devised to capture methane and divert it from problematic greenhouse gas to useful fuel – can be a successful starter for mushrooms.
The European Food Information Council (EUFIC) estimates that a whopping one third of all food produced for human consumption is wasted. Anaerobic digestion, also known as biogas, allows the nutrients from waste to be reused for growing plants in greenhouses.
'It enables a climate-efficient, resilient, urban food production system based entirely on waste,' said Stoknes.
Tomatoes, lettuce and herbs had been chosen as the initial candidates. But Stoknes said that mushrooms are degraders, breaking down fibres and so on, and are a necessary part of an integrated biosystem. Inspired by the natural cycle in the forest, the project set out to combine mushrooms and plants in one circular system.
The biogas system is explained as 'food to waste to food' and it's a movement that is growing in popularity.
While mushroom cultivation ceased on a commercial scale in Norway in the early 2000s, unable to compete with other countries, VegWaMus CirCrop has proved there could be a sustainable future for Norwegian mushroom production after all.
Side hustle
The project has hatched a start-up company called SOPPAS with ambitions to scale up the process commercially. In the meantime, it's embarking on a raft of new ideas, including expanding production at the food waste biogas facility from button mushrooms to oyster mushrooms.
'The new company will produce starter blocks for growing mushrooms for farmers, plant producers and greenhouse owners who might want to diversify to mushrooms in their low season,' said Jasinska. 'They can put their existing pickers, packing line and cold-storage facilities to good use in idle times and sell the produce locally.'
Against the backdrop of growing momentum for producing food from waste and an interest in keeping production local, both EU-funded projects look set to give mushrooms their moment in the sun.
Research in this article was funded via the EU's Marie Skłodowska-Curie Actions (MSCA). ). This article was originally published in Horizon, the EU Research and Innovation Magazine.