Remarkably, the El Nino effect is ghosting human lives back again; Zimbabwe's food insecurity is reaching dangerous levels whilst ground policies are taking strange turns. Time has stood still to welcome the new age of climate crisis; now, more than ever, anthropogenic actions are leading towards self-destructing developments. This year more than 35% percent of Zimbabweans are going to face food shortages. Mass deaths via malnutrition is on the cards; abnormal weather patterns via changes in the ocean temperatures should have been Harare's least concerns; yet, the southernmost African nation could only collect a single window of monsoon rain, altogether out of five. Climate Change is not only real, but it is now turning tables, forcing an already defeated nation to determine contingencies that are previously unheard of. The world is on the verge of witnessing an anti-hypothetical scenario of shrinking food supplies. Imagine a food emergency like that emanating from a natural disaster but one that would last in the same intensity for years. Zimbabwe is on the brink.
Technology conquers actions; information on climate change can define policies that could somewhat reduce misfortunes. However, antithetic destiny has camouflaged Zimbabwe's options. In good spirits, the African nation took measures to launch a widespread agricultural campaign, in order to grow maize that requires exceeding water supplies. Originally, such self-slaughter was not intended, despite lacking climate centered policies, administrators can be forgiven for not anticipating startling outcomes. Scientifically, it was possible that all anthropogenic reasons that led to El Nino could affect a poor nation, thousand of miles away in Africa. It was, however, not possible to determine the tragedy of untimeliness. Zimbabwe's misery is the world's harshest lesson. It is the modern-day non-fiction of nature's curse on humanity. The current food crisis is alarm bells over the uncertainties that comes along with a climatic mishap. Plus, the poisonous mixture of prejudiced action is dominating the very foundation of rationality.
Consider solutions that are available for Zimbabwe in the short run. International aid might suffice for time; yet, assumedly, there must be a longitudinal fix in place. Harare's decision to import maize from Uganda is both conventional and vice-versa. Forgivably, it is also importing corn from the neighbor with immense surplus. The plan is extremely questionable, yet nature has chosen the ill-fated nation with open arms. The enormity of an environment led humanitarian crisis might have led to a spin, but it is impossible to analyze the situation with facts of vegetable markets in Zimbabwe having to destroy supplies. Simply, people are unable to pay for cheap commodities. Climate change is stinging worse than the famous puff adder; in a series of misfortunes, the entire economy is on the brink.
It is not worrisome, while one third of the entire food production in the world goes to waste, figures from Zimbabwe might be manipulated for a metaphoric excuse. Nevertheless, doubts remain; disbelief lives on. Bakery outlets in the country have raised average prices by more than 17%; for a society that feeds on staple bread items, it is strangling to digest. Double swords are at play, on one hand, economic resources are being re-directed to solve lack of production. On the other hand, prices are being raised to achieve healthy consumption. The conjunction does not suffice economic reasoning. It is now evident that climate change can force such anomalies. Still, intelligence and rationale fail. Reportedly, the government is looking to export a rare nutritious worm, amacimbi, to boost trade. European nations lodge greater demand for dietary needs while Zimbabwe is looking to improve competitive advantage. The world will witness further incongruity before the food supplies can persist. Zimbabwe is on the brink.
Understanding the Question of What Hopes China can bring to the African Continent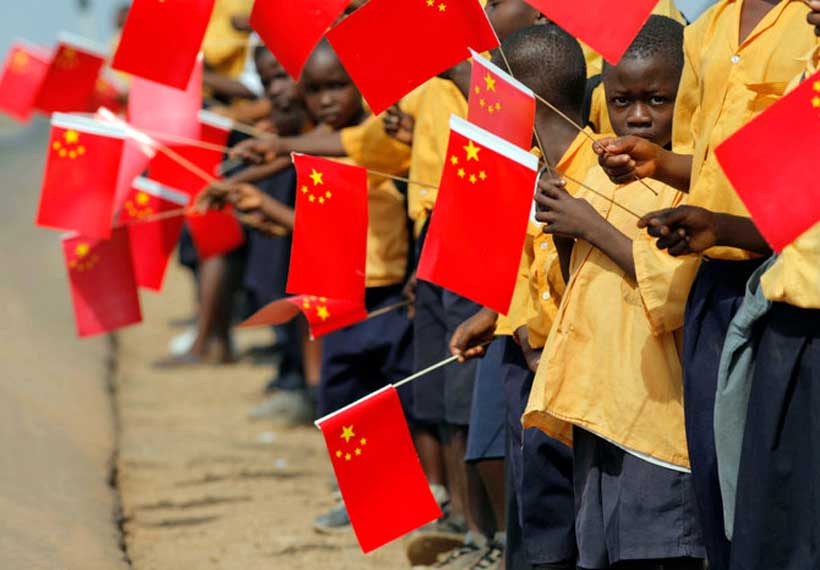 Today, China plays a new role in the international system, garnering increasing attention around the globe. In its expedition to develop and improve its image, China has focused on maintaining good relations with Africa as a whole and has committed itself to several projects in different African countries. Some researchers have concluded that Africans generally view China as a positive influence. They argue that there is no single African perspective on China, but the number of people who view China as a positive influence in African countries is very close to (and in some cases surpasses) those who consider the United States as a positive influence. China's assistance to Africa is growing but is dwarfed by the United States. Since the first Forum on China-Africa Cooperation in 2000, China has made a systematic effort to expand and give a greater profile to its soft-power policies in Africa. Although explicit soft-power commitments in health; humanitarian assistance; and academic, professional, and cultural exchange are growing, they are not yet anywhere near the United States' commitments in these areas. The main source of China's soft power in Africa is, therefore, the strength of its economy and its economic engagement. The expansion in China-Africa trade and investment, as well as the proliferation of Chinese-led infrastructure projects, reflect a fundamentally more optimistic view of Africa's future as compared to the Western engagement, which remains driven primarily by humanitarian programs and, to a larger extent, security interests. Many Africans see China's economic engagement in their countries as more practical and realistic and also in line with the African continent's priorities. This, in the long run, gives China an important interest in seeing the continent grow economically.
Apart from the actual trade and investment aspects, the reputation of China as a rising power is profoundly appealing and drives a desire to tie African economies more closely to China's rise to global economic preeminence. The financial crisis of the United States is seen in many ways as a powerful outcome of the Washington consensus and it may continue to seriously undermine the power of the United States' economic model. China's respect for sovereignty rhetoric still gives a boost for China to many Africans. China constantly emphasizes respect for sovereignty and territorial integrity and its policy of noninterference resonates for obvious reasons with many African leaders. But it also agrees with many Africans who regard the Western lecturing on human rights, economic liberalization, and democracy as condescending and hypocritical. Besides, China attaches less or no conditions or broad to their assistance and loans and this allows projects to be implemented quickly, with visible and often immediate results.
Diplomatically, as a result of the increase in trade and investment with Africa, China has fostered closer ties with many African governments, and in doing so, it has won its worldview and managed to reassure Africans as well as the rest of the world of its friendly intentions. China's public diplomacy emphasizes the notion of solidarity and win-win cooperation. Chinese officials have always taken pride in pointing out that as far back as the fifteenth century when Admiral Zhen He made his famous voyage to the East African coast, China never took this as an advantage to subjugate, colonize, or enslave Africans. They constantly relay and emphasize China's record of support for African liberation movements and the common interest of the developing world in creating a just and equitable global economy. China seeks to present itself as a champion of developing-country interests in international forums, and actively aims at ensuring that the sense of solidarity will be mutual with other countries. This is illustrated in Minister Shi Guangsheng's speech at the first FOCAC meeting in 2000 when he declared:
"China will unswervingly side with African countries and peoples to safeguard the legitimate rights and interests of the vast number of developing countries and push for the establishment of an equitable and rational new international political and economic order. Here, let me take this opportunity to express my heartfelt thanks to African countries for your support for China's accession to WTO. China's accession to WTO will be beneficial not only to China and world economic and trade development but also to the economic and trade cooperation between China and Africa. We hope that African countries will continue to render us your precious support so that China's accession to WTO will be realized at an early date".
Politically, China accentuates the notion of "respect" for African countries, which is embodied in its policy of non-interference in the domestic affairs of sovereign countries. This approach is less confrontational than the Western interventions and it resonates with many African governments and indeed with many (but not all) African citizens to whom Western intimidation and condemnation seem patronizing and unimpressive. A good example is when China disinclined to sanction President Robert Mugabe of Zimbabwe in 2008 at the United Nations Security Council. Chinese officials and analysts explained that they were simply following the approach of the Southern African Development Community (SADC) and that if SADC changed its stance they would reconsider.
Economically, China steadily points out its initiative on the win-win aspect of its engagement in Africa. This approach is welcomed by many African nations for several reasons. First, African nations value the practicality of this approach considering that China comes to Africa as a business partner, not to persuade or offer charity. Second, the perception is that economic self-interest is believed to bring about more sustained engagement as compared to humanitarian impulse or intermittent crisis diplomacy. Finally, the win-win concept implies that there is flexibility which gives room for negotiations on the terms and conditions of the arrangements between China and Africa and that the former will be available to respond to the demands of the latter.
Nevertheless, China's increasing engagement in Africa has provoked a range of reactions in both Africa and the West. In Africa, some of the reactions are based on the anticipation of what hopes China can bring to the continent in trade, investment, and alternative development partnerships; in other cases, the reactions are instilled by fears of what a seemingly greedy demand for energy, resources, and export markets will mean for growing economies, weak governments, and deprived populations. In the West, China's mix of economic engagement and soft power has stirred up some fears and insecurities that Western influence in Africa will eventually be diminished and that investments in issues of governance, transparency, and accountability will be damaged and weakened in the eyes of the African States, particularly those that are rich in natural resources but have poor governance and lack legitimacy or national vision. On the other hand, this would imply a healthy competition for trade and investment, and soft power may ultimately benefit Africa's economic and developmental growth provided that African states utilize the opportunity wisely. Ultimately, the challenge will be whether African governments and their people will make use of this external engagement by China as well as other key players to their eventual national benefit.
In this new expanded phase of engagement in Africa, China has placed special emphasis on its soft-power strategies, while at the same time playing both to African audiences and to the international system. In the process, China seeks to portray itself as a non-threatening and responsible global power to the rest of the world. Since China is involved with multiple audiences, it requires a complex mix of strategies to go forward, and it may also have to avoid employing some of its soft and hard power approaches towards some states concerning their norms and ideals. Some of the approaches may be challenging in African countries especially those with weak and unpopular governments, particularly as opposing nongovernmental forces become increasingly powerful and vocal. Chinese officials and academics often point out that in its engagement with Africa, China is "crossing the river by feeling the stones," and to date, there have been adjustments of approach in response to popular African reactions.
To Silence the Guns, Africa Should Tap its Diaspora
For the year 2020, the African Union, chaired by South Africa, will pursue as its principal aim the silencing of the guns. It has its work cut out, as the continent also braces itself for combating the COVID-19 outbreak. The number of terrorist attacks in Africa has grown from some 400 annual attacks in 2007 to over 2,000by 2016, with well over 13,182 killings. In the most recent report by the Global Terrorism Index, two of the countries which saw highest increases in terrorist attacks were in Africa; Egypt and Somalia, with deaths increasing by 123per cent and 93 per cent respectively from 2017. The continent's gun-wielding forces, therefore, come in various forms, as terrorist groups have mushroomed all over the continent, and are increasingly unpredictable and internationalised; with African groups being allied to jihadist groups from the Middle East, whilst also recruiting locally, using ethnicity as a benchmark. Whilst effective, this approach works mainly because of its moorings with the local context. Consider Burkina Faso for example, where "the combination of poverty, a lack of public services, security forces' inefficiency and neighbouring countries' instability has contributed to the growing radicalisation of civil populations," according to a recent study by Mahamoudou Savadogo, who adds that the brutality and geographic reach of tactics used by the terrorists in turn increases the likelihood of support by local communities in locales where the government has an absence or, when present, approaches them with suspicion, curbs liberties and civil rights as well as developmental assistance.
Economics and terrorism have well-documented interaction. The latest Global Terrorism Index (GTI) report notes that the global economic impact of terrorism was US$33 billion in 2018. Some context is needed here. For example, compared to other forms of violence, terrorism is a small percentage of the total global cost of violence, which was equal to 14.1 trillion dollars in purchasing power parity terms. However, it should be noted that these numbers are on the conservative side, and do not account for the indirect impacts on business, investment and the costs associated with security agencies in countering terrorism. As the same report acknowledges, "terrorism also has wide-ranging economic consequences that have the potential to spread quickly through the global economy with significant social ramifications." In the global context, Africa is also among the more disproportionately affected regions.
Countries facing terrorist activity are found to have lower economic growth through lower investment on physical and human capital, higher cost of capital, and lower non-military consumption. Perhaps the most direct manner through which terrorism affects economic outcomes is in its discouragement of foreign tourism. Overall, terrorism has been found to decrease foreign direct investment flows by exerting a significant impact on the allocation of productive capital and reducing the expected returns to investment, and at the same time terrorism encroaches on bilateral trade flows by raising trading costs and hardening borders. This is particularly worrisome for Africa, in light of its goal of accelerated intra-continental trade through the Continental Free Trade Agreement, whose other face is free movement of people.
The economic time-lag effects of terrorism can vary depending on the conflict status of a country. Observers have noted that terrorism has an economically and statistically significant negative impact on tourism. For example, an empirical study of the Caribbean after September 11 attacks – which had an effect on tourism to the Caribbean due to its regional proximity to the US and the use of the US as a stop-over by many Caribbean-bound tourists – the relationships between terrorism and low tourism tended to be at their strongest in for two years following the incident. In the case of Nigeria, in 2019 the cost of terrorism in terms of lost GDP per year is estimated at 0.82% as the government had to appropriate funds to combating terrorism, the reduced tourism potential notwithstanding.
The correlation of inequality and terrorism within and across countries has led to appeals for international aid from within the continent itself. This appears to have universal consensus and goes with common-sense assumptions. However, such consensus may be unwarranted as such a path may not be linear.
In a 2018 study focused on the role of aid in offsetting terrorism in the 1984–2008 period with 78 countries by African Governance and Development Institute's Professor Simplice Asongu and colleagues found that foreign aid cannot be used as a policy tool to effectively address a negative effect of terrorism on FDI. This is echoed by a 2017-publishedanalysis of 38 countries in Sub-Saharan Africa, the Middle East and North Africa, and South Asia for the 2006–2014 period by Godwin Okafor and Jenifer Piesse who found foreign aid was insignificantly related to decreasing terrorism. In my own 2017 study, I noted Djibouti and Uganda to be the sole exceptions, whilst there were mixed results from Kenya.
The diaspora and expatriates (themselves a consequence of the instability in the continent)on the other hand remain an untapped channel for combating terrorism in the continent as well as offsetting the flight of capital in the wake of perceived vulnerability.
A study which focused on Sub-Saharan Africa found that terrorism incidences and remittances were positively correlated, with each incidence of terrorism coinciding with remittance receipts of between US$250, 000 and US$1, 000, 000.In a roundabout fashion, terrorism may lead to an increase in financial inflows, with remittances rivalling and, in some cases, surpassing FDI and foreign aid in many countries in the developing world as a source of foreign income which could in turn decrease the socio-economic causes of terrorism. As the continent grapples with the problem of terrorism, the solutions to its economic causes increasingly appear to lie within the continent itself, as well as its diaspora, which had been the AU's theme for 2019, who could be more actively institutionalised.
Terrorism stands to be a destructive force for the AU's significant but precarious gains, including accelerated intracontinental trade, people movement, and gains in FDI. In turn, silencing the guns will, therefore, hinge on economic policymaking and confidence-building and renewed social contracts between the governments and their populaces. If nothing, ensuring this (through its various arms, including the African Peer Review Mechanism), is the raison d'être of the AU, especially in the crises-ridden days presently underway.
The Mandera triangle crisis: Somalia and Kenya diplomatic face-off
While the COVID-19 was morphing from an epidemic into a catastrophic global pandemic, captivating the global news, a diplomatic confrontation is unfolding in the horn of Africa between Somalia and Kenya.
On 2 March, fighting between the Somali National Army (SNA) and the regional Jubaland paramilitary forces erupted in the border town of Beled Hawo killing 21 combatants on both sides and civilians. The fighting in Beled Hawo spilled across into Kenya's territory as the SNA pursued the retreading Jubaland paramilitaries into the Kenyan border town of Mandera. On 4 March, Kenya accused Somalia of ''unwarranted attack'' on its territory as the two East African nations traded accusations of internal political interference.
To understand the crisis in the Mandera triangle – a converging point of Somalia's, Kenya's and Ethiopia's borders and the towns of Beled Hawo, Mandera and Suuf on each side of the borders, respectively – one has to grasp the intricacies of the horn's new geopolitical reconfigurations, Villa Somalia's long-term political agenda and Kenya's geopolitical anxieties and concerns of Ethiopia's increasing influence in Somalia.
Somalia's governance model confusion
After nearly 30 years-long intra-tribal and warlords-based civil war, now, Somalia seems to be descending into a looming intra-federal states and central government military confrontations. The recent fighting in Beled Hawa between the SNA and a regional paramilitaries signal the commencement of a new civil war in the country – unless quickly resolved.
At the root of this violence lie confusions on which governance model suites Somalia best and its interests. Federal member states (FMS) like Jubaland and Puntland, coupled with their political and ideological difference with the Federal government of Somalia (FGS), envision a loosely connected federal system where federal member states have more powers as the central federal state a la a Swiss confederacy model. Contrary to this, the current administration of President Mohamed Abdullahi ''Farmajo'', with its nationalist and centralist tendencies conceives a 'strong' Somali state with a relatively autonomous and subordinate regional states.
The current governance model crisis in Somalia is also compounded by the slow constitutional review process which would have stipulated clearly the division of powers between the FGS and its constituent FMS.
Furthermore, the Somali governance model crisis also took a geopolitical dimension: neighbouring countries and Gulf States have been courting federal member states hence by-passing the central government. The Current administration's siding with Qatar and a strong diplomatic relation with Turkey has worried Gulf powers. This has created a situation where FMS with the implicit support of Gulf powers and neighbouring countries challenge the central government.
Villa Somalia's political end-game
Since the election of President Mohamed Abdullahi ''Farmajo'' in 2017, a more assertive and centralist policies laden with Somali nationalism rhetoric has been observed in Mogadishu. In a speech while on a visit to Kenya delivered in the Somali embassy in Nairobi, the president lamented that Somalis are tired of political chaos, disintegration and accused some leaders of the federal member states of being unpatriotic and treasonous.
In its effort for recentralisation the central federal government had influenced the regional elections in Konfur Galbeed state and Galmugud state and got elected in both states leaders who were allied to the central federal government.
Furthermore, the ascent to power by Abiy Ahmed in 2018 in Ethiopia seems to have favoured the current administration in Mogadishu. In Abiy Ahmed, President Farmajo had found an ally who made sure that Ethiopia only engages with the FGS in Mogadishu. This has created the perception in the Somali public that Ethiopia has ceased interfering in Somali politics. The new-found close relations between Somalia and Ethiopia had worried Kenya which sees the bordering Jubaland state of Somalia as a buffer zone against the terror group Al-Shabab and as its sphere of influence. Prof. Peter Kagwanja observed that with Abiy Ahmed in power in Ethiopia and President Farmajo's centralist and Somali nationalist tendencies, a new Somali-Oromo ''cushitic allience'' is emerging in the horn that will put in risk Kenya's geopolitical interest.
More crucially, with elections in the corner in Somalia in 2020/21, Mogadishu is flexing its powers over what it considers rogue federal member states. After two days of fighting in Dhusamareeb, the capital of Galmudug state, the leaders of the armed sufi group Ahlu-Sunna Wal-Jamaa (ASWJ) surrendered and were detained by the Somali army on 29 February.
Then, the central federal government turned its gaze on Jubaland state and its leader Ahmed Mohamed Islam ''Madobe'', a close ally of Kenya. Madobe got himself re-elected as the president of Jubaland state last year in an election the FGS refused to recognize. In a show of support his inauguration was attended by some Kenyan members of parliament spear-headed by Majority leader Adan Duale Barre. Amid an exchange of internal political interference accusations between Kenya and Somalia, the first shots were fired in Beled Hawo, Somalia and spread into Mandera, Kenya. Furthermore, Abdirashid Janan, a fugitive Jubaland warlord with an arrest warrant from the Federal government resided and mobilised his Jubaland paramilitaries from Mandera, Kenya with the displeasure of Mogadishu.
Time for de-escalation, dialogue and cooperation
Diplomatic relations between Kenya and Somalia have reached their lowest point this year. Amid an increase in terror attacks by Al-Shabab in both Somalia and Kenya's North-Eastern region, both nations have to de-escalate diplomatic tensions and cooperate closely in security matters.
On 9 March, President Uhuru Kenyatta sent his interior minister Fred Matiangi to Mogadishu in an effort to de-escalate tensions with Somalia. This is a step in the right direction. The interior minister also travelled to Addis Ababa in a bid to iron out conflicting geopolitical interests with Ethiopia.
Finally, Somalia needs to have a constitutional review process before the elections on how to peacefully and efficiently institute and implement its federal system. While the Somali state in the Weberian sense, has a right to violence and coercion within its territory, nevertheless, regional states like Puntland and Jubaland are armed to the teeth and a violent confrontation would be a recipe for a new civil war. With Al-Shabab still terrorizing Somalis, Villa Somalia has to mobilize its meagre military resources against the terror group and employ internal diplomacy channels to engage and reconcile with regional states. Dialogue is paramount for Somali politics at this moment.