West African Ministers Adopt Cleaner Fuels and Vehicles Standards
With a population of close to 400 million people, the West African region has one of the fastest growing vehicle fleets in the world. As in most African countries, the bulk of vehicle imports into the region consists mainly of used vehicles. Regulation to restrict the quality of cars being imported into the region is weak. This, coupled with poor fuel quality, is one of the leading cause of increasing levels of air pollution in cities in the region, with the population suffering the effects of breathing toxic fumes. Children, who walk to schools alongside busy roads, and informal vendors along these roads are most at risk of the health effects of these toxic fumes. In 2016, the World Health Organization named Onitsha – a city in Nigeria, as the world's most polluted city in terms of harmful small particles (PM10).
In a major step to reducing air pollution and climate emissions in the region, the environment and energy ministers of all the 15 countries of the Economic Community of West African States (ECOWAS), met on 6 – 7 February 2020 in Ouagadougou, Burkina Faso and adopted a comprehensive set of regulations for introducing cleaner fuels and vehicles in the region.
The high level ministerial meeting was organized by the ECOWAS Commission with the support of the United Nations Environment Programme (UNEP) and other partners. The regulations adopted by the ministers were a culmination of several years of work by UNEP towards improving the standards of fuels and vehicles in the region.
The specific regulations adopted by the ministers on cleaner fuels and vehicles are:
A sulfur fuel standard of 50 parts per million (ppm) for petrol and diesel for all imported fuels from 1 January 2021. This is a significant step for the region as some of the countries still have fuel standards that allow import of up to 10,000 ppm diesel fuels. Local refineries will have until 1 January 2025 to upgrade their operations to meet the new requirements as well as comply with other fuel parameters such as benzene and manganese that were agreed by the ministers. This decision will have a significant impact on air quality in the region as only about 20 per cent of fuel needs in the region is locally refined while 80 per cent is imported.
All vehicles that are imported, both new and used, and petrol and diesel, will need to comply to a minimum of EURO 4/IV vehicle emissions standard from 1 January 2021. An age limit forused vehicles of 10 years was also agreed to, with a recommendation of a five-year age limit for light duty vehicles.
A plan to improve the fuel efficiency of imported vehicles was also adopted, with a target to double the efficiency of the fleet from an average of 8 litres per 100 kilometres today to 4.2 litres per 100 kilometres by 2030. An intermediate target of 5 litres per 100 kilometres by 2025 was also agreed. The vehicle fuel efficiency plan or roadmap includes proposals to introduce fiscal incentives to attract low and no emissions vehicles to the region, measures to promote electric vehicles, and a new harmonized label for newly imported vehicles showing the vehicle fuel efficiency and CO2 emissions to support consumer awareness.
These decisions will now go to a Council of Ministers meeting taking place in June 2020, for formal adoption. Once adopted, the legally-binding decisions will become effective on 1 January 2021 at the latest.
"We are very pleased to see the results of a process that took several years," says Jane Akumu, UNEP expert in clean clean fuels and vehicles. "UNEP supported 11 out of 15 Economic Community of West African States member countries with individual projects and worked closely with the ECOWAS Commission to develop this clean fuels and vehicles regulations. Several partner organizations and non-governmental organizations also supported the process. This work is part of UNEP-led global programmes—the Partnership for Clean Fuels and Vehicles, the Global Fuel Economy Initiative the Climate and Clean Air Coalition and the Electric Mobility Programme.
This is not the end of the process, as several countries are now requesting for implementation support to for example, help to draft national fuel and vehicle standards, or to implement the fuel economy roadmap and introduce electric mobility.
"We plan to continue our work in the region and support countries in the implementation of the decisions," says Akumu. "Ultimately, the use of clean fuels and vehicles is not only an energy or environmental issue. It is a health issue for the millions of people who live in and around the region's major cities."
The world needs to build on the growing momentum behind carbon capture
After years of slow progress, technologies to capture carbon emissions and store or reuse them are gaining momentum, a trend that will need to accelerate significantly for the world to achieve its energy and climate goals, according to a new special report released by the IEA today.
The report, CCUS in Clean Energy Transitions, is being launched at an IEA online event opened by Prime Minister Erna Solberg of Norway, whose government announced a major funding commitment this week for a new carbon capture project that can help tackle emissions from Norway and neighbouring countries.
Carbon capture, utilisation and storage (CCUS) is the only group of technologies that contributes both to reducing emissions in key sectors directly and to removing CO2 from the atmosphere to balance the emissions that are the hardest to prevent – a crucial part of reaching the net-zero emissions goals that a growing number of governments and companies have set for themselves.
Part of the IEA's Energy Technology Perspectives Series, the new IEA report is the most comprehensive global study on CCUS to date. It assesses the state of play of CCUS technologies and maps out the evolving and expanding role they will need to play to put global emissions on a sustainable trajectory. It includes a detailed analysis of CO2 emissions from power and industrial facilities in China, Europe and the United States and potential for storing them.
"The scale of the climate challenge means we need to act across a wide range of energy technologies. Carbon capture is critical for ensuring our transitions to clean energy are secure and sustainable," said Dr Fatih Birol, the IEA Executive Director.
"In order to develop and deploy carbon capture and storage as a technology for the future we need investments in solutions and facilities in many regions and countries," said Prime Minister Solberg. "CCUS will be necessary on a global scale if we are to meet the Paris Agreement. And we must start now."
"Norway has been a global leader in researching, developing and implementing carbon capture technologies, as demonstrated by its major funding commitment this week to the impressive Longship project, which can help not just Norway but other European countries reduce their emissions," Dr Birol said. "The IEA is delighted and honoured that Prime Minister Solberg is taking part in the launch of our new report that will help inform policy-making on CCUS around the world."
Plans for more than 30 commercial CCUS facilities have been announced globally in the last three years. And projects now nearing a final investment decision represent an estimated potential investment of around USD 27 billion – more than double the investment planned in 2017. This portfolio of projects is increasingly diverse and would double the amount of CO2 captured globally.
The report sets out the four main ways that CCUS technologies contribute to clean energy transitions:
Tackling emissions from existing energy infrastructure such as power and industrial plants;
Providing a solution for some of the most challenging emissions from heavy industries like cement and chemicals, as well as from aviation;
Offering a cost-effective pathway for low-carbon hydrogen production in many regions;
Removing CO2 from the atmosphere.
Although CCUS facilities have been operating for decades in certain industries like natural gas and fertilisers, they are still at an early stage of development in key sectors such as cement. These are the areas where CCUS technologies are particularly important for tackling emissions because of a lack of alternatives.
"Action from governments will be essential for establishing a sustainable and viable market for CCUS," Dr Birol said. "But industry must also embrace the opportunity. No sector will be unaffected by clean energy transitions – and for some, including heavy industry, the value of CCUS is inescapable. As our new report demonstrates, the IEA is committed to leading CCUS analysis and policy advice worldwide – and to bringing together governments, companies and other key players to work together to achieve our shared energy and climate goals."
World Economic Forum and IRENA Partner for Sustainable Energy Future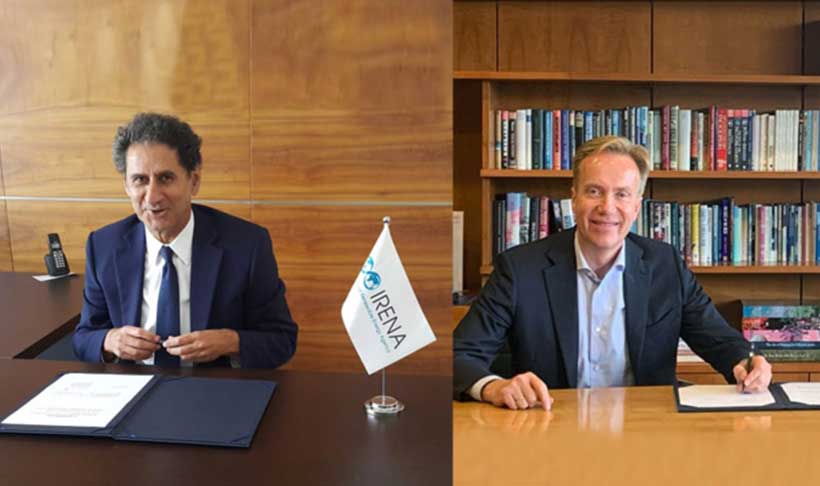 The President of the World Economic Forum, Børge Brende, and the Director-General of the International Renewable Energy Agency (IRENA), Francesco La Camera, signed a Memorandum of Understanding (MoU) alongside the 75th session of the UN General Assembly and the Sustainable Development Impact Summit.
The Forum's Energy Transition Index has found that, without urgent stakeholder action, COVID-19 will compromise the transition to clean energy. And IRENA's Post-COVID-19 Recovery Agenda shows that while renewables have proven their resilience throughout the crisis, targeted policy action and investment in energy transition can leverage socio-economic benefits while staying on course towards a fully decarbonised system by 2050. This MoU brings together two international organizations to collaborate and advance a sustainable energy future through the adoption of new technology, financing and ambitious policy frameworks. It aims to advance the necessary global energy transition, decarbonise hard to abate sectors, scale up the deployment of clean technologies and enhance the energy literacy of decision-makers and the public.
"Countries need to significantly raise their level of commitment towards environmental sustainability, leveraging diverse policies, technologies and financing options," Brende said. "Formalising this ongoing partnership during the Sustainable Development Impact Summit is an important step in strengthening the mission of our organisations. It brings together the knowledge, insight and innovation expertise of IRENA with the Forum's global network to ensure these higher commitments are realised in the near term."
"The energy transformation is at the heart of economic recovery," La Camera said. "Renewable energy offers a way to carbon neutrality by mid-century, aligning short-term policy and investment decisions with our medium- and long-term objectives of the Sustainable Development Agenda and 1.5°C goal of the Paris Agreement. International cooperation is vital to support business and the public sector in their efforts to reach our climate goals. This reinforced partnership combines IRENA's leading expertise on energy transition with the Forum's proven record of success in driving change through public-private dialogue in pursuit of a global energy system that is fit for the future."
"The Forum and IRENA have worked together for several years to support the energy transition," said Roberto Bocca, Head of Shaping the Future of Energy & Materials, World Economic Forum. "This MoU strengthens the collaboration between our organisations to further accelerate and shape the trajectory of the energy transition ensuring it is sustainable, inclusive and supports the economic recovery following COVID-19."
The past decade has seen rapid transformations as countries move towards clean energy generation, supply and consumption. Coal-fired power plants have been retired, as reliance on natural gas and emissions-free renewable energy sources increases. Incremental gains have been made from carbon-pricing initiatives.
The current state of the sector is described in the World Economic Forum's Energy Transition Index 2020. It benchmarks the energy systems of 115 economies, highlighting the leading players in the race to net-zero emissions, as well as those with work to do. This year's report flagged that COVID-19 could threaten the rate at which economies adopt more sustainable power. Sweden tops the overall ranking for the third consecutive year as the country most ready to transition to clean energy, followed by Switzerland and Finland. There has been little change in the top 10 since the last report, which demonstrates the energy stability of these developed nations, although the gap with the lowest-ranked countries is closing. The United Kingdom and France are the only two G20 economies in the top 10.
The Forum's annual Sustainable Development Impact Summit brings together almost 2,000 leaders from around the world to scale up solutions that address the economic, social and environmental challenges of our time. Heads of State, CEOs, and leaders from civil society engage in dialogue to initiate, accelerate and scale-up entrepreneurial solutions that advance sustainable development goals. The summit takes place virtually from 21-24 September.
The Netherlands is well prepared to reduce CO2 emissions
The Netherlands is taking a well-balanced approach to its plans for a rapid transition to a carbon-neutral economy that will support strong growth and energy security, according to a new energy policy review by the International Energy Agency.
To drive this ambitious shift, the Netherlands has focused its energy and climate policy on cutting greenhouse emissions, with targets to reduce emissions by 49% by 2030 and by 95% by 2050 from 1990 levels. In June 2019, it adopted a national Climate Agreement that was developed through a process involving diverse groups from across Dutch society that worked together to define policies and measures aimed at achieving these targets.
"The Netherlands' Climate Agreement shows broad social and political commitment to its energy transition and serves as an excellent example of how collaborative policy-making can lay the framework for ambitious targets," said Dr Fatih Birol, the IEA's Executive Director. "The IEA looks forward to supporting the government as it implements its plans."
The Netherlands faces notable challenges, the IEA policy review highlights, since its economy remains heavily reliant on fossil fuels and has a concentration of energy- and emission-intensive industries. The IEA report welcomes the steps the government is taking to address these challenges. These include the introduction of carbon pricing for industrial emissions and a competitive subsidy programme that supports a wide variety of emission reduction technologies. It also applauds the government's leadership in supporting electric vehicles through incentives to purchase them and significant investments in charging infrastructure.
"I congratulate the Netherlands for developing a broad policy framework with robust measures to drive emission reductions in all sectors," Dr Birol said. "The balance of ambitious targets and competitive support measures will help drive a cost-effective energy transition."
The IEA report highlights new energy security challenges the Netherlands is facing. In line with its climate targets and in response to safety concerns over earthquakes caused by natural gas production, the government plans to end production from the Groningen gas field by mid-2022. Gas from Groningen covers a large share of the Netherlands' heating and industrial energy demand and is a key source of regional gas supply.
The government is taking firm measures to reduce natural gas demand, both domestically and in cooperation with neighbouring countries. At the same time, it is taking a leading role in developing a market for low-carbon hydrogen to partly replace natural gas and drive emission reductions in hard-to-decarbonise sectors like industry and heavy transportation. This is complemented by support for carbon capture and storage, which is also aimed at lowering industrial emissions.
"The Netherlands has a clear vision for reducing its dependence on natural gas while protecting energy security," Dr Birol said. "In addition, its commendable leadership on low-carbon hydrogen will help drive cost reductions that are needed for this important technology to play a key role in accelerating clean energy transitions around the world."