The endurance of a political order cannot be permanently measured in the absence of any instrument, neither can it be substantially responded to at any given point and time. Similarly, the collapse of a system does not require any clear or prolonged warning. The world has experienced a relatively stable bi-polar system for several decades in the post-Cold War era, gradually replaced by the US dominated neoliberal post-Cold War era which is now being succeeded by a multi-polar world. This is accompanied with shifting alignments.
In the same vein, the debates at the 2020 Munich Security Conference (MSC) provided new insights into the shifts currently underway within the EU.In the most expansive sense of that term: 'Westlessness' reigned throughout the MSC despite the fact that it had played a vital role in world affairs after World War II. Earlier, marking the seventy fifth anniversary of the end of the World War II, Frank-Walter Steinmeier, President of Germany, warned that the erosion of international cooperation was evident in the US's growing interest in Asia at the expense of its transatlantic relations. Will Europe come up more integrated in this shifted paradigm? How would a more sovereign Europe become a better partner to a more socially equal United States on global problems? The technological giants have also disrupted major economies, societies, and political systems.
Historically, Germany as a core EU country has been the largest and most successful economy with a gdp of almost $4 trillion under Angela Merkel, since 2005. Germany sends the most members to the European Parliament. It has efficaciously maintained stability during the euro crisis, the Russian invasion of eastern Ukraine in 2014 and her open-door policy of 2015, in which over 1 million refugees were given shelter in Germany, was built on those premises. Germany provided an example of how to deal with a difficult past. However, using the legacy of the Holocaust, Germany has craftily absolved itself from the responsibility of security, defense, and leadership precisely. Will it continue to be the same in the post-Brexit paradigm? Steinmeier warned that, "if the European project fails, the lessons of German history will be called into question."
Merkel's Germany is already being criticized for not being able to provide international leadership. The objective of an integrated economic and political Europe is similarly unclear. Merkel has also not been able to fend off criticism that Germany has failed to meet the NATO commitment to spend 2 percent of GDP on defense, although it is already spending about 1.36 per cent of its GDP.
Within Germany, the ever-growing popularity of the far-right, anti-immigration, and anti-Semitic Alternative for Germany (AfD) has remained increasingly cumbersome for Angela Merkel. It is creating a leadership crisis for Germany. On February 10, 2020, Annegret Kramp-Karrenbauer, as Merkel's designated successor has also resigned as a leader of the governing Christian Democratic Union (CDU) party. This leadership crisis has emerged at xenophobic times of nationalism and populism espoused with the state of anomie, in Europe. The strains in the transatlantic relations and the rise in China's global role have afflicted this specter further afield.
Speaking pronouncedly, the French President Emmanuel Macron also talks about the need for a more integrated Europe by exercising responsibility for Europe's future. "This united Europe will only survive if we regard it as the most concrete repository for German responsibility . . . of all the dangers I sense facing Germany, I see none greater than that our German narrative of the future dispenses with the united Europe, whether as a result of a lack of insight, because of indifference, or in some people's eyes even through intent."
The panacea lies in strengthening European security and defense policy as suggested by Steinmeier. He however, distinctively speculated that it would be opposed by the Central and Eastern Europeans. Besides, the fear is that Europe is no longer relevant for the US in great power competition. "Only a Europe that can and wants to protect itself credibly will be able to keep the U.S. in the alliance," was a major concern of Steinmeier.
The French President Emmanuel Macron was yet another person at the MSC who supported and rejected the idea of subordination to America in its new role. He even suggested a smaller "core" group of EU nations moving towards a military union. Macron even raised the prospect of France helping this military union by sharing its own nuclear weapons. He suggested ending the dependence of several countries on the US nuclear umbrella and recommended to think in a European way as well. Macron even invited Germany for talks on the subject of nuclear weapons with France. The French leader had earlier asked Merkel for a financial and military contribution to a joint anti-'jihadist regional force' under the rubric of G5 Sahel made up of forces from Burkina Faso, Chad, Mali, Mauritania and Niger.
Already, the "Global Strategy for the European Union's Foreign and Security Policy" presented by HR/VP Mogherini in June 2016, had laid down the foundations for a comprehensive package of measures in the areas of security and defence. It consists of three major pillars:
New political goals and ambitions for Europeans to take more responsibility for their own security and defence.
New financial tools to help Member States and the European defence industry to develop defence capabilities ("European Defence Action Plan").
Set of concrete actions as a follow up to the EU-NATO Joint Declaration while identifying areas of cooperation.
Though, this siding of Macron with Germany by indicating the emergence of two blocs – the German led block vs the US led Britain, Australia and New Zealand bloc, shows an obvious lineage in global power trends. The objectives of the two are opposing while the NATO from which France benefitted the most, is almost obsolete for France. Similarly, the time of US-Europe cooperation against Russia also appears to be over.
Notwithstanding, apart from Macron's closer alliance with Germany, he is also encouraging Europe's oldest institution: the Roman Catholic Church. Would it mean the Resurrection of the Roman Empire and hence, the church states in the backdrop of rising Islamophobia? This certainly leads to several more questions.
Exporting Religious Hatred to England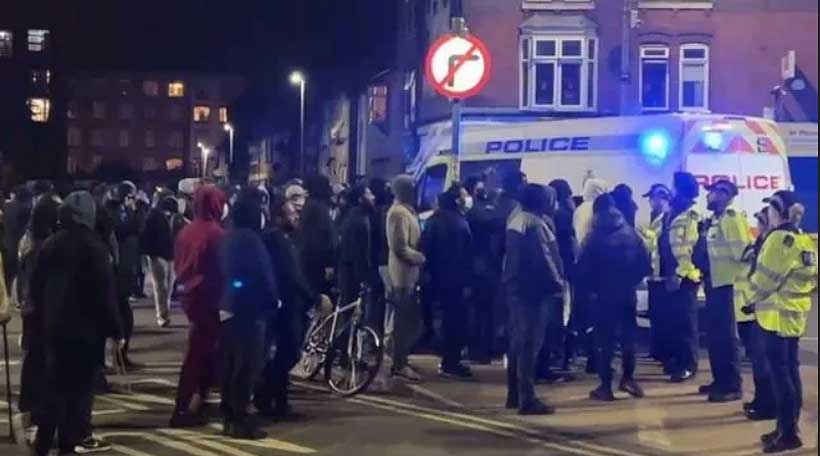 Not a place hitting the main news channels often, Leicester is a small town of 250,000 inhabitants about a hundred miles north of London and 40 miles east of Birmingham the UK's second largest city.
But an imported ideology is now the cause of religious violence that has profoundly affected Leicester's ethnic community of South Asians. This Hindutva ideology represents a belief in the transcendence of Hinduism and its culture.
Leicester prides itself as a city of tolerance and diversity where different religions and races all live together in relative harmony — a sort of 'live and let live and mind your own business' philosophy that had worked until recently. But under the surface simmering tensions burst forth recently. The trigger was a South Asia Cup cricket match between Indian and Pakistan held in Dubai and won by India.
Couple Hindutva with India's win and groups of Hindu young men were keen to demonstrate their might, and did so on isolated young Muslims. The latter then formed their own groups ready for revenge.
Where were the police one might ask. Well, a couple of beaten up Asian teenagers did not register as exhibiting anything more than random teenage violence. They were slow to react and did not discuss the ominous truth of religion as the prime mover behind the violence.
Civic leaders on both sides are now trying to quell the attacks. But the damage has been done and the seeds of ill-feeling have been sown within the community meaning Hindus vis-a-vis Muslims and vice versa.
India's per capita GDP is higher than for Pakistan or Bangladesh, the two countries bordering it, which together constitute the subcontinent. Thus the three countries are similar culturally. The next question to ask is why then is India hugging the bottom on the 2020 World Happiness Report, next to ill-fated war-torn places like Yemen. India is ranked 144 while its rival and neighbor Pakistan, although lower in per capita GDP, ranks a shocking (for India) 66. Bangladesh also ranks much higher than India at 107, despite its devastating floods and typhoons.
Perhaps the answer lies in the pervasive hate that is the currency of the ruling BJP (Bharatia Janata Party), a currency spent liberally during general elections to the detriment of the Congress Party, which has stood for a secular India since independence.
But hate yields more votes as BJP leaders Norendra Modi and Amit Shah know well. After all, they came to power via the destruction of the historic nearly five century old Babri Mosque, built on a Hindu holy site in an effort to ally Hindus by an astute Babur, the Mughal whose hold on India, just wrested from the Muslim Pathan kings, was still weak. It worked for Babur then; its destruction worked for the BJP in the 21st century
Has India become more civilized since?
Giorgia Meloni: a return to Mussolini's Italy?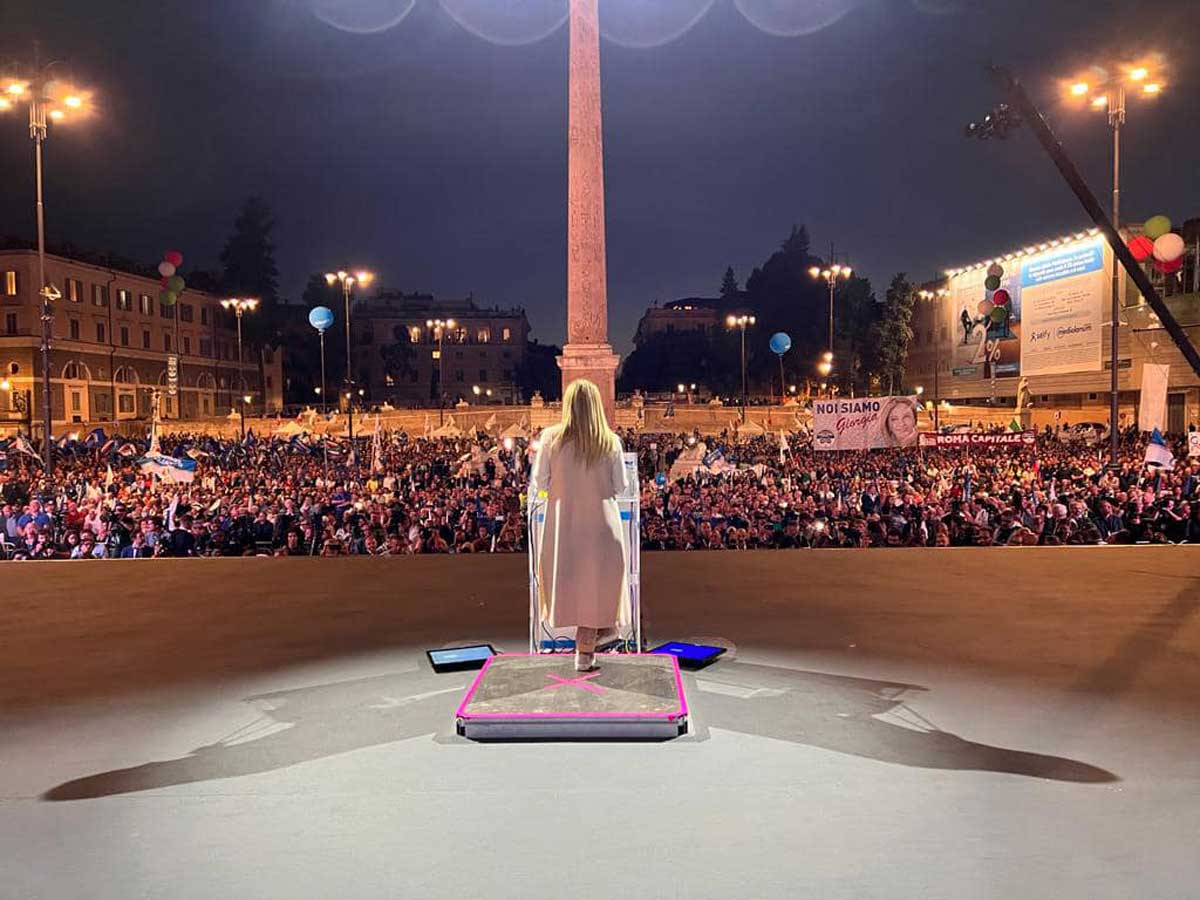 In recent years there has been a dramatic increase in the number of far-right political parties across Europe. They have managed to use the widespread discontent from society with the values and functioning of democracy to establish strong footholds in many countries, including those that were thought to be immune to such radicalisation. The reach of the far right does not recognise boundaries, and it is not a new phenomenon either. It has had a considerable historical role in Latin America, in Indonesia, Japan, Australia, Myanmar, India, South Africa, Germany, Italy, the United States, and more recently in Turkey, Brazil and Hungary which have suffered serious damage to their democratic rules and institutions. It is in this context that the election of Giorgia Meloni in Italy as the possible next Prime Minister.
Italy has a long history with fascism and far-right extremism that has forever characterised Italian politics. Italy's history after the WWII can largely be blamed for this slow but steady radicalisation of its political landscape. Unlike Germany that went through a serious process of denazification after allied victory, Italy was not cleared of vestiges of fascism. After 1945, and with the emergence of the USSR as a rival power, the allies focused their attention and efforts on fighting Communist USSR. Italy, surprisingly, had a considerable number of communist supporters, therefore fascism was seen as something positive in the fight of USSR ideology expansionism. Fascism was good to fight communism, and allies turned a blind eye to it, and the creation of the Italian Social Movement (MSI) in 1946 did not raise any red flags. The party managed to become the fourth largest in Italy in 20 years.
The woman who will become Italy's next Prime Minister leads a conservative party that can be traced back to the MSI: The Brothers of Italy, whose logo revives the MSI emblem. Meloni´s victory should be read against the backdrop of recent triumphs for the far right elsewhere in Europe. In France, despite the loss of Le Pen in the presidential election, the share of popular vote shifted the French political centre to the right; in Sweden the Sweden Democrats are expected to play a major role in defining Swedish politics after having won the second largest share of seats at the general election earlier in September; the same in happening in Hungary and Poland.
This revival of far-right extremism is not new. The collapse of the USSR allowed formerly dormant far right movements to flourish. This resurgence should also be understood as the inability of centre and centre-left parties to connect with voters, and to appear attractive. Italy's recent economic crisis has made Italians particularly susceptible to anti-establishment ideas. Italy was one of the countries that suffered the most during the pandemic specially fairly early on: Lots of people died, a lot of businesses had to close down, Italy found it hard to get support from the rest of the European Union. Meloni and her coalition capitalised this discontent. Meloni has chosen to fight the same enemies as other populist leaders: the LGBTQ+ community; immigrants, the European Union, Muslims; former Italian leaders and multiculturalism. She echoes Mussolini's natalist obsession; Volume Mussolini argued that the Western race was in danger of extinction by other races of colour, Meloni has focused on ethnic substitution, defined as the loss of Italian identity as a result of globalisation and uncontrolled mass immigration fostered by the European Union. This has translated into harsh xenophobic policies.
Meloni's election ironically coincide with the 100th anniversary of the March on Rome in October 1922 that brought Mussolini to power. 100 years later Italians. May have elected its first woman to become a Prime Minister, while this represents a break with the past and it symbolises a good step forward in theory, she also represents one of Italy's worst chapters in its past: Mussolini's Fascism. Meloni was a former MSI activist, and she is likely to form a government deeply rooted in populism and fascism, are very dangerous combination for contemporary European politics. We should not also allow to be fooled by her election as a woman. She has followed a similar path to Marie Le Pen called gender washing. She has adopted unknown threatening image as a female politician to mask the force of her extremism. For someone who is not familiar with Italian politics, her victory could be read as the triumph of female empowerment and gender equality. Throughout her campaign, she posed as a defender of women, however, her party has rolled back on women's rights, especially access to abortion.
Gender washing is particularly predominant among right wing parties, as they do a better job at promoting women. Women like Meloni and Le Pen Are protected by the elite, because they support, the very pillars of male power and privilege, these women very often behave in the same way as the men in power. Meloni's slogan God, Fatherland, and Family echoes the man-dominated and conservative model dating back to the Italy of Mussolini in the 1920s. Meloni's politics should become more important than her gender, especially as she does not advance women's empowerment, on the contrary, her victory means a drawback for women's rights in Italy. Meloni is simply one more far-right candidate that has made it to power.
This should be worrying for Europe as a whole. There has been a constant failure to address the growing threat of the far-right movement at national and on a European level. In recent years, we have seen a slow and steady shift of European politics to the right, and the normalisation of a less inclusive and more racist and discriminatory discourse. This shift to the right should be seen as a ticking time bomb for the pillars of democracy. The pandemic and the current war in Ukraine have not helped the case for democracy.
There are rising living costs in the continent that are undermining governments and European institutions, and making people feel less satisfied with the way their countries are handling these issues. Crises have always been excellent breeding grounds for extremism, whatever political ideology it is. People are more scared during a crisis, allowing the politics or fear to work, and swing voters towards far-right extremists in particular. People that are more likely to vote for far-right alternatives, favour certainty and stability amidst societal changes. Change is perceived as a threat to conservative voters. Under current conditions, there are enough real or perceived changes for extremist to put the blame on. This is one of the greatest paradoxes and dangers of populism and extremism: it often identifies real problems, but seeks to replace them with something worse, the slow and almost imperceptible destruction of democratic values, institutions, and liberties.
The irony behind this is that although populists are usually extremely bad at running a country, the blame will never be placed on them. Populist leaders consolidate support by creating enemies and dividing the population between "us" and "them". Failure in public policies, inability to provide viable solutions to crises will never be attributed to their elected officials, but rather to the enemies they have decided to use as scapegoats. In this way, as populist governments are unlikely to solve crises, things will eventually worsen, and more crises are inevitable; meaning more fear is also unavoidable. This creates a vicious circle that provides populists and extremists with further opportunities for power.
If there is something to be learnt from the current shift in international politics to the right, is the fact that voting behaviour differs from country to country. All politics is local. Voters are influenced by charismatic leaders, local events, regional issues etc. However, when it comes to the rise of extremism, common ground can be found between countries: the existence of a political, economic, or social crisis. Some far-right narratives have been able to cross borders, namely, anti-immigration and white and male supremacism. The Europe of today may be very dissimilar to the Europe of the near future should far-right movement continue to attain power in most countries. Far-right populist parties are a pan-European concern that should be addressed if we want democracy to survive in the long run.
What lies ahead for Meloni's Italy
Not many would have predicted that 100 years after Benito Mussolini's Black Shirts marched on Rome, a leader claiming lineage from the same political ideology would ascend to power. Georgia Meloni is on her way to become the first woman Prime Minister of Italy, hailing from a party that emerged out of the neo-fascist Italian Social Movement (MSI). Her rise to power is as dramatic as that of the fascist dictator. Brothers of Italy, which Meloni founded in 2012, recorded a measly 4.3% of vote in the 2018 elections. In the four years since, the party has gained significant ground and is now set to win 26% of the vote in a coalition with Matteo Salvini's Lega and Silvio Berlusconi's Forza Italia. With the right wing coalition coming to power, major shifts in Italy's domestic and foreign policy are expected. But taking command at such a turbulent time will be a task easier said than done. Hence, it will be interesting to see what course Meloni's coalition might take.
As things stand, Italy is edging towards a major economic crisis. The continued war in Ukraine has terribly affected Italy's economic growth in the post-pandemic era. The rising prices of energy resources and supplies have held back household consumption, slowing the rate of recovery. The economic growth projection for 2022 stands at 2.5% while 2023 is estimated to see a further fall to a mere 1.2%. Italy's debt crisis has also severely worsened with rising interest rates in the post-pandemic years. The national debt currently stands at about $2.9 trillion which is estimated to rise steadily, touching $3 trillion i.e. around 150% of the GDP by the end of 2023.
In her election campaign, Meloni has addressed these economic woes with a populist vigour. Meloni advocates for a protectionist stance. Her policies include a business-friendly dispensation, steep tax cuts for all, early retirement and amnesties to settle tax disputes. While the right-wing coalition manifesto pledges ambitious spending plans, Meloni has promised to keep the public finances in check. Key to keeping the economy afloat and achieving these targets will be the new government's efforts to meet the reforms and targets agreed by the Draghi administration and the European Union to obtain the €750 billion Covid recovery and resilience fund. Meloni has already indicated that she will seek some changes to the agreed plans, making it a priority for her new coalition.
While Meloni will become Italy's first woman Prime Minister, her case presents an example of weaponising women empowerment to further autocracy. Under her leadership, Brothers of Italy has rolled back women's rights in the localities it governs. These rollbacks include making abortions harder to access. Her party's slogan – "God, Fatherland, Family" – is reflective of their intentions of leading a patriarchal setup in the guise of a woman leader. With their coalition coming to power, it is likely that Meloni and her party will continue on the route of further cutting back on women's rights and freedom.
The right-wing parties have stressed on the importance of Christian conservative familial values in their election campaign. This has resulted in vicious attacks on what Meloni calls "the LGBT lobbies" who have "harmed women and family by destroying gender identity." Last year, Brothers of Italy and Lega blocked ratification of the Zan bill which sought to categorise violence against the LGBTQ+ community as a hate crime. The two parties opposed the bill, calling it unnecessary and against freedom of expression.
Another part of Meloni's populist rhetoric are her claims of "ethnic substitution." She has repeatedly claimed that Italian identity is being erased by the globalists and EU officials, who have "conspired" to unleash "uncontrolled mass immigration." In the past, she has infamously proposed a naval blockade of the Mediterranean to stop migration to Italy. While the coalition has promised stricter border controls, blocking boat landings and establishing EU centres to evaluate asylum applications; they have also assured to regulate legal migration more smoothly, with initiatives to integrate recent immigrants.
Meloni's stance on the European Union has been the highlight of her election campaign. While she no longer advocates for a complete withdrawal from the organisation, Meloni is vehemently against its current state of operations. "I want a Europe that does fewer things and does them better, with less centralism, more subsidiarity, less bureaucracy, and more politics," she said. She has pushed for an 'Italy first' approach, countering the regional integration of the EU. Addressing a rally in Milan earlier this month, Meloni said, "In Europe they are a bit worried. The fun is over, Italy will start to defend its national interests, as others do." Meloni has indicated her support for Poland and Hungary in their current ongoing dispute with the European Commission and the European Court of Justice. She has previously made her admiration of Hungarian Prime Minister Viktor Orban clear, calling him a 'democratic leader' in the face of stark EU criticism over authoritarian measures.
While Meloni and her coalition have been critical of the European Union, it is unlikely that it will lead to drastic changes in the Italian policy towards EU integration. The economic challenges that the new government finds itself in will largely affect its decision making. To obtain a much needed relief fund from the organisation, it is important for the coalition to agree to certain terms proposed by the EU. Hence, while they can be a bit more assertive in their approach, complete rejection of the EU is not on the cards.
However, Italy's foreign policy is set to see new developments. Meloni has previously condemned Russia's war on Ukraine, supporting sanctions against Russia and supplying weapons to Ukraine. "It is the tip of the iceberg," she said, calling the conflict's objective as "revision of world order." Meloni has also been critical of China, condemning the country's "economic expansion measures." In 2019, Italy became the first major nation to participate in the Chinese Belt and Road Initiative (BRI), a programme to expand Beijing's economic outreach. Meloni has since criticised the pact as a "big mistake," indicating that Italy will re-evaluate its stance on the pact under her administration. She has also been vocal about the Taiwan issue, calling it an issue of "essential concern for Italy." She also described Chinese threats against the island "unacceptable," calling Taiwan and Italy's relationship a "sincere friendship."
Giorgia Meloni is not so different from the Trumps and Bolsonaros of our world. She gained popular support on the back of economic failure under the previous administrations and emerged as the clear winner once Mario Draghi resigned following the economic and political turmoil. Meloni fills the void that the centre-left parties have failed to address so far. She has presented herself as a new alternative against an opposition that now seems much distant from the needs and aspirations of the people. Her populist rhetoric has only helped to further fuel her rise to power. Facing economic catastrophe for the longest time, the Italians now demand security and stability. However, her anti-immigration and anti-EU policies do not present an answer to the problems Italy faces. Her populist rhetoric is highly unfortunate and raises the threat for hate crimes in the future. Her authoritarian stance coupled with the 'Italy first' rhetoric will not fare well in the future. In deep economic stress, Italy needs to welcome immigrants who can actively contribute to their economy and stabilise the turbulent waters.
Furthermore, Meloni's election presents a threat to the democratic system in Italy. The right-wing coalition is in a position to negotiate a constitutional amendment that approves the President to be elected directly by the people. Currently, the President is elected by an electoral college which was setup in 1948 as a measure to prevent the future possibility of a government takeover by the fascist forces. While the Presidency is a figurehead role in the country, Brothers of Italy have advocated for a more robust head of state with a popular mandate. This advocacy for "Presidentialism" may have grave repercussions for Italy's democratic setup, making the President a politically motivated role which will severely affect the system of checks and balances in the present system.
It is difficult to say whether Meloni's coalition will be able to weather the storm in the coming years but one thing that is certain is that this election is one for the history books where victors are set to write the fate of Italy, once again.