With Gaza violence 'escalating as we speak,' UN envoy calls for 'immediate stop'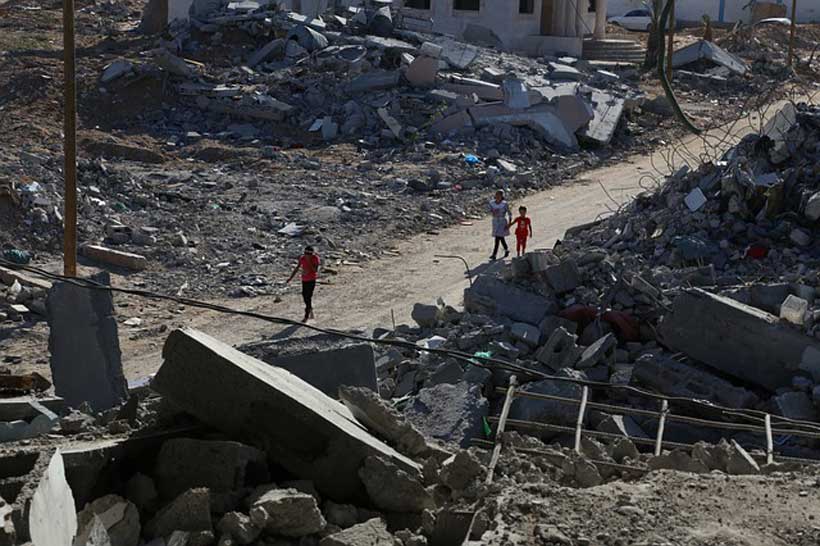 It is no longer enough to reaffirm past agreements on resolving the Israeli-Palestinian conflict, according to a senior UN envoy, who said on Monday that it is time to "find our way back to a mutually agreed mediation framework" to resume meaningful negotiations towards a two-State solution.
"While there may be different interpretations and proposals how, this remains our shared objective", UN Special Coordinator for the Middle East Peace Process Nickolay Mladenov said, briefing the UN Security Council via video conference from Jerusalem.
Before updating the members on the situation on the ground, he began by detailing a developing situation that began over the weekend after Israeli Defence Forces (IDF) said it had fired at two Palestinian Islamic Jihad militants who were attempting to plant an explosive device along the Gaza perimeter fence.
"Since then more than 60 rockets have been fired by Palestinian Islamic Jihad militants towards Israel. As of now, the IDF is responding by conducting multiple airstrikes in the Strip," Mr. Mladenov explained.
"The situation is escalating as we speak with continuing projectiles being fired from Gaza and retaliatory Israeli airstrikes."
He called for "an immediate stop" to the firing of rockets and mortars that "only risk dragging Gaza into another round of hostilities with no end in sight".
"The indiscriminate launching of rockets against civilian population centres violates international law and must end", stressed the UN envoy.
He elaborated on security, humanitarian and political crises in the enclave, including restrictions that are contributing to an "ongoing health disaster in the Gaza Strip".
"According to local interlocutors, as of the end of January, stock levels for 46 per cent of essential medicines have been completely depleted", highlighted Mr. Mladenov.
While $1.2 million worth of medicines were subsequently allowed to enter to "somewhat alleviate the dire situation", he encouraged the Palestinian government to work with the UN and increase its efforts to help resolve the health crisis.
West Bank
Turning to the West Bank where "violence has also continued", the UN envoy painted a picture of clashes and death, including of children.
"Violence against civilians, and particularly against children, is unacceptable, and must be condemned by all", asserted Mr. Mladenov. "All incidents must be thoroughly investigated".
The situation around the Holy Sites in Jerusalem also remained tense
Amidst calls by religious and political leaders for Palestinians to pray en masse at Muslim sites, he updated that "there were limited clashes and arrests reported, including after Friday prayers" and the police arrested a former Israeli Knesset Member for ignoring police directives while visiting the site.
Edging away from two-State solution
With no meaningful bilateral negotiations on the horizon, developments on the ground continued to undermine prospects for a two-State solution.
Moreover, Israeli authorities continued to evict people from their homes, seize and demolish structures, and approve plans for building further settlements.
If implemented, the latest constructions would consolidate a ring of settlements cutting between East Jerusalem and Bethlehem, significantly constraining the possibility of a future contiguous Palestinian State.
"I reiterate that all settlements are illegal under international law and remain a substantial obstacle to peace", the UN envoy reminded.
Meanwhile, Israeli and United States officials have formed a joint committee to produce detailed maps of relevant areas of the occupied West Bank to advance annexation.
This would have a devastating impact on the prospect for a two-State solution.
"They would close the door to negotiations, have negative repercussions across the region, and severely undermine opportunities for normalization and regional peace", Mr. Mladenov underscored.
Other updates
Protests continue throughout Lebanon and a serious incident occurred in which some 15 people blocked a UNIFIL (UN Interim Force in Lebanon) patrol, seized items and injured one peacekeeper.
An in the Golan, recent developments involved a ceasefire breach and continued volatility.
"UNDOF (UN Disengagement Observer Force) engaged both parties in order to prevent an escalation of tensions and reminded them of their obligation to respect the 1974 Disengagement of Forces Agreement", which, among other things, established a separation zone.
As negative trends continue, Mr. Mladenov reaffirmed the UN's commitment to supporting a peaceful future for the Middle East and underscored that the Organization's "preventive diplomacy efforts continue to play an integral role" on the ground.
An Education Reform Path for Lebanon
Lebanon needs to urgently embark on a comprehensive reform agenda that puts students at the center of the education sector and prioritizes quality of education for all, according to a new World Bank report released today. Low levels of learning and skills mismatch in the job market have put the future of generations of Lebanese children at risk and imply a critical need for more and better targeted investments in the sector.
The report, titled "Foundations for Building Forward Better: An Education Reform Path for Lebanon", presents an overview of key challenges facing the education sector. It provides evidence-based solutions founded on a diagnostic of the factors contributing to the learning crisis and proposes policy reform recommendations over the short- and medium- to long-terms. The proposed reform plan is in line with the objectives of the Ministry of Education and Higher Education's 5-year draft sector plan, which aims to improve equity, learning outcomes, and governance in education. The report also draws from the latest available education sector research, including studies conducted under the Research for Results Program launched back in 2016.
The compounded crises that have assailed Lebanon over the past several years –Syrian refugee influx, economic and financial crisis, the COVID-19 pandemic, and the Port of Beirut blast– have all put severe strains on an already struggling education system. Pre-COVID-19 learning levels were already comparatively low, with only 6.3 years of learning taking place, after schooling is adjusted for actual learning. The global pandemic has led to extended school closures since March 2020, which will likely result in a further and significant decrease in learning. Effectively, students in Lebanon are facing a "lost year" of learning. Despite efforts to reopen schools, a more systematic approach for planning at the district level, in close collaboration with regional education office directors, is needed as the response requires local solutions.
"Lebanon needs to urgently reform the education sector and build forward better," said Saroj Kumar Jha, World Bank Mashreq Regional Director. "Now more than ever, Lebanon needs to invest more and better in improving learning outcomes for children and making sure Lebanese youth are well equipped with the right skills required by the job market to enable them to contribute to Lebanon's economic recovery".
The multiple crises and the resulting increase in poverty rates, with more than half the population likely below the national poverty line, have also directly impacted demand for education and student retention. The contraction in the economy, plummeting purchasing power and the steep deterioration in living conditions will likely lead more parents to shift their children to public schools in the coming years, as well as higher student drop-outs, especially among marginalized households. The report presents key aspects for restructuring the education sector financing in support of a more efficient and equitable system and to prevent further learning loss.
The report puts forward for discussion sector-wide mid-term reform recommendations across seven key strategic areas: I) Restructuring Sector Financing; II) Diagnostics to Support Overcoming the Learning Crisis; III) Improvements of Teacher Utilization and Quality of Teaching; IV) School Environment and School Accountability Measures; V) Education Strategy and Curriculum Reform; VI) Early Childhood Education; and VII) School to Work Transitions and Youth. These recommendations for action tackle key challenges within the sector and approaches towards addressing the growing learning crisis and meeting the increased demand for public education in the country while regaining equity and efficiency.
First international treaty to address violence and harassment comes into force
The first international treaty on violence and harassment in the world of work comes into force on June 25th 2021 – two years after it was adopted by the ILO's International Labour Conference (ILC).

To date, six countries have ratified the Violence and Harassment Convention, 2019 (No. 190) – Argentina, Ecuador, Fiji, Namibia, Somalia and Uruguay. Ratifying countries are legally bound by the provisions of the Convention a year after ratification.

Together with Recommendation No. 206 , Convention No. 190 recognizes the right of everyone to a world of work free from violence and harassment and provides a common framework for action.
It provides the first international definition of violence and harassment in the world of work, including gender-based violence and harassment.

Violence and harassment at work takes a range of forms and leads to physical, psychological, sexual and economic harm. Since the adoption of the Convention, the COVID-19 pandemic has further highlighted the issue, with many forms of work-related violence and harassment being reported across countries since the outbreak began, particularly against women and vulnerable groups.

To mark its entering into force the ILO will launch a global campaign to promote its ratification and implementation. The campaign aims to explain in simple terms what the Convention is, the issues it covers and how it seeks to address violence and harassment in the world of work.
"A better future of work is free of violence and harassment," said Guy Ryder, the ILO Director-General in his message to launch the global campaign.

"Convention 190 calls on all ILO Member States to eradicate violence and harassment in all its forms from the world of work. I urge countries to ratify the Convention and help build, together with employers and workers and their organizations, a dignified, safe and healthy working life for all."

The global campaign will be launched during the ILO Action Week on Convention No. 190 , which takes place 21-25 June 2021.

The Action Week calls for renewed commitment from countries to ratify and implement the Convention.

The Action Week begins on 21 June with a virtual high-level dialogue . The speakers will include the ILO Director-General, Ministers of Labour from Argentina and Madagascar, and representatives of the International Organisation of Employers (IOE), the International Trade Union Confederation (ITUC) and the Inter-Parliamentary Union (IPU).

Following the Action Week, the ILO will launch a guide aimed at helping constituents and other stakeholders promote and implement the Convention and Recommendation. The guide covers core principles and measures that countries can take to prevent, address and eliminate violence and harassment in the world of work, including examples of national laws, regulations and policies.
A beginner's guide to sustainable farming
Industrialized farming has been a reliable way to produce lots of food at a relatively low cost. But it's not the bargain it was once believed to be. Unsustainable agriculture can pollute water, air and soil; is a source of greenhouse gases, and destroys wildlife. All told that costs economies about $3 trillion every year. And to top it all off, some farming practices have been linked to the emergence of zoonotic diseases, such as COVID-19.
18 June is Sustainable Gastronomy Day, which celebrates local cuisine that is produced in ways that are both environmentally friendly and minimize waste. To mark the occasion, we take a closer look at how to make agriculture more sustainable and what that would mean for the economy, the environment and human health.
What exactly is sustainable agriculture?
It is farming that meets the needs of existing and future generations, while also ensuring profitability, environmental health and social and economic equity. It favours techniques that emulate nature–to preserve soil fertility, prevent water pollution and protect biodiversity. It is also a way to support the achievement of global objectives, like the Sustainable Development Goals and Zero Hunger.
Does sustainable agriculture really make a difference to the environment?
Yes. It uses up to 56 per cent less energy per unit of crops produced, creates 64 per cent fewer greenhouse gas emissions per hectare and supports greater levels of biodiversity than conventional farming.
Why does sustainably produced food seem more expensive?
It may be more costly because it is more labour-intensive. It is often certified in a way that requires it to be separated from conventional foods during processing and transport. The costs associated with marketing and distribution of relatively small volumes of product are often comparatively high. And, sometimes, the supply of certain sustainably produced foods is limited.
Why are some foods so much more affordable–even when they require processing and packaging?
The heavy use of chemicals, medicines and genetic modification allows some foods to be produced cheaply and in reliably high volumes, so the retail price tag may be lower. But this is deceiving because it does not reflect the costs of environmental damage or the price of healthcare that is required to treat diet-related diseases. Ultra-processed foods are often high in energy and low in nutrients and may contribute to the development of heart disease, stroke, diabetes and some forms of cancer. This is particularly concerning amid the COVID-19 pandemic; the disease is especially risky for those with pre-existing health problems.
Do we all have to be vegan?
No. But most of us should eat less animal protein. Livestock production is a major cause of climate change and in most parts of the world, people already consume more animal-sourced food than is healthy. But even small dietary shifts can have a positive impact. The average person consumes 100 grams of meat daily. Reducing that by 10 grams could improve human health while reducing greenhouse gas emissions.
Is sustainable agriculture possible in developing countries?
Yes. Because sustainably produced food is typically more labour-intensive than conventionally made food, it has the potential to create 30 per cent more jobs. And because it can command higher prices, it can also generate more money for farmers.
Is it possible to make sustainably produced food that is affordable for everyone?
Yes. As demand for certain foods increases, the costs associated with production, processing, distribution and marketing will drop, which should make them less expensive for consumers. Policymakers can also play a role, facilitating market access and leveling the financial and regulatory playing field.
If it is so important, why hasn't sustainable farming been adopted as a global standard?
There is a lack of understanding of the way that agriculture, the environment and human health intersect. Policymakers do not typically consider nature as a form of capital, so legislation is not designed to prevent pollution and other kinds of environmental degradation. And consumers may not realize how their dietary choices affect the environment or even their own health. In the absence of either legal obligations or consumer demand, there is little incentive for producers to change their approach.
What are some ways to consume food more sustainably?
Diversify your diet and cook more meals at home. Eat more plant-based foods; enjoy pulses, peas, beans and chickpeas as sources of protein. Eat local, seasonal foods. Purchase sustainably produced foods and learn more about farming practices and labeling. Avoid excessive packaging, which is likely to end up as landfill. Don't waste food: eliminating food waste could reduce global carbon emissions by 8-10 per cent. Cultivate your own garden, even if it is a small one in your kitchen. Support organizations, policies and projects that promote sustainable food systems. And discuss the importance of healthy and sustainable foods with producers, vendors, policymakers, friends and family.