With Gaza violence 'escalating as we speak,' UN envoy calls for 'immediate stop'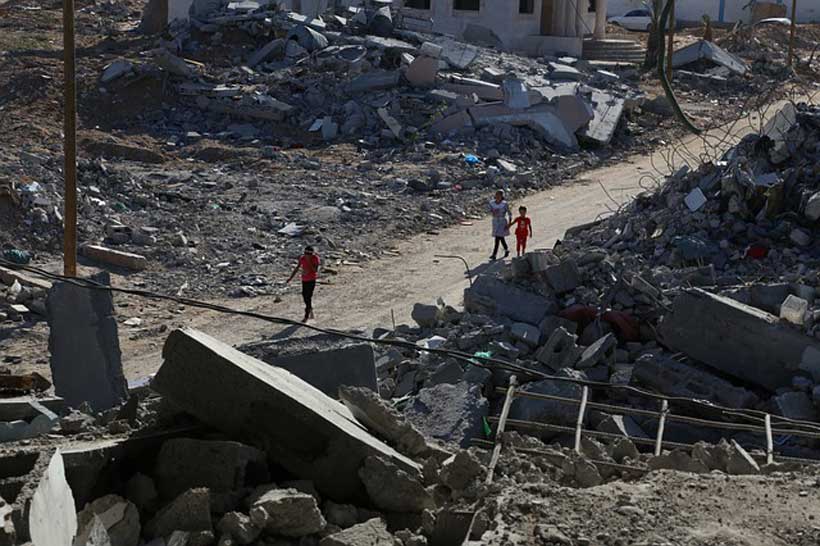 It is no longer enough to reaffirm past agreements on resolving the Israeli-Palestinian conflict, according to a senior UN envoy, who said on Monday that it is time to "find our way back to a mutually agreed mediation framework" to resume meaningful negotiations towards a two-State solution.
"While there may be different interpretations and proposals how, this remains our shared objective", UN Special Coordinator for the Middle East Peace Process Nickolay Mladenov said, briefing the UN Security Council via video conference from Jerusalem.
Before updating the members on the situation on the ground, he began by detailing a developing situation that began over the weekend after Israeli Defence Forces (IDF) said it had fired at two Palestinian Islamic Jihad militants who were attempting to plant an explosive device along the Gaza perimeter fence.
"Since then more than 60 rockets have been fired by Palestinian Islamic Jihad militants towards Israel. As of now, the IDF is responding by conducting multiple airstrikes in the Strip," Mr. Mladenov explained.
"The situation is escalating as we speak with continuing projectiles being fired from Gaza and retaliatory Israeli airstrikes."
He called for "an immediate stop" to the firing of rockets and mortars that "only risk dragging Gaza into another round of hostilities with no end in sight".
"The indiscriminate launching of rockets against civilian population centres violates international law and must end", stressed the UN envoy.
He elaborated on security, humanitarian and political crises in the enclave, including restrictions that are contributing to an "ongoing health disaster in the Gaza Strip".
"According to local interlocutors, as of the end of January, stock levels for 46 per cent of essential medicines have been completely depleted", highlighted Mr. Mladenov.
While $1.2 million worth of medicines were subsequently allowed to enter to "somewhat alleviate the dire situation", he encouraged the Palestinian government to work with the UN and increase its efforts to help resolve the health crisis.
West Bank
Turning to the West Bank where "violence has also continued", the UN envoy painted a picture of clashes and death, including of children.
"Violence against civilians, and particularly against children, is unacceptable, and must be condemned by all", asserted Mr. Mladenov. "All incidents must be thoroughly investigated".
The situation around the Holy Sites in Jerusalem also remained tense
Amidst calls by religious and political leaders for Palestinians to pray en masse at Muslim sites, he updated that "there were limited clashes and arrests reported, including after Friday prayers" and the police arrested a former Israeli Knesset Member for ignoring police directives while visiting the site.
Edging away from two-State solution
With no meaningful bilateral negotiations on the horizon, developments on the ground continued to undermine prospects for a two-State solution.
Moreover, Israeli authorities continued to evict people from their homes, seize and demolish structures, and approve plans for building further settlements.
If implemented, the latest constructions would consolidate a ring of settlements cutting between East Jerusalem and Bethlehem, significantly constraining the possibility of a future contiguous Palestinian State.
"I reiterate that all settlements are illegal under international law and remain a substantial obstacle to peace", the UN envoy reminded.
Meanwhile, Israeli and United States officials have formed a joint committee to produce detailed maps of relevant areas of the occupied West Bank to advance annexation.
This would have a devastating impact on the prospect for a two-State solution.
"They would close the door to negotiations, have negative repercussions across the region, and severely undermine opportunities for normalization and regional peace", Mr. Mladenov underscored.
Other updates
Protests continue throughout Lebanon and a serious incident occurred in which some 15 people blocked a UNIFIL (UN Interim Force in Lebanon) patrol, seized items and injured one peacekeeper.
An in the Golan, recent developments involved a ceasefire breach and continued volatility.
"UNDOF (UN Disengagement Observer Force) engaged both parties in order to prevent an escalation of tensions and reminded them of their obligation to respect the 1974 Disengagement of Forces Agreement", which, among other things, established a separation zone.
As negative trends continue, Mr. Mladenov reaffirmed the UN's commitment to supporting a peaceful future for the Middle East and underscored that the Organization's "preventive diplomacy efforts continue to play an integral role" on the ground.
New guidelines to help employers support families during COVID-19
New guidelines for businesses, to help them support working families during the COVID-19 pandemic , have been issued by the International Labour Organization (ILO) and the United Nations Children's Fund (UNICEF) .

The preliminary guidance urges employers to consider the impact of business decisions on workers' families, and to support greater social protection wherever possible. They say that extra support, particularly for those on low incomes, is essential to minimize the negative consequences of the outbreak for workers, employers, their families and children.

Finding safe childcare, juggling work and care responsibilities at home, and coping with a loss of income, are among the challenges facing families.

Women are also disproportionately affected by the pandemic. They make up the majority of health and care workers and are more likely to lack social protection. Before the COVID-19 outbreak women were already performing more than three-quarters of unpaid care work globally and that is likely to have increased.

ILO and UNICEF are also calling on governments to support employers and strengthen social protection, especially for vulnerable families. Family-friendly policies and practices, including employment and income protection, flexible working arrangements, paid leave to care for family members and access to quality, emergency childcare can make a critical difference and help stabilize labour markets, families and societies.

"Social dialogue – consultation and collaboration among governments, workers and employers and their representatives – is essential. If responses are to be effective and sustainable, they have to be built on trust and a wide range of experiences," said Manuela Tomei, Director of the ILO's Conditions of Work and Equality Department.

International labour standards provide a strong foundation for the policy responses needed for sustained and equitable recovery. They encapsulate the idea of a human-centred approach to economics and development, and balance the requirements of stimulating demand, supporting businesses and protecting workers.

"The secondary impacts of the pandemic – job losses, prolonged stress and a deterioration of mental health – will be felt by families for years to come," said UNICEF Chief of Early Childhood Development Dr. Pia Rebello Britto. "For the most vulnerable children, the absence of adequate social protection systems exacerbates their exposure to the crisis."

The preliminary guidelines for employers include:
Monitor and follow national advice from local and national authorities and communicate it to the workforce.
Review existing workplace policies to ensure they provide sufficient support to workers and their families.
Follow good practices when implementing policies based on social dialogue, national labour laws and international labour standards. Ensure that workplace support measures are available to all, without discrimination, and that all workers know, understand, and are comfortable with them.
Combat discrimination and social stigma at work by supporting training, and confidential and safe reporting mechanisms.
Adopt family-friendly working arrangements to give workers greater freedom and flexibility to carry out their work. If flexible working is not possible, consider other forms of support for working parents, such as childcare.
Support working parents with appropriate childcare options and ensure that childcare jobs are quality jobs.
Strengthen occupational safety and health measures, including with guidance and training on occupational safety and health and hygiene.
Encourage workers to seek appropriate medical care and support employees coping with stress.
Support government social protection measures in line with the ILO Social Security (Minimum Standards) Convention, 1952 (No. 102) and ILO Social Protection Floors Recommendation No. 202 . This can include subsidies for workers to access health, unemployment and inability to work insurance, maternity protection, and should extend to workers in the informal economy.
Disinformation: How to recognise and tackle Covid-19 myths
The outbreak of the coronavirus has led to disinformation that hampers efforts to contain the pandemic. Read on to find out what you can do.
From the original claim that the virus spread through bat-soup, to heated reports of EU countries fighting each other for dwindling supplies of medical equipment, these claims are everywhere.
The World Health Organization (WHO) said false claims "are spreading faster than the virus" and has already termed it an "infodemic of planetary proportions". Major online platforms are already acting to limit their reach.
How can you recognise disinformation and how can you help stop it from spreading? What is the EU doing about it? Find the answers in our Q&A.
What is the EU doing to tackle disinformation?
To support factual and reliable information, there is a joint EU page about Europe's response to the virus, which will soon include special information to correct common myths linked to the outbreak.
In addition, experts and politicians from the EU and its member states regularly hold video conferences to discuss disinformation and share methods to inform people about the risks, and how to address them. There is also pressure on online platforms to take action against online scams.
Why do people intentionally put out false information?
Some people do it for profit. It could be to sell products that do not work or to attract more visitors to their webpages, increasing income from ads.
According to a report by the EU's special anti-disinformation team, some false claims have originated from specific political forces, including the US "alt" right, China and Russia. In these cases, the aim is political, to undermine the European Union or to create political shifts.
However, many people spreading disinformation do so, because they believe it, without intending harm.
Is disinformation about Covid-19 really that dangerous?
At a time when many people are worried and getting shocking news, it is more difficult to remain calm and fact-check as needed.
In the past, misinformation about vaccines led parents to opt out of vaccinating their children against measles and other dangerous diseases, leading to an explosion in new measles cases.
Even if people don't believe the misinformation, it may undermine the concepts of truth and expertise, so that a spontaneous tweet by someone without a clue is valued as much as a thorough analysis by an expert.
What can I do to prevent the spread of disinformation?
Disinformation depends on people believing it and sharing. And it is easy to be fooled. To make sure you do not spread disinformation, be extra careful when sharing news that elicits a strong reaction or that seems too good or too bad to be true. An easy first check is to search the internet to see if more than one reliable source is reporting about the same thing.
What can I do if I see or hear someone share disinformation?
You can report disinformation to the social media platform where you found it. Many social media companies have committed to work against coronavirus-related disinformation.
Also, talk to the person spreading it: it was probably unintentional. Researchers say that the best way to convince people who believe in conspiracy theories is to show empathy, appeal to the person's critical thinking and avoid ridiculing them.
The World Bank Strengthens Support to Argentina's Most Vulnerable Families
The World Bank Board of Directors today approved a new US$ 300 million operation to support Argentina's efforts to strengthen its social protection system and minimize the impact of the crisis on the most vulnerable families.
The additional US$300 million in financing for the "Children and Youth Protection Project" seeks to improve coverage of family allowance programs administered by the National Social Security Administration (ANSES) and to accelerate the process to include 350,000 children who are still not covered by the Universal Child Allowance (AUH). It will also support the introduction of improvements in ANSES processes to guarantee continued coverage, especially when a parent loses a formal job.
"We appreciate the support of the World Bank in one of the topics on the agenda of the national government's strategic priorities, which is to accompany those who have the least. This project advances in that direction,". said Gustavo Beliz, Argentina's Strategic Planning Secretary.
"Argentina is struggling with Covid 19, which creates new public investment demands. In response to this difficult health and financial situation, the World Bank is supporting investments to protect the most vulnerable population," said Jordan Schwartz, World Bank Director for Argentina, Paraguay and Uruguay. "This financing aims to make the social protection system more inclusive and effective, and to prevent families from slipping into poverty, or assisting them once that has occurred."
The World Bank has supported the AUH program since it was first implemented in 2009. The program forms part of the broader ANSES family allowance system. This benefit is paid for each child under age 18 whose parents are unemployed or informally employed, or who are independent workers or domestic workers and who earn less than the minimum wage. Currently, more than four million children receive the AUH benefit and nearly nine million are covered by the group of family allowances. Participation in the program has increased beneficiaries' school attendance and fulfilment of medical checkups.
Since 2016, the "Children and Youth Protection Project" has successfully contributed to closing AUH coverage gaps. Initially, over 1.5 million children could not be included in the eligibility process of ANSES programs – today the challenge is to include the 350,000 remaining children.
The additional project financing is a variable-spread loan with a 32-year maturity period and a seven-year grace period.