With Gaza violence 'escalating as we speak,' UN envoy calls for 'immediate stop'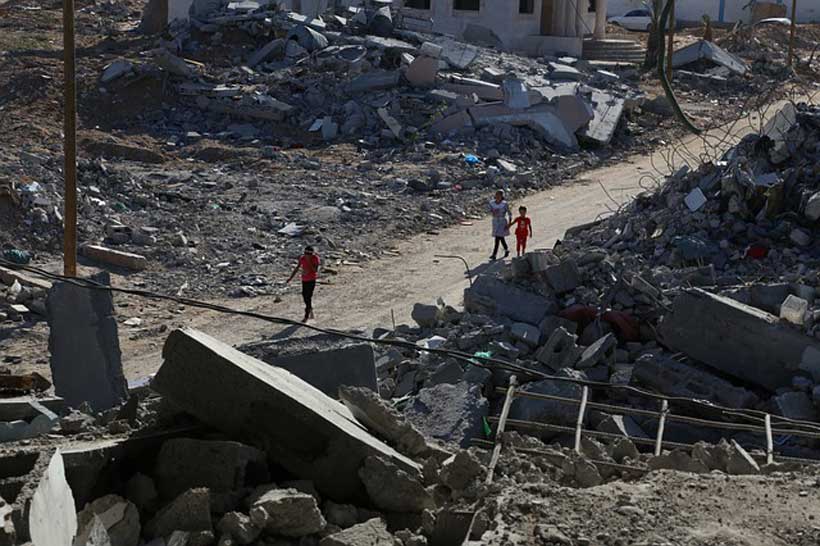 It is no longer enough to reaffirm past agreements on resolving the Israeli-Palestinian conflict, according to a senior UN envoy, who said on Monday that it is time to "find our way back to a mutually agreed mediation framework" to resume meaningful negotiations towards a two-State solution.
"While there may be different interpretations and proposals how, this remains our shared objective", UN Special Coordinator for the Middle East Peace Process Nickolay Mladenov said, briefing the UN Security Council via video conference from Jerusalem.
Before updating the members on the situation on the ground, he began by detailing a developing situation that began over the weekend after Israeli Defence Forces (IDF) said it had fired at two Palestinian Islamic Jihad militants who were attempting to plant an explosive device along the Gaza perimeter fence.
"Since then more than 60 rockets have been fired by Palestinian Islamic Jihad militants towards Israel. As of now, the IDF is responding by conducting multiple airstrikes in the Strip," Mr. Mladenov explained.
"The situation is escalating as we speak with continuing projectiles being fired from Gaza and retaliatory Israeli airstrikes."
He called for "an immediate stop" to the firing of rockets and mortars that "only risk dragging Gaza into another round of hostilities with no end in sight".
"The indiscriminate launching of rockets against civilian population centres violates international law and must end", stressed the UN envoy.
He elaborated on security, humanitarian and political crises in the enclave, including restrictions that are contributing to an "ongoing health disaster in the Gaza Strip".
"According to local interlocutors, as of the end of January, stock levels for 46 per cent of essential medicines have been completely depleted", highlighted Mr. Mladenov.
While $1.2 million worth of medicines were subsequently allowed to enter to "somewhat alleviate the dire situation", he encouraged the Palestinian government to work with the UN and increase its efforts to help resolve the health crisis.
West Bank
Turning to the West Bank where "violence has also continued", the UN envoy painted a picture of clashes and death, including of children.
"Violence against civilians, and particularly against children, is unacceptable, and must be condemned by all", asserted Mr. Mladenov. "All incidents must be thoroughly investigated".
The situation around the Holy Sites in Jerusalem also remained tense
Amidst calls by religious and political leaders for Palestinians to pray en masse at Muslim sites, he updated that "there were limited clashes and arrests reported, including after Friday prayers" and the police arrested a former Israeli Knesset Member for ignoring police directives while visiting the site.
Edging away from two-State solution
With no meaningful bilateral negotiations on the horizon, developments on the ground continued to undermine prospects for a two-State solution.
Moreover, Israeli authorities continued to evict people from their homes, seize and demolish structures, and approve plans for building further settlements.
If implemented, the latest constructions would consolidate a ring of settlements cutting between East Jerusalem and Bethlehem, significantly constraining the possibility of a future contiguous Palestinian State.
"I reiterate that all settlements are illegal under international law and remain a substantial obstacle to peace", the UN envoy reminded.
Meanwhile, Israeli and United States officials have formed a joint committee to produce detailed maps of relevant areas of the occupied West Bank to advance annexation.
This would have a devastating impact on the prospect for a two-State solution.
"They would close the door to negotiations, have negative repercussions across the region, and severely undermine opportunities for normalization and regional peace", Mr. Mladenov underscored.
Other updates
Protests continue throughout Lebanon and a serious incident occurred in which some 15 people blocked a UNIFIL (UN Interim Force in Lebanon) patrol, seized items and injured one peacekeeper.
An in the Golan, recent developments involved a ceasefire breach and continued volatility.
"UNDOF (UN Disengagement Observer Force) engaged both parties in order to prevent an escalation of tensions and reminded them of their obligation to respect the 1974 Disengagement of Forces Agreement", which, among other things, established a separation zone.
As negative trends continue, Mr. Mladenov reaffirmed the UN's commitment to supporting a peaceful future for the Middle East and underscored that the Organization's "preventive diplomacy efforts continue to play an integral role" on the ground.
Impact of COVID-19 on Commodity Markets Heaviest on Energy Prices
While metal and agricultural commodities have recouped their losses from the COVID-19 pandemic and are expected to make modest gains in 2021, energy prices, despite some recovery, are expected to stabilize below pre-pandemic levels next year, the World Bank said.
Oil prices fell dramatically in the early stages of COVID-19 and have only partially regained pre-pandemic price levels, while metal prices declined relatively modestly and have returned to levels that preceded the shock, according to the semi-annual Commodity Markets Outlook report. Agriculture prices were relatively unaffected by the pandemic, but the number of people at risk of food insecurity has risen as a result of the broader effects of the global recession.
"The impact of COVID-19 on commodities has been uneven, and could have lasting effects for energy markets," said Ayhan Kose, World Bank Group Acting Vice President for Equitable Growth, Finance & Institutions and Director for the Prospects Group. "When declines in commodity prices are short-lived, policy stimulus can buffer their impact. However, when prices remain depressed for an extended period, policy makers need to find solutions so their economies can adjust smoothly to a new normal. Because of COVID-19, the new normal for oil-exporting emerging and developing economies arrived earlier. In the post-COVID world, these countries need to be more aggressive in implementing policies to reduce their reliance on oil revenues."
Oil prices are expected to average $44 per barrel in 2021, up from an estimated $41 per barrel in 2020. Demand is expected to rise only slowly as tourism and travel continue to be held back by health concerns and as global economic activity is anticipated to return to pre-pandemic levels only in the year after next. Supply restraint is expected to be eased steadily. Energy prices overall —which also include natural gas and coal—are expected to rebound sizably in 2021, following large declines in 2020, an upward revision from April's forecast. A resurgence of a second wave of the pandemic that results in more lockdowns and less consumption, and delays in vaccine development and distribution, could lead to lower energy prices than forecast.
Metal prices are expected to post modest increases in 2021 after falling in 2020, supported by the ongoing recovery in the global economy and continued stimulus from China. A prolonged period of weak global growth would lead to lower prices than forecast.
Agriculture prices are expected to rise slightly in 2021, following an estimated 3% increase in 2020 following some shortfall in edible oil production. Concerns about food insecurity remain relevant in several emerging market and developing economies. These concerns are prompted by hits to incomes from the global recession, bottlenecks in food availability at the local level, and border restrictions that have constrained labor supply. Food price inflation has spiked in several countries.
The pandemic is only the latest in a long history of shocks to commodity markets. A Special Focus looks at the nature of commodity price shocks on 27 commodities during 1970-2019. It finds that highly persistent ("permanent") and short-lived ("transitory") shocks have contributed almost equally to commodity price variation, although with wide variety across commodities. Permanent shocks account for most of agricultural commodity price variability while transitory shocks are more relevant in industrial commodity prices. The varied duration of such shocks points to a need for policy flexibility.
A transitory commodity price shock may call for stimulative fiscal policy to smooth consumption; countries that depend on exports of commodities subject to cyclical price swings may want to build fiscal buffers during the boom phase and use them in the bust period to support economic activity. In countries that rely heavily on commodities that are subject to permanent shocks, structural policies such as economic diversification and broadening the tax base may be needed to facilitate adjustments to new economic environments.
Pakistan: Stronger Public Financial Management and Digital Services to Support Growth
Today, the World Bank's Board of Executive Directors approved $304 million in financing for Punjab Resource Improvement and Digital Effectiveness Program (PRIDE). The program supports efficiencies in public resource management that generate savings and create fiscal space for growth-generating investments in the Punjab province.
"The PRIDE program is integral to the World Bank's whole-of-country approach in helping Pakistan strengthen public financial management systems at the federal and provincial levels," said Najy Benhassine, World Bank Country Director for Pakistan. "Punjab is the largest province, accounting for 55 percent of the population and about 60 percent of the economy, so improving quality and access to public services is key to Pakistan's development."
The PRIDE Program will support the government of Punjab in strengthening fiscal risk management and budget formulation to ensure reliable resource allocation for public services. The program will improve revenue collection by increasing registration of businesses and real estate, and simplifying tax administration processes such as registration, filing, payment, refunds and appeals.
In the wake of COVID-19 pandemic, the program also focuses on deploying technology-based solutions to enhance public service delivery and increase access to online services for firms and individuals. This will support Punjab in digitizing key government services to streamline processes and increase efficiencies in the public service delivery.
"With prolonged restrictions on face-to-face services due to COVID-19, the PRIDE program will help the provincial government expand its existing citizen feedback model and accelerate the use of technology for revenue mobilization and public procurement," said Akmal Minallah, Task Team Leader for the program. "The program also puts in place monitoring and transparency mechanisms at the provincial and local levels that increase government accountability."
PRIDE supports the Punjab Growth Strategy and the Punjab Public Financial Management Reforms Strategy, which both aim at developing a robust public financial management system. The program also aligns with the Responsive Investment for Social Protection and Economic Stimulus that the government of Punjab designed to stimulate recovery from the pandemic and increase resilience to future shocks. Together with PRIDE, these initiatives layout a roadmap for Punjab to accelerate digitization of government services and ensure business continuity during emergencies.
The World Bank in Pakistan
Pakistan has been a member of the World Bank since 1950. Since then, the World Bank has provided $40 billion in assistance. The World Bank's program in Pakistan is governed by the Country Partnership Strategy for FY2015-2020 with four priority areas of engagement: energy, private sector development, inclusion, and service delivery. The current portfolio has 53 projects with a net commitment of $10.5 billion.
Vietnam Signs Landmark Deal with World Bank to Cut Carbon Emissions
Vietnam's Ministry of Agriculture and Rural Development signed a landmark agreement today with the World Bank's Forest Carbon Partnership Facility (FCPF), unlocking up to US$51.5 million for Vietnam's efforts to reduce carbon emissions from deforestation and forest degradation between now and 2025. With this Emission Reductions Payment Agreement (ERPA) in place, Vietnam is expected to reduce 10.3 million tons of carbon dioxide emissions from six North Central Region provinces of Thanh Hoa, Nghe An, Ha Tinh, Quang Binh, Quang Tri and Thua Thien Hue to receive $51.5 million from the FCPF.
"Vietnam has shown tremendous leadership in developing robust programs to deliver forest emission reductions at scale," saidCarolyn Turk, World Bank Country Director for Vietnam. "This agreement marks the beginning of a new chapter for Vietnam, where new and significant incentives for forest protection and improved management are now in place to help the country meet its ambitious climate targets."
Vietnam's Emission Reductions Program is designed to address the underlying causes of forest loss in the country's North Central Region and by so doing reducing emissions from deforestation and forest degradation. The program will also support forest restoration. The region was chosen for its critical biodiversity importance and socio-economic status. The program area covers 5.1 million hectares of land (16 percent of the land area of the country), of which 3.1 million hectares are currently forested, and includes five internationally recognized conservation corridors. It is home to approximately 10.5 million people, nearly one third of whom live below the national poverty line.
"Vietnam's program follows a preparation phase that built our readiness to engage in an emission reduction payment agreement of this kind and is a step towards full implementation of forest carbon services in Vietnam. This agreement highlights the collaboration between Vietnam, FCPF and the World Bank to meet international climate targets laid out in the Paris Agreement," said Ha Cong Tuan, Standing Vice Minister of Agriculture and Rural Development. "Our program will mobilize important additional financing to invest in our forests and reduce forest degradation while generating income for forest owners and improving sustainable development in the North Central Region."
Vietnam is the first country in Asia-Pacific and fifth globally to reach such a milestone agreement with the FCPF. ERPAs are innovative instruments that incentivize sustainable land management at scale and help to connect countries with other sources of climate financing. The resources from the FCPF provide new opportunities to conserve and regenerate forest landscapes and biodiversity while simultaneously supporting sustainable economic growth, which is critical for Vietnam's development going forward.
The Forest Carbon Partnership Facility (FCPF) is a global partnership of governments, businesses, civil society, and Indigenous Peoples' organizations focused on reducing emissions from deforestation and forest degradation, forest carbon stock conservation, the sustainable management of forests, and the enhancement of forest carbon stocks in developing countries, activities commonly referred to as REDD+. Launched in 2008, the FCPF has worked with 47 developing countries across Africa, Asia, and Latin America and the Caribbean, along with 17 donors that have made contributions and commitments totaling US$1.3 billion.