AIIB Donates USD1M to Help China Fight COVID-19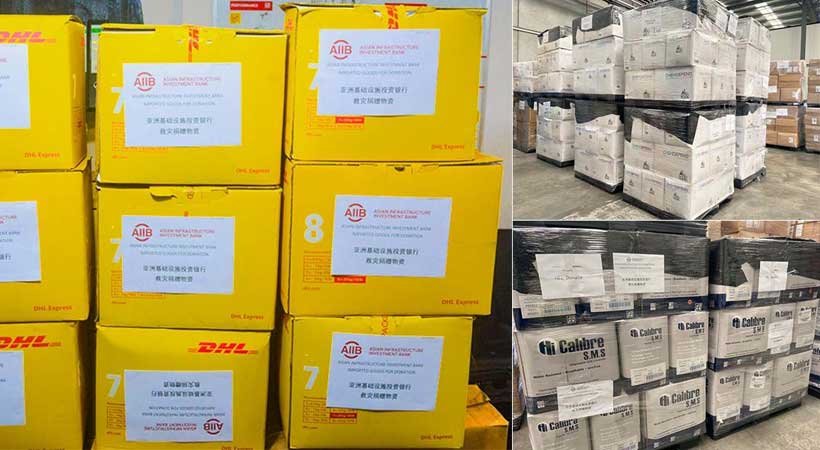 The Asian Infrastructure Investment Bank (AIIB) is contributing USD1 million to help China control the spread of COVID-19. The amount comprises donations from AIIB staff and matching funds from the Bank.
The contribution was used to purchase medical equipment to help frontline health care professionals battling the coronavirus outbreak in Wuhan and Beijing. AIIB has been sourcing medical supplies from around the world, including 51,000 medical masks, 46,000 protective clothing, 17,000 surgery aprons, 21,000 boxes of surgery gloves and other medical and epidemic prevention supplies with a total weight of 40 tons. The first batch of materials is delivered to Wuhan and Beijing on Feb. 24, 2020, with other batches to follow.
"AIIB's management and staff stand by the Chinese people," said AIIB President and Chair of the Board Jin Liqun. "We are ready to offer our help to the best of our ability. We want to do our part as residents of China to help stop the epidemic's spread."
AIIB also announced on Feb. 10, 2020 that it has been in active discussions with the Government of China to strengthen the country's emergency public health infrastructure and help meet its immediate and longer-term public health needs.
Shining a light on sexually exploited women and girls forced into crime
Trafficked and sexually exploited woman and girls can find themselves facing prosecution and conviction for those very same crimes, in some countries, a new UN report shows. The study aims to help prosecutors to better handle these complex cases, and protect the genuine victims.
No clear-cut cases
A 2017 criminal case in Canada, to take one example from the report, involved an 18-year-old woman defendant was charged with the forced prostitution of two female minors, aged 14 and 16. She had instructed one of them on how to dress, and what to do with clients, and taken away the cell phone of the other, to prevent her from escaping.
She was found guilty and sentenced to eight months in prison. However, it was revealed during the case that she too was a victim of sexual exploitation. The court heard that she was under the control of a male trafficker, and had been exploited from the age of 16, and physically abused by pimps.
The case, which is included in Female Victims Of Trafficking For Sexual Exploitation As Defendants, a new publication from the UN Office on Drugs and Crime (UNODC), shows the complexity of many human-trafficking-related cases, in which the defendant may also be a victim, who either had no alternative but to obey an order, and commit a crime, or hoped to limit their own exploitation or escape poverty by playing a role in the crime. The study also found that traffickers use the women and girls as a shield to protect themselves from being punished for their crimes.
Punished twice
"Ever since UNODC started collecting statistics on human trafficking 15 years ago, women and girls have consistently represented the majority of reported victims", says Zoi Sakelliadou, a UNODC Crime Prevention and Criminal Justice Officer, who coordinated the development of the study.
"We've also seen that the percentage of female perpetrators of trafficking who are at the same time victims of this crime, is steadily high too, especially if compared to female offenders in other crimes. The traffickers not only earned a profit by sexually exploiting the victims, but then made them commit crimes so they could escape liability and prosecution".
The report shows that traffickers deliberately used the "victim-defendants" in low-level roles, that exposed them to law enforcement authorities – meaning they were more likely to get caught.
These roles included the recruitment of new victims, collecting proceeds, imposing punishments, or posting advertisements for victims' sexual services.
In very few of the examined cases did the victims engage in acts of trafficking in an attempt to move up the hierarchy of the criminal organization or for financial gain.
It was not just the statistics that led UNODC to analyse this topic, explains Ms. Sakelliadou, but also calls from law enforcement and criminal justice officials, who stressed the complexity of investigating and adjudicating cases that involve female victims of trafficking as alleged perpetrators.
The study also highlights the clear links between human trafficking and violence against women, domestic violence, and the role of intimate partner violence.
"We found that in around a quarter of the cases examined, the women had been subjected to multiple forms of violence prior to and during the trafficking process, including from early childhood", says Ms. Sakelliadou. "We hope this study will support the law enforcement and criminal justice officials and the NGOs who handle these complex cases and support the victims."
Calls for Collaboration and Rebuilding Trust Set Tone for The Davos Agenda
Setting the tone for the meeting, the key themes of the first day of the World Economic Forum Davos Agenda 2021 proved to be "trust", "solidarity", "respect", "transparency" and "collaboration".
Chinese President Xi Jinping, making the first special address of the event, called for both greater global efforts in the fight against an unprecedented public health crisis and a renewed commitment to multilateral cooperation.
António Guterres, Secretary-General of the United Nations, set out his priorities for an inclusive and sustainable recovery from the pandemic. In a wide-ranging address, he asserted that vaccines – "people's vaccines" – should be regarded as a public good, pressed developed nations to offer their poorer counterparts debt relief because "no country should be forced to choose between basic services and serving debt", and called for increased fairness in the world of work.
He made a call for a "truly global coalition for carbon neutrality" and suggested the need for adaptation, renewed confidence and a need to drastically change policy. He pressed business to operate "in line with the Paris Agreement", called on asset managers to "decarbonize their portfolios" and asked all businesses to "align with the UN Global Compact". In addition, Guterres announced the need for a new social contract, one "between governments, peoples, civil society, businesses and more, integrating employment, sustainable development, social protection, and based on equal rights and opportunities for all".
Collaboration was the overriding message that came from Anthony Fauci, Director at National Institute of Allergy and Infectious Diseases (NIAID), and other participants discussing how to respond to the COVID-19 pandemic and future such outbreaks. Fauci reflected on how divisiveness had hobbled the US approach to the disease, saying: "When public health issues become politically charged – like wearing a mask or not becomes a political statement – you can't imagine how destructive that is to any unified public health message."
He called on China to provide the World Health Organization (WHO) with information about the origin of COVID-19, arguing that without it, scientists and doctors faced a "big black box". He also registered the US's renewed support for the WHO and said that with reform, it will become the multilateral organization that deals with disease preparedness. His overall message, however, was one of the need for greater global health security, transparency, collaboration and solidarity, without which he announced "it becomes extremely problematic to address an outbreak".
In other sessions during the day, President of the European Central Bank Christine Lagarde said economic recovery in 2021 will progress in two phases. In the first, there will be a high level of uncertainty as vaccines are produced and rolled out, and lockdown measures may become more stringent because of the emerging COVID-19 variants. She described it as "crossing the bridge to recovery, but the journey is delayed, not derailed".
The second phase is where the economy is reopening, something that will bring its own challenges and positive developments. As part of the recovery, Lagarde underlined the need to bring more women to the table to help the recovery, saying: "Progress can be made and women can do the job just as well as men."
Also considering a two-pronged approach was Bruno Le Maire, Minister of the Economy, Finance and the Recovery of France, who argued that while pursuing a policy of fiscal support during the pandemic, nations should also consider the future. "We have to think about the kind of economy we want to build; we want to build a sustainable economy and reduce the inequalities," he said. Le Maire also called on states to learn lessons from each other during the crisis. As he pointed out, for the first time in its history, the member states of the Eurozone have all taken the same measures.
Peter Altmaier, Federal Minister for Economic Affairs and Energy of Germany, said that there needs to be greater reliance on open markets and multilateralism. In the post-COVID-19 recovery, he sees opportunities for synergies, such as greater investment in clean energy solutions to help tackle climate change.
Speaking about his new book, Stakeholder Capitalism, Schwab said the pandemic has shown that companies that commit to stakeholder capitalism perform much better than others because they invest in the long-term viability of the company. He called for a much wider definition of capital, one that includes "human, social and natural capital" because all those aspects of capital combine to create wealth and prosperity.
Underlining the day's theme – Designing cohesive, sustainable and resilient economic systems – the meeting saw the launch of the Partnering for Racial Justice in Business initiative, which sees a coalition of almost 50 organizations committed to improving racial and ethnic justice in the workplace. The Forum released a report revealing that upskilling has the potential to boost GDP by $6.5 trillion by 2030. Also covered during the day were topics ranging from gender parity and restoring economic growth to addressing mental health in the workplace, building crisis-resistant healthcare systems and creating a new social contract.
COVID's led to 'massive' income and productivity losses
Job losses or reduced working hours due to the impact of the COVID-19 pandemic cost the world the equivalent of 255 million jobs in 2020, the UN International Labour Organization (ILO) said on Monday, noting that the "massive impact" was nearly four times the number lost during the 2009 global financial crisis.
According to the ILO Monitor: COVID-19 and the world of work, the losses resulted in an 8.3 per cent decline in global income, before factoring in support measures, equivalent to $3.7 trillion or 4.4 per cent of global gross domestic product (GDP).
Recovery scenarios
While there is still a high degree of uncertainty for 2021, the ILO estimates projected that most countries could see a relatively strong recovery in the second half the year, as COVID-19 vaccination programmes take effect.
ILO put forward three scenarios: a baseline estimate showing a 3 per cent decline; a pessimistic forecast indicating a 4.6 per cent loss, and in the most optimistic scenario, a 1.3 per cent decrease in working hours through this year.
"The signs of recovery we see are encouraging, but they are fragile and highly uncertain, and we must remember that no country or group can recover alone", Guy Ryder, ILO Director-General said.
"We are at a fork in the road. One path leads to an uneven, unsustainable, recovery with growing inequality and instability, and the prospect of more crises. The other focuses on a human-centred recovery for building back better, prioritizing employment, income and social protection, workers' rights and social dialogue", he added.
"If we want a lasting, sustainable and inclusive recovery, this is the path policy-makers must commit to."
Women and children most vulnerable
In terms of sectors and groups, women were more affected than men, as were younger workers, ILO said.
"Globally, employment losses for women stand at 5 per cent, versus 3.9 per cent for men. In particular, women were much more likely than men to drop out of the labour market and become inactive", it added.
Similarly, younger workers either lost jobs, dropped out of the labour force, or delayed entry into it.
'Lost generation' risk
"The employment loss among youth (15-24 years old) stood at 8.7 per cent, compared to 3.7 per cent for adults. This highlights the all too real risk of a lost generation" according to ILO.
Accommodation and food services was the worst hit sector, where employment declined by over 20 per cent, on average, followed by retail and manufacturing.
In contrast, the information, communication, finance and insurance sectors, grew in the second and third quarters of 2020. Marginal increases were also seen in mining, quarrying and utilities.