Cheap and easily accessible small arms are increasingly becoming the "weapon of choice" for many terrorist groups, the UN counter-terrorism chief told an event on Friday aimed to raise awareness of the nexus between terrorism, organized crime and illicit small arms trafficking.
"Insufficient international response in countering the illicit trafficking of small arms and light weapons, the challenges that Member States face to detect and seize them, as well as porous borders, allow terrorists and criminals to move illicit weapons from one country or region to another," said Vladimir Voronkov, UN Under-Secretary-General for Counter-Terrorism.
It is widely acknowledged that the connection between terrorism and organized crime, including illicit small arms and light weapons trafficking, is a serious threat to international peace and security. It is also an obstacle to sustainable development and a menace to the rule of law.
To illustrate the challenges, Mr. Voronkov, who is also Executive Director of the UN Counter-Terrorism Centre (UNCCT),
of the UNOffice of Counter-Terrorism (UNOCT), revealed estimates indicating that the African continent alone has one hundred million uncontrolled small arms and light weapons concentrated in crises zones and security-challenged environments.
"With an estimated population of 1.2 billion in Africa, this is an unfortunate and significant ratio of one to 12", he lamented.
Global Counter-Terrorism Strategy
Without a strong international response, terrorists and criminals would easily be able to move illicit weapons from one country or region to another.
The UN Global Counter-Terrorism Strategy underlines the connection between terrorism and the illicit small arms trafficking, conventional ammunitions and explosives, and calls on Member States to strengthen coordination and cooperation to address this challenge.
The UNOCT chief illustrated this through the example that "illicit weapons originating from Libya were finding their way into the Lake Chad Basin and the Sahel".
Since ast year, UNOCT and the UN Office on Drugs and Crime (UNODC) worked closely with the UN Counter-Terrorism Committee Executive Directorate (CTED) and UN Office for Disarmament Affairs (ODA) to develop a project enhancing national legislative, strategic and operational capacities to prevent, detect and counter the firearms trafficking and other illegal activities related to terrorism and organized crime in Central Asia.
"The project is also another example of our 'All-of-UN' approach to support counter-terrorism efforts of Member States", concluded Mr. Voronkov.
No country alone
In her video statement, UNODC Executive Director Ghada Fathi Waly affirmed her Office's "unique approach" to addressing the complex interlinked challenges of terrorism, crime and corruption.
Using a "holistic approach", Ms. Waly maintained that the project tackles "the full range of obstacles".
She singled out adequate legal frameworks, strengthening law enforcement and criminal justice capacity, improving data and addressing cooperation gaps, saying that it is "essential to deal effectively with threats that no country can face alone".
UNODC supports nations in implementing global counter-terrorism instruments, as well as the Firearms Protocol to the UN Convention against Transnational Organized Crime, through the UNODC Global Firearms Programme.
"I will be eagerly following the project's advancement and I hope that its outcomes and learnings can inform the international community's efforts, feeding into the next reviews of the UN Global Counter-Terrorism Strategy, this year and in 2022", concluded the UNODC chief.
Preventing terrorists' access
Meanwhile, CTED Deputy Executive Director Weixiong Chen pointed out that the new initiative is "one of the important requirements of several relevant Security Council resolutions".
Citing five resolutions, he noted that "the Council has repeatedly stressed the importance to prevent terrorist access to weapons".
Mr. Chen noted that the most recent resolution, 2317, brought a comprehensive new set of topics and domains, saying that they have strengthened CTED's mandate, particularly through its "assessments, analyses and identification of gaps".
The CTED chief underscored the importance of Member States' will to implement Security Council resolutions on preventing illicit small arms and light weapons trafficking and concluded by sharing his hope "that OCT and UNODC will be able to fully utilize CTED's expertise and recommendations in this field".
The launch also introduced the new project's activities, including missions to assess regional situations, relevant legislation and response capacities to the threat posed by firearms trafficking, terrorism and related crimes.
Pulwama attack: False Flag Operation?
On 14 February 2019, a terror attack killed 40 Indian soldiers at Pulwama, Indian Occupied Kashmir. The unfortunate incident happened when a convoy of Indian soldiers was hit by an SUV full of explosives. The incident was condemned by leaders from all over the world including Pakistani Prime Minister Imran Khan. Mr. Khan immediately offered all possible assistance to probe the incident. But the Indian government hastily blamed Pakistan for the attack without proper investigation and took a dangerously belligerent path.
The Pulwama attack created a serious deadlock between the two nuclear-armed countries. While Pakistan characterized the attack as a "false flag operation", India was all set for "retaliation". The situation between the countries turned into an "international crisis" when Indian warplanes in wee hours of the morning of 26 February crossed the international border and dropped bombs in Pakistani territory.
On the very next day, Pakistan conducted retaliatory airstrikes in the Indian territory and also shot down an Indian warplane that had crossed over into Pakistani air space and captured its pilot who ejected and landed on Pakistani side of the border. The bellicose rhetoric, war hysteria and reckless actions by India in the wake of Balakot incident posed a grave threat to peace and security in South Asia and the wider region. It was Pakistan's restraint and responsible attitude in unilateral release of the captured Indian pilot Abhinandan which averted serious aggravation of the crisis.
The Pakistani authorities had called the Pulwama attack which triggered the whole crisis a false flag operation staged by the BJP government to make electoral gains in the upcoming election by whipping up anti-Pakistan sentiment and by projecting itself as being "tough" on Pakistan. Pakistan maintained that the operation was aimed to divert the public's attention from domestic issues and create a regional crisis until the general elections which were due in April of that year.
Pakistan's stance seems to have been greatly vindicated on account of the revelations made during the recent police investigations of Arnab Goswami, a firebrand Indian TV journalist and staunch supporter of the BJP government. The police have retrieved Goswami's WhatsApp messages which raise serious questions about the Indian official narrative around the Pulwama attack and the Balakot Incident. During his conversation with Partho Dasgupta CEO of Broadcast Audience Research Council in India on 23 February 2019, Goswami hinted towards the Balakot airstrike and its importance for Prime Minister Modi in the upcoming elections.
Goswami texted; "something big will happen".
After a few messages on other matters, Dasgupta asked, "Dawood?", referring to the notorious gangster Dawood Ibrahim who is wanted in several cases.
The conversation continued:
Arnab Goswami: "No sir Pakistan. Something major will be done this time."
Partho Dasgupta: "Good."
Partho Dasgupta: "It's good for big man in this season."
Partho Dasgupta: "He will sweep polls then."
Partho Dasgupta: "Strike? Or bigger"
Arnab Goswami: "Bigger than a normal strike. And also, at the same time something major on Kashmir. In Pakistan, the government is confident of striking in a way that people will be elated.
Exact words used."
Arnab Goswami's leaked chats have exposed the Indian propaganda and lent credence to Pakistan's longstanding stance on Indian proclivity for false flag operations. Prime Minister Imran Khan has asked for the world's attention towards the Indian propaganda while saying, "in 2019, I spoke at UNGA on how India's fascist Modi govt used the Balakot crisis for domestic electoral gains. Latest revelations from communication of an Indian journalist, known for his warmongering, reveal the unholy nexus between the Modi govt & amp; Indian media".
Indian false flag operations like the Pulwama attack and consequent Balakot airstrike are part of India's Hybrid warfare against Pakistan. As I have discussed in my previous article, India is trying to defame Pakistan through propaganda tactics and present Pakistan as the hub of terrorism. But the recently leaked chats have exposed India and vindicate Pakistan's desire for peace in the region. After the leaked chats international community must see for itself that how Mr Modi, in his quest for power brought South Asia to the brink of a nuclear holocaust.
Global War on Terror: Pakistan's Role and Evolving Security Architecture for sustainable peace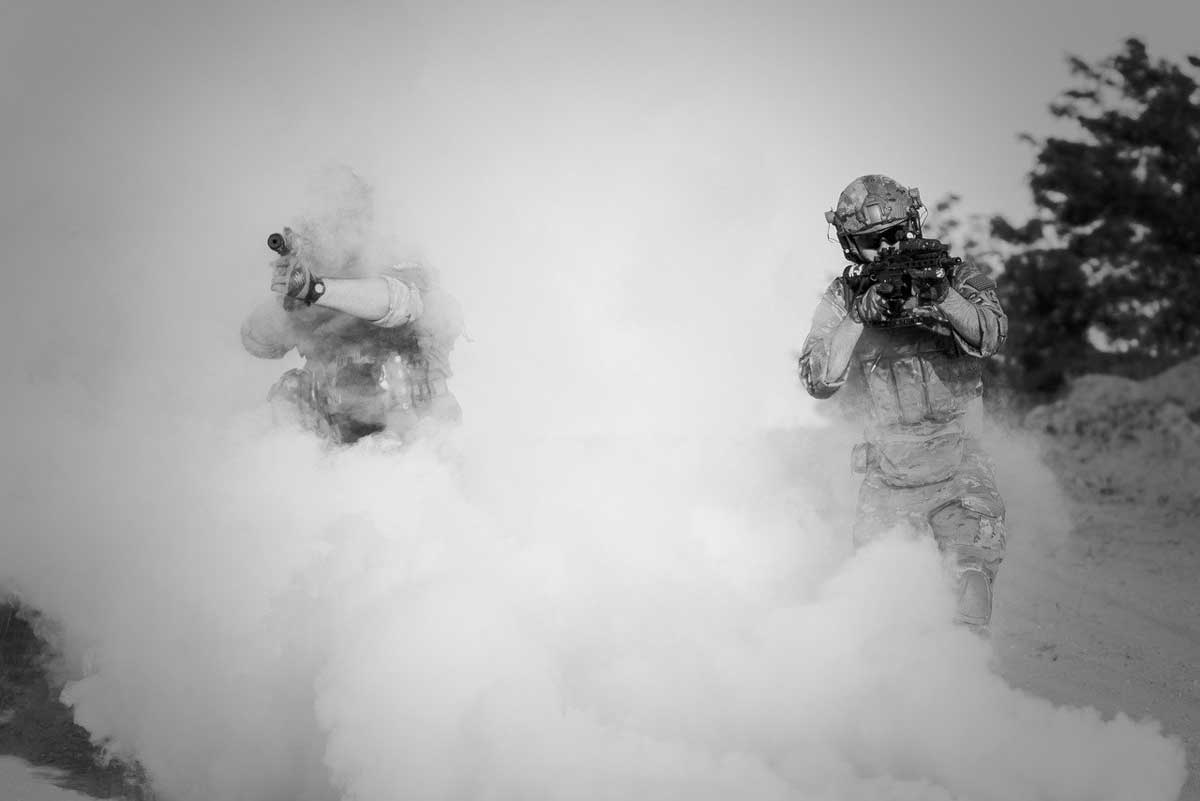 If Afghanistan, according to former president of the United States (US) George W Bush was the center of terror, then Pakistan had been the center of war against it. After the 9/11 attacks, while announcing the Global War On Terror (GWOT), the former Bush administration invited international community including Pakistan for cooperation and adopted the foreign policy approach of "with us or against us" pick. Thus, there was no choice for the Pakistan except joining the US war in Afghanistan aimed terrorism elimination. The US policy of "with us or against us" to fight together against a common enemy could be dubbed as classic realist approach of "enemy of my enemy is my friend".
Pakistan played a "crucial role" to eradicate the threat of terrorism to fulfill its desire for peace and stability at regional as well as global level. Despite playing pivotal role to fight the US-war on terrorism, Pakistan's sacrifices and contributions has not been acknowledged and notion of 'do more' was raised by the US officials. However, terrorism encompasses various tactics to launch violent attacks against military personnel, civilians, and public. The most common tactics include use of Improvised Explosive Devices (IED), suicide bombing, firing, Hand Grenade, Gun and bombs and Rockets. Thus, it is difficult to respond the tactics of terrorism as an act of war through military operations. Realizing the complicated nature of counter-terrorism operations and lack of success of the US forces in Afghanistan to hit the tactics of terrorist, only way forward for the US is negotiations and political settlements. Pakistan performed important role to construct roadmap for US-Taliban talks and provided relentless support in ongoing Afghan peace process. Pakistan's role and efforts to facilitate peace negotiations between the U.S. and Taliban to agree on 'Doha agreement' are widely appreciated by International community and acknowledged by the US. But when it comes to the US war on terror, Pakistan is still denied of its due appreciation in its fight against terrorism and relentless support to coalition forces in Afghanistan. Pakistan's contribution of providing logistic and military support by giving access to its bases and ports to the US, deployment of its forces along its border with Afghanistan to eliminate infiltration of terrorist, intelligence and information sharing to hit and capture extremist leaders is much more than its commitments to Operation Enduring Freedom (2001–2014) or GWOT.
GWOT and Escalating Instability in Pakistan
In the aftermath of its decision to join GWOT, Pakistan became targeted by radical terrorist groups due multiple factors including foreign financial assistance to internal sectarian hostility, religious extremism, emergence of Islam in politics. Significantly the turmoil in Afghanistan had spill over impact in Pakistan. Escalating terrorist attacks and huge influx of Afghan refugees in Pakistan instigate instability and insecurity in the country. Pakistan paid heavy price for its decision to join coalition in terms of relations with Afghanistan, low growth in economic sector including loss of human lives and psychological effects. Pakistan is plagued unprecedented levels of violence since Pakistan joined the GWOT as a front-line state. Independent sources reported that in the post 9/11 period, Pakistan lost 64,000 lives, damaged infrastructure and suffered financial losses of 150 billion USD.
Pakistan undertook a series of military operations to counter the menace of terrorism and extremism. According to the Global Terrorism Database, the sudden explosion of the terrorist attacks occurred in 2005 till 2014. Counter terrorism operations by Pakistan's military contributed in the WOT and played a pivotal role in winning it. Significant decrease in terrorist activities in Pakistan since 2014 highlights achievement of military operations against terrorists and militants.(See figure 01)
Source: Global Terrorism Data Base & Pakistan Institute for Peace Studies (PIPS)
Pakistan's Security Situation in 2020 and Geographic Distribution of terrorist activities
The trends in terrorist attacks indicates that number and lethality of terrorist activities in Pakistan is declining and country is heading towards peace and stability. In 2020, a total of 146 terrorism incidents were reported from across the country in which 220 people lost their lives, while another 547 were wounded. However, in 2019, a total of 230 terrorism incidents were reported from across the country in which 318 people lost their lives, while another 720 were wounded. The statistics for 2020 show a decline in number of terrorist attacks by nearly 38% as compared to 2019 when 230 attacks took place. Geographical distribution of terrorist attacks indicates a notable difference among provinces. Like the previous year, Khyber Pakhtunkhwa (NWFP) and Balochistan had suffered most numbers of incidents; when compared with 2019, all the provinces have witnessed decline in terrorist activities. Meanwhile, Federal Capital Islamabad, Gilgit-Baltistan and Azad Jammu and Kashmir remained the safest places as not even a signal terrorist attack occurred during the year 2020. Statistics mentioned in Pakistan's security report 2020, published by Pakistan Institute for Peace Studies (PIPS) shows that country is making gradual progress to eradicate terrorism.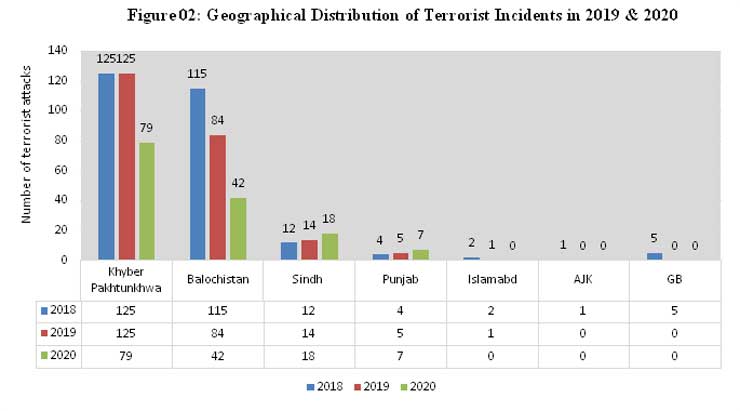 Source: South Asia Terrorism Portal (SATP), National/Local newspapers & Pakistan Institute for Peace Studies (PIPS)
Conclusion
Pakistan's counter terrorism operations have played significant role to fight the violence and establishing peace in the country. Yet, Pakistan's fight against terrorism is facing challenges due to continuing foreign finances and resources supply to terrorists' organizations. Pakistan's Counter-terrorism strategies should formulate mechanism to further strengthen multilateral cooperation among states to prevent, protect and pursue an attack and enhance the capacity to minimize the consequence of terrorist attack. Pakistan has entered in a fruitful phase of combating terrorism and managing its consequences efficaciously. Thus far, the US needed to acknowledge the unconditional contributions and sacrifices made by Pakistan and support the country in fighting this exhaustively expensive war on behalf of world community.
Hidden History – 1977 Terrorist Attacks in Moscow
On January 8, 1977,a series of terrorist attacks struck Moscow city, the capital of the Soviet Union. Three explosions occurred in a row in different places, with an interval of less than 40 minutes. All the employees of the Ministry of Internal Affairs and the KGB were raised on alarm. Leonid Brezhnev, General Secretary of the CPSU Central Committee, who spent Saturday hunting, urgently left for the capital. At that time, the life of Muscovites was not overshadowed by rampant criminality. The concept of "terrorism" was exclusively referred to as a characteristic of capitalist countries by the Soviet people.
OnSunday rush hour, the first bomb exploded at 17.33 in a Moscow metro train,which was on the stretch between the stations "Izmailovskaya" and "Pervomayskaya".The second bomb went off in the grocery storeNo.15 in the formerly named Dzerzhinsky Street (now Bolshaya Lubyanka), not far from the headquarters of the KGB at 18.05.Five minutes later, the third explosion occurred near the grocery store No.5.In total,7 people were killed and 37 got injuries of varying severity.The terrorist incident was kept secret from the public.
The KGB was assigned to lead the operation codenamed "Explosives" ("Взрывники"). The best investigators of the Prosecutor General`s Office, the Ministry of Internal Affairs and the KGB were engaged in the criminal investigation. The progress of the investigation was regularly reported to the then KGB Chairman Yuri Andropov and personally to Leonid Brezhnev. Although more than 500 witnesses were interviewed, not a single clue was found.In the end, the circle of suspected cities was reduced to three – Rostov-on-Don, Kharkov and Yerevan.
However, the terrorists were identified only after they began to prepare a new terrorist attack. On November 2, 1977, they decided to repeat the attack leaving a bag with a bomb, similar to the ones that went off in January in the waiting room of the Kursk railway station. But it stood in a crowded hall almost for a day and did not explode, because the batteries ran out. The ownerless item attracted one of the passengers' attention, who reported the finding to the police on duty. A valuable piece of evidence was obtained: a blue sports jacket with an Olympic patch and a hat with earflaps manufactured in Yerevan.
In the Moscow-Yerevan train near the administrative border of Georgian SSR and Armenia SSR, an unknown young man who was traveling with a friend was detained. The passengers were identified quickly enough. They turned out to be 28-year-old Hakob Stepanyan and 23-year-old Zaven Baghdasaryan. Regardless of the fact that it was sharply opposed by Karen Demirchyan, the First Secretary of the Central Committee of the Armenian SSR Communist Party, their apartments in Yerevan were searched, where additional evidence were found, including elements of explosive devices and a scheme of an explosive device that went off in the Moscow metro. Through Stepanyan, the investigation reached the third member of the criminal group. Stepanyan and Baghdasaryan, realizing that they were fully exposed, testified against the third member of the group, Stepan Zatikyan,who was not in Moscow at the time of the explosion. They confessed that he dragged them into the preparation of the terrorist attack. It was Zatikyan, who was the brain and ideological inspirer of the group. By that time, he was working at the Yerevan Electromechanical Plant. While studying at the Yerevan Polytechnic Institute, he founded the illegal National United Party of Armenia (NUPA) along with other friends in 1966.The group of nationalists developed an active underground activity and advocated for separatism. They published a clandestine periodical named "Paros" (Phare) and distributed leaflets protesting against "Russian chauvinism" and demanding the return of Nagorno-Karabakh and Nakhichevan to Armenia SSR. The group was uncovered in 1968. The founders and active members of the NUPA were convicted of anti-Soviet agitation and propaganda. Zatikyan's verdict was not too harsh, he was released in 1972.In 1975, he sent a statement to the Supreme Soviet in which he renounced Soviet citizenship and asked to be given the opportunity to leave for any non-socialist country. The NUPA operated until 1987, when it was renamed the Union for National Self-Determination.
The investigation into the case of Zatikyan and his accomplices lasted about a year. The trial of the terrorists in the Supreme Court of the USSR took place from January 16 to 20, 1979. It was closed and secret. Even the relatives of the defendants were not allowed into the courtroom. The only information about the trial and the verdict in the news media was a short note in Izvestia (January 31, 1979).Stepanyan and Baghdasaryan pleaded guilty, Zatikyan did not. For him, the court became a political platform.A documentary about this trial was made. On the recording, one can hear Zatikyan saying in Armenian: "Tell people that these were Stepan's last words: Revenge, revenge and revenge again."On the other hand, Stepanyan said: "If one of us survives, there will be explosions again."
On January 24, 1979, all the accused were found guilty by the court and sentenced to capital punishment – execution. On January 30, the Presidium of the Supreme Soviet of the USSR rejected the petition for clemency, and on the same day, the sentence was carried out.
The acts of terrorism carried out by Armenian nationalists have gone beyond the Soviet Union borders. In this respect,Turkish diplomats have become the target of terrorism. "Armenian terrorism, as well as its support in the larger Armenian community, was unique in its visceral hatred of its Turkish enemy" writes Michael M. Gunter in his book titled Armenian History and the Question of Genocide. As a result of the Armenian terror, more than 30 Turkish diplomats and their families have lost their lives since 1970.Most of these assassinations were mainly carried out by terrorist organizations, such as the Armenian Secret Army for the Liberation of Armenia (ASALA) and the Justice Commandos of the Armenian Genocide (JCAG).Both groups were founded in the mid-1970s and by the early 1980s had become extremely active.Despite both groups having disintegrated in the end of 1980s, an Armenian protester was spotted with an ASALA T-shirtin Los Angeles on  July22, 2020.The ideology that feeds those terrorist organizations, which mainly operated in Western countries, is still alive. The main reason for their "success" in the West is that they have not been properly punished until now.
Furthermore,Armenian terrorist organizations systematically and deliberately perpetrated acts of terrorism on Azerbaijani territory, as well. On March 19, 1994, 14 civilians lost their lives and 49 were injured as a result of the bombed attack perpetrated at the "20 January" metro station in Baku.
To put it briefly, the terrorist tradition of the Armenian ultranationalists needs to be deeply and systematically studied. The root causes of violent extremism in Armenian society are complex, multifaceted and intertwined as it has more than 100 years of history. Armenians present their terrorists to future generations as heroes, leaving their statues and encouraging future generations to grow up as terrorists.A clear example of this is the monument erected in memory of members of the ASALA terrorist organization at the Yerablur State Military Cemetery in Yerevan, Armenia.Asidefrom that, the defeat on the front in the 44-day war with Azerbaijan correspondingly pushed Armenian society into a deep sense of collective frustration and humiliation; in turn, it triggered a rise in nationalist sentiments and made them more radicalized, which galvanize terrorist attacks against Azerbaijani people. Considering that, the intelligence services and law enforcement agencies of the countries, where both Azerbaijani and Armenian diaspora live, should expeditiously increase situational awareness.