La Paz and Santa Cruz de la Sierra Develop Urban Resilience with World Bank Support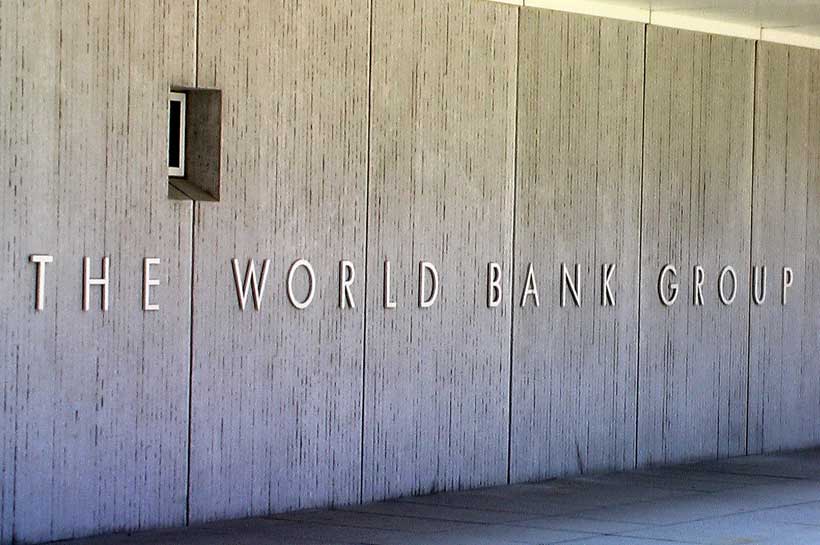 The World Bank Board of Directors approved two loans totaling US$70 million today to support the cities of La Paz and Santa Cruz de la Sierra in their efforts to reduce vulnerabilities to climate risks and to improve living conditions of more than 167,000 residents of lower-income areas of those municipalities.
The resources will be used to develop the resilience of the two cities. They will help strengthen their capacity to reduce and prevent climate risks and provide rapid response to the impacts produced by natural disasters.
The project includes the construction of infrastructure resistant to hydrometeorological phenomena such as mudslides and floods, including improved drainage ditches and river management works. Additionally, the project will improve neighborhoods and public spaces and promote sustainable urban mobility.
"With this project, we reiterate our commitment to Bolivia, and especially to the most vulnerable population, which is always more exposed to climate risks. It is essential for cities to be resilient and protect their inhabitants since, in addition to the dangers families face in emergency situations, their wellbeing suffers and their social advances are threatened," saidMarianne Fay, World Bank Director for Bolivia, Chile, Ecuador and Peru.
Over 20 percent of the Bolivian population, which is responsible for 21 percent of GDP, lives in areas of high climate risk. Therefore, it is crucial for municipalities to strengthen their urban resilience systems with planned investments. In La Paz and Santa Cruz de la Sierra, this need has become increasingly evident given their rapid growth, which has created a variety of challenges.
According to the Mayor of La Paz, Luis Revilla, this loan will enable the municipal government to respond to the considerable social needs in vulnerable areas of the city through interventions in water risk management and stabilization of zones. "This operation responds to a process of short-, medium- and long-term planning that the municipality began many years ago and that is established in Plan 2040, La Paz that We Want. It also reflects the responsible, efficient management of city finances, prioritizing high social impact interventions with a strong resilience component to reduce risks and improve the quality of life of La Paz residents," he said.
"The Santa Cruz municipality works with the World Bank in urban resilience with the purpose of improving the quality and conditions of life of our population and to transform the city with the neighbors' help," stated the Mayor of Santa Cruz de la Sierra, Percy Fernandes Añez. "Four integral and priority projects will be financed: a drainage channel in the 8th ring road – Abasto Wholesale Supply Center, the network of bicycle lanes and upgrading of public space, the revitalization and protection of the ecological cordon and construction of the Metropolitan Park along the Piraí River, and the renovation and improvement of the Historic Center. These projects will become references and models of urban and social development, in order to be replicated throughout the city and at national and international levels," he added.
The preparation and negotiations of the Urban Resilience Project, financed by the World Bank, began in 2018. This process was completed last January, when the previous agreements were approved.
In an effort to support project implementation and expand capacities to invest in the development of resilience of Bolivian cities, the World Bank and the Swiss State Secretariat for Economic Affairs (SECO) in Bolivia are planning joint technical assistance activities with the municipalities and the national government.
The implementing agencies of the loans will be the Autonomous Municipal Government of La Paz (GAMLP), which will receive US$20 million, with a maturity date of 18 years and a six-year grace period; and the Autonomous Municipal Government of Santa Cruz de la Sierra (GAMSC), which will receive US$ 50 million, with a maturity date of 15 years and a five-year grace period.
The resources correspond to investment financing from the International Development Corporation (IDA), an entity of the World Bank Group.
Innovation and market reform needed to drive Japan's clean energy transition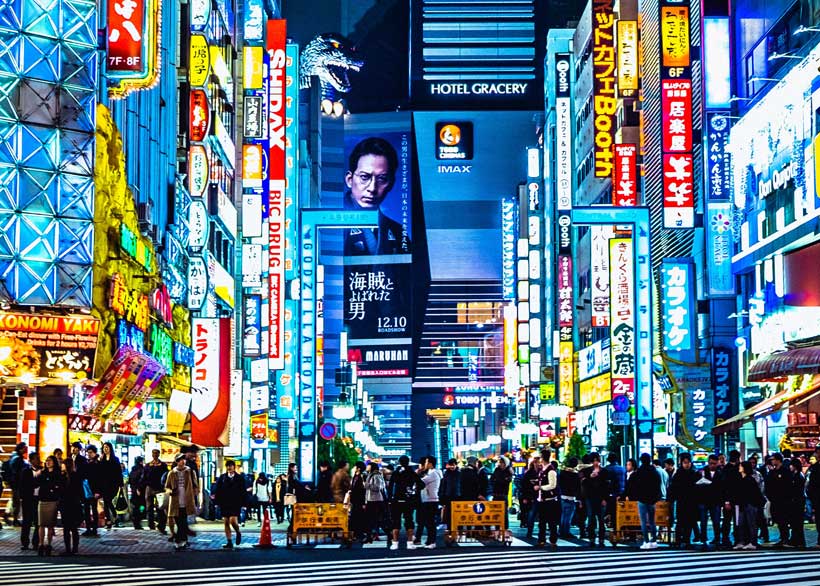 Japan will need to move quickly to make headway on the steep emissions reductions that are required to achieve its recently announced ambition of reaching carbon-neutrality by 2050, the International Energy Agency said today in its latest in-depth review of the country's energy policies.
Nearly a decade after the 2011 earthquake and the resulting Fukushima nuclear accident, Japan has made real progress towards developing a more efficient, resilient and sustainable energy system. It has embarked on major reforms of its energy market and diversified its energy mix. Energy-related CO2 emissions have fallen continuously since their peak in 2013, thanks to the expansion of renewable energy, the restart of some nuclear power plants and energy efficiency gains. By 2018, Japan's emissions had declined to a level last seen in 2009. Reliance on fossil fuels has also declined but remains high at nearly 90% of energy supply, making Japan among the most carbon-intensive economies of IEA members.
"Japan needs to accelerate the deployment of low-carbon technologies, remove regulatory barriers and increase competition in its energy markets if it is to reach carbon-neutrality by 2050. I welcome Japan's new Green Growth Strategy that puts emphasis on these priorities. The IEA is committed to supporting the government in these vital efforts," said Dr Fatih Birol, the IEA's Executive Director, who launched the report today at an online event with Shin Hosaka, Commissioner of the Agency for Natural Resources and Energy at Japan's Ministry for Economy, Trade and Industry.
The new IEA report on Japan's policies analyses its energy challenges and recommends possible solutions to help it achieve a secure, affordable and sustainable energy future. It finds that Japan has made important strides in reforming its domestic electricity and natural gas markets. The increasing competition in these sectors is encouraging, but further reform is needed to achieve a true level playing field for all market participants. Additional regulatory reforms will be important to encourage investments in zero-emissions electricity and to improve power system flexibility. The IEA also calls for policy makers to ensure that the market regulator has sufficient powers and independence.
The report highlights that Japan has seen continuous growth in renewables in the power sector, but that grid constraints have hampered investment in new projects and posed challenges to security of supply. Creating a well-integrated national grid and taking steps to improve the operational efficiency of the electricity system will facilitate the integration of more renewables while enhancing system resilience. The recent cold snap in January led to very low reserve margins in Japan's electricity systems. This event provided a reminder of the importance of regional interconnections and the need to have sufficient generation capacity.
The IEA welcomes the government's recent announcement to phase out inefficient coal plants by 2030. This will further improve the already high efficiency of Japan's thermal power fleet. Yet even efficient coal plants emit more CO2 than any other power generation source, and Japan ranks among the few IEA members that plan to add new coal capacity. Japan should tackle emissions from those new coal power plants by retrofitting, repurposing them as flexibility sources or able to use other fuels, or through other measures to help them avoid becoming stranded assets.
The IEA report highlights that Japan's strong innovation and technology base can play a vital role in developing the technologies needed to achieve its 2050 energy and climate ambitions. "I applaud Japan for its leadership in advancing low-carbon hydrogen and carbon-recycling technologies, which will be crucial for decarbonising sectors where emissions are hardest to reduce, such as long-distance transport and heavy industry," Dr Birol said.
Reducing the costs of these technologies will be essential to promote their deployment at scale. Stronger reliance on market-based instruments is an additional option for Japan to reduce emissions cost-effectively, foster innovation for low-carbon technologies and further increase Japan's already high level of energy efficiency.
Innovative finance mechanism to support Uruguay's energy transition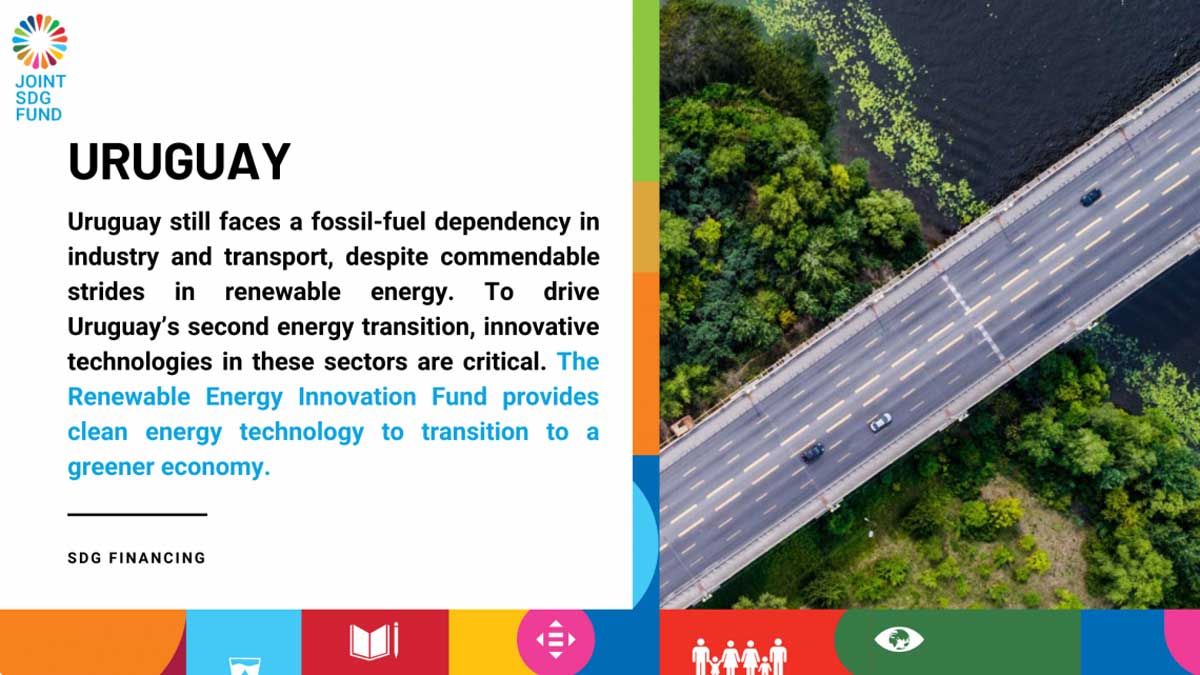 A joint UN proposal in Uruguay, with the United Nations Industrial Development Organization (UNIDO) acting as lead agency, seconded by UNDP and UN Women, has been approved by the United Nations Joint Sustainable Development Goal (SDG) Fund. This was announced today as part of a Joint SDG Fund US$41m portfolio to catalyze strategic financing to accelerate the Sustainable Development Goals.
Uruguay is one of four countries, and the only one in Latin America, to be selected for funding. The UNIDO-led proposal for Uruguay, along with ones from Fiji, Indonesia and Malawi, was selected from 155 proposals from over 100 country applicants across the globe.
The programme will establish a Renewable Energy Innovation Fund (REIF) to support Uruguay´s second energy transition, with the objectives of decarbonizing the economy and boosting competitiveness. The REIF will combat climate change by helping transition Uruguay's transportation and industry sectors to green energy and by providing affordable access to innovative clean technologies.
The Joint SDG Fund will provide a grant of US$10m, leveraging around US$70m of co-financing from regional development banks and private commercial banks. The REIF will support cleantech financing in energy storage, smart grid, green hydrogen, electro-mobility and waste management/treatment technologies.
Manuel Albaladejo, UNIDO Representative and the UN team leader designing the Uruguay proposal, stated, "This programme sets a precedent on how UNIDO should approach development cooperation in middle-income countries. Besides UNIDO´s well-known technical expertise, understanding and deploying innovative financing mechanisms to leverage co-funding from development finance institutions and even commercial banks will be key to UNIDO´s work. Indeed, the UN reform and the multilateral funds such as GEF and GCF emphasize the need to shift to impact investments that tap into private sector financing."
Mireia Villar Forner, United Nations Resident Coordinator in Uruguay, said, "Thanks to the support of the Joint SDG Fund, the UN team is better equipped to support the alignment of private investments to the SDGs through the establishment of a national ecosystem for impact investment. Without a doubt, it changes the way we work."
Omar Paganini, Uruguay's Minister of Industry, Energy and Mining, said, "On behalf of the Ministry, we are very enthusiastic about the support received from the SDG Fund, which will be a great contribution to promote Uruguay´s second energy transition. The REIF is an innovative instrument that powers and deepens the impact of our public policies. We believe it will boost Uruguay´s efforts to achieve the SDGs."
The Joint Sustainable Development Goals (SDG) Fund is an innovative instrument to incentivize transformative policy shifts and stimulate the strategic investments required to get the world back on track to meet the SDGs. The UN Secretary-General sees the Joint SDG Fund as a key part of the reform of the UN's development work by providing the "muscle" for a new generation of Resident Coordinators (RCs) and UN Country Teams (UNCTs) to really accelerate SDG implementation.
Japan Launches Circular Economy Collaboration with WEF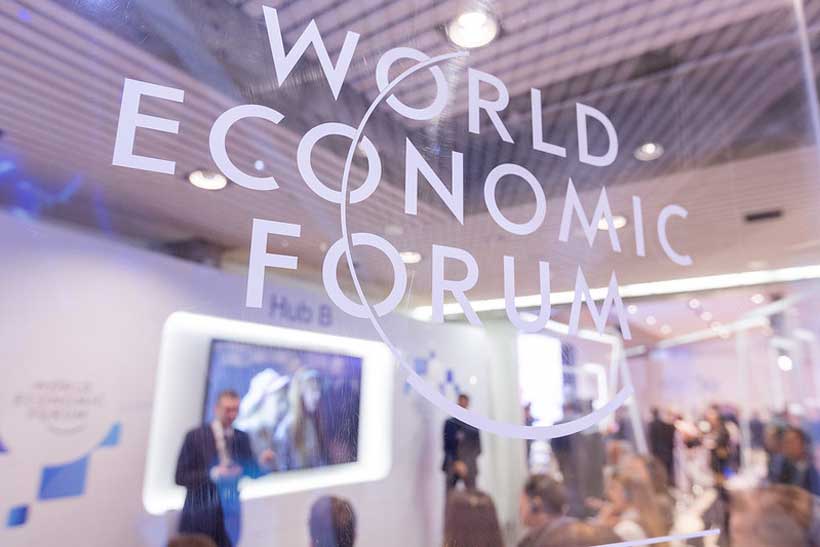 Achieving a circular economy will require transforming policy and business. It will also require a new approach to collaboration.
To that end, theMinistry of the Environment, Japan (MOEJ) and Keidanren (Japan Business Federation) announced the launch of the Partnership on Circular Economy at this week's Japan Circular Economy Roundtable hosted by the World Economic Forum.
This new partnership will bring leaders in business and government together to accelerate the circular economy in Japan. In this public-private partnership, best practices in Japan will be aggregated and disseminated to broader stakeholders within the supply chain, including consumers domestically and internationally. The partnership is expected to evolve through collaboration with the World Economic Forum's Circular Economy Initiative.
The partnership will prompt dialogue between the public and private sector to identify focus areas, barriers and next actions towards the circular transition. The Forum will help shape the strategy and approach going forward.
Japan's transformation will set a key example for other business and policy leaders. The country is one of the largest generators of plastic packaging waste per capita around the globe, according to the U.N. Environment program.
The Japanese government's newly announced partnership builds on other recent initiatives to address plastics waste, such as a plastic bags charge. This year, the government also released guidance for companies to help accelerate sustainable finance and a Roadmap for Bioplastics Introduction (to promote substitution of fossil-based plastics with sustainable materials), and has drafted a new bill aimed at advancing plastic resource circulation.
"Japan is now accelerating 'Three Transitions' towards: a decarbonized society, a circular economy, and a decentralized society to redesign the socioeconomic system," said Shinjiro Koizumi, Minister of the Environment, Japan.
The Roundtable – presented in collaboration with the Ministry of Environment, Japan – was organized by the World Economic Forum's Circular Economy Initiative. The event, held 2-3 March, featured two days of high-level discussions exploring trends, policies and leading practices to scale circular economy ambitions.
The Roundtable was kicked off by a public livestreamed session that included the following speakers: Shinjirō Koizumi, Minister of the Environment, Japan; Stientje van Veldhoven, Minister of Environment Netherlands; Børge Brende, President and CEO, World Economic Forum; Naoko Ishii, The University of Tokyo; Masayuki Waga, CEO Mitsubishi Chemical Corporation; Tsutomu Sugimori, Vice Chair Keidanren (Japan Business Federation).
Creating a circular economy for electronics was a key area of focus at the Roundtable. That sector kept economies running during the pandemic, but as World Economic Forum research has shown, it's also the fastest-growing waste stream. Around 54 million metric tonnes of electric waste are generated globally, with countries such as Japan, the US and China among the top five contributors.
To create new ways to manage production and consumption, the event also showcased how countries in the ASEAN region and beyond are leveraging Fourth Industrial Revolution technologies. Forum initiative Scale360°, a scalable partnership model helping diverse collaborators drive circular innovation, was one of many solutions discussed.
Speakers also shared how new actions – aided by policy – were speeding the circular transition. "Government leaders are showing how new policies, collaborations and commitments can make a dramatic impact," said Antonia Gawel, Head of Circular Economy & Innovation at the World Economic Forum. "Circularity is critical to achieving net-zero decarbonization and protecting the climate for future generations. Time is of the essence."