I am a tech optimist. My belief in technology as a force for good comes from my experience as a medical student. I learnt and saw first-hand its ability to change fates, save lives and make mundane what once would have been a miracle.
We now take for granted that we can take an antibiotic when we have an infection or go for an x-ray or MRI scan when we get injured or sick. These are all miracles that have changed the course of humanity for the better.
Thanks to technology, these miracles are becoming more breathtaking and more regular by the day. They are helping to better detect cancer, support high-precision surgery or tailor treatment for the needs of each patient.
This is all happening right now, right here in Europe. But I want this to be only the start. And I want it to become the norm right across our society: from farming to finance, from culture to construction, from fighting climate change to combatting terrorism.
This is the vision behind the new digital strategy that the European Commission will present this week.
We believe that the digital transformation can power our economies and help us find European solutions to global challenges. We believe citizens should be empowered to make better decisions based on insights gleaned from non-personal data. And we want that data to be available to all – whether public or private, big or small, start-up or giant. This will help society as a whole to get the most out of innovation and competition and ensure that we all benefit from a digital dividend. This digital Europe should reflect the best of Europe – open, fair, diverse, democratic, and confident.
The breadth of our strategy reflects the scale and nature of the transition ahead of us. It covers everything from cybersecurity to critical infrastructures, digital education to skills, democracy to media. And it lives up to the ambition of the European Green Deal, for instance by promoting the climate neutrality of data centres by 2030.
But, as we will set out this week, the digital transformation cannot be left to chance. We must ensure that our rights, privacy and protections are the same online as they are off it. That we can each have control over our own lives and over what happens to our personal information. That we can trust technology with what we say and do. That new tech does not come with new values.
I fully understand that, for many, technology – and especially those who own it – have not yet earned that trust. I see how that can break down when big online platforms use their own customers' data in ways they shouldn't. Or when disinformation drives out responsible journalism and clickbait matters more than the truth.
So I get and respect why some people are tech sceptics, doubters or even pessimists. And this is why I believe we need a digital transition which is European by design and nature. One that rebuilds trust where it is eroded and strengthens it where it exists. As part of this, big commercial digital players must accept their responsibility, including by letting Europeans access the data they collect. Europe's digital transition is not about the profits of the few but the insights and opportunities of the many. This may also require legislation where appropriate.
The point is that Europe's digital transition must protect and empower citizens, businesses and society as a whole. It has to deliver for people so that they feel the benefits of technology in their lives. To make this happen, Europe needs to have its own digital capacities – be it quantum computing, 5G, cybersecurity or artificial intelligence (AI). These are some of the technologies we have identified as areas for strategic investment, for which EU funding can draw in national and private sector funds.
Making the most of digital and data is as important for big industries as it is for SMEs. Although the biggest ideas often come from the tiniest start-ups, scaling-up can be an uphill task for smaller European firms in the digital world. We want European start-uppers to enjoy the same opportunities as their counterparts in Silicon Valley to expand, grow and attract investment.
For this, we will need to overcome fragmentation in our single market that is often greater online than elsewhere. We need to join forces – now. Not by making us all the same, but by leveraging our scale as well as our diversity – both key factors of success for innovation.
And we will also need the resources to match ambition. This is why at this week's European Council I will push for a modern and flexible EU budget that invests in our future – and in the research, innovation deployment and skills to bring it to life.
This will be needed if we want Europe to lead the way in the areas with the most potential, such as data and AI. This week, we will put forward our plans for both alongside our wider digital strategy.
The starting point on data will always be personal protection. Europe already has the strongest rules in the world and we will now give Europeans the tools they need to make sure they are even more in control.
But there is also another kind of data that is the uncovered, unused goldmine of the data-agile economy of the future. I am thinking of anonymised mobility data or meteorological data gathered by airliners, satellite images, but also industrial and commercial data on anything from engine performance to energy consumption.
These types of non-personal data can underpin the design and development of new, more efficient and more sustainable products and services. And they can be reproduced at virtually no cost. Yet today, 85% of the information we produce is left unused. This needs to change.
We will develop a legislative framework and operating standards for European data spaces. These will allow businesses, governments and researchers to store their data and access trusted data shared by others. This will all be done under secure conditions that create greater value for all and ensure a fair return for all.
These pools of data will in turn drive our work to promote excellence and trust in artificial intelligence in Europe. AI is already helping small companies reduce their energy bill, enabling greener, automated transport, and leading to more accurate medical diagnoses.
To help businesses big and small to harness the full potential of AI, we will invest in a network of local digital innovation hubs and in centres of excellence for advanced research and education.
At the same time, we will act to ensure that AI is fair and compliant with the high standards Europe has developed in all fields. Our commitment to safety, privacy, equal treatment in the workplace must be fully upheld in a world where algorithms influence decisions. We will focus our action on high-risk applications that can affect our physical or mental health, or that influence important decisions on employment or law enforcement.
The aim is not more regulation, but practical safeguards, accountability and the possibility of human intervention in case of danger or disputes. We successfully shaped other industries – from cars to food – and we will now apply the same logic and standards in the new data-agile economy.
I sum up all of what I have set out with the term 'tech sovereignty'. This describes the capability that Europe must have to make its own choices, based on its own values, respecting its own rules. This is what will help make tech optimists of us all.
This article by the President of the European Commission Ursula von der Leyen was published on the occasion of presentation of Commission's strategies for data and Artificial Intelligence.
Political will is needed to foster multilateralism in Europe
On July 1st 2020, a large number of international affairs specialists gathered in Vienna, Austria, for the conference "From Victory Day to Corona Disarray: 75 Years of Europe's Collective Security and Human Rights System". The conference, jointly organized by four different entities (the International Institute for Middle East and Balkan Studies IFIMES, Media Platform Modern Diplomacy, Scientific Journal European Perspectives, and Action Platform Culture for Peace) with the support of the Diplomatic Academy of Vienna, was aimed at discussing the future of Europe in the wake of its old and new challenges.
The conference gathered over twenty high ranking speakers from Canada to Australia, and audience physically in the venue while many others attended online – from Chile to Far East. The day was filled by three panels focusing on the legacy of WWII, Nuremberg Trials, the European Human Rights Charter and their relevance in the 21st century; on the importance of culture for peace and culture of peace – culture, science, arts, sports – as a way to reinforce a collective identity in Europe; on the importance of accelerating on universalism and pan-European Multilateralism while integrating further the Euro-MED within Europe, or as the Romano Prodi's EU Commission coined it back in 2000s – "from Morocco to Russia – everything but the institutions".
The event itself was probably the largest physical gathering past the early spring lock down to this very day in this part of Europe. No wonder that it marked a launch of the political rethink and recalibration named – Vienna Process.
Among the speakers for the conference's third panel – which focused on universal and pan-European multilateralism – there was Dr. Franz Fischler, a well-known figure due to his previous postings as Austria's Federal Minister for Agriculture and Forestry (1989-1994) and as European Commissioner for Agriculture, Rural Development and Fisheries (1995-2004), besides being currently President of the famous European ForumAlpbach.
Dr. Fischler started his keynote speech by highlighting how the COVID-19 pandemic has the potential to fundamentally change Europe – and even the whole world. In doing so, he referred to the paradoxes outlined by Bulgarian intellectual Ivan Krastev in the wake of the pandemic. Contrasting pushes towards re-nationalization and globalization, the partial interruption of democracy but the decreasing appetite for authoritarian government, the mixed response of the European Union to the crisis – in short, a series of conflicting trends are making the future of Europe, as well as that of the whole world, very much uncertain.
It was against this backdrop that Dr. Fischler addressed the central question of the panel: What is fundamentally going to happen in Europe in the times ahead? The former EU Commissioner clarified from the very beginning that those who wish a further deepening of the current multilateral system should not be blinded by excessive optimism. An alternative to the current system does exist – clearly symbolized by the combination of nationalism and populism that we can see in many countries, but also by the problems faced by multilateralism in many fields, most notably trade.
This trend is evident in the case of the European Union too – Dr. Fischler warned. He highlighted that policy tools aimed at stimulating convergence across European countries, such as for instance the EU's cohesion policies, are becoming increasingly weak, and inequality within the EU is currently on the rise. As a result, traditional goals such as the "ever closer Europe" and the "United States of Europe" do not even seem to be on the agenda anymore.
What can then be done to deepen the EU's integration process and strengthen Europe's multilateral system? Towards the end of his speech, Dr. Fischler outlined a few entry points for reform and further cooperation. His suggestions revolved around increasing cooperation on a number of specific issues, ranging from high-tech research to the development of a common European passport. He also proposed that European countries should strengthen their common diplomatic initiatives, including by speaking with a single voice in international institutions, as well as increasing the EU's soft power. On top of that, deeper institutional and political modifications might be needed for the EU, Dr. Fischler hinted – citing as examples the relaxation of the unanimity voting procedure on some foreign policy issues, as well as an intensification of the EU's enlargement process.
Closing his highly absorbing speech, Dr. Fischler – champion of multilateralism, and guru of the current EU CAP (Common Agricultural Policy) made clear which ingredient is, in his opinion, the cornerstone for reviving multilateralism in Europe: "All I would like to say is that there are possibilities out there. The question is, as always in these times: is there enough political will?"
China "seems" to be moving closer to the Holy See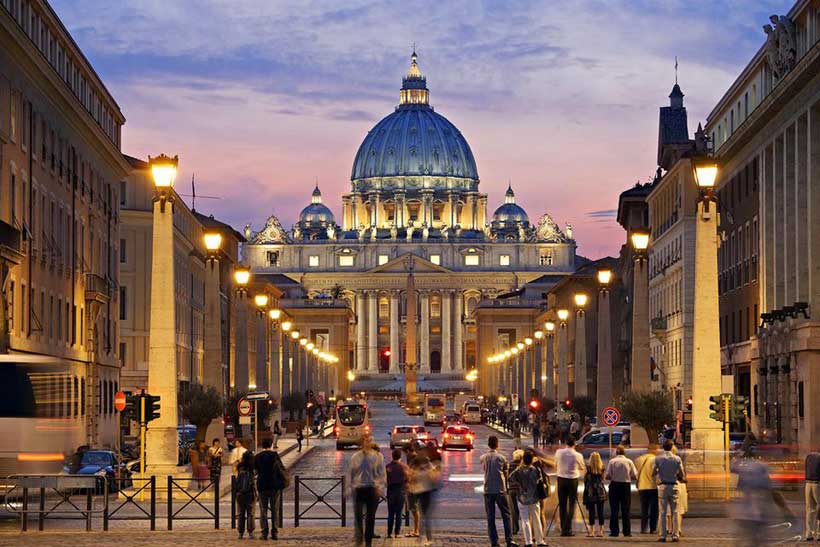 The two-year provisional agreement which was signed on September 22, 2018 between the holy see and China for the appointment of bishops in China, with the pope having veto power over such appointments, is likely to be renewed by mutual consensus before the accord nears its expiry later this month.
The agreement was initially seen as a clincher for both China and Vatican, especially after diplomatic ties were completely severed in 1951. However, many observers and experts have claimed that, the agreement does more harm than good to the credibility and popularity of the monolithic Catholic institute. Besides the main propaganda campaign of the Chinese to retain unabridged control over bishop nominations, their ultimate goal is to get Vatican to discredit the government in Taiwan to assert its One-China policy. Although, the Vatican has agreed to support China on its One-China policy, it should still be weary and apprehensive of the Chinese politics.
How is Taiwan central to this agreement
Taiwan, a small island in East Asia, which China claims as part of its own territory, considers Vatican as its last partner in Europe. This puts Vatican in a critical situation while China is struggling to maintain cordial relations with the West.
According to Francesco Sisci, a senior researcher at the Remnim University in Beijing, China wants to be seen as an ally of the Pope because it realizes the soft superpower that the Catholic church yields over millions of followers within China and abroad. He says, When the pope speaks, everyone listens.
A logical conclusion thus one can derive from it, is that the Vatican's endorsement of the One-China policy by discounting Taiwan's authority to maintain independent diplomatic ties, will generate currency in China's favour.
Two-years of signing the provisional agreement. What it means for China's Catholics?
In a bid to renew the agreement, the Chinese foreign ministry spokesperson stated last week that the interim accord has been implemented successfully. However, the ground scenario provides a different factual story. Even after the deal was signed in 2018, there were several reports of harassment and detention of the underground Catholics and Clergy in China. Many Churches have been shut down, crosses and other religious symbols have disappeared from public spaces. These events have taken place even after the Vatican tabled such concerns during negotiation with China.
This is the direct result of the "Sinicization" policy of the Xi administration, that calls for showcasing loyalty to the state and the Communist Party during religious processions and practice. As per this restrictive policy, people below 18 years of age are strictly barred from entering places of worship and publication of any religious material is only allowed following a close scrutiny.
Cardinal Joseph Zen, retired cardinal of Honk Kong had expressed wide concerns for this accord. He had described the Vatican's overtures with China as selling out of the Catholic Church in China. Zen knows that the agreement is largely going to benefit the Chinese authorities and the Communist Party in asserting its policies and international agendas.
It is also essential to highlight that the exact details and terms of the agreement are kept secret between the two parties. This may mean that if any violations of the agreement that may have taken place in the two years it was in place, it would become difficult to prove it in a court of law, owing to the confidentiality. This almost gives China full immunity over its inability to fulfill its obligation under the agreement. Vatican must therefore be cautious about China's commitment towards the agreement and must device alternate ways to shelter and safeguard its priests and followers in China.
The EU-China angle
2020 was supposed to be the year for refinement of EU-China relations. The pandemic has however forced cancellations of governmental meetings, bilateral programs, and other scheduled events. And on the contrary, it has deepen the cracks between certain EU countries and China because of China's propaganda campaign and geopolitical policies.
Last year saw a hard stance being adopted by EU legislators and policymakers, which was reflected in the policy paper released by the Federation of German Industries. The paper had described China as a "systemic competitor" and highlighted grave concerns over its international economic practices. The same line of charge was showcased in European Commission's strategic reflection paper, where it referred to China as a negotiating partner with a need for finding a balance of interests and a systemic rival promoting alternative model of governance.
This position is attributed to China's unfair and biased foreign policy that limited European companies from major EU countries to venture into the Chinese market. At the same time, China was employing economic tactics to woo smaller European countries to promote investments and improve trade relations with itself. The effect of this has been that many economically weaker countries have started looking towards China for monetary aid and trade related matters rather than cooperating with their fellow EU members. This has led to some kind of frustration and discordance amongst the EU nations.
The tensions might have heightened due to China's diplomatic missteps, from its infamous wolf warrior diplomacy to its amoralistic mask diplomacy during the Covid outbreak. This will however not completely change the course in the relation between EU-China because there is too much at stake for both sides to risk everything. These instances must however caution Vatican about its handshake with China because, although it may have soft superpower but there's nothing stopping China from pulling off an economical stunt.
A closer perspective
Taking the EU-China experience and the Sinicization policy collectively into consideration, it will be safe to assume for the Pope and his council of minister to rethink and weigh the merits and demerits of its diplomatic ties with China with utmost seriousness. Even if China promises more stability and monetary benefits in the short run, the Vatican must not forget that the deal indeed puts at risk, the values and principles that it has preached over the decades, to its people and followers globally, the repercussions of which may be beyond repair.
It needs to consider the plight of its brothers and sisters who have unlawfully been punished and detained in China and must push for more humane laws and remedies for them.This can be done by carefully executing a three-level approach. Firstly, the Vatican must put in place a strict mechanism to scrutinize and verify the inflow of investments so as to limit the interference of Chinese money in its decision making. This is similar to the foreign policy introduced by EU last year. Secondly, the Vatican must try to accommodate and align its interests with its European allies so as to strengthen the unity and solidarity in the region. It will also help them to collectively stand up against China if China tries to play hard ball against them, in terms of trade policy or indulges in any human rights violations for that matter. Lastly, the Vatican must push for transparency and openness with respect to the terms of the agreement that it has signed with China. This will allow the Holy See to rightfully claim any damage or remedy if any wrongful act or omission is committed by the Chinese side.
EU acting a "civilian power": Where & How
Authors: Yang Haoyuan, ZengXixi & Hu Yongheng*
In 1946 when Winston Churchill addressed in Zurich, Switzerland, he called on urgent union of Europe, but not many people took his remarks seriously if not suspicious at all.This was because that economic recovery and social stability of the day were more urgent to the people across Europe. Since then in one decade, Europe has not only witnessed a rapid and robust social-economic reconstruction, but also an increasing integration of sovereign states coming of the age. It is true that throughout this process of the European integration, the United States has played a sort of patron role—at first as a passionate advocate publicly and then a powerful supporter through the Marshal Plan and finally a lead ally of the NATO.
In1963, the United States endorsed a fully cohesive Europe which, whether it functions as a grouping of nation-states or as the European Union, has shared America's burden in terms of the Atlantic collective security. Yet, this strategic tie is not unconditional, for example, the EU support to the Washington's policy decision depends upon only if its objectives parallel with America's own and if it deems that without its contribution the common purposes will not be achieved. The diversions in policy between the two sides of the Atlantic are essentially more philosophical than technical. As a result, American unilateralism which usually comes out of Washington has been challenged by the EU involving three key structural issues: the EU's self-image; the impact of the EU policy; and the U.S. attitudes toward the different options for European integration. As Henry Kissinger argued, in defining the role of Europe in the future world, the EU depends upon more their historical experiences than abstract concept of universal goodwill as a facilitator of diplomacy, or put it simply that "persuasiveness in negotiations relies primarily on the options the negotiator has available or is perceived to have at his or her disposal."
Since the beginning of the new century, the EU has become close to an equal to the United States economically, technologically and socially. In terms of soft power, European cultures have long had a wide appeal in the rest of the world, and the sense of a Europe uniting around Brussels has had a strong attraction to East Europe and Turkey as well. Samuel Huntington put it in the 1990s that a cohesive Europe would have the human resources, economic strength, technology, and actual and potential military forces to be the preeminent power of the 21st century. Although the EU has effectively constrained American unilateralism, it is out of the question that the U.S. and the EU would move on the road towards political conflict. Due to this, the EU has vowed to play a new role in the world affairs that might be termed as the "civilian power".
According to scholar Helene Sjursen, civilian power is defined as playing a primary role in the international system but differing from the traditional great power which has pursued power politics by military means. The EU prefers acting a civilian power since it has committed to economic cooperation and social justice in the age of globalization. Accordingly, the acquisition of military means, or the EU's ambition to acquire such means, might weaken at least the argument that the EU is a civilian power and could provoke a shift towards a policy more akin to traditional great powers. Despite this, this article opines that the EU has acted a civilian power in the world affairs. For sure, this is not an easy mission to achieve in view of the complexities of the world affairs.
On September 16 of 2020, EU Commission President Ursula von der Leyen addressed her first annual State of the Union, painting a sober picture of Europe grappling with a pandemic and its deepest recession in its history and calling for EU members to build a stronger health union amid COVID-19. She laid out ambitious goals to make the 27-nation bloc more resilient and united to confront future crises. In order to demonstrate the EU's resolve and sincerity, she doubled down on the flagship goals sheset out on taking office in 2019: urgent action to tackle climate change and a digital revolution. In addition, von der Leyen unveiled a plan to cut the EU greenhouse gas emissions substantially and vowed to use green bonds to finance its climate goals. She also called for greater investment in technology for Europe to compete more keenly with China and the United States and said the EU would invest 20 percent of a 750 billion euro economic recovery fund in digital projects. Meanwhile, she said that the coronavirus pandemic had underlined the need for closer cooperation since "the people of Europe are still suffering." It is noted that the competition mentioned involves only the unconventional rather than conventional security issues.
As a matter of fact, solidarity among the 27 member states performed badly at the onset of the COVID-19 pandemic, as they refused to share the protective medical kits with the worst-affected and closed borders without consultation to prevent the spread of the virus. Also the EU leaders jousted for months over a joint plan to rescue their coronavirus-throttled economies. Yet, since last July,27 member states agreed on a stimulus plan that paved the way for the European Commission to raise billions of euros on capital markets on behalf of them all, an unprecedented act of solidarity in almost seven decades of European integration. Addressing the EU Parliament, von der Leyen pledged her commission would try to reinforce the European Medicines Agency and European Centre for Disease Prevention and Control, promising a biomedical research agency and a global summit. In effect, the EU has all the means and resources at its capacity.
Yet, externally the EU has to deal with the troubled talks with the United Kingdom on the future links after the Brexit divorce is done. All the deals and pacts between the two sides could not be unilaterally changed, disregarded or dis-applied. Von der Leyen reiterated that "This is a matter of law, trust and good faith… Trust is the foundation of any strong partnership."The EU leaders also have the same attitude towards the United States and Russia since Europe is located between the two giants in all terms. Yet, the U.S. under the Trump's administration has provided the EU with diplomatic rows. In a long run, the EU remains hopeful of improving relations and believes common ground can still be found, despite their current differences. As she reiterated "We must revitalize our most important relationships – we may not agree with the White House, but we must cooperate and build a new transatlantic agenda on trade and other matters." Regarding the great challenge from Russia, she reiterated her condemnation of Russia over Navalny – though the Russian government has strongly denied any involvement – and said that the EU is on the side of the people of Belarus. They must be free to decide their own future and they are not pieces on someone else's chessboard. However, the EU leaders seem to forget that the "color revolutions" have caused the disasters across Europe, the Middle East and North Africa.
Under such circumstances, the EU has to deal with China strategically and smartly, which during the first seven months of 2020becomes the top trading partner of the EU, a position previously held by the United States, followed by Britain, Switzerland, and Russia on EU's main trading partner list in the first seven months. As France has suggested that the EU and China, as the defenders of multilateralism in international order, should set the tone for multilateralism and lead the international society to cement cooperation in areas such as vaccine research and climate change. Yet, it was arguable that von derLeyen defined China a "competitor and a rival" although she previously admitted that the latest video summit between China and the EU was "frank and open". In fact, she said that progress had been made on a host of key areas and hailed the potential of a fruitful future trading partnership with China although there was still much work to be done. Understandably, as one of the key leading figures of the EU, von der Leyen used her speech to again address the challenges both sides face in working together in the years ahead in spite of their conflicting political ideologies. But this is what she said, "The latest EU-China summit highlights one of the hardest challenges. China is a competitor and rival. We promote very different systems."
In sum, the EU has several challenges ahead to deal with. First, it must update its long-term climate change goals to meet the targets laid out in the Paris Climate Agreement signed before. Second, the EU must manage the numbers of migrants and refugees crossing into Europe from Asia and Africa. As von der Leyen said that it is of vital importance that the EU's member states work together to share the burden of taking in migrants and refugees and providing them with the tools for a brighter future. Third, since EU member states have been hit hard by the COVID-19 pandemic, it has much to be done and in its response to the pandemic and continued efforts to cooperate with other nations to find a vaccine. As she called,the EU stepp ed up to lead the global response. With civil society, G20 and the World Health Organization and others the EUhas brought more than 40 countries together to raise $19 billion to finance research on vaccines, tests and treatments for the whole world. This is the EU's unmatched convening power in action.
Meanwhile, the EU leaders have openly called on China to do more to aid the world's collective fight against all the challenges mentioned above. As von de Leyen said recently, China has shown willingness to dialogue on climate change and fight against pandemic. She also warned of the dangers of countries not working together on vaccine research, with the U.S. recently announcing its plans to withdraw from the WHO. Both China and the EU share the common ground that vaccine nationalism puts lives at risk, only vaccine cooperation saves lives. We endorse a strong WHO and a strong WTO – but reform of the multilateral system has never been more urgent.
In view of this, it is fair to say that the EU wants to lead reforms of the WHO and WTO. But it is possible only if it works together with other responsible powers including China.
*Yang Hao Yuan from the School of Governance, Technical University of Munich; Zeng Xixi & Hu Yong Heng from SIPA, Jilin University