"Jauh di mata, dekat di hati [Out of sight, close to the heart]." This is how Lyudmila Georgievna Vorobieva, Russian ambassador to Indonesia, characterized the relationship between the two countries.
In fact, in the 70 years of the relationship, it has gone through different states of proximity. It was pretty "hot" even before and around independence in 1945 when being leftist was identical with an anti-imperialist stance — and certainly during Sukarno's presidency (1945 to 1967).
Then, abruptly, with the annihilation of the Indonesian Communist Party (PKI) in 1965 after a now-largely discounted "coup" by the PKI, the relationship suffered a long cold period of over 30 years during Soeharto's New Order (1967 to 1998). Keeping the communist scare alive was, after all, one of the ways the regime maintained its grip on society.
Then-Soviet leader Mikhail Gorbachev's perestroika (restructuring) and glasnost (openness) in the 1980s, the collapse of the Soviet Union in December 1991 and Indonesia's Reformasi in 1998 paved the way for the restoration of warm, harmonious relations.
Mohammad Wahid Supriyadi, Indonesian ambassador to Russia since 2016, said we are now in the second golden age of Russia-Indonesia relations (the first being during Sukarno's presidency). Wow! Who would have guessed?
For the lay person, these days Russia invariably draws our attention indirectly, e.g. for its alleged interference in presidential elections in the United States or for being the country where Edward Snowden, the National Security Agency whistleblower, has been living in exile for over six years.
I confess Russia hasn't been that prominent on my screen lately either, until I heard about the Russia-Indonesia 70-year friendship exhibition at the National Gallery from Feb. 3 to 17 (see: "Snapshots: Indonesia, Russia exhibit 70 years of friendship", The Jakarta Post, Feb. 5). I was keen to go because of my own "Russian connections".
Yup! I was a sociology student in London (1976 to 1979), and took a course on Russia and China. The focus of my studies was Western industrial societies, so I wanted to know the other side of the Cold War (circa 1947 to 1991). It was also essential for writing my thesis on the People's Cultural Institute (Lekra), the PKI's cultural wing. Both Lekra and the PKI looked to these communist countries for guidance, especially the Soviet Union, to emulate their concept of "socialist realism" — art and literature that glorified communist values and supported the party line.
I was also connected to Russia by marriage. My late husband, Ami Priyono, was among the first seven Indonesian students sent to Moscow in 1956. Together with Sjumanjaya, they studied film at Lomonosov Moscow State University. Both eventually became prominent film directors in the 1970s and 1980s.
Ami's father, Prijono, was culture minister in Sukarno's first cabinet, serving for nine years (1957 to 1966). Prijono was a leading figure in the Murba Party (sometimes referred to as the second Indonesian communist party) and, like Sukarno, was pro-Soviet. In 1954, Prijono was awarded the Stalin Peace Prize.
So, the reason for my interest was partly a nostalgia trip and partly a desire to know more about our current relationship with the "Land of the Red Bear", as Indonesians sometimes refer to Russia.
I was accompanied by Vladimir Anisimov, head of the artist collective Bureau of Creative Expeditions and curator of the Necklace of the Equator exhibition. A distinguished gentleman in his 70s, sporting a bushy silver-gray beard, a moustache and an artist's ponytail, he was like a relic of the past, adding to the nostalgic atmosphere.
Vladimir explained in detail some of the 85 paintings on display. They were done by 10 Russian painters who over 20 years had travelled to Indonesia on various occasions, capturing scenes from Java, Sumatra, Madura, Bali, Lombok, Kalimantan and Sulawesi: landscapes, houses, ceremonies, local traditions — mainly focusing on the people. Mostly impressionistic, lots of bright colors and a touch of romanticism here and there, like the Madonna painting of a woman carrying a baby surrounded by flowers and a rainbow. No socialist realism here!
Exhibitions by Russian artists have been held before in Indonesia, in 2000, 2003 and 2005. Vladimir recalled that the opening day was usually full but after that, empty. The situation is completely different now, he said, with 200 to 300 people attending during work days and double that on the weekend.
Vladimir said they received only positive feedback. "People were impressed and spent a lot of time taking selfies with the paintings as backdrops. Maybe more time than just looking at them," Vladimir smiled wryly.
Among the crowd were a young man and woman intently discussing something related to the exhibition. They were Indonesians but spoke in very fluent English. I approached them and asked them why they had come to the exhibition. "Oh, we are Marxists. We came because we wanted to know more."
Wow, Marxists in our midst? So young and so brazenly declaring their ideological beliefs at a time when Indonesia's communist phobia is still alive and well? They really piqued my curiosity, so I took their phone numbers and chatted with them by WhatsApp the following day.
Both were 25 and were members of a group of young Marxist-Leninists who, like them, were disillusioned with the state of the world. "In 2016, when Donald Trump was elected president, it was the moment where we started really realizing the evil of the US empire and imperialism," they said.
"One of the things that really moved me," the young woman said, "was reading DN Aidit's [PKI chairman] speech for the
[party's]
44th anniversary, when he said that one of the conditions of being a PKI member is 'unmeasurable love for the people'." For her, that's what communism is: loving each other so fiercely that we fight for a world where no one has to suffer, a world free from exploitation.
Wow, talk about youthful idealism! Truth be told, any ideology, any political or economic system, as well as any religion, can be twisted to harm and oppress the people, however much our leaders wax lyrical about them, or about bilateral and international relations.
Maybe this is a time when our leaders should start listening to the younger generation to save the world. Greta Thunberg is trying hard to do that. Many more are joining her ranks, so all you politicians, bureaucrats and leaders out there, start listening!
Early version of the text published under: "Russia – Indonesia 70 years on: Some like it hot, cold or warm" in Jakarta Post
Malaysia in the geopolitical picture of Southeast Asia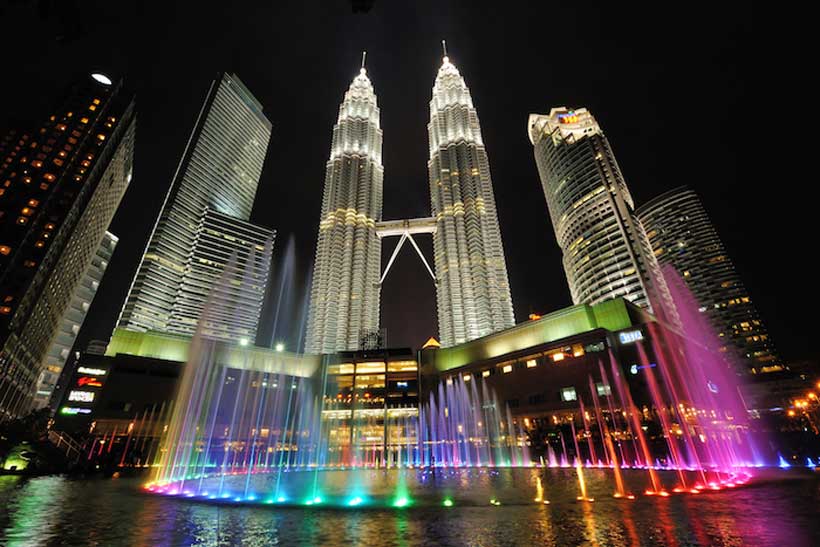 The geopolitical changes currently unfolding in Southeast Asia underscore Malaysia's strategic importance for the leading world powers.
Until recently, the foreign policy pursued by Kuala Lumpur was a relatively restrained one, dictated by the priority of the domestic political agenda, above all the need to politically and economically "cement" the western and eastern parts of the country and the maze of island territories in between, in a bid to stave off the possible rise of secessionist and autonomist sentiment.
Malaysia managed to avoid straining relations with foreign partners thus saving resources for domestic politics. Nowadays, however, Kuala Lumpur is pursuing a more active foreign policy in search for a favorable balance of interests in view of US displeasure with the actions of China and Russia (including Moscow's military-technical cooperation, and the arms market in Southeast Asia).
To better understand the nuances of Malaysia's position in the world, one should take into account the regional interests of Singapore and the Philippines. Last year, Singapore and the United States renewed a pact granting US forces access to naval and air bases in the city state until 2035.
Washington and Singapore claim that what they have is a security partnership, not a military alliance. Singapore deliberately calls the base used by the Americans a Singaporean, not an American one. This means that despite Singapore's strategic importance for the US presence in the South China Sea, the country is still trying to avoid Washington's strong embrace and have room for a geopolitical maneuver.
Meanwhile, to some extent the pace of US-Singaporean defense contacts depends on the state of Washington's cooperation with the Philippines. Because the Philippines blocks China's passage from the South China Sea into the Pacific Ocean, losing Manila as an ally would weaken Washington's strategic grip on the region. Therefore, the growing cooperation between Washington and Singapore is directly proportional to the slowdown in the US' cooperation with Manila. This means that the United States wants to expand cooperation with Singapore to make up for an emerging stagnation in relations with the Philippines.
However, Singapore sticks to a multi-pronged policy of building up ties, including with Beijing. As soon as this policy becomes too multi-vector for Washington's choice, Malaysia will acquire a new key importance for the latter, which is exactly what the US is now preparing for.
Russia is viewed by Malaysia as the third link in its foreign policy strategy (after the US and China). The Southeast Asian countries' overdependence on US military supplies is undermining their defense capability, since a refusal to kowtow to Washington is fraught with unilateral sanctions, including a suspension of arms deliveries (as has already been the case with Thailand and Indonesia).
Modernization of the armed forces and making the domestic defense industry increasingly self-sufficient, with only minimal reliance on external assistance, are the key points of Malaysia's national defense policy. What is important, however, is that Moscow and Kuala Lumpur see eye to eye on the future of Southeast Asia, which they view as a territory of peaceful cooperation and the supremacy of international law. Therefore, Russia and Malaysia are expanding their cooperation and are all set to keep it going in the years to come.
From a strategic standpoint, Malaysia needs to control the situation in the seas of Sulu and Sulawesi, given the scale of pirate activity in the region. To do this it needs to have pertinent accords with its Philippine and Indonesian neighbors. However, the Philippines' claim to the Malaysian state of Sabah is complicating the bilateral dialogue. Looking for outside support, Kuala Lumpur would like to see other countries, including Russia, playing a bigger role in the activities of ASEAN, of which both Malaysia and the Philippines are members. This does not mean a desire to bring a third party into the debate about the status of Sabah. Rather, it is a wish to establish a multi-stakeholder national security structure to strengthen the country's political and diplomatic hand in dealing with neighbors. Moreover, the fact that the United States, Australia and Indonesia want to participate in patrolling the Sulu and Sulawesi Seas does not seem to clash with Kuala Lumpur's vision of the format of such a mission.
Malaysia is among the three most developed ASEAN nations, along with Indonesia and Singapore. Russia's trade volume with each of them is in the ballpark of $3 billion. Presently, Kuala Lumpur is Moscow's important economic and political partner in ASEAN and its regional structures.
From our partner International Affairs
Distinguished Experts Call for Strengthening India-Vietnam Public Diplomacy
"During our history we have extended mutual support to each other…(we) have been able to benefit from the support from Indian people and government not only during our struggle for national independence and reunification, but also national construction", said H.E. Mr. Pham Sanh Chau, Ambassador of the Socialist Republic of Vietnam to India. Ambassador Chau was delivering the inaugural address at the International Symposium on "Public Diplomacy and India-Vietnam Engagements", organised by the Society for Public Research and Empowerment (SPRE), New Delhi, India in collaboration with Centre for Vietnam Studies, New Delhi, and the Embassy of the Socialist Republic of Vietnam in India. The event was organised via video conference on June 12, 2020.
Ambassador Chau discussed the Vietnamese perspective on public diplomacy and appreciated the importance given by Indian government to public diplomacy initiatives. He said that diplomacy had three major tenets in Vietnam which included political diplomacy, economic diplomacy and cultural diplomacy. Through cultural diplomacy, the primary task was to take care of the Vietnamese residing abroad, he said. He reminded the participants that President Ho Chi Minh had laid the foundation of "Hand to Hand" diplomacy, which helped in winning hearts of foreigners. He maintained that Vietnam won the war against the United States by winning public opinion in Washington. He reiterated the significance of public diplomacy, and said that the India Study Centre and the Ho Chi Minh Academy can be important institutions to support public diplomacy initiatives between the two countries. He also spoke of the growth of Voice of Vietnam radio. Ambassador Chau also specifically mentioned about the significance of direct flights between Vietnam and India and said that it will help in increasing people-to-people contact.
Prior to the inaugural address, Dr. Mahjabin Banu, President, SRPE and Visiting Fellow at the Centre for Vietnam Studies in New Delhi, who moderated this symposium, delivered the opening remarks. She said that public diplomacy is key to managing bilateral relations between India and Vietnam as it helps in promoting inter-cultural understanding. Dr. Banu maintained that this ongoing pandemic has provided an opportunity to engage in a larger Track II dialogues which can also be made possible through technological applications and video conferencing.She asserted that public diplomacy initiatives and geo-cultural cooperation among India, ASEAN and the Mekong-Ganga Cooperation will deepen the integration. This is also very crucial when it comes to Vietnam, she added. Dr. Banu called for a concerted effort toward enriching public diplomacy initiatives between the two countries, and argued that it can redefine the nature of our bilateral economic and strategic relations as well.
Dr. Ash Narain Roy, Chief Patron of the Centre for Vietnam Studies delivered the welcome address. He congratulated Vietnam on its successful handling of Covid-19 pandemic despite sharing a border with China. He praised the accountability of the government of Vietnam. While expressing his thoughts on public diplomacy, Dr. Roy emphasized on the importance of the cultural aspects. He spoke about the success of German Institutes, Confucian Centers and the British Councils. In terms of public diplomacy, he maintained that what matters is what you are and not who you are. In his concluding remarks, he commended the fact that both India and Vietnam have to walk shoulder to shoulder in deepening cooperation between them. Dr. Roy also reminded the participants of the geographical importance of the Indo-Pacific and how India has remained an anchor in the region.
Dr. G. B. Harisha, Director of the Swami Vivekananda Cultural Centre at the Embassy of India in Hanoi delivered a special address. He threw light on the recent discovery of Shiva Linga in the Cham Temple complex. Dr. Harisha also discussed about the deep cultural relationship between India and Vietnam. He further spoke about the respect given to Swami Vivekananda Centre in Hanoi and also about the recently installed statue of Mahatma Gandhi in Hanoi. He said that although other ASEAN countries are known for deeper ancient ties with India, the most ancient inscriptions are found in Hanoi. He highlighted that about 2000 years back, Indian monks brought Buddhism to Vietnam. He reminded the participants about the significance of International Day of Yoga and said that it is celebrated at a very artistic level in Vietnam.
The symposium included three distinguished panels catering to three distinct sub-themes. Each of these panels included two experts – one each from India and Vietnam. The three panel sub-themes included the following: instruments of public diplomacy; public diplomacy as a means of strengthening India-Vietnam ties; and, India-Vietnam cooperation in the emerging geopolitics of a post-covid world
Dr. Rajan Sudesh Ratna, Economic Affairs Officer at United Nations Economic and Social Commission for Asia and the Pacific in New Delhi spoke on the first sub-theme of instruments of public diplomacy. He began by comparing the imperial struggles of both India and Vietnam. Dr. Ratna then spoke about how India had granted Vietnam the Most Favored Nation (MFN) status in 1975, even before Vietnam joined the World Trade Organisation (WTO). He added that soon after granting the MFN status, India then went on to sign a trade agreement with Vietnam in 1978. Dr. Ratna spoke of the deep economic ties between India and Vietnam by stating facts that included India being the 7th largest trading partner of Vietnam and Vietnam being India's 3rd largest trading partner in ASEAN and 14th largest trading partner globally. He also emphasized on how Indian generic drugs being the cheapest can help Vietnam. Dr. Ratna also stressed on the importance of science and technology as a means of connect between the two nations given that Indian software is globally recognized, and Vietnam also has gained due competitiveness in science and technology.
Ms. M. A. Hoang Manh, the next speaker, represented the Ministry of Foreign Affairs of the Government of Vietnam. She spoke of an article she had written on 'What does Vietnam share to the world?'. She said the answer lay in the UNESCO heritage and national parks, and not just coffee. She highlighted the 4000 years of history of Vietnam. Ms. Manh stressed that the most important purpose of public diplomacy is to connect and make people understand about Vietnam. She said that media can play a pivotal role in doing so. She informed the participants that the Voice of Vietnam, as mentioned by Ambassador Chau as well, has 24 channels and it can be an important instrument to promote Vietnam. She spoke of two proposals to help improve public diplomacy between India and Vietnam. One, she said, is to publish more and more articles in the newspapers carrying positive information about India as information about India was limited in Vietnam. Secondly, she called for publishing information about Vietnam in English language to promote Vietnam among the Indian audience.
Dr. Faisal Ahmed, Associate Professor at FORE School of Management in New Delhi, while speaking on public diplomacy as a means of strengthening India-Vietnam ties, described public diplomacy as a tool to reposition the image of a country in mind of the people of other countries. He talked about popular geopolitics and maintained that Vietnam has created an excellent regional and global image as a supporter of peace and humanitarian values. Discussing about cultural cooperation, he mentioned that the two sides have jointly created Indo-Vietnam Film and Cultural Forum which strengthens public diplomacy initiatives. He recommended that this cultural forum should undertake initiatives to organise film festivals, fashion shows, broadcasting of films, and should also print an India-Vietnam Film Magazine to depict each other's real and reel life. He spoke about the need for mass connect amongst the youths, and across communities in both countries. Dr. Ahmed called for allocating more policy space to public diplomacy for leveraging its benefits in economic and strategic arenas as well.
Dr. Le Thi Hang Nga from the Vietnam Academy of Social Sciences in Hanoi was the next speaker. She explained the five elements of public diplomacy viz. listening, advocacy, cultural diplomacy, exchange diplomacy and international broadcasting. She said the most important aspect was cultural diplomacy between Vietnam and India. She spoke of how well India has promoted cultural diplomacy by stating that thirty-seven cultural centers have been maintained by the Indian Council for Cultural Relations, and sculptures of Mahatma Gandhi have been established in forty countries on his 150th birth anniversary. Dr. Nga maintained that the most unique feature of Indian diplomacy can be domestic outreach, and emphasized that the North-East region of India is significant for the success of India's Act East Policy. She mentioned about the newsletter started by the Indian Embassy in Vietnam which is published in Vietnamese, and spoke of the need of a similar newsletter in India by the Vietnamese Embassy.
The last panel focused on the sub-theme of India-Vietnam cooperation in the emerging geopolitics of a post-Covid world. Prof. G. Jayachandra Reddy, Director of the Centre for Southeast Asian and Pacific Studiesat Sri Venkateswara University in Tirupati began his talk with the Covid-19 pandemic situation. He said that Covid-19 is very different from all the previous pandemics – the one difference being on the impact on developed economies. He then discussed about the geopolitical blame game that began following the Covid-19 outbreak. He raised the question as to whether the virus was a coincidence or a planted tool and whether information was hidden and to what extent. He described how the United States has been targeting China and the World Health Organisation (WHO), and also how the European Union is supporting the resolution for enquiry. He expects that there would be a re-polarization of the world order with the growing relevance of geopolitics. He also emphasized that India and Vietnam shall be emerging as extremely competitive hubs in the long-run.
Further, Dr. Do Thu Ha, Professor at the Vietnam National University in Hanoi, spoke about borders becoming much more blurred due to globalization. She reiterated the shift in power being brought forward by this pandemic. She maintained that Covid-19 is here to stay, and it is the time we reconsider our mobility, supply chains, relationships, etc. in accordance with this new scenario. Dr. Ha concluded by drawing attention to the impact of Covid-19. It is not to be underestimated and global order dynamics are expected to be hugely different from pre-Covid world, she added.
The event received immense knowledge support and cooperation from Dr. Sonu Trivedi, Director of the Swami Vivekananda Cultural Centre at the Embassy of India in Seoul; and, Dr. Manish Kumar, Officiating Director of the Centre for Vietnam Studies in New Delhi. It included active participation from speakers and delegates representing India, Vietnam, Thailand, the Philippines, South Korea, Russia, and Switzerland. Toward the end, the forum was opened for Q&A. The Rapporteuring of the event was done by Mr. Mohammad Yusuf Khan. The event concluded with a vote of thanks.
(SPRE may be contacted at: spre.india[at]gmail.com)
Prospects and Challenges for Indonesia to Counter IUU Fishing as a Transnational Organized Crime
Authors: Ahmad Almaududy Amri Ph.D and Aloysius Selwas Taborat LL.M*
Ocean governance has never been so crucial as it is now since the conclusion of the United Nations Convention on the Law of the Sea (UNCLOS) in 1982. The myriad and multifaceted dimensions of ocean governance have intertwined in a complex manner.
Major impacts of climate change as exhibited in a growingly warmer and acidic global ocean, rising sea level, and the retreating of sea ice (2020 Copernicus Ocean State Report) continue to pose existential problems to policy makers worldwide. On the other front, ocean governance is tightly related to global development agenda, the United Nations Sustainable Development Agenda (Agenda 2030).
Against the backdrop of this global landscapes, the question about how to better address illegal, unreported, and unregulated fishing (IUUF) rise to eminence. A 2019 Blue Paper titled "Illegal, Unreported and Unregulated Fishing and Associated Drivers", commissioned by the High Level Panel for A Sustainable Ocean Economy, asserts that IUUF is, among others, a criminal and human rights phenomenon.
The Paper also pointed out that "…although many efforts to stem IUU Fishing are international, national governments must initiate much of the action, including regulating their own coastal fisheries, enacting regulations at ports of entry, ratifying international agreements, and employing new tracking and transparency technologies". Indeed, not an easy feat for national policy makers. They have to tame the recalcitrance of both global and domestic fabric of policies.
In such a context, policy makers are under constant pressure to cater and deliver to the specificity of IUUF problems and challenges that besieged the extent and possibilities of their policy arsenals. And in the Indonesian context, we argue that such dilemma concerns with the fundamental question of to what extent should IUUF be addressed from a criminal and law enforcement perspective. In other words, how can a criminal and law enforcement approach to IUUF can complement Indonesia's policy to address IUUF's environmental and developmental dimension. We attest, that a criminal and law enforcement approach to IUUF is indeed plausible and imperative.
One of the most pressing issues in the combatting of IUUF from a criminal and law enforcement perspective is whether a penal sanction can be applied in the Exclusive Economic Zone (EEZ), the maritime domain where IUUF occurs the most. In 2016, at the 25th Session of the Commission on Crime Prevention and Criminal Justice (CCPCJ), the Indonesian Government introduced IUUF as transnational organized crime (TOC).The criminalization of IUUF as TOC, provided the legal framework to justify the enforcement of penal sanctionsin any maritime zones, notwithstanding EEZ. Punitive approach is critical to deter future IUUF practices.
The current global landscapes and domestic context, particularly with the growing importance of ocean governance, provides an impetus for Indonesia to rethink and reconsider its strategy in combatting IUUF as a TOC. After all, global efforts to address this issue must be anchored on a forceful initiative and measure at domestic level, if goals or commitments were to ever work at all. Hence, the following strategies can therefore be considered.
I. Usage of appropriate term
IUUF is a well-defined term particularly by the Food and Agriculture Organization (FAO) and considered as an act violating administrative regulations (fisheries management concern). Thus, in accordance with this understanding, IUUF conducted in EEZ cannot be penalized. To address this, the term IUUF should be changed. Terms such as fisheries crime may be the best option.
II. Proposing resolutions at regional and multilateral forums
Garnering international support is a must. Efforts at regional and global levels must be strengthened with tailor-made approach to every cooperative platform.
In 2007, together with United States and Timor Leste, Indonesia sponsored an ASEAN Regional Forum (ARF) Statement on Cooperation to Prevent, Deter, and Eliminate IUUF. The preamble paragraph stipulated that ARF is working to ensure that national legislation and enforcement regimes provide appropriate administrative, civil, and/or penal sanctions to prevent, deter, and eliminate IUUF. This statement is critical as a stepping-stone in raising awareness about IUUF and how penal sanctions may be applicable in the future. But this statement alone is insufficient. It is imperative to endorse this idea in a more global scale.
CCPCJ has indeed acknowledged fisheries crime as an emerging crime. However, CCPCJ is still weighing the possibility to classify fisheries crimes as TOC. Indonesia can identify the possibility to initiate a resolution on this issue in CCPCJ.
III. Usage of relevant international legal frameworks
a. UNCLOS
Article 73 (3) UNCLOS stipulates that violation of fisheries laws and regulations of the coastal state's EEZ may not include imprisonment and other forms of corporal punishment. Nonetheless, it provides avenue shall states wish to impose other kinds of punishments/sanctions. But such sanctions should be first agreed by other contracting states in a form of an agreement. The said agreement should clearly stipulate the kinds of punishments/sanctions enforced to the perpetrators conducting illegal fishing in the EEZ. Indonesia can capitalize this provision by negotiating such agreement bilaterally, regionally or multilaterally.
b. UNTOC
United Nations Convention against Transnational Organized Crimes (UNTOC) has explicitly listed the criteria of crimes that can be categorized as serious crimes. Article 3 (1) mentions that a crime is a serious crime if the offence is transnational in nature and involves organized criminal groups. Indonesia can utilize UNTOC to categorize fisheries crimes as TOC and to make it a new predicate crime hence creating a new legal norm.
IV. Domestic efforts
Indonesia should revise its domestic law to accord with the said efforts. The current Fisheries Act No. 31/2004 (as amended by Act No. 45/2009) has no penal sanctions. Additionally, Circular Letter of the Supreme Court (SuratEdaran Mahkamah Agung) No. 3/2015 in point 3 supported Article 73 (3) UNCLOS which in principle stated that perpetrators conducting IUUF activities in the Indonesian EEZ can only be asked to pay fine (reasonable bond) and not imprisonment.
Modification to the existing laws is inevitable if Indonesia were to go all the way in making IUUF or fisheries crimes as TOC. Most of the cases in Indonesia, IUUF perpetrators are not able to pay fines. The practice in Australia might serve as a reference, whereby it imposes imprisonment as a subsidiary punishment to fine. If the perpetrators unable to pay fine, the fine would be converted to number of days in prison.
Efforts to categorize IUUF or fisheries crimes as TOC will require lengthy process at both domestic and international level. Nevertheless, a meaningful step by Indonesia to address IUUF in a non-business as usual manner will serve as a building block to the global efforts.
*Aloysius Selwas Taborat LL.M holds LL.M degree from Washington College of Law, American University.
DISCLAIMER: Views expressed above are the authors' own.