Each Additional School Year for Pakistani Girls Increases Future Earnings by Up To 10%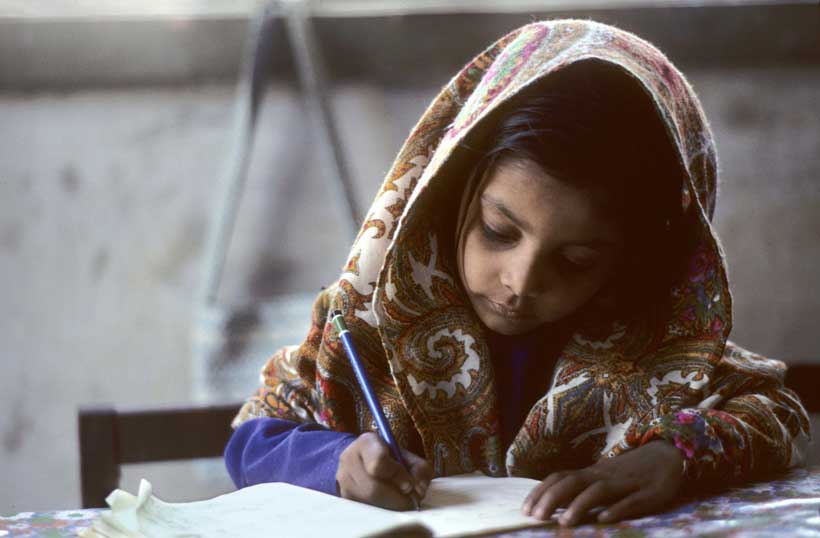 At Pakistan's Second Human Capital Summit held today in Islamabad, participants highlighted the need to invest in girls' education and women's economic empowerment as crucial to Pakistan's sustained growth.
While last year's Human Capital Summit focused on policymaking, the Second Human Capital Summit engaged practitioners, learning from insights on the ground in Pakistan. Building upon the 'Girls Learn, Women Earn' initiative launched in December 2019, the Summit – co-hosted by the Japan International Cooperation Agency (JICA) and World Bank Pakistan – marked the progress being made in Pakistan in efforts to enable girls to excel in school, and women to thrive in the workplace.
The conference was opened with remarks from Dr. Sania Nishtar, Special Assistant on Poverty Alleviation and Social Safety to the Prime Minister, and Dr. Shinichi Kitaoka, the President of JICA.
"Government of Pakistan's Ehsaas program has a very serious intent to drive forward the agenda of women empowerment. Ehsaas stringently follows fifty percent rule across the board for women inclusion in all Ehsaas initiatives including interest free loans, scholarships and asset transfers", said Dr. Sania Nishtar. "Likewise, Kafaalat that has recently been launched by the Prime Minister will ensure financial and digital inclusion of 7 million disadvantaged women across Pakistan who will now benefit from the monthly stipend of Rs. 2,000 along with access to bank accounts and affordable smart phones."
Dr. Kitaoka emphasized on the importance of investment in Human Capital.
"Investments in Human Capital, such as education, health and nutrition, are inevitable for building a progressive foundation for Human Security," said Dr. Shinichi Kitaoka. "Learning from Japan's experience, we know that countries can also enhance their Human Capital by thriving on trust and promoting the role of families and communities in national development. JICA will work pro-actively to build and nurture Human Capital by leading with trust and collaborating in the areas of education, health and nutrition as key building blocks of sustained Human Security for all."
The challenges and constraints of the education system in Pakistan to promote girls learning were discussed by the panels. Poverty, distance from home to schools, and parental perception of schools' safety were noted as three of the main determinants of school attendance for girls. In the 'Girls Learn' panel, it was highlighted that young girls in rural areas are the least likely to have full access to education and the gender gap in enrolment is a persistent issue across education levels. In order to tackle these challenges, panelists showcased Accelerated Learning Program which provides overaged out of school children with learning opportunities for their Human Capital development as a good practice from within Pakistan.
"Every additional year of schooling for a girl increases her future earnings by up to 10%," said Illango Patchamuthu, World Bank Country Director for Pakistan. "Pakistan can use the untapped economic potential of women in the workforce and estimates indicate this can boost the economy by up to 30%, by empowering women and girls to expand their skills, access to information, mobility, and access to finance and assets."
Another panel on 'Women Earn' emphasized the potential for women's access to finance and affordable, safer transport as two key areas that can unlock women's participation in the economy. Current research shows that only 11 percent of women in Pakistan utilize banking services, and Pakistani women are four times less mobile than men.
Representatives from the government, academia, development organizations, commercial banks, telecom industry, startup ecosystem, fashion industry, civil society and media also participated in the Summit.
Girls Learn, Women Earn Initiative
The 'Girls Learn, Women Earn' initiative invites any institution to sign up to be a GLWE champion from December 31, provided they meet the registration criteria, which will be set by an independent panel of advisors. The GLWE campaign began on December 1, 2019 and will continue until March 10, 2020, just after International Women's Day on March 8.
Duck conservation takes flight in Jamaica
On January 20, 2021, the day of the inauguration of American president Joe Biden, two ducks named "Joe" and "Kamala" took flight from a remote wetland near Negril, Jamaica. And, like their namesakes, the fowl will be the focus of international attention.
That's because Joe and Kamala are West Indian whistling ducks, the rarest duck species in the Americas, with fewer than 20,000 remaining, found only in the northern Caribbean. Conservationists released the pair, which were outfitted with GPS trackers, into the wild on 20 January, kicking off a study to learn more about their species and, researchers hope, ensure their survival.
BirdsCaribbean is a partner of the United Nations Environment Programme (UNEP). The whistling duck study is supported by UNEP's Integrating Water, Land and Ecosystems Management in Caribbean Small Island Developing States (IWEco) project.
With one million species are at risk of extinction, biodiversity is a key priority of the UN Environment Programme (UNEP). Ecosystems are fundamental to human health and prosperity, availing food and water, regulating temperature, stimulating economic growth, putting roofs over heads and clothing on backs. As ecosystems degrade, so do human lives.
As the world faces the stark reality that none of the Aichi targets were met and prepares for a new, ambitious post-2020 framework, the issue is more urgent than ever. In fact, biodiversity loss and ecosystem collapse are ranked among the top five threats to humanity in the coming decade.
Whistling ducks' long-term survival has been threatened by the destruction of their wetland habitats, as well as climate change, pollution, poaching and predators. Little is known about the large waterbird that is between the size of a large duck and a goose, has a long neck, and is mostly brown in colour, but may have black-and-white patches on its neck and flanks. The duck's characteristic features is its distinctive whistling call.
"We are thrilled with the launch of this exciting project," said Lisa Sorenson, the Executive Director of BirdsCaribbean. "I expect it will lead to major improvements in our knowledge of the ducks' movements and habitat use."
The trackers attached to Joe and Kamala are expected to plot their positions every hour to within a few metres and will help the scientists to know about the species, their migration patterns, nesting sites, feeding zones and roosting locales. Researchers are aiming to use the information gathered through the initiative to plan for the species' recovery.
Led by UNEP with the backing of the Global Environment Facility, IWEco is helping 10 Caribbean countries manage their water and land resources while safeguarding biodiversity. A key part of the project has been the protection and monitoring of endemic species, like West Indian whistling ducks.
As one of the three founding Global Environment Facility partners, UNEP has been working on conservation projects supported by the facility for almost 30 years.
"Together, UNEP and the Global Environment Facility have successfully worked to address global transboundary issues since 1992, and we look forward to further strengthening and implementing actions for nature," said Sinikinesh Beyene Jimma head of UNEP's GEF International Waters Unit.
And while biodiversity targets have not been met, evidence indicates that efforts have produced results. Where action was taken, habitat loss was controlled and decades of degradation were reversed.
Estonia provides good support to jobseekers, but does not reach everybody
The Estonian labour market has outperformed most EU countries after the global financial crisis. The employment rate of people in working age stood at 73% in the third quarter of 2020, up from 61.3% in 2010 and above the OECD average of 66.7%. Estonia provides comprehensive and targeted support to jobseekers, workers and employers. The Public Employment Service provides effective policies addressing the individual needs of the clients and cooperates pro-actively with a wide range of stakeholders. However, many people still lack stable jobs and incomes and are not in touch with the Public Employment Service to get the support they need, according to a new OECD report.
Connecting people with jobs: Improving the provision of active labour market policies in Estonia says that despite good labour market outcomes, about one quarter (26%) of the working age population could achieve better labour market outcomes through targeted support. Many of them face challenges related to their skills (68%) and family-related challenges (64%), such as care obligations. In many cases, they face several obstacles simultaneously and require an integrated approach.
Estonia's active labour market policies (ALMPs) are responsive to labour market needs. However, ALMPs reach only 39% of people who are weakly attached to the labour market, and only 33% of people who are out of employment for more than one year.
"Reinforcing outreach to vulnerable groups far from the labour market is crucial to ensure that more people in Estonia get the support they need," said Stefano Scarpetta, OECD Director for Employment, Labour and Social Affairs.
Improved cooperation between the Public Employment Service and other relevant institutions providing social, health and education services would help reduce gaps in support to vulnerable groups. Notably, municipalities should be the "first respondents", supporting vulnerable groups with social welfare services, and cooperating with other institutions when needed.
Further improvements in the provision of ALMPs could be supported by a leaner regulatory framework. The current legal regulations support flexible and effective policy responses but are complex, which leads to administrative inefficiencies. A leaner regulatory framework would enable Estonia to support flexibility in policy design while maintaining the capacity to respond to labour market changes.
New EU energy labels applicable from 1 March 2021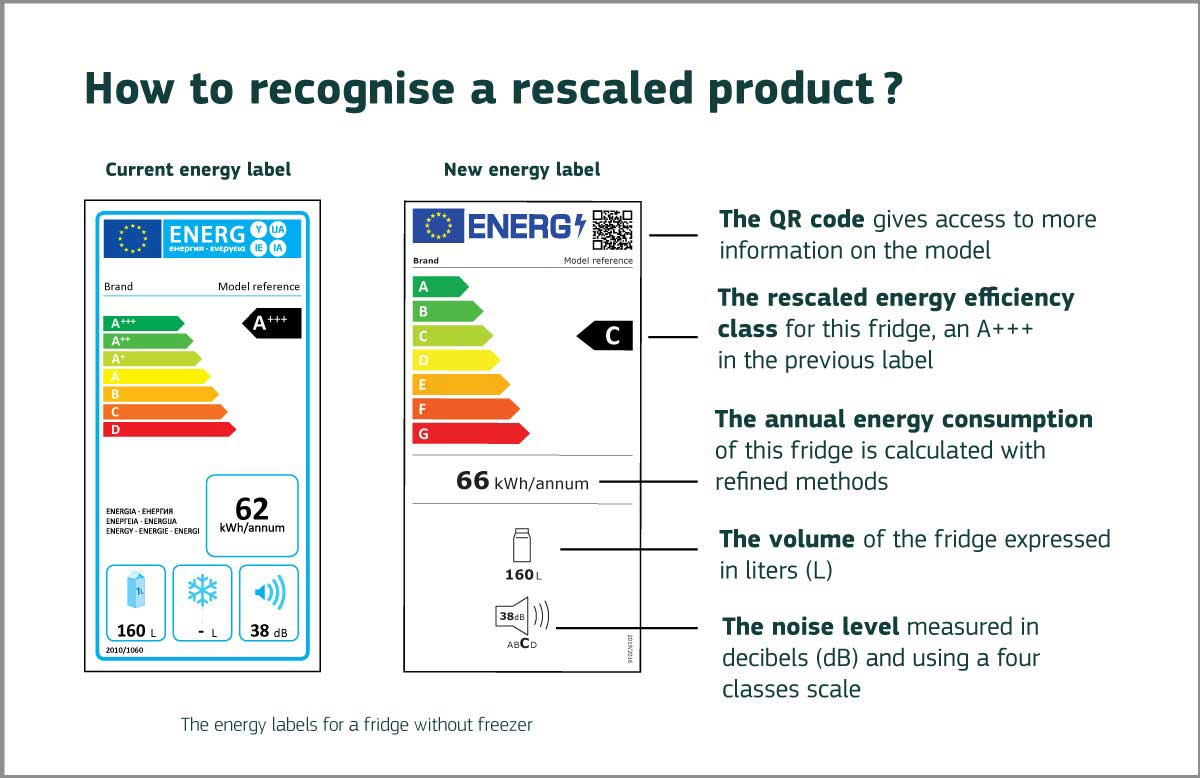 To help EU consumers cut their energy bills and carbon footprint, a brand new version of the widely-recognised EU energy label will be applicable in all shops and online retailers from Monday, 1 March 2021. The new labels will initially apply to four product categories – fridges and freezers, dishwashers, washing machines, and television sets (and other external monitors). New labels for light bulbs and lamps with fixed light sources will follow on 1 September, and other products will follow in the coming years.
With more and more products achieving ratings as A+, A++ or A+++ according to the current scale, the most important change is to return to a simpler A-G scale. This scale is stricter and designed so that very few products are initially able to achieve the "A" rating, leaving space for more efficient products to be included in the future. The most energy efficient products currently on the market will typically now be labelled as "B", "C" or "D". A number of new elements will be included on the labels, including a QR link to an EU-wide database, which will allow consumers to find more details about the product. A number of ecodesign rules will also come into force from 1 March – notably on reparability and the need for manufacturers to keep spare parts available for a number of years after products are no longer on the market.
Commissioner for Energy, Kadri Simson, said: "The original energy label has been very successful, saving an average household in Europe several hundred euros per year and motivating companies to invest into research and development. Until the end of February, over 90% of products were labelled either A+, A++ or A+++. The new system will be clearer for consumers and ensure that businesses continue to innovate and offer even more efficient products. This also helps us to reduce our greenhouse gas emissions."
As well as rescaling the energy efficiency class of the product concerned, the layout of the new label is different, with clearer and more modern icons. Like the previous labels, the rescaled labels show more than just the energy efficiency class. For a washing machine, for example, they show at a glance the number of water liters per cycle, the duration of a cycle, and the energy consumption, as measured for a standardised programme.
A further significant change is the introduction of a QR code on the top right of the new labels. By scanning the QR-code, consumers can find additional information about the product model, such as data relating to the dimensions, specific features or test results depending on the appliance. All appliances on the EU market have to be registered in a new EU-wide database – European Product Registry for Energy Labels (EPREL). This will further facilitate the comparison of similar products in the future.
In addition to the new energy labelling rules, there are corresponding new regulations on ecodesign that take effect on 1 March 2021. These relate notably to the updated minimum efficiency requirements and reinforce consumer rights to repair products and support the circular economy. Manufacturers or importers will now be obliged to make a range of essential parts (motors and motor brushes, pumps, shock absorbers and springs, washing drums, etc.) available to professional repairers for at least 7-10 years after the last unit of a model has been placed on the EU market. For end-users, too (i.e. consumers who are not professional repairers, but like to repair things themselves), manufacturers must make certain spare parts available for several years after a product is taken off the market – products such as doors or hinges and seals, which are suitable for DIY action. The maximum delivery time for all these pieces is 15 working days after ordering.
Background
The EU energy label is a widely recognised feature on household products, like lightbulbs, television sets or washing machines, and has helped consumers make informed choices for more than 25 years. In an EU-wide (Eurobarometer) survey in 2019, 93% of consumers confirmed that they recognised the label and 79% confirmed that it had influenced their decision on what product to buy. Together with harmonised minimum performance requirements (known as ecodesign), EU energy labelling rules are estimated to cut consumer expenditure by tens of billions of euros every year, whilst generating multiple other benefits for the environment and for manufacturers and retailers.
The new categories for the rescaled label were agreed after a rigorous and fully transparent consultation process, with the close involvement of stakeholders and Member States at all stages, scrutiny by the Council and the European Parliament and with sufficient involvement of and notice provided to manufacturers. As required by the framework regulation, other product groups will be "rescaled" in the coming years – including tumble dryers, local space heaters, air conditioners, cooking appliances, ventilation units, professional refrigeration cabinets, space and water heaters, and solid fuel boilers.
The switch to the rescaled labels coincides with the entry into force of two horizontal ("omnibus") regulations recently adopted to correct or clarify a range of issues identified in the concerned energy labelling and ecodesign regulations as originally adopted in 2019.