World Bank Group Launches Initiatives Supporting Women Entrepreneurs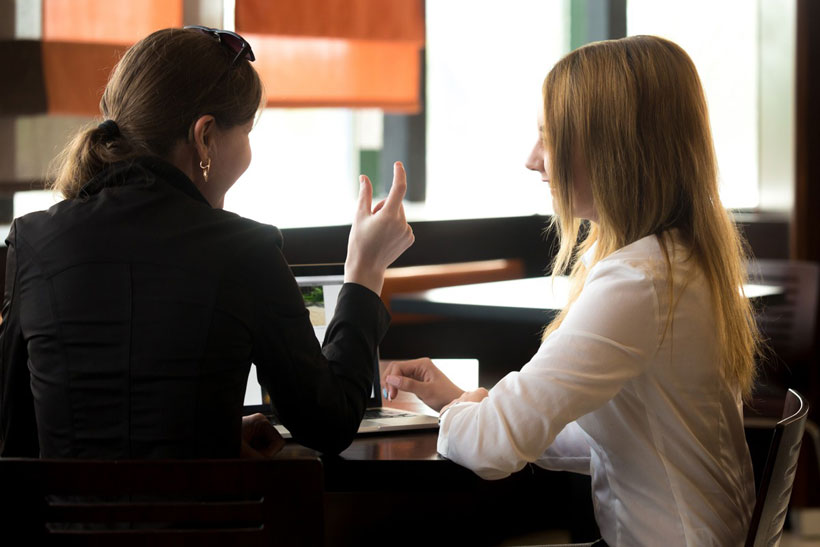 The World Bank Group announced two new initiatives to improve access to start-up financing and e-commerce markets for women entrepreneurs, at the Women Entrepreneurs Finance Initiative (We-Fi) Middle East and North Africa (MENA) Summit.
"Starting and growing a business is one of the most powerful tools for women to overcome poverty and build better lives for themselves, their families, and their communities," said David Malpass, World Bank Group President. "Removing regulatory barriers along with obstacles to access to finance and markets can give women-led businesses the opportunity to succeed."
We-Fi, housed at the World Bank, has so far allocated close to US$250 million to tackle challenges women entrepreneurs face in developing countries. The allocations aim to reach 114,000 women entrepreneurs. We-Fi is a powerful catalyst for additional investment, helping mobilize more than US$2.6 billion in additional public and private sector funds.
At the We-Fi MENA Regional Summit, held during the Global Women's Forum Dubai 2020, the International Finance Corporation (IFC) and We-Fi launched the ScaleX program to incentivize accelerators to support start-up businesses led by women. IFC research shows that women entrepreneurs in emerging markets face a daunting gender finance gap with only 11% of enterprises that actually attain seed funding being female-led. New research shows that despite women leading half the start-ups that participate in accelerators—entities designed to train and support the development of start-ups to become investment ready—they continue to face greatly unequal access to capital.
The program will incentivize emerging markets accelerators to work with women-led businesses by providing performance-based payments of US$25,000 for every woman entrepreneur that raises US$1 million from investors in start-up funding.
"We are launching the ScaleX program to help women entrepreneurs in emerging markets to access funding at a crucial stage to grow their businesses," said Sérgio Pimenta, IFC Regional Vice President for the Middle East and Africa. "This is a win-win for accelerators, investors, and women entrepreneurs."
The World Bank and UPS also announced today a new partnership to help women entrepreneurs in the Middle East and North Africa region to grow their businesses by assisting them in successfully leveraging e-commerce platforms.
"By making e-commerce platforms more accessible, this partnership addresses a key constraint faced by women business leaders in reaching new markets," said Ferid Belhaj, World Bank MENA Vice President. "E-commerce platforms create opportunities, and we must ensure these opportunities are open to women-owned businesses across the region."
UPS will provide e-learning modules on different e-commerce topics to help women-owned and women-led small and medium enterprises seeking to expand their businesses across borders. The project will support an estimated 750 women entrepreneurs and will train a cadre of e-commerce advisors in each country who can provide tailored assistance and coaching to businesses. The partnership will work with entrepreneurs in Algeria, Djibouti, Egypt, Jordan, Lebanon, Morocco, and Tunisia.
We-Fi has made allocations to programs being implemented by the African Development Bank, the Asian Development Bank, the European Bank of Reconstruction and Development, the Inter-American Development Bank. the Islamic Development Bank, and the World Bank Group. The World Bank and IFC We-Fi programs (US$75 million in allocations) are working with private and public partners in 24 countries via 27 investment and advisory projects to enable women entrepreneurs to access finance and markets and amplify those efforts with global research, partnerships, and policy advocacy.
For more information about IFC's ScaleX initiative
The Women Entrepreneurs Finance Initiative (We-Fi) is a groundbreaking partnership that aims to unlock financing for women-led businesses in developing countries. We-Fi's partners include 14 donor governments, six multilateral development banks as implementing partners, and numerous other stakeholders in the public and private sector around the world. We-Fi takes an ecosystem approach to removing barriers to women's economic empowerment, addressing constraints and opportunities related to finance, market access, capacity and the enabling environment.
More research needed into COVID-19 effects on children
More research is needed into factors that increase the risk of severe COVID-19 disease among children and adolescents, the head of the UN World Health Organization (WHO) has said, adding that while children may have largely been spared many of the most severe effects, they have suffered in other ways.
Joining the heads of the UN Children's Fund (UNICEF) and the UN Educational, Scientific and Cultural Organization (UNESCO), at a press conference on Tuesday, WHO Director-General Tedros Adhanom Ghebreyesus outlined that since the start of the COVID pandemic, understanding its effects on children has been a priority.
"Nine months into the pandemic, many questions remain, but we are starting to have a clearer picture. We know that children and adolescents can be infected and can infect others", he said.
"We know that this virus can kill children, but that children tend to have a milder infection and there are very few severe cases and deaths from COVID-19 among children and adolescents."
According to WHO data, less than 10 per cent of reported cases and less than 0.2 per cent of deaths are in people under the age of 20. However, additional research is needed into the factors that put children and adolescents at an increased risk.
In addition, the potential long-term health effects in those who have been infected remains unknown.
Referring to closure of schools around the world, which has hit millions of children, impacting not only their education but also a range of other important services, the WHO Director-General said that the decision to close schools should be a last resort, temporary and only at a local level in areas with intense transmission.
Keeping classrooms open, 'a job for all of us'
The time during which schools are closed should be used for putting in place measures to prevent and respond to transmission when schools reopen.
"Keeping children safe and at school is not a job for schools alone, or governments alone or families alone. It's a job for all of us, working together," added Mr. Tedros.
"With the right combination of measures, we can keep our kids safe and teach them that health and education are two of the most precious commodities in life," he added.
Guidance on reopening schools, while keeping children and communities safe
Although children have largely been spared many of the most severe health effects of the virus, they have suffered in other ways, said Director-General Tedros, adding that closure of schools hit millions of children globally.
Given different situations among countries: some, where schools have opened and others, where they have not, UNESCO, UNICEF and WHO, issued updated guidance on school-related public health measures in the context of COVID-19.
Based on latest scientific evidence, the guidance provides practical advice for schools in areas with no cases, sporadic cases, clusters of cases or community transmission. They were developed with input from the Technical Advisory Group of Experts on Educational Institutions and COVID-19, established by the three UN agencies in June.
Schools provide critical, diverse services
Audrey Azoulay, UNESCO Director-General, also highlighted the importance of school, not only for teaching, but also for providing health, protection and – at times – nutrition services.
"The longer schools remain closed, the more damaging the consequences, especially for children from more disadvantaged backgrounds … therefore, supporting safe reopening of schools must be a priority for us all", she said.
In addition to safely reopening schools, attention must focus on ensuring that no one is left behind, Ms. Azoulay added, cautioning that in some countries, children are missing from classes, amid fears that many – especially girls – may not ever return to schools.
Alongside, ensuring flow of information and adequate communication between teachers, school administrators and families; and defining new rules and protocols, including on roles of and trainings for teachers, managing school schedules, revising learning content, and providing remedial support for learning losses are equally important, she said.
"When we deal with education, the decisions we make today will impact tomorrow's world," said the UNESCO Director-General.
A global education emergency
However, with half the global student population still unable to return to schools, and almost a third of the world's pupils unable to access remote learning, the situation is "nothing short of a global education emergency", said Henrietta Fore, UNICEF Executive Director.
"We know that closing schools for prolonged periods of time can have devastating consequences for children," she added, outlining their increased exposure risk of physical, sexual, or emotional violence.
The situation is even more concerning given the results from a recent UNICEF survey which found that almost a fourth of the 158 countries questioned, on their school reopening plans, had not set a date to allow schoolchildren back to the classrooms.
"For the most marginalized, missing out on school – even if only for a few weeks – can lead to negative outcomes that last a lifetime," warned Ms. Fore.
She called on governments to prioritize reopening schools, when restrictions are lifted, and to focus on all the things that children need – learning, protection, and physical and mental health – and ensure the best interest of every child is put first.
And when governments decide to keep schools closed, they must scale up remote learning opportunities for all children, especially the most marginalized.
"Find innovative ways – including online, TV and radio – to keep children learning, no matter what", stressed Ms. Fore.
World Bank Project to Boost Household Access to Affordable Energy
Today, the World Bank Board of Directors approved $150 million in financing to improve access to modern energy for households, enterprises, and public institutions in Rwanda and to enhance the efficiency of electricity services. $75 million will be provided as grant funding, and $75 will be provided as a loan.
Building on the achievement of previous World Bank support to the energy sector, the Rwanda Energy Access and Quality Improvement Project (EAQIP) will advance Rwanda's progress towards achieving UN Sustainable Development Goal 7 (SDG7) to ensure access to affordable, reliable, sustainable and modern energy for all, while also contributing to the country's aim of reducing reliance on cooking fuel by 50%.
"The proposed project is well-timed to build on the World Bank's decade-long support to the Government's energy sector agenda. It will contribute directly to Rwanda's push toward universal energy access by 2024 and universal access to clean cooking by 2030", said Rolande Pryce, World Bank Country Manager for Rwanda. "We are honored to be a long-term partner in this journey."
Rwanda EAQIP aims to improve electricity access by providing funding for the country's ongoing program of expanding grid connections for residential, commercial, industrial, and public sector consumers, as well as by providing grants to reduce the costs of off-grid solar home systems. The project will also enhance the availability and efficiency of low-cost renewable energy by restoring capacity at the Ntaruka Hydro-Power Project, reducing voltage fluctuations on transmission lines, and supporting the national smart meter program.
The project includes the World Bank's largest clean cooking operation in Africa, and the first project co-financed by the recently launched Clean Cooking Fund (CCF), hosted by the World Bank's Energy Sector Management Assistance Program (ESMAP). The CCF will provide $20 million for clean cooking, with $10 million provided as a grant and $10million extended as a loan. The project targets 2.15 million people, leveraging an additional US$30 million in public and private sector investments. By incentivizing the private sector and improving the enabling environment, the project aims to develop a sustainable market for affordable clean cooking solutions in Rwanda.
The project is part of the Rwanda Universal Energy Access Program (RUEAP), which coordinates the efforts of development partners supporting the energy sector to contribute to the achievement of the targets set out in the National Strategy for Transformation (2017-24).
"The World Bank is proud to have led the RUEAP on behalf of the development partners, including the French Development Agency (co-financing the EAQIP). The World Bank looks forward to supporting the implementation of the ongoing program and expects to report positive outcomes in the lives of Rwandans" said Norah Kipwola, World Bank Senior Energy Specialist and the project Task Team Leader.
ILO: Developing countries should invest US$1.2 trillion to guarantee basic social protection
To guarantee at least basic income security and access to essential health care for all in 2020 alone, developing countries should invest approximately US$1.2 trillion – on average 3.8 per cent of their GDP – says a new ILO policy brief.

Since the onset of the COVID-19 pandemic the social protection financing gap has increased by approximately 30 per cent according to Financing gaps in social protection: Global estimate and strategies for developing countries in light of the COVID-19 crisis and beyond .

This is the result of the increased need for health-care services and income security for workers who lost their jobs during the lockdown and the reduction of GDP caused by the crisis.
The situation is particularly dire in low-income countries who would need to spend nearly 16 per cent of their GDP to close the gap – around US$80 billion

Regionally, the relative burden of closing the gap is particularly high in Central and Western Asia, Northern Africa and Sub-Saharan Africa (between 8 per cent and 9 per cent of their GDP).

Even before the COVID-19 crisis, the global community was failing to live up to the social protection legal and policy commitments it had made in the wake of the last global catastrophe – the 2008 financial crisis.
Currently, only 45 per cent of the global population is effectively covered by at least one social protection benefit. The remaining population – more than 4 billion people – is completely unprotected.

National and international measures to reduce the economic impact of the COVID-19 crisis have provided short-term financing assistance. Some countries have sought innovative sources to increase the fiscal space for extending social protection, like taxes on the trade of large tech companies, the unitary taxation of multinational companies, taxes on financial transactions or airline tickets. With austerity measures already emerging even with the crisis ongoing, these efforts are more pressing than ever, the study says.

"Low-income countries must invest approximately US$80 billion, nearly 16 per cent of their GDP, to guarantee at least basic income security and access to essential health care to all," said Shahrashoub Razavi, Director of the ILO's Social Protection Department. "Domestic resources are not nearly enough. Closing the annual financing gap requires international resources based on global solidarity."

Mobilization at the international level should complement national efforts, says the ILO. International financial institutions and development cooperation agencies have already introduced several financial packages to help governments of developing countries tackle the various effects of the crisis but more resources are needed to close the financing gap, particularly in low-income countries.