After winter, spring break is the welcome start of warmer weather, longer days and sun worshippers flocking to popular beaches. But the rush of tourists to beach towns can mean crowds on the sand and at other attractions, and higher demand for hotel rooms.
This year, why not consider skipping the beach (and the hassle) altogether to explore what else the spring season has to offer? From experiencing beautiful cherry blossoms in Washington, D.C. and Japan to hiking at one of America's most iconic national parks in Utah, there are countless non-beach destinations and experiences worthy of a spring getaway. And with hotels all over the world and in prime locations, Hilton has a front row seat to all the various ways spring blossoms. No, you won't be at the beach, but you can use the list below to help you shore up an alternate plan.
Washington, D.C.
Washington, D.C. owns the springtime with its famous National Cherry Blossom Festival, but the city also offers much more during that time. With hot new restaurants and shopping in areas like Georgetown and The Wharf, plus free museums and premiere entertainment at venues like The Kennedy Center and The Anthem concert hall, travelers won't miss the beach when exploring this lively, vibrant city. Washington also boasts 18 Michelin-starred restaurants and a host of interesting, new and longstanding options for food-focused travelers. Try Pineapple and Pearls on Capitol Hill for a gourmet tasting menu that earned two Michelin stars. Or head to D.C. newcomer Estuary, which is led by Top Chef alumni Bryan and Michael Voltaggio in the recently opened Conrad Washington DC. Visitors and locals celebrate the arrival of spring in Washington with the National Cherry Blossom Festival, which happens March 20 through April 12. The three-week celebration includes a variety of events and activities, including a parade, boat tours, bike rides, photo safaris, art exhibits, cherry blossom-themed restaurant specials and more. Plus, The New York Times recently named Washington the No. 1 destination of 2020, making now a better time than ever to add it to your must-visit list.
Hilton Washington DC National Mall is a great home base for a spring break trip to the nation's capital. The hotel is conveniently located next to the new International Spy Museum and within walking distance of the National Mall and the District Wharf, a waterfront stretch of restaurants, bars, shopping and live music venues on the Potomac. The hotel is also located above L'Enfant Plaza Metro Station, making it an easy ride to the cherry blossoms around the Tidal Basin.
Springdale, UT
Springdale in the springtime offers mild temps that are ideal for adventure seekers looking to explore the great outdoors. The small town is at the entrance of Zion National Park, which includes 229 square miles of stunning red rock formations, slot canyons, lakes and sandstone cliffs. Springdale gives visitors easy access to endless activities both in and around the park. Try an ATV tour through Zion's backcountry where you'll see beautiful mountain vistas and get to play in red sand dunes. Explore the park's slot canyons on a thrilling canyoneering tour where you'll hike, climb and rappel through Utah's slot canyons. Or, hike the park's extensive trail system, which offers stunning views and varying degrees of difficulty. Outside of the park, visitors can explore the charming town's local boutiques, art galleries, farmer's markets and restaurants. Start the day at one of the many coffee shops and then unwind by sampling local, craft microbrews at a riverside brewery like Zion Brewery.
When visitors are ready to settle in from a day of adventure, they can relax amid lush desert foliage and stunning canyon views at the historical Cliffrose Springdale, Curio Collection by Hilton. The hotel is nestled along the Virgin River and is just a short, scenic walk to Zion National Park.
Santa Fe, NM
Santa Fe may have a small-town feel, but this trendy city is a melting pot of art, cuisine and culture. And with spring flowers starting to bloom, it's a picturesque destination for a spring break getaway. Beyond the city's historic sites and exciting museums, such as the centuries-old adobe San Miguel Chapel and the interactive art experience at Meow Wolf, Santa Fe also offers some of the best examples of New Mexican cuisine in the area. Those looking to indulge in the city's culinary traditions can dine at Paloma Restaurant for tacos with house-made tortillas, then finish off with dessert a few blocks away at Kakawa Chocolate House to sample authentic chocolate drinking elixirs and more modern treats like truffles, caramels and even chocolate-dipped chiles sold to go. For spring breakers who aren't quite ready for winter to end, Santa Fe also offers exceptional skiing and snowboarding. Just 16 miles outside the city center, visitors can hit the slopes of the Sangre de Cristo Mountains through April.
The thoughtfully designed DoubleTree by Hilton Santa Fe reflects the spirit and culture of the southwest, with adobe-style architecture and decor. Guests can take in the beautiful New Mexico sunset from their room's private balcony or relax in the outdoor hot tub. The hotel is conveniently located less than 6 miles from downtown Santa Fe and the historic Santa Fe Plaza, with shopping, restaurants and museums all within a short drive.
Asheville, NC
With the days getting longer and the temperatures becoming milder, a spring break escape to Asheville, North Carolina, is the perfect destination to revive after months of winter hibernation. With award-winning restaurants, trendy coffee shops, hiking and the second-most breweries per capita than anywhere else in the U.S., Asheville is one of coolest small towns in the country. To taste some of the city's favorite local beer, visit the Highland Brewing Company, which was the first legal brewery to open in Asheville since prohibition. Asheville's music scene is also top notch – Rolling Stone recently called it the "new must-visit music city" – with dozens of live music venues all over town. Try The Orange Peel, an iconic concert venue that draws crowds for both indie artists and big name performers. Outdoor enthusiasts will love the variety of all-level hiking trails in and around Asheville. Try Wildcat Rock Trail, which features a 1000-foot waterfall, or Lookout Trail, which offers impressive views of the Black Mountains.
Asheville's bustling downtown area is just a short walk or free shuttle ride away from the Hilton Garden Inn Asheville Downtown. Guests can enjoy more than 100 restaurants, cafes and bars, entertainment venues and locally owned boutiques. The hotel is also a short drive from Asheville's eclectic breweries, the historic Biltmore Estate and The North Carolina Arboretum.
Montréal, Canada
Winters in Montréal can be blistering cold, making the milder temperatures in spring especially appealing. There are also fewer visitors during the shoulder season. Still, travelers looking to catch a last-minute run down the slopes can take a quick trip to Mont-Saint-Bruno National Park, located about 9 miles outside of Montréal. If the weather is warm enough, pack a picnic and head to Mount Royal Park, an "urban mountain" that offers a scenic escape from the city. After a day of exploring, the city's phenomenal culinary scene awaits. Sometimes called the "Paris of North America," Montréal proves spring breakers don't have to travel to Europe to find exceptional and authentic French cuisine. Try L'Express for a traditional bistro experience, or head to Restaurant Bonaparte for a classic French meal in a historical building in Old Montréal.
Located in the Ville-Marie neighborhood, Embassy Suites by Hilton Montréal is within walking distance of some of Montréal's most famed attractions. Guests can start their day with a free made-to-order breakfast at the hotel before heading out to explore Old Montréal and wander the city's historical cobblestone streets. Spring breakers can walk to the soaring Notre-Dame Basilica, several museums and art galleries, shopping on Sainte-Catherine Street and a plethora of charming cafes and restaurants.
London, UK
Between the months of March and May, the temperatures in London are mild, the city isn't overly crowded and the parks are green and blooming, making it an ideal time to visit. Explore London's historical monuments and world-class museums and art galleries, such as the Palace of Westminster, the National Gallery and Tate Modern. Take a tour through the heart of London on a Thames river cruise, where riders can spot landmarks like the Houses of Parliament and the Tower Bridge. Start the day with a classic full English breakfast at one of London's most well-known breakfast spots, The Regency Cafe, then enjoy a leisurely lunch or relaxed dinner at any of London's outdoor eating places like Dalloway Terrace and River Café.
Located in London's prestigious Grosvenor Square, The Biltmore Mayfair, LXR Hotels & Resorts is a sophisticated and alluring hotel surrounded by gardens and greenery that puts guests in an ideal location to explore. Hyde Park is just a short walk from the hotel, as are the high-end shops of Oxford and Regent streets. Iconic landmarks like Buckingham Palace and Westminster Abbey are within 2 miles of the hotel. In addition to several on-site restaurants and lounges led by Michelin-starred Chef and Restauranteur Jason Atherton, The Biltmore Mayfair offers an indulgently British afternoon tea in The Tea Lounge that is complete with savories, scones and sweet delicacies made with artisanal and heritage produce sourced from across the UK.
Osaka, Japan
Osaka, the third-largest city in Japan, is a vibrant destination filled with unique culinary, cultural and eye-opening experiences. It's no question that spring is one of the best seasons to visit Japan, especially when the cherry blossoms are in full bloom. See thousands of colorful blossoms around Osaka Castle Park and tour the 16th-century Osaka Castle, one of the city's most famous landmarks. Spend a day at Universal Studios Japan® riding roller coasters, watching street shows and enjoying the magic of movies. Or, visit the Osaka Aquarium Kaiyukan, one of the largest aquariums in the world. Don't miss the Dotonbori neighborhood and see why Osaka is known as "Japan's kitchen." Set in the Namba district along the Dotonbori canal, the neighborhood has countless restaurants and cafes with traditional and modern Japanese cuisine. Don't leave without trying the famous local delicacy, the Okonomiyaki pancake, available at hot spots throughout Dontonbori.
The sleek Conrad Osaka is perfectly situated for exploring the city's rich history, cuisine and cutting-edge entertainment, while also offering incredible views of the water and city from all guest rooms. The hotel is a short distance from some of Osaka's most popular neighborhoods for shopping, entertainment and dining, including Umeda, Namba and Dotonbori, and it's just an hour away from Kyoto.
Do and Don't Tips When Going Traveling by Backpacking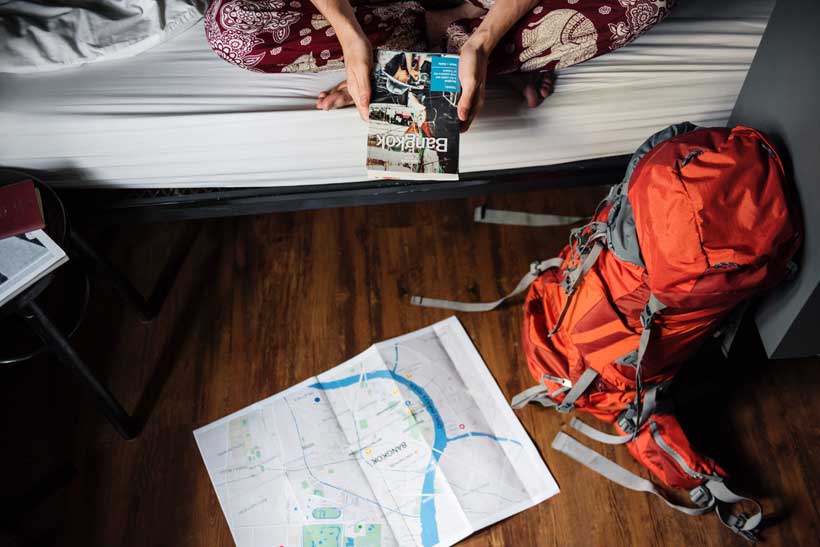 There are many ways that tourists can enjoy a tour. For some people who like activities with clear plans, they can travel together with tour guides or travel packages, but for those who prefer activities without a schedule and more free, they can travel by backpacker way. Both are equally used to enjoy travel, only the method and process is different. If you use tour guides & travel packages, they are usually more time bound and need extra costs to pay for tour guides/buy travel packages at a predetermined price. Meanwhile, for backpackers, it is a tour that is carried out without the use of a tour guide. Usually individually or in small groups of 2-4 people. Backpacker can also be interpreted as someone who travels on a limited budget. So that in doing this trip usually many unexpected conditions can occur. However, backpacker travel has many advantages such as being able to feel the essence of travel more, getting to know many new people during the trip, practicing independence, and being able to more freely manage time and costs during the trip. In addition, because backpacking is carried out without a tour guide, there are usually infinite obstacles that can occur.
To minimize risks and problems that are not expected to be able to make some preparations before going backpacking. Here are 6 tips that can be do before traveling the backpacker way:
Do a detailed calculation before leaving. Before leaving for a backpacker, make sure your financial condition is sufficient so that the traveling process can be carried out calmly and comfortably without fear of running out of money. Try to detail any expenses that might occur so that we will not spend money carelessly and can keep costs down. So that travel planning is the first step that must be done to make the trip easier.
Conduct a survey by looking for information related to the places we will visit. This survey was carried out as a whole, namely tourist locations, lodging places, transportation that can be used and the normal range of food prices and transportation costs. This needs to be done in order to make it easier for us to do backpacking and avoid the possibility of being cheated by people or being priced more expensively. Because usually foreign tourists will get prices more expensive if they are not good at bargaining prices or if they don't know the original price
Limit the items to be brought. This is done to avoid wasting space on the backpack that we use. Because later we will be traveling with a backpack, it is necessary to carry not too many items so that we are more free to travel and not be bothered with too many items.
Bring the important stuff. Important items that must be carried when doing this backpacking include: medicine needs to be carried because it makes it easier for us when sick or in a condition that requires temporary treatment so as to avoid bad things, then there are security devices, just in case it is necessary to bring at least one safety device that small and can be stored in a place that is easily accessible by hand, this is important in case something is dangerous. This safety device can be in the form of pepper spray, electric shock or etc. Then the next item that must be brought is money and cash. Carrying cash in small denominations is also important to make the payment process more effective and fast.
Use promos. When traveling to reduce costs, always check the promos available in various applications, be it promos for travel tickets, promos when buying food, hotel or other promos. As long as the promo can be used, it must be used as much as possible.
Make sure you have a healthy and optimal body condition. Health is one of the important things that must be taken care of before becoming a backpacker because if we travel with an unhealthy body condition, it is feared that we will fall ill at tourist sites so that we cannot enjoy vacation time. This is of course very unfortunate and not expected to happen.
While the above are tips that can be done before backpacking, there are also some things that should not be done when going on a backpacker trip. Some tips that should don't or even avoided when backpacking include:
Don't trust people easily. When traveling we must increase our anxiety and be more sensitive to conditions that we can experience at any time. Because crime sometimes arises because of our opportunities and carelessness. So that at any time when we are careless we can be deceived by bad people. Therefore, do not easily believe in suspicious offers and gifts from strangers.
Don't do things that are not polite and litter when we go on a backpacker trip, both during the trip and when we arrive at our destination. We must be polite and courteous. So that we can travel comfortably without causing problems with other people.
Don't want to be forced to buy an item, on a backpacker trip to a tourist spot there will be many traders who offer their wares and even tend to be pushy. But if you really don't want to buy and don't really need it, don't buy the item even if you are forced to, this is important to save expenses. Because it would be better if we spend money to buy goods according to our wishes and according to initial planning.
By implementing do and don't tips when traveling by backpacking, it is hoped that it can reduce problems that arise when backpacking. So that the tour can be enjoyed comfortably if no problems arise and enjoy the holiday according to their respective goals. Because everyone's vacation goals can vary, some want to get to know new cultures, relax their minds, heal and rest in new places they have never visited.
Kopi Luwak and Black Ivory Coffee: The Most Expensive Types of Coffee in The World
In this world there are so many unique foods and drinks that come from every country. The uniqueness of this food and drink is often an attraction for other countries to visit to see the process of making and its unique taste. Because of this, many countries are competing to create unique food and beverage product innovations that can be recognized by people from other countries. Including in the field of coffee. Coffee itself is familiar to everyone and has become a universal drink in every country in the world. The original coffee taste has a bitter taste, but now there have been many modifications to the coffee blend, so there is also coffee that has a sweet and slightly sour taste. With a unique taste and distinctive aroma, coffee connoisseurs are increasing every year and as coffee connoisseurs increase, many coffee shops have sprung up. So the demand for coffee beans is also increasing rapidly. At first people enjoyed coffee with the aim of reducing drowsiness, but nowadays the purpose of people enjoying coffee is wider, such as starting activities, drinking with friends while relaxing and doing work to make them more concentrated and some people even make drinking coffee a lifestyle. This, of course, has to be seen from both sides, the positive side is that more coffee connoisseurs can increase sales and create more jobs. But the negative side of consuming too much coffee can be bad for health. Some diseases that can arise when consuming coffee exceeds the body's tolerance limit, including insomnia, digestive problems, palpitations and headaches. Even though it has side effects, if you don't consume too much coffee, it can be a drink that makes the mind relax.
There are many types of coffee in the world and they come from various countries. And for coffee lovers they will always want to taste the famous taste of coffee from each country to get personal satisfaction. Because usually people who like coffee have a tongue that is more sensitive and sensitive to the taste of coffee so they can give an assessment of whether the coffee tastes good or not. No wonder if a coffee can be priced very expensive if it is judged to have a uniqueness in terms of aroma, taste and manufacturing process. Among some of the most expensive types of coffee in the world, there are 2 types of coffee that come from animal waste and managed to become the most expensive coffee in the world. The meaning of animal waste here is that the animal is fed coffee and then it will be digested in the animal's stomach and when the animal poops, the coffee beans will come out along with the animal waste, but the coffee beans are still intact or not crushed so they must be cleaned with special techniques to separates coffee beans from animal waste, before being processed into coffee that can be enjoyed. The 2 types of coffee that come from animal waste are black ivory coffee from Thailand and kopi luwak from Indonesia.
The first is black ivory coffee which is a type of arabica coffee. The price for this coffee is around $1000 per pound. Crowned as the most expensive coffee in the world because the process is quite complicated and unique, this is because this coffee comes from elephant dung. With the high price, this coffee can only be found in exclusive places. The reason why coffee is so expensive is because elephants have ineffective digestion. Of the approximately 33 kg of coffee beans that are fed, only 1 kg remains which can be further processed. In addition, the process of making coffee is quite long because elephants take about 15 hours (Joe Chang, 2017). For its own taste, this coffee has a unique taste and is not too bitter. This taste is created from the manufacturing process where elephant digestive enzymes can reduce the protein in coffee beans. Protein has a role to make coffee taste bitter. So the less protein in coffee, the lower the bitter taste. With a taste like this, elephant coffee can be combined with additional flavors or enjoyed with its original taste so that it makes the coffee taste even more delicious.
The second is kopi luwak. Kopi itself comes from Indonesian which means coffee, while luwak is civet. So this kopi luwak means coffee that comes from civet droppings. In the country of origin, kopi luwak comes from Java and Sumatra. kopi luwak costs around $160 per pound. The reason for the high cost of this coffee is because the process is quite complicated and its availability is not much. Civet has a unique habit of eating coffee, he only wants to eat coffee that is good quality so that the civet will choose good quality beans for himself. The fruit that is eaten will be digested by these animals, strangely the digestion of these animals cannot destroy the layer of coffee, only the flesh and skin of the fruit. Furthermore, the seeds will undergo a fermentation process (Sasame Coffee, nd). For its own taste, this coffee has a subtle and not too sour taste with a delicious distinctive aroma. This coffee has been exported to many countries and many coffee lovers like the taste of this kopi luwak. But there are also some who don't like it because they can't tolerate the process of making civet coffee. Like coffee that comes from elephant dung, civet coffee is also processed by repeated washing processes to ensure its cleanliness so that it is safe for consumption.
Black ivory coffee and kopi luwak are two proud products of their country of origin. Because the type of coffee that has become worldwide and managed to become the most expensive coffee in the world helped raise the names of the two countries, namely Thailand and Indonesia. There are still many unique and delicious types of coffee that we may not know about. In the future, it is undeniable that other unique coffees from various countries will appear following the culture of that country. Given the rapid advances in technology nowadays, it is possible to create new products resulting from the innovation of scientists that can be processed by entrepreneurs and marketed widely.
A moment of peace in Jaipur, Rajasthan
What made everything even better for me was the food curated by Executive chef Raj Singh. For every meal, there was a different set up in a different area.The first meal we had was in the outdoors candle lit area overlooking the rest of Kukas. This was during the wedding season so we saw firecrackers light up the sky. It was a beautiful ambience for dinner. The next day, we had breakfast by the pool where a specially curated breakfast menu was presented to us. Their pool side has many peacocks and I could spot them from my breakfast table. It was an Instagram worthy spot for food. Next up, I also had lunch on the balcony of my tented room. It was a great experience in itself.
Being a Rajasthani myself, I have often found myself wondering where I can try the best Marwari food. And not surprisingly, I have always found it in Rajasthan. The aloo dum, paneer masala, dal, batti, churma has unnervingly been the best in Rajasthan. By far, I can also vouch for having tried the best pastas, pizzas and desserts in Rajasthan considering it is now the hub of destination weddings in India. My stay at Rajasthali Resort and Spa was no less and the food was culturally representative of the heritage that I also carry within myself. Speaking of the Marwari community, I am working on a book titled, "The Culture Trap" focusing on Rajasthani culture and the Marwari community. The book should be out later in 2022. It is a great read for everyone planning to visit Rajasthan, especially those who want to know more about local culture and folklore.
Traditional architecture
Another thing I loved about Rajasthali Resort and Spa is their grand entrance gate. As soon as I reached the palace, I felt like I was entering like Rajasthani royalty itself. The grand gates and small sculptures on the way to the gate were mesmerizing. I felt teleported to another century and time. Most people don't know this but Rajasthan has had many wars in the past, hence it has numerous forts like Nahargarh in the city. During wars, most Kings would live in tents with the best facilities, special chefs, great food, leopard skins, grand mirrors, chandeliers and everything their palace would have. Even now, the tent theme is popular at some hotels in Rajasthan and provides an exotic getaway escapade. Rajasthali Resort and Spa also has tent shaped rooms where people can stay among other properties in the region.
I also experienced some traditional architecture at City Palace and Hawa Mahal in Jaipur, perhaps the two most common spots for travelers in the region. One really needs to keep their stuff safe while on a visit. Pickpockets are common and even more common are overcharging shops selling local handicrafts. Rajasthani hospitality is otherwise one of the best things anyone could ever experience.
Things to do in Jaipur
A famous activity in Rajasthan is leopard sighting. This is increasingly famous in the JAWAI regions of Jaipur. To my dismay, the safari was fully booked when I was there. I would definitely recommend you to book it in advance to avoid missing out on the experience. If you are up for visiting a monkey temple, you can even explore Galtaji Temple on the outskirts of Jaipur. It is a unique experience to be climbing on steps to get a view of a holy lake with monkeys following you around. Just don't make eye contact. They might steal your phone or sunglasses, anything on the loose. I once lost my milk bottle as a baby and the monkeys never gave it back. Holidays indeed make up for stories of a lifetime. Rajasthali Resort and Spa, where I stayed, had some beautiful cycling tracks around. I cycled amidst nature and viewed peacocks at sunset. It was one of the most mesmerizing and detoxing experiences of my life. For all those who care, peacocks are my favorite birds. They're magnificent, colorful and beautiful. You might even choose to venture out for a swim and trust me, it will be worth it. Swimming in the pink city with the sun soaking on your body can be more relaxing than even the best spa in the city. Being a Mumbai girl, I need some peace and quiet and gladly I found my spot in Jaipur.
Finding myself
What holidays are about most of all is finding ourselves. I was glad to get a moment of peace from my fast paced life in Mumbai. All I needed was a break and I finally got it close to my native town. Rajasthan is my home. It runs through my veins. "Padharo Mhare Des." If you know, you know.