WWF: US Will Suffer World's Biggest Economic Impact Due to Nature Loss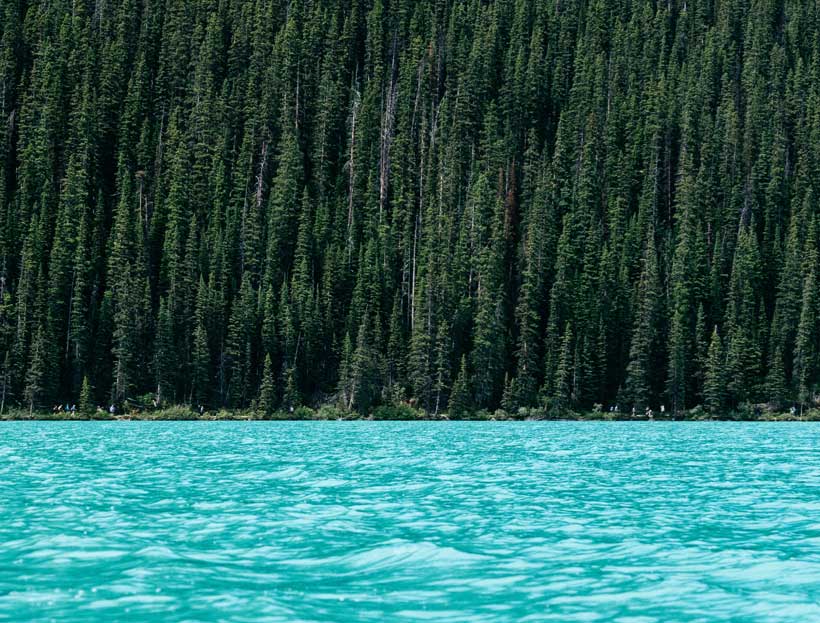 A new World Wildlife Fund report reveals for the first time the countries whose economies would be worst affected over the next 30 years if the world doesn't act urgently to address the global environmental crisis.
The study, Global Futures, which calculated the economic cost of nature's decline across 140 countries ranging from India to Brazil, shows that if the world carries on with "business as usual," the United States would see the largest losses of annual GDP in absolute terms, with $83 billion wiped off its economy each year by 2050 – an amount equivalent to the entire annual GDP of Guatemala.
"This groundbreaking report shows that the U.S. will suffer the world's biggest economic impact due to nature loss," said Rebecca Shaw, chief scientist, World Wildlife Fund. "We cannot envision a just and stable country, and a prosperous economy, if forests disappear, pollinators vanish, biodiversity collapses and rivers and the ocean are depleted. Continuing with business as usual could lead to disastrous outcomes. We need governments and corporations to halt nature loss and tackle this planetary emergency."
The Global Futures study used new economic and environmental modeling to assess what the macroeconomic impact would be if the world pursued "business as usual," including widespread and land-use change, continued increase in emissions of greenhouse gases, and further loss of natural habitats. It found this status quo approach would cost the world at least $479 billion a year, adding up to $9.87 trillion by 2050 – roughly equivalent to the combined economies of the UK, France, India and Brazil.
In contrast, under a scenario in which land-use is carefully managed to avoid further loss of areas important for biodiversity and ecosystem services, which the study terms the 'Global Conservation' scenario, economic outcomes would be dramatically better, with global GDP rising by $490 billion per year above the business as usual calculation.
Japan and the UK also stand to lose staggering amounts – $80 billion and $21 billion every year respectively. The projected economic losses in the United States, Japan and UK are due largely to expected damage to their coastal infrastructure and agricultural land through increased flooding and erosion as a result of losses of natural coastal defenses such as coral reefs and mangroves.
Developing countries will also be badly affected, with Eastern and Western Africa, central Asia and parts of South America hit particularly hard, as nature loss impacts on production levels, trade and food prices. According to the report, the top three countries predicted to lose the most as a percentage of their GDP are Madagascar , Togo and Vietnam , which by 2050 are expected to respectively see declines of 4.2 percent, 3.4 percent and 2.8 percent per year.
"It's difficult for many people to conceptualize the true value of nature and the many benefits it provides to humanity," says Shaw. "This report translates nature loss into country-specific economic terms – a tangible and powerful way to galvanize action from private sector leaders and government officials."
This pioneering method of analysis was created through a partnership between WWF , the Global Trade Analysis Project at Purdue University, and the Natural Capital Project, co-founded by the University of Minnesota.
Steve Polasky, Co-Founder of the Natural Capital Project, said: "The world's economies, businesses and our own well-being all depend on nature. But from climate change, extreme weather and flooding to water shortages, soil erosion and species extinctions, evidence shows that our planet is changing faster than at any other time in history. The way we feed, fuel and finance ourselves is destroying the life-support systems on which we depend, risking global economic devastation."
Thomas Hertel, Executive Director of the Global Trade and Analysis Project, said: "The science and economics are clear. We can no longer ignore the strong economic case for restoring nature. Inaction will cost us far more than actions aimed at protecting nature's contributions to the economy. To ensure positive global futures, we need to achieve more sustainable patterns of production and land use, and reform economic and financial systems to incentivize nature-based decision making."
The right to a clean and healthy environment: 6 things you need to know
On 8 October, loud and unusual applause reverberated around the chamber of the UN Human Rights Council in Geneva. A battle fought for decades by environmental activists and rights' defenders, had finally borne fruit.
For the first time ever, the United Nations body whose mission is to promote and protect human rights around the world, passed a resolution recognising access to a healthy and sustainable environment as a universal right.
The text also calls on countries to work together, and with other partners, to implement this breakthrough.
"Professionally that was probably the most thrilling experience that I ever have had or that I ever will have. It was a massive team victory. It took literally millions of people, and years and years of work to achieve this resolution", said David Boyd, UN Special Rapporteur on Human Rights and Environment, who was in the room when President Nazhat Shameem from Fiji, brought down her gavel, announcing the voting results.
43 votes in favour and 4 abstentions counted as a unanimous victory to pass the text that cites the efforts of at least 1,100 civil society, child, youth and indigenous people's organizations, who have been campaigning for global recognition, implementation and protection of the human right to a safe, clean, healthy and sustainable environment.
But why is this recognition important, and what does it mean for climate change-affected communities?
Here are six key things you need to know, compiled by us here at UN News.
1. First, let's recall what the Human Rights Council does, and what its resolutions mean
The Human Rights Council is an inter-governmental body within the United Nations system, responsible for strengthening the promotion and protection of human rights around the globe and for addressing situations of human rights violations and make recommendations on them.
The Council is made up of 47 UN Member States which are elected by the absolute majority in the General Assembly and represent every region of the world.
Human Rights Council resolutions are "political expressions" that represent the position of the Council's members (or the majority of them) on particular issues and situations. These documents are drafted and negotiated among States with to advance specific human rights issues.
They usually provoke a debate among States, civil society and intergovernmental organisations; establish new 'standards', lines or principles of conduct; or reflect existing rules of conduct.
Resolutions are drafted by a "core group": Costa Rica, the Maldives, Morocco, Slovenia and Switzerland, were the countries who brought resolution 48/13 for its adoption in the council, recognising for the first time that having a clean, healthy and sustainable environment is indeed a human right.
2. It was a resolution decades in the making
In 1972, the United Nations Conference on the Environment in Stockholm, which ended with a historical declaration, was the first one to place environmental issues at the forefront of international concerns and marked the start of a dialogue between industrialized and developing countries on the link between economic growth, the pollution of the air, water and the ocean, and the well-being of people around the world.
UN Member States back then, declared that people have a fundamental right to "an environment of a quality that permits a life of dignity and well-being," calling for concrete action. They called for both the Human Rights Council and the UN General Assembly to act.
Since 2008, the Maldives, a Small Island Developing State on the frontline of climate change impacts, has been tabling a series of resolutions on human rights and climate change, and in the last decade, on human rights and environment.
In the last few years, the work of the Maldives and its allied States, as well as the UN Special Rapporteur on Human Rights and Environment and different NGOs, have been moving the international community towards the declaration of a new universal right.
Support for UN recognition of this right grew during the COVID-19 pandemic. The idea was endorsed by UN's Secretary-General António Guterres and High Commissioner for Human Rights Michelle Bachelet, as well as more than 1,100 civil society organisations from around the world. Nearly 70 states on the Human Rights Council also added their voices to a call by the council's core group on human rights and environment for such action, and 15 UN agencies also sent a rare joint declaration advocating for it.
"A surge in emerging zoonotic diseases, the climate emergency, pervasive toxic pollution and a dramatic loss of biodiversity have brought the future of the planet to the top of the international agenda", a group of UN experts said in a statement released in June this year, on World Environment Day.
3. It was a David vs Goliath story…
To finally reach the vote and decision, the core group lead intensive inter-governmental negotiations, discussions and even experts' seminars, over the past few years.
Levy Muwana, a Youth Advocate and environmentalist from Zambia, participated in one of the seminars.
"As a young child, I was affected with bilharzia, a parasitic disease, because I was playing in the dirty water near my household.
A few years later, a girl died in my community from cholera. These events are sadly common and occurring more often.
Water-born infectious diseases are increasing worldwide, especially across sub-Saharan Africa, due to the changing climate", he told Council members last August.
Muwana made clear that his story was not unique, as millions of children worldwide are significantly impacted by the devastating consequences of the environmental crisis. "1.7 million of them die every year from inhaling contaminated air or drinking polluted water", he said.
The activist, along with over 100.000 children and allies had signed a petition for the right to a healthy environment to be recognised, and they were finally heard.
"There are people who want to continue the process of exploiting the natural world and have no reservations about harming people to do that. So those very powerful opponents have kept this room from going forward for decades.
It's almost like a David and Goliath story that all of these civil society organizations were able to overcome this powerful opposition, and now we have this new tool that we can use to fight for a more just and sustainable world", says David Boyd, the UN Special Rapporteur on Human Rights and Environment.
4. But what good is a non-legally binding resolution?
Mr. Boyd explains that the resolution should be a catalyst for more ambitious action on every single environmental issue that we face.
"It really is historic, and it really is meaningful for everyone because we know right now that 90% of people in the world are breathing polluted air.
"So right off the bat if we can use this resolution as a catalyst for actions to clean up air quality, then we're going to be improving the lives of billions of people", he emphasizes.
Human Rights Council resolutions might not be legally binding, but they do contain strong political commitments.
"The best example we have of what kind of a difference these UN resolutions make is if we look back at the resolutions in 2010 that for the first time recognized the right to water. That was a catalyst for governments all over the world who added the right to water to their constitutions, their highest and strongest laws", Mr. Boyd says.
The Rapporteur cites Mexico, which after adding the right to water in the constitution, has now extended safe drinking water to over 1,000 rural communities.
"There are a billion people who can't just turn on the tap and have clean, safe water coming out, and so you know, for a thousand communities in rural Mexico, that's an absolutely life-changing improvement. Similarly, Slovenia, after they put the right to water in their constitution because of the UN resolutions, they then took action to bring safe drinking water to Roma communities living in informal settlements on city outskirts".
According to the UN Environment Programme (UNEP), the recognition of the right to a healthy environment at the global level will support efforts to address environmental crises in a more coordinated, effective and non-discriminatory manner, help achieve the Sustainable Developing Goals, provide stronger protection of rights and of the people defending the environment, and help create a world where people can live in harmony with nature.
5. The link between human rights and environment is indisputable
Mr. Boyd has witnessed firsthand the devastating impact that climate change has already had on people's rights.
In his first country mission as a Special Rapporteur, he met the first community in the world that had to be completely relocated due to rising sea levels, coastal erosion and increased intensity of storm surges.
"You know, from this beautiful waterfront paradise on a Fijian island, they had to move their whole village inland about three kilometers. Older persons, people with disabilities, pregnant women, they're now separated from the ocean that has sustained their culture and their livelihoods for many generations".
These situations are not only seen in developing countries. Mr. Boyd also visited Norway where he met Sami indigenous people also facing the impacts of climate change.
"I heard really sad stories there. For thousands of years their culture and their economy has been based on reindeer herding, but now because of warm weather in the winters, even in Norway, north of the Arctic Circle, sometimes it rains.
"The reindeer who literally for thousands of years had been able to scrape away snow during the winter to get to the lichens and mosses that sustained them, now can't scrape away the ice – and they're starving".
The story repeats itself in Kenya, where pastoralists are losing their livestock because of droughts that are being exacerbated by climate change.
"They have done nothing to cause this global crisis and they're the ones who are suffering, and that's why it's such a human rights issue.
"That's why it's such an issue of justice. Wealthy countries and wealthy people need to start to pay for the pollution they've created so that we can help these vulnerable communities and these vulnerable peoples to adapt and to rebuild their lives", Mr. Boyd said.
6. What's next?
The Council resolution includes an invitation to the UN General Assembly to also consider the matter. The Special Rapporteur says he is "cautiously optimistic" that the body will pass a similar resolution within the next year.
"We need this. We need governments and we need everyone to move with a sense of urgency. I mean, we're living in a climate, biodiversity, and pollution crisis, and also a crisis of these emerging diseases like COVID which have environmental root causes. And so that's why this resolution is critically important because it says to every government in the world 'you have to put human rights at the centre of climate action, of conservation, of addressing pollution and of preventing future pandemics'".
For Dr. Maria Neira, the World Health Organization's (WHO) environment chief, the resolution is already having important repercussions and a mobilizing impact.
"The next step will be how we translate that on the right to clean air and whether we can push, for instance, for the recognition of WHO'S Global Air Quality Guidelines and the levels of exposure to certain pollutants at a country level. It will also help us to move certain legislation and standards at the national level", she explains.
Air pollution, primarily the result of burning fossil fuels, which also drives climate change, causes 13 deaths per minute worldwide. Dr. Neira calls for the end of this "absurd fight" against the ecosystems and environment.
"All the investments need to be on ensuring access to safe water and sanitation, on making sure that electrification is done with renewable energy and that our food systems are sustainable."
According to WHO, achieving the goals of the Paris Agreement would save millions of lives every year due to improvements in air quality, diet, and physical activity, among other benefits.
"The climate emergency has become a matter of survival for many populations. Only systemic, profound and rapid changes will make it possible to respond to this global ecological crisis", says the Special Rapporteur.
For Mr. Boyd, the approval of the historical resolution in the Human Rights Council was a 'paradoxical' moment.
"There was this incredible sense of accomplishment and also at the exact same time a sense of how much work remains to be done to take these beautiful words and translate them into changes that will make people's lives better and make our society more sustainable".
The newly declared right to a healthy and clean environment will also hopefully influence positively negotiations during the upcoming UN Climate Conference COP26, in Glasgow, which has been described by the UN chief as the last chance to 'turn the tide' and end the war on our planet.
UN standards will be applied for the first time in the Russian Arctic
Residents of the Tukhard settlement located in the Russian part of the Arctic (in the Taimyr Dolgano-Nenets District of the Krasnoyarsk Territory) have been offered a new level of quality of life according to FPIC standards.
Free, Prior and Informed Consent (FPIC) is a specific right that pertains to indigenous peoples and is recognised in the United Nations Declaration on the Rights of Indigenous Peoples (UNDRIP). It allows them to give or withhold consent to a project that may affect them or their territories. Once they have given their consent, they can withdraw it at any stage. Furthermore, FPIC enables them to negotiate the conditions under which the project will be designed, implemented, monitored and evaluated. This is also embedded within the universal right to self-determination.
Tukhard was established as a temporary residence for shift workers producing gas in the area in 1970th, and the development of the village did not provide for the creation of an infrastructure. The mining giant operating in the region, Norilsk Nickel, has offered a new level of quality of life.
In mid-October, the village hosted consultations of international experts, representatives of the indigenous peoples of Taimyr, local authorities, representatives of the Norilsk Nickel company, with the inhabitants of the settlement.
People are offered several options, including moving to new homes about 1.5 kilometers away from their current homes. The option of moving to other villages of Taimyr, including the center of the region – the village of Dudinka, was also proposed.
If residents accept the relocation proposal, they will be presented with several options for their future homes. Residents will also determine what additional infrastructure they need, according to a press release from Norilsk Nickel.
Despite the fact that the FPIC procedure is not included in the national legislation of the Russian Federation, Norilsk Nickel voluntarily recognizes international standards and, in accordance with the UN Declaration on the Rights of Indigenous Peoples, expresses its readiness to apply FPIC.
The procedure is supervised by international experts.
"The Tukhard FPIC procedure will be carried out in accordance with the strictest international standards and involve independent experts. This joint work and partnership will help us to create a comfortable environment for people to live and develop," said Andrey Grachev, Nornickel Vice President for Federal and Regional Programs.
Alexei Tsykarev, a member of the UN Permanent Forum on Indigenous Issues, also noted the company's new step for the Russian Arctic.
"The principle of free, prior and informed consent is the cornerstone of the observance of the rights of indigenous peoples to independently determine the vector of their development, as well as political, social, economic and cultural priorities. The main task of FPIC in Tukhard is to ensure the effectiveness of the participation of indigenous peoples in decision-making on relocation, construction or purchase of new housing, to make sure that the population is fully informed about the infrastructure of the new village, about relocation options. For the first FPIC experience in the Russian Arctic to be successful, the company's task is to provide all the basic elements of FPIC: freedom of decision-making, lead time, awareness. FPIC is not a one-time decision, but a long-term process that contributes to building trust between the parties," Tsykarev said.
Rising sea surface temperatures driving the loss of 14 percent of corals since 2009
The "Status of Coral Reefs of the World: 2020" report, released today, documents the loss of approximately 14 per cent of the world's coral since 2009. The report, the sixth edition produced by the Global Coral Reef Monitoring Network (GCRMN), provides the most detailed scientific picture to date of the toll elevated temperatures have taken on the world's reefs.
This, the largest analysis of global coral reef health ever undertaken draws on data:
spanning 40 years
in 73 countries
across 12,000 sites
collected by more than 300 scientists
through 2 million individual observations.
Corals reefs across the world are under relentless stress from warming caused by climate change and other local pressures such as overfishing, unsustainable coastal development and declining water quality. An irrevocable loss of coral reefs would be catastrophic. Although reefs cover only 0.2 per cent of the ocean floor they are home to at least a quarter of all marine species, providing critical habitat and a fundamental source of protein, as well as life-saving medicines. It is estimated that hundreds of millions of people around the world depend on them for food, jobs and protection from storms and erosion.
Inger Andersen, Executive Director of the UN Environment Programme (UNEP), which provided financial, technical and communication support to the report said, "Since 2009 we have lost more coral, worldwide, than all the living coral in Australia. We are running out of time: we can reverse losses, but we have to act now. At the upcoming climate conference in Glasgow and biodiversity conference in Kunming, decision-makers have an opportunity to show leadership and save our reefs, but only if they are willing to take bold steps. We must not leave future generations to inherit a world without coral."
However, the report also found that many of the world's coral reefs remain resilient and can recover if conditions allow, providing hope for the long-term health of coral reefs if immediate steps are taken to stabilize emissions to curb future warming.
"This study is the most detailed analysis to date on the state of the world's coral reefs, and the news is mixed. There are clearly unsettling trends toward coral loss, and we can expect these to continue as warming persists. Despite this, some reefs have shown a remarkable ability to bounce back, which offers hope for the future recovery of degraded reefs. A clear message from the study is that climate change is the biggest threat to the world's reefs, and we must all do our part by urgently curbing global greenhouse gas emissions and mitigating local pressures" said Dr Paul Hardisty, CEO of the Australian Institute of Marine Science
The analysis which examined 10 coral reef-bearing regions around the world[1] showed that coral bleaching events caused by elevated sea surface temperatures (SSTs) were the main driver of coral loss, including an acute event in 1998 that is estimated to have killed eight percent of the world's corals, which, to put this in context, is more than all the coral that is currently living on reefs in the Caribbean or Red Sea and Gulf of Aden regions. The longer-term decline seen during the last decade coincided with persistent elevated SSTs.
"Coral reefs, so fragile and of such importance, are currently under serious threat. Ocean acidification, global warming, pollution: the causes of these threats are many and particularly difficult to address, insofar as they are extremely diffuse, and result from our entire development paradigm. We know that solutions exist that will help us to protect the corals more effectively, to mitigate the threats hanging over them and, by developing scientific research, to gain a better understanding of how we can save them" said Albert II, Prince of Monaco
The analysis investigates changes in the cover of both live hard coral and algae. Live hard coral cover is a scientifically based indicator of coral reef health, while increases in algae are a widely accepted signal of stress to reefs. Since 1978, when the first data used in the report were collected, there has been a 9 per cent decline in the amount of hard coral worldwide. Between 2010 and 2019, the amount of algae has increased by 20 per cent, corresponding with declines in hard coral cover. This progressive transition from coral to algae-dominated reef communities reduces the complex habitat that is essential to support high levels of biodiversity.
The report also highlighted that although during the last decade the interval between mass coral bleaching events has been insufficient to allow coral reefs to fully recover, some recovery was observed in 2019 with coral reefs regaining 2% of the coral cover. This indicates that coral reefs are still resilient and if pressures on these critical ecosystems ease, then they have the capacity to recover, potentially within a decade, to the healthy, flourishing reefs that were prevalent pre-1998.
Key findings:
Large scale coral bleaching events are the greatest disturbance to the world's coral reefs. The 1998 event alone killed eight per cent of the world's coral, which is the equivalent of about 6,500 square kilometres of coral. The greatest impacts of this mass bleaching event were seen in the Indian Ocean, Japan, and the Caribbean, with smaller impacts observed in the Red Sea, The Gulf, the northern Pacific in Hawaii and the Caroline Islands, and the southern Pacific in Samoa and New Caledonia.
Between 2009 and 2018, the world lost about 14 per cent of the coral on its coral reefs, which equates to around 11,700 square kilometres of coral, more than all the living coral in Australia.
Reef algae, which grows during periods of stress, has increased by 20 per cent over the past decade.
Prior to this, on average there was twice as much coral on the world's reefs as algae.
Coral reefs in East Asia's Coral Triangle, which is the centre of coral reef biodiversity and accounts for more than 30 per cent of the world's reefs, have been less impacted by rising sea surface temperatures. Despite some declines in hard coral during the last decade, on average, these reefs have more coral today than in 1983 when the first data from this region were collected.
Almost invariably, sharp declines in coral cover corresponded with rapid increases in sea surface temperatures, indicating their vulnerability to spikes, which is a phenomenon that is likely to happen more frequently as the planet continues to warm.