Somalia Eligible for Assistance Under the Enhanced HIPC Initiative
The Executive Boards of the International Monetary Fund (IMF) and World Bank met, on February 12 and 13, respectively, to consider Somalia's eligibility for debt relief under the Enhanced Heavily Indebted Poor Countries (HIPC) Initiative. The Executive Boards commended the authorities' sustained commitment to economic and institutional reforms under challenging circumstances and agreed that Somalia is eligible for assistance under the Enhanced HIPC Initiative based on a preliminary assessment. This assessment is an important step towards forgiveness of most of Somalia's debt, which measured US$5.3 billion at the end of 2018.
Following the IMF Executive Board discussion on Somalia on February 12, 2020, Kristalina Georgieva, Managing Director and Acting Chair, said:
"Today's agreement by the IMF Executive Board that Somalia can be eligible for debt relief under the Enhanced HIPC Initiative marks a historic moment. It provides a clear recognition of Somalia's sustained commitment to key economic and financial reforms under consecutive staff-monitored programs with the IMF. Helping Somalia achieve debt relief and unlock access to the needed resources to increase growth and reduce poverty is a key priority for the IMF. I am very grateful to our members for all their support in this endeavor."
Following the World Bank Executive Board discussion on February 13, 2020, David Malpass, World Bank Group President, said:

"Today was an important step towards Somalia resuming financing from international financial institutions, including IDA, our fund for the poorest countries. I congratulate Somalia for embracing important reforms that can do much to encourage sustainable poverty reduction, and I thank our international partners who have worked with us to bring Somalia to this important stage. We are glad to have worked closely with the Federal Government of Somalia in assisting their progress over the past few years and look forward to opportunities for greater World Bank Group support for the Somali people."
To complete the journey to the HIPC Decision Point, Somalia's performance under the current IMF Staff-Monitored Program (SMP) will need to be confirmed as satisfactory, and the authorities will need to either clear their arrears to multilateral creditors or agree a strategy to clear them. World Bank staff expect to present the operation for clearing the arrears to the International Development Association (IDA) by the end of February 2020. In addition, the agreement on the reforms that Somalia will need to implement to reach the Completion Point—the floating Completion Point triggers—will need to be finalized taking account of the views expressed by the Executive Boards. Prompt action on these items could result in Somalia reaching the Decision Point by the end of March 2020.
Once Somalia has reached the Completion Point, it would qualify for unconditional debt relief under the HIPC Initiative, and for debt relief under the Multilateral Debt Relief Initiative (MDRI) from the World Bank's IDA and the African Development Fund (AfDF), together with beyond-HIPC assistance from the IMF. Paris Club creditors are also expected to provide further beyond-HIPC assistance at the Completion Point.
The HIPC Initiative
The HIPC Initiative is a framework, created by the IMF and World Bank, in which all creditors, including multilateral creditors, provide debt relief to the world's poorest and most heavily indebted countries, thereby reducing the constraints on economic growth and poverty reduction imposed by the debt-service burden. To date, 36 countries have reached both their Decision Points and Completion Points under the Enhanced HIPC initiative.
Partnership with Private Sector is Key in Closing Rwanda's Infrastructure Gap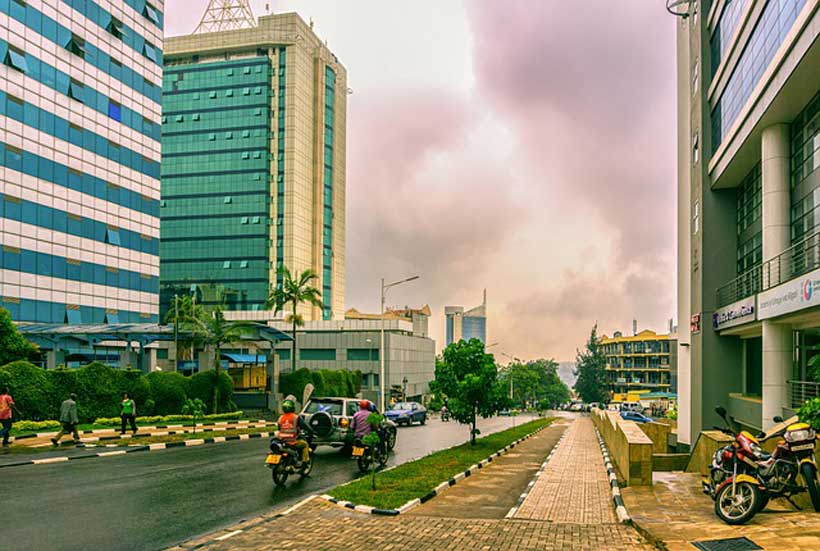 The COVID-19 (coronavirus) pandemic has pushed the Rwandan economy into recession in 2020 for the first time since 1994, according to the World Bank's latest Rwanda Economic Update.
The 17th edition of the Rwanda Economic Update: The Role of the Private Sector in Closing the Infrastructure Gap, says that the economy shrank by 3.7 percent in 2020, as measures implemented to limit the spread of the coronavirus and ease pressures on health systems brought economic activity to a near standstill in many sectors. Although the economy is set to recover in 2021, the report notes the growth is projected to remain below the pre-pandemic average through 2023.
Declining economic activity has also reduced the government's ability to collect revenue amid increased fiscal needs, worsening the fiscal situation. Public debt reached 71 percent of GDP in 2020, and is projected to peak at 84 percent of GDP in 2023. Against this backdrop, the report underlines the importance of the government's commitment to implement a fiscal consolidation plan once the crisis abates to reduce the country's vulnerability to external shocks and liquidity pressures.
"Narrowing fiscal space calls for a progressive shift in Rwanda's development model away from the public sector towards a predominantly private sector driven model, while also stepping up efforts to improve the efficiency of public investment," said Calvin Djiofack, World Bank's Senior Economist for Rwanda.
According to the Update, private sector financing, either through public-private partnerships or pure private investment, will be essential for Rwanda to continue investing in critical infrastructure needed to achieve its development goals. The analysis underscores the need to capitalize further on Rwanda's foreign direct investment (FDI) regulatory framework, considered one of the best in the continent, to attract and retain more FDI; to foster domestic private capital mobilization through risk sharing facilities that would absorb a percentage of the losses on loans made to private projects; and to avoid unsolicited proposals of public–private partnership (PPP) initiatives; as well as to build a robust, multisector PPP project pipeline, targeting sectors with clearly identified service needs such as transport, water and sanitation, waste management, irrigation, and housing.
While the report findings establish clearly the gains of public infrastructure development for the country as whole, it also stressed that these gains tend to benefit urban and richer households most.
"Rwanda will need to rebalance its investment strategy from prioritizing large strategic capital-intensive projects toward projects critical for broad-based social returns to boost the potential of public infrastructure to reduce inequality and poverty," said Rolande Pryce, World Bank Country Manager for Rwanda. "Any step toward the Malabo Declaration to allocate 10 percent of future infrastructure investment to agriculture, allied activities, and rural infrastructure, will go a long way to achieving this goal."
10 new cities chosen for World Economic Forum circular economy initiative
The World Economic Forum's Scale360° initiative announced today the 10 city-based hubs joining its Circular Shapers programme.
Scale360° leverages innovation hubs in cities, countries and regions worldwide, bringing together leaders in science, policy and business to trigger circular change. Circular Shapers engage with local public, private, and civil society stakeholders to design, organise, and deliver circular economy projects tailored to local needs.
Circular Shapers are competitively selected from the Global Shapers Community, a network of committed and energized young volunteers in 448 city-based hubs around the world. These changemakers have the energy, skill, networks and commitment needed to transform their cities into centres of circular economy innovation.
The latest Circular Shaper cohort hails from four continents and includes: Ankara, Asuncion, Auckland, Beijing, Bucharest, Lahore, Manama, Milan, Morelia, and Thimphu.
The cities selected to the latest cohort will apply Scale360°'s tested methodology – the Scale360° Circular Innovation Playbook – to fast-track Fourth Industrial Revolution impact to keep more goods in use. Their initiatives will explore ways to apply circular design principles, improve reuse, and to eliminate waste, all while strengthening economies and boosting job growth.

These join the successful pilot cohort which included four Global Shapers hubs in Mexico City, Brussels, Turin and Bangkok and ran from February to July 2021.

In just a few months, those pilot cities built critical relationships with leaders in government, the private sector, and NGOs, making critical early steps towards driving circular innovation. Specific achievements include:
Bangkok: Mobilized a range of partners from researchers to advertising agencies to popularize solutions to air pollution and plastics. Solutions included: assembling a catalogue to help businesses choose alternatives to single-use plastics in food packaging and a social media campaign to build momentum for clean air regulation.
Brussels: Partnered with local NGOs on its "Eat, Play, Live Circular" initiatives to create bottom-up solutions for more circular lifestyles. Initiatives included an 'Idea-thon' for food and packaging waste solutions and a series of experiments with the public to make one Brussels public space more circular.
Mexico City: Trained public, private and government stakeholders in Scale360° methodology to bridge circular economy knowledge gaps and drive the circular transition through focusing early conversations.
Turin: Built critical relationships with stakeholders from 14 organizations including regional policy makers, members of the private sector, academia, and existing networks to help foster and support much-needed discussions and collaboration on circular needs and priorities.

The Circular Shapers tap into World Economic Forum networks of experts and leaders in civil society, government, industry global organizations, including the Platform for Accelerating Circular Economy (PACE).

"It's powerful to see how Scale360° methodology has spread so rapidly and empowered Global Shapers to become leaders driving circular innovation in their cities. Now in 14 hubs around the world, Circular Shapers is one of the largest cross-hub collaborations in the Global Shapers Community," said Katie Hoeflinger, Specialist, Climate and Environment, Global Shapers Community.
The United Arab Emirates, a key supporter of Scale360°'s approaches, agrees that these new hubs will play an important role in building circular innovation. "The UAE supports Scale360° in driving the transition to circular economy locally and globally," said his Excellency Dr. Abdullah Belhaif Al Nuaimi, Minister of Climate Change and Environment. "This program will go a long way in fostering innovations that have the potential to fast-track the implementation of the circular economy principles around the world."

These efforts can also fuel a just transition, noted Head of Global Opportunities for Sustainable Development Goals (GO4SDGs), United Nations Environment Programme (UNEP), Adriana Zacarias Farah. "Jobs and skills are central to getting the political buy-in for the transformation from linear to circular. UNEP through the initiative Global Opportunities for SDGS (GO4SDGS) is happy to collaborate with the Forum and Scale360° on circular cities and the just transition narrative."

Building circular capabilities can help meet critical climate goals. "Scaling up circular business models and solutions is vital for environmental reasons and needs to happen fast," said Carsten Gerhardt, Partner at Kearney and Founder at Circular Valley (leading partners of Scale360° Germany).

With new Circular Shaper hubs in place, momentum for circular innovation can build further. Added Scale360°'s Global Lead, Helen Burdett: "This latest cohort is another example of local action for global impact on the circular economy transition."
World Bank Group's $157 Billion Pandemic Surge Is Largest Crisis Response in Its History
In response to COVID-19 severely damaging the lives and livelihoods of millions of people in developing countries, the World Bank Group deployed over $157 billion to fight the pandemic's health, economic, and social impacts over the last 15 months (April 1, 2020 – June 30, 2021). This is the largest crisis response of any such period in the Bank Group's history and represents an increase of more than 60% over the 15-month period prior to the pandemic. Bank Group commitments and mobilizations in fiscal year 2021 (FY21) alone (July 1, 2020 – June 30, 2021) amounted to almost $110 billion (or $84 billion excluding mobilization, short-term financing, and recipient-executed trust funds).
Since the start of the pandemic, the Bank Group supported countries to address the health emergency, strengthen health systems, protect the poor and vulnerable, support businesses, create jobs and jump start a green, resilient, and inclusive recovery.
Following last year's COVID-related economic deterioration, the global economy is expected to expand 5.6% in 2021. Thus far, the recovery is uneven and many of the world's poorest countries are being left behind. While about 90% of advanced economies are expected to regain their pre-pandemic per capita income levels by 2022, only about one-third of emerging market and developing economies are projected to do the same. In 2020, global extreme poverty rose for the first time in over 20 years, with nearly 100 million people pushed into extreme poverty.
"Since the start of the pandemic, the World Bank Group has committed or mobilized a record $157 billion in new financing, an unprecedented level of support for an unprecedented crisis," said World Bank Group President David Malpass. "We will continue to provide critical assistance to developing countries through this ongoing pandemic to help achieve a more broad-based economic recovery. The Bank Group has proven to be a rapid, innovative, and effective platform to support developing countries as they respond to the pandemic and strengthen resilience for future shocks. But we must do more still. I remain deeply concerned about limited availability of vaccines for developing countries, which are critical to save lives and livelihoods."
World Bank Group Commitments (in U.S. billions)
World Bank Group
Q4-FY20
FY21*
15-mo ending June 21*
IBRD
15.1
30.5
45.6
IDA
17.2
36.1
53.3
IFC
11.2
31.5
42.7
Long-term finance (own account)
4.9
12.5
17.4
Mobilization
4.1
10.8
14.9
Short-term finance
2.2
8.2
10.4
MIGA
2.4
5.2
7.6
Recipient-executed trust funds (RETF)
1.5
6.4
7.9
TOTAL (excluding short-term finance, mobilization, and RETF)
39.6
84.3
123.9
TOTAL (including short-term finance, mobilization and RETF)
47.4
109.7
157.1
*Preliminary and unaudited numbers as of July 14.
In the 15 months ending June 30, 2021, the Bank Group stretched its balance sheets, accelerated leveraging and disbursements, and front-loaded resources. Support to countries from the International Bank for Reconstruction and Development (IBRD) totaled $45.6 billion – including drawing down IBRD's $10 billion crisis buffer in addition to Board-approved sustainable annual lending limits. Grants and zero or low-interest loans to the world's poorest countries from the International Development Association (IDA) amounted to $53.3 billion. To meet increased financing needs, the World Bank fully used all remaining IDA18 resources in FY20 and frontloaded about half of all the three-year envelope of IDA19 resources in FY21. In February 2021, IDA donor and borrower country representatives agreed to advance IDA20 by 12 months to enable continued surge financing in the coming years.
In addition, over the same 15 months, the International Finance Corporation (IFC), the Bank Group's private sector development arm, reached a record high of $42.7 billion in financing, including short-term finance ($10.4 billion) and mobilization ($14.9 billion), 37% of which was in low-income and fragile and conflict-affected states. IFC provided liquidity for businesses to remain in operation, while ramping up investments in companies on the frontlines of the pandemic response. To address the COVID-induced increase in the trade gap, IFC has expanded its trade and supply chain finance activities. IFC's "Upstream" work continues to create the conditions to attract much-needed private investment to some of the world's most difficult places and preparing the ground for a faster private sector recovery.
Despite a challenging year for borrowers and financial markets, IDA doubled the amount it raised last fiscal year from investors, reaching almost $10 billion. IBRD raised $68 billion, by mobilizing financing from investors around the globe. IBRD and IDA, both rated AAA/Aaa, raised awareness for a variety of development themes to successfully mobilize finance for sustainable development. The year also included innovations such as a unique $100 million five-year bond issued by IBRD to support the global response to COVID-19 through UNICEF. IFC, also rated AAA/Aaa, issued close to $13 billion in bonds for private sector development and job creation in emerging markets.
The Multilateral Investment Guarantee Agency (MIGA), whose mandate is to drive impactful foreign direct investment to developing countries, issued $7.6 billion in new guarantees over the same 15-month period since the onset of the pandemic, of which 19% supported projects in IDA countries and fragile settings.
In FY21, the World Bank Group's climate finance totaled over $26 billion, it's largest year of climate finance ever (25% above FY20, which was itself also a record). The new Climate Change Action Plan for 2021-2025 aims to integrate climate and development goals, and commits 35% of Bank Group financing to climate, on average, over the next five years, with at least 50% of World Bank climate finance supporting adaptation. In the same time frame, the Bank Group will align financing with the goals of the Paris Agreement, while helping client countries meet their Paris commitments, including supporting and implementation of development of their Nationally Determined Contributions (NDCs) and Long-Term Strategies.