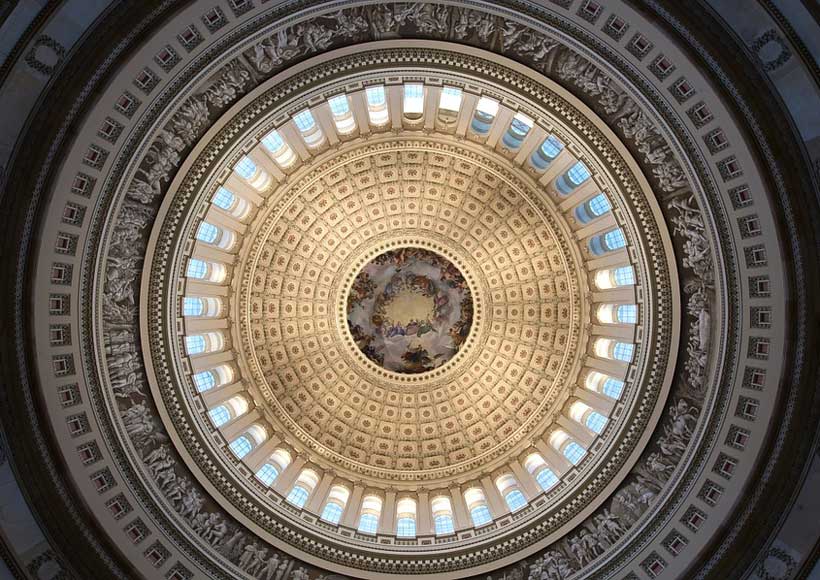 After Senate Trial and Presidential Acquittal: Overlooked Foundations of U.S. Constitutional Law
Lawyers on both sides of the recent Senate trial chose to ignore certain philosophic and jurisprudential foundations of the United States Constitution.[i] These "peremptory" foundations lie recognizably in Natural Law,[ii] immutable rules that apply, by definition, to all peoples and for all time. Though it is plainly too late to remind the pertinent political parties about the salient relevance of Higher Law principles to the Trump impeachment trial, the American public ought still learn about such original precepts for future jurisprudential reference. Ironically, these core precepts were already well-known and respected by the Founders, especially Jefferson, Franklin, Madison, Hamilton and Jay.
Most assuredly, when the Irish poet William Butler Yeats penned "The Second Coming,"[iii] he did not have United States Constitutional law issues in mind. Nonetheless, Yeats' famously-crafted warnings about "passionate intensity" and "blood-dimmed tide" should have a palpable resonance in American politics. How could they not?
The just-completed Senate trial concerned US President Donald Trump and purposeful legal remedies for allegedly impeachable derogations. Though disregarded at trial, these prospective remedies lay latent in the American nation's most rudimentary legal principles. For future reference, these core principles will need to be taken more seriously by anyone who might still value a justice-based United States.[iv]
Though little known, there exist several "peremptory"[v] principles of jurisprudence that could have proved applicable to seriously conceived impeachment motions. These relatively esoteric but still valid principles concern the Higher Law underpinnings of the United States. For the future, at least in principle, such basic expectations represent vital national security principles that could help protect Americans from presidentially-inflicted harms.
Recalling the expanding nuclear weapons context of world politics, such harms could at some point display fully existential qualities.
The pertinent issues are primarily legal in both nature and codified form. In relevant jurisprudential terms, we must begin at the beginning. Remembering the celebrated jurist A.P. d' Entrevesclassic text on Natural Law (Oxford University Press, 1951): "The Natural Law (Higher Law) is absolutely binding, and overrules all other laws." From the standpoint of any still-to-be considered impeachment strategies, this recollection could point the way to much more usefully broad bases for any future US presidential removal effort.
"In the beginning…." For the United States, the principle of a Higher Law has always been more than just "any principle." Unmistakably, it is one of the most enduring and canonic principles of the country's acknowledged legal foundation.[vi] Revealed, inter alia, in both the Declaration of Independence and in the Constitution,[vii] it rests solidly and incontrovertibly upon the willing acceptance of right and justice for their own sake.
For the United States, considerations of right and justice have never been narrowly instrumental. On the contrary, at least until the recent impeachment trial acquittal, they have remained unwavering and meaningfully determinative.
Americans should take heed, even "after the fact" of the recent jurisprudential failure. Such foundational principles, as famed 18th century jurist William Blackstone once declared,[viii] represent nothing less than "the eternal, immutable laws of good and evil, to which the creator himself in all his dispensations conforms; and which he has enabled human reason to discover so far as they are necessary for the conduct of human actions."[ix]
Plainly, Thomas Jefferson was a learned US president, even at a time when laborious study was vastly more complicated and difficult than it is today. When Jefferson – without any benefit of electric light, air conditioning, central heating, computers or even a manual typewriter – set to work on the Declaration, he drew productively upon Aristotle, Cicero, Grotius, Vattel, Pufendorf, Burlamaqui, and most prominently – John Locke (Second Treatise of Government).[x] Asserting the right of revolution whenever government becomes destructive of "certain unalienable rights,"[xi] the Declaration of Independence posits a discernible natural order in the world, one whose irreducible laws are external to human will and remain eternally discoverable through staunchly determined applications of human reason.[xii]
Although, by the eighteenth century, God had been "withdrawn" from any immediate philosophical contact with humankind , and had been transformed into the Final Cause or Prime Mover of the universe, "nature" still remained available as a convenient and altogether capable substitute.[xiii]
There is more. Reflecting the unique influence of Isaac Newton, whose Principia was first published in 1686, all of creation could now be taken as a recognizable expression of divine will.[xiv] Reciprocally, however, the only true way to ever truly "know" this original will of God was to first discover the underlying and eternal Law of Nature.
In essence, Locke and Jefferson had deified nature and "denatured" God.[xv]
But what exactly was this purported "Law of Nature," a basic law that is accepted in the Declaration and Constitution as a continuously binding set of obligatory norms, and which could still pertain to a present-day American president? Above all, Jefferson learned from Locke, such law was a necessary source of Reason: Still more exactly, according to Locke's Second Treatise:
The state of nature has a law to govern it, which obliges every one: and reason, which is that law, teaches all mankind, who will but consult it, that being all equal and independent, no one ought to harm another in his life, health, liberty, or possessions….
In transgressing the law of nature, the offender declares himself to live by another rule than that of reason and common equity, which is that measure God has set to the actions of men….
A criminal, who having renounced reason, the common rule and measure God hath given to mankind, hath, by the unjust violence and slaughter he hath committed on one, declared war against all mankind.[xvi]
As reason is the only sure guide to what God has given to humankind, it must inevitably become the only reliable foundation of true law. This Lockean and Jeffersonian idea of a transcendent or Higher Law is made manifest not only in the Declaration of Independence, but also in the Constitution.[xvii] Inter alia, the Ninth Amendment, in stipulating that "the enumeration of certain rights in this Constitution shall not prejudice other rights not so enumerated,"[xviii] reflects codified belief in a perpetual law that is justly superior to any expressed will of human governance.
This vital conviction runs continuously from ancient times, especially traditional Jewish Law,[xix] up to the present intellectually detached "Trumpian moment." The evident roots of such a prospectively lethal detachment lie in a broadly cast indifference to anything based upon Reason and a more person-specific indifference to history. What ought we ever really expect from a president who unambiguously prefers "attitude" to "preparation?"
There is still more. The Fragments of Heraclitus attest to the venerable antiquity of a Higher Law: "For all human laws are nourished by one, which is divine. For it governs as far as it will, and is sufficient for all, and more than enough."[xx] Such Heraclitean dicta, offered somewhere around 500 B.C.E., entered easily into later Stoic philosophy and described a universal and expectedly rational body of human law. Hard as it may be to imagine amid American politics in 2020, this intellectual corpus was familiar to many of the Founding Fathers.
Those people actually read books, serious and challenging books.
In 442 B.C.E., Sophocles clarified the idea of true law as an act of discovery, thus challenging the superiority of human rule-making in Antigone.[xxi] Already exploring inevitable conflict between claims of the state and those of an individual conscience, this classic challenge has since been taken to represent the incontestable supremacy of proper Higher Law overall man-made law. Later, in the nineteenth century, American Transcendentalist philosopher Henry David Thoreau, noting that men live with "too passive a regard for the moral laws,"[xxii] cited directly to Antigone as a stirring example of "civil disobedience." Still later, in these United States, the derivative legal and ethical conclusions of Antigone were learned and embraced by Martin Luther King.
The authority of Natural Law has a well-defined history in American society and politics. Ipso facto, it is not "merely" a pompous invention of interested philosophers and university professors. Or understood in more lay-person parlance, Natural Law already "has legs."
But back to the philosophers. Building upon Plato's theory of Ideas,[xxiii] which sought to elevate "nature" from the distressingly transient sphere of contingent facts to the "higher" realm of immutable archetypes or Forms,[xxiv] Aristotle advanced in Ethics the derivative concept of "natural justice."[xxv] Quoting the Antigone, he argued (in a juridical posture of perpetual significance) "an unjust law is not a law."[xxvi] This irreducible position stands in markedly stark contrast to the more instrumental opinion of the Sophists – i.e., that justice is never more than an expression of supremacy, that it is only what Thrasymachus cynically calls, in Plato's Republic, "the interest of the stronger."[xxvii]
Were he somehow made aware of such scholarly origins and underpinnings, US President Donald Trump would assuredly judge himself to be among the contemporary "Sophists." This clarifying acknowledgment, to be sure, would be uttered openly by Mr. Trump, and perhaps even with an unmitigated pride.
Still more precisely apropos of President Donald Trump's jurisprudentialy disjointed presidency, this pernicious brand of Realpolitik has now become the openly acknowledged philosophic foundation of U.S. foreign policy. Left unmodified by timeless and universal principles of a Higher Law, the deleterious consequences for America and for the wider world are not difficult to predict or decipher.[xxviii]
These effects include very tangible US declensions into catastrophic war, potentially even a nuclear war. Notable, in this regard, is the ongoing expansion of what might best be termed "Cold War II" with Russia; simultaneously, the undiminished nuclearization of North Korea and the ongoing recombination of ISIS Jihadist terrorists under the banner of al Qaeda should come to mind. Along all of these cited dimensions of decline, the "acquitted" American president is plainly complicit.
Again and again, history can be instructive. The Stoics, whose legal philosophies arose on the threshold of the Greek and Roman worlds, regarded Nature itself as humankind's supreme legislator.[xxix] Applying Platonic and Aristotelian thought to a then-hopefully emerging cosmopolis, they defined this nascent order as one wherein humankind, by means of its seemingly well-established capacity to reason, can commune directly with the gods.[xxx] As this definition required further expansion of Plato's and Aristotle's developing notions of universalism, the Stoics consciously articulated a further division between lex aeterna, ius natural and ius humanum.[xxxi]
Lex aeterna is the law of reason of the cosmos, the logos which rules the universe. As an emanation of cosmic reason, human reason, it is assumed, rules the lives of men. It follows that natural law partakes of eternal law, though it has a more limited range of application. Unlike the more elitist conception of Plato (and, to a certain extent, even Aristotle), the Stoic idea of an innate "right reason" presumed no meaningful divisions between peoples.[xxxii]
Instead, in linking all persons with the cosmic order, it established the essential foundations of an authentic and immutable universality.
Cicero, in De Republica, had defined the state as a "coming together of a considerable number of men who are united by a common agreement about law and rights and by the desire to participate in mutual advantages."[xxxiii] This definition shed a useful light on the problems surrounding positivist jurisprudence, a legal philosophy that values any state's edicts as intrinsically just and therefore obligatory.[xxxiv] In a suitably famous passage of De Republica, one well known to Jefferson and other Founders, Cicero sets forth the still classic articulation of Natural Law:
True law is right reason, harmonious with nature, diffused among all, constant, eternal; a law which calls to duty by its commands and restrains from evil by its prohibitions….It is a sacred obligation not to attempt to legislate in contradiction to this law; nor may it be derogated from nor abrogated. Indeed, by neither the Senate nor the people can we be released from this law; nor does it require any but oneself to be its expositor or interpreter. Nor is it one law at Rome and another at Athens; one now and another at a late time; but one eternal and unchangeable law binding all nations through all time….[xxxv]
It goes without saying that US President Donald Trump has no acquaintance with any such still-binding or "peremptory" ideas.
But what is to be done when positive law (which now includes US Constitutional and statutory law) is at variance with "true law"? The Romans had a remedy in all such challenging matters. They simply incorporated into their various statutes a contingency clause that man-made law could never abrogate those obligations that are inherently right or presumptively sacred.[xxxvi] On several occasions, Cicero and others meaningfully invoked this clause, or jus, against one particular statute or another.[xxxvii]
In this way, the written law of the moment, never more than an artifact of the extant civic community, remained correctly subject to "right reason."
Later, St. Augustine reaffirmed that temporal law must always conform to the unchangeable eternal law,[xxxviii] which he had earlier defined as "the reason or will of God (ratio divina vel voluntas Dei)."[xxxix] Aquinas continued this tradition of denying the status of law to prescriptions that are inherently unjust (lex iniusta non est lex).[xl] "Human law," he wrote in the Summae,[xli] "has the quality of law only insofar as it proceeds according to right reason; and in this respect it is clear that it derives from the eternal law. Insofar as it deviates from reason it is called an unjust law, and has the quality not of law, but of violence."[xlii]
The concept of a Higher Law, later to figure so importantly in the legal development of the United States of America, was widely integrated into medieval jurisprudential thought.[xliii] In John of Salisbury's Policraticus, "There are certain precepts of the law which have perpetual necessity, having the force of law among all nations and which absolutely cannot be broken."[xliv] Recognizing the idea that all political authority must be intrinsically limited, John noted that the prince "may not lawfully have any will of his own apart from that which the law or equity enjoins, or the calculation of the common interest requires."[xlv]
"….or the calculation of the common interest requires." Viewed against the backdrop of the current US president – now, correctly analogous to the medieval "prince" discussed by John of Salisbury – such "perpetual law" must of necessity prohibit any presidential placement of personal interest over the discernibly "common interest" of the United States. Natural Law, inter alia, still exists to frustrate political injustice, a vital function that failed to become materially relevant to Trump's recent impeachment trial in the Senate.
In the seventeenth and eighteenth centuries, Natural Law doctrine was reaffirmed and secularized by Grotius,[xlvi] the "father" of all modern international law. Reviving the Ciceronian idea of Natural Law and its underlying optimism about human nature, Grotius is credited with liberating this idea from any once-remaining dependence on ecclesiastical or Papal interpretation.[xlvii] Building upon the prior speculations of the Dominican Francisco de Vitoria, who had proclaimed a natural community of humankind and the universal validity of human rights,[xlviii] Grotius fashioned a conceptual "bridge" from the Christian Commonwealth of the Middle Ages to a brand new interstate society.[xlix]
In this connection, he strengthened the idea of a universally valid Natural Law, one transcending in obligation all human law, including the cumulative positive law of any single sovereign state.[l] This is an idea, of course, that lies at the conceptual heart of US law, but it also entirely alien to the understanding or vision of current US President Trump.
Unlike Machiavelli and Hobbes,[li] Grotius did not consciously reduce law to any presumed will of a prince or a separate state.[lii] Rather, while recognizing such will as a properly constitutive element within the much wider international legal order, he also understood that the binding quality of human edicts must be derived from a more overriding totality of "natural" imperatives.[liii] Accordingly, he proceeded to reject raison d'etat as a "just cause" for war,[liv] a purposeful rejection that may sometime cease to resonate in US President Donald Trump's personal ideas of governance.
This brings us directly to the conveyance of Natural Law ideas into American political theory, a transmittal that was preeminently the work of Locke's Second Treatise on Civil Government (1690).[lv] The specified American "duty" to revolt whenever governments commit "a long train of abuses and usurpations"[lvi] flows largely from Locke's seminal notion that civil authority can never extend beyond the securing of humankind's natural rights.[lvii] Regarding the recent US presidential impeachment and trial, the motto that Jefferson chose for his own seal was: "Rebellion to Tyrants Is Obedience to God."[lviii]
As for the right to pursue happiness, which Jefferson drew largely from Burlamaqui's incorporation into natural law,[lix] it had nothing to do with today's shallow presidential celebrations of raw commerce and exaggerated materialism. Not at all.
Nor could this right have had any bearing any US presidential impeachment proceedings. Though happiness was viewed by Jefferson (in plausible deference to Pufendorf and Locke) as a welcome condition to be achieved as the direct result of humankind's overriding commitment to reason,[lx] never specified were any corresponding or corollary presidential obligations.
Above all, the Declaration of Independence implemented a fundamental social contract that sets limits on the power of any government.[lxi] Its central purpose, therefore, was to better articulate a set of universally valid constraints upon all secular political authority. Moreover, as justice, which is necessarily based on natural law, binds all human society, the rights described by the Declaration of Independence can never be reserved only to Americans. Derivatively, when current US foreign policies violate elements of international human rights law, including the authoritative law of war or law of armed conflict, there are simultaneously created various pertinent issues of US "command responsibility."[lxii]
By ready and verifiable deduction, natural rights must extend to all human societies, and can never be rendered subject to abrogation by positive law. Today, this general applicability of an immutable imperative to "do justice" is ignored by an American president who remains openly disinterested in human rights, especially on matters regarding immigration to the United States and the granting of refugee or asylum status. Notably, such matters of international law are ipso facto binding upon the United States, both by virtue of the ubiquitous and universal natural law, but also in consequence of the US Constitution (especially Art. VI, the "Supremacy Clause") and various leading US Supreme Court decisions (especially the Pacquete Habana, 1900).
The compelling theory of a Higher Law, which should have had a designated place in the Senate trial of President Trump, is based on clarity, self-evidence and coherence. Its express legal validity can never be shaken by any presumed presidential imperatives of geopolitics or "America First,." As noted by the Swiss scholar Emmerich de Vattel in the 1758 edition of The Law of Nations (a work in which several American fathers of independence discovered important and usable maxims of political liberty): "No agreement can bind, or even authorize, a man to violate the natural law."[lxiii]
Prudently, Vattel had cautioned that only a strict obedience to higher legal obligations can produce a virtuous and thereby safe and prosperous state: "One would have to be very ignorant of political affairs not to perceive how much more capable a virtuous Nation is of forming a happy, peaceful, flourishing and secure state, respected by its neighbors and formidable to its enemies."[lxiv] Earlier, going forward with impeachment proceedings, Vattel's wisdom could have had a proper and utilitarian place. At a minimum, it could have stood as an unchallengeable corrective to the manifestly unjust imperatives of Trump's" America First."
*********
In the end, as the recent Trump impeachment trial ought to have revealed, Higher Law expectations of the American political tradition can never be self-enforcing. Instead, defied again and again by transient political elites, these expectations can only be sustained where individual citizens would first prepare to act (as does Antigone before Creon[lxv] ) according to conscience. "Why has every man a conscience,"[lxvi] asks Thoreau in his foundational American essay on Civil Disobedience.
I think that we should be men first, and subjects afterwards. It is not desirable to cultivate a respect for the law, so much as for the right. The only obligation which I have a right to assume is to do at any time what I think right. It is truly enough said that a corporation has no conscience; but a corporation of conscientious men is a corporation with a conscience.[lxvii]
Where are such "conscientious men" (and of course women) to be found? Certainly not, says Thoreau insightfully, among the "commonly esteemed good citizens."[lxviii] These mass men and women serve the state "not as men mainly, but as machines, with their bodies."[lxix]
Placing themselves "on a level with wood and earth and stones,"[lxx] these creations of the "mass" (the Danish philosopher Soren Kierkegaard would have preferred the term "crowd") are incapable of making essential moral or legal distinctions. This incapacity is easily enough recognized today, where so many United States Senators remained unwilling to acknowledge the brutally stark differences between prima facie presidential wrongdoing and legally correct presidential behavior.
Could the United States still create the conditions for a conscientious "corporation" though the enhanced education of an informed citizenry? From Rousseau to the present, this has been the preferred path of virtually all democratic theory. Rousseau believed that law and liberty could best exist in a city-state of properly educated voters like Geneva:
He stipulates in Book III of the Social Contract:
First, a very small state where the people can be readily got together and where each citizen can with ease know all the rest; secondly, great simplicity of manners, to prevent business from multiplying and raising thorny problems; next, a large measure of equality in rank and fortune, without which equality of rights and authority cannot long subsist; lastly, little or no luxury – for luxury either comes of riches or makes them necessary.
But the contemporary United States is not at all like Geneva; Rousseau's cherished idea that a majority (even under very specified conditions) can be trusted with what is best for "The People" is too-often mistaken. Now, the dangers of the "general will" have been made manifest not only in the exploits of Robespierre and Napoleon, but also in the dissembling presidency of Donald Trump.
There is more. Rousseau's deification of The People actually points toward the very opposite of our own Higher Law tradition. The Genevan made "The People" sovereign; for us, ultimately, sovereignty must come to reside in The Citizen. Earlier, as Thoreau had understood, apathy, complacency, passivity and moral cowardice are the inevitable qualities found in the "mass" of men and women. True hope, therefore, can lie only in those residually still-thoughtful individuals whose primary allegiance is directed toward properly overriding and universal laws; that is, not in the presumptive "good citizen," but rather in the indispensable "wise minority."
It is time to finally inquire: What is the real task of this body of enlightened persons, one which could in fact represent a true and distinct majority in formation? Thoreau speaks truthfully of civil disobedience, one still possible act of "counter-friction." Now, confronted with an American president who could bring unparalleled harms to the United States, suddenly or in unanticipated increments – as we have seen, such harms could soon include even the onset of a catastrophic nuclear war[lxxi] – Thoreau would urge, as he once did about still-earlier policy deformations (see Civil Disobedience),: "Let your life be a counter-friction to stop the machine. What I have to do is to see, at any rate, that I do not lend myself to the wrong which I condemn."
To this point, most visibly at partisan political levels, Thoreau's earlier wisdom has fallen on variously deaf Congressional ears.
*********
This essay has explored certain now-lost jurisprudential remedies to the increasingly injurious Trump Presidency, most obviously "ordinary" impeachment options rooted in the US Constitution. For future reference, any Members of Congress directly involved with drafting and refining Articles of Impeachment could also avail themselves of related Higher Law arguments. This potentially augmented path is suggested here because: (1) the Constitution of the United States is indisputably and perpetually constructed upon core principles of Natural Law; and (2) these antecedent and overriding legal principles are ultimately binding upon all citizens and all government officials.
To fashion such prospectively important Articles, careful attention ought to be paid not only to applicable statutory and Constitutional expectations, but also to the everlasting Higher Law traditions of the United States. While less explicit and thereby much harder to identify and operationalize, these core traditions and legal norms are in no way inferior to what had previously been codified. Accordingly, they should never be minimized or once again disregarded.
Though utterly ignored in the recently-completed Trump Senate trial, certain basic and immutable elements of the Western Higher Law tradition should figure importantly in efforts to protect the United States from a similarly catastrophic American presidency in the future. Such jurisprudence-based efforts at citizen protection would be not only justifiable, but indispensable. As Roman statesman Cicero already understood more than 2000 years ago, "The safety of the people shall be the highest law."
It follows that the Natural Law/Higher Law background of the American Constitution could sometime still figure usefully and importantly in rescuing the United States from another lawless American president. Technically, of course, the recent Senate acquittal of Donald Trump must be duly respected by Americans as law-enforcing. But the "safety of the people" must always take acknowledged precedence over narrowly technical judgments by the United States Senate.
Always.

---
[i] As the U.S. Constitution does not spell-out the precise content of any such crimes, it would have been reasonable to maintain that presidential violations of Natural Law were at least equally representative of "High Crimes and Misdemeanors" as anything locatable in tangible statute. Also worth noting is that at the time of the Constitution's ratification, determinations of authentic criminality had much less to do with codified norms than with the common law or judicial precedent. In other words, when Professor Alan Dershowitz argued before the US Senate that an impeachable offense by Donald Trump must be linked to a "codified" crime, he fundamentally misrepresented the core legal origins of the United States.
[ii] Under international law, the idea of a Higher Law – drawn originally from the ancient Greeks and ancient Hebrews – is contained (inter alia) within the principle of jus cogens or "peremptory" norms.
[iii] Turning and turning in the widening gyre;
The falcon cannot hear the falconer;
Things fall apart; the centre cannot hold;
Mere anarchy is loosed upon the world.
The blood-dimmed tide is loosed, and everywhere
The ceremony of innocence is drowned;
The best lack all conviction, while the worst
Are full of passionate intensity.
[iv] This presumes, of course, a far greater attention to serious education in the United States. In this connection, contrast the "classical" American opinion of Thomas Jefferson with that of Donald Trump. Said Jefferson: "To penetrate and dissipate the clouds of darkness, the general mind must be strengthened by education." Said Trump: "I love the poorly educated."
[v] According to Article 53 of the Vienna Convention on the Law of Treaties: "…a peremptory norm of general international law is a norm accepted and recognized by the international community of states as a whole as a norm from which no derogation is permitted and which can be modified only by a subsequent norm of general international law having the same character." See: Vienna Convention on the Law of Treaties, Done at Vienna, May 23, 1969. Entered into force, Jan. 27, 1980. U.N. Doc. A/CONF. 39/27 at 289 (1969), 1155 U.N.T.S. 331, reprinted in 8 I.L.M. 679 (1969).
[vi] See Edward S. Corwin, THE "HIGHER LAW" BACKGROUND OF AMERICAN CONSTITUTIONAL LAW (1955); Alexander P. D'Entreves, NATURAL LAW: AN INTRODUCTION TO LEGAL PHILOSOPHY (1951).
[vii] See: U.S. Constitution, Art. IX. According to Clinton Rossiter, there exists a "deep-seated conviction" among Americans "that the Constitution is an expression of the Higher Law, that it is, in fact, imperfect man's most perfect rendering" of eternal law. See Rossiter, preface to Corwin, supra, at vi.
[viii] Blackstone's Commentaries, of course, provided certain basic foundations of America's current legal system. It is unlikely, of course, that even a tiny handful of US representatives or senators were even aware of this juridical primacy.
[ix] Blackstone's COMMENTARIES expressly recognize that all law "results from those principles of natural justice, in which all the learned of every nation agree…." See William Blackstone, COMMENTARIES ON THE LAWS OF ENGLAND, adapted by Robert Malcolm Kerr (Boston; Beacon Press, 1962), Book IV, "Of Public Wrongs," p. 62 (Chapter V., "Of Offenses Against the Law of Nations.")
[x] See John Locke, TWO TREATISES OF GOVERNMENT 123 (T.I. Cook, ed., 1947).
[xi] See THE DECLARATION OF INDEPENDENCE
[xii] See Julius Stone, THE PROVINCE AND FUNCTION OF LAW (Cambridge MA: Harvard University Press, 1950), Chapter VIII, "Natural Law."
[xiii] Here, in the Deist view, Nature had "replaced" God as the source for lawful behavior.
[xiv] Newton says famously in his Principia: "This most beautiful system of the sun, planets, and comets could only proceed from the counsel and dominion of an intelligent and powerful Being." Cited by Abraham Kaplan, IN PURSUIT OF WISDOM: THE SCOPE OF PHILOSOPHY (Beverly Hills CA: Glencoe Press, 1977), p. 550.
[xv] See Stone, supra, Ch. VIII.
[xvi] See Locke, supra, 123.
[xvii] See The Bill of Rights, as detailed in the following discussion.
[xviii] See U.S. Constitution, Ninth Amendment.
[xix] The most fundamental principle of ancient Hebrew law, of course, is that the revealed will of God is the only proper source of Jewish justice. In the Talmudic position, "Whatever a competent scholar will yet derive from the Law, that was already given to Moses on Mount Sinai." (See Jerusalem Megillah IV, 74d.)
[xx] See Sec. 81, Fragment No. DK 22B114 of THE PRESOCRATICS 75 (Philip Wheelwright ed., Bobbs-Merrill 1960). The authoritative text for the fragments of Heraclitus is Hermann Diels & Walther Kranz, DIE FRAGMENTE DER VORSOKRATIKER (6th ed., Weidmann 1966).
[xxi] A century before Demosthenes, Antigone's appeal against Creon's order to the "unwritten and steadfast customs of the Gods" had evidenced the inferiority of human rule-making to a Higher Law. Here, in the drama by Sophocles, Creon represents the Greek tyrant who disturbs the ancient harmony of the city state. Aristotle, in his RHETORIC, quotes from Sophocles' ANTIGONE when he argues that "an unjust law is not a law." See RHETORIC 1, 15, 1375, a 27 et seq.
[xxii] See Henry David Thoreau, ON THE DUTY OF CIVIL DISOBEDIENCE, in WALDEN, OR LIFE IN THE WOODS AND ON THE DUTY OF CIVIL DISOBEDIENCE (Signet 1960).
[xxiii] Plato's theory, offered in the fourth century B.C.E, seeks to explain politics as an unstable realm of sense and matter, an arena formed and sustained by half-truths and distorted perceptions. In contrast to the stable realm of immaterial Forms, from which all genuine knowledge must be derived, the political realm is dominated by the uncertainties of the sensible world. At the basis of this political theory is a physical-mental analogy that establishes a correlation between the head, the heart and the abdomen, and the virtues of intelligence, courage and moderation.
[xxiv] Supra.
[xxv] See Corwin, supra, at 7.
[xxvi] Id.
[xxvii] "Right is the interest of the stronger," says Thrasymachus in Bk. I, Sec. 338 of Plato, THE REPUBLIC (B. Jowett tr., 1875). "Justice is a contract neither to do nor to suffer wrong," says Glaucon, id., Bk. II, Sec. 359. See also, Philus in Bk III, Sec. 5 of Cicero, DE REPUBLICA.
[xxviii] In this connection, however, noted Sigmund Freud: "Wars will only be prevented with certainty if mankind unites in setting up a central authority to which the right of giving judgment upon all shall be handed over. There are clearly two separate requirements involved in this: the creation of a supreme agency and its endowment with the necessary power. One without the other would be useless." (See: Sigmund Freud, Collected Papers, cited in Louis René Beres, The Management of World Power: A Theoretical Analysis, University of Denver, Monograph Series in World Affairs, Vol. 10 (1973-73), p, 27.)
[xxix] See Corwin, supra, at 9: "The Stoics…thought of Nature or the Universe as a living organism, of which the material world was the body, and of which the Deity or the Universal Reason was the pervading, animating and governing soul; and natural law was the rule of conduct laid down by this Universal Reason for the direction of mankind." Salmond, JURISPRUDENCE 27 (7th ed., 1924), cited in Corwin, supra, at 9.
[xxx] Id.
[xxxi] These terms are defined and discussed below.
[xxxii] See Corwin, supra, at 9.
[xxxiii] Spoken by Scipio in Bk. I of DE REPUBLICA; cited in Alexander P. D'Entreves, THE NOTION OF THE STATE 24 (1967).
[xxxiv] See Stone, THE PROVINCE AND FUNCTION OF LAW, supra, 224-230. Stone calls positive law "…the law actually enforced by organized society in a particular place at a particular time." (p. 225) Understood in terms of natural law, positive law is merely a necessary evil, tolerable and valid only to the extent that it coincides with natural law. In this theory, says Julius Stone, "Not only does natural law provide the criterion for judgment whether positive law is just. It goes further and provides the criterion for deciding whether positive law is valid law at all." (Id., at 226)
[xxxv] See Cicero, I DE LEGIBUS, cited in Corwin, supra, at 10; D'Entreves, supra., at 20 – 21. Similarly, in his DE OFFICIIS, Cicero wrote: "There is in fact a true law namely right reason, which is in accordance with nature, applies to all men and is unchangeable and eternal….It will not lay down one rule at Rome and another at Athens, nor will it be one rule today and another tomorrow. But there will be one law eternal and unchangeable binding at all times and upon all peoples." (cited by Stone, supra, at 216.) See also DE LEGIBUS, Bk. i, c, vii; cited by Stone, supra, at 216.
[xxxvi] See Corwin, supra, at 12.
[xxxvii] Id, at 13.
[xxxviii] See D'Entreves, supra, 36 – 37. In early Christendom, Augustine offered a system of thought that identified the locus of all global problems in the human potentiality for evil. Combining a philosophy of Neo-Platonism with a view of the universe as a struggle between good and evil, he attributed the trials of humankind to the taint of original sin. This view, transformed into a secular political philosophy, is now reflected by exponents of the school of realism or realpolitik. Augustine, writing at the beginning of the fifth century C.E., sets out, in the CITY OF GOD, to describe human history as a contest of two societies, the intrinsically debased City of Man and the eternally peaceful City of God. In this contest, the state, the product of humankind's most base tendencies, is devoid of justice and destructive of salvation. A mirror image of human wickedness, the state is little more than a "large gang of robbers." In an oft-quoted passage, Augustine recalls the answer offered by a pirate who had been captured by Alexander the Great. When asked by Alexander what right he had to infest the seas, the pirate replied: "The same right that you have to infest the world. But because I do it in a small boat I am called a robber, while because you do it with a large fleet you are called an emperor."
[xxxix] See Julius Stone, HUMAN LAW AND HUMAN JUSTICE (Stanford CA: Stanford University Press, 1965), p. 44. For Augustine, this reason or will of God "commands us to preserve the natural order and prohibits us to disturb it." (See Contra Faustum, XXII, 27; cited by Stone, HUMAN LAW AND HUMAN JUSTICE, supra, p. 44.
[xl] Thomas Aquinas recalls Augustine as follows: "St. Augustine says: `There is no law unless it be just.' So the validity of law depends upon its justice. But in human affairs a thing is said to be just when it accords aright with the rule of reason: and as we have already seen, the first rule of reason is the Natural Law. Thus all humanly enacted laws are in accord with reason to the extent that they derive from the Natural law. And if a human law is at variance in any particular with the Natural law, it is no longer legal, but rather a corruption of law." See SUMMA THEOLOGICA, 1a 2ae, 95, 2; cited by D'Entreves, supra, pp. 42 – 43.
[xli] See D'Entreves, supra, at 42 – 43.
[xlii] The importance of reason to legal judgment was prefigured in ancient Israel, which accommodated reason within its system of revealed law. Jewish theory of law, insofar as it displays the marks of natural law, offers a transcending order revealed by the divine word as interpreted by human reason. In the striking words of Ecclesiasticus 32.23, 37.16, 13-14: "Let reason go before every enterprise and counsel before any action…And let the counsel of thine own heart stand…For a man's mind is sometimes wont to tell him more than seven watchmen that sit above in an high tower…."
[xliii] See Stone, THE PROVINCE AND FUNCTION OF LAW, supra, Chapter VIII.
[xliv] See Corwin, supra, at 17 – 18.
[xlv] Id., at 19.
[xlvi] See Stone, HUMAN LAW AND HUMAN JUSTICE, supra, pp. 64 – 68.
[xlvii] Id.
[xlviii] See Stone, HUMAN LAW AND HUMAN JUSTICE, supra, pp. 61 – 63.
[xlix] Id, pp. 65 – 68.
[l] Id.
[li] The sixteenth-century Florentine philosopher, Niccolo Machiavelli, joined Aristotle's foundations for a scientific study of politics with assumptions of realpolitik to reach certain conclusions about politics. His most important conclusion underscores the dilemma of practicing goodness in an essentially evil world: "A man who wishes to make a profession of goodness in everything must necessarily come to grief among so many who are not good." (See THE PRINCE, Chapter XV). Recognizing this tragic state of affairs, Machiavelli proceeds to advance the arguments for expediency that have become synonymous with his name. With the placing of the idea of force at the center of his political theory, the author of THE PRINCE stands in sharp contrast to the Platonic and early Christian concepts of the "good." Rejecting both Plato's argument that there is a knowable objective "good" that leads to virtue, and Augustine's otherworldly idea of absolute goodness, Machiavelli constructs his political theory on the assumption that "all men are potential criminals, and always ready to realize their evil intentions whenever they are free to do so." In his instructions to the statesman on how to rule in a world dominated by force, he advises "to learn how not to be good." The seventeenth-century materialist and social philosopher, Thomas Hobbes, elaborated a complex system of thought in which man was reduced to a state of nature and then reconstructed. Seeking a science of human nature that would have the rigor of physics, Hobbes looked to introspection as the source of genuine understanding: "Whosoever looketh into himself and considereth what he doth when he does think, opine, reason, hope, fear, etc., and upon what grounds, he shall thereby read and know, what are the thoughts and passions of all other men, upon the like occasions." (See Introduction to LEVIATHAN). The results of such an analysis of one's own thought processes led Hobbes to his celebrated theory of the social contract: the natural egoism of man produces a "war of all against all" in the absence of civil government and must be tempered by absolute monarchy. Moreover, the condition of nature, which is also called a condition of war marked by "continual fear, and danger of violent death," has always been the characteristic condition of international relations and international law: "But though there had never been any time, wherein particular men were in a condition of war one against another; yet, in all times, kings, and persons of sovereign-authority, because of their independency, are in continual jealousies, and in the state and posture of gladiators; having their weapons pointing, and their eyes fixed on one another; that is, their forts, garrisons, and guns upon the frontiers of their kingdoms, and continual spies upon their neighbors, which is a posture of war." (See LEVIATHAN, Chapter XIII).
[lii] This is because the principal Grotian effort was to "translate" natural law from pure philosophical speculation into a pragmatic legal ordering. See Stone, HUMAN LAW AND HUMAN JUSTICE, supra, p. 65.
[liii] Id.
[liv] The Swiss scholar, Emmerich de Vattel, notes – in his 1758 classic THE LAW OF NATIONS: "No agreement can bind, or even authorize a man to violate the natural law." See Albert de LaPradelle, Introduction to Emmerich de Vattel, LE DROIT DES GENS (THE LAW OF NATIONS)(Charles G. Fenwick, tr., 1916).
[lv] See Corwin, supra, at 61.
[lvi] Id.
[lvii] Id.
[lviii] See Thomas Jefferson, IV WORKS 362 (New York, P.L. Ford, ed., 1892-99).
[lix] J.J. Burlamaqui, author of PRINCIPES DU DROIT DE LA NATURE ET DES GENS (1774) was a Swiss scholar who held a Chair at the University of Geneva. His work has been described by J. Stone and others as "rational utilitarianism." See Stone, HUMAN LAW AND HUMAN JUSTICE, supra, p. 71.
[lx] See Corwin, supra, p. 81.
[lxi] Id.
[lxii] Criminal responsibility of leaders under international law is not limited to direct personal action or limited by official position. On this peremptory principle of "command responsibility," or respondeat superior, see: In re Yamashita, 327 U.S. 1 (1945); The High Command Case (The Trial of Wilhelm von Leeb), 12 Law Reports of Trials Of War Criminals 1 (United Nations War Crimes Commission Comp., 1949); see Parks, Command Responsibility For War Crimes, 62 MIL.L. REV. 1 (1973); O'Brien, The Law Of War, Command Responsibility And Vietnam, 60 GEO. L.J. 605 (1972); U.S. Dept. Of The Army, Army Subject Schedule No. 27 – 1 (Geneva Conventions of 1949 and Hague Convention No. IV of 1907), 10 (1970). The direct individual responsibility of leaders is also unambiguous in view of the London Agreement, which denies defendants the protection of the act of state defense. See AGREEMENT FOR THE PROSECUTION AND PUNISHMENT OF THE MAJOR WAR CRIMINALS OF THE EUROPEAN AXIS, Aug. 8, 1945, 59 Stat. 1544, E.A.S. No. 472, 82 U.N.T.S. 279, art. 7.
[lxiii] See Vattel, THE LAW OF NATIONS (Washington D.C.: Carnegie Institution, 1916), C.G. Fenwick tr., p. 4.
[lxiv] Id.
[lxv] See Sophocles, ANTIGONE, supra.
[lxvi] See H D Thoreau, ON THE DUTY OF CIVIL DISOBEDIENCE (New York: New American Library, 1959).
[lxvii] Id.
[lxviii] Id.
[lxix] Id.
[lxx] Id.
[lxxi] "The obligation of subjects to the sovereign," says Thomas Hobbes in Chapter XXI of LEVIATHAN, "is understood to last as long, and no longer, than the power lasteth by which he is able to protect them."
Belt and Road Hazards, Coming to the Americas
The Chinese train that came and went
At a nationally-televised press conference in Panama City in March 2019, a China-funded team of Chinese and Panamanian engineers took the stage. They unveiled the results of their feasibility study of the proposed Panama-Chiriquí Railway. They announced the megaproject would cost $4.1 billion and take six years to build. It would cut travel time from the capital to the Costa Rican border from eight hours to three. On this sunny day, Panama's President Juan Carlos Varela was on hand to cut the blue ribbon, beaming alongside Wei Qiang, China's Spanish-fluent ambassador. Varela said new urban areas would be created along the route, helping to develop Panama's neglected interior. He added that the train would increase the export-competitiveness of Panama's rural producers—noting it is currently cheaper to send cargo to Panama's ports from Shanghai than from its own coffee-growing Chiriquí Highlands. Panama would modernize its slow, fragmented land transport, and China Railway Design Corporation would get a big fat contract. Everyone agreed it was a win-win.

"Win-win projects" are indeed the stated goal of China's Belt and Road Initiative (BRI), also known as the New Silk Road. Introduced by President Xi Jinping in 2013, the BRI is China's global economic strategy for the twenty-first century: to finance and build new infrastructure in partner countries around the world, linking them to China and Chinese-operated logistics hubs, putting China and its influence at the center of global commerce.

The Panama-Chiriquí Railway was to be China's first BRI project in the Americas. Panama became the first country in the region to join to the BRI in November 2017. That was the year of what a local newspaper called a "honeymoon dance" between President Varela and Xi, when Varela cut Panama's diplomatic relations with Taiwan and opened them with China. That same year, a Chinese firm won a $165 million contract to build the Amador Cruise Terminal at the Pacific end of the Panama Canal. At the Atlantic end, another Chinese firm began construction of a $900 million liquid natural gas (LNG) power plant and the $1.1 billion Panama Colón Container Port, to be the largest port in Panama. With hard hats and shovels, President Varela and Wei Qiang stood together at the ceremony to lay the port's first stone—Varela noting it was the biggest investment China had ever made in Panama. The deal also meant Chinese firms would soon control three of the six container ports on the Panama Canal, as Hong Kong-based Hutchinson Ports already manages the ports of Balboa and Cristóbal. China was on a roll in Panama.
As Chinese firms poured billions into real estate and infrastructure projects at both ends of the Panama Canal, many locals worried that Panama's sovereignty was being threatened—a sovereignty only recently achieved, when the US handed over the Canal Zone to Panama in 1997. In a 2018 editorial in La Estrella, Universidad Interamericana de Panama professor Euclid Tapia warned of the debt-trap diplomacy for which China has become infamous in many other BRI countries. Tapia cited Sri Lanka, "where to pay its debts to Chinese creditors the country was forced to lease its most important port for 99 years." He said similarly, and with little public attention, China was now seeking to construct a new fourth set of locks on the Panama Canal at an "unspeakable" cost of $15 to $20 billion—which "will gladly be financed by China," precisely because Panama would likely be unable to pay it back. "Knowing the degree of corruption of our governments," wrote Tapia, "it is highly probable that the fate of the Panama Canal will follow that of the Suez Canal, which due to Egyptian debt, England took from France. China could take over our canal and swallow us by osmosis."
Perhaps slow to respond, Secretary of State Mike Pompeo flew to Panama City in October 2018 to discuss US concerns with President Varela. Pompeo warned the president of the "predatory economic activity" of China's state-owned enterprise (SOEs). "In parts of the world," he told local news, "China has invested in ways that have left countries worse off, and that should never be the case. Any time there is investment that comes from outside of a country, it certainly should be a good investment for the investor, but it has to be something that's good for the country that hosts that investment as well." Through the media, Pompeo issued a warning to all of Latin America: "When China comes calling, it's not always to the good of your citizens."
Pompeo also broached another thorny topic: the four-hectares at the Pacific entrance of the Panama Canal that Varela had offered China to build its new embassy. The idea of a giant Chinese flag waving before incoming ships at the mouth of the canal the US built did not appeal to the Trump administration. The month after Pompeo's visit, Panama announced that plans for the Chinese embassy by the canal entrance had been cancelled.
Despite Pompeo's warnings, Varela and Xi danced on. In December 2018, two months after Pompeo flew out, Xi flew in, becoming the first Chinese president to visit Panama. During the 24-hour visit, the countries signed 19 cooperation agreements on trade and infrastructure. In a televised address, Varela recalled that Xi had once told him that China's economy is an ocean, adding: "I want to complement those words by saying Panama connects two oceans, and [Xi's] visit consolidates our country as China's commercial arm and gateway to Latin America." A day after Xi left the country, Varela announced that Chinese firms had won a $1.4 billion contract to build a fourth bridge over the Panama Canal.
China-Panama relations were growing closer than ever. By spring 2019, the Panama-Chiriquí Railway project was rolling ahead full steam. But it hit a snag: Varela was reaching the end of his term limit. Panama elected a new president from an opposing party, Laurentino Cortizo, who took office in July 2019. By now having awoken to the threat of Chinese influence in Panama, the US wasted no time in putting pressure on Cortizo to rethink his country's relationship with China. By September, Cortizo had scrapped the Panama-Chiriquí Railway project. In October, his administration announced an audit of Panama's twenty-five-year contract with Hutchinson Ports, which ends in 2022. The Hong Kong firm has for decades been accused of not revealing its financial records and not paying the Panamanian government its 10% share of dividends from port operations.
Not losing a step, four months after leaving office, now ex-President Varela was again dining with Xi—this time in Shanghai at the China International Import Expo. But in December 2019, a bombshell dropped: Varelaleaks.com posted a phone chat between Panamanian officials indicating that Varela had received a $143 million bribe from China in June 2017—the moment he had switched Panama's diplomatic relations from Taiwan to China. There were calls for an investigation, which remains stuck in Panama's bureaucracy.

Belt and Road hazards
The recent tug-of-war between US and Chinese interests in Panama foreshadows many more to come throughout the Americas in the twenty-first century. In the past decade, three of seven countries in the world to switch allegiances from Taiwan to China have been in the Americas, as El Salvador and the Dominican Republic followed Panama's lead in 2018. (Taiwan claims China offered the Dominican Republic $3.1 billion in loans and investments to change allegiances.) Since Panama signed on to the BRI, eighteen of thirty-three countries in Latin America have done the same.

China markets the BRI as a more expedient alternative to traditional development projects funded by NGOs such as the World Bank and the International Monetary Fund (IMF). In some ways, this is true. NGOs often make project funding contingent on countries' agreement to structural adjustment programs as well as the creation of jobs programs which allow local workers to actually do the work. China asks for none of this. Instead, it presents itself as a friendly banker-contractor making an offer at a low price—the "China Price"—to do the job, do it fast, and loan the money—no strings attached.

But China's BRI deals do come with strings attached—albeit different sorts of strings from those of NGOs. Among them, China's debt-trap diplomacy and its penchant for targeting corrupt regimes and bribing officials have already been well-documented. But there are many other hazards along the New Silk Road which countries in the Americas should recognize.

Creating new geographies of corruption
China ranked second only to Russia on the Bribery Players Index published by Transparency International in 2011. Does China's culture of bribery and corruption travel along to its overseas construction projects? It does, according to a 57-page 2016 working paper entitled Chinese Aid and Local Corruption by Ann-Sofie Isaksson and Andreas Kotsadam of William & Mary's AidData research lab. The study found that areas of Africa located within 50 km of a Chinese project showed significantly increased corruption. The results were based on matching data from 98,449 respondents to four Afrobarometer survey waves across 29 African countries with a new georeferenced dataset on the subnational allocation of Chinese development finance projects between 2000-2012.Notably, the study found that the new culture of corruption stays around long after Chinese constructions projects end—and that aid projects from other sources actually have the opposite effect:

"The results consistently indicate that Chinese aid projects fuel local corruption. Moreover, the effect seemingly lingers after the project implementation period, and does not appear to be driven simply by an increase in economic activity, but rather seems to imply that the Chinese presence impacts local norms. Moreover, China stands out from the World Bank and other bilateral donors in this respect. In particular, whereas the results indicate that Chinese aid projects fuel local corruption but have no observable impact on local economic activity, they suggest that World Bank aid projects stimulate local economic activity without fueling local corruption. Indeed, if anything, they suggest the opposite; there is some indication that World Bank health projects help reduce corruption. In line with this, suggestive evidence indicates that World Bank aid projects are successful in raising awareness of corruption. This is interesting considering that the World Bank has been at the forefront of the 'anti-corruption movement' among major international organizations, with explicit anti-corruption policies as part of their agenda. Comparing with other bilateral donors, who just as China might not have an equally explicit anti-corruption agenda as the World Bank, Chinese aid projects still stand out in terms of their estimated effects on local corruption. Indeed, in Uganda, Japanese and American aid projects, if anything, appear to bring reduced local corruption. Hence, the comparison of the local corruption effects of Chinese and other aid does not speak in China's favor."

What is especially concerning about these findings is that reducing corruption and bribery and establishing the rule of law are among the most difficult targets to attain within the UN Sustainable Development Goals. They are difficult to monitor and cannot be budgeted for in a development package like funds for a bridge or a port, which can be traced to their end use. As legal scholar Katherine Erbeznik puts it:

"Money can't buy you law… Rule of law reform efforts have stalled. One reason is that reform has focused solely on formal rule of law institutions, rather than on the informal political or cultural norms that are needed to support such institutions. Little is known, however, about how to foster such political and cultural norms where they are lacking."In Africa, which—like Latin America—is already struggling to make progress in changing cultural norms surrounding corruption, the Chinese presence on the ground is turning the dial backwards, further exacerbating the problem—an effect opposite that of any other development source.

Natural resource theft: the "Chinese Takeaway"
China is also the world leader in natural resource theft, and the BRI is only exacerbating this trend. For example, for over a decade, Chinese illegal logging has been rampant in Africa—dubbed by locals the "Chinese takeaway." China has stringent regulations on domestic logging, so it looks abroad to feed the growing demand for luxury furniture among China's middle class—and US demand for furniture made in China. Chinese agents pay Africans by the thousands to cut down trees for them—including in protected areas—and bribe local officials to get transport permits and sustainability certifications to allow the logs to be exported. China is now building an Industrial Wood Processing Park in Mozambique, where logs will be turned into chips, facilitating "log laundering." Chinese illegal logging is already rampant in the Americas, including timber from the Brazilian Amazon and rosewood from Mexico and Guatemala. Increased Chinese presence and control of transport linkages in the Americas will only intensify bribery and the speed at which the region's forests are pillaged.

The same is true in the seas. China sates its immense appetite for seafood in part by being the world's largest perpetrator of distant-water illegal fishing, and the Americas have been a prime target. The US (especially Alaska), Canada, Mexico, Colombia, Peru, Chile, Ecuador, and Argentina regularly intercept and detain Chinese fishing pirates in their coastal waters. The Argentines have shot at and sunk Chinese vessels in the last several years. Chinese mafias collude with Latin American fishing cartels in multimillion-dollar smuggling networks supplying traditional Chinese medicine. For example, Ecuador apprehended Chinese ships poaching endangered hammerhead sharks for shark fin soup in Galapagos National Park. Mexico's Sinaloa Cartel colludes with Chinese pirates in smuggling bladders of the totoaba fish caught in the Gulf of California, which can sell for over $20,000 per kilogram on the black market in China. BRI port and rail projects in the Americas, manned by Chinese personnel, promise to facilitate more Chinese maritime piracy.

Spying by any other name
US cybersecurity firm FireEye, among others, reports that China has used BRI projects for cyber espionage many times and in numerous countries. In particular, FireEye notes that state-sponsored Chinese hackers have used infrastructure built as part of BRI projects to spy on a) foreign leaders who make BRI-related decisions, b) regional opponents of BRI projects, and c) government entities managing elections in BRI countries.
Take for example the new $200 million African Union headquarters in Addis Ababa, Ethiopia. China built it for free as a "gift" in 2012. In 2017, French newspaper Le Monde and other sources reported that China had hacked all the confidential data from the African Union's IT network, recorded conversations throughout the building with microphones it had planted in the walls and furniture, and uploaded all this information to Shanghai every night from 2012-2017.
Chinese telecom giant Huawei provided the digital surveillance equipment in the African Union building. A 2019 Wall Street Journal investigation reported that Huawei technicians also helped African leaders in Uganda and Zambia spy on their opponents. In February, the US government accused Huawei of being able to secretly retrieve "sensitive and personal information" from users of 4G networks the company has built and maintained—in the US and around the world—via technological "back doors" designed to be used only by law enforcement. Yet the firm is already responsible for building up to 70% of the telecommunications infrastructure in Africa. Now it is building the first 5G network in Southeast Asia in Cambodia. Huawei is the leading contender to create new 5G networks throughout Latin America, including Panama.It is now seeking to build a system of security cameras in Colon Free Zone, Panama's largest free trade zone, home to over 3000 companies from around the world. Thus the Huawei security system is a potential vehicle for Chinese spying on thousands of commercial operations in Panama.

In short, every element of telecommunications infrastructure built under the BRI—the Digital Silk Road—should be viewed as a potential instrument for cyber espionage.

A future as one of China's somewhere elses
China today is in the early stages of attempting to transition from being the world's factory to managing factories around the world. Chinese companies are moving to outsource manufacturing—to go from Made in China to Made by China, Somewhere Else. China is using BRI projects to create a global network of Chinese-controlled somewhere elses, where it can manufacture, transport, and sell. These include Chinese-built, Chinese-operated industrial zones overseas, where Chinese-managed factories set up shop, overseeing local workers. They also include Chinese-built, Chinese-run logistics hubs, including ocean ports and "dry ports" for rail cargo transshipment. And they include Chinese-built, Chinese-managed overseas marketplaces like malls, shopping centers, and tax-free zones, where China can sell.

The roots of China's offshore manufacturing push precede the BRI. Having hosted foreign-owned factories since 1978, in 1999 China began its "Going Out Policy," a push to engage in outward foreign direct investment. More recently, the explosion of China's middle class has driven the cost of labor up sharply, prodding Chinese firms to outsource manufacturing. Many BRI projects create new spaces to do just that. To illustrate, one need only look to the experience of Africa, where China is involved in infrastructure projects in some thirty-five countries.

Take Djibouti, where China built the $3.5 billion Djibouti International Free Trade Zone (DIFTZ) in 2018—the largest free trade zone in Africa. It was soon filled with Chinese-managed factories employing local workers at rock-bottom wages. China connected Djibouti to Ethiopia by building the 754-km Addis Ababa-Djibouti Railway, which will be operated by Chinese managers and drivers until at least 2023. Countries in the Americas should take notice that—while not sold as such—a key purpose of the BRI is to repeat this pattern: to create Chinese-controlled logistics networks accessing cheap labor markets to which Chinese companies can outsource factory jobs.

Or take Transsion, maker of the most popular smartphones in Africa, which sell under brand names such as Tecno and Itel. Transsion is a Chinese company, but it does not sell any phones in China and most Chinese people have never heard of it. It makes all of its African phones in factories in Ethiopia run by Chinese managers.

BRI projects have built extensive new transport networks in Africa to ship Transsion phones and thousands of other Chinese products now flooding the continent's markets. (China is also using these new transport links to remove Africa's natural resources at an astounding rate—legally and illegally—and discussed below.) In Kenya, China has already completed the Port of Mombasa—the largest port in East Africa—as well as the high-speed Mombasa-Nairobi Railway, the Thika Highway, and malls including Two Rivers Mall, the largest in Sub-Saharan Africa. In the works is the Mombasa-Nairobi superhighway. Laying down thousands of kilometers of road and railways, China hopes to use Kenya as its primary gateway for commerce with 120 million people in East Africa. The plan is to funnel Chinese products through Kenya and on to Uganda, Rwanda, Burundi, the Democratic Republic of the Congo, northern Tanzania, and South Sudan. Inside Kenya, products manufactured in Chinese-operated factories will be transported across Chinese-built highways and rail networks and sold in Chinese shops in Chinese-built malls.

China hopes to replicate this model the Americas. It wants to make Panama one of its Kenyas in Latin America, a gateway to commerce with Central and South America. The Panama-Chiriquí Railway would have opened the door for Chinese firms to outsource factories throughout Panama's interior and ship the products easily by rail to the ports it controls on the Panama Canal. To be sure, Panama sorely lacks manufacturing and high-tech industries—which is why it could be tempted into signing on to projects that would, in actuality, yield large numbers of extremely low-paid manufacturing jobs. Panama would be well on its way to becoming one of China's somewhere elses.

Part of China's New World
Besides products, China unloads people through the BRI. In recent decades, over one million Chinese, mostly men, have permanently moved to Africa, as documented by Howard French in his book China's Second Continent. Another million Chinese are currently working in Africa indefinitely, with more to come. Most came to work on Chinese construction projects and decided to stay. In Africa, Chinese workers often find blue skies, clean air, and freedom from the Communist Party for the first time. Many Chinese men have found African wives—an important factor, as China has a gender imbalance of 32 million more men than women due to the One Child Policy and families' preference for boys, which led to the abortion of millions of girls. Many Chinese job-hop from one African country to another, gaining skills and experience and taking advantage of the vast assortment of Chinese projects—and Africa's lax border controls. The highest-grossing Chinese movie of all time, 2017's Wolf Warrior 2, is about Chinese who made a new life in Africa.

Chinese emigration to BRI countries also helps reduce potential social unrest in China. BRI workers often come from the poorer, more neglected provinces in China's interior, where development lags far behind that of the coast. Opportunities for advancement there are much rarer. But in Africa, Chinese workers often find they can apply their skills far more, get promoted much faster, and make more money.

While Africa has been a new world for many Chinese, this sort of influx of millions of Chinese workers is the last thing the Americas region needs. It is already plagued by broken borders and illegal migration—from the two million escaping Venezuela's economic meltdown to the half million fleeing drug violence in the Northern Triangle of Central America to the nearly one million arrested along the US border each year. Migrants fleeing conflict zones, disasters, and repressive regimes around the world—such as Haiti, Cuba, and Syria—are currently spilling over Panama's dangerous jungle border with Colombia, the Darien Gap, in the hope of continuing northward to seek refugee status in the US. Yet many of these migrants end up staying in Panama, a small, poor country of four million people. The US and the UN Refugee Agency have been working with the Panamanian government to manage this migrant overload, but it has been anything but easy. For example, with some 2,000 migrants stuck in a camp in Peñitas, Panama on the Colombian border and running out of money for food and water, some threatened to burn down the shelter they were staying in. Add a few million Chinese BRI workers looking to stay indefinitely to the Americas' chaotic migration picture and stir, and it's a recipe for havoc.

On the receiving end of the Great Unloading
Through BRI projects, China unloads many of its own excesses—products, construction, and also people. Building malls, ports, and railways overseas involves immense quantities of steel, cement, glass, pipes, wires, tools, construction machines, and other products—all of which come from China, where they are massively overproduced by its state-owned enterprises (SOEs). At home, China unloads these products by (unnecessarily) tearing down and rebuilding buildings every 20 to 30 years, making construction the top industry in China—(artificially) driving up the GDP and helping to stave off unemployment (while destroying tens of thousands of demolition workers' lungs through the inhalation of silicon dust without adequate protection).BRI projects provide new opportunities for Chinese firms running out of infrastructure-building opportunities in China, while unloading China's excess construction materials all over the world.

However, the quality of Chinese construction does not always match its quantity. In China, construction is often is rushed and/or uses cheap materials and/or unqualified workers, leading to many shoddy buildings—including outright disasters such as collapsed bridges and skyscrapers. These have earned the nickname doufuzha gongcheng, or "tofu-dreg projects"—worse than the leftover dregs from making tofu. These includes the flimsy schools that fell like a house of cards during the 2008 Sichuan earthquake, killing the students inside them. Time will tell if China has been exporting tofu-dreg construction along the New Silk Road.

Loading up and land grabs
As China unloads products and people out over the New Silk Road, it also uses it to load up on natural resources and farm products to meet the demand of its enormous population. For example, China has built new ports in a dozen countries in Africa, where it has been by far the largest extractor of the continent's natural resources—such as oil from Angola, timber from Gabon, iron from Guinea, and cobalt from the Democratic Republic of the Congo. In Victoria, the only Australian state thus far to sign on to the BRI, Chinese firms bought the Port of Melbourne—the country's busiest port—in 2016 for $9.7 billion. China also bought northern Australia's Port of Darwin in 2015.China now owns 2.3% of Australia's land, including cattle farms, dairies, and wineries, and it uses its new ports to connect to its rapidly-expanding "land grab" farms.

Chinese investors have been buying up millions of acres of farmland around the world at an alarming rate. Chinese entities own roughly 200,000 acres of farmland in the US, and Chinese investment in US farming has multiplied tenfold in less than a decade. Along with South Korea and Saudi Arabia, China is one of the top "land grabbers" in Latin America today. It owns vast swathes of the South American soy giants Brazil and Argentina. Currently, China has a controversial$3.5 billion offer on the table to double the number of pigs in Argentina and turn it in to one of its main pork suppliers—a deal opposed by a petition signed by some 400,000 Argentines. The Panama-Chiriquí Railway project would have facilitated new Chinese land grabs around the hinterlands of Panama—and potentially neighboring Costa Rica and Colombia—by providing a way to easily get the farm products to ports controlled by China.

China's land grabs help support its dietary transition, driven by increasing affluence. UCLA historian Philip Huang found that, in recent decades, China's diet has shifted from an historical 8:1:1 ratio of grains to meat to vegetables to 4:3:3 today. However, 40% of China's own farmland has been degraded by overuse, erosion, and pollution, forcing it to look for new farmland overseas.

Controlling the Crossroads
Chinese influence in Panama has special importance for the US for several reasons. Built in 1914 under Teddy Roosevelt, the Panama Canal is the US' own signature megaproject. The Panama Canal Zone was a US territory from 1903 to 1979, similar to Puerto Rico, Guam, and the US Virgin Islands. US public schools operated there, and "Zonians" received US mail addressed with the state postal abbreviation CZ. Heavy and growing Chinese influence in Panama today challenges the US' historic cultural dominance of the "Crossroads of the Americas."China's control of Panama's ports, in particular, is a threat to future US trade security. Today 63% of the cargo passing through the canal is headed to or from the US. China is currently violating nine other countries' coastal waters in the South China Sea, persecuting over a million Uyghurs in re-education camps, and breaching its treaty with the UK on the governance of Hong Kong. So it is not hard to imagine that China could use its control of three Panama Canal ports to interfere with US trade in a time of war or other conflict.Further, China has for years tried to build new alternatives to the Panama Canal. These include plans for a maritime canal through Nicaragua (which would be an ecological disaster) as well as "dry canals" across Costa Rica and Colombia, connecting the Atlantic and Pacific oceans by rail. If any of these new canals materialize, China could use its BRI partnerships to redirect shipping to Chinese-built canals.
Alternatives Wanted
In the Americas, China sees opportunity. And in the BRI, countries in the Americas see opportunity. Argentina is the eighth-largest country in the world, yet it has no viable train system. In 2018 it signed a $1 billion deal with China Railway Construction to modernize its cargo rail by 2025.Mexico has the thirteenth-longest coastline in the world, but its aging ports use outdated technology. So it hired China Harbour Engineering Company to build a new $1.5 billion terminal at the Port of Veracruz—now the second-largest port in Mexico since the project's completion in 2019.Colombia, a strong US ally, has had the least Chinese investment of the major countries in the Americas. But in 2019 the city of Bogotá signed a $4 billion deal for China Harbour Engineering to build a new metro system—and operate it for twenty years.

Panama's canal has made it one of the world's most globally-connected countries. Yet its internal connectivity lags far behind. As a result, Panama suffers from sharp regional inequalities. The average per capita GDP of the three provinces surrounding the canal is four times that of the seven outlying provinces. China promised to help change that with the Panama-Chiriquí Railway project and future investments, which would open the door to integrated development throughout the country—something the US never did in the 76 years of the Canal Zone era. While the Chinese project fell through, Panama is stilling looking for options—and China will present more offers. "We don't offer constricting belts or a one-way road," said US Vice President Mike Pence. But without alternatives, warnings are not enough.

"We need, and we have asked, that [the US] look toward the region more—the region, not just Panama," said President Cortizo. "They need to pay more attention. While they're not paying attention, another one is making advances."
The (Dis) United States of America, 2030: A dystopian scenario
People tend to look for watersheds in history that mark the end of an era, that unique juncture when there is no going back and the future looms disconcerted. As a new decade begins, pundits are still trying to reconcile when the US fractured to a point of no return. The turbulent 2020s certainly provided fodder for the heated debates. Some looked at the 2007-2008 financial crisis as a symbol of capitalism's unbridled greed and lack of government oversight. Others, taking a longer-term view, blamed the increasing inequality of US society over more than half a century, or the growing polarization of politics and society in recent decades. The more philosophically inclined felt that American exceptionalism and hubris were culprits; more cynical minds felt it was more like complacency and presumption.
Those who needed numbers to understand loss looked at the dismal US performance in combating the Covid-19 pandemic. Some say the day of reckoning came when the number of deaths from COVID-19 passed the 620,000 mark -the number of fatalities in the US Civil War- and then the roughly 675,000 Americans that died from the Spanish flu in 1918-1919. In any case, the numbers kept on growing as the vaccines took longer to develop and distribute than previously thought.
Pandora's box
Historians, though, mostly tend to agree that a pivotal moment in US history occurred in the 2010s when a perfect storm of creeping developments began to converge. A widening divide between a wealthy class that became politically adept at promoting and preserving their privileges and low and middle-income Americans whose wages stagnated became more conspicuous. Globalization and deindustrialization played a role in the largest wealth inequality gap among the most developed nations, but so did skewed policies that largely favoured the rich.
Increasing political polarization and hyper-partisanship made decision-making intractable; whereas in past decades Democrats and Republicans would cooperate on major policy issues, and even displayed camaraderie, the situation deteriorated to the extent that outlooks became irreconcilable and politics faded into trench warfare in which the opposing party was perceived not as an opponent but as enemy and traitor.
Parallelly, societal polarization also deepened as personal political identities increasingly transcended ideology to encompass topics as diverse as climate change, healthcare, gun control, the pro-life or pro-choice divide, and even the response to the Covid-19 pandemic. In broad terms, two Americas emerged: one liberal, racially inclusive and egalitarian, the other socially conservative, white-dominated, occasionally prone to nativist and xenophobic overtones, that increasingly overlapped with the party system.
The US might have survived this toxic cauldron of developments if it weren't for the whirlwind persona of Donald Trump and his tempestuous presidency. His constant attacks on US institutions and the deep-rooted system of checks and balances at such a consequential historical juncture did irrevocable damage to the country. Trump weakened America's democratic legitimacy and standing abroad by siding with autocrats of all stripes and deriding long-standing alliances and trade partnerships. The US has a long history of disruptive populist leaders: Huey P. Long, Joe McCarthy, George Wallace and Pat Buchanan stand out in the twentieth century. But none of them became president. Trump was the first one that reached the pinnacle of political power. He contributed more than anyone or anything else to the polarization of politics and society, all to serve his narcissistic persona.
Historians and sociologists still ponder on how a significant majority of less-educated white Americans, desperate to preserve their eroding prerogatives, could unconditionally condone his self-serving meanderings, so contrary to their own needs; ironically, they ended up strengthening Trump's plutocracy. More worrying was the opportunistic subservience of the Republican Party to his whims and authoritarian tendencies. Some wondered whether Trump was a symptom or a cause of the unravelling of the US. It didn't matter; his single, contentious mandate proved to be a harbinger of the fracture to come.
A most dysfunctional election
Trump lost the November 2020 presidential election by a wider margin of the popular vote than in 2016, though nobody knows the exact count as there was no official final tally, at least not one accepted by both parties. On Election Day his call to supporters – the self-proclaimed ballot guardians– to protect the votes in critical swing states led to abuse, violence and irregularities. The situation was aggravated by the presence of armed members of far-right vigilante groups. "Suspicious" voters and election adjudicators were harassed under the guise of preventing voter fraud; some voting centres and post offices were rampaged as sympathetic law enforcement officers looked on.
Though the results coming in on Election Night slightly favoured Trump, the expected blue-shift phenomenon as mail-in ballots were progressively counted began to give the Democratic candidate Joe Biden a commanding lead. There was no legal precedent to the mayhem that ensued. Soon thereafter, Trump reiterated the election was rigged against him; without any proof, he stressed that due to massive voter fraud in the mail-in votingthe count should be suspended and tabulation be based on the results of Election Night. The conflict went from the streets to the courts; it was no less ugly.
The elimination of the decades-old consent decree in 2018 had given the Republicans ample tools to again intimidate voters and suppress votes. Litigation ensued tabulation. Republican legal teams questioned the validity of many of these overwhelmingly Democratic mail-in ballots in an attempt to disqualify as many Biden voters as possible. Under the pretext of rampant voter fraud and political and civic chaos, Republican-majority state legislatures in the six crucial battleground states appointed their own electors to the Electoral College.
It was the most dysfunctional election in US history. To all effects, the Republicans attempted to stage a coup against the will of the majority of voters. The Democrats pushed back insisting that the electors should reflect the vote count. The Interregnum came and went, besmirched by political haggling and massive street protests that sometimes turned violent. Two separate Electoral Colleges chose two different presidents. The stalemate continued beyond Inauguration Day. Trump's refusal to accept defeat plunged the country into the worst constitutional crisis in US history; actually, it was a series of constitutional crises.
Joe Biden was eventually declared the 46th President of the US, though the situation continued being tense and confounding, even though in the mid-term elections of 2022the Democrats won a majority in the Senate and kept the one in the House. Trumps insisted in his denunciations and called on his supporters to defend him, liberty and the Constitution, in that order. There was a certain irony in all this, as the white supremacy groups that mostly heeded his calls denounced the tyranny of the Biden government, while conveniently overlooking the authoritarian nature of Trump himself.
Proceedings began to arraign Trump on grounds of criminal and civil wrongdoing. It was the first time in US history that a former president would go to trial; ample evidence was presented. The majority of the American public, fed up with Trump's railings and hoping for catharsis, supported prosecution; his supporters went ballistic. But President Biden eventually decided to grant a pardon on the grounds of national reconciliation. It was later discovered that a secret "deal' had been made in which Trump promised to refrain from further destabilizing actions in return for a full pardon from prosecution. Even though Trump's self-promotion as a master dealmaker rang hollow, as evidenced by his multiple bankruptcies and accusations of financial wrongdoings, this was one deal that actually worked out well for him.
In the end, the furor didn't matter much. Trump's empire eventually withered amidst a massive debt load and the enormous losses many of its businesses were incurring. Trump's offspring and associates were accused of protracted criminal conduct involving bank fraud, tax and insurance fraud. When proof emerged (through a Russian source) of questionable financial dealings with Moscow and links to shady Russian oligarchs linked to Vladimir Putin, his credibility further eroded.
A tumultuous decade
Kamala Harris lost a close election in 2024 to a tech billionaire who ran as an independent and on a platform of discontent with the political system; the Republican Tucker Carlson came in third. The victory was inconsequential, as was the one in 2028 of a retired naval officer, a hero in the "skirmish" three years earlier with Chinese ships in the South China Seas. Neither president was able to reconcile the deep fractures in American society, the ones Trump had so ably and cynically exploited.
Republican Senator Lindsey Graham's unfortunate comments in October of 2020 that African Americans and immigrants can live in his home state of South Carolina as long as they were conservative were prescient of developments to come. Even though the metamorphosis began long before Trump's presidency, throughout the 2020s the Republican Party became increasingly radicalized and intransigent.
The decade was pounded by profound transformations. In the early 2020s Americans worried that the increasing and seemingly irreconcilable polarization of society would lead to civil war. It's true that following the controversial 2020 election, violence did increase throughout the country. Political polarization evolved into societal intolerance and went from resentful to vindictive. The US lost its common identity, its moral compass. The melting pot crumbled as neighbour turned on neighbour and families broke apart.
White supremacist groups and ANTIFA members fought pitched battles in the streets of cities. Other groups from across the political spectrum sometimes joined in, though less vehemently. The abundance and easy availability of arms, even automatic weapons normally used in wars, facilitated the carnage. Scores of thousands of Americans lost their lives. There were violent attacks on Democratic politicians in Republican bastions, and several members of state legislatures, mayors, and even two Governors were killed. Some more radical Democratic factions responded in kind. The police were unable to stop the spread of civilian violence as they too sometimes fractured and identified with one side or the other. The same occurred with the National Guard. Many Americans watched in disbelief and wondered how did it come to this. The liberal democracies of the world watched aghast.
But there was no civil war. Instead, there was a great migration. As the decade progressed, tens of millions of Americans left their homes seeking a better life in regions more in tune with their beliefs, aspirations and political identities. In some cases, harassment and intimidation contributed to forced departures. White educated, liberal urban professionals, blacks, Hispanics and Asian Americans left the Midwest and South towards the Pacific, or to the northeast. Meanwhile, less-educated, conservative working-class whites fled these bastions of liberalism to find solace in Middle America- some nostalgically called it Trumpian America.
With states purging themselves of ideological opponents, violence has gone down. Very different territorial entities are emerging. The great reckoning is having an irrevocable impact on US society. Some say it's almost inevitable the US will fracture into two or even three different countries. The exhaustion and deep mistrust on either side diminished the will to unite.
The Great Divide
The United Western States of America (UWSA), an area that includes the Pacific states but also Arizona, Colorado Nevada and New Mexico, are strengthening their common identity and increasingly challenging central authority. They no longer recognize the decisions of the Supreme Court, whose conservative majority rulings are overturning the liberal foundations of the country on everything from abortion and education to immigration and health care. They have taken paradiplomacy to the next level, opening up Economic and Cultural Offices throughout Asia, Latin America and other parts of the world that for all practical purposed function as embassies.
The UWSA has unilaterally joined the Comprehensive and Progressive Agreement for Trans-Pacific Partnership, and have intensified their economic and political relations with Canada and Mexico, as well as with the economies of the Pacific Alliance, a Latin American regional integration initiative. There's even hearsay of a more formal agreement with Canada, maybe even a confederation, as that country defends and promotes the values that once made the US so exceptional. The interest is buoyed by the lobbying of millions of highly skilled Americans that moved to Canada during the tumultuous 2020s, and that contributed to Making Canada Great.
The UWSA has also welcomed talented immigrants in large numbers, predominantly from Asia, and mostly from China and India -these two countries are confronting their own existential dilemmas. The immigration and the higher domestic fertility rates in the UWSA have contributed to demographic growth and an economic boom. By the mid-2030sthe region will not have a single racial or ethnic majority. The heavy toll of climate change and water shortages have made the UWSA a global leader in mitigation and adaptation. They are rapidly transitioning away from fossil fuels and towards renewable energy. Interestingly, shared challenges have increased cooperation with the increasingly autonomous Chinese coastal regions. The UWSA is the fifth largest economy in the world.
The Eastern American States, encompassing most of the Great Lakes region, New England and Virginia, though more geographically constrained and scattered is also pursuing an active paradiplomacy, focused mostly on Canada, Europe and Latin America. In the late 2020's they unilaterally signed a Transatlantic Trade and Investment Agreement with the European Union.
Middle America has not fared that well. Whereas in the UWSA the Democratic party splintered and new parties emerged that are transforming the region into a vibrant multiparty democracy, in Middle America the Republican Party became the dominant, sometimes the sole political force. The party that erstwhile advocated free-trade and fiscal discipline -whose Congressmen shared with Democratic colleagues a sense of institutional patriotism– became withdrawn and mistrustful of the world, hostile to immigrants, and incredulous of climate change.
The message of Donald Trump resonated among the fervent populists who took over the party and used his playbook to stoke mostly imaginary fears and sow tribalist viewpoints. They pandered to the reactionary evangelicals and white supremacists that constituted the party's core militancy. Its adherents, though, were mostly white Americans unwilling to accept a changing country and acquiescent of the party's backsliding into chauvinism to keep their historical prerogatives. An ugly legacy of racism that goes back generations resurfaced, reassured by Trump's earlier attacks on a liberal, inclusive society.
The country's de facto dismemberment has weakened Middle America. Segments of white Americans continued suffering from a devastating opiate epidemic that reduced their productivity and life expectancy. The epidemic grew as the economy stagnated. Such was the heavy human toll that some compared it to Russia's demographic decline in the 1990s. The refusal to transition towards renewable energy sources is impacting its fossil-fuel-based economy, whereas climate change is curtailing agricultural production in the Midwest and damaging vital infrastructure throughout the Gulf of Mexico.
The resilient hegemon
There was nothing predetermined about the decline of the US. Quite the contrary; no other major power is so blessed by providence. The US had considerable strategic and competitive advantages over foes and allies alike that would have allowed it to be a key 21st-century global power. Its privileged geographic location shielded it from immediate rivals and made it both an Atlantic and a Pacific power. It had more navigable waterways -and major ports- than the rest of the world combined, with the Greater Mississippi Basin overlaying the largest contiguous piece of farmland in the world. The US became the largest fossil-fuel producer in the world, and with the proper policies and incentives could have led the global transition towards renewable sources.
As opposed to most other major powers who in the next decades will experience demographic declines, its population was due to grow steadily in large part due to immigration -thus guaranteeing economic growth and military preparedness. In addition, it held sway over the global financial and monetary system and had consistently dominated each new generation of technology. Its capacity to project hard power and the appeal of its soft power was without rival. Though the US had embarked on a process of global strategic retrenchment long before Donald Trump's solipsistic resolve, it was still an energy, agricultural, economic, financial and military powerhouse, and could have continued being so. Few foresaw the fracture that was to come.
A world bereft of leadership
Alas, no country or region could muster the will, nor had the capacity to take the helm. The Union European (EU) mostly stumbled in the 2020s, as demographic decline set in and right-wing populism further encroached on the region's politics. The governance challenges of such a heterogeneous block led to a multi-tier structure of interactions in which different members cooperate on matters of common interest. Economic divergence, anaemic growth and political squabbling limited the EU's global ambitions, though the region maintained its allure as the world's foremost cluster of freedom, prosperity and peace.
Japan's economy fell from the third biggest in the world in 2020 to ninth place in 2030, due largely to sluggish economic growth, and a rapidly shrinking population and workforce. Automation and innovation, though, helped maintain the country's high quality of living. Despite US retrenchment from the world and particularly from Asia, Tokyo actively maintained its commitment to an open rules-based international system. However, its diminished economic and geopolitical heft limited its global influence.
By 2030India had the third largest economy in the world and had overtaken China as the country with the biggest population. Despite arbitrary attempts at imposing Hindutva nationalism on the country's mosaic of religions and ethnicities, it remained the world's most populous democracy, albeit a flawed one. New Delhi has struggled to provide employment to its huge youthful working-age population, leading to social discontent. Large demographic imbalances, regional disparities and alarming levels of pollution and groundwater depletion have dampened India's prospects, forcing it to cast its gaze inwards.
Russia is still governed with an iron fist by Vladimir Putin. Its raw commodity-based economy has been unable to modernize and transition. Russia is suffering from a fast-aging population and rapid demographic decline that's affecting its industries and armed forces. There was an exodus of young talented professionals fleeing the stagnant economy and the stifling regime. Popular uprisings against personalist, authoritarian rulers in its near abroad left Moscow even more forlorn. The country never recuperated the Soviet-era geopolitical grandeur that Putin so vehemently promoted.
No did China become the global hegemon many had forecasted. The sum of its challenges exceeded the sum of its accomplishments. With its demographic dividend over, China faces a fast-shrinking population, one of the reasons it could not transition from an export-led economy towards a focus on domestic consumption. The extent of its Orwellian surveillance state reduced China's appeal as an alternative governance model. There was a global backlash throughout the 2020s at Beijing's systematic repression of its Uighur and Tibetan minorities and the emasculation of Hong Kong; developing countries sometimes criticized its economic policies as neo- colonialism.
The decoupling was not only with the US, as the more prosperous, historically outward-looking coastal regions demanded greater leeway from Beijing and the Communist Party's suffocating rule. As the US reduced its presence in the Indo-Pacific, the Quad expanded its scope to include not only Australia, India and Japan but also Vietnam and South Korea, with some Southeast Asian countries showing interest. This reduced Beijing's quest for strategic depth.
Even countries that were previously critical of America's hubris look back in nostalgia and grief at its decline, and what became of the global community. For all its failings and moral contradictions, the much-vilified Pax Americana contributed to an unprecedented era of economic growth, as well as one of relative stability and peace. The globalisation it helped spur lifted more than one billion out of poverty and improved the lives of billions more. For decades democracy around the world flourished.
The waning of the US came at the worst possible time. The 2020s proved to be a ruinous decade. The liberal, rules-based international order is fraying; no alternative has yet emerged. Multilateralism in its many forms weakened. Globalisation, already in retreat, further receded as the wide-ranging consequences of Covid-19 led to a fractured and regionalized world and economic nationalism brought a decrease in global trade and investments. The world went rudderless. Prosperity and stability are frail things. There is no greater pain than to be aware of what was and what was lost.
The crisis of positivist, "evidence-based" political science in US
Right from its birth in the 18th century, the United States of America emerged as one of the most advanced countries, or even the most advanced one in terms of government organization and the ideology of state building. The newly independent British colony got a chance to shed off the past and start from the ground up, and the Founding Fathers, as they are called in the US, used this chance to the max, erecting the three pillars of the American political order – the Declaration of Independence, the US Constitution and the Bill of Rights, which laid out the most progressive ideas of their time: human rights, democratic procedures, separation of powers, trial by jury, broad state autonomy, social contract, free speech, and many others.
The period of the rapid development of these ideas, akin to the French Enlightenment, has since been known in America as the "Age of Reason." This time period, just like the ideas and principles it generated, is closely associated with empiricism and positivism – the two dominant philosophical streaks of that time, which denied philosophy as such and prioritized a scientific fact, an observed phenomenon, an experiment, logic, and ignored theoretical philosophical constructions, complex models and hypotheses not supported by scientific data. Back then, this new philosophy was the philosophy of science and was conceived as something that would replace the outdated classical philosophy with its interweaving of worldview, morality and faith, and remove ethics from the speculative structure of society, with its characteristic disregard for experiment as a method of cognition.
Today, almost 250 years since the adoption of the US Constitution, many elements of the American state system have not only lost their original progressive meaning but even look downright archaic. The most vivid examples of this are the life-long appointment of Supreme Court justices, who maintain their positions for decades, the electoral system of voting, whereby members of state electoral colleges are not obligated to vote according to the will of the people of that state, and the decentralized legal system, where precedents are superimposed on precedents, and the passage of a new law does not entail a revision of the old one.
Even though this archaism is obvious to any unbiased observer, not only are there no active discussions about constitutional reform or at least new amendments to the fundamental law of the land, but there are heated discussions going in Congress, the media and universities about how to interpret provisions of the ancient document in such a way as to better reflect the founding fathers' ideas.
Any liberal arts education in the United States, from the high-school level up, includes a detailed study, not critical, but apologetic, of the history of the founding of the United States, the adoption of the Constitution and the early period of the US as a country. The personalities of the founding fathers and their philosophical views are front and center in most of these courses, and the higher the prestige of the educational institution, the more diligently the knowledge of the "essential foundations" of American statehood is implanted in the students' minds.
As a result, the overwhelming majority of America's intellectual elite leave their universities with deep faith in the sacredness of the US Constitution and the principles embedded in it. They are also steeped in the very spirit of empiricism and positivism of the Age of Reason. These are exactly the philosophical doctrines that shaped the development of humanitarian sciences in the United States and continue to do so today, even though they have long been considered in Europe as limited, to say the least.
This is also why scientific psychology has been reduced to behaviorism and the theory of historical stages has been dismissed, replaced by a civilizational approach and the so-called "evidence-based" or "fact-based" political science, which is the centerpiece of this article.
The seeds of political science and sociology, which fell into the fertile American soil in the first half of the 20th century, were soaked in the juices of the developed political class, their young shoots basked in the rays of a fleeting electoral cycle and an all-pervading electoral system, and their flowers were brighter than anywhere else. Election managers have never experienced any shortage of money and resources, and experts, who were able to predict the voters' reaction, awaited universal respect and cushy jobs.
Now, in the run-up to the 21st year of the new century, America has a whole army of sociologists and political scientists, with regiments and divisions "deployed" in every state and in every district of each state. This army is big enough to simultaneously serve the election campaigns of two presidential candidates, dozens of candidates for state governors, hundreds of congressional and senatorial hopefuls, and thousands of candidates for elected positions in local administrations. This 300,000-strong army has its own soldiers – street agitators, and its generals – campaign managers. It also has its own intelligence – sociological institutions and political spin doctors, trying to analyze the voters' preferences and work out the best strategy and tactics.
It would seem that all this multitude of people, endowed with almost unlimited resources, should have long ago studied the political landscape of every single corner of America and provided an accurate forecast of the locals' reaction to statements made by a politician, or steps taken by his opponent. This doesn't happen, however, and forecasts made by political scientists are disproved by reality. The biggest such flop ever was Donald Trump's victory in the November 2016 presidential election.
This discrepancy between spent human and economic resources and the results attained has much to do with the culture of science and positivism that still prevails in American science. The positivist approach to science focuses on the search for objective truth, which can almost exclusively be achieved with the help of empirical facts and formal logic. This logic for centuries prevailed in physics, but even there it has been a subject of scathing criticism as it eventually turned out that the research method can affect the result of the research, and that one and the same object can have mutually exclusive properties, depending on how it is measured. This means that the fact obtained with so much effort is no longer absolute, and formal logic is simply insufficient in its toolbox.
These are the conclusions reached by physicists who study laws that are not subject to rapid change and are independent of human culture – a discovery that seems to have been completely overlooked by US political scientists, who still conduct public opinion polls as if the question never predetermines the answer, even though this is almost always the case. They avoid making assumptions, because they do not know all the facts, and try to objectively measure the immeasurable – the constantly changing moods of the mass of people divided into thousands of groups according to geographic, gender, age, educational, professional and other factors. And each of the millions of people polled represents a mixture of cultures, religions and ideologies and can change his or her opinion on a given issue every day, even a dozen times a day.
Such a system of studying the electorate and the related forecasting method are doomed to failure. Even if the combined forces of sociologists and political scientists were a hundred times larger and at a certain moment in time could collect data on the people's preferences that would meet the strictest scientific criteria, the next day this information would be no longer relevant, and the whole work would have to be done again… In real life, however, this does not happen either.
Thus, US political scientists, who have always been taught not to invent theories, but only generalize the available facts, are chasing these facts and use them indiscriminately. Can an ordinary Biden election campaign expert run a scientific check on and compare multi-page descriptions of survey methods, when dozens of surveys are conducted each week, and sometimes, each day? Of course not, and so experts rely on the authority and decency of the organization that provides the "facts." At best, they summarize the results of several surveys, and at worst, they use the one that suits them best.
This is the case at the level of data synthesis and forecasting, based on this generalization, but things are even worth when it comes to research and data collection. In an ever-changing environment, when precious "facts" become irrelevant in a matter of hours, research teams have to rely on the speed of research, rather than its coverage, representativeness or accuracy. This constant race leads to the emergence of such Frankenstein sociological monsters as a poll, where the difference in the candidates' ratings is less than the margin of error allowed by the researcher, or a methodologically flawed survey, deliberately presented as an All-American poll that less than 1,000 people took part in.
And yet, US sociologists and political scientists still stick to positivism, because positivism is the true-blue American way. Never mind that these principles and methods, invented to study the eternal laws of nature, are now used to "study" the ever-changing mood of the crowd.
The bigger the process that the American system of public opinion research tries to study or predict, the worse the result: while it works almost impeccably in local elections, at the level of elections to Congress it starts to fail, and during presidential elections things get real bad. A positivist analysis is impossible where you have no positivist facts, which means that the winner will be the one who better applies different methods of analysis. However, such methods are nowhere to find in the American universe, and those who successfully apply them are said to have "guessed."
According to the American elite, in 2016, Trump "guessed" exactly what the conservative voter wanted. He is "guessing" again this year, while Democrats, also forced to engage in guesswork, use their favorite tactics of "identity politics": they nominate those who they believe best relate to their typical supporter in terms of demographic indicators – an elderly white middle-aged male, and an African-American woman.
Which of them guessed better the whole world will know very soon.
From our partner International Affairs