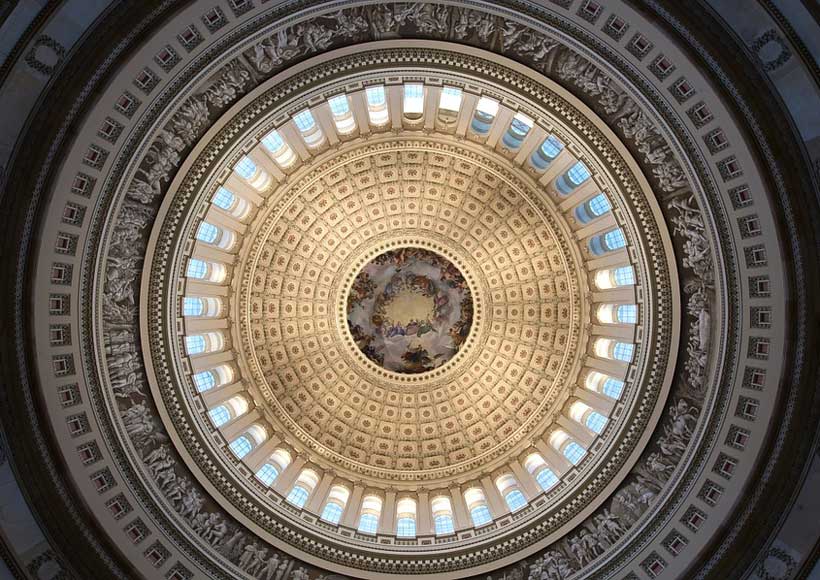 After Senate Trial and Presidential Acquittal: Overlooked Foundations of U.S. Constitutional Law
Lawyers on both sides of the recent Senate trial chose to ignore certain philosophic and jurisprudential foundations of the United States Constitution.[i] These "peremptory" foundations lie recognizably in Natural Law,[ii] immutable rules that apply, by definition, to all peoples and for all time. Though it is plainly too late to remind the pertinent political parties about the salient relevance of Higher Law principles to the Trump impeachment trial, the American public ought still learn about such original precepts for future jurisprudential reference. Ironically, these core precepts were already well-known and respected by the Founders, especially Jefferson, Franklin, Madison, Hamilton and Jay.
Most assuredly, when the Irish poet William Butler Yeats penned "The Second Coming,"[iii] he did not have United States Constitutional law issues in mind. Nonetheless, Yeats' famously-crafted warnings about "passionate intensity" and "blood-dimmed tide" should have a palpable resonance in American politics. How could they not?
The just-completed Senate trial concerned US President Donald Trump and purposeful legal remedies for allegedly impeachable derogations. Though disregarded at trial, these prospective remedies lay latent in the American nation's most rudimentary legal principles. For future reference, these core principles will need to be taken more seriously by anyone who might still value a justice-based United States.[iv]
Though little known, there exist several "peremptory"[v] principles of jurisprudence that could have proved applicable to seriously conceived impeachment motions. These relatively esoteric but still valid principles concern the Higher Law underpinnings of the United States. For the future, at least in principle, such basic expectations represent vital national security principles that could help protect Americans from presidentially-inflicted harms.
Recalling the expanding nuclear weapons context of world politics, such harms could at some point display fully existential qualities.
The pertinent issues are primarily legal in both nature and codified form. In relevant jurisprudential terms, we must begin at the beginning. Remembering the celebrated jurist A.P. d' Entrevesclassic text on Natural Law (Oxford University Press, 1951): "The Natural Law (Higher Law) is absolutely binding, and overrules all other laws." From the standpoint of any still-to-be considered impeachment strategies, this recollection could point the way to much more usefully broad bases for any future US presidential removal effort.
"In the beginning…." For the United States, the principle of a Higher Law has always been more than just "any principle." Unmistakably, it is one of the most enduring and canonic principles of the country's acknowledged legal foundation.[vi] Revealed, inter alia, in both the Declaration of Independence and in the Constitution,[vii] it rests solidly and incontrovertibly upon the willing acceptance of right and justice for their own sake.
For the United States, considerations of right and justice have never been narrowly instrumental. On the contrary, at least until the recent impeachment trial acquittal, they have remained unwavering and meaningfully determinative.
Americans should take heed, even "after the fact" of the recent jurisprudential failure. Such foundational principles, as famed 18th century jurist William Blackstone once declared,[viii] represent nothing less than "the eternal, immutable laws of good and evil, to which the creator himself in all his dispensations conforms; and which he has enabled human reason to discover so far as they are necessary for the conduct of human actions."[ix]
Plainly, Thomas Jefferson was a learned US president, even at a time when laborious study was vastly more complicated and difficult than it is today. When Jefferson – without any benefit of electric light, air conditioning, central heating, computers or even a manual typewriter – set to work on the Declaration, he drew productively upon Aristotle, Cicero, Grotius, Vattel, Pufendorf, Burlamaqui, and most prominently – John Locke (Second Treatise of Government).[x] Asserting the right of revolution whenever government becomes destructive of "certain unalienable rights,"[xi] the Declaration of Independence posits a discernible natural order in the world, one whose irreducible laws are external to human will and remain eternally discoverable through staunchly determined applications of human reason.[xii]
Although, by the eighteenth century, God had been "withdrawn" from any immediate philosophical contact with humankind , and had been transformed into the Final Cause or Prime Mover of the universe, "nature" still remained available as a convenient and altogether capable substitute.[xiii]
There is more. Reflecting the unique influence of Isaac Newton, whose Principia was first published in 1686, all of creation could now be taken as a recognizable expression of divine will.[xiv] Reciprocally, however, the only true way to ever truly "know" this original will of God was to first discover the underlying and eternal Law of Nature.
In essence, Locke and Jefferson had deified nature and "denatured" God.[xv]
But what exactly was this purported "Law of Nature," a basic law that is accepted in the Declaration and Constitution as a continuously binding set of obligatory norms, and which could still pertain to a present-day American president? Above all, Jefferson learned from Locke, such law was a necessary source of Reason: Still more exactly, according to Locke's Second Treatise:
The state of nature has a law to govern it, which obliges every one: and reason, which is that law, teaches all mankind, who will but consult it, that being all equal and independent, no one ought to harm another in his life, health, liberty, or possessions….
In transgressing the law of nature, the offender declares himself to live by another rule than that of reason and common equity, which is that measure God has set to the actions of men….
A criminal, who having renounced reason, the common rule and measure God hath given to mankind, hath, by the unjust violence and slaughter he hath committed on one, declared war against all mankind.[xvi]
As reason is the only sure guide to what God has given to humankind, it must inevitably become the only reliable foundation of true law. This Lockean and Jeffersonian idea of a transcendent or Higher Law is made manifest not only in the Declaration of Independence, but also in the Constitution.[xvii] Inter alia, the Ninth Amendment, in stipulating that "the enumeration of certain rights in this Constitution shall not prejudice other rights not so enumerated,"[xviii] reflects codified belief in a perpetual law that is justly superior to any expressed will of human governance.
This vital conviction runs continuously from ancient times, especially traditional Jewish Law,[xix] up to the present intellectually detached "Trumpian moment." The evident roots of such a prospectively lethal detachment lie in a broadly cast indifference to anything based upon Reason and a more person-specific indifference to history. What ought we ever really expect from a president who unambiguously prefers "attitude" to "preparation?"
There is still more. The Fragments of Heraclitus attest to the venerable antiquity of a Higher Law: "For all human laws are nourished by one, which is divine. For it governs as far as it will, and is sufficient for all, and more than enough."[xx] Such Heraclitean dicta, offered somewhere around 500 B.C.E., entered easily into later Stoic philosophy and described a universal and expectedly rational body of human law. Hard as it may be to imagine amid American politics in 2020, this intellectual corpus was familiar to many of the Founding Fathers.
Those people actually read books, serious and challenging books.
In 442 B.C.E., Sophocles clarified the idea of true law as an act of discovery, thus challenging the superiority of human rule-making in Antigone.[xxi] Already exploring inevitable conflict between claims of the state and those of an individual conscience, this classic challenge has since been taken to represent the incontestable supremacy of proper Higher Law overall man-made law. Later, in the nineteenth century, American Transcendentalist philosopher Henry David Thoreau, noting that men live with "too passive a regard for the moral laws,"[xxii] cited directly to Antigone as a stirring example of "civil disobedience." Still later, in these United States, the derivative legal and ethical conclusions of Antigone were learned and embraced by Martin Luther King.
The authority of Natural Law has a well-defined history in American society and politics. Ipso facto, it is not "merely" a pompous invention of interested philosophers and university professors. Or understood in more lay-person parlance, Natural Law already "has legs."
But back to the philosophers. Building upon Plato's theory of Ideas,[xxiii] which sought to elevate "nature" from the distressingly transient sphere of contingent facts to the "higher" realm of immutable archetypes or Forms,[xxiv] Aristotle advanced in Ethics the derivative concept of "natural justice."[xxv] Quoting the Antigone, he argued (in a juridical posture of perpetual significance) "an unjust law is not a law."[xxvi] This irreducible position stands in markedly stark contrast to the more instrumental opinion of the Sophists – i.e., that justice is never more than an expression of supremacy, that it is only what Thrasymachus cynically calls, in Plato's Republic, "the interest of the stronger."[xxvii]
Were he somehow made aware of such scholarly origins and underpinnings, US President Donald Trump would assuredly judge himself to be among the contemporary "Sophists." This clarifying acknowledgment, to be sure, would be uttered openly by Mr. Trump, and perhaps even with an unmitigated pride.
Still more precisely apropos of President Donald Trump's jurisprudentialy disjointed presidency, this pernicious brand of Realpolitik has now become the openly acknowledged philosophic foundation of U.S. foreign policy. Left unmodified by timeless and universal principles of a Higher Law, the deleterious consequences for America and for the wider world are not difficult to predict or decipher.[xxviii]
These effects include very tangible US declensions into catastrophic war, potentially even a nuclear war. Notable, in this regard, is the ongoing expansion of what might best be termed "Cold War II" with Russia; simultaneously, the undiminished nuclearization of North Korea and the ongoing recombination of ISIS Jihadist terrorists under the banner of al Qaeda should come to mind. Along all of these cited dimensions of decline, the "acquitted" American president is plainly complicit.
Again and again, history can be instructive. The Stoics, whose legal philosophies arose on the threshold of the Greek and Roman worlds, regarded Nature itself as humankind's supreme legislator.[xxix] Applying Platonic and Aristotelian thought to a then-hopefully emerging cosmopolis, they defined this nascent order as one wherein humankind, by means of its seemingly well-established capacity to reason, can commune directly with the gods.[xxx] As this definition required further expansion of Plato's and Aristotle's developing notions of universalism, the Stoics consciously articulated a further division between lex aeterna, ius natural and ius humanum.[xxxi]
Lex aeterna is the law of reason of the cosmos, the logos which rules the universe. As an emanation of cosmic reason, human reason, it is assumed, rules the lives of men. It follows that natural law partakes of eternal law, though it has a more limited range of application. Unlike the more elitist conception of Plato (and, to a certain extent, even Aristotle), the Stoic idea of an innate "right reason" presumed no meaningful divisions between peoples.[xxxii]
Instead, in linking all persons with the cosmic order, it established the essential foundations of an authentic and immutable universality.
Cicero, in De Republica, had defined the state as a "coming together of a considerable number of men who are united by a common agreement about law and rights and by the desire to participate in mutual advantages."[xxxiii] This definition shed a useful light on the problems surrounding positivist jurisprudence, a legal philosophy that values any state's edicts as intrinsically just and therefore obligatory.[xxxiv] In a suitably famous passage of De Republica, one well known to Jefferson and other Founders, Cicero sets forth the still classic articulation of Natural Law:
True law is right reason, harmonious with nature, diffused among all, constant, eternal; a law which calls to duty by its commands and restrains from evil by its prohibitions….It is a sacred obligation not to attempt to legislate in contradiction to this law; nor may it be derogated from nor abrogated. Indeed, by neither the Senate nor the people can we be released from this law; nor does it require any but oneself to be its expositor or interpreter. Nor is it one law at Rome and another at Athens; one now and another at a late time; but one eternal and unchangeable law binding all nations through all time….[xxxv]
It goes without saying that US President Donald Trump has no acquaintance with any such still-binding or "peremptory" ideas.
But what is to be done when positive law (which now includes US Constitutional and statutory law) is at variance with "true law"? The Romans had a remedy in all such challenging matters. They simply incorporated into their various statutes a contingency clause that man-made law could never abrogate those obligations that are inherently right or presumptively sacred.[xxxvi] On several occasions, Cicero and others meaningfully invoked this clause, or jus, against one particular statute or another.[xxxvii]
In this way, the written law of the moment, never more than an artifact of the extant civic community, remained correctly subject to "right reason."
Later, St. Augustine reaffirmed that temporal law must always conform to the unchangeable eternal law,[xxxviii] which he had earlier defined as "the reason or will of God (ratio divina vel voluntas Dei)."[xxxix] Aquinas continued this tradition of denying the status of law to prescriptions that are inherently unjust (lex iniusta non est lex).[xl] "Human law," he wrote in the Summae,[xli] "has the quality of law only insofar as it proceeds according to right reason; and in this respect it is clear that it derives from the eternal law. Insofar as it deviates from reason it is called an unjust law, and has the quality not of law, but of violence."[xlii]
The concept of a Higher Law, later to figure so importantly in the legal development of the United States of America, was widely integrated into medieval jurisprudential thought.[xliii] In John of Salisbury's Policraticus, "There are certain precepts of the law which have perpetual necessity, having the force of law among all nations and which absolutely cannot be broken."[xliv] Recognizing the idea that all political authority must be intrinsically limited, John noted that the prince "may not lawfully have any will of his own apart from that which the law or equity enjoins, or the calculation of the common interest requires."[xlv]
"….or the calculation of the common interest requires." Viewed against the backdrop of the current US president – now, correctly analogous to the medieval "prince" discussed by John of Salisbury – such "perpetual law" must of necessity prohibit any presidential placement of personal interest over the discernibly "common interest" of the United States. Natural Law, inter alia, still exists to frustrate political injustice, a vital function that failed to become materially relevant to Trump's recent impeachment trial in the Senate.
In the seventeenth and eighteenth centuries, Natural Law doctrine was reaffirmed and secularized by Grotius,[xlvi] the "father" of all modern international law. Reviving the Ciceronian idea of Natural Law and its underlying optimism about human nature, Grotius is credited with liberating this idea from any once-remaining dependence on ecclesiastical or Papal interpretation.[xlvii] Building upon the prior speculations of the Dominican Francisco de Vitoria, who had proclaimed a natural community of humankind and the universal validity of human rights,[xlviii] Grotius fashioned a conceptual "bridge" from the Christian Commonwealth of the Middle Ages to a brand new interstate society.[xlix]
In this connection, he strengthened the idea of a universally valid Natural Law, one transcending in obligation all human law, including the cumulative positive law of any single sovereign state.[l] This is an idea, of course, that lies at the conceptual heart of US law, but it also entirely alien to the understanding or vision of current US President Trump.
Unlike Machiavelli and Hobbes,[li] Grotius did not consciously reduce law to any presumed will of a prince or a separate state.[lii] Rather, while recognizing such will as a properly constitutive element within the much wider international legal order, he also understood that the binding quality of human edicts must be derived from a more overriding totality of "natural" imperatives.[liii] Accordingly, he proceeded to reject raison d'etat as a "just cause" for war,[liv] a purposeful rejection that may sometime cease to resonate in US President Donald Trump's personal ideas of governance.
This brings us directly to the conveyance of Natural Law ideas into American political theory, a transmittal that was preeminently the work of Locke's Second Treatise on Civil Government (1690).[lv] The specified American "duty" to revolt whenever governments commit "a long train of abuses and usurpations"[lvi] flows largely from Locke's seminal notion that civil authority can never extend beyond the securing of humankind's natural rights.[lvii] Regarding the recent US presidential impeachment and trial, the motto that Jefferson chose for his own seal was: "Rebellion to Tyrants Is Obedience to God."[lviii]
As for the right to pursue happiness, which Jefferson drew largely from Burlamaqui's incorporation into natural law,[lix] it had nothing to do with today's shallow presidential celebrations of raw commerce and exaggerated materialism. Not at all.
Nor could this right have had any bearing any US presidential impeachment proceedings. Though happiness was viewed by Jefferson (in plausible deference to Pufendorf and Locke) as a welcome condition to be achieved as the direct result of humankind's overriding commitment to reason,[lx] never specified were any corresponding or corollary presidential obligations.
Above all, the Declaration of Independence implemented a fundamental social contract that sets limits on the power of any government.[lxi] Its central purpose, therefore, was to better articulate a set of universally valid constraints upon all secular political authority. Moreover, as justice, which is necessarily based on natural law, binds all human society, the rights described by the Declaration of Independence can never be reserved only to Americans. Derivatively, when current US foreign policies violate elements of international human rights law, including the authoritative law of war or law of armed conflict, there are simultaneously created various pertinent issues of US "command responsibility."[lxii]
By ready and verifiable deduction, natural rights must extend to all human societies, and can never be rendered subject to abrogation by positive law. Today, this general applicability of an immutable imperative to "do justice" is ignored by an American president who remains openly disinterested in human rights, especially on matters regarding immigration to the United States and the granting of refugee or asylum status. Notably, such matters of international law are ipso facto binding upon the United States, both by virtue of the ubiquitous and universal natural law, but also in consequence of the US Constitution (especially Art. VI, the "Supremacy Clause") and various leading US Supreme Court decisions (especially the Pacquete Habana, 1900).
The compelling theory of a Higher Law, which should have had a designated place in the Senate trial of President Trump, is based on clarity, self-evidence and coherence. Its express legal validity can never be shaken by any presumed presidential imperatives of geopolitics or "America First,." As noted by the Swiss scholar Emmerich de Vattel in the 1758 edition of The Law of Nations (a work in which several American fathers of independence discovered important and usable maxims of political liberty): "No agreement can bind, or even authorize, a man to violate the natural law."[lxiii]
Prudently, Vattel had cautioned that only a strict obedience to higher legal obligations can produce a virtuous and thereby safe and prosperous state: "One would have to be very ignorant of political affairs not to perceive how much more capable a virtuous Nation is of forming a happy, peaceful, flourishing and secure state, respected by its neighbors and formidable to its enemies."[lxiv] Earlier, going forward with impeachment proceedings, Vattel's wisdom could have had a proper and utilitarian place. At a minimum, it could have stood as an unchallengeable corrective to the manifestly unjust imperatives of Trump's" America First."
*********
In the end, as the recent Trump impeachment trial ought to have revealed, Higher Law expectations of the American political tradition can never be self-enforcing. Instead, defied again and again by transient political elites, these expectations can only be sustained where individual citizens would first prepare to act (as does Antigone before Creon[lxv] ) according to conscience. "Why has every man a conscience,"[lxvi] asks Thoreau in his foundational American essay on Civil Disobedience.
I think that we should be men first, and subjects afterwards. It is not desirable to cultivate a respect for the law, so much as for the right. The only obligation which I have a right to assume is to do at any time what I think right. It is truly enough said that a corporation has no conscience; but a corporation of conscientious men is a corporation with a conscience.[lxvii]
Where are such "conscientious men" (and of course women) to be found? Certainly not, says Thoreau insightfully, among the "commonly esteemed good citizens."[lxviii] These mass men and women serve the state "not as men mainly, but as machines, with their bodies."[lxix]
Placing themselves "on a level with wood and earth and stones,"[lxx] these creations of the "mass" (the Danish philosopher Soren Kierkegaard would have preferred the term "crowd") are incapable of making essential moral or legal distinctions. This incapacity is easily enough recognized today, where so many United States Senators remained unwilling to acknowledge the brutally stark differences between prima facie presidential wrongdoing and legally correct presidential behavior.
Could the United States still create the conditions for a conscientious "corporation" though the enhanced education of an informed citizenry? From Rousseau to the present, this has been the preferred path of virtually all democratic theory. Rousseau believed that law and liberty could best exist in a city-state of properly educated voters like Geneva:
He stipulates in Book III of the Social Contract:
First, a very small state where the people can be readily got together and where each citizen can with ease know all the rest; secondly, great simplicity of manners, to prevent business from multiplying and raising thorny problems; next, a large measure of equality in rank and fortune, without which equality of rights and authority cannot long subsist; lastly, little or no luxury – for luxury either comes of riches or makes them necessary.
But the contemporary United States is not at all like Geneva; Rousseau's cherished idea that a majority (even under very specified conditions) can be trusted with what is best for "The People" is too-often mistaken. Now, the dangers of the "general will" have been made manifest not only in the exploits of Robespierre and Napoleon, but also in the dissembling presidency of Donald Trump.
There is more. Rousseau's deification of The People actually points toward the very opposite of our own Higher Law tradition. The Genevan made "The People" sovereign; for us, ultimately, sovereignty must come to reside in The Citizen. Earlier, as Thoreau had understood, apathy, complacency, passivity and moral cowardice are the inevitable qualities found in the "mass" of men and women. True hope, therefore, can lie only in those residually still-thoughtful individuals whose primary allegiance is directed toward properly overriding and universal laws; that is, not in the presumptive "good citizen," but rather in the indispensable "wise minority."
It is time to finally inquire: What is the real task of this body of enlightened persons, one which could in fact represent a true and distinct majority in formation? Thoreau speaks truthfully of civil disobedience, one still possible act of "counter-friction." Now, confronted with an American president who could bring unparalleled harms to the United States, suddenly or in unanticipated increments – as we have seen, such harms could soon include even the onset of a catastrophic nuclear war[lxxi] – Thoreau would urge, as he once did about still-earlier policy deformations (see Civil Disobedience),: "Let your life be a counter-friction to stop the machine. What I have to do is to see, at any rate, that I do not lend myself to the wrong which I condemn."
To this point, most visibly at partisan political levels, Thoreau's earlier wisdom has fallen on variously deaf Congressional ears.
*********
This essay has explored certain now-lost jurisprudential remedies to the increasingly injurious Trump Presidency, most obviously "ordinary" impeachment options rooted in the US Constitution. For future reference, any Members of Congress directly involved with drafting and refining Articles of Impeachment could also avail themselves of related Higher Law arguments. This potentially augmented path is suggested here because: (1) the Constitution of the United States is indisputably and perpetually constructed upon core principles of Natural Law; and (2) these antecedent and overriding legal principles are ultimately binding upon all citizens and all government officials.
To fashion such prospectively important Articles, careful attention ought to be paid not only to applicable statutory and Constitutional expectations, but also to the everlasting Higher Law traditions of the United States. While less explicit and thereby much harder to identify and operationalize, these core traditions and legal norms are in no way inferior to what had previously been codified. Accordingly, they should never be minimized or once again disregarded.
Though utterly ignored in the recently-completed Trump Senate trial, certain basic and immutable elements of the Western Higher Law tradition should figure importantly in efforts to protect the United States from a similarly catastrophic American presidency in the future. Such jurisprudence-based efforts at citizen protection would be not only justifiable, but indispensable. As Roman statesman Cicero already understood more than 2000 years ago, "The safety of the people shall be the highest law."
It follows that the Natural Law/Higher Law background of the American Constitution could sometime still figure usefully and importantly in rescuing the United States from another lawless American president. Technically, of course, the recent Senate acquittal of Donald Trump must be duly respected by Americans as law-enforcing. But the "safety of the people" must always take acknowledged precedence over narrowly technical judgments by the United States Senate.
Always.

---
[i] As the U.S. Constitution does not spell-out the precise content of any such crimes, it would have been reasonable to maintain that presidential violations of Natural Law were at least equally representative of "High Crimes and Misdemeanors" as anything locatable in tangible statute. Also worth noting is that at the time of the Constitution's ratification, determinations of authentic criminality had much less to do with codified norms than with the common law or judicial precedent. In other words, when Professor Alan Dershowitz argued before the US Senate that an impeachable offense by Donald Trump must be linked to a "codified" crime, he fundamentally misrepresented the core legal origins of the United States.
[ii] Under international law, the idea of a Higher Law – drawn originally from the ancient Greeks and ancient Hebrews – is contained (inter alia) within the principle of jus cogens or "peremptory" norms.
[iii] Turning and turning in the widening gyre;
The falcon cannot hear the falconer;
Things fall apart; the centre cannot hold;
Mere anarchy is loosed upon the world.
The blood-dimmed tide is loosed, and everywhere
The ceremony of innocence is drowned;
The best lack all conviction, while the worst
Are full of passionate intensity.
[iv] This presumes, of course, a far greater attention to serious education in the United States. In this connection, contrast the "classical" American opinion of Thomas Jefferson with that of Donald Trump. Said Jefferson: "To penetrate and dissipate the clouds of darkness, the general mind must be strengthened by education." Said Trump: "I love the poorly educated."
[v] According to Article 53 of the Vienna Convention on the Law of Treaties: "…a peremptory norm of general international law is a norm accepted and recognized by the international community of states as a whole as a norm from which no derogation is permitted and which can be modified only by a subsequent norm of general international law having the same character." See: Vienna Convention on the Law of Treaties, Done at Vienna, May 23, 1969. Entered into force, Jan. 27, 1980. U.N. Doc. A/CONF. 39/27 at 289 (1969), 1155 U.N.T.S. 331, reprinted in 8 I.L.M. 679 (1969).
[vi] See Edward S. Corwin, THE "HIGHER LAW" BACKGROUND OF AMERICAN CONSTITUTIONAL LAW (1955); Alexander P. D'Entreves, NATURAL LAW: AN INTRODUCTION TO LEGAL PHILOSOPHY (1951).
[vii] See: U.S. Constitution, Art. IX. According to Clinton Rossiter, there exists a "deep-seated conviction" among Americans "that the Constitution is an expression of the Higher Law, that it is, in fact, imperfect man's most perfect rendering" of eternal law. See Rossiter, preface to Corwin, supra, at vi.
[viii] Blackstone's Commentaries, of course, provided certain basic foundations of America's current legal system. It is unlikely, of course, that even a tiny handful of US representatives or senators were even aware of this juridical primacy.
[ix] Blackstone's COMMENTARIES expressly recognize that all law "results from those principles of natural justice, in which all the learned of every nation agree…." See William Blackstone, COMMENTARIES ON THE LAWS OF ENGLAND, adapted by Robert Malcolm Kerr (Boston; Beacon Press, 1962), Book IV, "Of Public Wrongs," p. 62 (Chapter V., "Of Offenses Against the Law of Nations.")
[x] See John Locke, TWO TREATISES OF GOVERNMENT 123 (T.I. Cook, ed., 1947).
[xi] See THE DECLARATION OF INDEPENDENCE
[xii] See Julius Stone, THE PROVINCE AND FUNCTION OF LAW (Cambridge MA: Harvard University Press, 1950), Chapter VIII, "Natural Law."
[xiii] Here, in the Deist view, Nature had "replaced" God as the source for lawful behavior.
[xiv] Newton says famously in his Principia: "This most beautiful system of the sun, planets, and comets could only proceed from the counsel and dominion of an intelligent and powerful Being." Cited by Abraham Kaplan, IN PURSUIT OF WISDOM: THE SCOPE OF PHILOSOPHY (Beverly Hills CA: Glencoe Press, 1977), p. 550.
[xv] See Stone, supra, Ch. VIII.
[xvi] See Locke, supra, 123.
[xvii] See The Bill of Rights, as detailed in the following discussion.
[xviii] See U.S. Constitution, Ninth Amendment.
[xix] The most fundamental principle of ancient Hebrew law, of course, is that the revealed will of God is the only proper source of Jewish justice. In the Talmudic position, "Whatever a competent scholar will yet derive from the Law, that was already given to Moses on Mount Sinai." (See Jerusalem Megillah IV, 74d.)
[xx] See Sec. 81, Fragment No. DK 22B114 of THE PRESOCRATICS 75 (Philip Wheelwright ed., Bobbs-Merrill 1960). The authoritative text for the fragments of Heraclitus is Hermann Diels & Walther Kranz, DIE FRAGMENTE DER VORSOKRATIKER (6th ed., Weidmann 1966).
[xxi] A century before Demosthenes, Antigone's appeal against Creon's order to the "unwritten and steadfast customs of the Gods" had evidenced the inferiority of human rule-making to a Higher Law. Here, in the drama by Sophocles, Creon represents the Greek tyrant who disturbs the ancient harmony of the city state. Aristotle, in his RHETORIC, quotes from Sophocles' ANTIGONE when he argues that "an unjust law is not a law." See RHETORIC 1, 15, 1375, a 27 et seq.
[xxii] See Henry David Thoreau, ON THE DUTY OF CIVIL DISOBEDIENCE, in WALDEN, OR LIFE IN THE WOODS AND ON THE DUTY OF CIVIL DISOBEDIENCE (Signet 1960).
[xxiii] Plato's theory, offered in the fourth century B.C.E, seeks to explain politics as an unstable realm of sense and matter, an arena formed and sustained by half-truths and distorted perceptions. In contrast to the stable realm of immaterial Forms, from which all genuine knowledge must be derived, the political realm is dominated by the uncertainties of the sensible world. At the basis of this political theory is a physical-mental analogy that establishes a correlation between the head, the heart and the abdomen, and the virtues of intelligence, courage and moderation.
[xxiv] Supra.
[xxv] See Corwin, supra, at 7.
[xxvi] Id.
[xxvii] "Right is the interest of the stronger," says Thrasymachus in Bk. I, Sec. 338 of Plato, THE REPUBLIC (B. Jowett tr., 1875). "Justice is a contract neither to do nor to suffer wrong," says Glaucon, id., Bk. II, Sec. 359. See also, Philus in Bk III, Sec. 5 of Cicero, DE REPUBLICA.
[xxviii] In this connection, however, noted Sigmund Freud: "Wars will only be prevented with certainty if mankind unites in setting up a central authority to which the right of giving judgment upon all shall be handed over. There are clearly two separate requirements involved in this: the creation of a supreme agency and its endowment with the necessary power. One without the other would be useless." (See: Sigmund Freud, Collected Papers, cited in Louis René Beres, The Management of World Power: A Theoretical Analysis, University of Denver, Monograph Series in World Affairs, Vol. 10 (1973-73), p, 27.)
[xxix] See Corwin, supra, at 9: "The Stoics…thought of Nature or the Universe as a living organism, of which the material world was the body, and of which the Deity or the Universal Reason was the pervading, animating and governing soul; and natural law was the rule of conduct laid down by this Universal Reason for the direction of mankind." Salmond, JURISPRUDENCE 27 (7th ed., 1924), cited in Corwin, supra, at 9.
[xxx] Id.
[xxxi] These terms are defined and discussed below.
[xxxii] See Corwin, supra, at 9.
[xxxiii] Spoken by Scipio in Bk. I of DE REPUBLICA; cited in Alexander P. D'Entreves, THE NOTION OF THE STATE 24 (1967).
[xxxiv] See Stone, THE PROVINCE AND FUNCTION OF LAW, supra, 224-230. Stone calls positive law "…the law actually enforced by organized society in a particular place at a particular time." (p. 225) Understood in terms of natural law, positive law is merely a necessary evil, tolerable and valid only to the extent that it coincides with natural law. In this theory, says Julius Stone, "Not only does natural law provide the criterion for judgment whether positive law is just. It goes further and provides the criterion for deciding whether positive law is valid law at all." (Id., at 226)
[xxxv] See Cicero, I DE LEGIBUS, cited in Corwin, supra, at 10; D'Entreves, supra., at 20 – 21. Similarly, in his DE OFFICIIS, Cicero wrote: "There is in fact a true law namely right reason, which is in accordance with nature, applies to all men and is unchangeable and eternal….It will not lay down one rule at Rome and another at Athens, nor will it be one rule today and another tomorrow. But there will be one law eternal and unchangeable binding at all times and upon all peoples." (cited by Stone, supra, at 216.) See also DE LEGIBUS, Bk. i, c, vii; cited by Stone, supra, at 216.
[xxxvi] See Corwin, supra, at 12.
[xxxvii] Id, at 13.
[xxxviii] See D'Entreves, supra, 36 – 37. In early Christendom, Augustine offered a system of thought that identified the locus of all global problems in the human potentiality for evil. Combining a philosophy of Neo-Platonism with a view of the universe as a struggle between good and evil, he attributed the trials of humankind to the taint of original sin. This view, transformed into a secular political philosophy, is now reflected by exponents of the school of realism or realpolitik. Augustine, writing at the beginning of the fifth century C.E., sets out, in the CITY OF GOD, to describe human history as a contest of two societies, the intrinsically debased City of Man and the eternally peaceful City of God. In this contest, the state, the product of humankind's most base tendencies, is devoid of justice and destructive of salvation. A mirror image of human wickedness, the state is little more than a "large gang of robbers." In an oft-quoted passage, Augustine recalls the answer offered by a pirate who had been captured by Alexander the Great. When asked by Alexander what right he had to infest the seas, the pirate replied: "The same right that you have to infest the world. But because I do it in a small boat I am called a robber, while because you do it with a large fleet you are called an emperor."
[xxxix] See Julius Stone, HUMAN LAW AND HUMAN JUSTICE (Stanford CA: Stanford University Press, 1965), p. 44. For Augustine, this reason or will of God "commands us to preserve the natural order and prohibits us to disturb it." (See Contra Faustum, XXII, 27; cited by Stone, HUMAN LAW AND HUMAN JUSTICE, supra, p. 44.
[xl] Thomas Aquinas recalls Augustine as follows: "St. Augustine says: `There is no law unless it be just.' So the validity of law depends upon its justice. But in human affairs a thing is said to be just when it accords aright with the rule of reason: and as we have already seen, the first rule of reason is the Natural Law. Thus all humanly enacted laws are in accord with reason to the extent that they derive from the Natural law. And if a human law is at variance in any particular with the Natural law, it is no longer legal, but rather a corruption of law." See SUMMA THEOLOGICA, 1a 2ae, 95, 2; cited by D'Entreves, supra, pp. 42 – 43.
[xli] See D'Entreves, supra, at 42 – 43.
[xlii] The importance of reason to legal judgment was prefigured in ancient Israel, which accommodated reason within its system of revealed law. Jewish theory of law, insofar as it displays the marks of natural law, offers a transcending order revealed by the divine word as interpreted by human reason. In the striking words of Ecclesiasticus 32.23, 37.16, 13-14: "Let reason go before every enterprise and counsel before any action…And let the counsel of thine own heart stand…For a man's mind is sometimes wont to tell him more than seven watchmen that sit above in an high tower…."
[xliii] See Stone, THE PROVINCE AND FUNCTION OF LAW, supra, Chapter VIII.
[xliv] See Corwin, supra, at 17 – 18.
[xlv] Id., at 19.
[xlvi] See Stone, HUMAN LAW AND HUMAN JUSTICE, supra, pp. 64 – 68.
[xlvii] Id.
[xlviii] See Stone, HUMAN LAW AND HUMAN JUSTICE, supra, pp. 61 – 63.
[xlix] Id, pp. 65 – 68.
[l] Id.
[li] The sixteenth-century Florentine philosopher, Niccolo Machiavelli, joined Aristotle's foundations for a scientific study of politics with assumptions of realpolitik to reach certain conclusions about politics. His most important conclusion underscores the dilemma of practicing goodness in an essentially evil world: "A man who wishes to make a profession of goodness in everything must necessarily come to grief among so many who are not good." (See THE PRINCE, Chapter XV). Recognizing this tragic state of affairs, Machiavelli proceeds to advance the arguments for expediency that have become synonymous with his name. With the placing of the idea of force at the center of his political theory, the author of THE PRINCE stands in sharp contrast to the Platonic and early Christian concepts of the "good." Rejecting both Plato's argument that there is a knowable objective "good" that leads to virtue, and Augustine's otherworldly idea of absolute goodness, Machiavelli constructs his political theory on the assumption that "all men are potential criminals, and always ready to realize their evil intentions whenever they are free to do so." In his instructions to the statesman on how to rule in a world dominated by force, he advises "to learn how not to be good." The seventeenth-century materialist and social philosopher, Thomas Hobbes, elaborated a complex system of thought in which man was reduced to a state of nature and then reconstructed. Seeking a science of human nature that would have the rigor of physics, Hobbes looked to introspection as the source of genuine understanding: "Whosoever looketh into himself and considereth what he doth when he does think, opine, reason, hope, fear, etc., and upon what grounds, he shall thereby read and know, what are the thoughts and passions of all other men, upon the like occasions." (See Introduction to LEVIATHAN). The results of such an analysis of one's own thought processes led Hobbes to his celebrated theory of the social contract: the natural egoism of man produces a "war of all against all" in the absence of civil government and must be tempered by absolute monarchy. Moreover, the condition of nature, which is also called a condition of war marked by "continual fear, and danger of violent death," has always been the characteristic condition of international relations and international law: "But though there had never been any time, wherein particular men were in a condition of war one against another; yet, in all times, kings, and persons of sovereign-authority, because of their independency, are in continual jealousies, and in the state and posture of gladiators; having their weapons pointing, and their eyes fixed on one another; that is, their forts, garrisons, and guns upon the frontiers of their kingdoms, and continual spies upon their neighbors, which is a posture of war." (See LEVIATHAN, Chapter XIII).
[lii] This is because the principal Grotian effort was to "translate" natural law from pure philosophical speculation into a pragmatic legal ordering. See Stone, HUMAN LAW AND HUMAN JUSTICE, supra, p. 65.
[liii] Id.
[liv] The Swiss scholar, Emmerich de Vattel, notes – in his 1758 classic THE LAW OF NATIONS: "No agreement can bind, or even authorize a man to violate the natural law." See Albert de LaPradelle, Introduction to Emmerich de Vattel, LE DROIT DES GENS (THE LAW OF NATIONS)(Charles G. Fenwick, tr., 1916).
[lv] See Corwin, supra, at 61.
[lvi] Id.
[lvii] Id.
[lviii] See Thomas Jefferson, IV WORKS 362 (New York, P.L. Ford, ed., 1892-99).
[lix] J.J. Burlamaqui, author of PRINCIPES DU DROIT DE LA NATURE ET DES GENS (1774) was a Swiss scholar who held a Chair at the University of Geneva. His work has been described by J. Stone and others as "rational utilitarianism." See Stone, HUMAN LAW AND HUMAN JUSTICE, supra, p. 71.
[lx] See Corwin, supra, p. 81.
[lxi] Id.
[lxii] Criminal responsibility of leaders under international law is not limited to direct personal action or limited by official position. On this peremptory principle of "command responsibility," or respondeat superior, see: In re Yamashita, 327 U.S. 1 (1945); The High Command Case (The Trial of Wilhelm von Leeb), 12 Law Reports of Trials Of War Criminals 1 (United Nations War Crimes Commission Comp., 1949); see Parks, Command Responsibility For War Crimes, 62 MIL.L. REV. 1 (1973); O'Brien, The Law Of War, Command Responsibility And Vietnam, 60 GEO. L.J. 605 (1972); U.S. Dept. Of The Army, Army Subject Schedule No. 27 – 1 (Geneva Conventions of 1949 and Hague Convention No. IV of 1907), 10 (1970). The direct individual responsibility of leaders is also unambiguous in view of the London Agreement, which denies defendants the protection of the act of state defense. See AGREEMENT FOR THE PROSECUTION AND PUNISHMENT OF THE MAJOR WAR CRIMINALS OF THE EUROPEAN AXIS, Aug. 8, 1945, 59 Stat. 1544, E.A.S. No. 472, 82 U.N.T.S. 279, art. 7.
[lxiii] See Vattel, THE LAW OF NATIONS (Washington D.C.: Carnegie Institution, 1916), C.G. Fenwick tr., p. 4.
[lxiv] Id.
[lxv] See Sophocles, ANTIGONE, supra.
[lxvi] See H D Thoreau, ON THE DUTY OF CIVIL DISOBEDIENCE (New York: New American Library, 1959).
[lxvii] Id.
[lxviii] Id.
[lxix] Id.
[lxx] Id.
[lxxi] "The obligation of subjects to the sovereign," says Thomas Hobbes in Chapter XXI of LEVIATHAN, "is understood to last as long, and no longer, than the power lasteth by which he is able to protect them."
Revisiting Fukuyama's 'End of History Thesis"
There are few names in the America, when it comes to the interpretation of American political and cultural history. Francis Fukuyama is one of them. He is a famous political commentator for his 'End of History' thesis that proclaimed the victory of the United States Led-liberal world order after the disintegration of Soviet Union. Perhaps, this was an open proclamation about the end of cold war and certainly the end of decade long ideological confrontation between the Capitalist and communist bloc. Initially, it was an article published by the Journal of National interest in the summer of 1989, which was later transformed into book.
The End of the History and the Last Man published by Free Press in 1992 was a landmark work of the famous geopolitical commentator Francis Fukuyama. The central theme of the book discuses about the legitimacy and effectiveness of the Liberalism led international system as an alternative to other ideological based system. The author commenced the above-mentioned dialogue after thoroughly examining the beginning of Third wave (used by famous Harvard based scholar Samuel P. Huntington) of Democracy of the early 1970s. For author, the spread of liberal democracy across various part of the globe became an ideological alternative to moribund ideological governments such as Fascism, dictatorship, monarchies, and off-course communism after the Soviet disintegration.
According to this book, after the death of communism in the 1980s, the history of the world has come to an end. Hence, from now onwards, the world will be led by the liberal based democratic international system and soon people will see the fruit of freedom, liberty and democracy. In this respect, the theoretical discussion of the book has openly declared the American liberal democracy as the viable model for the world in the coming Millennium—which the author then referred to the dawn of 21st century. Perhaps, if we carefully analyze the synthetic vocabulary in text of the book, we will see a clear justification the irreversible historical victory of liberal democratic order over Soviet Communism.
Similarly, if we carefully examine the content of the book, in part I of the book, the author briefly opens an epistemological discussion concerning the centuries old ideological confrontation between civilizations. In this part of the book, the author clearly explains about the progress of history in the path of liberal democratic model. With this argument, the author openly claims that the progress of the human civilization has reached to the endpoint of the history. Basically, for epistemological and ontological analysis about ideological victory of the Liberal democratic system over the authoritarian communism, the author uses the philosophy of famous German philosopher Frederich Hegel, especially its interpretation by Alexander Kojeve.
Because, according to Hegelian dialectics, the whole discourse of the history an evolving phenomenon as a result of the confrontation between the two opposing forces—the pure Hegelian dialectics that refers to the confrontation between thesis and anti-thesis to form synthesis. In this regard, during the cold war the conflict between the Communist Soviet Union and Liberal capitalist United States was purely dialectical, which finally ended by propelling the pace of human historical progress in the direction of liberal democracy. Nonetheless, according to the End of history thesis, with the victory of liberal democracy after the end of cold has brought the human civilization at the final point. Hence, this historical endpoint is determined by the establishment of homogenized supranational system governed by the single ideology. Perhaps, this was the end conclusion of Alexander Kojeve interpretation of the Hegelian dialectics.
For Fukuyama, the epical end of the long time ideological battle between the authoritarian Communism and Liberal Capitalism has transformed the globe into post-political civilization free from ideological confrontation. In the respect, the establishment of the liberal based Washington led new world order is unchallenged and is the fate of humanity for the generations to come. To be more precise, according to book the term 'End of History' resembles the final evolution of the human history and progress, which can be clearly understood through Hegelian dialectics. With this proposition, Fukuyama denied the Marxism view of the history that affirms that endpoint of the human history and progress will be the establishment of Communist system across the globe.
Similarly, the part II and part III of the book, the author commence the discussion about the legitimacy and rationality of the liberal democratic model by taking into the political and economic imperatives. For Fukuyama, politically, the liberal democratic model guarantees the civil liberties such as the freedom of speech, freedom of expression and the freedom of conscience. Likewise, the liberal democratic model also promises the freedom of press and public opinion. In contrast, by guaranteeing the civil liberties and other freedom, the liberal democratic model fulfills the standards of the modern society.
On the other hand, economically, the liberal democratic model supports the free-market economy that guarantees economic freedom to every person unlike the rigid and closed communist system. Hence, from the economic standpoint, the liberal democratic societies are secure and more productive in term wealth and capital. To justify this notion, Fukuyama used the Hegelian concept of labor, whose purpose of production is not only aimed at satisfying the material needs rather the labor also demands recognition and special title in the society. Perhaps, it is the human labor that changes and transforms the natural world through skills and productivity. In the latter domain, in order to justify the concept of human labor from the standpoint of Hegelian theory, Fukuyama uses the ancient Greek concept of 'Thymos'—which refers to the word recognition. Thus, for Fukuyama the objectification of the human labor demands the right of property and thus, the Liberal democratic system ensures the property rights of the labor.
Similarly, in Part IV of the book, the author briefly discusses about the existence and survival of the liberal democratic model, which in the author view can only survive by upholding the democratic virtue of Thymos. Likewise, in Part V and final part of the book discusses about the emerging challenging and coming reservation concerning his legitimacy of the Liberal Democratic Model. In this part of the book, the author discusses about the coming about challenges to liberal democratic system in the Nietzschean context. Because, for the Nietzsche, the so-called universalization principle of the Liberal philosophy will result in the devaluation of all its values and virtues. In this respect, according to Fukuyama, the ontological persistence of the liberal values is key for the survival and preservation of the liberal democratic model.
In a nut shell, through the famous 'End of History' thesis, Francis Fukuyama has marked his name in the important pages of the American History. It is because, his theory has declared the victory of liberal democracy as the victory of the victory of the United States which became morbid with the dawn of the XXI century. As a matter of fact, Fukuyama proved himself wrong and distorted the historical realities by interpreting it through fictitious liberal outlook. Perhaps, his resentment concerning his outdated End of History thesis can be understood in his recent book "Identity" in which he retreats from his End of history thesis.
The Atom And The Virus: A Progressively Lethal Convergence For The United States
"It is only in the thick of calamity that one gets hardened to the truth – in other words, to silence."-Albert Camus, The Plague
Americans may too easily forget, in the midst of a biological plague, that assorted "ordinary" geopolitical threats have not thereby gone away. In this regard, multiple risks of nuclear war with several adversarial nations have actually been growing. Here, too, grievously fearful developments are largely attributable to an incompetent and indifferent American president.
Prima facie, the prognoses are plain. Going forward with Donald J. Trump, the United States could only anticipate the utterly worst forms of catastrophic convergence. Without hyperbole, should this president somehow remain in office, America's plausible future could include variously intersecting and steadily escalating existential harms.
It's time for recognizing particularities. In narrow geostrategic terms, North Korea and Iran represent the most obvious and compelling nuclear threats. This assessment is credible even though Iran is not yet operationally nuclear.[1] Why? It is because Iran is still capable of fighting a massive conventional conflict against America's principal Middle Eastern ally.
In brief, Tehran could at some point prod the United States to consider using some of its extant nuclear forces on behalf of Israel.
There is more. Certain Sunni Arab states worried about an impending "Persian bomb" could also seek to obtain a countervailing nuclear capacity for themselves.[2] In this connection, Egypt and Saudi Arabia come most immediately to mind.
What happens next? What particular intersections or synergies might arise here involving Iran and Israel? And what might be the concurrent effects of "plague" (Covid19 pandemic) upon all of the pertinent "players?"
In essence, however the plausible conflict scenarios might be configured, all pertinent prospects are unprecedented and all portend unique outcomes that are sui generis.
Looking ahead, US policy attention should also be directed toward ongoing nuclear developments in Russia and China. As we are very clearly in the midst of a second Cold War, or "Cold War II," these ongoing Russian and Chinese developments provide a background for other nuclear developments underway in Pyongyang and Tehran. "Cold War II,"[3] recently underscored by the growing scandal of Russian bounties to the Taliban for killing US forces in Afghanistan, represents the system within which virtually all contemporary world politics should now be categorized and assessed.[4]
In brief, the current Great Powers' disposition to war, however it might be ascertained, isrelevant analytic background for still-wider nuclear interactions.
Planning ahead, what explanatory theories and scenarios could best guide the Trump administration in its many-sided interactions with North Korea, Iran, China and Russia? Before answering this basic question with any adequate and clarifying specificity, a "correct" answer – any correct answer – must depend upon one single overarching assumption. This is the inherently problematic expectation of adversarial rationality.
It now follows, among other things, that a primary "order of business" for those American strategic analysts and planners focused on this most urgent set of security problems will be reaching informed judgments about each determinable adversary's ordering of preferences. By definition, only those particular adversaries who would value national survival more highly than any other preference or combination of preferences would be acting rationally.
For scholars and policy-makers, some further basic questions must now be considered. First, what are the operational meanings of relevant terminologies and/or vocabularies? Accordingly, in the formal study of international relations and military strategy, decisional irrationality never means the same thing as madness. Nonetheless, certain residual warnings about madness should still warrant very serious US policy consideration. This is because both "ordinary" irrationality and full-scale madness could exert more-or-less comparable effects upon any examined country's national security decision-making processes.
Again, nothing here for the intellectually faint-hearted.
Sometime, for the United States, understanding and anticipating these ascertainable effects could display existential importance. In all such prospective considerations, words would matter a great deal. In normal strategic parlance, "irrationality" identifies a decisional foundation wherein national self-preservation is not summa, not the very highest and ultimate preference.
A prospectively irrational decision-maker in Pyongyang, Tehran or elsewhere need not be determinably "mad" in order to become troubling for policy analysis by aptly designated leaders in Washington. Such an adversary needs "only" to be more conspicuously concerned about certain discernible preferences or values than about its own collective self-preservation. One example would be preferences expressed for certain feasible outcomes other than national survival. Normally, any such behavior would be unexpected and counter-intuitive, but it would still not be unprecedented or inconceivable. Moreover, identifying the specific criteria or correlates of any such considered survival imperatives could prove irremediably subjective and/or simply indecipherable.
Whether an examined American adversary were sometime deemed irrational or "mad," US military planners would have to input a generally similar decisional calculation. An analytic premise here would be that the particular adversary "in play" might not be suitably deterred from launching a military attack by any American threats of retaliatory destruction, even where such threats would be fully credible and presumptively massive. Any such failure of US military deterrence could include conventional and nuclear retaliatory threats.
In fashioning America's nuclear strategy vis-à-vis nuclear and not-yet-nuclear adversaries,[5] US military planners must include a mechanism to determine whether a designated adversary (e.g., North Korea or Iran) will more likely be rational or irrational. Operationally, this means ascertaining whether the identifiably relevant foe will value its collective survival (whether as a sovereign state or an organized terror group) more highly than any other preference or combination of preferences. Always, this early judgment must be based upon defensibly sound analytic principles.
In principle, at least, it should never be affected in any tangible way by what particular analysts might themselves simply "want to believe."[6]
A corollary US obligation, depending in large part upon this prior judgment concerning enemy rationality, will expect strategic planners to assess whether a properly nuanced posture of "pretended irrationality" could purposefully enhance America's nuclear deterrence posture. On several occasions, it should be recalled here, President Donald Trump had openly praised at least the underlying premises of such an eccentric posture. Was such presidential praise intellectually warranted and/or properly justified?
Ever?
It depends. US enemies include both state and sub-state foes, whether considered singly or in various assorted forms of collaboration. Such forms could be "hybridized" in different ways between state and sub-state adversaries.[7] In dealing with Washington, each recognizable class of enemies could sometime choose to feign irrationality.
In principle, this could represent a potentially clever strategy to "get a jump" on the United States in any expected or already-ongoing competition for "escalation dominance."[8] Naturally, any such calculated pretense could also fail, perhaps calamitously. Cautionary strategic behavior based on serious conceptual thinking should always be the presidential "order of the day."[9]
There is something else. On occasion, these same enemies could "decide," whether consciously or unwittingly, to actually be irrational.[10] In any such innately bewildering circumstances, it would then become incumbent upon American strategic planners to capably assess which basic form of irrationality – pretended or authentic – is actually underway. Thereafter, these planners would need to respond with a dialectically orchestrated and optimally counterpoised set of all possible reactions.
Once again, in purely intellectual terms, this would represent an uncommonly "tall order."
There is more. In this context, the term "dialectically" (drawn originally from ancient Greek thought, especially Plato's dialogues) is used with very precise meanings. This is done in order to signify a continuous or ongoing question-and-answer format of relevant strategic reasoning.
By definition, any instance of enemy irrationality would value certain specific preferences (e.g., presumed religious obligations or personal and/or regime safety) more highly than collective survival. For America, the grievously threatening prospect of facing some genuinely irrational nuclear adversary is prospectively most worrisome with regard to North Korea and at least possibly, in a now rapidly closing future, Iran.[11] Apropos of all such more-or-less credible apprehensions, it is unlikely that they could ever be meaningfully reduced by way of formal treaties or law-based agreements.[12]
Here it would be well worth remembering seventeenth-century English philosopher Thomas Hobbes' classic warning in Leviathan: "Covenants, without the sword, are but words…."[13] If this traditional problem of global anarchy were not daunting enough for American strategists and decision-makers, it is further complicated by the largely unforeseeable effects of worldwide pandemic and, perhaps correspondingly, the effects of any consequent chaos.
Chaos is not the same as anarchy. Chaos is much "more than" anarchy. We have lived with anarchy or absence of central government in modern world politics since the Peace of Westphalia in 1648,[14] but we have yet to descend into any genuine worldwide chaos.[15]
How should the United States proceed? At some point, at least in principle, the very best option could seem to be some sort of preemption; that is, a defensive non-nuclear first-strike directed against situationally appropriate North Korean or Iranian hard targets. In actuality, however, it is already very late for launching an operationally cost-effective preemption against North Korea, and – even if it could be properly defended in law as "anticipatory self-defense"[16] – any such action would likely come at a much-too-substantial human and political cost.
In specific regard to any current and potentially protracted US-Iran enmity, the American side must consider how its nuclear weapons could best be leveraged against that adversarial state in virtually any war scenario. A rational answer here could never include any operational use of such weapons. The only pertinent questions for US planners, therefore, should concern the calculable extent to which an asymmetrical US threat of nuclear escalation could sometime be made sufficiently and aptly credible.[17]
Once again, by definition, as long as Iran should remain non-nuclear, any US nuclear threat would necessarily be asymmetrical.
By applying all available standards of ordinary reason and logic (there are, after all, no usable historical points of reference in such unprecedented situations), Washington could most suitably determine that certain nuclear threats against Iran would serve American security interests only when Iranian military capacities, though still non-nuclear, were convincingly overwhelming. Any such daunting scenario, though difficult to imagine ex nihilo, might nonetheless be conceivable. This "strategic dialectic" holds most convincingly if Tehran were willing to escalate (a) to massive direct conventional attacks upon American territories or populations, and/or (b) to the significant use of biological warfare capabilities.
In any matter of prospective biological warfare, it is worth noting that we are currently in the midst of a naturally-occurring biological "assault," and that even in the complete absence of any specific adversarial animus or intent, the injurious consequences are already at the outer limits of tolerability and sustainability.
Inter alia, all this should now imply a primary obligation for the United States (c) to focus continuously on incremental enhancements to its implicit nuclear deterrence posture; and (d) to develop a wide and nuanced range of plausible nuclear retaliatory options. The specific rationale of (d) (above), is the counter-intuitive understanding that credibility of nuclear threats could sometime vary inversely with perceived levels of destructiveness. In certain foreseeable circumstances, this means that the successful nuclear deterrence of Iran could depend upon nuclear weapons that are deemed sufficiently low-yield or small.
Sometimes, in fashioning a national nuclear deterrence posture, counter-intuitive strategic insight is most correctly "on the mark," and therefore most indispensable. This is likely one of these "multi-layered" times.
There is more. Washington should continue to bear in mind that any US nuclear posture must focus on prevention rather than punishment. In any and all identifiable circumstances, using a portion of its available nuclear forces for vengeance rather than deterrence would miss the proverbial point; that is, to fully optimize US national security. Any American nuclear weapons use that were based on narrowly corrosive notions of revenge, and even if only as a residual or default option, would be irrational.
These are all complex intellectual issues, not simply political ones. America's many-sided nuclear deterrent must be backed up by recognizably robust systems of active defense (BMD), especially if there should arise any determinable reason to fear an irrationalnuclear adversary. Although it is already well-known that no system of active defense can ever be entirely "leak-proof," there is still good reason to suppose that certain BMD deployments could help safeguard both US civilian populations (soft targets) and American nuclear retaliatory forces (hard targets).[18] This means that technologically advanced anti-missile systems must remain indefinitely as a steadily-modernizing component of this country's nuclear deterrence posture. Among other elements of permissible self-defense, this suggests continuously expanding emphases on laser-based weapon systems.
While it may at first sound annoyingly obvious, it must still be remembered that in the bewildering nuclear age, seemingly defensive strategies could sometime be viewed by uneasy adversaries as offensive. This is because the secure foundation of any system of nuclear deterrence must be some reasonable presumption of mutual vulnerability."Everything is very simple in war," says Clausewitz, in On War, "but the simplest thing is still difficult."
To progress in its most vital national security obligations, American military planners must more expressly identify the prioritized goals of this country's nuclear deterrence posture. Before any rationaladversary could be suitably deterred by an American nuclear deterrent, that enemy would first need to believe that Washington had capably maintained the capacity to launch appropriate nuclear reprisals for relevant forms of aggression (nuclear and perhaps biological/non-nuclear), and also the will[19] to undertake such uniquely consequential firings.
About the first belief criterion, it would almost certainly lie beyond any "reasonable doubt."
Well beyond.
The second expectation, however, could sometime prove problematic and thus more-or-less "fatally" undermine US nuclear deterrence. In assorted ways that are not yet clearly understood, the necessary national will could be impacted by pandemic-related or even pandemic-created factors.[20] Significantly, too, there would be certain hard-to-foresee interactions or synergies taking place between US policy decisions and those of pertinent American adversaries.
In more perplexing matters involving an expectedly irrationalnuclear enemy,[21] successful US deterrence would need to be based upon distinctly credible threats to enemy values other than national survival. Here, too, the actual prospect of enemy irrationality could be related to pandemic factors. In the most extreme cases, disease could actually play a tangible and determinative role in producing an enemy's decisional irrationality.
More typically, America will also need to demonstrate the continuously substantial invulnerability of its nuclear retaliatory forces to enemy first strike aggressions. More precisely, it will remain in America's long-term survival interests to continue to emphasize its variegated submarine-basing nuclear options.[22] Otherwise, as is plainly reasonable to contemplate, America's land-based strategic nuclear forces could potentially present to a strongly-determined existential enemy (e.g., North Korea) as "too-vulnerable."
For the moment, this is not a significantly serious concern, though Washington will want to stay focused on any still-planned deployment of submarines by its Israeli ally in the Middle East. The general point of such a secondary focus would be on strengthening Israeli nuclear deterrence, which – in one way or another – would simultaneously be to the overall strategic benefit of the United States.[23] Israel's own nuclear deterrence could be affected by assorted pandemic-related variables, including some with serious reciprocal consequences for the United States.
There is more. Increasingly, America will have to rely on a broadly multi-faceted doctrine of nuclear deterrence.[24] In turn, like its already-nuclear Israeli ally,[25] specific elements of this "simple but difficult" doctrine could sometime need to be rendered less "ambiguous." This complex and finely nuanced modification will require an even more determined focus on prospectively rational and irrational enemies, including both national and sub-national foes.
To deal most successfully with its presumptively irrational or non-rational enemies, and whether or not impacted by pandemic factors, this country will need to compose a continuously-updating strategic "playbook." Here, it could become necessary for Washington to consider, at least on occasion, policies of feigned irrationality. In such analytically-challenging cases, it would be important for the American president not to react in an ad hoc or "seat-of-the-pants" fashion to each and every new strategic development or eruption, but instead to derive or extrapolate all specific policy reactions from a suitably pre-fashionedand comprehensive strategic nuclear doctrine.
Without such a thoughtful doctrine as guide, pretended irrationality could quickly become a "double-edged sword," effectively bringing more rather than less security harms to the United States.[26]
There is one penultimate but still critical observation. It is improbable, but not inconceivable, that certain of America's principal enemies would be neither rational nor irrational, but mad. While irrational decision-makers would already pose special problems for US nuclear deterrence – by definition, because these decision-makers would not value collective survival more highly than any other preference or combination of preferences – they might still be rendered susceptible to various alternate forms of deterrence.
Here, resembling rational decision-makers, they could still maintain a fixed, determinable and "transitive" hierarchy of preferences. This means, at least in principle, that "merely" irrational enemies could still sometimes be successfully deterred. This is an observation well worth further analytic study.
Mad or "crazy" adversaries, on the other hand, would have no such calculable hierarchy of preferences, and would therefore not be subject to any strategy of American nuclear deterrence. Although it would likely be far worse for the United States to have to face a mad nuclear enemy than a "merely" irrational one, Washington would have no foreseeable choice in this matter. This country, like it or not, will need to maintain, perhaps indefinitely, a "three track" system of nuclear deterrence and defense, one track for each of its still-identifiable adversaries that are presumptively (1) rational (2) irrational or (3) mad.
Again, this will not be task for the narrowly political or intellectually averse US decision-maker.
Further, for the most notably unpredictable third track, special plans will be needed for undertaking certain potentially indispensable preemptions, and, simultaneously, for corresponding/overlapping efforts atballistic missile defense.
Naturally, there could be no assurances that any one "track" would always present exclusively of the others. This means, portentously, that American decision-makers could sometimes have to face deeply intersecting or interpenetrating tracks, and also that these complicated simultaneities could be synergistic.[27]
There is one final observation to be noted. Even if America's military planners could reassuringly assume that enemy leaderships were fully rational, this would say nothing about the accuracy of the actual information used by these foes in making their particular calculations. Always, it must never be forgotten, rationality refers only to the intention of maximizing certain designated preference or values. It says nothing about whether the information being used is either correct or incorrect.
There is more. In this extraordinary time of global "plague," any such intention – American or adversarial – could have pandemic-related determinants. At a minimum, this fact should be regarded as sobering to America's national security decision-makers. For these officials, this will be a moment in history to disavow any inclinations to hubris, to excessive pride, and to accept, instead, an abundance of prudential caution.
America is not automatically made safer by having rational adversaries. Even fully rational enemy leaderships could commit serious errors in calculation that lead them toward a nuclear confrontation or to a nuclear/biological war. There are also certain related command and control issues that could impel a perfectly rational adversary or combination of rational adversaries (both state and sub-state) to embark upon various risky nuclear behaviors. It follows that even the most pleasingly "optimistic" assessments of enemy leadership decision-making could never reliably preclude authentically catastrophic outcomes.[28]
For the United States, understanding that no scientifically accurate judgments of probability can ever be made about unique events (by definition, any nuclear exchange would be sui generis, or precisely such a unique event), the very best lessons for America's president should favor a determined decisional prudence and a deliberate posture of humility. Of special interest, in this connection, is the always erroneous presumption that having greater nuclear military power than an adversary is automatically an assurance of future bargaining or diplomatic success. When Donald Trump said on several occasions that he and Kim Jung Un both have a "nuclear button," but that his button "is bigger," the American president overestimated the US advantages of any such presumptive asymmetry.
Wholly overestimated.
Why? Because the tangible amount of deliverable nuclear firepower required for deterrence is necessarily much less than what could ever be required for "victory."[29] This is now a time for displaying nuanced and purposeful counter-intuitive wisdom in Washington, and not for more clichéd presidential thinking or further rancorous barrages of some stunningly empty witticism.
For Washington, especially for this president, operating in the largely-unpracticed nuclear age, ancient Greek tragedy warnings about excessive leadership pride are not only still relevant, they are also palpably and irrefutably more important than ever before.
For the United States, these classical commentaries concerning hubris, left unheeded, could bring forth once unimaginable spasms of "retribution."[30] The Greek tragedians, after all, were not yet called upon to reason about nuclear decision-making. None of this culminating suggestion is meant to build gratuitously upon America's most manifestly reasonable fears or apprehensions, but only to remind everyone involved that competent national security planning must remain a bewilderingly complex struggle of "mind over mind."[31]
Always, these remain fundamentally intellectual problems,[32] challenges requiring meticulous analytic preparation[33] rather than just a particular "attitude."[34] Above all, such planning ought never become just another calculable contest of "mind over matter;"[35] that is, never just a vainly reassuring inventory of comparative weaponization or some presumptively superior "order of battle." Unless this rudimentary point is more completely understood by senior US strategic policymakers and by the president of the United States – and until these same policymakers can begin to see the utterly overriding wisdom of expanded global cooperation and human "oneness"[36] – America can never make itself sufficiently secure from nuclear or biological war.
Never.[37]
In his 1927 preface to Oxford Poetry, W.H. Auden wrote: "All genuine poetry is in a sense the formation of private spheres out of public chaos…." Looking ahead with an appropriately avant-garde orientation, American strategists must essentially seek to carve out livable national spheres from a steadily expanding global chaos. Ultimately, of course, following Nietzsche, they must understand that such chaos originally lies within each individual human being, but – at least for the moment of their present strategic deliberations – they must focus upon collective survival in a true Hobbesian "state of nature."
With the predictable spread of nuclear weapons to additional states (and, perhaps, to sub-national terror groups), the historical conditions of nature bequeathed at the Peace of Westphalia in 1648 could soon come to resemble the primordial barbarism of William Golding's Lord of the Flies. Long before Golding, the seventeenth-century English philosopher, Thomas Hobbes, had warned insightfully in Leviathan (Chapter XIII) that in any such circumstances of human disorder here there exists "continual fear, and danger of violent death, the "life of Man" must inevitably be "solitary, poor, nasty, brutish, and short." To best plan its strategic future, America will first need to understand a plausible world system transformation from anarchy to chaos, and to accommodate this drastic pandemic-hastened transformation with some more authentically imaginative thinking.
In such crucial matters, recalling Italian film director Federico Fellini,
"The visionary is the only realist."
In the final analysis, as Nietzsche himself acknowledges, chaos is an intra-personal condition before it can ever become an international one.[38] This means that the core problem of chaos must be "solved" at the behavioral level before it can be solved in any larger arenas of nuclear strategy, international relations or international law. On this irremediably central understanding, one now made substantially more urgent by global pandemic, it would be worthwhile for engaged strategists to heed and assess the thoughtful words of Trappist monk and 20th-century thinker Thomas Merton, not because they could have any immediate "practical" value, but because they can serve as a long-term reminder of what is ultimately being asked of us all:
"When there is a deep, simple, all-embracing love of man, of the created world of living and inanimate things, then there will be respect for life, for freedom, for truth, for justice, and there will be humble love of God. But where there is no love of man, no love of life, then make all the laws you want, all the edicts and treaties, issue all the anathemas, set up all the safeguards and inspections, fill the air with spying satellites, and hang cameras on the moon. As long as you see your fellow man as a being essentially to be feared, mistrusted, hated and destroyed, there cannot be peace on earth."[39]
Summing up, US foreign policy initiatives concerning nuclear war avoidance must shift from traditional notions of "realism" to more enduring ideas of "planetization."[40] Though seemingly utopian, these ideas are ultimately more realistic than any global continuance of Thomas Hobbes' "state of nature." For the time being, pertinent American policies will still have to be founded upon intellectually supportable principles of nuclear deterrence and corresponding elements of "preparation," but such foundations should not be expected to last indefinitely. It follows that keeping the United States safely distant from nuclear conflagration will require an American leadership that can navigate all current and foreseeable risks – including some that are pandemic-related – and also plan competently for the problematic future.
In the end, as illustrated by both the more-or-less predictable effects of a nuclear war[41] and long-established effects of "plague," we humans are all evident creatures of biology and all of us mustfinally recognize each other in this commonality. Moreover, this is a primal commonality, a determinative "oneness" worth adapting to all of America's national security policies. Such structural interdependence underscores our interpenetrating existential vulnerabilities as individual human beings and our leaders' corollary obligation to place the common good above any narrowly personal interests.[42]
The atom and the virus now pose a lethal convergence for the United States. To render this perilous simultaneity more manageable and tolerable will require an American leadership with suitably intellectual moorings and inclinations. Failing to meet this indispensable requirement would compel a once-promising nation to become hardened to a terrible and irremediable truth.
Then, recalling Albert Camus' The Plague, we would need to get hardened "to silence."
---
[1] For early warnings about Iranian nuclearization from a specifically Israeli perspective, see Louis René Beres (Chair of Project Daniel/PM Sharon), Jerusalem: Israel's Strategic Future: http://www.acpr.org.il/ENGLISH-NATIV/03-ISSUE/daniel-3.
See also, by Professor Louis René Beres, at Harvard Law School: https://harvardnsj.org/2014/06/staying-strong-enhancing-israels-essential-strategic-options-2/
[2] For earlier conceptualizations of this capacity, by this author, see: Louis René Beres, Mimicking Sisyphus: America's Countervailing Nuclear Strategy (1983) and Louis René Beres, America Outside the World: The Collapse of U.S. Foreign Policy (1987).
[3] Identifying "Cold War II" means expecting the world system to become increasingly bipolar. For early writings, by this author, on the global security implications of any such expanding bipolarity, see: Louis René Beres, "Bipolarity, Multipolarity, and the Reliability of Alliance Commitments," Western Political Quarterly, Vol. 25, No.4., December 1972, pp. 702-710; Louis René Beres, "Bipolarity, Multipolarity, and the Tragedy of the Commons," Western Political Quarterly, Vol. 26, No.4., December 1973, pp, 649-658; and Louis René Beres, "Guerillas, Terrorists, and Polarity: New Structural Models of World Politics," Western Political Quarterly, Vol. 27, No.4., December 1974, pp. 624-636.
[4] In late June 2019, Russia announced that current US policies concerning bilateral nuclear treaty termination and also then-prospective US anti-missile deployments in eastern Europe could threaten "another Cuban missile crisis." This suggests that Russia remains important in military nuclear terms not only for its obvious shaping of "Cold War II" context, but also (once again) as a direct and increasingly immediate nuclear threat to the United States.
[5] For a very recent analysis of deterring not-yet-nuclear adversaries in the case of Israel, see article co-authored by Professor Louis René Beres and (former Israeli Ambassador ) Zalman Shoval at the Modern War Institute, West Point (Pentagon): https://mwi.usma.edu/creating-seamless-strategic-deterrent-israel-case-study/
[6] Recall here the classic statement of Julius Caesar: "Men as a rule believe what they want to believe." See: Caesar's Gallic War, Book III, Chapter 18.
[7] This "hybrid" concept could also be applied to various pertinent ad hoc bilateral state collaborations against US strategic interests. For example, during June 2019, Russia and China collaborated to block an American initiative aimed at halting fuel deliveries to North Korea. The US-led cap on North Korea's fuel imports had been intended to sanction any continuing North Korean nuclearization. Prima facie, of course, this narrowly visceral plan was entirely futile.
[8] On "escalation dominance," see recent article by Professor Louis René Beres at The War Room, US Army War College, Pentagon: https://warroom.armywarcollege.edu/articles/nuclear-decision-making-and-nuclear-war-an-urgent-american-problem/
[9]The seventeenth-century French philosopher Blaise Pascal remarks prophetically in Pensées: "All our dignity consists in thought….It is upon this that we must depend…Let us labor then to think well: this is the foundation of morality." Similar reasoning characterizes the writings of Baruch Spinoza, Pascal's 17th-century contemporary. In Book II of his Ethics Spinoza considers the human mind, or the intellectual attributes, and – drawing further upon René Descartes – strives to define an essential theory of learning and knowledge.
[10] In his own work, Sigmund Freud sought to "excavate" deeper meanings concerning irrational human behavior. Always, he was a modern-day philosophe, a proud child of the eighteenth-century Enlightenment, one who discovered profound analytic and therapeutic advantages in exploring sometimes-arcane literary paths to psychological knowledge. Freud maintained an extensive personal collection of antiquities which suggested certain penetrating psychological insights to him. Some of his pertinent collection was placed directly on his work desk; reportedly, he would often touch and turn the artifacts while deeply engaged in some challenging thought.
[11] See, also by this author, Louis René Beres, at Harvard National Security Journal (Harvard Law School): https://harvardnsj.org/2013/10/lessons-for-israel-from-ancient-chinese-military-thought-facing-iranian-nuclearization-with-sun-tzu/
[12] See, for example, by this author, at Yale: https://yaleglobal.yale.edu/content/nuclear-treaty-abrogation-imperils-global-security
[13] Regarding "covenants," US decision-makers should nonetheless be continually attentive to relevant considerations of law as well as strategy. More particularly, under authoritative law, states must judge every use of force twice: once with regard to the underlying right to wage war (jus ad bellum) and once with regard to the means used in conducting an actual war (jus in bello). Following the Kellogg-Briand Pact of 1928 and the United Nations Charter (1945), there remains no defensible legal right to waging an aggressive war. However, the long-standing customary right of post-attack self-defense does remain codified at Article 51 of the UN Charter. Similarly subject to conformance, inter alia, with jus in bello criteria, certain instances of humanitarian intervention and collective security operations may also be consistent with jus ad bellum standards. The law of war, the rules of jus in bello, comprise: (1) laws on weapons; (2) laws on warfare; and (3) humanitarian rules. Codified primarily at the Hague and Geneva Conventions, these rules attempt to bring discrimination, proportionality and military necessity into all belligerent calculations.
[14]International law remains a "vigilante" or "Westphalian" system. See: Treaty of Peace of Munster, Oct. 1648, 1 Consol. T.S. 271; and Treaty of Peace of Osnabruck, Oct. 1648, 1., Consol. T.S. 119, Together, these two treaties comprise the Peace of Westphalia.
[15] Though composed in the seventeenth century, Thomas Hobbes' Leviathan may still offer us a prophetic vision of this prospective condition in modern world politics. During chaos, which is a "time of War," says the English philosopher in Chapter XIII ("Of the Natural Condition of Mankind, as concerning their Felicity, and Misery."): "… every man is Enemy to every man… and where the life of man is solitary, poor, nasty, brutish, and short." Still, at the actual time of writing Leviathan, Hobbes believed that the condition of "nature" in world politics was less chaotic than that same condition extant among individual human beings. This was because of what he had called the "dreadful equality" of individual men in nature concerning the ability to kill others. This once-relevant differentiation has effectively disappeared with the continuing manufacture and spread of nuclear weapons, a spread soon apt to be exacerbated by an already-nuclear North Korea, by a not-yet-nuclear Iran and by the largely unpredictable effects of an ongoing disease pandemic.
[16] For a pertinent Israeli example, see, by this author: https://www.usnews.com/opinion/world-report/articles/2017-09-06/10-years-later-israels-operation-orchard-offers-lessons-on-north-korea
[17]In regard to such questions, US strategic thinkers must inquire whether accepting a visible posture of limited nuclear war would merely exacerbate enemy nuclear intentions or whether it could actually enhance this country's overall nuclear deterrence. Such questions have been raised by this author for many years, but usually in more explicit reference to broadly theoretical or generic nuclear threats. See, for example, Louis René Beres, The Management of World Power: A Theoretical Analysis (1972); Louis René Beres, Terrorism and Global Security: The Nuclear Threat (1979; second edition, 1987); Louis René Beres, Apocalypse: Nuclear Catastrophe in World Politics (1980); Louis René Beres, Mimicking Sisyphus: America's Countervailing Nuclear Strategy (1983); Louis René Beres, Reason and Realpolitik: US Foreign Policy and World Order (1984); Louis René Beres, Security or Armageddon: Israel's Nuclear Strategy (1986); and Louis René Beres, Surviving Amid Chaos: Israel's Nuclear Strategy (2016).
[18] On the prospective shortcomings of Israeli BMD systems, from which certain authoritative extrapolations could be made about US systems, see: Louis René Beres and (Major-General/IDF/ret.) Isaac Ben-Israel, "The Limits of Deterrence," Washington Times, November 21, 2007; Professor Louis René Beres and M-G Isaac Ben-Israel, "Deterring Iran," Washington Times, June 10, 2007; and Professor Louis René Beres and M-G Isaac Ben-Israel, "Deterring Iranian Nuclear Attack," Washington Times, January 27, 2009.
[19] The modern philosophy origins of the term "will" lie in the writings of Arthur Schopenhauer, especially The World as Will and Idea (1818). For his own inspiration, Schopenhauer drew freely upon Johann Wolfgang von Goethe. Later, Nietzsche drew just as freely and perhaps even more importantly upon Schopenhauer. Goethe was also a core intellectual source for Spanish existentialist Jose Ortega y'Gasset, author of the singularly prophetic work, The Revolt of the Masses (Le Rebelion de las Masas (1930). See, accordingly, Ortega's very grand essay, "In Search of Goethe from Within" (1932), written for Die Neue Rundschau of Berlin on the occasion of the centenary of Goethe's death. It is reprinted in Ortega's anthology, The Dehumanization of Art (1948), and is available from Princeton University Press (1968).
[20] A prospectively positive impact, however, could center on improved opportunities for world-wide cooperation. See, on this hopeful point, by this author,. Louis René Beres, https://www.21global.ucsb.edu/global-e/march-2020/virulent-pathogens-and-global-solidarity-unseen-benefits-covid-19
[21] See, on deterring a prospectively irrational nuclear Iran, Louis René Beres and General John T. Chain, "Could Israel Safely deter a Nuclear Iran? The Atlantic, August 2012; and Professor Louis René Beres and General John T. Chain, "Israel; and Iran at the Eleventh Hour," Oxford University Press (OUP Blog), February 23, 2012. Though dealing with Israeli rather than American nuclear deterrence, these articles authoritatively clarify the common conceptual elements. General Chain was Commander-in-Chief, U.S. Strategic Air Command (CINCSAC).
[22] On the Israeli sea-basing issue, see Louis René Beres and Admiral Leon "Bud" Edney, "Israel's Nuclear Strategy: A Larger Role for Submarine-Basing," The Jerusalem Post, August 17, 2014; and Professor Louis René Beres and Admiral Leon "Bud" Edney, "A Sea-Based Nuclear Deterrent for Israel," Washington Times, September 5, 2014. Admiral Edney was NATO Supreme Allied Commander, Atlantic (SACLANT).
[23] See, in this connection, by Professor Louis René Beres and General (USA/ret.) Barry R. McCaffrey, Israel's Nuclear Strategy and America's National Security; https://sectech.tau.ac.il/sites/sectech.tau.ac.il/files/PalmBeachBook.pdf
[24] On the primary importance of doctrine, by this author, see Louis René Beres, https://www.jurist.org/commentary/2020/01/louis-beres-seeking-plausible-strategic-goals-iran/ See also, concerning US ally Israel: https://strategicassessment.inss.org.il/wp-content/uploads/antq/fe-676949421.pdf
[25] See, by this author (who was Chair of Project Daniel for Israeli PM Ariel Sharon): http://www.acpr.org.il/ENGLISH-NATIV/03-ISSUE/daniel-3.htm See also: https://besacenter.org/perspectives-papers/israel-nuclear-ambiguity/ and https://www.idc.ac.il/he/research/ips/Documents/2013/%D7%A0%D7%99%D7%99%D7%A8%D7%95%D7%AA/LouisReneBeres.pdf
[26] This brings to mind the closing query of Agamemnon in The Oresteia by Aeschylus: "Where will it end? When will it all be lulled back into sleep, and cease, the bloody hatreds, the destruction"?
[27] See, for example, by this author, at Harvard National Security Journal: https://harvardnsj.org/2015/06/core-synergies-in-israels-strategic-planning-when-the-adversarial-whole-is-greater-than-the-sum-of-its-parts/
[28] In this connection, expressions of decisional error (including mistakes by the United States) could take different and overlapping forms. These forms include a disorderly or inconsistent value system; computational errors in calculation; an incapacity to communicate efficiently; random or haphazard influences in the making or transmittal of particular decisions; and internal dissonance generated by any authoritative structure of collective decision-making (e.g., the US National Security Council).
[29] See, by this author, at Oxford University Press: https://blog.oup.com/2011/10/war-winning/
[30] For much earlier similar warnings, by this author, see his October 1981 article at World Politics (Princeton): https://www.jstor.org/stable/2010149?seq=1#page_scan_tab_contents
[31] Clausewitzian friction refers to the unpredictable effects of errors in knowledge and information concerning strategic uncertainties; on presidential under-estimations or over-estimations of US relative power position; and on the unalterably vast and largely irremediable differences between theories of deterrence and enemy intent "as it actually is." See: Carl von Clausewitz, "Uber das Leben und den Charakter von Scharnhorst," Historisch-politische Zeitschrift, 1 (1832); cited in Barry D. Watts, Clausewitzian Friction and Future War, McNair Paper No. 52, October, 1996, Institute for National Strategic Studies, National Defense University Washington, D.C. p. 9.
[32] This also brings to mind an apt warning by French poet Guillaume Apollinaire, in The New Spirit and the Poets (1917): "It must not be forgotten that it is perhaps more dangerous for a nation to allow itself to be conquered intellectually than by arms." Today, when the United States is under the flagrantly anti-intellectual leadership of Donald J. Trump, the poet's warning should have a very clear and compelling resonance.
[33] Or "thorough study," in the language of Sun-Tzu.
[34] The meaningless bifurcation of "attitude" and "preparation" was expressly invoked by Donald Trump before going off to his first summit meeting with North Korean leader Kim Jung Un. In that curious distinction, the US President openly favored the former.
[35] This vital reminder is also drawn from the strategic calculations of ancient Greece. See, for example, F.E. Adcock, The Greek and Macedonian Art of War (University of California, 1962).
[36] Accordingly, we may learn from ancient Greek Stoic philosopher Epictetus, ""You are a citizen of the universe." A broader idea of such "oneness" followed the death of Alexander in 322 BCE; with it came a coinciding doctrine of "universality." By the Middle Ages, this political and social doctrine had fused with the notion of a Respublica Christiana, a worldwide Christian commonwealth, and Thomas, John of Salisbury and Dante were looking at Europe as a single and unified Christian community. Below the level of God and his heavenly host, all the realm of humanity was to be considered as one. This is because all the world had been created for the same single and incontestable purpose; that is, to provide background for the necessary drama of human salvation. Only in its relationship to the universe itself was the world correctly considered as a part rather than a whole. Said Dante in De Monarchia: "The whole human race is a whole with reference to certain parts, and, with reference to another whole, it is a part. For it is a whole with reference to particular kingdoms and nations, as we have shown; and it is a part with reference to the whole universe, which is evident without argument." Today, of course, the idea of human oneness can be fully justified and explained in more purely secular terms of analytic understanding.
[37] In this connection, says Thomas Hobbes in Chapter XXI of Leviathan, "The obligation of subjects to the sovereign is understood to last as long, and no longer, than the power lasteth by which he is able to protect them."
[38] "I tell you," says Nietzsche in Zarathustra, "ye have still chaos in you."
[39] See Merton's The Nonviolent Alternative, 1980. Similar sentiments can be found in the German philosopher Immanuel Kant's remark: "Out of timber so crooked as that from which man is made, nothing entirely straight can be built." This is my own translation from the original German: "Aus so krummem Holze, als woraus der Mensch gemacht ist, kann nichts ganz Gerades gezimmert warden." See: Isaiah Berlin, The Crooked Timber of Humanity, xi (Henry Handy, ed., 1991) quoting Immanuel Kant's Idee Zu Einer Allgemeinen Geschichte In Weltburgerlicher Absicht (1784).
[40] These ideas have been most closely associated with the French Jesuit philosopher Pierre Teilhard de Chardin, especially his modern classic The Phenomenon of Man (1955).
[41] Among some of the early books dealing with these effects ion a serious and informed way, see: Franklyn Griffiths and John C . Polanyi, editors, The Dangers of Nuclear War (1979); Arthur M. Katz, Life After Nuclear War (1982); and by this author, Louis René Beres: Apocalypse: Nuclear Catastrophe in World Politics (1980).
[42] See Sophocles, Antigone, Speech of Creon, King of Thebes: "I hold despicable and always have….anyone who puts his own popularity before his country."
Implications Of Racial Unrest And Police Brutalities In U.S.
The recent killing of George Floyd by Police has sparked a wave of protests in the United States as African Americans are demanding a fair trial for the departed soul and change in behaviour.
The protests have expanded to Europe, Asia and Africa as people took to streets and protested against so-called Racism globally and police highhandedness. The death of George Floyd has given birth to a new Black movement called "Black Lives matter ".
Racism in the modern era is a curse and it is pity that the developed nations like the United States of America practice such malpractices which are against the social norms and sheer violation of international human rights.
United Nations prohibits all types of violence against minorities, Migratories and vulnerable communities and the African Americans are No Exception.
The Recent Unrest in wake of Killing of George Floyd on account of Police Brutality shows that the white supremists ideas still exist in the great powers and the hatred against the black community still haunting them even in a developed country like America.
One wonders that the country with a 100% literacy rate can experience such incidents of injustice and maltreatment against the black nationals who are migratory of Africa.
According to some experts, the hatred between black and white is too old as White Americans have never accepted the Black Community by heart as they consider themselves as superior due to their white colour. The National Laws and International Human Rights grant equal rights to all the communities regardless caste, Creed, Religion, Colour, Race, Language or origin, therefore any racial discrimination against any race tantamount to sheer violation of Human Rights.
The Killing of George Floyd by Brutal Police has sparked Global Protests in Europe, Asia, Africa and other parts of the world Protesting against Global Racism and Police Brutalities against the minorities or African Americans.
African Americans have been the target of Violence and have not been given the equal citizenry rights that are enjoyed by their white communities.
George Floyd's death has fuelled the Movement for black Americans and their struggle for rights has been expedited. The Slogan "Black Lives Matter" has been echoing in America has grabbed global attention against the brutal use of force against African immigrants in the United States of America.
The Racial unrest in America has weakened Trump's tirade against China holding it responsible for Covid-19 and certain engagements in Africa for Development Initiatives under its Popular One Road, One Belt Initiative.
Historical Background: The Great Migration:
The Great Migration was the relocation of more six million African Americans belonging to Rural South areas to the developed cities of North, Midwest and West during the periods of 1916 to 1970. The Great Migration was caused by Civil war that depicted the white supremacy across the south during 1870 and the segregation policies that impacted African Americans and became the law of Land for many years.
The black people were forced to make their living working on the land as per some historians that During the period of Great Migration, The factory wages were reported to be three times higher in urban North than that of African American working on the field in rural south just making the basis of Social and Economical injustice or Racial discrimination.
The great migration expedited as a result of World War I as the demand for industrial labour rose in North, Midwest and West as European immigration ended to the United States. The recruiters lured African Americans to come to North and West Defence Productions but still, the lower wages were awarded.
There were some riots in 1919 that lasted for 13 days and 38 People died and over 537 were seriously injured and over 1000 black families became homeless.
The Great Migration started a new era of political activism and the Civil rights movement. The Great Migration ended in 1970.
Detroit Riots of 1967
There were serious violent riots occurred between the African Americans and the city's Police department that started on July 23, 1967, and lasted for just five days. Over 43 People died that included 33 Black people and 10 white. Hundreds of people seriously injured while over 1000 were arrested and many important buildings were burnt in uprising and protests.
The cause of the riot was reported as Illegal drinking Club hours and Police raided the bar and arrested over 82 African Americans that included some war veterans. The riot was so violent that Army troops were deployed to quell the violence.
The Historical perspective heralds that the black community has always been deprived of their citizenry or civil rights and the white has always maintained their supremacy in Political Activism and Economic opportunities while the black community has always experienced the racial discrimination and social injustice.
According to some experts that current protests and riots, as well as that, happened in history carry some resemble lance based on frustration, resentment, social injustice, racial discrimination that has been caused due to the high number of unemployment or under unemployment African Americans.
The African Americans have not accepted by heart by the white community as they consider themselves superior to Black based on the colour that is unjust and against the democratic and social norms.
The World has responded to this brutal act of Police against George Floyd and demanded from the United States for Fair Trial and Exemplary punishment for the Police Official who kneeled on the neck of late George Floyd despite being aware that he would die of suffocation. Such an Inhuman act clearly shows the prejudice against the African Americans on the part of White Supremacy.
It was insensible to arrest peaceful protesters and International journalists who were covering the event. The Police Brutality went unstopped raising the concerns of the Black community. Trump has already lost the credibility to treat all the American citizens regardless of their ethnicity and the recent incidents have impacted the US relations with African nations as Trump has used derogatory remarks against Africa while china has got the leading role in Africa by investing in Infrastructure and helping African Nations with development loans and Grants.
People protesting around the world have heralded the dirty face of Trump towards black Community that has given rise to the " Black Lives Matter" Movement as protesters globally raising voice against the Police brutalities and racial Discrimination around the World.
George Floyd's death has fuelled the spirit of protesting against Social, Racial and Economic injustice against the communities globally and demanding fair Trial and equal rights for all the citizens of the state irrespective of their race, religion, colour and ethnicity.
The Racial unrests in United states as a result of Police Brutalities has impacted Globally and the protests even in Turkey and Iran show that people are annoyed at such inhuman act on the part of Protectors of Human being who are tasked to protect people rather than killing them on the pretext of racial hatred and misuse of authority.
The Police brutality has tarnished the image of the United States as a democracy since it has already lost credibility by blaming China and WHO for the pandemic. The Trump's unethical remarks asking Governors to dominate has also sparked protest and anger against such Social and Economic Injustice targeting African Americans and it has already affected its ties with African Nations.
The Career diplomats have already cautioned against racial discrimination as Trump has paralyzed the foreign Policy of the United States and has been isolated in the world.
The recent racial unrest , covid-19 situation and imprudent policies of Trump administration has paved the way for the Joe Biden in upcoming Presidential elections as America has been losing the control over the world Affair ever since it started blaming China for the massive outbreak of Covid-19 –A standoff started with trade row and ending with escalation on Covid-19 .
The Racial unrest has sparked they worldwide protests as people around the world have raised voice against the Police brutalities and demanded legislations to curb the powers of police for torturing and killing people in encounters on the basis of racism ,language , religion , caste or ethnicity .