Sixty Years and Still Growing Stronger As UN University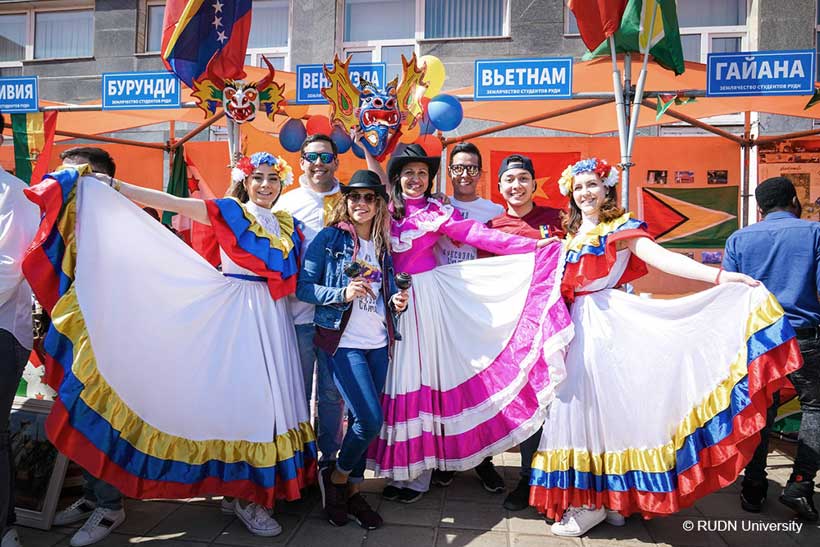 Peoples' Friendship University of Russia, one of Russia's largest internationally oriented, educational and research institutions, has marked 60th year of its establishment with series of activities including an evening of congratulatory speeches, culminating with a grand multinational cultural concert in the Kremlin.
The congratulatory messages came from the Kremlin, Russian government, Federation Council, State Duma, Ministries and Departments, Soviet and Russian Graduates' Associations in Latin America, Asia and Africa, and international organizations such as UNESCO and the United Nations.
From the highest officialdom, Russian President Vladimir Putin sent his greetings to the faculty and staff, postgraduate and undergraduate students and alumni of Peoples' Friendship University of Russia (RUDN) on the academic institution's anniversary.
The message reads: "Exactly 60 years ago, Peoples' Friendship University of Russia opened its doors to young people arriving in Moscow from the newly independent countries of Asia, Africa and Latin America, offering them a second home. I strongly believe that many graduates hold warm memories of the years they spent studying in our country, their teachers and friends.
Over these years, the university has trained tens of thousands of qualified professionals in economics, agriculture, medicine, law, history, philology and other disciplines, making a unique contribution to strengthening friendship and mutual understanding between people of various ethnic and cultural backgrounds.
It is marvellous that the university treasures these traditions and maintains a high standard of education as one of Russia's best higher education institutions. Its noble mission helps attract talented, proactive and dedicated young people from across the world who are receptive to progressive ideas and are ready to undertake advanced programmes and projects."
In a congratulation message, Antonio Guterres, Secretary-General of the United Nations, noted that the university has long been known for fostering understanding between countries and cultures.
Respect for diversity is one of the strengths. This anniversary comes at a time of test for that vital work. Today's global landscape is scared by protracted conflicts, a climate crisis and the spread of hatred and disquiet. In such times, the pursuit of knowledge remains more necessary than ever.
It is encouraging to know that the mission of "uniting people of different cultures by knowledge" echoes the aim of key United Nations initiatives, including UN Academic Impact, of which the university is a valued member.
"As we mark the 75th anniversary of the United Nations and embark on a Decade of Action to deliver the Sustainable Development Goals by 2030, we look forward to continued partnership in shaping a peaceful and prosperous future for all," stressed Secretary-General Antonio Guterres.
Professor Vladimir Filippov, Rector of the Peoples' Friendship University of Russia, traced the history of its establishment emphasizing the fact that the significant decision to establish the university was made 60 years ago. It has worked the way from a higher educational institution, mainly trained staff for developing countries to a comprehensive research university – from Peoples' Friendship University to RUDN University, the scientific and educational centre well-known and recognized in Russian and world rankings.
Today the university brings together students from 158 countries, and the number of RUDN University alumni increases by 5-6 thousand year by year, graduates work in almost all countries.
In 2020, RUDN University alumni are to hold events devoted to the RUDN University anniversary in dozens of countries of the world. RUDN University and its alumni are planting Trees of Friendship in many countries to commemorate its anniversary. Join us!
Professor Filippov concluded: "We are still young, up-and-coming and individual – our university is really the only one. RUDN University is more than just a degree you obtain, more than research, more than collaborations, more than creative environment. RUDN University generation is beyond standards, we create our own history – history of a university of the new type – We are different, we are equal, we are leaders!"
Additional historical notes: The Soviet government founded the university on 5 February 1960. Its stated objective during the height of the Cold War was to help developing nations. Many students from developed countries also attended the university. On 22 February 1961, the university was named Patrice Lumumba University after the Congolese independence leader Patrice Lumumba, who had been killed in a coup that January.
The stated purpose for establishing the university was to give young people from Asia, Africa and Latin America, especially from poor families, an opportunity to be educated and to become qualified specialists. The organizations, as founders of the university, are the All-Union Central Soviet of Trade Unions, the Soviet Afro-Asian Solidarity Committee, and the Soviet Associations Union of Friendship and Intercultural Relationship.
The university's current Russian name is "Российский университет дружбы народов", which could be translated as "Peoples' Friendship University of Russia" or, more directly, as "Russian University of the Friendship of Nations". The English-language version of the university's website, however, uses the name "RUDN University" with the acronym RUDN derived from the Russian name transliterated into English ("Rossiiskii Universitet Druzhby Narodov"). Nonetheless, it remains most common in English to use the name "Peoples' Friendship University of Russia" or the abbreviation "PFUR" used officially in official documents by RUDN.
The Role of Ideology in Foreign Policy: Why Contemporary Russia Cannot Be Compared to the Soviet Union
Ideology is a crucial component in understanding the motivation behind any individual or group of people. Realism falsely presupposes that the motivation of actors can be understood purely through the lens of survival in a limited resources zero-sum domain. At face level, this sounds rational and economic, but it should be understood that in microeconomics, even though people are assumed to always act self-interestedly, it is also understood that what their self-interest is actually composed of is ultimately subjective. Therefore, a more realistic and analytical view of realpolitik allows us to understand that the self-interest of nations is also subjective, which means that the role of ideology cannot be discounted as it pertains to foreign policy.
Throughout human history, nearly every nation has been founded for the sake of itself, even expansionist empires. A glaring exemption to this rule was observed during the Cold War, a clash of two markedly ideological countries.
The United States is a country that was founded on the ideology of humanist enlightenment liberalism and is a country whose founding was assumed to be not for the sake of themselves, but for the sake of all mankind. This was seen as early as the settling of the American continent, with John Winthrop's famous imagery in A Model of Christian Charity which portrayed the country as a moral paragon, a city on a hill for all the world to see. Likewise, this idea of liberal universalism was evident in the very founding documents of America. In the United States Declaration of Independence, the founding fathers wrote that their country was being incepted to secure the idea "that all men are created equal, that they are endowed by their Creator with certain unalienable rights, that among these are Life, Liberty and the pursuit of Happiness".
This founding ethos directly affected America's foreign policy, as America has historically occupied a position as the world's "policeman," believing that they uniquely have an obligation to defend democratic values everywhere. This rhetoric can be found exhaustively in colloquial American media, but one noticeable concrete example of it is found in George Bush's 2006 U.S. National Security Strategy, where the document states that "It is the policy of the United States to seek and support democratic movements and institutions in every nation and culture, with the ultimate goal of ending tyranny in our world".
In a similar vein, the Soviet Union was also founded upon an ideology that extended beyond its national borders. The USSR was the product of Marxist theory and was therefore not founded for the sake of national interest or nationalism, but for the sake of facilitating the international communist revolution, a sentiment captured in the final remarks of Marx's Communist Manifesto: "the proletarians have nothing to lose but their chains…WORKING MEN OF ALL COUNTRIES, UNITE!"
This created an interesting vision for communist statehood, because in the USSR, the state was not the merely the final end, as it is in many governance structures, but both an end in itself and a means to a further end. This Proletarian internationalism manifested itself into an interventionist foreign policy, one that sought to propagate communist ideology across the world and facilitate revolution. In fact, it could even be said that this was the primary function of the USSR. Even Lenin once admitted that "from the beginning of the October Revolution, foreign policy and international relations have been the main questions facing us" (Jacobson, 1994) [1].
The clash between these two ideological superpowers became physically manifest during the Cold War through various "cold conflicts" such as the Vietnam War, conflict in Angola, and Cuban missile crisis, instances when the US and USSR sought to project their values onto other nations. As can be imagined, the war made tensions very high between the two countries, and in the West, a staunch fear-based perception of Russia developed. The Cold War was portrayed in America as a fight between good and evil, and Russia was portrayed as a relentless enemy that will never back down, a sentiment which had a lasting effect on the way that Russia is viewed in the contemporary West. This impact has been so salient, that even Russia today is still often characterized as if it was some great evil, waiting for "red dawn" to arrive.
When the Soviet Union collapsed in 1991, the communist ideology that had influenced the behavior of the USSR fell with it. Without this ideological superstructure, Russia reverted back into a country that falls into a normal range of ideological behavior, determined primarily by a defined set of national interests. While the USSR and US fought for the ability to hegemonize a bipolar system into a unipolar one, contemporary Russia rejects the idea of unipolarity and seeks to coexist with other nations in a multipolar world. Russia certainly has defined geographical areas in which it has foreign interests, specifically the Eurasian sphere, but these interests are predicated on a shared history and mutual economic benefit, and not desires to imperialize.
Nevertheless, in the modern age, there are still fears about Russian imperialism and a "new cold war". Such fears come from a misunderstanding about the role of ideology in foreign policy. These sentiments demonstrate both a failure to understand the determining factor behind Soviet foreign policy—the union's ideology, and a failure to analyze a modern country independently of its ideological history. These feelings come from an assumption that Russia today has the same motivational foundation as the Soviet Union, and that is simply not true.
The ideology supporting modern Russia's foreign policy had formed largely in response to the conclusion of the Cold War, when a bipolar system was turned into a unipolar one, dominated by the United States. In this condition, the world was severely influenced by American foreign policy, military interests, politics, culture, and media, and could be defined as what many scholars would call a global hegemon. Russia considers such a distribution of power to be undemocratic and an affront to the individual autonomy of nation-states.
In his 2007 Munich address on security policy, Vladimir Putin criticized the idea of an America controlled hegemonic order when he stated that in our world, "there is one master, one sovereign. And at the end of the day this is pernicious not only for all those within this system, but also for the sovereign itself because it destroys itself from within". Another comment by Putin from around the same time period attacks this model of governance was when he stated that "(the) people are always teaching us democracy but the people who teach us democracy don't want to learn it themselves".
It was in response to this new structural backdrop, as well as increasing levels of globalization, that an ideology of multilateralism and polycentrism became the underlying motivator behind contemporary Russia's foreign policy. Russia's ideology rejects a vision of an American led hegemonic order, but also does not seek to hegemonize the order for itself either, it merely beckons for the mutual coexistence and recognition of autonomy between the world's global powers and regional subsystems.
This sentiment is captured in the words of Sergey Lavrov, the current Minister of Foreign Affairs for Russia in 2013. Lavrov stated that the world was undoubtedly moving towards a polycentric system of international relations, and that in order to ensure an equitable outcome during this transition, "fairer and more democratic systems where economic growth centers and new financial power centres should play a greater role in managing the world economy and political processes". While the moves and actions of modern Russia are often framed in a realist lens by Western critics, the underlying ideology of the Russian Federation is actually quite liberal, as Russia accepts that a multipolar world should be brokered by polycentric or multilateral means, such as the United Nations.
It would be foolish to judge any country by its ideological history. It would be intellectually dishonest to evaluate a previously religious state in the context of religious ideology after secularization. Likewise, Russia today has largely, if not completely separated from its interventionist communist past and has embraced a new vision of both the world order and its foreign policy. When evaluating contempo
1. Jacobson, J. (1994). "The Ideological and Political Foundations of Soviet Foreign Policy." In When the Soviet Union Entered World Politics. University of California Press. pp. 12.
From our partner RIAC
What Russia Wants In The Balkans
Popular narratives on Russia's geopolitical interests in the Balkans point to two rather divergent directions. One of them, inherited from the 19th-century strategic thought, says that Russia, as a landlocked empire, must expand into the Balkans, so as to gain access to the Mediterranean Sea. According to this narrative, the Balkans is treated as an empty space, regardless of the ethno-religious identity of the inhabitant population. The other one, which can be traced back to 19th-century romanticist pan-Slavism, but which has been popularized in its present form after the publication of Samuel Huntington's theory of "the clash of civilizations", says that Russia conceives of its influence in the Balkans through the cultivation of fraternal relations with the region's Orthodox Christians, using common religious identity to project its geopolitical ambitions.
Facts on the ground, however, do not support either. Russia's influence in the region, from the early 19th century to the present day, could never compete with the influence of the Anglo-French axis, exercised through the channels of Serbian and Greek nationalisms, constructed on the anti-Ottoman/anti-Islamic and anti-Habsburg/anti-Catholic foundations, in accordance with strategic interests of the two West European powers to dismantle the declining empires and transform them into a number of weak nation-states. Although these nationalist movements used Orthodox Christianity and a popular folklore motif of fraternity with Orthodox Russia as effective tools for mobilizing the targeted populations on the anti-Islamic and anti-Catholic grounds, their elites always remained clearly detached from Russia, being continuously oriented towards their true patrons in London and Paris.
The Russian motive in mobilizing Serbian nationalism in the 1990s was, of course, quite convenient for London and Paris, having concealed their continuous support to the Serbian military invasion of Bosnia and Croatia, which produced a gigantic campaign of ethnic cleansing of the non-Serb population in the occupied areas, with more than 100.000 dead and over one million expelled. That was one of the reasons why the British propaganda, both diplomatic and public, insisted on the alleged Russian support to Serbia and its military expansion as a reason why the Western powers could not intervene in the war in Bosnia and prevent further bloodshed. Another reason, much more important from a strategic point of view – indeed, the reason why the Serbian campaign of genocide and ethnic cleansing was supported by London and Paris in the first place – was the global promotion of Hungtington's theory of "the clash of civilizations" as "the next pattern of conflict". According to that pattern, future geopolitical blocs would be formed on the basis of religious identities, acting as "civilizations" in ineradicable conflicts. As a model of such conflicts at a micro-level was the one launched in Bosnia, in which Catholics, Muslims and Orthodox Christians were pushed to the point of mutual extermination, in an attempt to form "ethnically cleansed" areas. This scheme was imposed on these communities' self-appointed leaders (Izetbegović, Karadžić, Boban) by the European Community's negotiator Lord Carrington at the conference held in Lisbon in 1992, several months before the war. The widely promoted narrative of the alleged Russian support of the Serbian aggression on Bosnia, and the alleged pan-Islamic support to Bosnia's defenders (with the deliberate media characterisation of all Bosnians, whatever their religion, as "Muslims") served the purpose of transforming the world into one of clashing "civilizations". The ultimate goal was to generate an analogous conflict between Orthodox Christians and Muslims on the macro-level, which would eventually push Russia into a lasting armed conflict with the former Soviet republics populated by Muslims, and then into a global conflict with the rest of the Islamic world. Needless to say, such a development would have created a significant strategic advantage for the Anglo-American powers and a great strategic loss for both Russia and the Islamic countries.
Yeltsin's foreign policy at the time did not show too much understanding of that geopolitical game, allowing for a public image of Russia as a promoter of pan-Orthodox ideology and a sponsor of the Serbian aggression in the Balkans. However, it must be noted that Russia was not drawn into any major conflict that would fit the pattern of Hungtington's "clash of civilizations", although the local conflicts in Chechnya and Nagorno-Karabakh, in which it was directly or indirectly involved, did possess some elements of that model. In contrast, Putin's foreign policy was based on a much deeper understanding of global relations and geopolitical games at play, so that eventually the Anglo-American strategy of drawing Russia into inter-religious conflicts in Central Asia, in line with Huntington's theory, did not bear much fruit. And so did the constructed image of Russia's involvement on the Serbian side gradually wither away.
Yet, paradoxically, in the last couple of years Russia has played the role, previously insinuated by the Anglo-American propaganda, of a protector of Serbia's efforts to create a Greater Serbia out of the territories of the neighbouring countries with a Serb ethnic minority population (Bosnia, Montenegro, Kosovo).It is difficult to imagine anything more destructive for a country, which is a home to more than 190 ethnic groups, than to adopt the principle of ethnic and religious homogeneity. However, contrary to the principles of ethnic diversity applied in its own territory and in the broader area of the former Soviet Union, Russia's attitude in the Balkans has shown open support to the Greater Serbian programme of uniting all Serbs into a single, ethnically homogenous state. Russian foreign policy of open support for the Serbian efforts to cede the Serb-populated renegade province of Bosnia to Serbia is self-contradictory, to say the least. It is also self-defeating, if taken seriously and applied to Russia itself and the neighbouring countries with a Russian ethnic minority. Can anyone imagine today's Russia in permanent efforts to cede parts of all post-Soviet republics populated with Russians, so as to unite them in some mythical Greater Russia? Or, can anyone imagine Russia attempting to ethnically cleanse its own territory, so as to expel or exterminate all those 190 ethnic communities, in the name of an ethnically homogenous Russian nation-state? Of course not. Yet, that is precisely the policy of Serbia towards its neighbours and towards its own population that Russia now openly supports on the international scene. Therefore, one has to rightfully ask, what is it that Russia wants in the Balkans?
In the first place, it is highly questionable how influential Russia really is in Serbia, despite its public support for it. For, the very existence of Serbia, from a semi-autonomous principality within the Ottoman territory in the 1830s to the creation of the Kingdom of Serbia in 1882 , to its expansion into other South Slavic territories in the form of the Kingdom of Serbs, Croats and Slovenes (later, the Kingdom of Yugoslavia) at the Versailles Conference in 1919, always had explicit support by London and Paris. The dissolution of the communist Yugoslavia, which Serbia used as a convenient opportunity to implement the Greater Serbia programme, was also clearly backed by London and Paris, with no relevant participation by Moscow. Under these conditions, it is difficult to imagine a strategic shift from the centuries long Anglo-French influence to that of Russia. It is also difficult to identify Russian strategic interests in the Balkans, given that Russia's foreign policy was not designed to exert control in the zones outside the territory of the former Soviet Union.
Yet, if Russia has no real influence on Serbia, then the current Russian support of Serbia's continuing hostile policy towards its neighbours may well be a simulation of influence. Even if such a simulation cannot deceive the foreign policy circles in London, which are quite familiar with the extent of their long-term control over Serbia, it may well deceive such circles in Washington, which are commonly persuaded that Moscow's influence can be detected everywhere. For what purpose? If the Balkan region is of strategic importance for the US, not only as a link between the West and the Middle East, but also in terms of its natural resources (e.g. Kosovo), then the simulated Russian influence in the Balkans might serve as a leverage against the American influence in the zones of true strategic importance for Russia. What first comes to mind, of course, is Ukraine and its aspirations to join NATO: if a tactical simulation of Russian influence in the Balkans, as a zone of traditional strategic influence of the West, turns out to be successful, then it might be possible to push Washington to reduce its ambitions in Ukraine and leave it outside NATO structures.
There is also another purpose for which such a simulation might serve. Not so many analysts, diplomats or politicians are aware of the tacit strategic alliance between Russia and Turkey, which has elevated Turkey to the status of a great power. This alliance has already been tested in Libya, Syria, and Nagorno-Karabakh. In Libya, Russia and Turkey simulated a possibility of mutual military confrontation, each supporting one of the warring parties, while in reality they agreed to divide the spheres of influence, using the Libyan warring parties as their respective proxies. In Syria, under the pretended confrontation, the new allies also divided the spheres of influence. Still, the most interesting game was played out in Nagorno-Karabakh, where Turkey openly supported Azerbaijan in its efforts to restore sovereignty over this region. On the other side, Armenia was persuaded by Western powers, namely France, to go into the war over Azerbaijan's region under the pretext that Russian military support to Armenia was a geopolitical inevitability. However, Azerbaijan, with Turkish military support, took the region over, with no resistance on Russia's part. Russia thus returned to the principle of inviolability of post-Soviet borders and finally abandoned the principle of ethnically homogenous greater states, advocated by Armenia and its patrons in Paris and London. Is there a possibility for Russia and Turkey to play a similar game in the Balkans? Is there a possibility that Russia and Turkey want to generate an illusion among the Serbian nationalist elites that Russia would unquestionably support their attempts to cede parts of Bosnia and Kosovo, at the same time leaving Turkey with a free hand to extend its military support to Bosnia's and Kosovo's efforts to prevent Serbia from questioning their sovereignty? Is there a will in Russia to return to the principle of inviolability of borders in the Balkans, too, thereby abandoning the principle of ethnic homogeneity advocated by Serbia and its sponsors in London and Paris, the most harmful principle for Russia's own interests? Is there a will in Russia to follow its own geopolitical interests, in cooperation with Turkey, along the same lines and with the same implications as in Nagorno-Karabakh? Really, what is Russia doing in the Balkans?
Brewing Instability Following Navalny's Imprisonment
The fuming tensions in Russia post the arrest of the championed Kremlin critic, Alexei Navalny, have entered a catatonic phase as the Moscow court, on Tuesday, sentenced Navalny to a 2.5-year prison in reference to a suspended verdict in 2014. Despite of the suspected nature of the outcome of the court proceedings, a new tremor of protests in support of Navalny is expected to surge the already alarming situation in core Russia. Since the entire trial has been realised as a systematic scheme to bring down the biggest Kremlin critic of the decade, the decision is hardly expected to be well received amidst the blooming supporters turning aggressive day by day.
Alexie Navalny is a widely acclaimed blogger and a political activist running campaigns against the Putin-regime. Navalny has been the prime political rival to Vladimir Putin for a long span of time: a decade long period of leading processions over alleged rigging claims to exposing corruption and embezzlement in government records. His most famous campaign came out to be in 2019 when massive waves of protests sparked over the elections being shaped in support of Putin. Navalny has also brought use to his colossal following online; his exposé video depicting the luxurious Palace as the property of Putin resulting from high-end corruption scandals has gained more than a 100 million views. The sheer drive of Navalny to dethrone Putin has accumulated support over the last few years primarily due to the relentless yet failed attempts of the Russian regime to detain him despite his acquittal in 2014.
Navalny inspired the contemporary opposition against Putin, his words putting direction to his supporters: "He [Putin] can pretend to be a great politician but he will go down in history as a prisoner". In line with this vision, Putin has been popularly been known as 'fearing' the advancing opposition. Navalny was allegedly poisoned last year, whilst he returned from an investigation in Siberia. Navalny accused the Russian regime; Putin to be specific, for deploying state intelligence agencies to exterminate him by 'Poisoning his underwear'. However, whilst his accusations were repeatedly met with denial and subsequent warnings from the Kremlin, his imminent visit was being awaited. After spending 5 months recovering in Berlin, Navalny finally returned to Moscow late last month to 'Lead the opposition from the roads of Russia'. However, Navalny was detained from the Moscow airport leaving his supporters under frustration and outrage.
Over the past few weeks, protests have poured all over Russia; mounds of supporters arching the motto 'No fear'. Even Navalny pressed on in his trail during his court proceeding; claiming this exercise as a political ruse to underwhelm him and his supporters. In spite of multiple warnings from the Russian authorities, protestors in copious groups have gripped hold of the streets of Moscow with more than 5600 arrested including top journalists and members of Navalny's group. The situation is distending beyond Russia with the recent expulsion of the diplomats of Germany, Poland and Sweden followed by a coordinated retaliation from the respective countries ousting out the Russian diplomats. With worsening relations with Europe and the European Parliament to convene on slapping sanctions on Russia coupled with a stoppage on the Nord Stream project, the Kremlin regime is constricted to make fluent decisions instead of feigning justification.
Now with the prison sentence of Navalny in action followed by an aggressive response of the Russian government, not only an implosive response of the protesters is on-cards, but even the Newly-elect US government may cause foreign policy problems as could be gauged from the recent statement of the US Secretary of State, Antony Blinken: "The U.S. condemns the persistent use of harsh tactics against peaceful protesters and journalists by Russian authorities for a second week straight. We renew our call for Russia to release those detained for exercising their human rights, including Aleksey Navalny".