Renaissance New York Chelsea Hotel: Inspiring Spontaneous Discoveries at Every Turn
Renaissance New York Chelsea Hotel officially opens its doors today as one of the tallest properties in Manhattan's Chelsea neighborhood. Rising an impressive 39 floors at 430 feet high, the brand's first hotel in Chelsea is crowned with one of the highest rooftop pools in the city, offering unparalleled 360-degree views.
Located on the former site of the iconic Antiques Garage flea market, the hotel pays homage to the site's history and the area's charming antique shops with a theatrical design concept by architecture and interior design firm Stonehill Taylor. Drawing inspiration from the surrounding neighborhood, spaces within the hotel aim to surprise and delight guests with unexpected moments, each thoughtfully designed to tell a story.
"Renaissance New York Chelsea Hotel encourages guests to discover this iconic location with a sense of reimagined curiosity," said George Fleck, vice president of global brand marketing & management, Renaissance Hotels. "This new hotel, coupled with our significant growth and renovation strategy in North America, further reinforces our brand's global commitment to ensuring that guests experience the DNA of the neighborhood through our dramatic design and engaging guest experiences – ultimately leaving with a new appreciation of the destination."
Renaissance New York Chelsea Hotel is the latest hotel to debut under the brand's growing North American portfolio which includes recently opened hotels in Philadelphia, Toledo, Reno, Dallas and Newport Beach, as well as renovated properties in Los Angeles, Minneapolis and Palm Desert, among others. Additionally, the brand is set to grow its New York City footprint two-fold over the next two years with highly anticipated openings in both Flushing and Harlem.
"Every detail of this hotel ties back to Chelsea's renowned artistic and eclectic personality," said Chris Rynkar, General Manager of Renaissance New York Chelsea Hotel. "There is truly no other property like this one. Our guests have access to new, stunningly appointed amenities and accommodations, but also a connection to the neighborhood, which is an integral part of a Renaissance Hotels stay."
A Hidden Retreat in the Concrete Jungle
Underscoring Renaissance Hotels' unexpected design aesthetic, Stonehill Taylor created an escape that plays on the contrasting dichotomy of the hotel's industrial, antique and floral market surroundings to create the illusion of walking through a secret garden. The hotel's top-floor exterior features a sleek, modern glass facade, while the entrance embodies the look and feel of an English manor. Behind a stone-walled arcade entry lays a private, open-air courtyard studded with lush foliage and seating for guests to lounge.
Tapped to curate the hotel's collection of artwork, art consultant Indiewalls led a massive two-story installation of antique knobs, locks and keys created by local artist Laura Morrison that takes center stage as the backdrop to the lobby staircase. As guests pass through the space, they are encouraged to touch and interact with these whimsical wares. Indiewalls also oversaw mixed media artist Liam Alexander's creation of various video art moments throughout the hotel, reflecting inspiration from the flower district and flea market concepts in the surrounding locale, eliciting the feeling of a "living painting." Trellage-Ferrill Studio fabricated custom pieces like a collection of upside-down bird cages, as well as a large pendant at the elevator lobby inspired by a bird's nest to pique the curiosity of travelers. Inside the elevator cabs, leather tiles made from vintage belts coat the walls, adding intrigue of the hotel's overall design.
Earth tones dominate the color palette of the 341 guest rooms and suites. Interiors are outfitted with wood-paneled printed wallcoverings and unexpected playful touches include gnome desk lamps and rabbit coat hooks. Guest bathrooms evoke a quaint garden shed with concrete sinks, porcelain tiles and mirrors etched with silhouettes of wildflowers. Suites on the fourth and 36th floors are distinguished by their 14-foot high ceilings. A focal point of each suite is a floor-to-ceiling framed wallcovering art installation of a magnified peacock feather, as well as an oversized mural of a woman's silhouette comprised of fuchsia roses by artist Sara Byrne.
A Twist on Traditional Italian Cuisine
Chef Fabrizio Facchini brings a bold twist on authentic Italian cuisine in the hotel's restaurant, Cotto, set to open in the early spring. With 10-foot-high, floor-to-ceiling windows, the airy restaurant will feature an indoor family-style dining room and lounge as well as a 14-seat bar surrounded by a framed picture collection of vintage oddities. Exposed wood beams run across the ceiling and down the walls, which are peppered with mason jar sconces, a romantic reference to firefly jars placed in a secret garden.
Serving daily breakfast, lunch, dinner and weekend brunch, specialties will include burrata al tartufo with freshly shaved summer truffles and paccheri al pistachio di Bronte with a creamy saffron sauce and pistachio pesto. In addition to an extensive list of wine and spirits offerings, Facchini has developed an innovative mixology experience incorporating a selection of spirits, fruit, and herb-infused ice cubes into the restaurant's cocktail programming.
Evenings at Renaissance New York Chelsea Hotel
In the lobby area near the bar, the hotel hosts Renaissance's signature bar ritual four times per week, featuring a complimentary, locally inspired punch cocktail prepared by the hotel's resident mixologist. Guests will also be treated to weekly activations and performances by local musicians and artists alike as part of the brand's Evenings at Renaissance programming, providing them with an even deeper connection to the neighborhood.
An Urban Oasis, 430 Feet in the Air
The bi-level lounge and rooftop pool, Somewhere Nowhere, welcoming guests in the coming months, will offer an escape from the busy streets of Manhattan. The indoor lounge on the 38th floor will be accessible via a hidden, ground-floor passageway – a repurposed loading dock transformed with spray-painted murals of fireflies and mischievous gnomes, neon signs and old-fashioned lantern sconces – that leads to an elevator transporting guests to the 38th and 39th floors.On the 39th floor rooftop terrace, guests will enjoy one of the highest open-air pools in the city showcasing 360-views of Manhattan's majestic skyline. Somewhere Nowhere will be open seven days a week and is operated by El Grupo SN.
Sun-Drenched Meeting & Event Spaces
The hotel boasts 7,326-square-feet of flexible event space,including Somewhere Nowhere. The 2,170-square-foot Cardinal Ballroom, drenched in natural light, features floor-to-ceiling windows that open out to Juliet balconies with city views. The ballroom, with a maximum capacity of 200 people, is ideal for weddings and galas, but can also be split into two separate rooms for smaller conferences. A grand, yet intimate atmosphere, Cotto's private dining room is defined by an arched doorway, playful garden string lights, antique rugs and dried moss encased in antique gilded frames on the walls. The dining room's greenhouse-esque glass wall folds open to provide complete access to the restaurant's rear garden. R.E.N. Meetings, Renaissance Hotels' creative meetings platform, provides planners with a dedicated event team that will bring events and meetings to life using the storied neighborhood of Chelsea and the flexible event space as inspiration – from the styling of each space, incredible locally sourced catering and turnkey social breaks to inspire and motivate networking among guests.
Access to the Thriving Chelsea Neighborhood
Guests are encouraged to explore the surrounding area and can engage with Renaissance Hotels' Navigators, the brand's neighborhood ambassadors who are on-hand to share hidden indigenous gems not found in the guidebooks.
Located at 112 W. 25th Street between 6th and 7th avenues, the hotel is steps from some of the area's most in-demand spots, such as Chelsea Market and The High Line. The property is within walking distance to the 1, 2, N, Q, R, W, A, C and E MTA subway lines, as well as New York Pennsylvania Station.
Hyatt Announces Plans for its First Hotel in Cyprus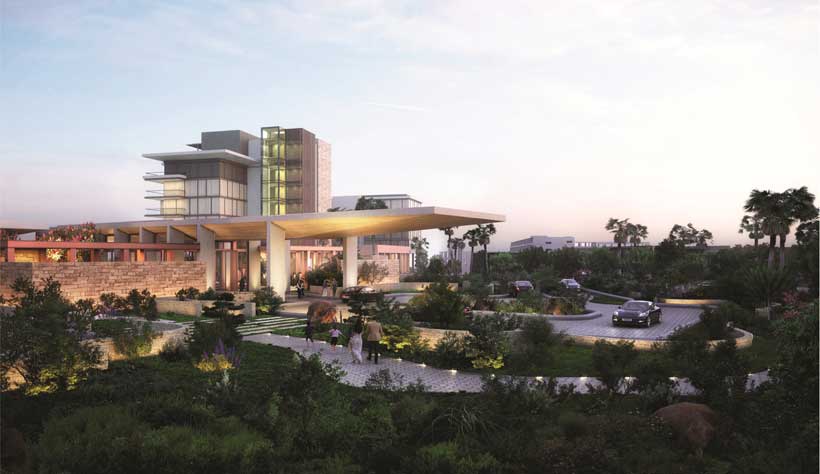 Hyatt Hotels Corporation announced today that a Hyatt affiliate has entered into a management agreement with Anolia Holdings Limited for the first Hyatt hotel on the island of Cyprus, Grand Hyatt Limassol. The 300-room luxury resort is expected to open in 2025 and signifies Hyatt's continued growth into Europe's leading travel destinations.
The new-build beachfront resort will be situated at a Blue Flag beach east of Limassol, one of the island's most cosmopolitan cities. With a prime beachfront location on the southern coast of the island and 300 bold, light-filled rooms offering sea views, Grand Hyatt Limassol will be a captivating destination within a destination featuring a stunning 43,000-square-foot (4,000 square meter) beach club including premium spa and fitness facilities as well as an indoor pool and two outdoor pools. The resort will additionally offer five elevated food and beverage concepts as well as 15,000 square feet (1,400 square meters) of event space. Furthermore, Grand Hyatt Limassol will be a key element of Zaria Resort, a mixed-use luxury development, comprised of residential apartments and private villas totaling more than 861,100 square feet (80,000 square meters).
"We're delighted to work with Anolia Holdings Limited to bring the Grand Hyatt brand, known for its access to iconic locales, to the island of Cyprus, one of the most popular tourist destinations in Europe," said Takuya Aoyama, vice president development for Europe and Africa, Hyatt. "Grand Hyatt Limassol represents a key element of our growth strategy in Europe as we continue to seek opportunities to extend our resort footprint in the Mediterranean."
Only a 30-minute drive from Larnaca International Airport, the hotel will bring with it the exceptional brand of luxury and vibrant design that the Grand Hyatt brand delivers to guests worldwide. Arriving guests will drive past the lush greenery of the hotel's 150,000-square-foot (14,000-square-meter) public garden and promenades and enjoy a spectacular view of the Mediterranean. The resort promises to be a celebration of all the exquisite details of Cypriot culture, offering guests a stay beyond the ordinary through magnificent moments of more and superior service.
"We are thrilled to team-up with Hyatt on this development," said Alexander Iakovlev, director of Anolia Holdings "The Grand Hyatt brand is synonymous with luxury and creating unique experiences for guests which remain authentic to the destination itself. In addition, given Limassol's status as a financial capital of Cyprus, the hotel will not only attract leisure guests but may also prove popular for business travelers, conference-goers and event attendees. We are eager to see Grand Hyatt Limassol become the heart of the Zaria Resort development."
The announcement of Grand Hyatt Limassol follows a significant expansion in Hyatt's brand footprint in Europe over the last 12 months. Nine new hotels including Great Scotland Yard, Hyatt Centric Dublin, Andaz Vienna Am Belvedere, Hyatt Regency Chantilly and more opened in the region in 2019, with four more additions in Barcelona, Manchester and Frankfurt this year. These plans for a hotel in Cyprus represent a key opportunity in Europe as it builds upon Hyatt's existing and upcoming portfolio in Malta, Athens Thessaloniki and Izmir. The island has furthermore proven to attract travelers from Hyatt's key strategic markets including the UK, Russia, Greece, Germany and the Middle East.
Expansive Gaylord Hotels Re-Open Marking a Positive Return for the Hospitality Industry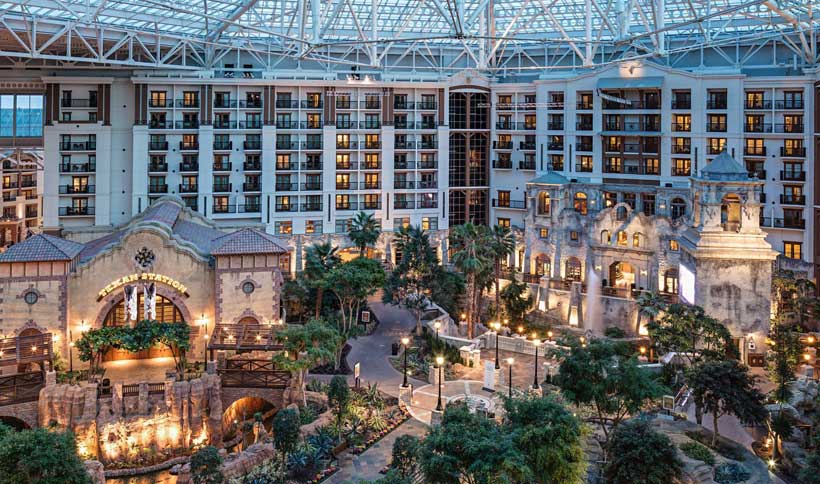 Today marks a significant milestone in the return to business of the U.S. hotel industry, as three sprawling resorts reopen their doors. Ready to welcome back travelers this summer, Gaylord Rockies in Colorado, Gaylord Palms in Florida and Gaylord Opryland in Tennessee join the recently opened Gaylord Texan to offer four hotel and entertainment destinations that provide a multitude of experiences within acres of indoor space as well as outdoor pool play. Diverse summer programming includes family-friendly activities and live entertainment for all ages while socially distanced; the hallmarks of what consumers need from a summer escape in today's travel environment.
In accordance with Marriott's "Commitment to Clean" protocols, the resorts will provide enhanced cleaning technology, hospital-grade disinfectants, attendants dedicated to sanitizing frequently throughout the day, new social distancing protocols, and hundreds of new cleaning processes to take care of guests while they enjoy the resorts' amenities. Additionally, the Gaylord Hotels ownership group, Ryman Hospitality Properties, Inc. selected Vanderbilt University Medical Center, a leader in medical research, as its official wellness advisor. These combined efforts will further support the multi-phased health and sanitation plans, procedures, and employee training.
Frequent guests of Gaylord Hotels also know the brand to have phenomenal convention and meeting space. As the meetings industry focuses on the right way back to business, Gaylord Hotels have taken the opportunity to introduce new processes that will help meeting planners understand and navigate what business gatherings could look like in the months ahead. Each property has 400,000 square feet or more of meeting space, and as events reschedule, the hotels are working with groups to embrace and incorporate new technology such as live streamingand contactless options. Marriott's Meeting Services App allows meeting planners to request meeting room adjustments like temperature, set up and audio visual services, as well as review billing, and Marriott Bonvoy Members can access Mobile Check-In via the Marriott Bonvoy app. Gaylord Hotels' new meeting and event protocols include changes to banquet guidelines and meeting space. Banquet food and beverage standard updates include the elimination of self-service buffets and reduced seating at dining tables from 10 persons to six. Meeting space guideline changes include reduced capacity, adding chair space for theater style set ups, and additional sanitization of all meeting room touch points, hard services and chairs.
"The reopening of the Gaylord Hotels marks a key moment for the industry. These remarkable hotels have customized programming for guests, plenty of space and are innovating with technology appropriate for the times," said Mike Stengel, Senior Vice President of Gaylord Hotels at Marriott International.
Providing "everything in one place" for visitors, Gaylord Hotels are delivering re-imagined summer experiences and amenities to meet the demand of drive-market leisure travelers. Highlights of these summer offerings include:
Gaylord Rockies – Aurora, CO
Visitors will experience a summer escape full of adventure, from a Colorado Explorer Scavenger Hunt where children and adults alike become real-life explorers, to the Grand Lodge featuring a winding walkway, tranquil lake and bubbling rapids. The resort's water experience, Arapahoe Springs, features indoor and outdoor pools, three waterslides, and a 720-foot long lazy river.
Gaylord Palms – Kissimmee, FL
Guests can relax and soak up the Florida sun at Cypress Springs Water Park featuring a zero-entry swimming pool, multi-level water playground, racing slides, drop slide and FlowRider® surf simulator. In addition to spaced pool seating, guests can rent private cabanas that include shaded seating, flat-screen televisions, refrigerators and snacks. Premium guaranteed pool seating will also be available for purchase.
Gaylord Opryland – Nashville, TN
Visitors of the "Music City" resort will be entertained by live musical performances, fountain and light shows, indoor flatboat rides, garden tours, scavenger hunts, and golf at Gaylord Springs Golf Links. Guests can also book packages that include access into SoundWaves™ Water Attraction, a 4-acre upscale indoor/outdoor resort water attraction featuring a wave pool with 37-foot video screen, double FlowRider® surf stimulator, multi-level play structures, lazy rivers, multiple winding waterslides and adults-only exclusive pools and bars.
Gaylord Texan – Grapevine, TX
Guests can splash into Texas-size fun at Paradise Springs, a 10-acre outdoor pool complex offering a 600-foot long lazy river, 6,000-square-foot family lagoon, multi-level water playground, zip-lining, multiple winding waterslides, and plush private cabanas for rent. Summer activities include canvas painting, morning yoga, live music performances, scavenger hunts and more.
In addition to the family-friendly events and outdoor pools, each of the four reopened Gaylord Hotels provide acres of airy indoor atriums under soaring glass ceilings, kept at a comfortable 72 degrees, where visitors can roam, play, and discover lush gardens and waterfalls – all while supporting social distancing protocols.
The Ritz-Carlton, Nikko Opens its Doors Amidst a UNESCO World Heritage Site in Japan
The Ritz-Carlton Hotel Company, L.L.C today announced the opening of the latest hotel to join its luxury Asia Pacific portfolio, The Ritz-Carlton, Nikko. The property – set amidst a UNESCO World Heritage Site – introduces a new level of luxury to the destination, with an experience marked by an emphasis on immersing oneself in the majestic natural surroundings.
Ideally located in the Northern Kanto region of Japan, The Ritz-Carlton, Nikko is set two and a half hours north of Tokyo, accessible by rail or car, and is a true oasis promising access to a breadth of outdoor activities and cultural experiences. It features many natural treasures including the Kegon Falls and an array of famous Buddhist temples and Shinto shrines. Nikko, and the surrounding area, has long been known as a holy place and was named a UNESCO World Heritage Site for the cultural, religious, and architectural significance of its richly decorated shrines and temples. Perched along Lake Chuzenji and Mount Nantai, guests can easily access prominent scenic attractions, such as Nikko National Park, where the hotel is located, as well as the UNESCO World Heritage designated area.
"Following much anticipation surrounding its debut, we are thrilled to finally open the doors to The Ritz-Carlton, Nikko and to continue the growth of the luxury segment in Japan," said Rajeev Menon, President Asia Pacific (excluding Greater China), Marriott International. "Today marks an extremely monumental day for our brand and the entire company as we set the bar in luxury travel, embracing the new normal, while consistently instilling confidence in travel amongst all of our guests."
Taking cues from its picturesque surroundings, the hotel articulates graceful Japanese design through a modern lens to bring the natural beauty of Nikko indoors. Earthy materials such as woods and stones permeate the property and are enhanced by streaming natural light. The hotel's 94 spacious guest rooms and suites all feature a private balcony that flows seamlessly with an engawa lounge area, offering an expanded space for guests to take in the striking scenery surrounding the hotel.
Though nature takes center stage at The Ritz-Carlton, Nikko, Japanese tradition and craftsmanship guide the property's four distinct dining experiences: The Japanese Restaurant offers all-day dining and showcases the vibrant elements of Japanese cuisine; Lakehouse uses fresh, local ingredients to create imaginative Western dishes in a tranquil setting; The Bar, is a sophisticated haven of relaxation where local ingredients are highlighted in original cocktails celebrating the culture, nature and spirituality of the ancient city; and The Lobby Lounge is the ideal place to unwind, where visitors can enjoy light bites and Afternoon Tea overlooking a picturesque garden. Ingredients from local purveyors find their way onto plates and into glasses, with every dish and drink a reflection of the culture's appreciation for beauty and design. This acknowledgement is further showcased by exclusively crafted pottery by the well-established Mashiko pottery artists, GENDO, or by traditional wood carving motifs created by the first female wood carving artists in the 400-year history of the shrines and temples.
An urban sanctuary of wellness, the Spa at The Ritz-Carlton, Nikko showcases treatments inspired by the abundance of natural revitalizing elements and the rich heritage of the Nikko region within four specialized treatment rooms. The hotel is the first Ritz-Carlton property to feature an authentic hot-springs experience in the Japanese onsen tradition. Guests are invited to enjoy the spacious indoor and open-air hot spring baths, where therapeutic thermal waters drawn from the springs of nearby Yumoto Onsen will rejuvenate their body and mind. The onsen experience promises the ultimate holistic journey, with a secluded tension-melting soak before any of the supremely relaxing and personalized treatments.
Guests of The Ritz-Carlton, Nikko will feel embraced by the traditions and practices of the local culture and surrounding natural environment, and enjoy the highly tailored and authentic service for which the brand is known. Further enhancing the hotel's meditative and spiritual setting, guests are invited to participate in a nightly meditation. Every day at dusk, the lobby area will be transformed into a place of spiritual respite, offering a moment to reset and appreciate the day that has passed. Upon departure, guests will receive a sacred omamori (Japanese amulet), their own keepsake memento and a wish for safe travel.
Taking full advantage of its location within Nikko National Park, a destination revered for its scenic beauty as well as the splendid architecture of its UNESCO-designated Shinto shrines and Buddhist temples, the hotel offers a wide selection of activities that showcase the unique offerings of its highland setting. Visitors can choose from a collection of unforgettable excursions ranging from cycling through protected wetlands, to strolling through the precincts of centuries-old sanctuaries, meditating under waterfalls, ascending their frozen cascades in winter, and more. Entwined with local culture, the hotel also offers guests the opportunity to master the Japanese skill of furoshiki wrapping, witness a mystical temple fire ceremony or enjoy the sounds of drums and Japanese flute music at a sacred ritual ceremonial dance. Spanning nature, culture, spirituality, and Ritz-Kids programming categories, there is something for curious explorers, thrill-seekers and everyone in between.
"We are thrilled to be able to offer an elevated level of luxury and the first of its kind to be located in the sublime mountain region of Nikko," said Jennie Toh, Vice President, Brand, Asia Pacific, Marriott International. "Our Ladies and Gentlemen at The Ritz-Carlton, Nikko are looking forward to welcoming guests and providing enriching, authentic experiences that truly embrace the local culture and destination."