Since those days when it emerged from the ruins of the Yugoslav federation as an independent state, Republic of Croatia had 4 Presidents – 4 men and a Lady President. The first one whom only death, in the opinion of many, saved from the International Hague Tribunal, but who is still (or because of that?) called by his admirers "Father of the Nation" was a self-proclaimed "Mesiah", who although "only" a President acted as master and commander. One of his closest collaborators remembers how Franjo Tudjman asked him once: "To whom should I leave Croatia?" For a monarch without heirs from the 19th century a quite appropriate question. But, for the President of a modern state that found its way to the international scene at the very end of the 20th century – unthinkable!
On the wave of the desire for changes, which grew more and more as dark sides of the war for independence and of the privatization and transition started (but only started) to emerge, Tudjman was after his death succeeded by a former highly positioned politician of his Party who broke all ties both with Tudjman as well as with the Croatian Democratic Union (HDZ), because he could not and would not support their policy towards Bosnia and Herzegovina. Before doing that he, alas, following the official HDZ policy, gave a couple od "antologic" statements which he found himself in a position of explaining even after years. However, Stjepan Mesić displayed enough honesty and political courage to admit these statements and escapades and to apologize for them, saying they were wrong and out of place. He won the presidential elections twice and although he is by his enemies from the right still branded both as a clown and as a traitor, he initialized key processes aimed at putting Croatia on the world scene again, after it was, at the end of Tudjman's rule, practically put into international isolation because of his policy towards minorities, especially the Serb one, and to human rights in general.
Mesić opened the way for returning antifascism (although already put into Constitution) to the place it deserves in the Croatian society; without any reservations he labeled fascism and its Croatian version (Ustasha) as evil and as a crime; he opposed the historical revisionism that was present from the very beginnings of the Croatian state; ha changed the attitude towards minorities, in the first place, the Serb minority and he favored the return to Croatia of those Croatian citizen of Serb origin who fled the country during the war; he laid foundations for a everyday's normalization of the relations in the region; he opened Croatia to the world, presenting it as a partner willing to cooperate on the terms of full equality with everybody. Despite diminished powers, because Croatia switched after Tudjman's death from semi-Presidential to parliamentary system, he knew how to resolutely say "no", when Croatia's interests were at stake (for example resisting the pressure to make Croatia part of the so called Coalition of willing put together by the US for the purpose of invading Iraq). And he never ceased repeating that he is a citizen-President whose job is not to rule, but to serve.
After his 10 years in office a new tenant came into the Office of the President – university professor and composer, candidate of the left, Ivo Josipovic. There can be no doubt that he too wanted to be a "real President", that he even had some ideas how to do this (let us forget his statement that he intends to compose an opera, while being President), the fact remains that he – objectively – managed to halt or to freeze many of the positive processes started by his predecessor; though at the same time some of them he simply copied, repeating for example in the Israeli parliament the excuse, on behalf of the Croatian state, for the crimes committed by the Ustasha against Jews. If he is going to be remembered for anything, it will be for being a weak President, who – by not being able to define himself and by not understanding what politics is all about, practically put in the position of the President Kolinda Grabar Kitarovic. Because, apart from the HDZ voting machinery, people did not vote for her, wanting just her as the new President, but because they were, to put it mildly – fed up by Ivo Josipovic. He did not know how to make real contact with citizens (contrary to Mesic, who was a virtuoso in doing this) and the citizens did not understand him – for example when he announced that he will run for the second term with he concept of a new Constitution.
The first woman-President in the short history of Croatia, presented a respectable C/V (minister for European Integration, Foreign minister, ambassador to the US, assistant to the Secretary General of NATO). But, very soon it became apparent and it remained apparent through her 5 years in office that she came totally unprepared and unfit for the position. She was intoxicated by the ceremonial accompanying the position of the President, she was literally in love with the military component of the function (although the President is the Supreme commander only in times of war), she loved uniforms and weapons and, above all – she was obsessed – by moving her Office from one town to the other (together with a ceremonial military unit that was present during the playing of the national anthem and raising the flag upon her arrival; in normal circumstances it is just the President visiting this or that town, or region of Croatia, which was – but without the pomp upon which she so insisted – done by Mesic, by Josipovic, even by Tudjman.
She will be remembered by stubbornly repeating some notorious lies (such as that Croatia/Yugoslavia was behind the Iron Curtain, or that Croats were not allowed in times of Yugoslavia to call themselves as Croats, or that the Ustasha salute (For homeland – ready) was an ancient Croatian salute (here she eventually admitted, most probably under pressure from outside, that she was wrong, blaming one of her advisers for this!). She will not be remembered for her policy, even not for the "3 seas concept" she so loved to speak about, although it is not her concept at all. But she will be remembered as an enthusiastic cheer leader during the World soccer championship, as somebody who embraced sweaty soccer players in their wardrobes and – as her term in office started to come close and closer to its end – as somebody who liked to sing in public (even "discussing" this with some media, objecting that they reported she does not know how to sing, although – she said – "I sing well"). Finally she will be remembered by a series of public appearences which made many people to raise their eyebrows and than to start laughing at her ("My friend, the American general", or "they say it's not possible, but I tell you it is possible; I have already arrangements with certain foreign countries that Croats will go there for schooling, return after that to Croatia and work on-line from their homes for 8.000 Euro monthly", ending with "I will stay in Croatia, although I have offers from all around the world". She loved to sing a song whose text portrays part of Bosnia and Herzegovina as Croatia, she boasted that the pop-singer, icon of the political right whose most popular song begins with the Ustasha salute "For homeland – ready!" is her favorite singer, and let us stop here, although there would be much more. She missed no opportunity to equale antifascism (calling it communism) with fascism and she loved to remember how both of her grandparents were partisans, but turned into anticommunists right after the victory in 1945. About her being sent to school in the US she said that her father sent her there and not Tito ("forgetting" that Tito was at that time several years dead already).
She made peace with the HDZ prime minister, because she needed her party's support in the election campaign. All the HDZ politicians started to repeat, as parrots; "She will win!". She lost. If she manages to get into history, than history will remember her as somebody who transformed the role of the President into a stage act and managed, instead of policy that should be waged at the top of the state, to present a rather bad "patriotic" reality show.
It is high time for "realpolitik" to replace this reality show. Yes, we might expect some surprises from the President-elect too, some of them might not please those who voted for him. But, one thing is sure; because of Zoran Milanović nobody who really cares for Croatia and for Croatia's reputation in the world, will not blush, or feel ashamed (which was not the case in previous 5 years). Milanović in not an "unknown", both in Croatia and in the world, neither as a person, nor as a politician (chairman of the Social-democratic party, Prime minister). It is a known fact that he too, sometimes, speaks and even acts faster that he thinks, putting himself in the position to explain afterwards what he really wanted to say or demonstrate (the most benign example is his jumping from a APC and falling to the ground before TV cameras, and saying laconically only: "I wanted to boast".
In retrospect: the first "mesianic" President saw himself as the owner of the country and behaved accordingly. The second, and history will one day admit this, was a President, as Presidents should be. The third did not know how to be the President and the fourth, the Lady President, understood and performed her duty as a cheap reality show. One should hope, the time is ripe for a "realpolitiker", someone who is fully aware of the fact that he is the President of a small country, but at the same time aware of its (meaning his) responsibility for the state of democracy in Croatia, for the situation in the region and for Croatia's place in the world. Voters do remember Milanovic from previous times. So it is no surprise that on internet one can read such a commentary: "Good luck, don't slip, because we will not forgive."
Europe tells Biden "no way" to Cold War with China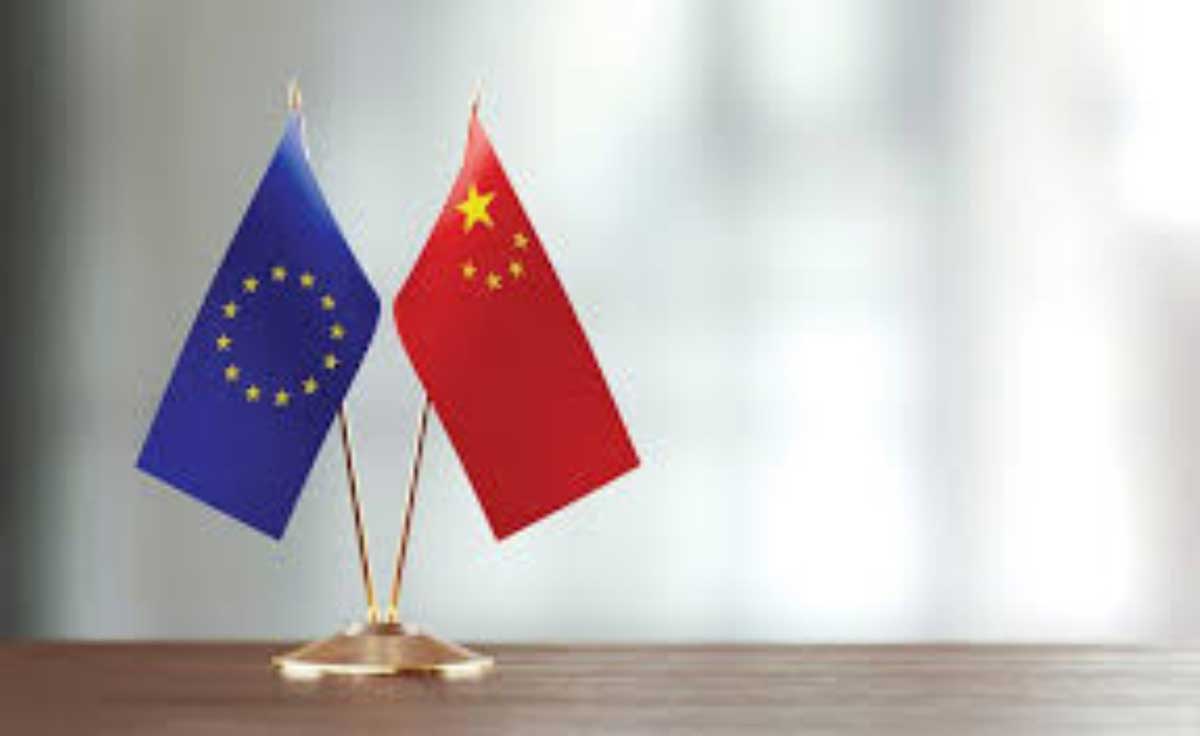 Amidst the first big transatlantic tensions for the Biden Administration, a new poll shows that the majority of Europeans see a new Cold War happening between the United States and China, but they don't see themselves as a part of it.
Overwhelmingly, 62% of Europeans believe that the US is engaged in a new Cold War against China, a new poll just released by the European Council on Foreign Relations found. Just yesterday US President Joe Biden claimed before the UN General Assembly that there is no such thing and the US is not engaging in a new Cold War. So, Europeans see Biden's bluff and call him on it.
The study was released on Wednesday by Mark Leonard and Ivan Krastev at the European Council on Foreign Relations and found that Europeans don't see themselves as direct participants in the US-China Cold War. This viewpoint is most pronounced in Bulgaria, Hungary, Austria, Portugal and Italy, according to the study. The prevailing view, in each of the 12 surveyed EU member states, is one of irrelevance – with respondents in Hungary (91%), Bulgaria (80%), Portugal (79%), and Austria (78%) saying that their country is not in a conflict with Beijing.
Only 15% of Europeans believe that the EU is engaged in a Cold War against China. The percentage is so low that one wonders if there should even be such a question. It is not only not a priority, it is not even a question on the agenda for Europeans. Even at the highest point of EU "hawkishness", only 33% of Swedes hold the view that their country is currently in a Cold War with China. Leonard and Krastev warn that if Washington and Brussels are preparing for an all-in generational struggle against China, this runs against the grain of opinion in Europe, and leaders in Washington and Brussels will quickly discover that they "do not have a societal consensus behind them".
"The European public thinks there is a new cold war – but they don't want to have anything to do with it. Our polling reveals that a "cold war" framing risks alienating European voters", Mark Leonard said.
The EU doesn't have the backing of its citizens to follow the US in its new Cold War pursuit. But unlike the views of the authors of the study, my view is that this is not a transatlantic rift that we actually have to be trying to fix. Biden's China policy won't be Europe's China policy, and that's that, despite US efforts to persuade Europe to follow, as I've argued months ago for the Brussels Report and in Modern Diplomacy.
In March this year, Gallup released a poll that showed that 45% of Americans see China as the greatest US enemy. The poll did not frame the question as Cold War but it can be argued that Joe Biden has some mandate derived from the opinion of American people. That is not the case for Europe at all, to the extent that most of us don't see "China as an enemy" even as a relevant question.
The US's China pursuit is already giving horrible for the US results in Europe, as French President Macron withdrew the French Ambassador to the US. The US made a deal already in June, as a part of the trilateral partnership with the UK and Australia, and stabbed France in the back months ago to Macron's last-minute surprise last week. Max Boot at the Council on Foreign Relations argues that it is Macron that is actually arrogant to expect that commitments and deals should mean something: "Back in February, Macron rejected the idea of a U.S.-E.U. common front against China. Now he complains when America pursues its own strategy against China. What's French for chutzpah?" What Boot does get right is that indeed, there won't be a joint US-EU front on China, and European citizens also don't want this, as the recent poll has made clear.
The US saying Europe should follow the US into a Cold War with China over human rights is the same thing as China saying that Europe should start a Cold War with the US over the bad US human rights record. It's not going to happen. You have to understand that this is how ridiculous the proposition sounds to us, Europeans. Leonard and Krastev urge the EU leadership to "make the case for more assertive policies" towards China around European and national interests rather than a Cold War logic, so that they can sell a strong, united, and compelling case for the future of the Atlantic alliance to European citizens.
I am not sure that I agree, as "more assertive policies" and "cold war" is probably the same thing in the mind of most Europeans and I don't think that the nuance helps here or matters at all. Leaders like Biden argue anyway that the US is not really pursuing a Cold War. The authors caution EU leaders against adopting a "cold war" framing. You say "framing", I say "spin". Should we be in engaging in spins at all to sell unnecessary conflict to EU citizens only to please the US?
"Unlike during the first cold war, [Europeans] do not see an immediate, existential threat", Leonard clarified. European politicians can no longer rely on tensions with China to convince the electorate of the value of transatlantic relations. "Instead, they need to make the case from European interests, showing how a rebalanced alliance can empower and restore sovereignty to European citizens in a dangerous world", Mark Leonard added. The study shows that there is a growing "disconnect" between the policy ambitions of those in Brussels and how Europeans think. EU citizens should stick to their sentiments and not be convinced to look for conflict where it doesn't exist, or change what they see and hear with their own eyes and ears in favor of elusive things like the transatlantic partnership, which the US itself doesn't believe in anyways. And the last thing that should be done is to scare Europeans by convincing them they live in a "dangerous world" and China is the biggest threat or concern.
What the study makes clear is that a Cold War framing against China is likely to repel more EU voters than it attracts, and if there is one thing that politicians know it is that you have to listen to the polls in what your people are telling you instead of engaging in spins. Those that don't listen in advance get the signs eventually. At the end of the day it's not important what Biden wants.
Germany and its Neo-imperial quest
In January 2021, eight months ago, when rumours about the possibility of appointment of Christian Schmidt as the High Representative in Bosnia occurred for the first time, I published the text under the title 'Has Germany Lost Its NATO Compass?'. In this text I announced that Schmidt was appointed to help Dragan Čović, the leader of the Croatian HDZ party, to disrupt the constitutional structure of Bosnia-Herzegovina and create precoditions for secession of the Serb- and Croatian-held territories in Bosnia and the country's final dissolution. I can hardly add anything new to it, except for the fact that Schmidt's recent statements at the conference of Deutsche Atlantische Gesellschaft have fully confirmed my claims that his role in Bosnia is to act as Čović's ally in the latter's attempts to carve up the Bosnian Constitution.
Schmidt is a person with a heavy burden, the burden of a man who has continuously been promoting Croatian interests, for which the Croatian state decorated him with the medal of "Ante Starčević", which, in his own words, he "proudly wears" and shares with several Croatian convicted war criminals who participated in the 1992-1995 aggression on Bosnia, whom Schmidt obviously perceives as his ideological brethren. The question is, then, why Germany appointed him as the High Representative in Bosnia?
Germany's policy towards Bosnia, exercised mostly through the institutions of the European Union, has continuously been based on the concept of Bosnia's ethnic partition. The phrases that we can occassionaly hear from the EU, on inviolability of state boundaries in the Balkans, is just a rhetoric adapted to the demands by the United States to keep these boundaries intact. So far, these boundaries have remained intact mainly due to the US efforts to preserve them. However, from the notorious Lisbon Conference in February 1992 to the present day, the European Union has always officially stood behind the idea that Bosnia-Herzegovina should be partitioned along ethnic lines. At the Lisbon Conference, Lord Carrington and Jose Cutileiro, the official representatives of the then European Community, which has in the meantime been rebranded as the European Union, drew the maps with lines of ethnic partition of Bosnia-Herzegovina, along which the ethnic cleansing was committed, with 100.000 killed and 1,000.000 expelled, so as to make its territory compatible with their maps. Neither Germany nor the European Union have ever distanced themselves from the idea they promoted and imposed at the Lisbon Conference as 'the only possible solution' for Bosnia, despite the grave consequences that followed. Nor has this idea ever stopped being a must within their foreign policy circles, as it has recently been demonstrated by the so-called Janša Non-Paper, launched a couple of months ago, which also advocates the final partition and dissolution of Bosnia-Herzegovina. Such a plan is probably a product of the powerful right-wing circles in the European institutions, such as Schmidt's CSU, rather than a homework of Janez Janša, the current Prime Minister of Slovenia, whose party is a part of these circles, albeit a minor one. To be sure, Germany is not the original author of the idea of Bosnia's partition, this author is Great Britain, which launched it directly through Lord Carrington at the Lisbon Conference. Yet, Germany has never shown a will to distance itself from this idea, nor has it done the European Union. Moreover, the appointment of Schmidt, as a member of those political circles which promote ethnic partition as the only solution for multiethnic countries, testifies to the fact that Germany has decided to fully apply this idea and act as its chief promoter.
In this process, the neighbouring countries, Serbia and Croatia, with their extreme nationalist policies, can only act as the EU's proxies, in charge for the physical implemenation of Bosnia's pre-meditated disappearance. All the crimes that Serbia and Croatia committed on the Bosnian soil – from the military aggression, over war crimes, ethnic cleansing and genocide, up to the 30 year-long efforts to undermine Bosnia's sovereignty and territorial integrity – have always had a direct approval and absolute support of the leading EU countries. During the war and in its aftermath, Great Britain and France were the leaders of the initiatives to impose ethnic partition on the citizens of Bosnia-Herzegovina, and now Germany has taken up their role. In such a context, the increasing aggressiveness of Serbia and Croatia can only be interpreted as a consequence of the EU's intention to finish with Bosnia for good, and Schmidt has arrived to Bosnia to facilitate that process. Therefore, it is high time for the citizens of Bosnia-Herzegovina to abandon any ilussions about the true intentions of the European Union and reject its Trojan Horse in the form of the current High Representative.
Should there be an age limit to be President?
The presidential elections in Bulgaria are nearing in November 2021 and I would like to run for President of Bulgaria, but the issue is the age limit.
To run for President in Bulgaria a candidate needs to be at least 40 years old and I am 37. I am not the first to raise the question: should there be an age limit to run for President, and generally for office, and isn't an age limit actually age discrimination?
Under the international human rights law standard, putting an age limit is allowed in the context of political participation under the right to vote and the right to run to be elected. Human Rights Committee General Comment No.25 interpreting the International Covenant on Civil and Political Rights states that an age limit has to be based on objective and reasonable criteria, adding that it is reasonable to have a higher age requirement for certain offices. As it stands, the law says that having an age limit for president is not age discrimination, but is 40 actually a reasonable cut-off? National legislations can change. We need to lower the age limit and rethink what's a reasonable age for President, and not do away with all age limits.
We have seen strong leaders emerge as heads of state and government who are below 40 years of age. Sanna Marin, Prime Minister of Finland, became Prime Minister at 34. Sebastrian Kurz, the Prime Minister of Austria, was elected at 31. Jacinda Ardern, Prime Minister of New Zealand, assumed her position at 37. So perhaps it is time to rethink age limits for the highest offices.
The US has plenty of examples where elected Senators and Congressmen actually beat the age limit and made it despite the convention. The age limit for Senator in the US is 30 years old. Rush Holt was elected to the US Senate at 29. In South Carolina, two State Senators were elected at 24 years old and they were seated anyways. The age limit for US president is 35 years old.
In Argentina, the age cut-off is 30. In India, it is 35. In Pakistan, it is 45 years old. In Turkey, it is 40 years old. Iceland says 35 years old. In France, it is 18.
Generally, democracies set lower age limits. More conservative countries set the age limit higher in line with stereotypes rather than any real world evidence that a 45 year-old or 55 year-old person would be more effective and better suited to the job. Liberal countries tend to set lower age limits.
40 years old to be a President of Bulgaria seems to be an arbitrary line drawn. And while it is legal to have some age limits, 40 years old seems to be last century. Changing the age limit for president of Bulgaria could be a task for the next Bulgarian Parliament for which Bulgarians will also vote on the same date as they vote for President.