Recent criticism of the China Pakistan Economic Corridor (CPEC) project by the United States, has understandably drawn attention within Pakistan, as well as outside the region. US,for long has been critical of the Belt and Road Initiative (BRI) in general, and some of the BRI projects in South Asia – especially the CPEC project. A report by the Centre for Global Development (CGD, Washington DC) published in 2018 argued, that the BRI project will lead to a situation where borrowings, by countries which have signed up for the project, will build up to a degree where debts become unsustainable (this situation has been dubbed as 'debt trap'). Pakistan was identified as one of the 8 countries, which may land up in a 'debt trap' (the only other South Asian country was Maldives). Beijing and Islamabad have on more than one occasion, reacted strongly to criticism of the project and rubbished claims that Pakistan's debts are unsunstainable.
Apart from the US, India too has been critical of the CPEC project. The main objection of India, to the CPEC project has been the fact, that it passes through the disputed territory of Gilgit and Baltistan.
US skepticism with regard to CPEC.
If one were to look at recent US criticism of CPEC, Alice Wells Principal Deputy Assistant Secretary of State for South and Central Asia, first criticized the project for the clear lack of transparency, as well as not being economically sustainable in November 2019, during the course of an interaction at the Woodrow Wilson Centre, Washington DC. Wells, reiterated her criticism of CPEC, during her visit to Pakistan in January 2020. The Senior State Department Official, also made the point, that a number of firms, which had been blacklisted by the World Bank, had been awarded contracts through CPEC.
The Pakistan PM, Imran Khan and other senior politicians, reacted strongly to Wells criticism arguing, that the project would play a crucial role in the country's economic progress. It would be pertinent to point out, that there are a number of lobbies in Pakistan, which while being critical of the US, have for long being questioning the long term implications of the Pakistan-China economic relationship in general, and the lack of transparency with regard to the CPEC project in particular. This includes, both strategic commentators, and sections of the business community and even a section of the political class. The main criticisms of the project are; doubts with regard to the economic sustainability of the project, and the fact that certain provinces are reaping the benefits of the project, while others such as Balochistan and Khyber Pakhtunkhwa (KPK) have been left out . It would be pertinent to point out, that Imran Khan when in opposition, had himself put forward his misgivings with regard to the project. Even senior members of his Cabinet had spoken about the need for renegotiating the terms and conditions of CPEC. Beijing did not take kindly to such remarks and since then Imran Khan and his colleagues have been cautious and gone the extra mile in defending the CPEC project.
Alice Wells recent criticism has once again brought to the fore important issues with regard to CPEC.An article in Dawn titled 'Alice's mis (adventures)'begins by questioning Washington's dealings with Pakistan, and it's patronage of military regimes. The article also makes the point, that if US aid has not been utilized properly, America is to be blamed for following a myopic and transactional approach towards Pakistan, where the interests of the Pakistani people have been ignored. It then examines in detail, the lack of transparency of the CPEC Project, and how the structure, terms and conditions of Chinese loans could prove to be a challenge in the long run.
Most significantly, Wells' remarks have once again raised the question of how Pakistan needs to approach its outside relations with Great Powers, especially US and China and how it can balance ties. The article in Dawn states:
'Islamabad must realise, that it doesn't belong in the boxing ring among two global heavyweights and should refrain from reacting irresponsibly'.
This is important, because in recent years after Washington-Islamabad ties have gone downhill, many in Pakistan, especially the establishment, have virtually put all Pakistan's eggs in the Chinese basket. As mentioned earlier, this has not gone down well with members of Pakistan's intelligentsia as well as polity who believe that the country needs to have an independent foreign policy.
Finally, while no one has really sought to look at CPEC as a facilitator of regional connectivity in South Asia. A number of analysts and commentators have spoken on more than one occasion about the need for getting South Asian neighbors on board. The Imran Khan government too has been seeking to bring neighbors, including Iran on board the CPEC project (it has dubbed the arrangement as CPEC+1), but there has been no real discussion with regard to India being part of the project (oblique references have been made to India joining the project, though New Delhi has flatly refused such proposals). Interestingly, even on the Indian side, it has been argued that Indian participation in CPEC, which could give a boost to trilateral cooperation. This has been dismissed, and may seem unlikely in the short run given the tensions between both countries (While New Delhi officially has on more than one occasion, put forth its objections to CPEC, and unequivocally stated, that it will not join the project, there are those who believe that over a longer term this may be possible)
Conclusion
While Alice Wells views with regard to Pakistan-China economic ties or the CPEC project maybe one sided, her skepticism with regard to the long term implications of the project have once again generated an interesting debate, not just with regard to the project itself, but Pakistan's foreign policy, as well as the strategic and economic dimensions of CPEC in the context of South Asia. It remains to be seen, whether Pakistani policy makers understand the need for greater transparency with regard to the project and to address misgivings of domestic stakeholders. It is also important for strategic commentators and economists, not just in Pakistan, but all those interested in South Asia, to examine the possibility of CPEC as a tool for economic cooperation and connectivity, and not as a source of conflict. This may seem impossible in the nearer term, but with the changing geo-political and economic dynamics in the region, it can not be ruled out over the long term.
Whose Human Rights Matter?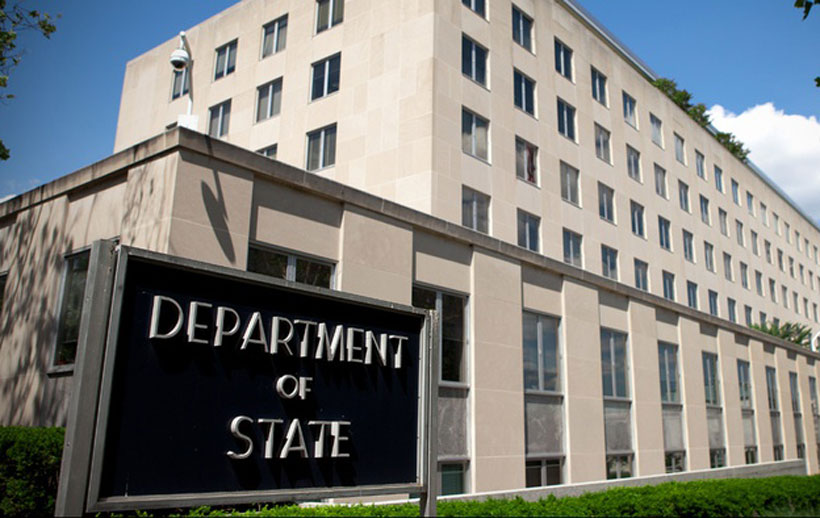 Every year, the US State Department publishes a report on the human rights situation in various countries around the world. The report reviews the various aspects of human rights in the countries over the previous year. In line with this, on March 20, 2023, the United States released the "2022 Country Reports on Human Rights Practises" on the global human rights situation and various aspects of human rights across the countries over the previous year. The report highlighted several aspects of the overall human rights situation in Bangladesh.
The report shed light on extrajudicial killings, disappearances, restrictions on freedom of expression, media censorship, and other significant issues in Bangladesh. But what is most surprising is that the report said that the national election held in Bangladesh in 2018 was not free and fair! As Bangladesh stands on the cusp of yet another national election following a five-year span, the sudden inclusion of the 2018 elections in the US report has naturally piqued interest and raised questions.
The historical, cultural, and political contexts of various countries, including Western nations, as well as their foreign policy objectives, have a significant impact on how they approach human rights. However, it is often the case that geopolitical interests and bilateral relations are given the utmost priority. Western countries, especially the US, are lenient on human rights with partners and allies, but tough on countries outside their circle or without political interests.
In recent times, there has been a change in the attitude of the United States towards Bangladesh. When it comes to foreign policy, Washington mainly prioritises national security and national interests. The Biden administration is currently focusing mainly on two issues. One is human rights and democratic values, and the second is consolidating their position in the Indo-Pacific region. And there is no denying that the US wants Bangladesh to be a part of their Indo-Pacific strategy.
The US-led Indo-Pacific strategy aims to counter China's influence in South and Southeast Asia through partnerships with India, Japan, and Australia. While the US claims the strategy is not aimed at deterring any specific country, analysts believe the recent shift in US attitude towards Bangladesh is primarily driven by a desire to deter China's influence in the country. It is worth mentioning that China is now Bangladesh's largest development partner.
Bangladesh has maintained a balanced policy, avoiding alignment with major powers, but the US seems reluctant to agree with this strategy. Washington appears eager to determine Bangladesh's stance, presenting a clear message: align with us or choose the opposing side. Analysts suggest that pressuring Bangladesh with human rights and democratic concerns may be part of the US strategy to force Bangladesh to curtail its engagement with China.
Perhaps it will be a daunting task to find a single country that has been able to ensure human rights for everyone. The brutal killing of George Floyd or the inhumane treatment of black people is a shining example of how human rights are constantly violated in the United States. According to a recent report from the influential British newspaper The Guardian, US drones and airstrikes have alone killed about 22,000 civilians in the 20 years since 9/11.
The United Nations Human Rights Council reported that over 8,000 civilians have lost their lives due to Russian aggression in Ukraine, leading to Western condemnation of Russia for grave human rights violations. While Russia holds responsibility for these deaths, it is ironic that the United States' invasions of Afghanistan and Iraq, which resulted in civilian casualties, did not receive similar criticism as human rights violations. Likewise, the US rarely speaks out against Israel for violations of Palestinian human rights.
Regrettably, China, a formidable global power that frequently espouses a vision of a new world order centred around its influence, appears to show little interest in human rights. China has long maintained favourable relations with authoritarian countries like Myanmar and North Korea, which are frequently criticised for their human rights records. Despite its massive influence over Myanmar, China has consistently sidestepped the issue of human rights for the Rohingya and provided invisible support to the Myanmar military in this regard.
It is important to acknowledge that China, too, has faced similar allegations of human rights violations against the Uyghur Muslim community and constraints on political rights inside its territory. Ultimately, it has become ironic to anticipate impartial conduct from any nation when it comes to human rights, as the notion of neutrality has lost its essence in this context. The Universal Declaration of Human Rights of the United Nations has never really been universal; rather, the issue of human rights has unfortunately been turned into a political tool for self-interest.
Democracy in Disarray: India's Uphill Battle against an Escalating Surge of Anti-Democratic Sentiments
India has consistently bragged about being the world's largest democracy and having an ostensibly 'secular' outlook for many decades. The Nehruvian political ideology, which espoused the virtues of secularism as an important pillar of the Indian nation, served as the initial foundation for India's political landscape after gaining independence. India has significantly departed from its once-celebrated founding principles in modern times, with the RSS BJP dispensation now in power embracing a narrow ideology based on "Hindutva" ideals. Therefore, several well-known Western media outlets have recently expressed their concerns about this apparent change and the implications of India's ongoing democratic 'backslide'. Despite India's rise to one of the world's most rapidly expanding economies and its crucial role in U.S.-led efforts to balance China, it is difficult to ignore the concurrent rise in repressive measures aimed at stifling dissent within its borders.
Unfortunately, the international community has mostly held back from openly criticizing New Delhi in an effort to preserve a strategic alliance. Most foreign governments, with the exception of Beijing and Islamabad, view India as a crucial trading partner and are therefore reluctant to express their concerns. Even leaders of the Muslim world have kept their opinions on the plight of underprivileged Muslims in India relatively quiet. It is true that self-interest, rather than moral obligations, predominately drives international relations. However, New Delhi's significance to India's democratic fabric ensures that the country's deterioration of democratic standards remains a significant topic of discussion.
India frequently highlights its achievements, from the smooth operation of elections to the unwavering submission to civilian authority, and is proud to wear the title of "world's largest democracy". Additionally, programs like the Quadrilateral Security Dialogue (QUAD) and broader international cooperation aimed at confronting China are frequently presented as a joint effort by democratically inclined countries. In response to the stark reality of India's democratic erosion, many parties have expressed concern, particularly among Western observers. Therefore, economic and strategic concerns are frequently cited as the reason why the international community is reluctant to discuss this issue openly, but India's importance to its democratic credentials keeps discussions about its democratic trajectory ablaze.
On the other hand, the Indian authorities' escalating persecution of journalists and online critics due to their criticism of government policies and practices, as exemplified by their use of counterterrorism and sedition laws to prosecute them, represents a flagrant disregard for the basic right to freedom of expression. The Indian authorities must show respect for this fundamental human right, immediately release journalists who have been wrongfully detained on false or politically motivated charges as a result of their critical reporting, and stop systematic persecution of journalists and repression of independent media. India must be prepared for whatever may happen as the world continues to embrace it more and more. It is crucial to understand that New Delhi will feel more empowered to intensify its repressive crackdowns inside its borders the more leniency and immunity it receives.
The fact that the United States and India lack a formal treaty alliance must be acknowledged, although they have developed a comprehensive strategic partnership that spans diplomatic, defense, and developmental interests. However, the alignment of these interests suggests a significant change in their relationship since the Cold War ended. Three main factors are responsible for this transformation. First, after the communist model fell apart in 1991, India shifted its attention to the West by embracing globalization and market economics. Second, despite India's non-signatory status to the Non-Proliferation Treaty (NPT), the relations between the two countries have become closer as a result of India's emergence as a nuclear-armed power and the willingness to accept it into the international civil nuclear regime. Finally, China's emergence as a regional power with global ambitions forced reluctant leaders in New Delhi and Washington, D.C., to acknowledge the necessity of combining their efforts lest they individually suffer the consequences.
The consolidation of a Hindu-majoritarian political style, the excessive concentration of power within the executive branch and the ensuing erosion of independent institutions, and the repression of political dissent and press freedom are the three main areas of concern when evaluating India's regression in terms of democracy. While each of these issues is significant in and of itself, the presence of all of them together poses a serious threat to Indian democracy as a whole. The foundations of the U.S.-India strategic partnership, America's broader interests in the Indo-Pacific region, and international initiatives aimed at promoting democracy will all be jeopardized if India's democratic decline continues. This includes social stability and prosperity for more than a billion Indians.
Modi's State Visit to the US: Expansive Engagement
Prime Minister Narendra Modi has travelled to the United States several times since 2014, for bilateral and multilateral visits but from June 21 to 24 he will be on an official state visit to Washington DC. White House press secretary announced that "the President and the First Lady are looking forward to welcoming PM Modi for the official state visit on 22nd June. This will be an opportunity to reaffirm the deep and close partnership between US-India." Upon his arrival, Modi will receive an official welcome and hold bilateral meetings and delegation level talks. President Joe and First Lady Jill Biden will be hosting a state dinner in his honour. In a singular opportunity granted only to the closest allies of the United States, Modi will be addressing a joint session of the American Congress during his visit to the States.
It is noteworthy that a Democratic President is inviting the Indian Prime Minister for a White House state dinner, while a Republic Speaker has asked him to address the joint session of Congress, indicating bipartisan support for augmenting Indo-US ties.
State visits at the highest level of protocol are rare in the American system, and PM Modi is just the third state visitor during the Biden Presidency. Historically, Modi will be the third Indian leader ever invited for a state visit to the US, since those of President Radha Krishna 1963 and Prime Minister ManMohan Singh in 2009. During the state dinner hosted by President Obama for PM Singh, the two leaders spoke augustly about a "future that beckons all of us." Modi's state visit will also be one of the longest of any leader to the US. So in many ways this visit is a significant signalling of the prominence that the US accords to its relations with India. On the agenda are agreements on trade, defence and critical minerals and significant progression of the Indo-US defence partnership, with the signing of a joint production agreement.
Ahead of Modi's state visit, US Defence Secretary Lloyd Austin is in India on a two-day visit to explore ways to lay the groundwork for highly anticipated agreements on bilateral defence cooperation, especially in areas of transfer of critical technologies for co-development of military hardware.
With bilateral trade reaching a record-breaking $191 billion last year, U.S.-India Business Council (USIBC) will also be hosting the INDUS-X conference, and scheduled to be held over two days in Washington coinciding with Mr. Modi's visit.
Building Strategic Linkages over Two Decades:
After decades of intermittently frigid relations, Washington's ties with New Delhi have grown significantly closer over the past twenty years. trade and investment flows have grown alongside shared geostrategic interests and China's growing presence and assertiveness in South Asia and the Indian Ocean region is a concern for both. This rapprochement accelerated markedly after the Bush administration lifted the sanctions imposed after India's nuclear test, and the completion of the Civilian Nuclear Cooperation Initiative. Since Narendra Modi came to power almost a decade ago, security and economic links with the US have enhanced conspicuously, alongside deepening security cooperation like counterterrorism around shared interests limiting China's influence in the broader Indo-Pacific. President Barack Obama declared India a "major defence partner" and the Trump administration's growing concerns about China's regional assertiveness-including along the Sino-Indian border-cemented the U.S.-India security partnership. India was included alongside the United States, Australia, and Japan-as a counterweight to Chinese ambitions in the Quadrilateral Security Dialogue, or the 'Quad.'
New Delhi and Wasington signed COMCASA (Communications Compatibility and Security Agreement) in 2018 which provides for interoperability between the two militaries and provides for the sale of high-end technology from the US to India. This was followed by the BECA (Basic Exchange and Cooperation Agreement) agreement for sharing of high-end military technology, logistics and geospatial maps between the two countries. The pact provides Billions of dollars in American arms purchases were finalised by the Modi government though it did not accede to Trump's demands to stop purchasing the S-400 and other Russian military equipment.
Biden Seeks to Broaden Ties:
Advancing on these two decades of deepening strategic linkages the Biden administration has sought to further broaden the scope of the strategic partnership between the two countries and deepen Indian integration into a shared security architecture. With more robust military cooperation such as acceleration of joint military exercises, there has also been revival of the US-India Homeland Security Dialogue, which seeks to strengthen cooperation on cybersecurity, technology, and countering violent extremism. These security-oriented steps with steps have been complemented with initiatives such as the launching of a Clean Energy 2030 partnership, etc. Both leaders oversaw the launch of the India-US Initiative on Critical and Emerging Technology (ICET) during the Quad summit in May 2022. One of the most important results of the ICET was the commencement of negotiations on the General Electric (GE) deal to produce GE-F414 jet engines in India, complete with technology transfer. In February this year the historic deal between Boeing and Air India for the latter to buy more than 200 planes from the American plane manufacturer was announced. Air India is ordering 220 Boeing aircraft valued at $34 billion. The orders include 190 737 Max aircraft, 20 of Boeing's 787s, and 10 of its 777Xs. The purchase also includes customer options for an additional 50 737 MAXs and 20 of its 787s, totaling 290 aeroplanes for a total of $45.9 billion at list price. In a phone call both leaders discussed the importance of the US-India strategic technology partnership and committed to continue working together and in groups like the Quad to advance economic growth and expand cooperation on their shared priorities.
Deliverables of the Upcoming State visit:
The signing of the MoU with General Electric deal will be the biggest deliverable of Prime Minister Modi's State visit to the US. India's Aeronautical Development Agency (ADA) has selected 99 F414 GE fighter jet engines to power the Mk II version of the Tejas Light Combat Aircraft (LCA) for the Indian Air Force. GE was engaged by the Biden administration, and a proposal with Hindustan Aeronautics Limited (HAL) officials was arrived at. The agreement is to build GE-F414-INS6 engines that will power Tejas-Mk II Light Combat Aircraft (LCA) being built by HAL. The engine of the Mk II works at super high temperatures, is the maximum thrust model in the F-414 model, and includes state-of-the-art technology to meet India's demanding Air Force and Naval requirements. Although the final details of the agreement will only be clear once the MoU is signed, it is likely that the transfer of technology (ToT) and the percentage of locally manufactured components will exceed 60%, possibly reaching 75%.
Other deliverables include the go ahead New Delhi's plan to procure 30 MQ-9B armed drones at a cost of over $3 billion from US defence major General Atomics Aeronautical Systems Inc.
The US is already India's largest goods trading partner and the only major country with which India has a goods trade surplus. There is also tremendous excitement in the business community over the launch of the initiative INDUS-X, a platform for start-ups and enterprises from both countries to identify collaborations for high-tech innovations within the ambit of the Initiative on Critical and Emerging Technologies (iCET).
Given the kind of aspirations India has in terms of manufacturing, the US is a critical partner. The US has expressed on a number of occasions that it sees the rise of India to be in its interests. Both administrations have shown tremendous excitement for the "defence innovation bridge" of which the GE deal is just one element.