The Politics of Difference: Italy's Nationalist Turn and the Struggle between "New" and "Old" Italians
Nationalism has permeated Italian politics more than other Western European countries. In all the elections that have been held since 2018 the right-wing nationalist parties of Lega Nord (Lega) and Fratelli d'Italia (FdI)have significantly increased the number of their voters. However, Italy's nationalist turn has not only concerned parties of the right but also from the left. This article illustrates the way in which the proliferation of nationalism affects the mobilization of Italian citizens with non-Italian backgrounds. For mobilization I intend all the efforts of right-wing and left-wing parties and media to either involve or marginalise Italian citizens with non-Italian backgrounds. I argue that, although they might differ in their scope, both right-wing and left-wing political agents promote politics of difference through communication strategies that serve to mobilize Italian citizens with non-Italian backgrounds. In this context the term "politics of difference" primarily refers to policies that are meant to track and exploit arbitrarily defined distinctions between citizens based on their "origins".
The right-wing political parties and their attacks on Italians with non-Italian backgrounds
Legaand FdI are officially members of the coalition of the center-right, but they have endorsed political attitudes that are closer to the tradition of the post-World War II Italian far-right parties. They have founded their propaganda on the exaltation of the Italian national identity in opposition to several external and internal "others".Lega's slogan Prima gliItaliani (Italians First) was firstly used by the fascist ideology-inspired party Casa Pound. FdI leader Giorgia Meloni started her political career as a member of Movimento Sociale Italiano (MSI), which was the first Italian neo-fascist party. In her social media communication Meloni uses the word Nazione(nation, with a capital 'n') to refer to Italy instead of using the term "state" as most of her Italian colleagues would do.
The leaders and the activists of Lega and FdI have generally shown a hostile attitude toward Italian citizens with non-Italian backgrounds. Congo-born former Integration Minister Cécile Kyenge, who was in office between 2013 and 2014, received all kinds of insults from Lega activists because of her origin. In January 2019 the court of Bergamo sentenced current vice-president of the Senate Roberto Calderoli with eighteen months of prison for saying in a public meeting that Kyenge looked like an orangutan. During the electoral campaign in Sardinia in February 2019, the president of a local Lega club Giovanni Barbagallo posted pictures of the Partito Democratico (PD) and Liberi e Uguali (LeU) candidates on his Facebook page, asserting that they were foreigners and that he hoped that at least they knew the Italian language. However, both candidates owned the Italian citizenship since it is mandatory to participate in the electoral process.
Salvini has always displayed a scornful attitude toward Muslims and Roma people, independently of their citizenship. In a radio show in June 2018, the then Minister of Interior Salvini claimed that he planned to make a statistic of Roma people in Italy. He also added that all foreign Roma nationals needed to be expelled from the country except those with an Italian citizenship, that "unfortunately we have to keep (…)". In a public speech held in August 2019, Salvini defended his right to use the racial slur zingaraccia against a Roma woman who had said that he deserved to be killed. The controversial Decreto Sicurezza(safety decree) that Salvini promulgated when he was Minister of Interior introduced a norm that enabled the state to deprive individuals of non-Italian background of their citizenship if they were found guilty of terrorism.
Lega and FdI accuse the government to take more care of foreigners' needs instead of focusing on Italians. In spring 2019, the FdI and other far right circles of Rome organized public protests against the allocation of state-owned houses to Roma families. Tensions arose especially in Casal Bruciato where an Italian family that had squatted a municipal flat, was forced to leave so the legitimate beneficiaries could move in. A Roma family with Italian citizenship moved inside the house escorted by police who protected the family from an angry mob that had rallied outside the building. The FdI section of the 4th Municipality of Rome wrote on the Facebook account that the Mayor gave houses to "nomads" instead of the Roman families that needed them.
Some exponents of FdI tried to normalize the idea that every citizen of foreign origin could be harassed in the privacy of his/her domestic environment if s/he was suspected of receiving benefits that the state did not provide for Italians. In November 2019, FdI members Marco Lisei and Galeazzo Bignami filmed the names of alleged "foreign" families that lived in state-owned houses in Bologna. The video was posted on Facebook in order to argue that the local administration gave houses to foreigners and not to Italians. However, as argued by the online newspaper nextquotidiano.it on November 12, 2019, nothing in the video proved that these families were not Italian. The video was deleted when the public prosecutor of Bologna opened a case for possible infringement of privacy laws.
Salvini emulated the act of the FdI exponents in his own Padano style. While the leader of Lega was touring the "Pilastro" neighbourhood in Bologna a lady in her sixties told him that she knew where a family of foreign drug dealers lived. Without verifying the information Salvini went to the doorstep of the building where the family of presumed drug dealers lived and pressed the buzz. A person answered the intercom and Salvini asked whether it was true that they were selling drugs. It turned out that the person that was indicated as the main pusher of the house, was a 17-year-old Italian citizen, born in Italy from an Italian mother and a Tunisian father. He did not have any criminal records and was not at home when Salvini went to his door. The exploit of the Lega leader drew harsh criticism. The vice-president of the Tunisian parliament Osama Sghaier claimed that Salvini was a racist and that his attitude undermined relations between the two countries. The former president of the Italian Constitutional Court Gustavo Zagrebelsky declared that Salvini's act brought to memory the Kristallnacht. Salvini has now deleted the video because the boy that he accused of drug-dealing reported the former Interior Minister for privacy violation. It was recently discovered that the lady who gave this false information to Salvini had been introduced to the Lega staff by a carabinieri marshal. The Carabinieri Force has now opened a case to determine whether the officer infringed his institutional duties.
Despite the continuous provocations shown toward Italian citizens with non-Italian backgrounds, FdI and Lega have always rejected accusations of racism and xenophobia and both parties count activists with non-Italian backgrounds among their party members. For instance, Nigeria-born Toni Iwobi had been a member of Legafor nearly 25 years when he was elected member of the senate in 2018. The exponent of FdI Paolo Diop was born in Senegal and moved to Italy at a very young age. He used to support CasaPound and in a 2015 interview he declared that he admired Salvini, that he was a nationalist and a fascist, and that he preferred people to call him negro – the equivalent of the English word "nigger" – rather than being labelled as a person di colore – literally "of colour" – as the politically correct phrasing would put it. Ironically, in April 2018, Paolo Diop and his girlfriend were victims of a racist aggression by a group of people who insulted Diop calling him negro. This unfortunate event did not make Diop change his political convictions.
The "New Italians" and the search for "italianness"
Nationalism is not a prerogative of the right, and the left has also claimed its historical and cultural connection to this ideology. In July 2018, current Liberi e Uguali (LeU) member (former PD) Stefano Fassina published an article on the Huffington Post in which he announced the formation of the party "Fatherland and Constitution" (Patria e Costituzione). According to Fassina, it is necessary to return to the anti-fascist ideal of fatherland that is inscribed in the Italian Constitution to avoid the negative impacts of liberalism and extreme nationalism. The leftist circles often employ the term NuoviItaliani(New Italians) to refer to the generation of citizens that have non-Italian backgrounds. In the 2013 electoral campaign, PD pompously announced the inclusion of NuoviItalianiin the party's list of candidates. The term has perhaps been coined to provide a positive image of Italians with non-Italian backgrounds. But the "New Italians"appear as a category of people marked by different cultural backgrounds and the overall Italian population is conceptualised as if it was composed of two main ethnic bodies: The "old", autochthones and purest Italians who are simply Italians and the "new" culturally-hybrid Italians who are Italians but also something else and consequently something less.
The left-right competition over who endorses the authentic values of the Italian identity, has pushed people to question their degree of belonging to italianità (italianness) – an increasingly popular term – and that of others. Individuals with non-Italian backgrounds are trying to subvert the prejudices that have been constructed on their account because of their alleged different "origins". Their voice reaches the mainstream through political organizations such as Cara Italia, media (television, newspapers, blogs and social media) as well as various art forms, music and sports. Several known and less known Italian-speaking trap and reggaeton artists describe their personal experience of italianness against a context that refuses to consider them as part of the national body. Unlike fifteen years ago, national discourses are now fashionable and national identity seems to be a fundamental part of the construction of one's personal and collective self. Journalist Oiza Q. Obasuyi has published several articles about the way in which she and other citizens with non-Italian backgrounds feel stigmatized in their everyday life because of their "origins". In her view people find it difficult to either accept or understand that one could be plainly Italian if s/he has a different skin colour or place of birth. In February 2019, she noted the absurdity of a question that a journalist made to pop singer Mahmood who won the most prestigious music competition in Italy, Sanremo. Mahmood was born in Italy and his father is Egyptian. Although he had never visited his father's country, a journalist asked him which was the thing that he missed the most of his "country", that is Egypt.
Journalists of either right or left political orientation are equally contributing to spread the idea that citizens with non-Italian backgrounds are somehow different from the rest of the population. The 17-year-old boy that Salvini accused of drug-dealing was asked in an interview whether he was Italian. The question was irrelevant and it shows that the journalist accepted the idea that being a foreigner is perceived as an aggravating factor for any crime or presumed crime that one has committed. In an article published on November 22, 2018, the online left-oriented newspaper nextquotidiano.it commented sarcastically on the fact that Paolo Diop had joined FdI. The journalist assumed that his non-Italian origins were not compatible with his political ideas and cynically exposed his non-italianness by stating that his original name was not Paolo but Talla.
Italian athletes are particularly subjected to journalists' endeavours to make citizens with non-Italian backgrounds declare their allegiance to the Italian identity. Few years ago former football player Thiago Motta who is born in Brasiland who played for the Italian national team was asked to illustrate his mixed national feelings. Motta answered puerile questions such as whether he preferred pasta or churrasco and if he would rather dance samba or tarantella. When the Italian women 4X400 relay team won the gold medal at the Mediterranean games in July 2018, politicians and medias from the right and the left depicted the team as a symbol of diversity which can contribute to the development of the Italian nation. Roberto Saviano claimed that the four athletes represented the dream of a multicultural Italy that would not have been hindered by Lega's racism. More recently, the press praised the "multi-ethnic" character of the Italian women's volleyball team and designated it as a model for the society that Italy should try to build. In both cases journalists fail to see that by depicting the team and the athletes as "multi-ethnic" or "multi-cultural", they build a narrative in which the athletes and the category of people that they are haphazardly called to represent have different "ethnicities" or "cultures" and are different from "usual" or "old" Italians.
The athletes know that their image is exploited for political purposes and are also aware of the essentialist ideology that informs the discourse on their "origins". In an interview with Corriere della Sera volleyball player Paola Egonu was asked how she felt about the fact that "Italy" fell in love with the "multi-ethnic" character of the team. She replied that she was surprised of this reaction, because all players were Italian and it was normal to have different origins. Egonu implicitly told the journalist that origins are irrelevant to one's degree of national belonging. Paradoxically, her opinion mirrors Giorgia Meloni's comment on the picture of the Italian relay women's team. The FdI leader commented the image of the four athletes holding the Italian flag stating that "The only thing the radical chic see in this picture is black athletes to politically exploit. I see the Italian flag waving. Long live our girls". Meloni used the image of the girls to attack her opponents and therefore her act was not free of exploitative intents. However, she emphasised the symbol that makes the athletes simply Italian rather than their "origin" that makes them differently Italian.
Overcoming the Italian identity crisis
The idea that "origins" can establish a person's degree of affiliation to a nation is absurd and its application would lead to the ontological dissolution of the Italian project. Italy was formed in 1861 and this means that every inhabitant of the peninsula has non-Italian origins if we look seven generations back. The myth of the "origins" is a politics of difference implemented in order to create a distinction between "old" and "new" Italians at the benefit of the former. In the framework of a nationalist political discourse, the narrative on one's own past is always conceived to mediate the degree of his/her national belonging in the present and in the future. However, as Egonu's words suggest, in everyday face-to-face relations, belonging and loyalty to a given collective entity is not conditioned by one's putative origins, but rather depend on the way one decides to structure her/his self in the social, political, economic and cultural environment that s/he inhabits.
This article has shown how left-wing and right-wing Italian politicians and media deploy a politics of difference in order to mobilise citizens with non-Italian backgrounds. On the one hand, the right-wing parties Lega and FdI refute accusations of racism, fascism and xenophobia but on the other hand they are accustomed to racial and ethnic slur, they marginalize Italian citizens with non-Italian backgrounds, contend their italianness, and ignore their privacy and other basic civil rights with gestapo-type behaviours. They mobilise these citizens not simply as Italians but rather as foreigners or as "Italians of foreign origins" who for this reason may not always be considered as entitled to enjoy full political rights. This politics of difference, that is the emphasis on the distinction between old and new Italians, reflect the fear of competition between Italians and migrants, a fear that was spread by right-wing propaganda and that has generated a myth of "substitution". The myth says that "foreigners" or citizens with non-Italian backgrounds and non-Italian cultures will outnumber and therefore substitute the original ethnic component of the country. The presence of activists with non-Italian backgrounds in the ranks of Lega and FdI does not reduce their liability and that of other party members who have stigmatized citizens with non-Italian backgrounds.
The politics of difference carried out by political and media agents through the emphasis of their different "origins", "cultures" or "ethnicities" mobilises individuals with non-Italian backgrounds in the form of a dialectical positioning toward other citizens. Citizens with non-Italian backgrounds will be mobilised not as purely Italians but as a category that oscillates between the internal and the external otherness. The parties of the left, and in particular PD and LeU, are fighting the hard nationalism of the right with a soft nationalism of the left. In analogy to the policies implemented by the rightist circles, the exaltation of the national identity by the left and the discourse on origins that they propagate generates a contradictory effect on the mobilization of citizens with non-Italian backgrounds. The promotion of a "multi-ethnic" society leads to the formulation of ethno-building discourses. Ethnic identities – like religious identities – tend to become catalysts for political violence and marginalization as soon as political and economic problems emerge. Citizens should be granted full political rights whichever their backgrounds are and should not either be forced into assimilation nor be given the opportunity to ghettoize. More than that, one should not preclude the possibility that a citizen can embrace a given set of ideas or ideologies only because his/her "origins" seem to contradict his/her political choices.
The nationalist turn that has characterised Italy in the last years does not stem from the necessity to express a consolidated sense of belonging to the Italian nation, but rather the opposite. The search for italianness in the self and in the others shows that those who are conducting this search – right-wing and left-wing politicians and journalists, Italian citizens and "foreigners" who aspire to become Italians – have either lost or are scared to have lost not as much the character of italianness that they are looking for but rather the economic and symbolic assets that it gave them. Until fifteen or twenty years ago, there was no need for mainstream politicians and journalists to frantically look for who was Italian and who was not, because the question of what it meant to be Italian did not appear problematic. There were infinite modalities of being Italian which were validated by the possession of the Italian passport and/or by the possession of a permanent residency permit in the country. The crisis of the EU and the decade-long economic crisis have shifted the function of the Italian identity from a tool that allowed people to project their ambitions and lives in a trans-national horizon, to a ticket that individuals use to claim assets in a context with scarcer resources. The endorsement of an Italian identity has become an opportunity for political subjects who used to repudiate the Italian project and claim independence from Rome, such as Lega. The history of Lega that is now arrogating the right to decide who deserves to be Italian, show how national identities are constructed and dismissed according to the symbolic and economic assets that they offer. It is nonetheless impossible for any of the seekers of italianness to determine which aspects define italianness and who represents them better.
Russia-EU break possible but unwanted
Pressures in relations between Russia and the West have recently become so strained that Foreign Minister Sergey Lavrov warned of the possibility of a complete break in ties.
In an interview with Anadolu Agency, Andrey Kortunov, head of the Russian International Affairs Council, a Moscow-based academic and diplomatic think tank established upon a presidential decree, assessed how real the threat is and what consequences it could lead to.
It is necessary to make it clear what "a possible break with the EU" means – whether cutting relations with individual European countries or with European Union structures, said Kortunov.
"If we talk about EU countries, we shouldn't forget that they now account for more than 40% of Russia's trade turnover, they are the main source of investments and technologies that go to Russia. No one is ready to give up on this, and no one will," he said.
As for structures of the EU bloc, in general, a break would be possible, but it would be both unwanted and unwelcomed, he said.
Kortunov noted that cooperation between Russia and the EU shrank in recent years, and a great many of the structures established to build bilateral ties have been closed.
"For example, in the past, we regularly held EU-Russia summits twice a year – in the first half of the year in Russia, in the second half in the EU presiding country or in Brussels," he explained.
"Now such summits do not take place. The number of working groups that work in specific areas has decreased."
Following this logic, breaking or freezing the remaining ties is possible but it is an extremely unwanted scenario because it is impossible to have good relations with European countries – EU members – and not have any relations with the EU itself, Kortunov said.
"A number of important issues lay within the competency of the European Union, including but not limited to trade and scientific and technical cooperation," he said.
He warned: "Sooner or later, our projects with individual countries will run into unresolved issues at the level of the EU bureaucracy. Therefore, in principle – I repeat once again – a break is possible, but it is extremely unwanted because it is fraught with many negative consequences."
Cooperation in 'non-toxic' areas
The EU is interested in cooperation with Russia as well, as it is a big market and important partner, he added.
Russia also plays an important role in the Middle East, and the situation in the region directly affects life in the EU, so cooperation on regional conflicts is another important part of Russian-EU interaction, said Kortunov.
To defuse the situation, he said, both sides have to exercise caution in their rhetoric.
"It's one thing for members of parliament to say something critical, and quite another for the decision-makers in the executive branch to do that. The latter should exercise as much restraint as possible," said Kortunov.
Cooperation in "non-toxic" areas, where Russia and the EU can work together despite political differences without making any difficult concessions, would also contribute to building trust, he said.
"And we need an open discussion with the EU about how we see ourselves in the world in five, 10, maybe more years," he said.
"We need a strategic dialogue, which is not currently being conducted, at least I do not know that it is being conducted. And then we can gradually correct the relationship."
Foreign Minister Lavrov said last week that the EU had been breaking bilateral mechanisms established under agreements on partnership and cooperation.
Asked if Russia is heading for a breach with the EU, Lavrov said he believed Moscow would be ready for it, and the country has to become fully economically self-sufficient in case sanctions are imposed in a sphere where they could risk the Russian economy.
From our partner RIAC
The region that we now call Western Balkans does not remember that the realization of a movie caused many reactions and comments as " Dara of Jasenovac". The movie deals with the most painful topic in Serbian history – the genocide that Croats and Bosnian Muslims committed against the Serbian people in the so-called Independent State of Croatia, in the Jasenovac concentration camp during World War II.
All Nazi concentration camps after the end of the World War II were preserved to this day, so that the memory of the crimes would not fade. Millions of visitors come to Auschwitz, Dachau and other death camps, and pay their respects to the innocent victims. When in December 2009 from a museum in Auschwitz the "Arbeit macht frei" (work sets you free) sign was stolen, it was a planetary news. The sign was found after less than a month, although broken into three parts, which was again world news.
But few, outside of the Balkans, have heard about the Jasenovac extermination camp in Croatia, which was never liberated, but instead saw roughly 1,000 inmates escape in the hope that at least one of them would live to tell the world about the horrors of being imprisoned by the Croat Nazi-aligned puppet government that was appointed to rule a part of Axis-occupied Yugoslavia.
Israeli professor Gideon Greif, an expert on Auschwitz, researched the history of Jasenovac, which resulted in his book Jasenovac: Auschwitz of the Balkans. The Croat-run Jasenovac extermination camp was the size of about 150 football pitches and was established on April 10, 1941, four days after Nazi Germany invaded the Kingdom of Yugoslavia.
The wartime Independent State of Croatia, or NDH, was a Fascist satellite that was created by Nazi Germany and Hitler's closest ally, Mussolini's Italy. Under its leader, Ante Pavelic, the NDH set out to exterminate the Serbs, Jews and Roma who lived in the areas that were under their control – the Jasenovac camp was built to serve this purpose.
What made Jasenovac particularly cruel was the existence of a special camp for children where more than 20,000 Serbian children were brutally murdered. The methods used by the Croat guards to kill and torture the inmates were reportedly so barbaric that even SS chief Heinrich Himmler is believed to have suggested to the Croats that industrial killing, i.e. gas chambers, was a "cleaner way" to liquidate victims so that the guards wouldn't need to use knives, axes, and other handheld weapons against those that they were sending to their deaths. Menachem Shelah, a historian with the Yad Vashem, the Holocaust museum in Jerusalem, wrote in 1990 that "the crimes committed in Jasenovac are among the most terrible in the entire history of humanity."
Historians have estimated that between 700,000 to 1,000,000 people were killed at Jasenovac. The Nazis, themselves, recorded up to 750,000 deaths. Since the breakup of Yugoslavia in 1991, the Croatian government has continually insisted that only 83,000 people were killed at Jasenovac. Croatia's first post-Yugoslav president, Franjo Tudjman, an unabashed nationalist and the man responsible for restoring the Ustase-era flag as the national symbol of Croatia, insisted until his death in December 1999 that a mere 30,000-40,000 people died while imprisoned at Jasenovac.
The total number of deaths that occurred at Jasenovac may never be known as concerted attempts to suppress the extent of the horrors of the camp continue to this day. This, however, is not a new process. Immediately after World War II, Yugoslavia's Communist leader, Josip Broz Tito, played down the crimes that were committed at Jasenovac as they were seen as a potential threat to the "brotherhood and unity" doctrine of Tito's Yugoslavia.
"Dara of Jasenovac" is the first film dedicated to the Nazi Croat camp Jasenovac for mass extermination of Serbs. The decision of the authorities to show the movie "Dara of Jasenovac" simultaneously on the public services of Serbia and Republic of Srpska, as well as on commercial television in Montenegro, was the right decision in the public interest.
It should be noted that the film Dara from Jasenovac has not only a historical role, but also a geopolitical one. Republic of Srpska has been under pressure since its inception in 1995, with the ultimate goal of abolishing it. There is a whole list of Hollywood films in which Serbs and their struggle in the wars of the 1990s were shown in a negative context. The aim was to show the Serbs as evil and Republic of Srpska as a criminal creation. The ideologues of this theory were the Bosnian Muslim political leaders and the financiers were predominantly Saudi Arabia and Kuwait. That is why "Dara of Jasenovac" has not only historical and artistic value, but also has a geopolitical one.
`We should continue to make films that will show the suffering of the Serbian people throughout history. I think that we will adopt it, not only as a program act, but also as a program of the Government of Republic of Srpska, to treat Serbian victims in the Independent State of Croatia in the right way", said Serbian member and chairman of the BiH Presidency Milorad Dodik, after the premiere of "Dara of Jasenovac".  This statement shows that the leading Serbian politician in Bosnia and Herzegovina has strategic thinking, and that is to be commended. All that remains is, that Milorad Dodik should be supported in this plan by other Serbian institutions and especially by the state of Serbia.
Council of Europe fights for your Right to Know, too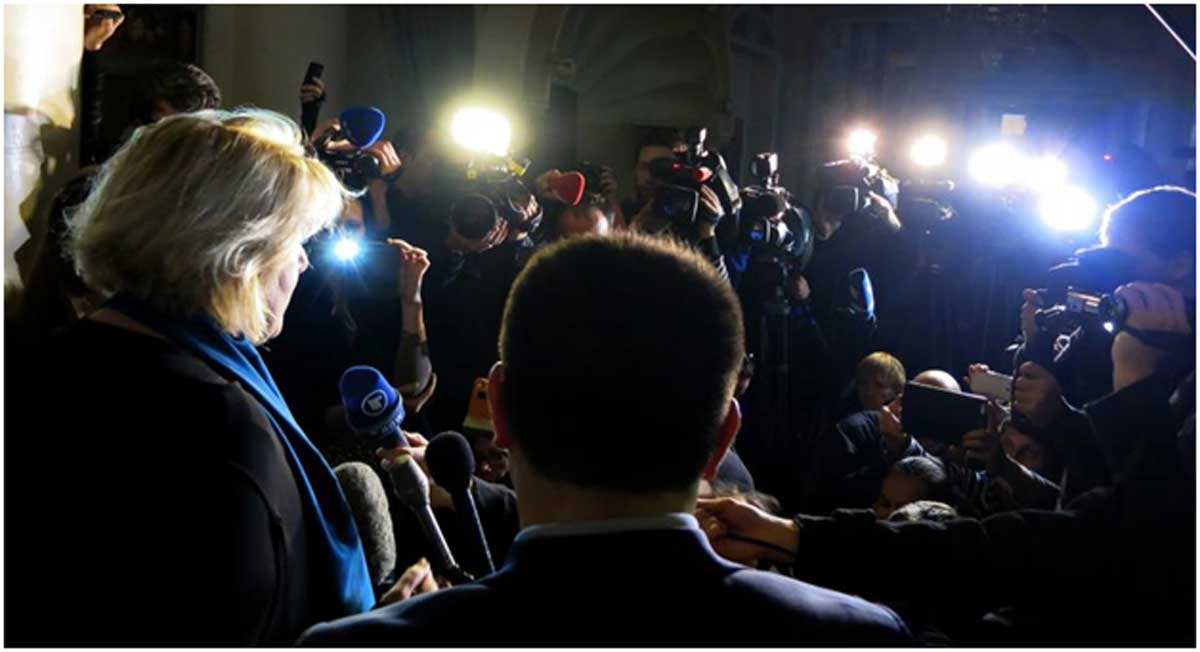 Authors: Eugene Matos de Lara and Audrey Beaulieu
"People have the right to know what those in power are doing" -Dunja Mijatovic Council of Europe, Commissioner for Human Rights.
Access to information legislation was first seen in 1766 in Sweden, with parliamentary interest to access information held by the King. Finland in 1951, the United States in 1966, and Norwayin 1970 also adopted similar legislation. Today there are 98 states with access laws; of these, more than 50 incorporated in their constitution. The Inter-American Court of Human Rights 2006 and the European Court of Human Rights 2009 both ruled that access to information is a human right, confirmed in July 2011 by the United Nations Human Rights Committee, a sine qua non of 21st-century democracy.
Global civil society movements have been promoting transparency, with activists and journalists reporting daily on successes in obtaining information and denouncing obstacles and frustrations in the implementation of this right. To this end, the Council of Europe was inspired by pluralistic and democratic ideals for greater European unity, adopted the Council of Europe Convention on Access to Official Documents recognising a general right of access to official documents held by public authorities. It brings a minimum standard for the fair processing of requests for access to official documents with the obligation for member states to secure independent review for restricted documents unless with held if the protection of the documents is considered legitimate.
The right to freedom of information
Access to information is a government scrutiny tool. Without it, human rights violations, corruption cases, and anti-democratic practices would never be uncovered. Besides exposing demerits, the policy is also known to improve the quality of public debates while increasing participation in the decision making process. Indeed, transparency of authorities should be regarded as a fundamental precondition for the enjoyment of fundamental rights, as guaranteed by Article 10 of the European Convention on Human Rights. The policy equips citizens and NGOs with the necessary tool to counter refusal from authorities to provide information. The European Court of Human Rights recognized that withheld documents could be accessed in specific circumstances. In principle, all information should be available, and those upheld can also be accessed, particularly when access to that particular information is crucial for the individual or group to exercise their freedoms unless of course, the information is of national security or of private nature.
Access to information in times of crisis a first line weapon against fake news
The COVID pandemic has enabled us to test access policies and benchmark the effectiveness of the right to know during trivial times, as Dunja Mijatovic mentioned. In fact, having easy access to reliable information protects the population from being misled and misinformed, a first-line weapon dismantling popular fake news and conspiracies. Instead, during COVID, access to information has supported citizens in responding adequately to the crisis. Ultimately, transparency is also a trust-building exercise.
Corruption and environmental issues
Information is a weapon against corruption. The Council of Europe Group of States against Corruption (GRECO) is looking at the specific issue of access to official documents in the context of its Fifth Evaluation Round, which focuses on preventing corruption and promoting integrity in central governments and law enforcement agencies. In about a third of the reports published so far, GRECO has recommended the state to improve access to official documents. In regards to the environment, the United Nations Convention on Access to Information, Public Participation in Decision-Making and Access to Justice in Environmental Matters, commonly referred to as the Aarhus Convention, expands the right of access to information on environmental matters thus complementing the Tromsø Convention. Declaring these policies as the primary tools that empower citizens and defenders to protect the environment we live in.
Good models exist
Most Council of Europe member states have adequate mechanisms regarding the right to information. For example, in Estonia, "the Public Information Act provides for broad disclosure of public information" states Mijatovic. Moreover, "in Croatia, Serbia, Slovenia and several other countries there is an independent oversight body – such as an Information Commissioner – responsible for monitoring and enforcing the right to information, while some other countries entrust Parliamentary Ombudsmen with supervision of the right of access to information". Finally, "the constitutions of several European countries do indeed guarantee the fundamental right to information." Nonetheless, there are still in consistent levels of transparency among state institutions or a failure to meet the requirement for proactive disclosure. The entry into force of the Tromso Convention willbe an opportunity to bring back to the table the importance of the right to information and to read just European States practices regarding the enhancement.
Barriers and Challenges
Digitization is still recent, and authorities are not accustomed to dealing openly. There is a sentiment of reservation and caution. Before the advent of the internet, governments enjoyed a level of political efficiency and practical obscurity. Viewing public records required the time and effort of a visit to the records' physical location and prevented easy access to details of individual files. Openness has made the policy cycle longer, with a more thorough consultation process and debates. The availability of digital documents has caused an unavoidable conflict.
One of the conflicts is a privacy protection and policy safeguards invoked against freedom of information requests. Requirements to provide transparency of activities must be mitigated with national security, individuals' safety, corporate interests, and citizens' right to privacy. Finding the right balance is essential to understand how local governments manage the dichotomy between providing open access to their records by maintaining the public's privacy rights.
Several governments think twice before pursuing transparency policies. Access to information hasn't been a priority for some of the European States. Mijatovic reported that "filtering of information and delays in responses to freedom of information requests have been observed in several member states". Although there is a growth in these laws' popularity, we are always a step behind meeting the supply and demand of information objectives in an era of digitization.
Legal perspectives
Tromso Convention has only been ratified by eleven countries, which are mostly located in Scandinavia (Finland, Norway and Sweden) or in Eastern Europe (Bosnia, Estonia, Hungary, Lithuania, Moldavia and Ukraine). Reading this statement, three questions should come to our minds:
1. Why not all European states have ratified Tromso Convention?
2. Why do Scandinavian countries have chosen to ratify the Convention?
3. Why are most of the Member States from Eastern Europe?
Regarding the first question, the answer resides in the fact that the ones who haven't taken part in the Convention already have strong national laws protecting freedom of information and don't need to bother with extra protection and external surveillance. For instance, Germany passed a law in 2005, promoting the unconditional right to access information. Many other European states such as Belgium, Croatia, Denmark, France &Poland have similar national law.
Regarding the second question, considering that all Scandinavian countries already have national laws assessing freedom of information, the most likely reason behind their ratification would be symbolic support to the cause or because the Convention's framework is less restrictive than their national laws.
Finally, concerning the last question, we could suppose that most Eastern countries have an interest in demonstrating themselves as more transparent, more following the rule of law. For example, if we examine Montenegro's case, we could assume that taking part in the Tromso Convention is a step closer to their accession to the EU in 2025.
As for the reservations that have been made, only Finland, Norway and Sweden have made some noticeable. Regarding Norway, the country declared that "communication with the reigning Family and its Household" will remain private in accordance with Article 3,paragraph 1 of the Convention. This limitation covers something interesting, considering that, as mentioned earlier, access to the data type of legislation was first adopted in order to get access to information held by the King. In parallel, Finland declared that "the provisions of Article 8 of the Convention concerning the review procedure [will] not apply to a decision made by the President of the Republic in response to a request for access to a document. Article 8 provides protection against arbitrary decisions and allows members of the population to assert their right to information. Sweden has made a similarreservation on Article 8 paragraph 1 regarding "decisions taken by the Government, ministers and the Parliamentary Ombudsmen".
Thoughts towards better implementation
For smoother data access implementation, governments can act on transparency without waiting for legislation through internal bureaucratic policy. These voluntary provisions for openness can be an exercise towards a more organic cultural transformation.
Lengthy debates on open access are entertained by exceptions to access. To be sure, governments have enough legal and political tools to withhold information, regardless of how exemptions have been drafted. Instead, a more productive and efficient process is possible if we concentrate on positive implementation and enforcement, including the procedures for challenges on legal exemptions.
The implementation phase of access laws is challenging due to a lack of leadership motivation, inadequate support for those implementing these requests, especially since they require a long term social and political commitment. To do so, an overall dedication and government bureaucratic cultural shift should take place. Although the implementation of access to information should be included internally in all departments, considering a standardized centralized approach to lead the new regime with authority could send an important message. Record keeping and archiving should be updated to respond to requests with improved information management systems. As such, the goal would be to make a plethora of information immediately and unconditionally available.