Resolving Israel-Palestinian conflict, 'key to sustainable peace' in the Middle East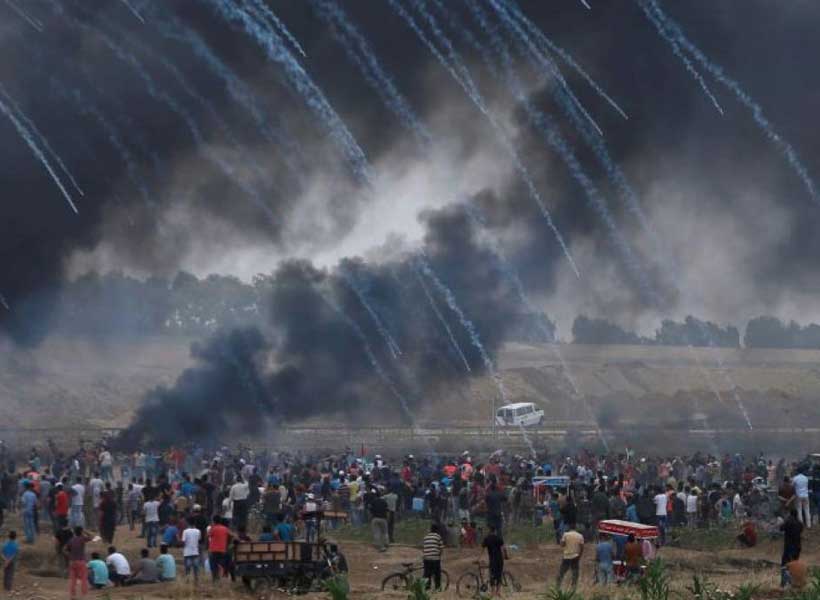 Resolving the Israeli-Palestinian conflict is "key to sustainable peace in the Middle East", the UN chief said on Tuesday, maintaining that the lack of any progress only "furthers radicalization across the region".
António Guterres told the Committee on the Exercise of the Inalienable Rights of the Palestinian People, meeting in New York, that the Organization supports an end to the decades-long conflict on the basis of numerous "resolutions, international law and bilateral agreements" that have been made, with "recognized borders on the basis of the pre-1967 lines".
He cited the expansion and acceleration of illegal settlement activities in the occupied West Bank, ongoing demolitions, seizures of Palestinian-owned property and evictions, as continuing cause for concern.
Moreover, the UN has "repeatedly stated that Jerusalem remains a final status issue", he continued, "the city's future can only be resolved on the basis of international law and through negotiations between the parties".
Unilateral proposal
Last week United States President Donald Trump proposed his 'Vision for Peace, Prosperity and a Brighter Future' that would legalize Israeli settlements in the West Bank and East Jerusalem and also allow Israel to annex around 30 per cent of the West Bank.
Michael Link, UN Special Rapporteur on the situation of human rights in Palestine, referred to it as "a one and a half State solution".
For his part, the Secretary-General responded by recalling the UN's longstanding commitment to realize a two-State solution, with Israelis and Palestinians "living side by side in peace and security within recognized borders, on the basis of the pre-1967 lines."
"The position of the United Nations on the two-State solution has been defined, throughout the years, by relevant Security Council and General Assembly resolutions by which the Secretariat is bound", he upheld.
Human suffering continues
Meanwhile, human suffering prevails throughout the occupied Palestinian territory, said the UN chief, including the "dire socio-economic conditions" facing the two million Palestinians living in the Gaza Strip.
"Projects implemented by UN agencies and other donors are bringing a measure of relief, but far more needs to be done", explained the UN chief.
Ultimately, Gaza also requires political solutions: "On its own, no amount of humanitarian or economic support will resolve either the situation in Gaza or the broader conflict", he said.
Restrictions must be eased on the movement of goods and people to and from Gaza, with the goal of ultimately lifting them.
"I call on Palestinian leaders to engage constructively with Egypt and others to advance intra-Palestinian reconciliation", Mr. Guterres stated, repeating his pleas to Member States to "ensure reliable funding for UNRWA [UN Relief and Works Agency for Palestine Refugees in the Near East] to fully continue its vital work on behalf of Palestinian refugees".
Elections 'long overdue'
Holding "long overdue general elections" in Palestine, including East Jerusalem, will be "a crucial step" towards renewed legitimacy for national institutions and "reuniting the Palestinian people under a single, legitimate and democratic Palestinian national government", according to the UN chief.
"As my Special Coordinator of the Middle East Process recently said to the Security Council, we are hopeful that the Palestinian President will very soon issue the decree scheduling legislative and presidential elections and that Israel will allow voting in East Jerusalem as well", he said.
UN's diamond anniversary
In marking the Organization's 75th anniversary, Mr. Guterres flagged, "we need a renewed commitment to uphold the values of the Charter as our shared framework of cooperation for realization of the rights of future generations of Israeli and Palestinians".
"Rest assured of my full commitment and that of the United Nations" for a "just and comprehensive peace" between Palestinians and Israelis "living side by side" as two States, concluded the Secretary-General.
'No place' for coups in today's world
On the opening day of a new UN Human Rights Council session on Monday, UN Secretary-General António Guterres reiterated his "full support to the people of Myanmar", three weeks after the military takeover that has brought thousands out onto the streets in protest.
"Coups have no place in our modern world", Mr. Guterres said in a pre-recorded video address at the Council's 46th regular session, his comments coming after the forum held a special session on 12 February, in which it adopted a resolution expressing deep concern at the junta's move.
"Today, I call on the Myanmar military to stop the repression immediately", the UN chief continued. "Release the prisoners. End the violence. Respect human rights and the will of the people expressed in recent elections. I welcome the resolution of the Human Rights Council, pledge to implement your request, and express my full support to the people of Myanmar in their pursuit of democracy, peace, human rights and the rule of law."
14-year old victim
Mr. Guterres's comments followed his censure at the weekend of the use of "deadly force" in Myanmar, in which a protester – reportedly 14 years old – was killed in Mandalay, along with one other.
Also addressing the Council at the start of its month-long session, which is being held almost entirely remotely to prevent the spread of COVID-19, UN High Commissioner for Human Rights, Michelle Bachelet, focused on the massive and negative impact of pandemic.
"I think we all realise that the use of force will not end this pandemic. Sending critics to jail will not end this pandemic. Illegitimate restrictions on public freedoms, the overreach of emergency powers and unnecessary or excessive use of force are not just unhelpful and unprincipled. They deter public participation in decision-making, which is the foundation of sound policy-making." 
Help for the most vulnerable
In another video message, President of the UN General Assembly, Volkan Bozkir, underscored the need to focus on people's basic needs – including new coronavirus vaccines – as the best way to recover from the pandemic.
"It is essential that all responses to the COVID-19 pandemic are centred around human rights, and promote the protection of our citizens, including the most vulnerable who need our care and consideration the most", he said. "This includes ensuring the equal and fair distribution of vaccines for all. It is critical that civil society, the private sector, and all stakeholders are facilitated to participate and provide feedback throughout the planning and assessment of responses."
Vaccine unfairness
Echoing the call for equitable vaccine access in a wide-ranging address that included a broadside against right-wing extremists becoming a "transnational threat" and the manipulation of personal digital data by Governments to control citizens' behaviour, the Secretary-General described the fact that only 10 countries had administered "more than 75 per cent of all COVID-19 vaccines" as "the latest moral outrage".
Vaccine equity "affirms human rights", he said, but "vaccine nationalism denies it. Vaccines must be a global public good, accessible and affordable for all."
Taking up that theme, Ms. Bachelet insisted that the new coronavirus crisis had illustrated the "deadly realities of discrimination".
Deep inequalities and chronic under-funding for essential services were to blame, she added, with policymakers largely responsible for ignoring these basic needs.
Pandemic rolls on
"Today, the medical impact of the pandemic is far from over – and its effects on economies, freedoms, societies, and people have only just begun", she said. "The global rise in extreme poverty, accelerating inequalities; setbacks to women's rights and equality; to education and opportunities for children and young people; and to the Sustainable Development Agenda are shocks that could shake the foundations of societies."
Despite the scale of the challenges posed in this second year of the pandemic, the High Commissioner struck a positive note, insisting that "we have the possibility of rebuilding better, more inclusive systems, which address root causes and prepare us to meet the challenges we will certainly face". 
Among the many major problems facing people everywhere, the UN Secretary-General highlighted the disproportionate gender impact of COVID-19.
Crisis 'has a woman's face'
"The crisis has a woman's face", he said. "Most essential frontline workers are women — many from racially and ethnically marginalized groups and at the bottom of the economic ladder. Most of the increased burden of care in the home is taken on by women."
Persons with disabilities, older persons, refugees, migrants and indigenous peoples had also paid a higher price than others during the first year of the pandemic. Mr. Guterres continued, before calling for "a special focus on safeguarding the rights of minority communities, many of whom are under threat around the world".
Cautioning against "policies of assimilation that seek to wipe out the cultural and religious identity of minority communities", the UN chief maintained that the diversity of communities was "fundamental to humanity".
Extremists a 'transnational threat'
And without identifying any specific countries, Mr. Guterres also spoke out against the rising and potentially international threat of right-wing extremist movements.
"White supremacy and neo-Nazi movements are more than domestic terror threats. They are becoming a transnational threat", he said. "Far too often, these hate groups are cheered on by people in positions of responsibility in ways that were considered unimaginable not long ago. We need global coordinated action to defeat this grave and growing danger."
Under the presidency of Jordanian Ambassador Nazhat Shameem Khan, the 46th Human Rights Council session is due to meet until Friday 23 March.
Haiti needs 'democratic renewal'
The top UN official in Haiti called Monday for a "democratic renewal" in the troubled Caribbean nation to lift it out of a drawn-out political and humanitarian crisis and put it back on the path to stability and development.
Helen Meagher La Lime, Head of the United Nations Integrated Office in Haiti (BINUH), told the Security Council – meeting via video-teleconference – that the polarization that has defined most of President Jovenel Moïse's term in office has become even more acute, as civic space shrinks and acute food insecurity grows.
Haiti has been in the grips of a renewed crisis since Parliament ceased to function in January 2020, leaving the President to postpone elections and rule by decree. In response, large crowds have poured into the streets, echoing opposition demands for Mr. Moïse to step down.
Elections imperative
"Only a democratic renewal, resulting from the prompt holding of credible, transparent and participatory elections, can provide Haiti with the opportunity to overcome its protracted political crisis," Ms. La Lime said.
That in turn would allow Haitian society and leaders to focus their attention on undertaking the governance and economic reforms necessary to set the country back on the path towards sustainable development, she added.
Joining the meeting from Port-au-Prince, President Moïse defended his administration, saying that it is confronting not only the COVID-19 pandemic, but also "corrupt oligarchs" and a "radical and violent opposition" which have tried repeatedly to stage a coup d'état.
'Policy of chaos'
"This policy of chaos has meant that the Government has had to take off the gloves", he said, adding however that parliamentary elections that originally should have taken place in October 2019 will go ahead in September.
Mr. Moïse, 52, says that his own presidential tenure ends in 2022, five years after he took office. But his opponents, citing the Constitution, claim that his term of office began when elections were held in 2016 – and that now is the time for him to step aside, according to news reports.
Dissent noted
Ms. La Lime, presenting the Secretary-General's latest report on Haiti, reported that the opposition has been unsuccessful in mobilizing significant public support in its campaign to oust the President.
But she noted that a raft of Presidential decrees has prompted judges to go on strike and threatened civic space through an overly broad definition of terrorism – and this at a time when an estimated 4.4 million Haitians will be in need of humanitarian assistance this year.
Against this volatile backdrop, preparations for this year's elections – and for a Constitutional referendum – are going ahead. But she warned that much remains to be done, and that voting could be delayed due to a lack of international funding.
"Above all else, a minimal consensus among relevant political stakeholders would greatly contribute to creating an environment conducive to the holding of the Constitutional referendum and subsequent elections", she said, adding that the United Nations stands ready to help.
Hopeful amid strife
Also briefing the Council today was Vivianne Roc, 23, from Plurielles, an eco-feminist youth group, who described a Haiti gripped by lawlessness, banditry and gang violence – but also hopeful that things can still take a turn for the better.
"The young woman before you today is outraged by the wind of insecurity that is sweeping her country," she said, presenting the 15-member body with several recommendations – including a crackdown on arms and drug trafficking, and the establishment of call centres for victims of domestic violence.
Loss of autonomy in Indian-administered Jammu and Kashmir threatens minorities' rights
India's decision to end autonomy in Jammu and Kashmir and restrict the participation of minorities in political and other activities sparked the concern of two UN-appointed independent human rights experts, on Thursday.
"The loss of autonomy and the imposition of direct rule by the Government in New Delhi suggests the people of Jammu and Kashmir no longer have their own government and have lost power to legislate or amend laws in the region to ensure the protection of their rights as minorities", Fernand de Varennes, Special Rapporteur on minority issues, and Ahmed Shaheed, Special Rapporteur on freedom of religion or belief, said in a statement.
Autonomy imperiled
As Jammu and Kashmir were India's only Muslim-majority state, India granted them partial autonomy out of respect for the ethnic, linguistic and religious identities of its people.
On 5 August 2019, the Government unilaterally revoked its special status and in May 2020, passed the so-called Domicile Rules, which removes protections for those in the territory.
The new laws override previous ones that had granted the Kashmiri Muslim, Dogri, Gojri, Pahari, Sikh, Ladhaki and other established minorities the right to buy property, own land and access certain state jobs.
 "These legislative changes may have the potential to pave the way for people from outside the former state of Jammu and Kashmir to settle in the region, alter the demographics of the region and undermine the minorities' ability to exercise effectively their human rights", the experts said. 
Moreover, the number of successful applicants for domicile certificates that appear to be from outside Jammu and Kashmir raised their concern that demographic changes on a linguistic, religious and ethnic basis have already begun. 
Undermining minority rights
The UN experts urged India to ensure the economic, social and cultural rights of the people in Jammu and Kashmir along with their rights to freedom of expression and participation in matters affecting them.
Independent UN Special Rapporteurs are appointed by the Human Rights Council. They are not UN staff and do not receive a salary for their work. They are independent from any government or organization and serve in their individual capacity.