The UK's Struggle to Find Skilled Workers Due to Brexit
If you are a worker in the UK and are looking to change job, now may be the right time to polish your CV and start scrolling through on UK job sites like Jobrapido. Recent findings have revealed that the UK's economic output is stalling due to fewer people coming to the UK to find work, likely caused by Brexit.
The UK's service sector has experienced increasing struggles to get enough workers due to free-falling numbers of applicants with the relevant skills or experience in the build-up to the Brexit departure date. This is just one of the lost battles from the Brexit saga, which could severely impact the UK more than the EU.
Data from the Chartered Institute of Procurement and Supply (Cips) and HIS Markit suggest the companies in the service industry, accounting for just short of 80% of the UK's economic output, are not able to grow and develop due to a significant labour shortage and difficulty finding the right staff.
These findings come sharply after other figures highlight that record numbers of EU residents have turned their back on the UK and are choosing not to go for work. Thus, reducing the potential workers available to companies in the service sector.
A labour shortage does have the potential to increase average wages in these industries because workers then hold more bargaining power due to less competition. Yet, it also causes concerns among economist circles who worry about the repercussions of fewer workers and potential effects on economic growth.
The survey, as mentioned earlier, has reported that employment growth has been constrained – and follows other reports that UK unemployment is also at record lows since the mid-1970s. Therefore, the two statistics together suggest fewer people are available to work in the UK. This is also why those wanting to switch careers may have more success today – and hold more bargaining power.
WorldFirst's chief economist, Jeremy Thomson-Cook, suggested that this result is one in a long line of blows for the UK economy and points to Brexit uncertainty as the problem.
However, there may be some pending changes to counter these results. As it is reported, the Home Office plans to U-turn on a Teressa May government's decision to give international students who have graduated in the UK just four months to find work or be forced to leave.
The new change will give any international graduate from 2020 up to two years to find a position with a UK company and remain in the UK, ultimately paving a way to full-time residency and UK citizenship.
The move has been criticised by some as there are no criteria for the type of employment the graduates must secure. They do not have to hold a relevant post in line with their training and can end up with any job to stay.
Some groups such as Immigration Watch UK believe it will lead to many graduates taking service job roles. Although this is not the aim of a Boris Johnson government aiming to increase the skills and talent of foreign workers in the UK, it may provide some support to the service industry amidst the Brexit uncertainty.
Credit Suisse Collapse – this is a robbery of Arab investors
Riding an oil-price boom last year, Saudi Crown Prince Mohammed bin Salman directed government-backed Saudi National Bank to make a $1.5 billion investment in Credit Suisse. Now, the Saudi investment is almost wiped out after Credit Suisse's emergency merger with UBS Group AG, 'The Wall Street Journal' claims.
Credit Suisse's meltdown also erased billions of dollars in investments made by Qatar's sovereign fund and the Saudi-based Olayan family, making the Persian Gulf one of the biggest losers from a slide in financial stocks since the collapse of two U.S. banks last week.
The Saudis struck the deal when oil prices were just below $100 a barrel, as Russia's invasion of Ukraine juiced energy markets.
The steep losses are a reminder of how Gulf states were burned investing in Western banks and hedge funds during the financial crisis in 2007 and 2008. The value of foreign assets in portfolios of the Gulf Cooperation Council states in 2008 fell by $100 billion to a total of $1.2 trillion, not counting the vast personal holdings of their ruling families, the New York-based Council on Foreign Relations reported in 2009.
Michael Klein, a former Citigroup Inc. banker who has long worked with Middle East clients, connected the $600 billion PIF with Credit Suisse last fall, some of the people said. The troubled bank needed billions of dollars to fund a turnaround plan that would move it away from investment banking toward wealth management. Mr. Klein was working on the overhaul as a Credit Suisse board member.
PIF connected Credit Suisse and Saudi National Bank, the kingdom's largest bank with close ties to the government, some of the people said. Prince Mohammed gave the green light for the Saudi bank to make the Credit Suisse investment, some of the people said.
The investment made Saudi National Bank the biggest shareholder in Credit Suisse, with just less than 10% ownership.
"The Saudi market [is] the 700-pound gorilla economically in the region, and just getting them to engage with us in Saudi Arabia would be more than good enough," Mr. Khudairy said of Credit Suisse.
The Gulf region has deep ties to Credit Suisse. Tiny natural gas-rich Qatar began snapping up shares of Credit Suisse as markets wobbled in 2008, and led a group of private investors who pumped billions of dollars into the company in the weeks after the collapse of Lehman Brothers, ultimately building up a stake worth more than $3 billion.
Qatar and the Olayan family together plowed another $6.2 billion into the company in 2011 through a special type of debt. In 2013, Qatar converted over $4.5 billion of that debt into bonds called Additional Tier 1 capital notes — which are poised to be wiped out as part of Credit Suisse's deal with UBS.
Investor confidence in Credit Suisse began wobbling last week after the collapse of Silicon Valley Bank in the U.S. On Wednesday morning, Mr. Khudairy told Bloomberg TV his bank would "absolutely not" be willing to assist if Credit Suisse needed more capital.
According to the people familiar with the matter, Saudi National Bank officials felt out of the loop, finding out about the talks with UBS via the news media.
A group led by Saudi National Bank proposed injecting around $5 billion into Credit Suisse, 'The Wall Street Journal' previously reported. Under the plan, "Credit Suisse bondholders would have been fully protected." But Swiss ministers rejected the offer.
The best paper writing service for urgent papers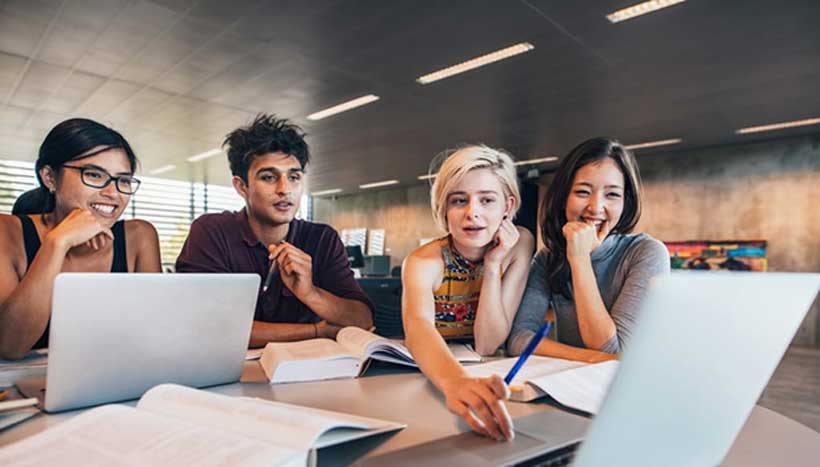 The Best Solution to Your Homework Problems
WriteMyPaper proves that not all write my paper services are alike. It is a service that offers excellent papers from writers that are experts in their fields of study. Moreover, the service offers a simple approach to paper writing. You can quickly place an order, get status updates on your project, and then review your paper to make sure it is of the best quality.
You can learn more about what to expect from this essay writing service from this review. The company guarantees that you will get the help you need for any assignment you want to finish. Above all, the website provides assistance with whatever needs you may have to finish your writing assignments.
General Overview of the Service
With the help of Writemypapers.org, students can complete their academic writing assignments more easily. This paper writing company is happy to provide excellent write my college paper solutions that meet the highest standards of quality.
They have writers on their staff that are highly skilled, experienced, and experts in their fields. They can do any type of academic writing assignment, including essays, research papers, term papers, and more. They are focused on providing the highest level of customer service possible too.
This service takes great pride in giving every customer the best results possible. Mainly because their writers are experienced in making sure that each paper they provide is original, thoroughly researched, and plagiarism-free.
They also promise on-time delivery of orders and offer round-the-clock assistance. Customers will receive their papers on time and without any delays thanks to this.
It is a reputable writing service with many years of experience and lots of regular customers. They deliver top-notch services and guarantee the accuracy of each paper they write.
Their team of professional writers guarantees original writing that is free of plagiarism. They also provide free revisions and a money-back guarantee.
To guarantee that every customer receives the highest quality work, the company exclusively hires the sharpest and most experienced authors. Each writer is experienced and holds a degree in the subject matter they are writing about.
Moreover, these skilled writers have doctoral, master's, and bachelor's degrees. They make homework writing easier for students from high schools, colleges, and universities. This means that you do not simply "pay someone" but rather collaborate with someone experienced in your subject.
This write my papers service offers live chat, phone, and email customer service 24/7 to guarantee customer satisfaction. They have a helpful and experienced customer support team that can help with any questions or problems.
Customers can be sure that their papers will be delivered on time because they also promise a quick response time and prompt delivery for all orders.
Wide Range of Subjects and Papers
The writers can provide original content that is interesting and engaging since they are experts in their subjects. And they can also help with many different disciplines, including:
Economics,
English,
Economics,
History,
Geography,
Computer Science,
Linguistics,
Philosophy.
They can write papers for students. Among these papers are essays, articles, reports, and other assignments that meet the highest academic standards. The writers are also qualified for proofreading and editing, guaranteeing that customers get the best results.
Customers of this paper writing service are also guaranteed complete confidentiality and safety. No customer information is ever shared with third parties and is always kept private. Additionally, the company gives a money-back guarantee to customers, making sure that their money is spent wisely.
Ultimately, Writemypapers provides consumers with a safe, quality experience that guarantees the best work written by skilled and qualified experts. Before sending your work, their quality assurance department thoroughly checks it for mistakes and plagiarism.
Many customers have given the company excellent reviews since they were so pleased with their services. You can count on receiving a top-notch paper on time.
Types of Services
In addition to essays, research papers, term papers, coursework, book reviews, case studies, lab reports, and dissertations, the platform also provides students with a wide choice of other academic writing opportunities. Their skilled writers can handle any academic writing assignment, from basic writing papers for students to complex dissertations.
Writemypapers.org provides assistance with every type of paper you might need. You can ask for help with any of the following tasks:
Traditional essays are the most popular option on this website. Standard and argumentative essays are among them.
The team can also finish reviews. These are book, literature, and film reviews.
Creative writing services are also available. One example of this is when you ask someone 'write a paper for me' without conducting any prior research.
Thesis assistance is also offered, and you can pay them to finish your thesis, proposal, or statement.
It is possible to order an annotated bibliography. You are free to provide as many references as you like.
You can order a paper at the undergraduate, bachelor, and professional levels. The company also provides editing and proofreading services to customers who want an extra level of attention to detail.
Your paper can be checked by its editors to make sure it meets all requirements and is readable. Their team of experts is there to help you with grammar, punctuation, and syntax to guarantee that you get the maximum benefits.
How This Service Works
The ordering process on this website is clear and simple. You must first complete the order form with all the necessary information about your paper, including the topic, length, delivery date, and any further specifications.
After submitting the order form, a writer will be assigned to work on your project. They will conduct the necessary research and write it following your instructions.
You will be sent a copy of the completed paper to review. Then, you can ask for revisions if needed. Once you approve the paper and are satisfied with it, you will get a download link for the document. You can be confident that the work you receive from this service will live up to your expectations.
Pricing System and Guarantees
The price of services on this website varies based on the type of paper you are getting, its length, deadline, and other aspects. You can use the company's discounts and special offers to get the best prices for their 'writing my papers' services. Customers can typically expect to pay $11.99 to $20 per page.
You will get the best value for your money because the company additionally provides free revisions and a money-back guarantee if you are not happy with the paper. You can use a grammar checker tool on this website to proofread and edit your papers for free. There is also a great database of free essay samples you can check out.
This service provides some guarantees to assure customer satisfaction. These include:
refund guarantee,
plagiarism-free guarantee,
on-time delivery guarantee,
satisfaction guarantee,
confidentiality guarantee.
Any orders that are not finished on time or fall short of the customer's expectations are covered by the money-back guarantee. The 100% originality guarantee makes sure that none of the content is plagiarized. Orders are always finished on time thanks to the timely delivery guarantee.
Customers are guaranteed to be satisfied with their 'writing my paper' orders and can ask for revisions if necessary, thanks to the satisfaction guarantee. Finally, the confidentiality guarantee protects the security and privacy of all personal and banking information.
If you order a paper from this website, you will get:
writers with experience and degrees;
excellent papers;
free revisions;
100% money-back guarantee;
24/7 customer support;
safe payment options.
Conclusion
All things considered, Writemypapers is a professional and trustworthy writing service that can assist students with their academic projects. This service is a great option for people looking for a dependable writing service because it offers skilled writers, a great choice of services, and excellent papers at competitive prices.
Their skilled writing team and 24-hour customer support team give academic papers at good prices, supported by a refund and satisfaction guarantee. Whatever assignment you have, their expert writing team can help you finish it better and quicker.
Crafting Engaging Employee Training Materials with Powered Template
One of the leading causes of employee dissatisfaction in job roles stems from a lack of sufficient training and development options within companies. With the threat of staff turnover a leading and costly issue for many businesses, it's essential that training materials are revised to become as engaging as possible. To help counter this, Powered Template stands as a low-cost and effective resource for improving the quality of training content throughout an organization.
According to the Academy to Innovate HR a 'lack of training and development options' is listed among the eight causes of job dissatisfaction within roles, along with factors relating to salaries, appreciation, and workplace relationships.
One of the causes for employees to resent the quality of training available to them doesn't necessarily stem from a training program's ability to teach new competencies and refresh existing ones, but instead revolves around a lack of engagement.
Many businesses are guilty of falling into the trap of creating raw training materials without taking the time to consider how employees will consume this information over time. To task a member of staff with reading a 20-page document covering new house styles at a business is a difficult ask–even based on the presumption that they'll be capable of learning without allowing themselves to become distracted.
Fortunately, platforms like Powered Template can excel in offering enterprises high-quality templates for training materials that can help to keep employees more motivated to read content and take on new information without the risk of disengaging in the material.
Exploring Powered Template's Training Materials
While Powered Template is a sprawling online library of content resources that's more readily associated with pre-prepared presentation slides and materials, the platform is actually a massive resource for a wide range of 100% editable content.
With more than 100,000 free and premium templates covering graphics, images, clip arts, presentation slides, business materials, and even web pages, Powered Template has evolved to become a one-stop shop for high-quality ready-to-use resources.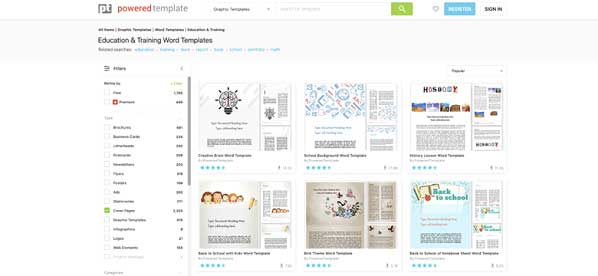 Using Powered Template's intuitive menu which populates your specific selections in real-time, we can see that the platform offers an extensive collection of education and training templates that businesses can use to create more engaging training content.
With more than 2,200 resources in education and training templates, it's clear that many businesses will have the ability to create more impactful materials for employees to engage with.
As we can see on Powered Template's gallery of options, each template comes with a star rating representing the rating given by users to better indicate whether the option is satisfactory. Premium content is also signified with a red thumbnail depicting a crown.
Taking a closer look at one of the available templates, we can see a range of greater information available about matters like compatibility and the type of content that users would be accessing.
In the example, 'Orion Nebula Word Template', we can immediately see that 370 users have provided the template with an average rating of 4.5-stars out of five, and that the content has been downloaded 525 times.
Crucially, we can also see that icons are used to signify the compatibility of the file once it's downloaded. In this case, the template can be used as a Microsoft Word or Apache OpenOffice document.
All files downloaded are fully editable, and businesses will be free to add relevant training content as they see fit within the pre-designed format within the document.
Choosing the Right Design for Your Needs
Powered Template is an intelligent resource that's dedicated to helping users find the materials that best suit their needs. With this in mind, there's an excellent 'similar' function on content pages that can automatically guide users to designs that possess the same features, color schemes, and relevance for ease of reference.
When clicking 'similar', Powered Template will guide users to a page populated by a series of algorithmically selected options that can help them to refine their search further and find the right design.
Once the perfect template has been selected, it's time to download the content. For free-to-use content, it's easy to download an option–though free downloads require an attribution to Powered Templates that's visibly placed within the content when editing has been finished.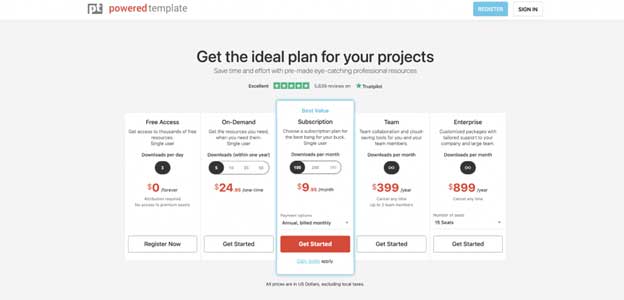 Premium content requires a subscription, with prices beginning at $8.95 per month. Powered Templates also offers an innovative on-demand option where users can buy 5, 10, 25, or 50 downloads that can be redeemed at any stage within 12 months for prices starting at a one-off payment of $24.95.
Now you're ready to download your document. Here, Powered Template will provide you with a .ZIP download that allows you to access all versions of the file itself. Simply open your desired file in the right format and edit to your heart's content. There are no limits on the level of editing you can do on a document so there's nothing stopping you from adding information until you get a final copy that you're happy with.
Powered Templates empowers employers to create training materials that can be considerably more engaging than simple blank documents filled with pages of revision materials.
With thousands of options that can be adapted to suit any businesses' needs, you're guaranteed to find the templates that fit the bill for you to utilize in a cost-effective manner. This can help you to keep employees better engaged during those all-important competency training programs to build satisfaction and contentment throughout the company as a whole.