First year of the EU-Japan Economic Partnership Agreement shows growth in EU exports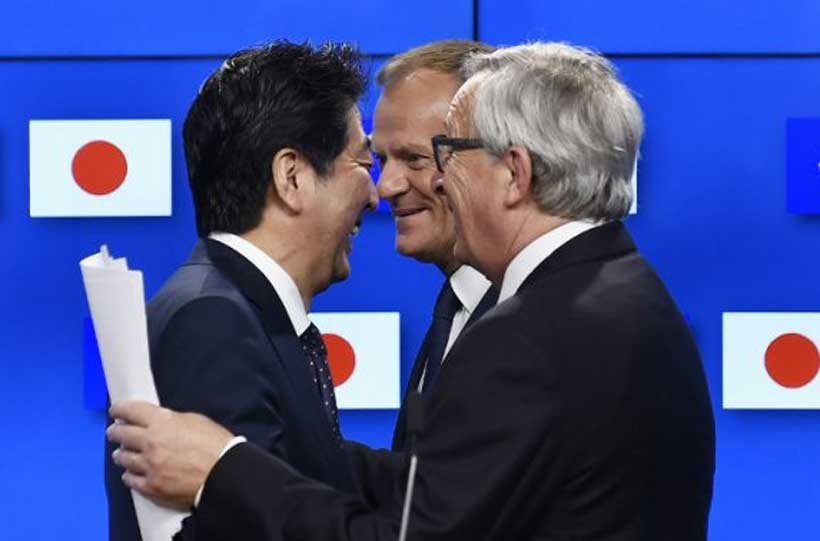 1 February 2020 marks the first anniversary of the entry into force of the EU-Japan Economic Partnership Agreement (EPA). In the first ten months following the implementation of the agreement, EU exports to Japan went up by 6.6% compared to the same period the year before. This outperforms the growth in the past three years, which averaged 4.7% (Eurostat data). Japanese exports to Europe grew by 6.3% in the same period.
Commissioner for Trade Phil Hogan commented: "The EU-Japan trade agreement is benefitting citizens, workers, farmers and companies in Europe and in Japan. Openness, trust and a commitment to established rules help deliver sustainable growth in trade. The EU is and will continue to be the largest and most active trading block in the world. The EU is a trusted bilateral partner to more than 70 countries, with whom we have the biggest trading network in the world."
Certain sectors have seen even stronger export growth over the same period:
Meat exports increased by 12%, with a 12.6% increase for pork exports, and frozen beef exports have more than tripled.
Dairy exports were up by 10.4% (including a 47% increase in butter exports).
Beverages exports went up by 20%, with 17.3% growth in wine exports.
Leather articles exports and apparel have seen an increase of 14% and 9.5%, respectively.
Electrical machinery exports, such as telecommunications equipment, storage devices and electronic circuits went up by 16.4%.
The EU-Japan EPA offers new opportunities for EU businesses of all sizes to export to Japan. It removes the vast majority of the €1 billion in duties that were charged annually on EU exports to Japan. Once the agreement is fully implemented, Japan will have scrapped customs duties on 97% of goods imported from the EU and annual trade between the EU and Japan could increase by nearly €36 billion.
Sectors that stand to benefit from the EU-Japan EPA include for example:
Spanish leather goods: Spanish shoe company Masaltos gets nearly two-thirds of its revenue from overseas sales, with Japan accounting for 4%. It has become more competitive on the Japanese market, as the EPA has helped reduce costs for exporters of luxury products.
French seeds: France's HEMP-it is a farmers' cooperative specialising in producing and certifying seeds. They have been working with the Hokkaido Hemp Association for the past four years, trying to restart the traditional hemp crop in Japan. The EU's trade agreement with Japan could help develop the business between HEMP-it and Japanese farmers by developing plant varieties without any THC.
Irish beef: Bord Bia, the Irish Food Board, has been promoting EU beef in a project co-financed by the EU. The campaign seeks to highlight Europe's high standards of food safety, quality and sustainability in Japan. Thanks to the EU-Japan EPA, tariffs on beef will gradually fall to 9% over the period of the agreement. This means Irish beef products can be sold at competitive prices.
Further examples of sectors and companies from other Member States are available here.
Background
The EPA creates new opportunities for European farmers and food producers, while fully protecting the EU's interests. Thanks to the agreement, 211 high-quality food and drink products from the EU (so-called "geographical indications") can now be sold under their own name in Japan and are protected from imitation.
In addition, the EU has gained better access to public contracts in Japan, one of the largest public procurement markets in the world. The agreement also offers better conditions for services suppliers, greater mobility for company employees, and a framework to enable the mutual recognition of professional qualifications.
The EU and Japan have also agreed to set ambitious standards on sustainable development, including for the first time a specific commitment to the Paris Climate Agreement.
Growth in EU exports to Japan – examples
| | |
| --- | --- |
| Product | Increase in exports under the agreement* |
| Beverages | 20% |
| Wine | 17.3% |
| Cider | 31.5% |
| Tea | 39.8% |
| Pasta | 14.9% |
| Sunflower seeds | 39.9% |
| Meat | 12% |
| Pork meat | 12.6% |
| Frozen meat of bovine animals | 221.0% |
| Dairy | 10% |
| Milk and cream | 120.7% |
| Butter | 47.8% |
| Cheese | 7.0% |
| Leather articles | 14% |
| Apparel | 9% |
| Babies' clothing and accessories | 108.3% |
| Electrical machinery | 16.4% |
| Telephone sets and telecommunication equipment | 69% |
| Discs, tapes, storage devices | 9.4% |
* February through November 2019 compared to February through November 2018
William Ruto: Time to Pursue Global Peace and Sustain Positive Changes for Billions in the World
The world over today, hundreds of millions of people are besieged by anxiety about their present and future security, dignity and prospects of well-being. Many are victims and witnesses of present assaults and many more are afraid of future violations of their most fundamental expectations.
In his opening address, the UN Secretary-General provided graphic snapshot of the condition of the world and humanity, a situation that calls into question the state of multilateralism in terms of its founding aspirations, as well as its present agenda.
The poverty, fear, suffering and humanitarian distress haunting the victims of conflict, drought, famine, flooding, wildfires, cyclones, deadly disease outbreaks and other disasters, are the outcomes of sustained violation of the most essential principles, and the systematic neglect of humanity's dearest values, which lie at the very foundation of the UN charter.
The failure of peace and security systems, inadequate development, and limited climate action, amidst technological advancement and enormous wealth, has left us in a state of paralysis, enduring one of the darkest periods of human existence.
We may all agree, without any fear of contradiction, that the world is headed in a most undesirable direction. It is moments like this that the affirmative spirit of multilateralism, international collective action and global solidarity is most needed and should be attainable.
This is not the occasion for any member of the United Nations to escape, when they should be rising to the challenge of the moment. Resorting to the pursuit of narrow, insular and antisocial agendas within exclusive clubs constituted to maintain the status quo that undermines and cannibalises the United Nations system at the expense of progress in humanity's collective journey to the future of our aspirations, is totally unacceptable.
The existence of these inimical clique of geopolitical formations defies the fundamental values and principles of the UN system, and its operations have led to alienation, mistrust, insecurity and exclusion of and among peoples, nations, regions and continents.
Moments like now place the nature and purpose of multilateralism under sharp scrutiny for history's honest examination and judgement. If any confirmation was ever needed that the United Nations Security Council is dysfunctional, undemocratic, non-inclusive, un-representative and therefore incapable of delivering meaningful progress in the world as presently constituted, the rampant impunity of certain actors on the global scene settles the matter.
The environment of pervasive mistrust – between the global north versus south, developed versus the developing, rich versus poor, polluters versus victims and net emitters versus net victims- which complicates and frustrates multilateralism, is the inevitable result of promises not kept, commitments not actualised, resolutions not honoured, and principles not observed. Multilateralism has been failed by the abuse of trust, negligence and impunity.
A year ago, I stood in this Assembly Hall to call upon the global community to transform the UN system to achieve a consensus-driven, rule-based multilateral system which works for the people of the world in their diversity. It is time for multilateralism to reflect the voice of the farmers, represent the hopes of villagers, champion the aspirations of pastoralists, defend the rights of fisherfolk, express the dreams of traders, respect the wishes of workers and, indeed, protect the welfare of all peoples of the world.
In the face of the most urgent crises of our time, it is now clear that the international community has fallen seriously behind in meeting its targets in both climate action and the implementation of the sustainable development goals, as well as their underlying enabler, peace and security.
We as Africa have come to the world, not to ask for alms, charity or hand-outs, but to work with the rest of the global community and give every human being in this world a decent chance of security and prosperity, by taking necessary actions, mobilising adequate resources for investment, confronting security challenges and resolving conflicts, as we also make contribution to global prosperity.
Kenya is proud of the contributions it continues to make in its tireless endeavour to support peace-making, conflict prevention, peace keeping, peace building, and other interventions undertaken across different regions.
Across Africa, there is progress in efforts to resolve conflicts, and restore peace and stability while, at the same time, we are witnessing setbacks to democratic consolidation in the form of unconstitutional changes to government. Kenya remains committed, determined and indefatigable in its contributions to unity, peace, security, stability, and prosperity.
Often, we have made encouraging progress. For example, on 5th December 2022, the Juba Peace Agreement ushering in a two-year transition was signed by the parties to the conflict in Sudan. A day afterwards, the Inter-Congolese Dialogue, an EAC-led process, concluded its third session in Nairobi. The following day, the government of Somalia and Somaliland agreed to resume reconciliation.
We are also proud of the progress made in stabilising Eastern DRC because of the EAC Regional Force, setting the DRC on the path to sustainable peace and stability.
In Ethiopia, the guns have fallen silent following the Pretoria and Nairobi agreements, while in South Sudan, the parties have committed to explore ways to resume and conclude the stalled peace process, and to hold elections. Our proactive commitment to peace, which is not limited to the continent, inspired us to dispatch the African Peace Delegation, consisting of six African heads of states to Moscow and Kiev with a ten-point peace plan, beginning with efforts to initiate a mediation process to resolve the conflict between Russia and Ukraine.
Although the delegation encountered significant challenges in their mission, we remain very proud that they showed up. The hunger for peace and security in Africa is evident, and this bodes well for the prospects of attaining the African Union's Agenda 2063 and global peace.
Kenya stands in solidarity with all humanity, without regard to region or border or hemisphere. This is why, and how we see the people of the Republic of Haiti, who are suffering immensely from the bitter legacy of slavery, colonialism, sabotage and neglect.
As a nation which was forced to wage a painful struggle for our independence and sovereignty, Kenya empathises very deeply with the humiliation of a proud people, and the price they have had to pay for their hunger for liberty, and the sorrow they have endured for their thirst for freedom. Haiti is the ultimate test of international solidarity and collective action. The international community has failed this test so far, and thus let down a people very, very badly. Haiti deserves better from the world. The cry of our brothers and sisters, who were the first people to win their struggle for freedom from colonial tyranny, has reached our ears and touched our hearts.
Doing nothing, in the face of the historic isolation, neglect and betrayal of the people of Haiti, is out of the question. Inaction is no longer an option. As we mobilise to show up for Ukraine, and countries that have experienced the devastating impact of climate shocks including Libya, Morocco and Hawaii, we must not leave Haiti behind.
We must commit to show up in the spirit of solidarity to support a people regain their political and socioeconomic footing, by reinforcing the underlying enabler: security. Kenya is ready to play its part in full, and jointly with a coalition of other nations of goodwill, as a great friend and true sibling of Haiti.
We urge the United Nations to urgently deliver an appropriate framework to facilitate the deployment of Multinational Security Support as part of a holistic response to Haiti's challenges.
We call on the Security Council to contribute positively by approving a resolution under Chapter Seven that tailors the security support mission to the specific needs of Haiti and its people. This should be part of a comprehensive strategy that includes delivering humanitarian aid, supporting livelihoods, instituting reforms, and fostering a political process guided and owned by Haitians, all with the aim of enabling free and fair elections within a reasonable timeframe. We are encouraged by many countries which have already stepped forward to take part in this solidarity.
We must recognise that stability, peace and security form the foundation on which the pursuit and realisation of sustainable development and climate action stands. This realisation must enable us formulate strategies which treat these initiatives as interconnected, mutually reinforcing and complementary dimensions of a single agenda.
The tragic spectacle of young people from Africa boarding rickety contraptions to gamble their lives away on dangerous voyages in pursuit of opportunities abroad, as conflict, climate and economic refugees, is a testament of the failures of the global economic system. At the recently concluded Africa Climate Summit in Nairobi, we undertook to begin the journey to course-correct and execute a paradigm shift in the pursuit for development and climate action.
First, we recognise that both climate action and sustainable development goals must be pursued simultaneously with greater resolve, urgency and ambition. No meaningful development can take place in countries that are also struggling with climate shocks and yet, at the same time, the frequency of climate emergencies impedes any meaningful development.
As a defining outcome of the Africa Climate Summit, we committed Africa to consider the dual problems through an opportunity lens and deliver effective solutions by pursuing a fresh trajectory.
Development is a necessity for every society; it must happen one way or another. There should be no doubt about that. Annually 30 million young people need jobs, and many more need food. Half of our continent is in the dark- without access to electricity in 2023, while hundreds of millions can only cook using biomass. This is why the commitment of African nations in the Nairobi Declaration is radical and transformative: development is a fundamental imperative and green growth is the only sustainable way to achieve it.
From our standpoint, there is no need to be trapped in a false choice: sustainable development is robust climate action and climate action is development.
Africa's potential is defined by abundant and diverse resources, ranging from a youthful, highly skilled and motivated population, immense renewable energy potential and mineral resources, including critical minerals, and extensive natural capital endowment, including 60% of the world's unutilised arable land.
Capital and technology can find no better returns anywhere, than the tremendous investment opportunity in Africa's potential. Such investment would drive green growth creating jobs and wealth while decarbonising global production and consumption.
Further, the investments would also connect over 600 million people to clean electricity, provide clean cooking to about a billion people, finance green manufacturing including e-mobility, transform African agriculture and food systems including the manufacture of green fertiliser, process vast tonnage of the steel, aluminium and lithium required by new green industries, and enable our young people find the livelihoods they desire, at home, and reverse the tide of migration in the opposite direction. To unlock financing at scale and create incentives for investments at scale in green opportunities, the Nairobi Declaration makes the reform of the international financial system a priority.
No meaningful climate action or development can take place in conditions of financial distress. According to IMF data as of last month, 10 low-income countries were in debt distress, and 52 are at high and moderate risk of falling into distress.
The 3.3 billion people in these countries are trapped in a vicious cycle of emergency responses, reconstruction, and recovery from more frequent climate shocks, which diverts resources away from both development and climate action and sucking vulnerable countries into a downward spiral of debt and environmental stress.
The global community must therefore develop a debt restructuring initiative that does not wait for nations to plunge over the cliff before providing relief. Rather, the new sovereign debt architecture should extend the tenor of sovereign debt and provide a 10-year grace period.
The second financing intervention relates to concessional financing. It is time to support international financial institutions to provide more concessional loans to the tune of $500 billion and to provide increased liquidity support through Special Drawing Rights (SDRs) with a minimum target of $650 billion. Access should be based on specific needs, not entitlement, and this necessitates changes to the allocation mechanism.
The third critical reform is that of the financial market reorganisation. The entire system of risk assessment and the opaque methodologies employed by credit rating agencies and risk analysis needs to be overhauled. We must all recall the miscalculation of subprime mortgage risk by these agencies two decades ago, which precipitated a financial crisis whose effects reverberate to date, and ask the following question: On what basis should we believe that their methodologies are better at assessing risks in faraway frontier markets that are far more difficult to measure objectively, than in assessing the value of financial assets in the markets where they actually operate, and which they got so disastrously wrong?
In any case, any objective rating must also take into account principles of responsible sovereign lending and accounting, specifically emphasizing the need for international accounting systems that supports the proper valuation of mineral wealth, natural capital and ecosystem services, in the computation of national GDPs.
The fourth limb of the interventions arising out of the Nairobi Declaration is the establishment of a global public climate financing mechanism, funded through a global carbon tax on trade in fossil fuels, as well as an emissions levy on aviation and maritime transport, including the option of a global financial transactions tax, to make available, dedicated, affordable and accessible capital, for green investments at scale.
The roadmap to this new and urgently needed institutional infrastructure involves sustained engagement of various multilateral processes, and the instrument to actualise it by 2025 shall be a new global climate finance charter to be negotiated through the UNGA, COP and associated processes.
We understand the facts about our collective situation as a global community and as members of the United Nations family. We know the magnitude of our shared challenges and common threats. We appreciate that multilateralism is on trial, and our task is to defend it. We also recognise that multilateralism is broken, and it is our responsibility to repair it.
From this moment to 2030 and from our problems to their solutions, we are connected by a coherent agenda of robust collective action. We must therefore muster the courage and will, to stand together in solidarity and act: to right past wrongs, solve present problems and secure the future. To protect and empower all people and support our friends in need. To restore broken trust, raise hope high and keep faith strong and, finally, to pursue, achieve and sustain positive change to make billions of cherished dreams come true. We must start right away, for we have no time to lose.
UNOCT And ECOWAS Sign Agreement to Strengthen Cooperation on Preventing and Countering Terrorism
The United Nations Office of Counter-Terrorism (UNOCT) and the Economic Community of West African States (ECOWAS) signed a Memorandum of Understanding (MoU) on September 21 to strengthen their partnership in preventing and countering terrorism and violent extremism.
The MoU establishes a framework for cooperation between both entities over the next five years on a range of security and counter-terrorism initiatives, including preventative efforts to counter terrorist travel, financing, access to weapons and misuse of information and communications technologies; border security and management; prosecution, rehabilitation and reintegration (PRR), and the delivery of counter-terrorism training programmes in Africa.
The agreement also makes provisions for UNOCT support to ECOWAS and its Member States in the implementation of the ECOWAS 2020-2024 Action Plan on Eradicating Terrorism.
The MoU was signed by Dr. Omar Alieu Touray, President of the ECOWAS Commission, and Mr. Vladimir Voronkov, United Nations Under-Secretary-General for Counter-Terrorism, during a bilateral meeting on the margins of the 78th session of the United Nations General Assembly High-Level Week.
Under-Secretary-General Voronkov welcomed the signing noting that it marks a pivotal moment, as it establishes a comprehensive cooperation framework for the next 5 years.
Dr. Touray expressed ECOWAS commitment to the collaboration with the UN through UNOCT to address the multifaceted dimensions of terrorism, including the root causes such as youth empowerment, the fight against human rights violations and other governance deficits.
Following the signing, ECOWAS and UNOCT will develop a joint plan of action to put the agreement into practice, building on existing coordination platforms, such as the AU-UN Technical Working Group on Counter-Terrorism and PCVE.
They will also explore opportunities to develop and undertake joint or collaborative activities with the United Nations Global Counter-Terrorism Coordination Compact. Moreover, jointly organize workshops, conferences, or other meetings and activities on topics and issues related to CT/PCVE, bringing together the relevant stakeholders at the global, regional or national levels.
On September 21, ECOWAS participated in the Ministerial-Level meeting of African Member States on "Strengthening Regional Cooperation and Institution Building to Address the Evolving Threat of Terrorism in Africa" co-organized by Nigeria and UNOCT.
The meeting provided African Member States and regional organizations an opportunity to share their views on the prevailing terrorism threat scenarios in Africa and propose actionable and outcome-oriented recommendations for the African Counter-Terrorism Summit ("Abuja Summit") co-organized by UNOCT and Nigeria, which will be held in Abuja on 23-24 April.
The Summit will seek to enhance multilateral counter-terrorism cooperation and reshape the international community's collective response to terrorism in Africa.
The Alliance of Sahel States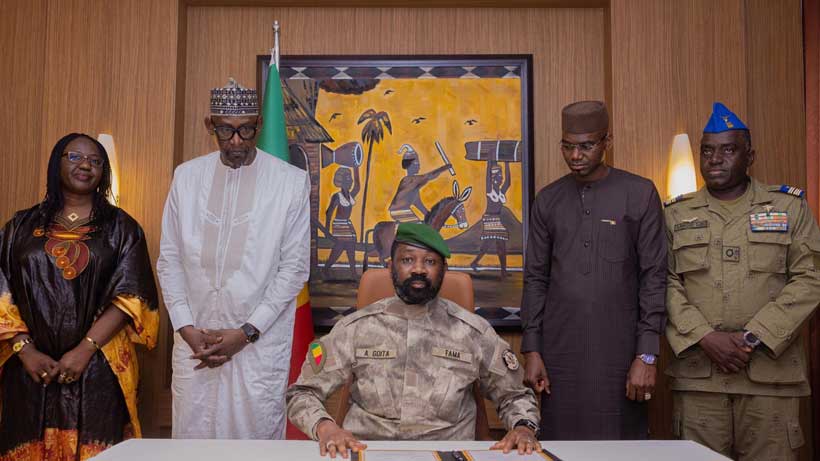 In Bamako, Mali, on Sept. 16, the governments of Burkina Faso, Mali and Niger created the Alliance of Sahel States (AES). Colonel Assimi Goïta, the head of the transitional government of Mali, wrote that the Liptako-Gourma Charter, which created the AES, would establish "an architecture of collective defense and mutual assistance for the benefit of our populations."
The hunger for such regional cooperation goes back to the period when France ended its colonial rule. Between 1958 and 1963, Ghana and Guinea were part of the Union of African States, which was to have been the seed for wider pan-African unity. Mali was a member as well between 1961 and 1963.
But, more recently, these three countries — and others in the Sahel region such as Niger — have struggled with common problems, such as the downward sweep of radical Islamic forces unleashed by the 2011 NATO war on Libya.
The anger against the French has been so intense that it has provoked at least seven coups in Africa (two in Burkina Faso, two in Mali, one in Guinea, one in Niger and one in Gabon) and unleashed mass demonstrations from Algeria to the Congo and most recently in Benin.
The depth of frustration with France is such that its troops have been ejected from the Sahel, Mali demoted French from its official language status and France's ambassador in Niger (Sylvain Itté) was effectively held "hostage" — as French President Emmanuel Macron said — by people deeply upset by French behavior in the region.
Philippe Toyo Noudjenoume, president of the West Africa Peoples' Organization, explained the basis of this cascading anti-French sentiment in the region. French colonialism, he said, "has remained in place since 1960."
France holds the revenues of its former colonies in the Banque de France in Paris. The French policy — known as Françafrique — included the presence of French military bases from Djibouti to Senegal, from Côte d'Ivoire to Gabon.
"Of all the former colonial powers in Africa," Noudjenoume told us, "it is France that has intervened militarily at least 60 times to overthrow governments, such as [that of] Modibo Keïta in Mali (1968), or assassinate patriotic leaders, such as Félix-Roland Moumié (1960) and Ernest Ouandié (1971) in Cameroon, Sylvanus Olympio in Togo in 1963, Thomas Sankara in Burkina Faso in 1987 and others." Between 1997 and 2002, during the presidency of Jacque Chirac, France intervened militarily 33 times on the African continent (by comparison, between 1962 and 1995, France intervened militarily 19 times in African states). France never really suspended its colonial grip or its colonial ambitions.
Two events in the past decade "broke the camel's back," Noudjenoume said: the NATO war in Libya, led by France, in March 2011, and the French intervention to remove Koudou Gbagbo Laurent from the presidency of Côte d'Ivoire in April 2011. "For years," he said, "these events have forced a strong anti-French sentiment, particularly among young people. It is not just in the Sahel that this feeling has developed but throughout French-speaking Africa. It is true that it is in the Sahel that it is currently expressed most openly. But throughout French-speaking Africa, this feeling is strong."
France intervened militarily in Mali in 2013 to try to control the forces that it had unleashed with NATO's war in Libya two years previously. These radical Islamist forces captured half of Mali's territory and then, in 2015, proceeded to assault Burkina Faso.
France intervened but then sent the soldiers of the armies of these Sahel countries to die against the radical Islamist forces that it had backed in Libya. This created a great deal of animosity among the soldiers, Noudjenoume told us, and that is why patriotic sections of the soldiers rebelled against the governments and overthrew them.
After the coup in Niger, the West hoped to send in a proxy force — led by the Economic Commission of West African States (ECOWAS) — but the African military leaders demurred.
Across the region, people set up solidarity committees to defend the people of Niger from any attack, with the threat provoking "revolt and indignation among the populations," Noudjenoume explained.
Nigerian President Bola Ahmed Tinubu was even forced to back down from ECOWAS' crusade when his country's Congress rejected the measure and mass protests occurred against militarily intervening in the neighboring country. As ECOWAS' ultimatums to restore the deposed Nigerien leader Mohamed Bazoum expired, it became clear that its threat was empty.
Meanwhile, not only did it appear that the people of Niger would resist any military intervention, but Burkina Faso and Mali immediately promised to defend Niger against any such intervention. The new AES is a product of this mutual solidarity.
But the AES is not merely a military or security pact. At the signing ceremony, Mali's Defense Minister Abdoulaye Diop told journalists, "This alliance will be a combination of military and economic efforts [among]… the three countries."
It will build upon the February 2023 agreement between Burkina Faso, Guinea, and Mali to collaborate on a fuel and electricity exchange, to build transportation networks, to collaborate on mineral resource sales, to build a regional agricultural development project, and to increase intra-Sahel trade. Whether these countries will be able to develop an economic agenda to benefit their peoples — and therefore guarantee that France would have no means to exert its authority over the region — is to be seen.