Afghanistan is commonly known as graveyard of empires. Several rulers tried to overpower it. , but in vain. They had to bite the dust. Genghis Khan lost a son during siege of Bamian. Alexander the Great had to beat hasty retreat. In the nineteenth century `Great' Britain, at acme of the imperial power, invaded Afghanistan. It was humbled, marking beginning of the British Empire. They never again attacked Afghanistan taking refuge under their strategy of `Masterly Inactivity'.
Erstwhile Soviet Union rushed its troops to Afghanistan in aid of tottering Afghan government. In retaliation, the USA and its allies cobbled up Afghan resistance, mujahideen, to fight the Soviet forces. The Soviet Union had its nosed bloodied on Afghan soil. It retreated. Meanwhile, several component countries under Soviet umbrella rebelled. The Soviet Union broke into congeries of several independent republics, confining the Union to Russia. A Taliban government emerged at the helm after Soviet departure.
The sole super power, the USA, attacked Afghanistan to oust the Taliban. The ostensible reason was that the Taliban had sheltered Osama bin Laden, mastermind of 9/11 attack on twin tower of the World Trade Centre at New York. The Taliban had no answer to incessant aerial bombing. Their government collapsed. For a while it looked as if the Afghan invincibility has been proved to be a myth. After decades of fighting, it dawned on the USA that the Afghan intervention was a misadventure. The Afghan war was the costliest war in terms of dollars and human lives. The USA stopped responding to SOS signals from Afghan forces, under intermittent attacks by Taliban. They held several rounds of talks with Taliban to negotiate safe exit. Why peace in Afghanistan is elusive? Peace in Afghanistan will remain elusive unless complex ground realities are understood. Shortly after meeting Pakistan's foreign minister, Afghan president dashed to New Delhi with a situation update.
Taliban now well understand the stalemate situation in Afghanistan. They understand frailties of the government forces and the `invading 'Americans. American soldiers willy-nilly perform duties. They understand Taliban's view that they are fighting a holy war to flush out invaders. Afghan troops too are not motivated to fight their own Muslim brothers. President Trump fumed and fretted when an Afghan soldier shot dead a member of a US army training unit in the southern province of Uruapan. Taliban showed their muscle in a sudden attack on Ghazni, and occupied the city centre, 150km from Kabul. It took four days of intense fighting backed by a number of strikes by American war planes to push them back. The operating budget of the Afghan national security forces is to the tune of $ 6.5 billion, more than twice the entire federal expenditure of Afghanistan. Trump may stop funding if American advisers and soldiers continue to get killed in action.
Like American soldiers, Afghan trainees too realize it pays to connive at Taliban presence and let farmers grow poppy. Afghanistan has become a kleptocratic state where every government posting and promotion depends on power and patronage. India fears that if the USA strikes an accord with Taliban, Indians manning spy stations in Afghanistan will be left in the lurch. Besides, Islamic state may emerge another challenge. China too is fearful of rising IS influence in Afghanistan. China, quietly wants access to the rich mineral and oil resources in Afghanistan. China's National Petroleum Company has won rights to explore and develop oilfields in Amu Dariya basin in Afghanistan, which has enormous oil reserves. India has completed a dam in Afghanistan and constructing 11others. It wants Americans not to leave Afghanistan until 1922. Afghanistan wants India to accelerate work on various India-supported infrastructure projects, including the Chabahar Port and supply of NATO force equipment particularly four helicopters immediately. Pakistan fears India is entrenching itself in Afghanistan to support the rebels in Baluchistan.
China also wants peace and stability in Afghanistan so that there are no unsettling repercussions among the Uyghur's in Xinjiang province. Russia and Iran are supporting Taliban with a view to counteracting the common enemy, the Islamic State, which is seeking a foothold in Afghanistan. US wanted India to send more troops to prevent a Taliban takeover or a civil war. But, India was nonchalant. Bitter lesson it is the USA, not the Taliban who are weary of the unending fighting. A Taliban commander quipped, `you have the watches, and we have time'. American mothers are no longer fond of contributing body packs to a pointless war.
The USA knows without Pakistan's whole-hearted assistance, there is no end to Afghan imbroglio. Many a time, India tried to fish in Afghan hot waters. It offered to mediate with the Taliban. But, the USA rejected Indian overtures. India's hand could have flared up fighting instead of dousing it. Undeterred by USA's cold shoulder, India is still trying to carve out a niche in Afghan solution. It has sunk billions of dollars in Afghan infrastructure and hydroelectric powers. It built Chahbahar port in Iran to bypass Pakistan transit. Like Pakistan India too had influencer over mujahideen, belonging to Northern Alliance, It trained Afghan Northern Alliance fighters. India's ambassador Bharath Raj Muthu Kumar, with the consent of then foreign ministerJaswant Singh, coordinated military and medical assistance that India was secretly giving to Ahmad Shah Massoud and his forces in Afghanistan.
The support involved helicopters, ordnance, mortars, small armaments, refurbished Kalashnikovs seized in Kashmir, combat and winter clothes, packaged food, medicines, and funds. These supplies were delivered circuitously with the help of other countries (Aeini and Farkhor air bases in Tajikistan) or throughMasssoud's brother in London, Wali MassoudIndia opened four consulates at Kandahar, Jalalabad, Heratand Mazar-e-Sharif, besides its embassy at Kabul. India is using these consulates to stoke up secessionist movements in Baluchistan and volatile tribal belt. Current situation (January 2020) Afghanistan's `president' Ashraf Ghani won the Afghanistan election. He secured slightly over 50 per cent of the vote. Thus he avoided the need for a run-off election. His rival, Dr Abdullah Abdullah doubts fairness of the election result. President Ghani is rueful at being marginalized in US –Taliban talks. He has demanded a lasting ceasefire as a prelude to the talks.
He has expressed muffled ennui, if not a threat, that without a ceasefire or something akin to it, the Afghan government will have difficulty endorsing a US-Taliban agreement. Ghani's problem is that Afghan forces are no longer enthusiastic about fighting the Taliban. When Taliban kill about 20 to 40 Afghan troops each day, emitting SOS, the US air force no longer scrambles for their rescue. During 2020, The US air force As for Taliban, they regard Ghani as also his government puppets. Ghani is being supported by India who is rueful at Pakistan's crucial role in asolution. The USA initially called for India's role in a solution. But, it is now mum about it. It rather lauded Pakistan's role in resumption of dialogue, intermittently truncated by hardline demands of the stakeholders. US Air Forces Central Command said in a January 2020 report the US has dropped 7,423 bombs on targets in Afghanistan in 2019as against 7,362in 2018. The figure represents a dramatic increase in bombings in Afghanistan in contrast to 2009 when 4,147 bombs were dropped under former President Barack Obama. Besides, more than 60 civilians were killed or wounded in a US drone attack targeting a top Taliban splinter-group commander in the western Afghanistan province of Herat in January 2020.
At long last, the Taliban have agreed to a ceasefire for about 10 days. During this period, attacks on major cities and highways would be scaled back. Taliban are yet to decide whether they would keep ceasefire while about 13,000 American forces and thousands more NATO troops leave Afghanistan. The US is optimistic that the ceasefire would help strike a deal. War costs The US spends about $4.9billion a year to support the 320,000 Afghan National Defence Security Forces. The US and other donors provide about 53 per cent of Afghanistan's annual budget. If US hold back the money, there would be no pay for the Afghan armed forces. Besides, many of the schools and hospitals would have to be shut down. The USA needs some plausible justification, like maintaining a counter terrorism presence, to continue the aid after the war ends.
The toll of war: A confidential trove of government documents obtained by The Washington Post (December 9, 2019) reveals that senior U.S. officials failed to tell the truth about the Afghan war. They kept making rosy pronouncements they knew to be false and concealed unmistakable evidence the war had become unwinnable. Since 2001, an estimated 157,000 people were killed in the war in Afghanistan. Afghan civilians 43,074, Afghan security forces 64,124,Humanitarian aid workers 424, Taliban fighters3, 814 and other insurgents, U.S.contractors67 Journalists and media workers 2,300, U.S. military personnel l42, 100, NATO and coalition troops 1,145.
Other revelations: The documents were generated by a federal project examining more than 2,000 pages of previously unpublished notes of interviews with people who played a direct role in the war, from generals and diplomats to aid workers and Afghan officials. Douglas Lute, a three-star Army general who served as the White House's Afghan war czar during the Bush and Obama administrations, told government interviewers in 2015: "What are we trying to do here? We didn't have the foggiest notion of what we were undertaking. "If the American people knew the magnitude of this dysfunction.2, 400 lives lost," Lute added, blaming the deaths of U.S. military personnel on bureaucratic breakdowns among Congress, the Pentagon and the State Department. "Who will say this was in vain? "Since 2001, over 775,000 U.S. troops have deployed to Afghanistan. Of those, 2,300 died there and 20,589 were wounded in action.
The U.S. government failed to curtail runaway corruption, build a competent Afghan army and police force, and reduce Afghanistan's thriving opium trade. Since 2001, the Defense Department, State Department and U.S. Agency for International Development have spent between $934 billion and$978 billion, according to an inflation-adjusted estimate calculated by Neta Crawford, a political science professor and co-director of the Costs of War Project at Brown University. These figures do not include money spent by other agencies such as the CIA and the Department of Veterans Affairs, which is responsible for medical care for wounded veterans. The documents also contradicted public statements from U.S. presidents, military commanders and diplomats who assured Americans year after year that they were making progress in Afghanistan and the war was worthwhile. Military headquarters in Kabul as also the White House distorted statistics to portray the USA as a winner.
Afghan government's connivance at poppy cultivation International media has begun to question what would be the legacy of allied intervention against Afghanistan. Despite spending over US $ 9billion during past 18 years, poppy cultivation is rising. One may have reservations about Taliban's monopoly of right to issue fatawa (religious edicts). But, there is a silver lining to the edicts. Mullah Mohammad Omar (1996-2001) outlawed poppy cultivation (in 1990s).He declared poppy cultivation to be haram, prohibited, under Islam. Subsequent Afghan governments made it permissible, halal, by collecting ushr (ten per cent deduction on poppy income). Government functionaries strike marriage of convenience with farmers to encourage poppy cultivation in vast swathes of land. According to a 2009 UNODC report on opium production, ushr generates around US$ 22 to 44 million a year.
The pictures of foreign soldiers posing in poppy fields confirm the allegation that the intervening force also is a shareholder in the booty. The US military is paying off the Taliban with bags of gold to prevent them from attacking vehicle convoys, proving that there is no real "war" in Afghanistan, merely a business agreement that allows the occupiers to continue their lucrative control of record opium exports while they construct dozens of new military bases from which to launch new wars probably on Pakistan to denuclearize it .Voracious readers may go through Paul Joseph Watson's report, November 20, 2009, Afghanistan: Troops Guarding the Poppy Fields. The US government mulled to impose a tax under The Sacrifice Act of 2010 to meet the burgeoning cost of Afghan war (key debaters Dave Obey, Representative John Murtha, Barney Frank). Watson alleged the extra tax would be used for paying, nay `bribing the Taliban, paying off CIA drug lords, and protecting heroin-producing opium fields'. He added: `The Afghan opium trade has exploded since the U.S. invasion of Afghanistan, following a lull after the Taliban had imposed a crackdown'. According to the U.N., the drug trade is now worth $65billion.
Afghanistan produces 92 per cent of the world's opium, with the equivalent of at least 3,500 tonnes leaving the country each year. This racket was secured by drug kingpins like Ahmed Wali Karzai, the beloved brother of former president Hamid Karzai, and other influential persons. The essence of UNODC's policy is that there is a causal (apriori or cause-and-effect relation) between poppy cultivation and the ongoing insurgency. Afghan government handpicks pliable provincial governors for eradication of poppy. These governors feed fictitious figures to the UN agencies about their landmark achievements in rooting out poppy cultivation at its various stages. These focal nodal prodigies have created the euphoria that government-controlled provinces are poppy-free.
RAW's nod: Aside from euphoric reviews, the factual position is that poppy cultivation in Afghanistan is flourishing by leaps and bounds. The governors are motivated more by self-interest than by national objectives. They are minting money from all quarters, including India's intelligence agency, Research and Analysis Wing. The RAW is interested in turning influential Afghans against Pakistan, and planting insurgents in Pakistan-Afghanistan border areas, than in poppy eradication. The RAW understands that there is no single fail-safe panacea for eradicating the poppy curse. Exterminating the menace of poppy lies outside the RAW's mandate.
Poppy, a cash crop: Aside from the RAW's machinations, the problem of poppy cultivation calls for a closer look in a multi-dimensional perspective. Afghanistan has a predominantly agrarian economy. Opium production contributes35 per cent of Afghanistan's Gross Domestic Product while cereal crops only about 27 per cent. There is no industrial structure to name, despite its tall claims, India has not been able to lay tangible industrial infrastructure to boost Afghan economy. Afghanistan is the one of the world's least developed country and the poorest in Asia. In terms of Maslow's hierarchy of needs, majority of the country's population is concerned about physical needs (food, clothing and shelter).
Poppy cultivation is the main avenue of physical security. There is a symbiotic relation between the people's needs forsook-economic security and poppy cultivation. Majority of population is preoccupied with how to survive by ensuring food security by getting employed in poppy cultivation. Yet, they find it difficult to make ends meet. The UNODC's observation that about 14 per cent of Afghans are employed in poppy cultivation does not reflect the real life situation. The agricultural-production system is mostly dependent on seasonal rainfall and poor water-management. As such, productivity per hectare is low. The centuries-old traditional cultivation system impedes their economic progress. The system if pivoted on salaam that is cash advance given on security of future crop yield. Poppy is the favourite crop by way of security rather than wheat, black cumin or some other crop. Afghan government could veritably be termed a poppy syndicate because of its lack of interest in poppy eradication. The governors look like custodians of poppy-growing lands. How could this coterie axe its own interest?
Rashmi Mishra on the UK- India relationship and the role women are playing to strengthen international ties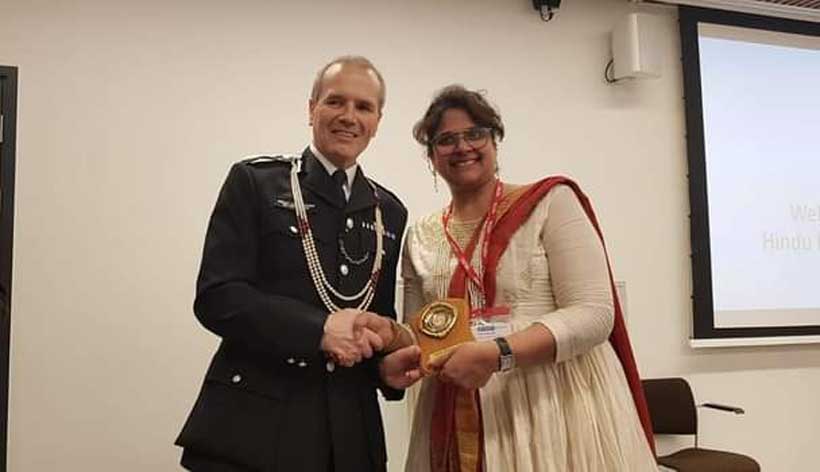 Rashmi Mishra is the founder of Inspiring Indian Women, an NGO focusing on women empowerment globally. She has won several awards including Indian Achievers Award, HERA Goodwill Award, Global Goodwill Ambassadors, National Diversity Awards United Kingdom, FOX story India and various others. In this article, we have a conversation with Rashmi Mishra to understand more about the non-profit sector, women empowerment and the UK-India relationship.
What inspired you to start Inspiring Indian Women (IIW)?
IIW initially started as a platform to connect women, inspire, and support each other. The difficulties of finding a job according to qualifications and the impracticality of having domestic help at home make life in London frustrating and sometimes affect mental well-being. We thought that women needed to explore various possibilities and outlets to look for other options to satisfy their artistic or professional desires and break free from the monotony of life. The long and depressing winters add to their woes.
How can Indian women play a role in strengthening the UK-India relationship?
Indian women today are more career-conscious than ever before. As I write this, several Indian women have already made their mark in strengthening the Indo-UK relationship. Prominent among them are Smt. Nirmala Sitharaman, former Indian High Commissioners Smt. Ruchi Ghanshyam, Smt. Gaitrii Issar, and Smt. Poonam Gupta, the founder of PG Paper Company, whom I personally met at Pravasi Bharatiya Sammelan Indore. CA Bina Mehta, a partner at KPMG, Smt. Vishakha Mulye, ED ICICI Bank, Neelima Jain, CEO of EESL EnergyPro Assets Limited (EPAL), Energy Efficiency Service Limited's (EESL) UK-based subsidiary. She is the force behind establishing EESL's UK operations from the ground up and led the first-ever acquisition of an overseas company, Edina, by a state entity administered under the Indian government's Ministry of Power. Nidhi Dua from Marks and Spencer is a committee member of the British Business Group and Confederation of British Industry. Laxmi Kaul, former head of CII UK, Ms. Nina Amin MBE, bringing investments into startups in both India and the UK, Mrs. Mira Misra Kaushik OBE by strengthening cultural ties, Ms. Prerna Bhardwaj, with experience in media, connecting the dots between both countries… The list is endless.
Your NGO deals with many women who have rebuilt themselves after their husbands' deaths. What have you learned about resilience? How can the world be more resilient in the current Russia-Ukraine situation?
It requires great strength to be resilient. Easier said than done. I know just one thing: life doesn't come to a standstill with a tragedy. Picking up the thread and walking on with the head held high is life. Struggles will be there, but 'giving up' is cowardice. Just look for that small twig to sail back. No looking back is the key. Visiting the past never helps. In the current Russia-Ukraine situation, the world must start reframing the education system by incorporating more life skills and life lessons of empathy, equality, togetherness, and brotherhood. The youth today are becoming more mechanical and money-minded. They are more focused on reaching their targets through shortcuts. The emphasis on human values in the education system has been lost.
What are some ways in which women can be empowered globally? Specifically when it comes to representation on international platforms like global parliaments or the UN?
Equal pay is first and foremost. Gender equality is a human right. More and more women must join politics as they need to be in policy making positions. The theme for International Women's Day 2023 said it all very aptly – "DigitAll Innovation and Technology for Gender by embracing equity." So much needs to be done, and at least society has started saying that only equal opportunities are not enough. A change in attitude at the workplace is pertinent. Unpaid caregiving jobs are not normal – women work all the time, but only some are salaried, sadly. Domestic abuse has risen since the pandemic; it is time to stand up for oneself. The silent revolution has begun.
How is IIW inspiring Indian women on a global scale?
There's a lot to be done. A beginning has been made. We have already been connecting women from different countries. We need to organize events in collaboration with international organizations. We are in touch. Social media has shrunk the world, but we need to go beyond with exchange programs and international exhibitions and conferences.
How can India be more empowering towards women in the country?
By bringing up both sons and daughters in the same way. When parents start saving for both their son and daughter's education and not just for the daughter's marriage and the son's education. Sons too need to learn cooking and cleaning the house, just as daughters are encouraged to learn. The notion of "papa going to the office and mama cooking" needs to be eradicated from young minds.
Your organization is also recognizing trans women and awarding them for their work. What can India do for trans rights to make the country more gender equal?
Firstly, they need to be considered equal. The law needs to include them in society. Awareness is the key; schools must include the third gender in books. As most have to drop out of education in the early days of growing up due to the stigma attached, they end up in low-class jobs, begging, and being looked down upon.
Any plans for IIW's expansion?
Definitely, we have already started IIW Sweden. We have IIW Netherlands, though it is a little dormant at the moment. Suggestions are coming to start IIW Poland. IIW intends to do lots of groundwork in India and hence is registered under a section 8 company in India. We already have different chapters in India: IIW Delhi, IIW Chennai, IIW Mumbai, IIW Bihar, and IIW Guwahati. We aim to connect women globally and support them in whatever way possible. We have also started an e-commerce platform, Eutsav.org, to strengthen women entrepreneurs and help them reach a bigger clientele. The purpose is to make more and more women, especially from rural India, self-reliant.
The Need for the Next SAARC Summit
Authors: Harsh Mahaseth and Sanjana Chib*
The South Asian Association for Regional Cooperation (SAARC) came into existence on the 8th of December, 1985, with eight member states namely, Bangladesh, Bhutan India, Maldives, Nepal, Pakistan, Sri Lanka, and Afghanistan, (which became a member-state in the year 2007) Considering the approach followed by other bodies such as that of ASEAN, which might soon start addressing their differences in an "ASEAN way" i.e. resolving their internal matters amicably instead of approaching the courts, SAARC also follows an institutional framework that regularly holds summits to discuss the various alternatives regarding dispute settlement and cooperation amongst its members.
The meetings of the Heads of the States or Governments of the Member States known as the Summit is the highest decision-making forum of SAARC. Generally, SAARC organizes Summits biennially through its Member States in an alphabetical order, and the hosting country of the Summit assumes the Chair of the Association and its importance can be acknowledged by the key outcome of its summit, which takes place in the form of a Declaration and includes decisions/ directives of the leaders to strengthen and consolidate regional cooperation in different areas being pursued under the patronage of SAARC. Moreover, the Summit also considers and approves reports of the Ministerial Meetings.
The 18th SAARC Summit was held in Kathmandu, Nepal and its theme was "Deeper Integration for Peace and Prosperity." Ever since then there has been no successful attempt to schedule the next summit, mainly due to lack of consensus between the member-states. As far as India is concerned, the major reason behind its non-participation is the Uri- Terrorist Attack, which was alleged to have Pakistani involvement, and that is the reason why it turned down Pakistan's proposal to attend the 19th SAARC Summit virtually if it does not want to be physically present in Islamabad.
SAARC has held only 18 Summits since its inception, which is a violation of Article 3 of the SAARC Charter itself. The prevailing political problems and bilateral disputes of respective member-states mainly caused delays. As of now, SAARC has conducted 18 Summits, ten in the first 15 years of its existence (1986 – 2000) and eight in next 15 years (2001 – 2016) which highlight that frequent cancellations have occurred over the last 15 years.
The experience of last 35 years suggests that, SAARC as an institution cannot be a tool for "regional integration" due to Indo-Pak Rivalry as their rivalry is so profound that it cannot be addressed in terms of a regional solution, which happens to be the major reason for not conducting the summit. However, some of other the reasons for not holding the SAARC Summit are also inter-state problems and bilateral tensions.
In the year 2020, Mr. Nilambar Acharya, Nepal's envoy to India made a statement that "SAARC is alive and there will be a summit in future", which came as a ray of hope soon after PM Narendra Modi tweeted the leaders about creating a strategy to deal with the situation of covid-19. Later, the organization was all set to conduct a summit in New York next year, which was later cancelled due to the objections of certain member states regarding the participation of Taliban as the government of Afghanistan.
A successful SAARC Summit can be conducted in future if its member states work towards resolving their bilateral disputes and other internal problems such as political instability, general elections, insurgencies, and economic recession, lack of adequate infrastructure and resources on the part of some members to organize the summit, which is why its leaders should consider amending the charter and make it mandatory to hold summits at a permanent venue such as that of the SAARC Secretariat on an annual basis which will make things much convenient for the member states and increase the chances of organizing the summit.
*Sanjana Chib is a Law Student at Guru Gobind Singh Indraprastha University, India.
International Peacekeeping Day: Pakistan's Case
29th May marks the 75th anniversary of International Peacekeeping Day. In conflict studies, Peacekeeping as term defines those activities and actions that tend to keep conflict and conflicting parties under control and involve such activities that serve as pathway to uproot conflict as a whole and reduce battlefield deaths. UNN Peacekeeping Missions recently have undergone several reforms and evolution to better their efficacy, coherence, and responsiveness for which they have been criticized for. While effectiveness of the very purpose of these missions is highly debated, May 29 calls for commemorating and honoring the services of all those countries and people coming together with a vision to ensure peace, stability, and sustainability across the world. Pakistan is no exception.
The image of Pakistan has, in the international politics has highly revolved around security and strategic realms. Considering that image, Peacekeeping Missions are just one of the many features where Pakistan has carved out its identity as a state that is committed to the security of not only its own but the entire world. Since its fist Peacekeeping Mission in Congo in 1960, Pakistani blue helmets have served with honor and valor in 48 United Nations missions in almost all continents of the world.
While endorsing Action for Peace (A4P) and Action for Peace Plus (A4P+) initiatives-that tend to improve efficacy and consolidate security of Peacekeeping Missions-Pakistan, being one of the few states, institutionalized peacekeeping by such structural initiatives as that of Centre for International Peace and Stability (CIPS). To date CIPS has run 175 courses, training 2853 Peacekeepers, including 407 officers from other states. In this way, CIPS stands as an embodiment to Pakistan's efforts of consolidating regionalism and Internationalism and standing as a responsible and capable state thinking for all and common peace and prosperity.
Besides working towards peace and security in war-torn communities, Pakistan has been on the forefront of peacebuilding and humanitarian efforts. Pakistan's Field Hospital established as part of UN Mission Mali, is providing premium healthcare services, including lifesaving surgeries to the dependent clientele of 3500 UN Peacekeepers besides facilitating affected civilians of the warn-ravaged region. In April 2023, services of Pakistan's hospital were appreciated at various levels in mission as well as UN headquarters for its constant quest for excellence and being in line with the needs of mission dynamics.
Through professionalism and dedication, Pakistani Peacekeepers have remained pivotal in UN's efforts to reform and strengthen the Peacekeeping Architecture. Pakistani Engineers are maintaining 1430 kms of main Communication Arteries connecting 45% of the total land territory in the Central African Republic (CAR) and providing assured connectivity to 60% of the population of CAR even during worst climatic conditions.
Pakistan has exercised resolve and manifested resilience and courage in working in some of the most dangerous war-ravaged regions of the world. Not only it has paved the way in ensuring peace and preventing full-fledged war in such regions but its commitments towards humanitarian appeal are no hidden reality. From 2022 South Sudan floods whereby Pakistani engineers constructed for them dyke system to provision of 60 metric tons of various stores in northern part of Abyei to Pakistani doctors and Engagement Teams running awareness and hygiene campaigns to psychological counselling to contributing in education field in various missions, Pakistan has proved resolve and promptness of its security architecture in the region and beyond.
Pakistan also hosts one of the oldest UN Peacekeeping Mission i.e., UN Mission Observer Group for India and Pakistan (UNMOGIP) to monitor the ceasefire violations on Line of Control and has committed to it unlike the other stakeholder in the domain.
This day, hence, is a time to commemorate the services of Pakistan's 225, 000 peacekeepers who have served uptil now, as well as honor the martyrdom of 171 Pakistani peacekeepers in the process.
29 May, on one end, is reminisce of Pakistan's advancing role in UN's agenda of maintaining peace and security around the world and on the other, it is a contemplating point at the structural amendments still needed in the peacekeeping apparatus of the world so that peace and prosperity is ensured for all nations and people of the world, once and for all.