The Pacific region in post-Cold-War period is fast changing its strategic complexion. This region had been under United States' influence. But, the USA and its proxies like India Taiwan, and some other countries perceive that the region is in a state of flux. USA and its allies fear China may in future challenge USA's undisputed dominance of the seas-lanes in the region.
China's disputes
China has maritime disputes over some islands in the region (Japan, Vietnam, Brunei, Taiwan, Indonesia, Malaysia and the Philippines). In East China Sea, there is dispute between China and Japan over islands of Diaoyu and Senkakus islands.
The USA assures China's rivals that USA would be their `security provider' in moment of need. The major stakeholders in the region ae the USA, China, Australia, ASEAN countries, Japan and South Korea. American presidents Bill Clinton and Barack Obama visited the region to strengthen partnership with littoral states.
The Indo-Pacific region is of great importance because of its impact on energy maritime and trade security. ASEAN and Asia Pacific Economic Cooperation are important politico-economic players in the region. The APEC members account for 40 per cent of world's population, 54 per cent of the World's Gross Domestic Product and 44 per cent of the World's trade. The ASEAN accounts for about 8.8 per cent of World's population and three per cent of the total and area of Earth.
To block China's ascendancy, all littoral states including Japan, Australia, Taiwan, South Korea and other middle ranking regional powers are modernizing their navies. China wants to surpass the USA not only in terms of GDP but also in respect of naval power.
India: Emerging us proxy in Indian Ocean
Robert Kaplan, in his book, Monsoon: The Indian Ocean and Future of American Power, argues that the geopolitics of the twenty-first century will hinge on the Indian Ocean. USA's new protégé is India. To woo India firmly into its fold, USA offered to sell India US$ 3 billion (per one unit) Terminal High Altitude Area Defense (THAAD) and Patriot Advance Capability (PAC-3) missile defence systems as an alternative to Russian S-400 system. India ditched Russia from whom it had decided to purchase five S-400s Russian S-400s air defence systems at cost of US$5.4 billion.
With US tacit support, India is getting tougher with China. There was a 73-day standoff on the Doklam (Donglang in Chinese) plateau near the Nathula Pass on Sikkim border last year. Being at a disadvantage vis-a-vis India, China was compelled to resolve the stand-off through negotiations. In later period, China developed high-altitude "electromagnetic catapult" rockets for its artillery units to liquidate Indian advantage there, as also in Tibet Autonomous Region. China intends to mount a magnetically-propelled high-velocity rail-gun on its 10,000-ton-class missile destroyer 055 being built.
China wants to bridge its aircraft-carrier deficiency through anti-ship ballistic missiles and Xian H-6K bomber armed with advanced air launched cruise missiles. Chinese defence systems include DF-, Dong-Feng 21 (DF-21; NATO reporting name CSS-5 – Dong-Feng (literally: 'East Wind'). Dong-Feng 21 is a two-stage, solid-fuel rocket, single-warhead medium-range ballistic missile developed by China Changfeng Mechanics and Electronics Technology Academy. A variant is DF-26 with range increased to 3,000 km (1,900 mi) to 4,000 km (2,500 miles). China has two supersonic anti-ship cruise missiles, the YJ-12, with a range of 400 km, and the YJ-18, which can hit targets up to 540 km away. But they are no match for US subsonic
Harpoon anti-ship missile, which has been modified to give it a maximum range of about 240 km. An anti-ship variant of US Raytheon's Tomahawk land attack cruise missile, with a range of over 1,600 km, has been delivered to the US navy.
At us prodding, India revised its maritime strategy "Freedom to Use the Seas' in 2015 to "Ensuring Secure Seas". India obtained access to the US naval base in Diego Garcia, and to the French naval bases in Mayotte and Reunion islands, besides Australian naval base in Cocos (Keeling). It signed an agreement with Seychelles to develop and manage facilities on its Assumption Island, another agreement with Mauritius to develop dual- use logistics facilities in the Agalega Island, obtained berthing rights in Duqm Port in Oman and Maputo in Mozambique. Besides, she took up development of the Sittwe Port in Myanmar as part of the Kaladan multi-modal transit transport project for building a multi-modal sea, river and road transport corridor for shipment of cargo from the eastern ports of India to Myanmar through Sittwe. It upgraded its existing listening post in northern Madagascar.
Chinese navy's snooping in Indian Ocean is rising (Deccan Herald, March 3, 2019). Upon Indian navy's protest, Chinese flotilla had to move away from Port Blair. Till 2025, China, currently in grip of corona virus, Bangkok unrest and Xinxiang Uighur, has to do a lot to end American one-upmanship.
China's thinking
China is suspicious of India's role as a US proxy in the Indo-Pacific region. It regards the arc from The Bay of Bengal to East China Sea as a hot-spot of rivalry. China's blue Book warns if India China itself and the USA failed to engage with each other more constructively in view of their overlapping interest, the Indian Ocean could end up `as an Ocean of conflict and trouble'. Chinese Battle Group and submarine often moved in Indian Ocean though after giving prior movement-notice to littoral states.
China has deployed `Xia' class nuclear submarines with SLBMs in South China Sea. They can reach south-western quadrant of the Indian Ocean via Strait of Malacca or Sunda in a short time.
China is building energy relationship worldwide especially in Central Asia, Russia, Africa, Middle East and Gulf countries.
China gets about 70 per cent of its oil imports from West Asia and Africa through tankers. China is creating a strategic petroleum reserve and is building a fleet of super-tankers for transport of energy to China.
China's 'string of pearls'
The USA has over 800 naval bases while China has only two that is Mombasa and Djibouti, aside from controversial Hambantota (Sri Lanka). Yet, the US propaganda is that China is setting up bases along the sea lanes from Middle East to South China Sea. The bases have dual objectives to protect energy and strategic interests.
USA's ring
Doubtless the USA is the dominant super-power in the Indo-Pacific region. Majority of the littoral states including India. Australia, Taiwan, Vietnam, the Philippines, Spith Koprea are under American influence.
The USA has powerful naval bases at Diego Garcia, Busen, Guyan Island, Yongson base (South Korea) and Okinawa (Japan).The USA has stationed its littoral combat ships at Singapore besides accessing facilities of Vietnamese port Cam Rank Bay.
India's outreach
The revised Indian Maritime doctrine 2009 states that India wants to build a Blue Water Navy capable of defending not only its homeland d, but also wider security and economic interests in the Indo-Pacific region. In view of South East Asia and South China Sea region, India created regional Andaman and Nicobar Tri-Service Command in 2001 at Port Blair.
India's Natural gas C Corporation Videsh Limited has oil fields in Russias Sakhalin region. Vietnam allotted two more gas exploration blocks to ONGC-VL during Indian president Pranab Mukherjee's visit to Vietnam in September 2014.
Indian navy wants to attain underwater nuclear power projection capability by year 2025. By said year, Indian navy will have network-centric approach and land-attack assistance capability. The Indian Regional Navigation Satellite System has become operational since 2016. It will provide positional information of about 1500 kilometers around the Indian mainland.
India is already a partner in the US Security architecture of Indo-Pacific Region. Indian navy's new acquisition project in the pipeline adds up to well over Rs. 300000 crore over the next 15 years.
Conclusion: Despite adverse advisory opinion on Chagos Island, including Diego Garcia atoll, by International Court of Justice, United States' forces is still entrenched there. Besides, France maintains naval bases in the Indian Ocean and stations frigates off its Reunion islands. China has a string of naval assets in the region from Gwadar to Djibouti.
India's ambition to dominate the Indian Ocean does not augur well for the region. It should let Indian Ocean remain the zone of peace.
Cambodia's Hun Sen, Asia's longest-serving PM, continues to quell the Opposition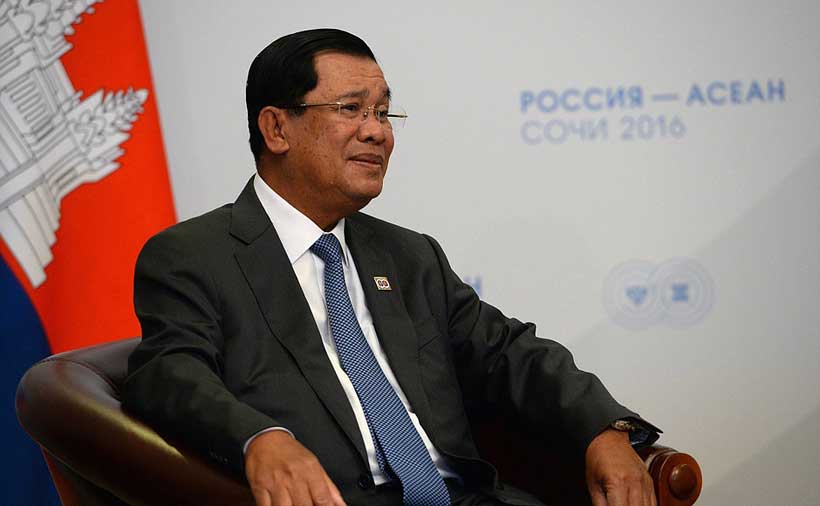 For the past 35 years, the former French colony of Cambodia is ruled by the 68-year-old Prime Minister Hun Sen, Asia's longest serving head of the government. His policies are regarded as autocratic, aimed at forcibly limiting the scope for the Opposition to rise politically and come to the forefront of democratic activism.
The latest in line of such policies is the politically-motivated mass trials of more than a hundred members and supporters of the banned Cambodia National Rescue Party (CNRP).
The 2012-founded CNRP's unexpected success in the polls of 2013 and 2017 was seen by Hun Sen and his ruling Cambodian People's Party with trepidation. The democratic opposition party's performance came amid sustained pressures of intimidation and electoral malpractice.
The CNRP was the only opposition represented in the country's National Assembly or lower house of the parliament, with 55 out of 123 seats, until November 2017 when the pro-Sen Supreme Court ruled to dissolve the party, ending its five years of existence.
ASEAN Parliamentarians for Human Rights referred to this arbitrary move as the final nail in the coffin for Cambodian democracy. Also, CNRP's leader Kem Sokha was arrested on fake charges of treason, accusing him of conspiring with the US to overthrow the prime minister and his government, a claim which Washington has categorically rejected.
Strikingly, these moves came ahead of the 2018 election. In the absence of an effective Opposition, Hun Sen's CPP unsurprisingly won 100% of parliamentary seats in the last elections held in July 2018.
Meanwhile, Sen's biggest political rival during his three-and-a-half decade rule, Sam Rainsy, has been living in exile in Paris for the past fifteen years. Last year, he was planning to return to Cambodia along with other senior opposition figures via Thailand, but was denied boarding on the Thai flight due to Cambodian threats to the airlines.
However, to Sen and the CPP's dismay, in January 2020, some former members of the CNRP and other democratic activists announced the formation of a new party named the Cambodian Nation Love Party (CNLP) to continue the CNRP's legacy and participate in future elections.
The Cambodian people's undying quest for democratic reforms was exemplified with the formation of a new democratic party. Sen's previous attempt to prevent the erstwhile CNRP from reconstituting itself under another name, by banning more than 100 of its leading members from politics for a period of five years thus failed to reap sustainable gains.
As the suppression of democratic expression continues for a long time now, relations with the West have deteriorated in the past few years, pushing the ASEAN country further into Beijing's orbit. The US is also watching the trial closely. Meanwhile, the European Union, a key export destination for Cambodia, has withdrawn special trade privileges given earlier.
Now, the recent summoning of 140 ex-CNRP members and supporters, for charges of conspiracy and attempting to overthrow the government, is the latest political drama in the long set of desperate moves from Hun Sen to cling on to power.
Among those who showed up in court include former opposition senator Thach Setha and Cambodian-American human rights lawyer, Theary Seng. But, there are many who fled into exile believing that they would not be given a fair trial.
Cambodia, bearing the painful memory of a genocide that happened under Pol Pot's notorious Khmer Rouge regime in the late 1970s killing 2 million people, saw the country slipping into the hands of another would-be autocratic leader, Hun Sen, in 1985.
The interventions by the United Nations and other human rights-oriented organisations appear to be failing in the Southeast Asian nation as long-established democratic processes drift away and elections are held for namesake, adding up to the political drama. With Sen unwilling to forfeit power, the future prospects for Cambodia seem to be a dreary continuation of the past.
The 2020 Myanmar Election and China: Push and Pull factor in 'Paukphaw' friendship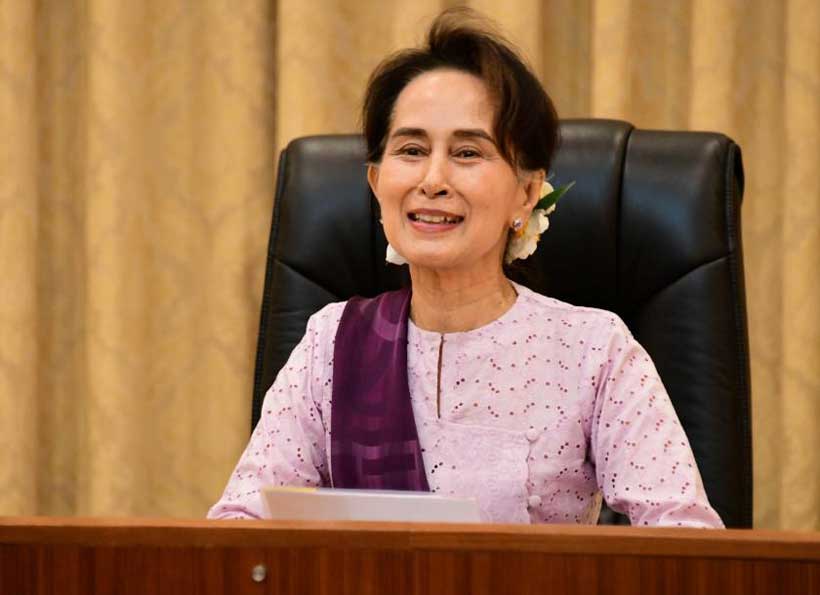 National Democratic League (NLD), the ruling party of Myanmar under Daw Aung San Suu Kyi had a landslide victory in the election, which led the party to continue in power for another five years. While Myanmar still struggling with the civil war crisis and without any solution-oriented approach the crisis in Rohingya is nowhere near to end since the breakout of the severe crisis in 2017.
The pre-election and post-election international media coverage and scholarly discussion on Myanmar bring back the China factor in the Myanmar election and general China's undeniable ties with Myanmar. It's been argued that a vote for Aung San Suu Kyi would mean the continuation of the unprecedented expansion of China in the country and a vote for multi-ethnic parties would mean resistance to China-backed infrastructure and other projects.
While the backlashes against China among multi-ethnic parties and towards China-led infrastructure projects are omnipresent in Myanmar, however, China has not loosed its heart to engage in the Myanmar peace process. It is also to be noted that China does not only have good relation with NLD but it also keeps its relationship with the military-backed Union Solidarity and Development Party (USDP). It also frequently engages itself in discussion with ethnic groups. What China likes to call itself is a "neutral player". Thus, the election results would not have a significant impact on the China-Myanmar relationship.
The irk of Western countries towards Myanmar, who initially supported Myanmar's democratic transition only intensified with the 2020 election as the Myanmar election commission only allowed election in 8 townships in Rohingya state, and denied election in 9 other townships. A joint statement was issued under the leadership of the UK and the US regarding the inclusion of left out Rohingyas into the election along with urging Myanmar to be more serious regarding the global ceasefire and confidence-building steps that include lifting restrictions on access to health, education, and basic services, lifting restrictions on freedom of movement. China's as under the principle of non-interference abstained from commenting on the exclusion of nine districts in Rohingya state from the election. Chinese government since 2017 has blocked draft resolutions at UNSC regarding international intervention in the crisis in Myanmar. China, however bilaterally posited itself as a mediator between Myanmar and Bangladesh on the repatriation of Rohingyas. A role, China now often seems to play in conflict-ridden countries, for example in the Afghan peace process China plays a similar mediator role.
Myanmar's foreign policy after 2015 and China
After the first democratic election in Myanmar in 2015, and NLD's new manifesto was focused on upholding 'an active and independent foreign policy'. Under the AngSyu Ki leadership, the foreign policy of Myanmar was considered to be hedging towards a neutralist foreign policy to work together for the benefit of the region on issues relating to regional organizations and programs. Another important pledge in Myanmar's 2015 foreign policy manifesto was to "to identify and cooperate with other countries on joint economic enterprises of mutual benefit. In particular, to work together for the benefit of the region on issues relating to regional organizations and programs." Which, as mentioned by Moe Thuzar of Singapore's ISEAS-YusofIshak Institute is missing in the 2020 Manifesto. The reason for missing the important article from the 2020 manifesto could be Myanmar's subtle attempt to balance China's unprecedented presence in the region. As, it also aligns with some of the recent activities of other international actors in Myanmar. Such as high-level delegation visits by India, in October 2020, Myanmar's growing interest in business engagement with Hong Kong, and eagerness to expand its economic co-operation with other Asian countries such as South Korea and Singapore. All this renewed interest within a span of two months from September to October 2020, before the election in Myanmar also could be an attempt to recover the focus in Myanmar's democratic transition as opposed to growing clout over claiming Myanmar as an authoritarian regime, especially after 2017.
In terms of Myanmar's policy towards China, Myanmar could not be seen as prey to China's economic interest. As, even though the China-Myanmar Economic Corridor is kicking off, Myanmar is still apprehensive regarding embracing all of the Chinese lead projects. According to Irrawaddy times, from China's originally proposed 40 projects, only nine projects were tentatively agreed to implement from both sides under China Myanmar Economic Corridor (CMEC).
AyungSyu Ki's diplomatic shrewdness is evident in Myanmar's China policy. The country despite using China as a shield to defend itself from international intervention, China has not completely able to unlock all economic leverages. China's patience with Myanmar also relates to the fact of ensuring security in its border province.
Yang Jiechi, the head of the Central Foreign Affairs Commission of the Chinese Communist Party's short September visit to Myanmar was an indication that China does not take Myanmar for granted to materialize the economic projects, it has started in the country under the banner of BRI, Especially after the 2017 launch of China Myanmar Economic Corridor. Before NLD came into power in 2015, the anti-Chinese sentiments in Myanmar were more prominent, as it has led to President Thein Sein to halt the Myitsone Dam in 2011. Scholars have argued that Myanmar's skepticism over Chinese led projects between 2011-2012 could be seen as a reaction to its proximity with the West, as Western sanctions were slowly lifted for a brief period (Ganesan, 2017). Thus, as the Western sanctions grew after 2017, Myanmar hedged towards China. Even though, Myanmar is always dubious about China's economic diplomacy in Myanmar.
However, Myanmar does return the favor to China diplomatically by recognizing the 'one-China principle'. Myanmar's President U Win Myint during the visit of Chinese President Xi Jinping in January 2020, states Myanmar's firm adherence to the One China principle, respects the "one country, two systems" policy China has implemented in Hong Kong and Macao and has always recognized Taiwan as an inalienable part of China's territory.
Myanmar is also one of the 53 countries that supported the Hong Kong National Security Law.
China's multifaceted engagement in Myanmar
The question arises can Myanmar altogether keep China aside, especially from its peace process? As China's border is at the stake, China is pretty much invested in Myanmar's peace process. In the third Union Peace Conference, China played important role in pressurizing ethnic armed organizations (EAOs) to attend the peace conference. For China's interest, the member of the Federal Political Negotiation and Consultative Committee (FNPCC) includes the Northern Alliance EAOs, which are known for attacking commercial interests in northern Shan State and Kachin state that shares a border with China. China-funded the EAOs to attend the conference, which was the first time all the ethnic groups attended it with Chinese aid and diplomacy. Thus, Myanmar can't shun Chinese help when it comes to the peace process. As of August 2020, the fourth Union peace conference marked the absence of many of the ethnic groups as due to COVID and other factors China was not seen pushing much for their inclusion. Yun Sun noted that the reason could be the absence of any specific request of the Myanmar government to China regarding the same.
Apart from, engagement with the peace process and supporting Myanmar at the international front regarding the Rohingya crisis, and mediating between Bangladesh and Myanmar, China seem to have a resilient network approach towards Myanmar. This has led China to engage different actors in its diplomacy towards Myanmar. Chinese government NGOs (GONGO)'s such as the China International Poverty Alleviation Foundation (CIPAF), Blue Sky are becoming more present in Myanmar. These GONGO's are not only providing humanitarian aid but also organizing skill development programs for locals. The Chinese government also sometimes organizes training programs for Myanmar's diplomats and officials and businessman. Hence, China is more engaging at the grassroots level, a diplomatic style China has adopted from its experience of engagement in unstable states in Africa.
Thus, as for now, it is both a win-win game for China and Myanmar, as both seem to seek leverages from each other. However, it would interesting to see if more international actors, especially the US lifts the ban on Myanmar and get engage with the country how Myanmar would design its policies towards China. 
The views expressed in this article are those of the author.
The Strait of Malacca: China between Singapore and the United States
According to the data of the U.S. Energy Information Administration, over 30% of maritime crude oil trade passes through the South China Sea. Over 90% of the crude oil arriving in that sea pass through the Strait of Malacca, i.e. the shortest sea route between suppliers in Africa and the Persian Gulf and markets in Asia, thus making it one of the main geographical hubs of black gold in the world.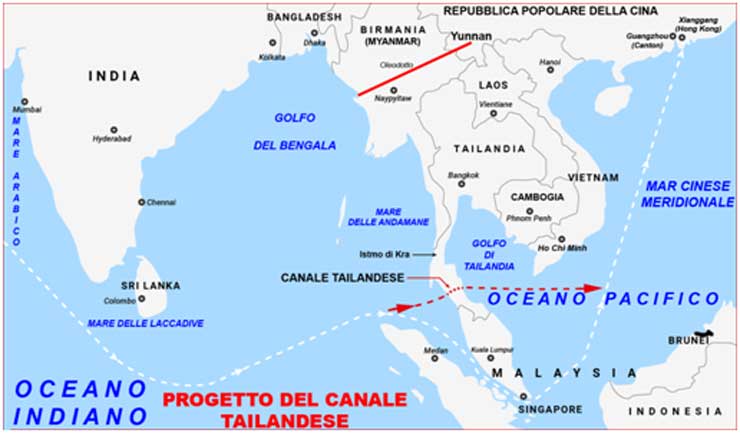 The key factor is that many raw materials and materials for energy development must pass through this Strait. Currently, the transport of goods between East Asian countries, Europe and Africa must have the Strait of Malacca, controlled by Singapore, as a route – provided it is fast.
On September 24, 2019 Singapore and the United States signed the Protocol amending the 1990 Memorandum of Understanding on the U.S. use of facilities in Singapore.
Singapore had proposed to use U.S. warships, thus becoming the largest U.S. military base in Asia. The U.S. 7th Fleet and its ships, including aircraft carriers and other large vessels, provide logistics and maintenance services and greatly expand military control.
The 7th Fleet can cross the Strait of Malacca, enter the Indian Ocean and the Arabian Sea and reach the Gulf region within 24 hours. The U.S. military vessels in all the ports of the Strait can be used without prior notice. In this regard, the United States is also actively cooperating with Malaysia, the Philippines, Brunei, Thailand and other Southeast Asian countries.
The United States has deployed more advanced weapons and equipment in Singapore. As long as there are military disputes in East and Southeast Asia, the United States will immediately block the Strait of Malacca and hence control the whole crude oil transport system. In case of conflict, the Strait of Malacca could easily be blocked, thus cutting China off from crucial energy resources.
Although the Chinese strategic oil reserves are sent from neighbouring countries, it is difficult to go on for over 60 days with reserves alone. Meanwhile the United States is using the financial market to drastically increase energy prices and possibly start an economic war.
If the Strait of Malacca is blocked, China has not enough energy supplies stored and it can sustain the situation for a very short lapse of time. It should be added that all military operations would be delayed.
Singapore is a country traditionally friendly to the United States. The reason is the same as Japan's, because the United States has interests in the Far East, while keeping on encircling China, thus trying to break "the string of pearls".
The United States supports Singapore, which has some influence in Southeast Asia because it has no strong neighbours. With a view to managing maritime transport, the most important thing is to have strong armed forces. Until the country can be conquered by force, the financial and commercial development model leads to a very high success rate.
Singapore has a surface of 721.5 square kilometres only, less than the province of Lodi, Lombardy. Nevertheless, its defence spending is three times that of neighbouring Malaysia, and accounts for about 3.1% of its GDP, which is more or less the same as the Russian military power (3.9%). This is the version of South-East Asia bequeathed by Great Britain, such a close ally of the United States to be considered the fifty-first star on its flag.
If Singapore wants to control its own power in the Strait of Malacca, it must contain and curb China. Without the Strait of Malacca, there would be no maritime centre absorbing the surrounding commercial and financial forces. As long as the deepwater port – where large military and commercial fleets can dock – is well-established, the place of delivery/passage for raw materials in Southeast Asia, from the Near and Middle East, the EU and Africa, will inevitably be Singapore.
This is the reason why – although China also has a huge export market – many of the bulk goods will be waiting in line to pass through Singapore's "Caudine Forks".
Since 2015 there has been a plan that could break the balance. The trade route to the Indian Ocean across the Strait of Malacca has problems with pirates, shipwrecks, mist, sediments and shallows. Its accident rate is twice as high as the Suez Canal and four times higher than the Panama Canal.
A shorter alternative route is to build a canal in the isthmus of Kra, Thailand. This would enable to spare time and reduce shipping costs as the route gets 1,000 kilometres shorter. The Chinese state-owned companies Liu Gong Machinery Co. Ltd and XCMG, as well as the private company Sany Heavy Industry Co Ltd, have taken the initiative to create a study group for the construction of the Kra Canal. The 100-kilometre artificial connection with the Indian Ocean would benefit not only China and ASEAN, but also trade of Japan and other countries, including the EU.
Thailand is located at the centre of the Indochina peninsula and leads to the important Mekong region and South Asia. This artificial canal would be about 100 kilometres from the Andaman Sea and the Gulf of Thailand, so that the trade zone of South-East Asia should not pass through the Strait of Malacca.
However, according to a survey made five years ago, only 30% of Thai people was in favour of building the canal and at least 40% of them opposed it, for fear that it could cause political turmoil in Thailand, including environmental damage and corruption by the Thai government. An attempt was being made to convey the feeling that the Thai people were opposed to such initiative.
It is obvious that there are clear opponents: the biggest one is Singapore, of course. At that juncture, maritime trade in East and South-East Asia would leave the polis, which would be bound to lose its importance as a maritime bulwark and could even lose the U.S. protection. Nevertheless, on January 16, 2020, the Thai House of Representatives decided to set up a committee to study the Thai Canal project.
The Kra Canal would be very profitable for China. The countries concerned, namely Cambodia and Vietnam, are still hesitating. Thailand wants China to contribute with money and equipment, but it fears indirect control from China.
The Kra Canal would be controlled by China. Thailand may not operate and run it as planned, but it would reap the greatest benefits from it. Hence although the canal tolls may be much lower than the cost of development, China would still be willing to encourage Thailand to implement the project in view of creating another route bypassing U.S. control. China is also actively encouraging Myanmar to build an oil pipeline connecting Yunnan to Burmese ports.
China is willing to invest significantly and the aim is to bypass U.S. control, which has completely blocked China from the Pacific islands to Southeast Asia.
The energy and food that China needs cannot be self-produced, and the United States is trying to manage these two weaknesses by "moving Singapore on the chessboard".
After World War II, the United States is the most striking example of "vertical community", and "horizontal continuum", to which the principle of "close and remote strike" applies. This refers to the economic power gap, not to kilometres as the crow flies. The U.S. strategy is to establish a long-term objective to prevent competitors from producing and developing cooperation.
The countries that have a large economic power gap vis-à-vis the United States are defined as "far away", while the others close to the United States in terms of economic power and strength are defined as "near". As a result, the neighbour always bothers and causes inconvenience in the world as is the case when living in a block of flats.
The U.S. strategy is designed to help and support the weaker side in the economic war – no matter if it is a dictatorship or an obscurantist and reactionary regime -in order to fight the strong side and achieve power supremacy. This balance can effectively prevent the emergence of a hegemonic power directly posing an economic-military threat to the United States. Supporting Singapore, Taiwan and Japan is certainly not an act of humanism and holding on to the "medieval" petromonarchies of the Near East does not mean strengthening the much-vaunted democracy.