World Economic Forum Spurs Impact Through Stakeholder Responsibility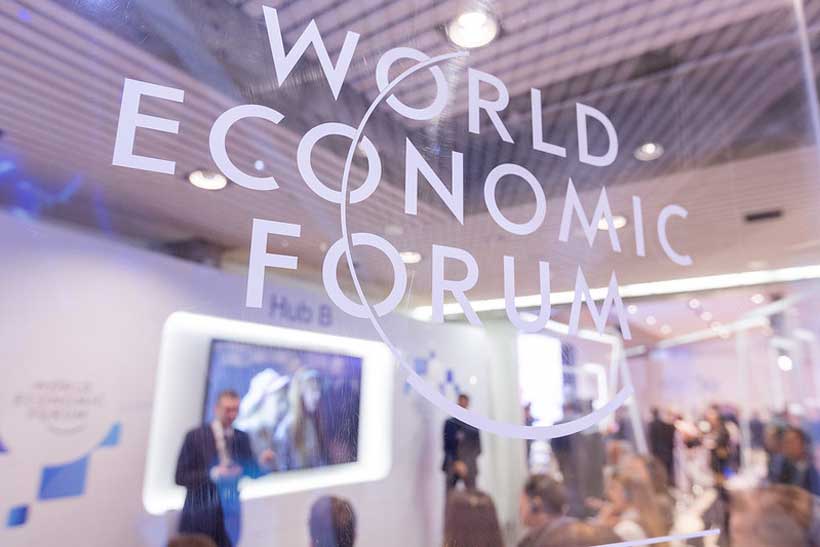 The 50th World Economic Forum Annual Meeting closed on Friday, a historic meeting bringing all stakeholders together to shape a cohesive and sustainable world. This milestone Annual Meeting has been truly remarkable because of progress made on a spectrum of issues, where public-private collaboration is crucial.
Cohesive World
On Inclusive Growth
The International Business Council, incorporating 140 of the world's largest companies, agreed to support efforts to develop a core set of common metrics and disclosures that can be used to measure private-sector progress on key environmental, social and governance (ESG) goals.
The Forum became a founding partner last week, alongside Refinitiv, and the United Nations of The Future of Sustainable Data Alliance. The alliance focuses on improving the quality of climate and environmental data for companies and investors.
The Davos Friends of Africa Growth Platform was launched with the support of the Presidents of Botswana and Ghana to promote entrepreneurship in Africa. The platform's initial target is to reach 1 million entrepreneurs by the end of 2020.
A strategic partnership was signed between the World Economic Forum and the OECD to accelerate progress towards inclusive and sustainable growth globally.
42 organizations, including businesses from the mining, automotive, chemical and energy sectors, that have a combined revenue of a trillion dollars, agreed on 10 guiding principles to reinforce environmental stewardship, sustainable development and respect for human rights in the global battery value chain.
On Skills and Work
The Reskilling Revolution was launched to provide better education, skills and jobs to a billion people by 2030 with the initial backing of the governments of Brazil, France, India, Pakistan, the Russian Federation, UAE and the US as well as many important companies.
Six leading platform companies became founding signatories of the Forum's Charter of Principles for Good Platform Work.
The Partnership for Global LGBTI Equality, which was launched in Davos last year to accelerate inclusion for LGBTI people, announced it has grown its membership to 15 international businesses.
On "Saving Lives"
CEPI, the Coalition for Epidemic Preparedness Innovations that was launched in Davos in 2017, today announced the initiation of three programmes to develop vaccines against the novel coronavirus, nCoV-2019 in partnership with Moderna and the Wellcome Trust.
The World Economic Forum announced a partnership with the Global CEO Initiative (CEOi) to form a coalition to accelerate treatments for Alzheimer's disease.
The Forum initiated Ending Workplace Tuberculosis, a multisector initiative aimed at tapping into the business community to help stop TB in countries disproportionately by the disease.
On Trade
Ministers in Davos announced negotiations between 99 economies on a new international agreement on investment facilitation at the World Trade Organization. The agreement aims to make it easier for investment to flow between economies while increasing its development impact.
As the US and France agreed a détente on digital taxation during the Annual Meeting, the Forum received a mandate from multistakeholder partners to further build understanding of and encourage input into international tax reforms.
The Forum partnered with the Japanese government to launch a multistakeholder effort to find practical mechanisms to enable "Data Free Flow with Trust" in support of the Osaka Track process that was initiated at the G20 in 2019.
On Civil Society
The Schwab Foundation for Social Entrepreneurship announced that its community has improved the lives of more than 622 million people in 190 countries since 2000. Examples of impact include: distributing $6.7 billion in loans or value of products and services; mitigating more than 192 million tonnes of CO2; improving education for more than 226 million children and youth; improving energy access for more than 100 million people; and driving social inclusion for over 25 million people.
Sustainable World
On Combating Climate Change
1t.org, a new multistakeholder effort to support efforts to grow, conserve and restore 1 trillion trees by the end of the decade was announced. Within the first days of its launch, Colombia announced to plant 180 million trees by 2022, Salesforce committed to plant 100 million trees and Pakistan said it will plant 2 billion trees. Additionally, 1T was supported by the US, China and Saudi Arabia as part of its G20 Presidency. The Forum's network of Global Shapers also committed to planting one million trees by 2021 across its 400 hubs worldwide.
New members signed up to the Forum's community of CEO Climate Leaders. The community is committed to helping companies meet the Paris Climate Goals.
The Sustainable Markets Initiative, backed by a Sustainable Markets Council, was launched by HRH The Prince of Wales in collaboration with the Forum with the goal of bringing about a transition to sustainable financial markets and rapid industry decarbonization.
The Net Zero Asset Owner Alliance of 16 pension funds and insurers, committed to helping achieve the Paris Climate Goals, added the Church of England and Generali as new members. The Alliance's portfolio now stands at $4.3 trillion.
The Forum's Advanced Manufacturing and Production community launched the Carbon Reduction in Manufacturing Initiative to achieve a goal of cutting carbon emissions in manufacturing by 50% by 2030.
On the SDGs
Frontier 2030 was launched as a platform to leverage the technologies of the Fourth Industrial Revolution to accelerate the SDGs. The platform is led by UNDP in partnership with the governments of Botswana, South Korea and Norway, and private sector commitment from a range of companies.
The Food Action Alliance was launched by the Forum, the International Fund for Agricultural Development (IFAD) and over 20 global leaders to strengthen the sustainability of the world's foods systems through better nutrition, climate adaption and access to finance.
A new multistakeholder partnership, SDG500, was launched to mobilize $500 million towards achieving the SDGs in emerging markets through a series of six blended finance funds.
A Cohesive and Sustainable Fourth Industrial Revolution
On Emerging Technologies
The Forum partnered with a community of 40 central banks, international organizations, academic researchers and financial institutions to create a framework to help central banks evaluate, design and potentially deploy Central Bank Digital Currency (CBDC).
The Forum, in collaboration with 100 stakeholders, produced the Empowering AI Toolkit to help board members better understand the positive and negative implications of deploying artificial intelligence.
Partners of the Centre for the Fourth Industrial Revolution Global Network, including Brazil, Colombia, Japan and Saudi Arabia, expanded their commitment to ensuring responsible and ethical governance of smart city technologies through the G20 Global Smart Cities Alliance on Technology Governance, led by the World Economic Forum.
The World Economic Forum's Global AI Council, launched in 2019, collaborated with UNICEF to create guidelines for AI-supported toys for the under sevens, as well as identifying young people under the age of 18 to sit on a Global AI Youth Council.
On Cybersecurity
A group of private-sector leaders from major cybersecurity companies, services providers and global corporations along with leading law enforcement agencies, Interpol and Europol, agreed to work together with the Forum through 2020 to foster a global public-private alliance against cybercrime.
A group of telecommunications stakeholders endorsed new principles combatting high-volume cyberattacks that could protect up to 1 billion consumers in 180 countries.
A community of key stakeholders from international organizations, government and business was formed to reinforce cyber resilience in global aviation.
The theme of the 50th Annual Meeting, "Stakeholders for a Cohesive and Sustainable World", could not be more relevant. The moral imperative that weighs upon us to be custodians of the planet for the sake of the next generation implies that we must act today. As the Forum celebrates its 50th anniversary, it looks ahead rather than backwards, to improve the state of the World for the next 50 years, by continuing to offer its platform to advance the common interest.
Lighthouse Partnerships Gain Momentum on Social Justice
Crises in climate, health and inequality are compelling organizations to align business strategies with equity and social justice values.
In a new whitepaper, Lighthouse Action on Social Justice Through Stakeholder Inclusion, the World Economic Forum, in collaboration with Business for Social Responsibility (BSR) and Laudes Foundation, shines a light on emerging corporate momentum supporting stakeholder inclusion and social justice.
Through the case studies of nine "lighthouse examples," the report chronicles how the following companies and coalitions are establishing stakeholder inclusion models and best business practices in three key areas:
Making investments targeting impacted communities in value chains and ecosystems:
– The Resilience Fund for Women in Global Value Chains (UN Foundation, BSR, Women Win/Win-Win, Gap Foundation, PVH Foundation, H&M Foundation, the VF Foundation, and the Ralph Lauren Corporate Foundation)

– In Solidarity Program (Mastercard)

– Replenish Africa Initiative (The Coca-Cola Foundation)
Influencing public policy and speaking out as corporate citizens:

– Open for Business Coalition (39 major corporations)

– Racial Equality and Justice Task Force (Salesforce)

Applying rigorous accountability practices and sharing power with workers in supply chains and communities:

– Unilever's Living Wage commitment (Unilever)

– Farmer Income Lab (Mars, ABinBev, Danone, Oxfam, IDH, Livelihoods Fund for Family Farming, UNDP)

– Amul Supplier Cooperative Ownership (Amul)

– Patagonia's Implementation of Regenerative Organic Certified Standards in its Apparel Supply Chain (Patagonia)
The whitepaper outlines successes and pain points as these leading lighthouse partnerships between business and civil society strive for more meaningful participation with communities most impacted by systemic injustices. Each business is unique in its culture and path to long-term value creation, but all are committed to the belief that stakeholder primacy leads to optimal outcomes.
The time to move forward with these ideals is now, and the conclusion is clear in that, "…the crises of pandemic, protest and social disruption have created an inflection point for many companies to evaluate their corporate sustainability strategies," said David Sangokoya, Head, Civil Society and Social Justice, World Economic Forum. "Stakeholder inclusion must be at the centre of any corporate action on equity and social justice in our unequal world…positioning business on the path towards redesigning business models that shift power and value towards stakeholder primacy."
COVID vaccines: Widening inequality and millions vulnerable
Health leaders agree that a world without COVID-19 will not be possible until everyone has equal access to vaccines. More than 4.6 million people have died from the virus since it swept across the globe from the beginning of 2020, but it's expected that the rate of people dying will slow if more people are vaccinated.
Developed countries are far more likely to vaccinate their citizens, which risks prolonging the pandemic, and widening global inequality. Ahead of a dialogue at the UN on Monday between senior United Nations officials UN News explains the importance of vaccine equity.
What is vaccine equity?
Quite simply, it means that all people, wherever they are in the world, should have equal access to a vaccine which offers protection against the COVID-19 infection.
WHO has set a global target of 70 per cent of the population of all countries to be vaccinated by mid-2022, but to reach this goal a more equitable access to vaccines will be needed.
Dr Tedros Adhanom Ghebreyesus, the Director-General of the World Health Organization (WHO) said vaccine equity was "not rocket science, nor charity. It is smart public health and in everyone's best interest."
Why is it so important?
Apart from the ethical argument that no country or citizen is more deserving of another, no matter how rich or poor, an infectious disease like COVID-19 will remain a threat globally, as long as it exists anywhere in the world.
Inequitable vaccine distribution is not only leaving millions or billions of people vulnerable to the deadly virus, it is also allowing even more deadly variants to emerge and spread across the globe.
Moreover, an unequal distribution of vaccines will deepen inequality and exaggerate the gap between rich and poor and will reverse decades of hard-won progress on human development.
According to the UN, vaccine inequity will have a lasting impact on socio-economic recovery in low and lower-middle income countries and set back progress on the Sustainable Development Goals (SDGs). According to the UNDP, eight out of ten people pushed into poverty directly by the pandemic are projected to live in the world's poorest countries in 2030.
Estimates also suggest that the economic impacts of COVID-19 may last until 2024 in low-income countries, while high-income countries could reach pre-COVID-19 per capita GDP growth rates by the end of this year.
Is it working?
Not according to Dr Tedros, who said in April this year that "vaccine equity is the challenge of our time…and we are failing".
Research suggests that enough vaccines will be produced in 2021 to cover 70 per cent of the global population of 7.8 billion. However, most vaccines are being reserved for wealthy countries, while other vaccine-producing countries are restricting the export of doses so they can ensure that their own citizens get vaccinated first, an approach which has been dubbed "vaccine nationalism". The decision by some nations to give already inoculated citizens a booster vaccine, rather than prioritizing doses for unvaccinated people in poorer countries has been highlighted as one example of this trend.
Still, the good news, according to WHO data, is that as of September 15, more than 5.5 billion doses have been administered worldwide, although given that most of the available vaccines require two shots, the number of people who are protected is much lower.
Which countries are getting the vaccines right now?
Put simply, the rich countries are getting the majority of vaccines, with many poorer countries struggling to vaccinate even a small number of citizens.
According to the Global Dashboard for Vaccine Equity (established by UNDP, WHO and Oxford University) as of September 15, just 3.07 per cent of people in low-income countries have been vaccinated with at least one dose, compared to 60.18 per cent in high-income countries.
The vaccination rate in the UK of people who have received at least one vaccine dose is around 70.92 per cent while the US is currently at 65.2 per cent. Other high-income and middle-income countries are not doing so well; New Zealand has vaccinated just 31.97 per cent of its relatively small population of around five million, although Brazil, is now at 63.31 per cent.
However, the stats in some of the poorest countries in the world make for grim reading. In the Democratic Republic of the Congo just 0.09 per cent of the population have received one dose; in Papua New Guinea and Venezuela, the rate is 1.15 per cent and 20.45 per cent respectively.
What's the cost of a vaccine?
Data from UNICEF show that the average cost of a COVID-19 vaccine is $2 to $37 (there are 24 vaccines which have been approved by at least one national regulatory authority) and the estimated distribution cost per person is $3.70. This represents a significant financial burden for low-income countries, where, according to UNDP, the average annual per capita health expenditure amounts to $41.
The vaccine equity dashboard shows that, without immediate global financial support, low-income countries would have to increase their healthcare spending by between 30 and 60 per cent to meet the target of vaccinating 70 per cent of their citizens.
What has the UN been doing to promote a more equitable access to vaccines?
WHO and UNICEF have worked with other organizations to establish and manage the COVID-19 Vaccine Global Access Facility, known as COVAX. Launched in April 2020, WHO called it a "ground-breaking global collaboration to accelerate the development, production, and equitable access to COVID-19 tests, treatments, and vaccines".
Its aim is to guarantee fair and equitable access for every country in the world based on need and not purchasing power.
Currently, COVAX numbers 141 participants according to the UN-supported Gavi alliance, but it's not the only way that countries can access vaccines as they can also make bilateral deals with manufacturers.
Will equal access to vaccines bring an end to the pandemic?
It's a crucial step, obviously, and in many richer countries, life is getting back to some sort of normality for many people, even if some pandemic protocols are still in place. The situation in less developed countries is more challenging. While the delivery of vaccines, provided under the COVAX Facility, is being welcomed across the world, weak health systems, including shortages of health workers are contributing to mounting access and distribution challenges on the ground.
And equity issues don't disappear once vaccines are physically delivered in country; in some nations, both rich and poor, inequities in distribution may still persist.
It's also worth remembering that the imperative of providing equal access to health care is, of course, not a new issue, but central to the Sustainable Development Goals and more precisely, SDG 3 on good health and well-being, which calls for achieving universal health coverage and affordable essential medicines and vaccines for all.
Moscow electronic school — the future of education
The Moscow Electronic School ("MES") project is a cloud-based Internet platform launched in 2016 that unites all educational institutions in Moscow into a single high-tech environment. After successful testing, since September 1, 2017, the MES has been implemented in all educational organizations (schools, kindergartens, colleges) in Moscow and is available online for any user from anywhere in the world, from any device 24/7/365. Today MES unites about 3 million participants in the educational process of the capital, including teachers, students and their parents.
The Moscow Electronic School project is aimed at the most effective use of the school's IT capabilities to improve the quality of student education by forming a connection between the organizational and content aspects of the educational process (interactive equipment, as well as personal devices of users connected to the Internet, are linked with the educational materials of the platform).
The "MES" platform provides automation of most of the organizational, methodological and pedagogical tasks solved in a modern large educational organization, makes the content of education more accessible, allows in practice to implement modern pedagogical technologies and approaches, for example, blended learning, distance and electronic education.
Today "MES" has become a real digital assistant for the modern teacher. Thanks to special digital constructors, Moscow teachers in the "MES" Library create lesson scripts, "folk" textbooks, self-study guides, tests that students use in class, when preparing design work at school, in the course of independent work. Thus, the service allows not only to use the posted educational materials, but also to supplement the cloud educational platform with its developments and content, as well as to share them with colleagues. Electronic versions of textbooks, teaching aids, interactive applications and other modern digital content allow the teacher to diversify the content of the assignments and make the learning process fun for children and more effective.
"MES" services
The key elements of the digital educational platform are an electronic journal, an electronic diary, a library of electronic materials, the "Moskvenok" service (Pass and Power system), as well as infrastructure solutions: Wi-Fi access points with high-speed Internet, school servers, touch-controlled interactive panels with a built-in computer, teachers' tablets and laptops, a video surveillance system and turnstiles at the entrance.
"MES Library" is a unique repository of educational electronic materials and tools. The service is implemented in the web version and as a mobile application "MES Library". Library materials are available online at no cost to any user from anywhere in the world.
The "Moskvenok" service helps parents place an order for their child's hot meals (if the school is connected to the hot meal ordering service from the menu), check his arrival or departure from school, college or kindergarten, control his meals in the school cafeteria and the costs of the cafeteria. Children can use the "Moskvenok" carrier (bracelet, keychain or card) as a pass to an educational organization and museums in Moscow, as well as for non-cash payments for purchases at school.
The electronic diary contains complete information on training: curriculum for the year ahead, schedule and attendance of classes, progress, analytics. The service makes it possible to find out about current events and activities. It is available both in the web version and in the form of the "MES Diary" mobile application.
In the new academic year, "MES" will be replenished with a wide range of diverse partner educational content, which has already proven itself well among teachers and schoolchildren. Thanks to this, an additional 45 thousand units of new tools and materials will appear in the library: interactive presentations for lessons, design and research tasks, virtual laboratories and tests. Most of the tasks will be self-checking, that is, after completing the work, the teacher, student and parent can immediately familiarize themselves with the results.
Virtual laboratories
Another important area in the Moscow Electronic School is virtual laboratories – interactive online simulators of experiences and experiments for children and adults, which allow improving knowledge and skills in the subjects of the school curriculum. At the beginning of the academic year, new virtual laboratories for drawing, inorganic chemistry, computer science, mathematics, biology and physics will appear at the "MES".
This year, in the library of the Moscow Electronic School, the collection of virtual laboratories has been replenished with 10 new laboratories in the section of biology "Cytology" for schoolchildren in grades 5-11. It has an interactive virtual microscope that allows you to view individual cells. And the children can consolidate the knowledge gained by "collecting" cells in a game format, solving an interactive problem or passing a thematic quiz.
It is now possible to design and conduct experiments on electrostatics, magnetostatics and electromagnetism in the virtual laboratory "Electromagnetic field. Faraday", which became the fifth in the line of physics laboratories. The new laboratory will help schoolchildren to master the main sections of electrodynamics: electrostatics, magnetic field and electromagnetic phenomena.
Another novelty is the virtual laboratory "MES Informatics" for students in grades 7-11. Children will be able to test their knowledge using 290 ready-made tests, practice using more than 9 thousand tasks, and also take 254 programming courses.
Student's portfolio
An important innovation of the "MES" is the new "Student portfolio" service. It will accumulate the results and achievements of schoolchildren not only in the educational part, but also in olympiads, competitions, sports competitions. Also, students and their parents will be able to independently enter information into the new service, edit data and share their portfolio with friends, teachers, organizations.
Thematic materials about Russian writers
At the end of July, the project "Moscow Electronic School" made available thematic materials about the life and work of one of the greatest poets of the golden age of Russian literature – Mikhail Lermontov.
Also, the project "Moscow Electronic School" presented a thematic selection of materials about the life and work of Fyodor Dostoevsky in the year of the 200th anniversary of the birth of the writer. Schoolchildren are offered to go on a virtual trip to St. Petersburg of the XIX century and get acquainted with the peculiarities of the worldview of the classic.