World Economic Forum Spurs Impact Through Stakeholder Responsibility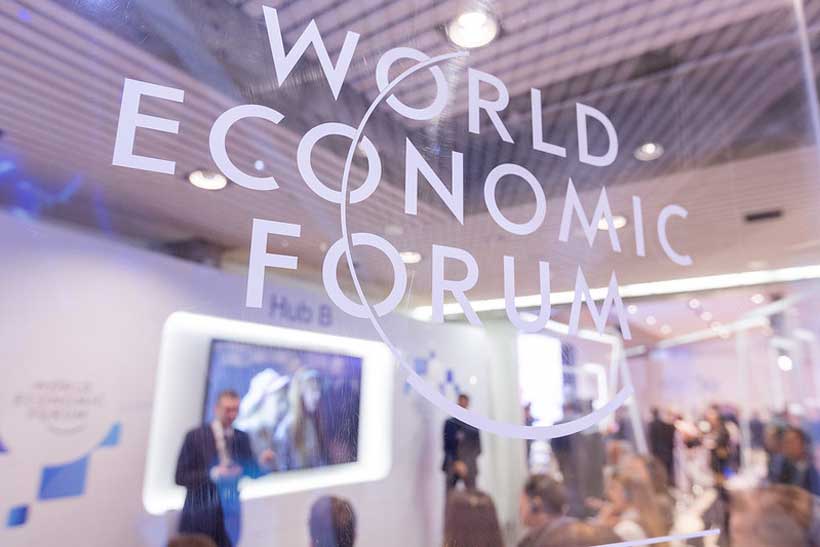 The 50th World Economic Forum Annual Meeting closed on Friday, a historic meeting bringing all stakeholders together to shape a cohesive and sustainable world. This milestone Annual Meeting has been truly remarkable because of progress made on a spectrum of issues, where public-private collaboration is crucial.
Cohesive World
On Inclusive Growth
The International Business Council, incorporating 140 of the world's largest companies, agreed to support efforts to develop a core set of common metrics and disclosures that can be used to measure private-sector progress on key environmental, social and governance (ESG) goals.
The Forum became a founding partner last week, alongside Refinitiv, and the United Nations of The Future of Sustainable Data Alliance. The alliance focuses on improving the quality of climate and environmental data for companies and investors.
The Davos Friends of Africa Growth Platform was launched with the support of the Presidents of Botswana and Ghana to promote entrepreneurship in Africa. The platform's initial target is to reach 1 million entrepreneurs by the end of 2020.
A strategic partnership was signed between the World Economic Forum and the OECD to accelerate progress towards inclusive and sustainable growth globally.
42 organizations, including businesses from the mining, automotive, chemical and energy sectors, that have a combined revenue of a trillion dollars, agreed on 10 guiding principles to reinforce environmental stewardship, sustainable development and respect for human rights in the global battery value chain.
On Skills and Work
The Reskilling Revolution was launched to provide better education, skills and jobs to a billion people by 2030 with the initial backing of the governments of Brazil, France, India, Pakistan, the Russian Federation, UAE and the US as well as many important companies.
Six leading platform companies became founding signatories of the Forum's Charter of Principles for Good Platform Work.
The Partnership for Global LGBTI Equality, which was launched in Davos last year to accelerate inclusion for LGBTI people, announced it has grown its membership to 15 international businesses.
On "Saving Lives"
CEPI, the Coalition for Epidemic Preparedness Innovations that was launched in Davos in 2017, today announced the initiation of three programmes to develop vaccines against the novel coronavirus, nCoV-2019 in partnership with Moderna and the Wellcome Trust.
The World Economic Forum announced a partnership with the Global CEO Initiative (CEOi) to form a coalition to accelerate treatments for Alzheimer's disease.
The Forum initiated Ending Workplace Tuberculosis, a multisector initiative aimed at tapping into the business community to help stop TB in countries disproportionately by the disease.
On Trade
Ministers in Davos announced negotiations between 99 economies on a new international agreement on investment facilitation at the World Trade Organization. The agreement aims to make it easier for investment to flow between economies while increasing its development impact.
As the US and France agreed a détente on digital taxation during the Annual Meeting, the Forum received a mandate from multistakeholder partners to further build understanding of and encourage input into international tax reforms.
The Forum partnered with the Japanese government to launch a multistakeholder effort to find practical mechanisms to enable "Data Free Flow with Trust" in support of the Osaka Track process that was initiated at the G20 in 2019.
On Civil Society
The Schwab Foundation for Social Entrepreneurship announced that its community has improved the lives of more than 622 million people in 190 countries since 2000. Examples of impact include: distributing $6.7 billion in loans or value of products and services; mitigating more than 192 million tonnes of CO2; improving education for more than 226 million children and youth; improving energy access for more than 100 million people; and driving social inclusion for over 25 million people.
Sustainable World
On Combating Climate Change
1t.org, a new multistakeholder effort to support efforts to grow, conserve and restore 1 trillion trees by the end of the decade was announced. Within the first days of its launch, Colombia announced to plant 180 million trees by 2022, Salesforce committed to plant 100 million trees and Pakistan said it will plant 2 billion trees. Additionally, 1T was supported by the US, China and Saudi Arabia as part of its G20 Presidency. The Forum's network of Global Shapers also committed to planting one million trees by 2021 across its 400 hubs worldwide.
New members signed up to the Forum's community of CEO Climate Leaders. The community is committed to helping companies meet the Paris Climate Goals.
The Sustainable Markets Initiative, backed by a Sustainable Markets Council, was launched by HRH The Prince of Wales in collaboration with the Forum with the goal of bringing about a transition to sustainable financial markets and rapid industry decarbonization.
The Net Zero Asset Owner Alliance of 16 pension funds and insurers, committed to helping achieve the Paris Climate Goals, added the Church of England and Generali as new members. The Alliance's portfolio now stands at $4.3 trillion.
The Forum's Advanced Manufacturing and Production community launched the Carbon Reduction in Manufacturing Initiative to achieve a goal of cutting carbon emissions in manufacturing by 50% by 2030.
On the SDGs
Frontier 2030 was launched as a platform to leverage the technologies of the Fourth Industrial Revolution to accelerate the SDGs. The platform is led by UNDP in partnership with the governments of Botswana, South Korea and Norway, and private sector commitment from a range of companies.
The Food Action Alliance was launched by the Forum, the International Fund for Agricultural Development (IFAD) and over 20 global leaders to strengthen the sustainability of the world's foods systems through better nutrition, climate adaption and access to finance.
A new multistakeholder partnership, SDG500, was launched to mobilize $500 million towards achieving the SDGs in emerging markets through a series of six blended finance funds.
A Cohesive and Sustainable Fourth Industrial Revolution
On Emerging Technologies
The Forum partnered with a community of 40 central banks, international organizations, academic researchers and financial institutions to create a framework to help central banks evaluate, design and potentially deploy Central Bank Digital Currency (CBDC).
The Forum, in collaboration with 100 stakeholders, produced the Empowering AI Toolkit to help board members better understand the positive and negative implications of deploying artificial intelligence.
Partners of the Centre for the Fourth Industrial Revolution Global Network, including Brazil, Colombia, Japan and Saudi Arabia, expanded their commitment to ensuring responsible and ethical governance of smart city technologies through the G20 Global Smart Cities Alliance on Technology Governance, led by the World Economic Forum.
The World Economic Forum's Global AI Council, launched in 2019, collaborated with UNICEF to create guidelines for AI-supported toys for the under sevens, as well as identifying young people under the age of 18 to sit on a Global AI Youth Council.
On Cybersecurity
A group of private-sector leaders from major cybersecurity companies, services providers and global corporations along with leading law enforcement agencies, Interpol and Europol, agreed to work together with the Forum through 2020 to foster a global public-private alliance against cybercrime.
A group of telecommunications stakeholders endorsed new principles combatting high-volume cyberattacks that could protect up to 1 billion consumers in 180 countries.
A community of key stakeholders from international organizations, government and business was formed to reinforce cyber resilience in global aviation.
The theme of the 50th Annual Meeting, "Stakeholders for a Cohesive and Sustainable World", could not be more relevant. The moral imperative that weighs upon us to be custodians of the planet for the sake of the next generation implies that we must act today. As the Forum celebrates its 50th anniversary, it looks ahead rather than backwards, to improve the state of the World for the next 50 years, by continuing to offer its platform to advance the common interest.
Global warming did the Unthinkable
French ski resort closes permanently because there's not enough snow, CNN informs. Winter is coming. And for yet another ski resort in France, that means facing up to the reality that there isn't enough snow to carry on.
La Sambuy, a town which runs a family skiing destination near Mont Blanc in the French Alps, has decided to dismantle its ski lifts because global warming has shrunk its ski season to just a few weeks, meaning it's no longer profitable to keep them open.
"Before, we used to have snow practically from the first of December up until the 30th of March," La Sambuy's mayor, Jacques Dalex, told CNN.
Last winter, however, there was only "four weeks of snow, and even then, not much snow," he added. That meant "very quickly, stones and rocks appeared on the piste."
Able to open for fewer than five weeks during January and February, Dalex said the resort was looking at an annual operating loss of roughly 500,000 euros ($530,000). Keeping the lifts going alone costs 80,000 euros per year.
La Sambuy isn't a huge resort, with just three lifts and a handful of pistes reaching up to a top height of 1,850 meters (about 6,070 feet).
But with a range of slopes running from expert "black" to beginner "green" and relatively cheap ski passes, it was popular with families seeking more of a low-key Alps experience than offered by bigger, higher-altitude destinations.
UK snow report website On The Snow calls it "an idyllic place to visit, with exceptional panoramic views and everything you need in a friendly resort."
La Sambuy is not the only French ski resort facing a meltdown. Last year, Saint-Firmin, another small Alpine ski destination, opted to remove its ski lift after seeing its winter season dwindle from months to weeks, a situation also blamed on climate change.
Mountain Wilderness, a French environmental group, says it has dismantled 22 ski lifts in France since 2001, and estimates that there are still 106 abandoned ski lifts across 59 sites in the country.
According to a report published in August by the scientific journal Nature Climate Change, 53% of 2,234 ski resorts surveyed in Europe are likely to experience "a very high snow supply risk" at 2 degrees Celsius (3.6 Fahrenheit) of global warming above pre-industrial levels, without use of artificial snow.
A report published in January in the Proceedings of the National Academy of Sciences journal found a "substantial possibility" of global temperature rises crossing this 2-degree Celsius threshold by mid-century.
La Sambuy's Dalex said that "all winter sports resorts in France are impacted by global warming," particularly those at a medium mountain altitude between 1,000 and 1,500 meters.
Assad-Xi Jinping meeting: China-Syria strategic partnership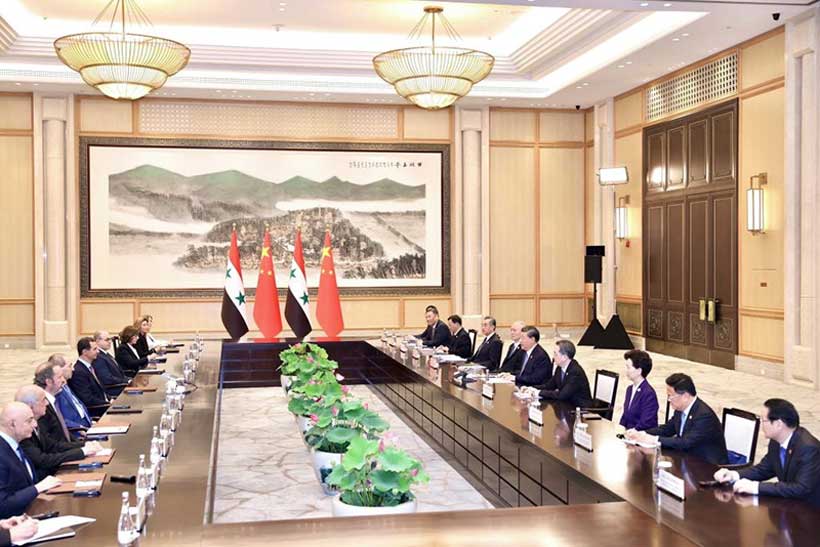 Chinese President Xi Jinping and Syrian President Bashar al-Assad on Friday jointly announced the establishment of a China-Syria strategic partnership, Chinese Xinhua Net informs.
The two presidents met in the eastern Chinese city of Hangzhou, Zhejiang Province, ahead of the opening of the 19th Asian Games.
Syria was one of the first Arab countries that established diplomatic relations with the People's Republic of China, and was one of the countries that co-sponsored the resolution to restore the lawful seat of the People's Republic of China in the United Nations, Xi said.
Over the 67 years since the establishment of diplomatic relations between the two countries, the China-Syria relationship has stood the test of changes in the international situation, and their friendship has grown stronger over time, he said.
Xi noted that the establishment of the strategic partnership will be an important milestone in the history of bilateral ties.
China is willing to work with Syria to enrich their relationship and continuously advance the China-Syria strategic partnership, Xi said.
Xi emphasized that China will continue to work with Syria to firmly support each other on issues concerning the two sides' respective core interests and major concerns, safeguard the common interests of both countries and other developing countries, and uphold international fairness and justice.
China supports Syria in opposing foreign interference, rejecting unilateralism and bullying, and safeguarding national independence, sovereignty and territorial integrity, he said.
China supports Syria in conducting reconstruction, enhancing counter-terrorism capacity building, and promoting a political settlement of the Syrian issue following the "Syrian-led, Syrian-owned" principle, Xi said.
China also supports Syria in improving its relations with other Arab countries and playing a greater role in international and regional affairs, he added.
China is willing to strengthen Belt and Road cooperation with Syria, increase the import of high-quality agricultural products from Syria, and jointly implement the Global Development Initiative, the Global Security Initiative and the Global Civilization Initiative to make active contributions to regional and global peace and development.
Assad said that in international affairs, China has always aligned itself with international fairness and justice, and upheld international law and humanitarianism, playing an important and constructive role.
Syria highly appreciates and firmly supports the Belt and Road Initiative, the Global Development Initiative, the Global Security Initiative and the Global Civilization Initiative, and will actively participate in them, Assad added.
The Syrian side thanks the Chinese government for its invaluable support to the Syrian people, firmly opposes any act of interference in China's internal affairs, and is willing to be China's long-term and staunch friend and partner, he said.
Assad said Syria will take the establishment of the Syria-China strategic partnership as an opportunity to strengthen bilateral friendly cooperation and step up their communication and coordination in international and regional affairs.
After the talks, the two heads of state witnessed the signing of bilateral cooperation documents in areas including Belt and Road cooperation, and economic and technological cooperation.
Seymour Hersh: "Zelensky's army no longer has any chance of a victory"
Next Tuesday will be the anniversary of the Biden administration's destruction of three of the four pipelines of Nord Stream 1 and 2. There is more I have to say about it, but it will have to wait. Why? Because the war between Russia and Ukraine, with the White House continuing to reject any talk of a ceasefire, is at a turning point, writes Seymour Hersh, a famous American investigative journalist.
There are significant elements in the American intelligence community, relying on field reports and technical intelligence, who believe that the demoralized Ukraine army has given up on the possibility of overcoming the heavily mined three-tier Russian defense lines and taking the war to Crimea and the four oblasts seized and annexed by Russia.
The reality is that Volodymyr Zelensky's battered army no longer has any chance of a victory.
The war continues, I have been told by an official with access to current intelligence, because Zelensky insists that it must. There is no discussion in his headquarters or in the Biden White House of a ceasefire and no interest in talks that could lead to an end to the slaughter. "It's all lies," the official said, speaking of the Ukrainian claims of incremental progress in the offensive that has suffered staggering losses, while gaining ground in a few scattered areas that the Ukrainian military measures in meters per week.
"There were some early Ukrainian penetrations in the opening days of the June offensive," the official said, "at or near" the heavily trapped first of Russia's three formidable concrete barriers of defense, "and the Russians retreated to sucker them in. And they all got killed." After weeks of high casualties and little progress, along with horrific losses to tanks and armored vehicles, he said, major elements of the Ukrainian army, without declaring so, virtually canceled the offensive. The two villages that the Ukrainian army recently claimed as captured "are so tiny that they couldn't fit between two Burma-Shave signs" — referring to billboards that seemed to be on every American highway after World War II.
Zelensky's message this week to the annual United Nations General Assembly in New York offered little new and, the Washington Post reported, he received the obligatory "warm welcome" from those in attendance. But, the Post noted, "he delivered his address to a half-full house, with many delegations declining to appear and listen to what he had to say." Leaders of some developing nations, the report added, were "frustrated" that the multiple billions being spent without serious accountability by the Biden administration to finance the Ukraine war was diminishing support for their own struggles to deal with "a warming world, confronting poverty and ensuring a more secure life for their citizens."
President Biden, in his earlier speech to the General Assembly, did not deal with Ukraine's perilous position in the war with Russia but renewed his resounding support for Ukraine.
Biden, with the support of Secretary Blinken and National Security Adviser Jake Sullivan — but diminishing support elsewhere in America — has turned his unrelenting financial and moral support for the Ukraine war into a do-or-die issue for his re-election.
The American intelligence official I spoke with spent the early years of his career working against Soviet aggression and spying has respect for Putin's intellect but contempt for his decision to go to war with Ukraine and to initiate the death and destruction that war brings. But, as he told me, "The war is over. Russia has won. There is no Ukrainian offensive anymore, but the White House and the American media have to keep the lie going. The truth is if the Ukrainian army is ordered to continue the offensive, the army would mutiny. The soldiers aren't willing to die any more, but this doesn't fit the B.S. that is being authored by the Biden White House," Seymour Hersh concludes.