On January 26, the people of India will celebrate the Republic Day. Seventy years ago, on January 26, 1950, the Constitution of India entered into force, proclaiming the country a sovereign socialist secular democratic republic. This year is a double anniversary for the country — 90 years ago, on January 26, 1930, the Indian National Congress that led the national liberation movement officially declared fighting for India's complete independence of the British Empire as its goal.
India has much to celebrate on the 70th anniversary on the Republic. In 2000 and 2017 alone, the country's economy grew 3.3 times, whilst its contribution to the gross world product in terms of purchasing power parity in 2017 (7.4 per cent) became the world's third-largest after China and the United States' respective indicators. Its armed forces are the world's fourth-strongest behind the United States, Russia and China. India has nuclear missiles and a space programme comparable to those of Europe, China and Japan. The technological breakthrough made by the country has been particularly evident in the rapid development of information technologies. Since the early 2000s, India has been the world leader in IT exports and has dominated the global IT outsourcing market.
Russia and India are close friends and partners. It is not only a matter of common roots: the Russian words for "mother" (mat'), "brother" (brat), "fire" (ogon'), "light" (svet) and even "husband's brother" (dever) and "husband's father" (svyokor) are virtually the same in Sanskrit, from which all Northern Indian languages originate. The Russians did not go to India to conquer it. The images of the faraway magical land of India inspired Russian thinkers, poets, composers and artists. The cultural influence was mutual: Leo Tolstoy's great influence on the views of Mahatma Gandhi is well known.
In the seven-plus decades of their diplomatic relations, Moscow and New Delhi have successfully built stable strategic, military, economic and diplomatic ties. Thousands of Russians took part in building industrial facilities in India. Military equipment manufactured in Russia accounts for a significant part of the arsenal of the Indian Armed Forces. Tens of thousands of Indian engineers, doctors and other professionals have been educated in Russian universities. Russian and Indian scientists have close ties, and their joint work spans a large number of fields, from applied medicine to space exploration. Indian tea, coffee, spices, medications and other consumer goods are extremely popular in Russia.
Regardless of their outward differences, Russia and India face many similar tasks both domestically and internationally. Domestically, both need to ensure inter-ethnic and social harmony within multimillion, poly-ethnic, and poly-denominational states. The examples of Kashmir and Chechnya helped the two countries gain an insight into the evils of aggressive nationalism, religious extremism, terrorism and separatism sooner and more clearly than others.
Opposition to the attempts to establish unipolar leadership in global affairs also deserves mention. Russia and India are democratic states that adhere to the principles of democracy in their domestic affairs, which in turn determines their general commitment to democratic conduct in international affairs. India was among the countries that were instrumental in the establishment of the Non-Aligned Movement, which as early as the first years of the 1960s was pointing the international community in the direction of the polycentric word order that is so actively discussed today.
Russia and India are also united by the fact that Muslims form the second-largest denominational community in both states. And we are not talking recent migrants, as in Western Europe today, but rather people who have for centuries lived side-by-side with Orthodox Christians in Russia, and with followers of Hinduism and other Indian religions in India. Russia and India's long-standing engagement with Islamic history, and their geographic proximity to the leading Islamic states, determine both the special place of the two countries when it comes to the most urgent issues that concern the Islamic world today and their special role in handling problems related to the Middle East, Iraq, Iran and Afghanistan.
From the very beginning, the independent India set itself the goal of becoming a leading global power. However, for a long time, its international actions were bolstered solely by its moral authority and the support of friendly Asian and African non-aligned states. To join the "major league of international players," it needed powerful economic, scientific, technological and military potential, something it has today.
India's objective for the near future is to entrench itself as the key power of the region that spans the Indian Ocean and Southeast Asia. India hopes to overcome the negative geopolitical consequences of the 1947 division of the former British India into India and Pakistan along religious lines. Not only did this division result in the ongoing conflict with Islamabad over Kashmir, but it also cut India off from culturally related countries and its natural markets in Southeast Asia, Afghanistan, Iran and the Persian Gulf states.
The incumbent Prime Minister Narendra Modi has given New Delhi's international activities in this area a measure of confidence and assertiveness. Since the early 1990s, governments in India have pursued the Look East policy, which involved expanding economic ties and political interaction with the states of Southeast Asia. Under Modi, Look East been transformed into the Act East Policy, which is intended to both stimulate India's economic growth and align its strategic priorities with those of its leading partners in the Asia Pacific, namely Vietnam, the ASEAN as a whole, Japan and Australia. The Act East Policy is ultimately intended to expand and boost India's regional and global role.
Look East is supplemented with Look West, which is geared toward the Persian Gulf states. This policy has several far-reaching goals. First, the Persian Gulf is a major economic partner, home to over 6 million Indians and the principal source of oil and gas. Second, the region has long-standing historical ties with India — not only is it close neighbour, it is also a connecting link with Central Asia and Afghanistan.
Third, "Look West," as some analysts in India have noted, is also intended to give an impetus to changes in the relations with Islamabad in the future, when, instead of being a wall between India and the Persian Gulf region, Pakistan would become a kind of bridge between them. India, in turn, would become Pakistan's "gateway" to Southeast Asia. India appears to be banking here on Pakistanis stepping over 70-year-old dogmas regarding Kashmir and eventually realizing that cooperation with India in the Persian Gulf could be far more profitable for them than confrontation. A reconciliation between India and Pakistan would have a significant economic effect both for regional economic integration and for broader interregional cooperation between the states of Central Asia, South Asia and the Persian Gulf.
Unlike the United States, Western European countries and China, Russia has never had a conflict of interests with India, nor is one likely to appear in the future. The increasing role of India—a country that is friendly towards Russia — in international affairs, be it globally or in the Middle, Near or Far East (given India's significant economic presence in all those regions and a populous Indian community there) would objectively decrease the urgency of the foreign political challenges currently facing Russia.
Russia–India relations hold independent value for both countries. India is sympathetic to Russia's international actions. During the Soviet era, New Delhi did not condemn the deployment of Soviet troops in Afghanistan. Nor has it joined the chorus of those condemning Crimea's incorporation into Russia today. New Delhi also supports Russia's stance on Syria, declaring that it would never use sanctions against Moscow. Historically, India's regional and global interests have largely coincided with those of Russia, rather than the other great powers. India's most important and complicated foreign political issues are concentrated in its relations with China and Pakistan as it has been involved in armed conflicts with both countries. New Delhi understands that these issues cannot be resolved without Russia, just as the Look East and Look West policies cannot be fully implemented without Russia. It is no coincidence, for example, that Prime Minister Modi visited the 2019 Eastern Economic Forum in Vladivostok. He intends to expand India's economic presence in the Russian Far East.
The situation is much the same with Look West, where India, among other things, is interested in Central Asia being free from extremism and terrorism. India is also interested in establishing the North–South Transport Corridor from the Arabian Sea to Western Europe. Russia has a defining role in both cases.
Neither the radical political and economic changes in Russia and India nor the general shifts in the global situation could stop new wrinkles and points of concern from being introduced into Russia–India relations. It is telling that Moscow and New Delhi refer to their relations as a privileged strategic partnership, rather than in terms of friendship and cooperation.
Proof of the strategic nature of this partnership can be found in the interaction between the two countries on key issues of international politics, as well as in the fact that, beyond politics, bilateral relations are driven by energy (including nuclear energy), military-technical cooperation and peaceful exploration of space, areas that are of strategic importance for any state.
India imports one third of the oil and gas it consumes and is investing heavily in the development of Russia's energy resources. This fact is of special significance for Russia today, when the sanctions imposed on Russia mean that companies from the West are prohibited from participating in new Russian oil and gas projects, including those in the Arctic. India urgently needs to develop its nuclear sector, and Russia is the only foreign state that builds nuclear power plants there. Russia has made this decision in favour of a state that is not a party to the Non-proliferation Treaty because it trusts India and values the partnership it has with that country. Russia also supports India's accession to the Nuclear Suppliers Group.
India is the only country to have a long-term weapons cooperation programme with Russia in place. It is the only state that has received help from Russia in the development of a nuclear submarine project. India has also leased a nuclear submarine from Russia and purchased Russia-Israel-made AEW&C aircraft. The Admiral Gorshkov aircraft carrier was modernized for India, where it was renamed the Vikramaditya. The high-efficiency cruise missile BrahMos was developed jointly by the two countries, and a fifth-generation combat fighter aircraft is now being developed jointly as well. India is expected to be the only recipient of the high-precision GLONASS (Russia's global navigation system) signal for the purposes of defence and security.
Seventy per cent of India's military's combat equipment was manufactured either in Russia or in India under Russian licenses. It is unlikely that India would allow itself to become so dependent on Russia in the military sphere if it did not have full confidence in the strategic partnership. But this is strategically important for Russia as well. After the collapse of the USSR, Russia's defence complex found itself in dire financial straits. India alleviated the situation by placing large defence orders with Russia. In a sense, New Delhi forced the Russian defence industry to accelerate the modernization process by placing orders for equipment with highest technical requirements.
Russia–India communication is of great practical importance for Russia in terms of studying India's experience and using it to solve a number of problems. I will dwell on only two examples. First, like Russia, India is a federative state. Its constitution clearly demarcates the powers of the central and local authorities. Russia would do well to study how India tackled such matters. The second issue pertains to financing the military. India's military, the fourth-strongest in the world, is a contract force. Perhaps some Indian financing methods could be used in Russia.
In many ways, the long-standing Russia–India partnership has acquired a new quality over the past 25 years. Demonstrative declarations of friendship are a thing of the past. Without wasting time on ceremonial perorations, the two great powers collaborate on specific issues in order to meet both their individual and mutual interests.
The partnership between Russia and India is an integral component of global and regional developments. Today, the world is on the threshold of a new world order, with a polycentric political and multi-currency economic system. The new world order should ensure equality and mutual respect for the interests of large and small states in politics; mutual advantages and gains in economy; compatibility and mutual enrichment of civilizations in culture; mutual trust and cooperation in security; and a common responsibility in global issues. The specially privileged strategic partnership between Russia and India is called upon to make a significant contribution to building this world order.
From our partner RIAC
Did Russia-China Relations Successfully Pass the "COVID," "Hong Kong," "India" and "Belarus" Tests?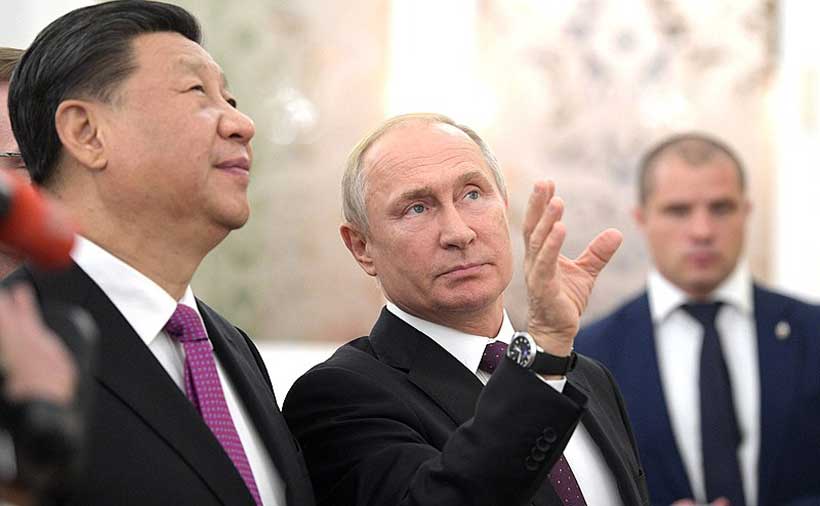 Russia-China relations have been steadily improving since at least 2013, when the leaders of both countries presented a joint statement calling for deepening bilateral relations of "comprehensive strategic partnership of coordination." This formula has been modified with an addition of the "new era," signifying both countries recognising new global challenges and the changing geopolitical environment. COVID-19 has largely contributed to the intensification of certain trends, including antagonism with the U.S. and the pursuit of more robust bilateral ties.
If before both countries would challenge and combat U.S. hostility (economic sanctions, political pressure, adversary rhetoric, etc.) mainly on their own, they are now more inclined to align and coordinate actions to elaborate more coherent voices towards the West. In late July, Russia's Ministry of Foreign Affairs stressed that the U.S. could not drive a wedge between Russia and China by expecting Moscow to join its anti-China alliance. Rather, Russia views further improvement of relations with China as a major factor that will contribute to stability in global politics.
In May, the Chinese Ministry of Foreign Affairs noted that, amid the virus outbreak, bilateral support between Russia and China became a safe fortress for "political viruses." During a telephone conversation in July, Putin and Xi stressed that the agenda for the strategic partnership in Russia-China relations was materialised during the pandemic in the form of mutual help provided at a critical moment.
China and Russia have recently demonstrated the historical legacy of their close relations through the publication of a co-authored report by Russian and Chinese ambassadors to the U.S. The report unambiguously states that all countries must combine their efforts to tackle pressing issues such as climate change, terrorism, world pandemics, economic downturns, etc. These concerns are all focal points in which Russia and China have achieved mutual understanding.
Notably, even during the very vague political gridlock of the Belarusian leadership in the aftermath of the August presidential elections, China and Russia immediately demonstrated their support to the re-elected president Lukashenko. While President Putin congratulated the Belarusian president with a telegram, President Xi-Jinping opted for a personal phone call, during which he reassured Mr Lukashenko of China's strong commitment to "push forward Chinese-Belarusian comprehensive strategic partnership." Such profound political signals did not go unnoticed in Minsk, which has expressed gratitude to Russia and China for their support during these challenging times. China's position on Belarus is important for Russia, as Moscow regards Belarus as its closest and most faithful ally. Belarus is now moving towards a higher level of political and economic integration with Russia, becoming a "Union State."
As a signal of recognition and respect for Chinese core interests, Russia extended its support to China over Hong Kong, which came under the global spotlight following the introduction of the National Security Law in June. In a very crucial moment for China, when it received widespread criticism from all other major powers, Russia bluntly stressed that "the situation in Hong Kong as a purely internal matter of China," thus fending off all speculation on the city's juridical status.
China and Russia have recently vowed to strengthen their coordination on international platforms, which was seen in early July in the UN during their opposition to the extension of cross-border aid in Syria. The opposition to the U.S. initiative in June within the UN Security Council to reimpose an arms embargo on Iran following the break-up of the 2015 nuclear deal was another display of harmonised action. Multiple international issues were touched upon during the meeting between the Russian and Chinese foreign ministers on September 11. Both countries reaffirmed the "closeness of their views on effective solutions to them," and stressed that "the destructive character of Washington's actions undermines global strategic stability." Overall, the meeting once again confirmed the shared views of Russia and China in both the multilateral and bilateral dimensions.
The Russia-India-China format has made significant progress after a period of relatively little activity. The latest gathering of the RIC group took place in June. At that time, Moscow highlighted that India-China border conflicts were to be solved based on bilateral agreements only. Recently, Moscow has initiated negotiations between the defence ministers of India and China in order to find conflict mitigation solutions. As a result, Chinese and Indian officials met for the first time since the border dispute in May.
By organising peace talks involving China and India, Russia is playing a critical role in regional affairs. The upcoming meeting of the respective ministers of foreign affairs reinforces this statement. Meanwhile, the U.S. has repeatedly pitched its own candidacy as an intermediary, with the most recent attempt in early September. Russian media positioned the Moscow-hosted China-India meeting on September 10 as a rare foreign policy success. During their "frank and constructive" discussion in Moscow, India and China reached an important agreement to deescalate border tensions which are not in "the interest of either side."
Economically, Sino-Russian cooperation experienced a COVID-19 blow, with trade volume falling by 5,6 per cent in June, amounting to USD 50 billion. Although it may have a tangible impact on the annual statistics, moving the 2019-set milestone for 2024 away from the predicted USD 200 billion in trade follows the global trend of economic contraction, with consumer demand in free fall. For example, the overall volume of Chinese foreign trade from January to June dropped by 6,6 per cent. However, this trade contraction reflects more about global trade dynamics at the moment than changes in Russia-China relations.
As a recent sign of combined efforts to contain U.S. global ambitions, Russia and China were able to decrease U.S. dollar transaction for trade to its historical minimum – from 51 per cent in 2019 to 46 per cent in 2020. The same trend for intensified bilateral cooperation can also be seen in the energy sphere. Following the successful launch of "Power of Siberia" last December, the Russian state energy giant "Gazprom" is embracing a new audacious initiative, the "Power of Siberia-2" gas pipeline. The project will connect Russia, China and Mongolia. On behalf of the President of Russia, Gazprom started the design and survey work on the project in May.
Energy cooperation remains a crucial element of bilateral relations. Fresh statistics show that in July, Russia once again secured its position as the largest importer of oil to China, with a 30 per cent spike. This amounted to 7.38 million tons (compared to 2019). In April, Russia took over Saudi Arabia as the biggest crude oil supplier, delivering 7.2 million tons. This is 18 per cent more than in 2019.
Russia-China relations represent a "strategic partnership," which means that the two countries view themselves as partners on strategic issues. Indeed, on a majority of topics, be it global governance, world economic structure, geopolitics or security, Russia and China are on the same page. Many of them are of strategic significance pertaining to both sides. Both countries enjoy fruitful cooperation on multilateral platforms such as BRICS, SCO and the UN.
Nevertheless, despite their flawless facade, Russia-China relations have a weak spot – their difference in strategic and national interests. This is normal for global powers. For example, Beijing can never compromise its core national interests such as the South China Sea (SCS), Xinjiang, Taiwan, and Tibet, even to please its tried and tested partner, Moscow. This explains why China has repeatedly pressured Vietnam to halt all oil extraction activities in the SCS over the last two years. This has resulted in Vietnam suspending business cooperation in the SCS with the Russian state oil giant, Rosneft. On the other hand, Russia will never put its core interests at risk (especially concerning territorial integrity), irrespective of Beijing's rhetoric concerning Russian Far East territories.
As long as Russia and China base their partnership on coinciding strategic interests and avoid any ubiquitous and provocative moves – their relations are likely to remain in the current burgeoning state or under the best circumstances can even be elevated to a higher level. Overall, during the first half of the year, relations between China and Russia were challenged several times. Despite some small cracks, like decreasing trade and frictions regarding energy projects in the South China Sea, their flawless mutual propaganda remains untarnished. As long as they can maintain a close and mutually beneficial bilateral tie, they should be able to endure any future challenges with ease.
From our partner RIAC
Legitimate soft power or malign influence?
The last couple of years I have experienced Russian soft power firsthand through various NGO-programs. Here is what I learned – and how I was influenced.
There are two kinds of people: The ones who are curious about the unknown and the ones who are afraid. The first category includes the ones who are open towards strangers and the second includes the ones who would rather stick to their own.
For centuries it has been a core component of democracy that we can openly exchange worldviews and discuss how our society should be organized. This makes us able to understand each other – also if we disagree – and it makes us able to find solutions to current problems.
The point of engaging in discussions is often either to learn from others or to convince the counterpart that your own argument is better. In other words, the point with having discussions is to be influenced or influence another. But the last couple of years along with the fast emergence of online and social media a lot of discussions have been disrupted by so-called 'disinformation' and there for 'foreign influence' has become a matter of national security – especially in countries where the government is elected by the people whom might be easily influenced or manipulated.
In the West, and in many other places in the world, fear of the foreign is increasing. The appearance of disinformation and so called 'influence-campaigns' means that if we are not careful, we will be manipulated by outsiders into abandoning our true beliefs and into turning against our own. What a lot of people fail to see is that if we are too careful, we will all find ourselves in the second category of the two types of people mentioned above. If that happens, all foreign information will likely be perceived as disinformation and we might as well go offline and isolate ourselves in small homogenous societies. A core component of dialogue-based democracy is at stake–on a global level.
From state to people
I allow myself to represent "the West" in this article even though I know this is academically questionable because there are many countries, divergent opinions, and different approaches within the West. Some of the influence we "in the West" seem to be most afraid of is 'Russian influence'. But what we often see as malign Russian influence-attempts, Russia often sees as legitimate use of soft power. And since the West also possess and uses soft power, Russia sees our fear and our accusations as a double moral standard.
Soft power involves the ability to shape the preferences of others through appeal and attraction rather than coercion (Nye 1990).It includes promoting your countries culture, political values, and foreign policyto become an attractive and reliable partner. Soft power has some advantages to hard power because it is cheaper and more legitimate to convince people to voluntarily work with you than to force them to do so by for example military power or economic extortion or bribery. Why invade people's territory with military means if you can 'invade' people's minds by being or at least appearing favorable?
Russian soft power strategy was launched during Vladimir Putin's second presidency in 2004-2008. Kremlin launched an active policy towards countries in the post-Soviet space to improve the image of Russia among its perceived compatriots. At first the strategy was directed towards regimes. For example, Moscow established the customs union that later became The Eurasian Economic Union and the Nord Stream gas pipeline to promote itself as an attractive economic partner and a reliable energy supplier. After the Ukraine crisis and Viktor Yanukovych's departure other regimes started to play an anti-Russian card to consolidate their power (Sergunin & Karabeshkin 2015: 349). Thus, the soft power strategy had to change.
Today Russia's soft power strategy is more people-oriented and stretches further than the post-Soviet space. Within this strategy public diplomacy plays a huge role meaning any government-sponsored effort to communicate directly with foreign publics to promote a government's strategic objectives – or said in another way: a governments effort to influence foreign public opinion (Osipova 2014).
Make no mistake though: Russia is not the only country engaged with public diplomacy. More and more countries are competing to win over public audiences for a variety of reasons ranging from attracting tourists, students, or foreign investment to promoting national image and influencing international affairs.
Here is where it gets tricky because public diplomacy is considered legitimate but conducting influence-campaigns in foreign countries is not – but theoretically the two concepts look a bit like each other. When a foreign country wants to influence domestic public opinion up to an election it isseen as an effort to undermine democracy. It seems logical though– and even legitimate – that foreign governments want people in other countries to choose leaders that favor them. It is the methods used to do so that vary in legitimacy.
From digital to physical
In my time as a student of political science in Copenhagen I heard and read a lot about Russia. Russia's image in Denmark is not very favorable. Russia is often perceived as an enemy trying to undermine democracy and as a regime that does not live up to human rights obligations. Russia is also quickly impersonated as Vladimir Putin: strong but unfair. Russia is a country far away, difficult to understand, but easy to fear. Said in another way: Russia does not have a lot of soft power leverage in Denmark and I imagine it is the same in many other countries in the West. Whenever and whatever good we hear about Russia; we don't really believe it.
A couple of years ago I decided to travel to Russia to test and question my perceptions about the country that have mainly emerged from what we hear and read in Western media.One of Russia's soft power methods is to promote Russian culture and foreign policy through NGO's targeting for example students and young professionals to promote educational programs and exchange (Simons 2018). I chose to cease this opportunity to get to know Russia better and thus I have participated in various NGO-programs in Russia. And boy; have I engaged in a lot of discussions, I have learned, and I have influenced.
Russian NGO's are often viewed as illegitimate in the West because they receive economic support from the Russian government. Thus, they are not "non-governmental" people say. What we need to remember is that NGO's can merely survive in Russia without government support because if they receive money from abroad, they risk being labeled 'foreign agents' (Svetova 2018). Surely if they receive government support, they might have some obligations towards their government, but it does not mean that they are deliberately trying to spread disinformation to manipulate people. At least this should not be our starting point.
Official opinions are often also reflected in people's opinion and by denying those opinions we distance ourselves not only from the Russian government but from the Russian people. Say I disagree; then only by understanding official opinions, I can put forward a counter argument in an understandable way to those who share that opinion. This is what 'mutual understanding' is about– which is exactly what is missing in the relationship between Russia and the West.
Blurred lines: false or biased, fact or opinion?
Dialogue fosters mutual understanding, which fosters predictability and credibility, which fosters trust and furthers possibilities to cooperate (Head 2016: 360). But in the digital age credibility is a scarce resource and fear of being manipulated keeps us from cooperating. A Russian acquaintance once said to me: Whatever you say about Russia, the opposite is also true. In other words: Truth can be inflected.
A prominent discussion in philosophy of science is whether and when something can be viewed as knowledge and be defined as true. Positivists argue that when weknow something is true, it is also real. "Influence campaigns in this new digital reality do not try to convince us and win an honest argument. Instead, they question reality itself," said the Danish Foreign Minister, Jeppe Kofoed at a conference on how democracies can be protected against foreign influence. But it is questionable whether one reality exists.
In constructivist theory, reality is socially constructed within social contexts which means that different people in different contexts see reality differently. In other words, when people believe something is true, it is also real. Thus, it is difficult to define the line between disinformation and biased opinion. This is for example the case with the 'annexation' of Crimea as it is called in the west and the 'reunification' of Crimea as it is called in Russia. Those who agree with one or the other see true information, those who see an unfair framing see biased information and those who strongly disagree see false information. Information is interpreted within the framework of preexisting beliefs (Vuorelma2017: 120). Therefor it is questionable whether people are easily influenced by information that they strongly disagree upon, but it is quite possible that they would refer to the information as false.
Good image can be threatening
Things have happened recently that from a Russian perspective could give Russia more soft power leverage in the West. Russia sent medical aid to Italy and to other countries which could be a sign of goodwill. It has alsodeveloped a potential corona-vaccine, which could improve Russia's image within biomedicine and broader academia – and could potentially put Russia in a position to help the whole planet. But in the West people are not exactly thrilled. In a Western perspective these are things that Russia can use for propaganda purposes meaning the deliberate, systematic attempt to shape perceptions and manipulate cognitions to achieve the goals of the propagandist (Jowet & O'Donell 2019: 6).
In the digital age aggressive behavior is not only expansionist behavior it is also a state's intent to impose a good imageand thus, a signal of good intent can be interpreted as aggressive behavior. Unfortunately, I did not learn the solution to this dilemma. On the one hand, we should not be blind towards that states or even NGO's might have an interest in lying about its intentions in order to change or control other people's opinions. But on the other hand, we should primarily put it upon ourselves to explore the reasons behind divergent perceptions. Though, I suggest this should not take place through online media where misunderstanding rule and disinformation disrupt. What we need is good old-fashioned face-to-face meetings whether between students, teachers, NGO's or government officials. Because the more we disagree the more dialogue is needed.
Framing foreign influence as pure malign manipulation will keep us both from learning and from arguing our own case abroad. So, let us prevent soft power from turning too ugly. After all the use of soft power is preferable to the use of hard power. And let us hope the covid-19-crisis is over soon so that we can visit each other and engage in dialogue where influence is not always a bad thing.
Litterature:
Head, Naomi (2016). 'Transforming Conflict: Trust, Empathy, and Dialogue', in Yohan Ariffin, Jean-Marc Coicaud & Vesselin Popovski (eds.), Emotions in International Politics. Cambridge: Cambridge University Press.
Jervis, Robert (2017). 'Signaling and Perception. Projecting Images and Drawing Inferences', in: How statesmen think: The psychology of international politics. Princeton: Princeton University Press.
Jowet, Garth S. & Victoria O'Donnell (2019). 'Propaganda and Persuasion' (ed. 7). California: SAGE Publications.
Osipova, Yelena (2014). 'Russification" of "Soft Power": Transformation of a Concept'.The Journal of Public Diplomacy, Vol. 5, 56-77
Sergunin, Alexander &Karabeshkin, Leonid (2015. 'Understanding Russia's Soft Power Strategy', Political Studies Association, POLITICS vol. 35(3-4), 347–363
Simons, Greg (2018).'The Role of Russian NGOs in New Public Diplomacy', Journal of Political Marketing, 17:2, 137-160
Svetova, Zoya (2018).'NGOs in Russia: Do They Still Stand a Chance? The Kremlin is steadily ramping up its control over civil society'. Moscow Times. Located on: https://www.themoscowtimes.com/2018/02/12/ngos-do-they-still-stand-a-chance-russia-svetova-a60471
Don't Kid Yourself, Russia will Never Abandon Belarus
The world has been rivetted by the largest protests in Belarus' history over the course of the past month. Dubbed "Europe's Last Dictator" by former German Foreign Minister Guido Westerwelle, its President Alexander Lukashenko has ruled Belarus ever since winning the country's first and only democratic election in 1994. But is this the end for Lukashenko? Certainly, some have already dubbed this as another "Color Revolution" moment in reference to similar civil society "People's Power" protests that were able to bring down post-Soviet governments from Kyrgyzstan to Serbia, and most recently the pro-Russian administration of Viktor Yanukovych in Belarus' multiethnic southern neighbor Ukraine in 2014. But that will not happen in Belarus. This article does not mean to be callous but frank. The stark reality is that Belarus is an ethnically homogenous country that is vital to Russia's national security interests. It will never surrender that to the opposition in Minsk or the West and NATO.
First, culturally Belarus is overwhelmingly Russian. Belarus' population of 9.5 million people, 84% are ethnic Belarussians and 70% are native Russian speakers, Belarus' only official language. Unlike Ukraine or the Baltic countries, Belarus lacks a strong ethnic base to sustain a pro-European political movement. Moscow will never abandon these Russians either, if needed it will intervene militarily under the guise of securing their rights, as it has done already in Eastern Ukraine. Such a maneuver would lead to a devastating conflict, with serious regional implications, and could begin a cascade of interventions to protect Russian speaking minorities on its borders.
Moreover, Belarus' location situated right on Russia's western frontier makes it is too strategically important for Moscow to allow it to join the fold of NATO. The Belarussian steppe is an invasion and counterattack route that quickly conveys invading European armies to the gates of Moscow, or Russian forces into Western Europe. Belarus was the first to fall during Operation Barbarossa, Nazi Germany's invasion of the Soviet Union, and it is in Belarus during Operation Bagration that the Red Army opened the road to Berlin. Today, Belarus' existence within Russia's political orbit is vital to provide it a buffer with NATO's Eastern frontier. Without it, NATO could deploy forces just about 200 miles from Moscow. Thus, for Russia, any political change is a strategic threat. If Russia was willing to annex Crimea to, in part, protect its naval station at Sevastopol, after theUkrainians overthrew their pro-Russian leader Yanukovych, then it will do the same and more to Belarus in the event of Lukashenko's ouster.
Additionally, a stable Belarus is vital to Russia's core economic interests. It is through Belarus that major oil and gas pipelines transit from Russia to Eastern Europe, Central Europe, and the Baltic States. At least 10% of Europe's oil needs come through the Druzhba pipeline in southern Belarus. And although Russia has also worked to diversify its avenues to export gas directly to the energy consuming countries of Europe, including with the construction of the Nordstream II and Turkstream pipelines, Belarus' central location will always remain important as the most direct route to transport gas to Europe. In fact, Russia is already in a contentious dispute with Ukraine over gas pipelines, and it will not stand to also lose Belarus as a stable gas corridor.
And if that was not enough, one must remember Belarus is institutionally tied to Russia. It was at a hunting lodge in the Belarussian forest that in 1991, the leaders of the Soviet Union's three Slavic republics: Belarus, Russia, and Ukraine came together to formally end the Soviet Union by declaring their independence together in the Belzahevy Accords. Five years later, Belarus then reversed its separation from Russia when it formed a Commonwealth in 1996, and finally the "Union State of Russia and Belarus," or simply the "Union State" in 1999. This experiment in reestablishing the Soviet Union as a unitary political entity includes Schengen Area-style freedom of movement and a single executive that until a recent constitutional referendum, Russian President Vladimir Putin looked prepared to strengthen and assume the leadership of in order to stay in power. Now, Putin has raised the possibility of further integration as an antidote to the current protests. Belarus' fate is thus closely tied to Russia's own future as a nation state.
Notably, Belarus is also a party to the Collective Security Treaty Organization (CSTO), a Russian led security alliance of regional states including Armenia, Kyrgyzstan, Kazakhstan and Tajikistan. From the CSTO countries, Belarus can request an international (albeit Russian-led) "Collective Rapid Reaction Force," to intervene and stabilize the country. As an elected leader, Lukashenko would be well within his rights to request the CSTO to intervene, and Russia already noted weeks ago that it forces remained ready in "reserve" at Belarus' request. This would be an entirely legal use of military force to quell the domestic unrest and secure Lukashenko's rule.
Lukashenko is the human embodiment of Russia's interests in Belarus. He has made possible the expansion of Russia's influence in the country since his election in 1994 and has had the unenviable task of placating Russia, balancing Europe and preserving his own independence, to some degree, from Moscow. He is the only ruler modern Belarusians have ever known, and the only one who can be trusted to steward the interests of Moscow and ethnolinguistic Russians. He is therefore the lynchpin of any strategy to preserve Russia's interests in the country. Whether Moscow likes it or not, Lukashenko is irreplaceable. Frankly, sanctions will not convince him to retire, but only remind him that to fail, to lose power, will lead to his demise, and possibly his imprisonment or death for only Russia can affect the situation on the ground in Belarus.
Most of all, Lukashenko is the only one trusted by the military. As noted by Belarus' Soviet-era leader Stanislav Shushkevich, the Belarussian army is manned and led by Lukashenko loyalists, it is one of the largest military force per-capita for its population, and its general staff leadership are well paid for their service to the state. Their fates are inexorably tied: a large, well-paid, ethnically homogenous military and their patron leader President Lukashenko. It is highly unlikely they will defect to the opposition, but even if so, that will only lead to a civil war and a Russian intervention. The presence of Lukashenko loyalists in the military ensures buttressed by the Russian speaking population ensures he will always have a strong power base in the country.
There may be a tendency in the West to think the Belarussian opposition will win. This belief is what guided overwhelming international support for Juan Guido in Venezuela to take power from the government of Nicholas Maduro. But Maduro held firm, knowing his allies in the military will decide his and the country's future. They stayed in lockstep with the government, and despite massive opposition protests and the defection of much of Maduro's political base, his government did not yield. They mortgaged the country's future to survive –but survive they did.
The US especially must learn from Venezuela, or for that matter the rest of the interventions on its diplomatic resume. It is not a simple matter of course to remove governments even when the population is resoundingly opposed to their rule. Unless NATO, the US, and Europe plan on supporting a military opposition against Russia (which nobody is proposing), risking a direct confrontation with Moscow as well, there is little to no chance of changing the rulers in Minsk.
Of course, for the West, it still makes sense to support the opposition vocally, even if their defeat is inevitable. At the very least, it is a chance to draw attention to a crisis on Russia's doorstep, at most, it will grant it an ally in a revolutionary Belarussian government –for all of five minutes that is, before Russian soldiers duly force it from office and restore Lukashenko to power. Belarus is in Russia's backyard. The West should not forget that as it watches events unfold in Minsk.