After decade of neglect, infectious diseases (IDs) have re-emerged as a field of inquiry in the area of international public health and international health security. Gradually, the world is realizing the threat of emerging IDs after the 2019-nCoV outbreak in China. However, human history is abundant with stories of epidemic infections. Epidemiologically, IDs tend to follow a cyclical pattern, since they often produce immunity in survivors, and microbes await a new generation of hosts to infect. On the other hand, the disease-causing viruses or microorganisms migrate to geographically distant and immunologically vulnerable inhabitants, producing a pandemic, or regional and global outbreak. The historical relationship between the humanity and IDs is fascinating and noteworthy. IDs plagued civilizations long before the development of territorial states during the European Renaissance. Subsequently, epidemic diseases shaped human history, generally, and military conflict, in particular. During the Peloponnesian Wars, disease demoralized the Athenian people, weakened the army, and undermined the political leadership. Subsequently, more than 2,500 years later, the 1918 influenza epidemic killed 25 million people, including 500,000 Americans. The Spanish flu struck 294,000 allied troops in the fall of 1918.By the time Spanish flu, the pandemic had infected more than a quarter of the world's population. Moreover, the 1918 flu pandemic killed 50-100 million, which is more than the combined total casualties of World War I and II.
Until the early twentieth century, plague, smallpox, influenza, and other scourges decimated human populations around the world. Despite exceptional improvement in pandemic control, IDs remain a major threat to global public health. In 1998, 13.3 of the 53.9 million deaths worldwide, or 25 percent of all death, resulted from IDs. Historically, some major disease outbreaks in China, including the 1957 Asian flu, the 1968 Hong Kong flu, and the 2002/03 SARS (Severe Acute Respiratory Syndrome) epidemic, have triggered epidemics elsewhere in the world, killed approximately800 people around the world. In total, SARS infected more than 8,000 people in 26 countries. As demonstrated in the SARS epidemic, the new strain of coronavirus (2019-nCoV), which causes a type of pneumonia that has not previously been identified in humans, resulting spillover of disease outbreaks in China and around the world.
The 2019/20 novel coronavirus outbreak, also known as the Chinese pneumonia outbreak or the Wuhan coronavirus, is a viral outbreak that was initially identified during mid-December 2019. Chinese authorities identified the new coronavirus has resulted approximately3000 confirmed cases in 17 provincial-level regions in country, and additional cases being identified in a growing number of countries internationally. On January 21, and 25, 2020, the first cases in the United States and Canada were also announced, respectively. Confirmed cases have also been reported in 11 countries, including, Japan, Thailand, South Korea, Nepal, Malaysia and Singapore. As of January 27, 2020, around 80 deaths have occurred all in China and 92 patients were also recovered. Conversely, ID threats, and the fear and panic that may accompany them, leads to various economic and social risks. With respect to outbreaks and epidemics, there are obvious costs to the health system in terms of medical treatment and outbreak control. ID outbreaks pose additional social risks beyond economic threats. IDs outbreaks have the potential to induce geopolitical instability. Thus, 2019-nCoV may not only have serious implications on stability, prosperity, and health security at the regional, but also global level.
The fact that ID outbreaks have more reach in our increasingly globalized world. In the age of globalized trade and air travel, diseases that once took months or even years to spread beyond their regions of origin can now migrate or travel around the globe in a matter of hours. With growing concerns about such IDs, "Disease Diplomacy" has emerged as a key foreign and health security policy concern. The term relates in particular to IDs issues and determinants that cross national boundaries. As the 21st century continues to emphasize the need for synchronized health actions between nations, the significance of disease diplomacy should be an important component within the foreign policy of Pakistan. Pakistan's location at the cusp of Central Asia and South Asia makes it ideally suited for inter-regional connections. Moreover, geostrategic location makes Pakistan a nexus for the Eurasian Silk Road Economic Belt, and Southeast Asian Maritime Road.
Apparently, relationship between Pakistan and China may further cemented into higher level of strategic partnership with a unified vision of shared future for the regional peace, progress and stability, if both countries will have bilateral health treaties and agreements. With particular emphasis on health system development, regional and international public health, infectious disease detection and control, and international health security. Similarly, after the 2019-nCoV outbreak, Pakistan is also at high risk of epidemics due to communicable diseases because of poor socioeconomic conditions, low health awareness, inadequate sanitation, unsafe drinking-water, and overcrowded cities. In Pakistan, as a matter of fact, due to socioeconomic, environmental, corruption and bad health governance, communicable diseases still remain a major public health concern and prime cause of morbidity and mortality. Pakistan also bears a significant portion of the regional burden of many communicable diseases that pose a significant threat to regional and international health security.
The recent 2019-nCoV outbreak necessitate the regional collaboration is of paramount importance. Many diseases with epidemic potential may be transmitted rapidly, within and across both countries. The effectiveness of future policies to deal with IDs in the region will only be assured if policies are based on evidence. In Pakistan, there is a great desire to know what the future of IDs will bring, and also to know how we should behave in the future. Now is the high time to realize that we are in darkness than to pretend that we can see the light. Nevertheless, the following recommendations are put forwarded for CPEC Authority, primarily, Government of Pakistan (GoP), health and foreign policy planners, principally.
Integrate a health and infectious diseases perspective into traditional foreign policy and create information platform for disease diplomacy.
Establish the coordinating office for disease diplomacy to highlight the connection between health, well-being and socioeconomic development.
Harmonize general foreign policy to highlight the health issues for diplomacy, and utilize the disease diplomacy for regional and international health security.
Utilize science and technology, and health personnel in diplomatic activities/missions and produce policy papers on subjects arising in disease diplomacy and strengthen diplomatic proficiency,
Government must get its own house in order, continue its efforts to strengthen good governance with emphasis on merit-based institutional development and rule of law.
And, exhibit good moral character; exceptionally give priority to fight against nepotism and corruption throughout not only CPEC development but also, society as-a-whole. Eventually, CPEC Authority must be chaired by an honorable civilian (maybe economist) rather than retired military general. However, a separate security domain may be constitute under CPEC Authority that may be headed by military general.
Is China on the brink of a food crisis?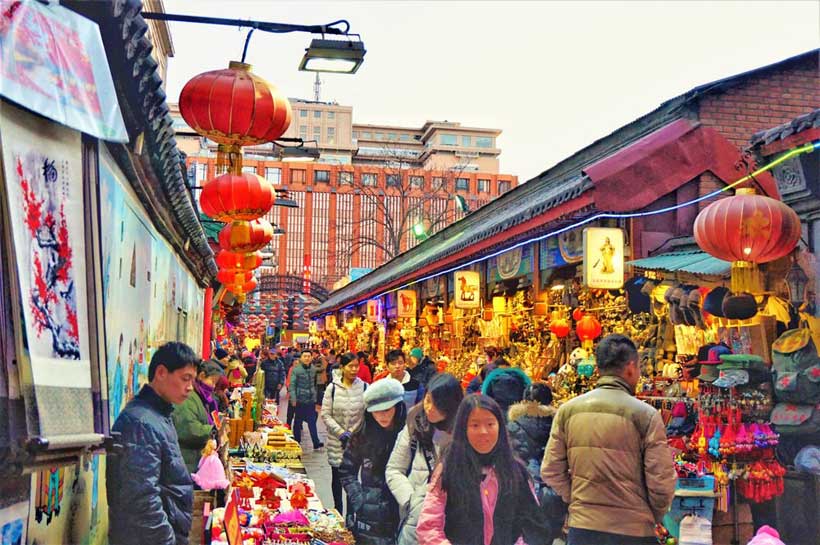 It is not a secret that the current COVID-19 pandemic has been affecting people all around the globe. The virus touched almost all spheres of regular life – i.e. it resulted in temporary or permanent closure of businesses, a rise in the unemployment rate, inability to physically spend time with family and friends. Such drastic changes in times of uncertainty significantly impacted the well-being of the world population. Moreover, Food and Agriculture Organization of the United Nations (FAO) warned about the emerging food shortages worldwide. According to FAO statistics, global food prices have been on the rise for four consequent months, hitting their maximum in September 2020. China – the place where the virus originated – is one of the states that have been seriously affected by the disruptions, including production and distribution of food.
In his speech on August, 11 Chinese leader Xi Jinping did not admit any food shortages. However, he promoted food security through the campaign "operation empty plate," thereby encouraging people to stop wasting food. It is interesting to note that Mao Zedong introduced a similar food campaign before the 1959 Great Chinese Famine. Meanwhile, there has undoubtedly been a significant increase in food prices in China. Many experts claim that China is on the brink of a food crisis that has been manifested as a result of lockdowns, infected livestock, and poor weather conditions. It is difficult to give any predictions or estimations about the future food situation in China because the country does not share enough of its data with the rest of the world, yet it is possible to answer the question why the state faces food difficulties.
Average food prices increase
The National Bureau of Statistics of China reported that, on average, food prices have increased by 11.2% compared to 2019. The price level of vegetables increased by 6.4% in one month; egg prices soared by 11.3% within the same period. Pork prices grew the most, by 52.6% compared to the last year's statistics. Why is it important?
Firstly, many workers and their families who faced loss or decrease of income or remittances became food insecure. That, in turn, has had social repercussions for the overall level of crime, health concerns among adults and infants, high death rate, different demographic and economic challenges. Furthermore, international trade will also suffer: due to the lack of labor force Chinese imports in foreign countries will seemingly increase in price.
Secondly, China, along with other countries, was in a period of recession earlier this year. Food insecurity will cause difficulties in coming out of this financial downturn.
The impact of lockdowns on food supply chains
One of the main factors contributing to the declining agricultural productivity and spiking food prices in China is the restrictions on personal mobility and transportation of goods. In January Chinese authorities adopted measures to limit mobility within the country; they imposed "city lockdowns, traffic control, and closed management of villages and communities." Such restrictions impacted food supply chains. For the production part many workers experienced difficulties getting to work that created a shortage of physical labor. That is why some crops were not picked, others were not even planted. As a result, the supply of agricultural goods decreased. On the other hand, at the beginning of the year, the demand for them also fell as restaurants and bars were closed. Thereby, many crops went to waste, while farmers did not make enough profit to purchase the seeds and fertilizers for the next season. It is a problem because businesses continue to open up, raising the demand and prices on crops. Immobility also impacted the distribution of seeds and fertilizers to the farms that disrupted the plantation season. Furthermore, the distribution of agricultural goods to grocery stores became difficult. Particular inconveniences associated with the restrictions on mobility all added up to the spike of prices on crops.
African Swine fever outbreak
Another factor impacting the emerging food crisis in China is the failure to rebuild last year's loss of pigs due to the infection. Chinese porcine farms were hit by the African swine fever outbreak that infected and killed a large number of pigs (40% of total Chinese pigs' population), decreasing the supply but increasing the prices on pork in 2019. According to China's National Bureau of Statistics, pork prices were 52.6% higher in August this year than the year before, while corn prices – the main porcine fodder – increased by 20% compared to last year. Chinese farmers failed to improve the situation in 2020 due to severe flooding. The increased amount of precipitation caused considerable losses of corn and thus the inability to feed pigs. China began to import crops from abroad – particularly, corn from the US. As the United States Department of Agriculture (USDA) stated, China had been importing 195,000 more tonnes of American corn than the year before.
Shuttered diplomatic relations between China and Western states
Some experts claim that Chinese diplomatic relations with such Western countries as Australia, the US and Canada shattered due to the fire of four ballistic missiles on the Indian border on August, 26. These states are China's major food exporters. If their diplomatic relations with Beijing worsen, then the trade has a high chance of being negatively affected as well. In other words, Chinese imports of crops have the risk of becoming more expensive, meaning that the prices of pork and other goods might rise even more.
Severe flooding and drought
Finally, worsened weather conditions – some parts of China experienced drought, others were hit by flooding – led to a decrease in crops and a significant increase in food prices. Southern, Central and Eastern China underwent a period of heavy rain and the worst flooding in the last hundred years. Excessively high water levels in major Chinese rivers, including the Yangtze River, resulted in the evacuation of 15 million people in July 2020. Moreover, the flooding destroyed 13 million acres of agricultural land, which is estimated to cost at least $29 billion of economic damage. In the meantime Northern (Xinjiang province) and Southwest (Yunnan province) China have gone through a period of severe drought. In April 2020 nearly 1.5 million people in Yunnan province were caught in an emergency situation: shortages of drinking water, damage of hundreds of hectares of crops and livestock. Consequently, the supply of many agricultural goods and pork decreased, which spiked the prices on these goods.
Chinese long-term prospects toward food security
To conclude, immobility, African swine flu, worsened weather and security conditions led to the growing food shortages and increasing food prices in China. This being said, the Chinese government has been working on that problem. It has taken special measures to ensure sufficience of agricultural goods by investing in various disaster relief funds for different crops, particularly rice and wheat. For example, Chinese authorities allocated 1.4 billion yuan to save the agricultural harvest in Hubei province. Due to the substantial loss of agricultural products, China has also increased its imports. General Administration of Customs reported that China's grain imports rose by 22.7% in July 2020 compared to the previous year. Meanwhile, the Chinese leader took a gentle approach to solve this problem. He did not announce the issues related to the insufficient number of crops; instead, he adopted a program for encouraging people to be more frugal with their eating habits. The Chinese Academy of Social Sciences followed the same path as it denied anticipation of a food crisis in the short-term perspective, yet warned about possible food shortfalls by 2025 if no agricultural reforms take place. As of now, China is not on the break of a food crisis; however, its shuttered prospects for long-term food sustainability are subject to dangerous repercussions.
From our partner RIAC
China and Mongolia: A Comprehensive and Never-Ending Strategic Partnership
Mongolia is an exceptional country when it comes to Eurasian geopolitics, linking China with Russia, two great countries in terms of military and economic capabilities, geographical area and population. In June 2016, the China-Mongolia-Russia Economic Corridor (CMREC) was announced in order to consolidate friendly relations and promote economic exchanges for the success of the Belt and Road Initiative. Many reports indicate the great position of Mongolia on the Chinese economic map as a pillar of the modern Chinese initiative. Mongolia is a major economic partner of China, and the Chinese administration aspires to forge permanent relations of cooperation and coordination with Mongolia by virtue of its common geography and strategic location, in order to open up through it to Russia and other Mongolia is a key economic partner of China, and the Chinese administration aspires to forge permanent relations of cooperation and coordination with Mongolia by virtue of its common geography and strategic location, in order to open up through it to Russia and other international partners.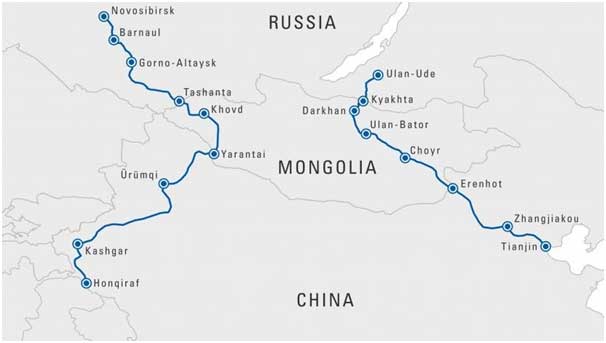 Mongolia is rich in natural resources, for example the mining industry provided up to 30% of GDP and almost 90% of exports, but its economy is not as developed compared to China. Some economic reports indicate the great economic benefit to Mongolia from the China-Mongolia-Russia Economic Corridor. Mongolia is expected to witness unparalleled economic growth in terms of international economic cooperation, which will positively affect the national economy. The Mongolian economy depends heavily on China's investment; data of the two largest ports in Inner Mongolia Autonomous Region in northern China indicates enormous economic benefits. In the chart below, the continued economic progress achieved in Inner Mongolia is shown. In addition, rail trade increased by 16 percent year-on-year to 11.2 million tons in 2017. In the same year, 570 trips were made on the China-Europe railways passing through Ernhot (a county-level city of the XilinGol League, in Inner Mongolia Autonomous Region, located in the Gobi Desert along the Sino-Mongolian border, across from the Mongolian town of Zamyn-Üüd).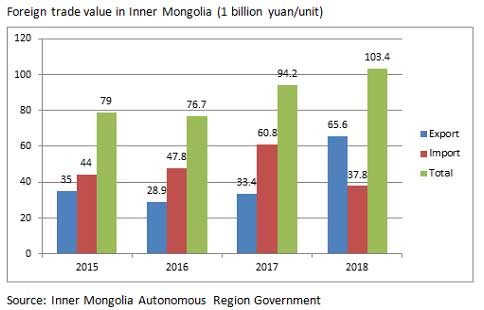 The Belt and Road Initiative aims for mutual profit, cooperation and peaceful communication. China shares an ancient cultural history with Mongolia, long common borders, and economic cooperation that has never stopped. The strategic geographic location of Mongolia makes it a priority for China on the new Silk Road, in addition to the richness of natural resources and livestock that China needs.
The Mongolians are a horse-loving people, a country known for its large number of horses. Mongols without horses are like birds without wings. Despite globalization and the great economic progress in the neighbor (China), as well as the cold weather and difficult geography, the Mongolians did not abandon their traditions and the Mongolian way of life still exists today. In Mongolia there are herders of horses, camels and cattle to benefit from milk, meat, wool, etc. During the pandemic in China, for example, President Battulga set up what is known as "Sheep Diplomacy" where Mongolian President donated 30,000 sheep to China. This initiative indicates the Mongolians' positive intentions towards the Chinese and the desire to open up more. In this context, I would like to point out that China is a big importer of meat and the Chinese demand for meat is constantly increasing, as shown in the chart below. Here is a great opportunity for Mongolia to increase its exports of meat to the Chinese market.
The reading of Mongolian history indicates that this country has passed through periods of prosperity. Mongolia may be a good example of power and rule, as its borders extended to many countries during the rule of Genghis Khan (1162-1227), the man whom the Mongolians consider their historical leader and has turned into a hero and a national symbol. The Mongolians did not abandon their land despite the cold weather and difficult geography, indicating that they are a deeply rooted people with land. Mongolia, with its vast territories and few people, has turned into a meeting place for Russia and China, and a strategic center for Chinese economic expansion. Therefore, it is impossible for the Chinese administration to abandon the partnership with Mongolia.
The Mongolian economy is heavily dependent on livestock, and the number of pastures has increased significantly since the Soviet era because of the transfer of ownership to the people. However, the government is still not able to provide all services to citizens "the government has failed to promote education and health care and veterinary care in pastoral communities, so there is no longer any incentive to stay in rural areas" said Sarol Khuadu, an official at the Institute for Environmental Research in the Mongolian capital. The policy, which no longer places much emphasis on the countryside, has led to the transfer of large numbers of citizens to the capital and to engage in the world of money and business.
Unfortunately, the Mongolian government is not working seriously to support citizens in remote areas. The conditions of life are not good and the loans granted are high interest, in addition to the weather that adversely affects their businesses. In order to help the poor and rural people, in cooperation with national governments, humanitarian, development and scientific partners, FAO has developed an early warning approach by monitoring risk information systems and turning warnings into proactive actions. International organizations contribute to permanent humanitarian and social assistance in Mongolia.
Mongolia's strategic policy through the "Mongolia Steppe Road Program 蒙古国"草原之路" is largely in line with the belt and road initiative, which is a road connecting Mongolia, China and Russia. Consequently, Mongolia, a country that mainly depends on the agricultural sector, will be a center for economic communication between China and Russia, and thus will witness a great economic development. The Steppe Road Program aims to boost Mongolia's economic standing and create an advanced network of infrastructure for communication with China and Russia and build an oil and gas pipeline. In 2014, during his historic visit, Chinese President Xi Jinping raised the level of relations between the two countries to "Comprehensive Strategic Partnership Relations". Since then, bilateral cooperation has begun to move faster.
China has never abandoned Mongolia; it is a country of advanced strategic location as a bridge between Asia and Europe, in addition to the important agricultural sector in Mongolia which benefits China greatly, not to forget to mention the China-Mongolia-Russia Economic Corridor which has become an important part of the belt and road initiative and a key component of Sino-Russian cooperation.
The relationship between China and Mongolia today is an ideal example of the bilateral relationship between two neighboring countries. Cultural, economic, political and tourism communication is in continuous progress between the Chinese and Mongolians, and the Belt and Road Initiative will push this communication forward. The Chinese aspire to increase free trade areas and economic connectivity through a developed infrastructure network.
China is a unique country as it holds a world with Chinese Characteristics. China has rapidly transformed from an underdeveloped country to a key player in international politics.
Mao Zedong stated- "Political Power grows out of the barrel of the gun" reflects a perspective of hard power but Hooghe stated that the Chinese havechanged and do not even like the idea of smart power as it holdsa hard power component in it. President Hu Jintao in the 17th Party Congress favored smart power as he believed that China needs to keep a balance between hard power and soft power to avoid other countries create a coalition against China.
China becomes a difficult country to analyze as it holds a strong Confucian face-saving culture and does not like being criticized butits opponents continue to demonize it.
China understands the scene in international politics and prepares a centralized plan to acquire politicaland economic gains.
In 2005, China tried to gift two pandas to Taiwan which was refused by Taiwan as Taiwan consider this would violate the 1963 Convention on International Trade of Endangered Species of Wild Fauna and Flora.
China had argued that the transfer of Panda would remain an internal transfer within China even when the Taiwanese wanted to acquire two pandas that were appealing to its public theyfailed to acquire them. This could have helped China to gain the legitimacy of its one-China policy without provoking any actor.
The concept of soft power can be far more complex, as it could be a process to gain legal recognition without provoking a hostile population. The American production of Kung Fu Panda helped China in enhancing Panda Diplomacy.
Chinese more effectively controls Hollywood with Chinese investment and as American producers' make an effort to be screened in Chinese theatre by being accepted in China's quota for moving screening in Chinese theatre.
Tiktok which now is in a position of being banned in the United States indicates that the government is forced to take measurements due to the rising popularity of Chinese application in the American market.
China's ban of the National Basketball Association (NBA) for a year also reflects China can force its opponents to maintain self-censorship for the sake of material incentives as mentioned by Ikenberry and Kupchan as a form of 'external inducement' leading to 'policy change' which would change the standard norm.
China has effectively used education as a medium to socialize with other countries which gets difficult to scrutinize by western powers.
The Former Prime Minister of Kazakhstan Karim Massimov and the President of EthiopiaMalatu Teshome had studied in China and later enhanced the relationship between their countries after they took offices. China's 2008 defensewhite paper mentions4,000 military personnel from around 130 countries came to study in China for military education. China can combine educational diplomacy as a technique to enhance its military diplomacy and even use it to forge political allies.
Chinese Government operates Confucius Institutelike German use Goethe-Institut and France use Alliance Française to promote their languages.
The western world has worried as universities have started to impose regulations in favor of China after they operate Confucius Institute and even the students are likely to speak in a favorable tone to maintain a good image for the sake of acquiring a scholarship.
Dong and Chapman's research showed that 94.3% believed they had made the right choice coming to China, 91.6% believed that the scholarship would help in building a bilateral relationship between their countries, and 77.4% of people were satisfied studying in China.
China effectively funds various educational programs that educate smart or elite students from developing countries which generally hold a positive viewpoint of China as being emotionally connected to Chinese friends and tutors.
Chinese books such as Sun Tzu Art of War and Laozi's book Dao De Jing have gained international attention which has allowed people to respect Chinese philosophy.
China is far more powerful than many scholars imagine and is more than just the factory of the world. China can use institutions such as cinematics, education, and various forms of arts in its favor.
China with heritages that include the Great Wall of China and Shaolin Temple has helped China to create a powerful image that is both precious and timeless.
China is one of the key three East Asian countries that has played a significant role in shaping international politics. The region is a strong contender in Olympics, have excellent cuisine,and are well recognized for their digital tools that are celebrated in around the world.
China
Japan
South Korea
PhysicalDiplomacy
Cuppings, Tai chi
Karate, Judo
Taekwondo
a) Olympics Medals
608
498
337
Gastrodiplomacy
Noodles, Dumplings
Sushi, Wasabi
Gimbap, Kimchi
Audio-visual diplomacy
Tiktok
Anime, Manga
K-pop
The Soft Power 30 (2019)
Rank:27
Score:51.25
Rank:8
Score:75.71
Rank:19
Score:63.00
Economic Diplomacy
a) Exports (2018)
$2.59trillion Rank:1
$713 billion Rank:4
$617 billion Rank:5
b) Brands
Xiaomi, Alibaba
Toyota, Honda
Samsung,Hyundai
a) World Heritage Sites
55
23
14
b) Intangible Cultural Heritage
40
21
20
c) WEF, Travel & Tourism Competitive (2019)
Rank: 13
Score:4.9
Rank: 4
Score:5.4
Rank: 16
Score:4.8
d) Revenue by Tourism (2018)
$11 billion
$45 billion
$18.46 billion
The public generally does not have time to go into details of the report but would make a quick judgment by looking at the score and rank given by various organizations that would help build the national image.
The chart indicates China is surrounded by one of the most competitive neighborhoods which also contributesto building an environment that is boiling with soft and smart power.
China has an advantage in Travel and Tourism due to its massive as China has the highest World Heritage Site and Intangible Heritage List while South Korea and Japan are making more revenue through tourism.
China is also the world's largest exporter and sits beside other major exporting countries creating a hot belt of traders. The culture of competing in sports help China in building a competitive culture with its neighbors.
The presence of South Korea and Japan are significant as these two are also very important countries with Confucian values.
China intends to develop its soft power to use and buildi) national cohesion, ii) a stable and reliable economy, iii) a trustworthy state, and iv) an ancient but vibrant country.
Chinese gallery, clinics, and restaurants serve as a place for gathering and sharing their rich heritage. They could feel blessed with Chinese culture as well as feel strong being the world's largest exporter. The Chinese dream creates this cohesive attitude and legitimacy of the regime.
Stability plays a key role in obtaining and holding Foreign Direct Investment. Stability is also key to the continuity of growth and helps in generating wealth to purchase and maintain security instruments.
Trustworthiness has been extremely difficult for China with its historic secretive attitude specifically in case of its habit of not disclosing international health threats as quickly as possible as they feel threatened by mass panic and face-saving culture.
In 2013 President Xi Jinping remarked that the Chinese Dream would benefit other countries and their peopleby connecting the idea of an ancient country with modern technology.
The amount of criticism China receives projects the fear of foreign countries associated with the Thucydides trap. However, China still needs to modernize itself to be accepted as an ancient but vibrant country.It still needs to learn from its mistakes to be seen as a trustworthy and stable country to build its smart power to its full potential.