AfDB hosts talks with ICRC on making an impact through collaboration
The African Development Bank held talks with International Committee of the Red Cross (ICRC) Vice-President Gilles Carbonnier at the Bank's headquarters in Abidjan on furthering their shared development goals.
The main purpose of the meeting, held on 20 January, was to discuss collaboration between the institutions and share the progress made since the signing of a Bank-ICRC memorandum of understanding to explore partnership opportunities.
"It is mainly through operation and cooperation that we are going to learn exactly how best to work together to be more relevant, more impactful," Carbonnier said.
The Bank-ICRC collaboration centers on working in areas of fragility in Africa, with special emphasis on building resilience, particularly among women and girls.
Representatives from the Bank's Gender, Women and Civil Society Complex, the Bank's Transitional States Coordination Office and the Bank's Regional Development, Integration and Business Delivery Complex were present. The talks were facilitated by Catherine Cudré-Mauroux, Bank Executive Director for Switzerland, Germany, Luxembourg and Portugal.
Calling the Bank-ICRC partnership "a natural fit", the Bank's Vice President for Agriculture, Human and Social Development, Dr. Jennifer Blanke, said: "There's a recognition that if you look at humanitarian work that might be in the same region year after year, you cannot deal with that, without some development element, which we can bring in. From our perspective, there are a lot of places in Africa where we want to be working on development impact."
Another area of interest is investing in vulnerable women in the Sahel Region and North Africa.
"We know that we reach higher returns when investing in women. Studies demonstrate that women reinvest most of their income (up to 90%) in providing a social safety net for their families, with a ripple effect on health, education, nutrition and youth empowerment. Investments today will yield tomorrow's returns," said Vanessa Moungar, Director for the Bank's Gender, Women and Civil Society Department.
Moungar's department spearheads the Bank's Affirmative Finance Action for Women in Africa (AFAWA) initiative, which the Bank sees as a key component of improving women's access to economic resources.
Participants also agreed to focus on internally displaced persons and their host communities.
"The idea is to scale up our work in the field," said Patricia Danzi, ICRC Regional Director for Africa. "We want to be able to do more than what the Bank or ICRC would have done alone."
The ICRC and the Bank say future discussions will address technical, legal, financial and field aspects, with an eye toward accelerating the partnership implementation.
Lavrov: Russia had 'no choice' but to launch 'special military operation' in Ukraine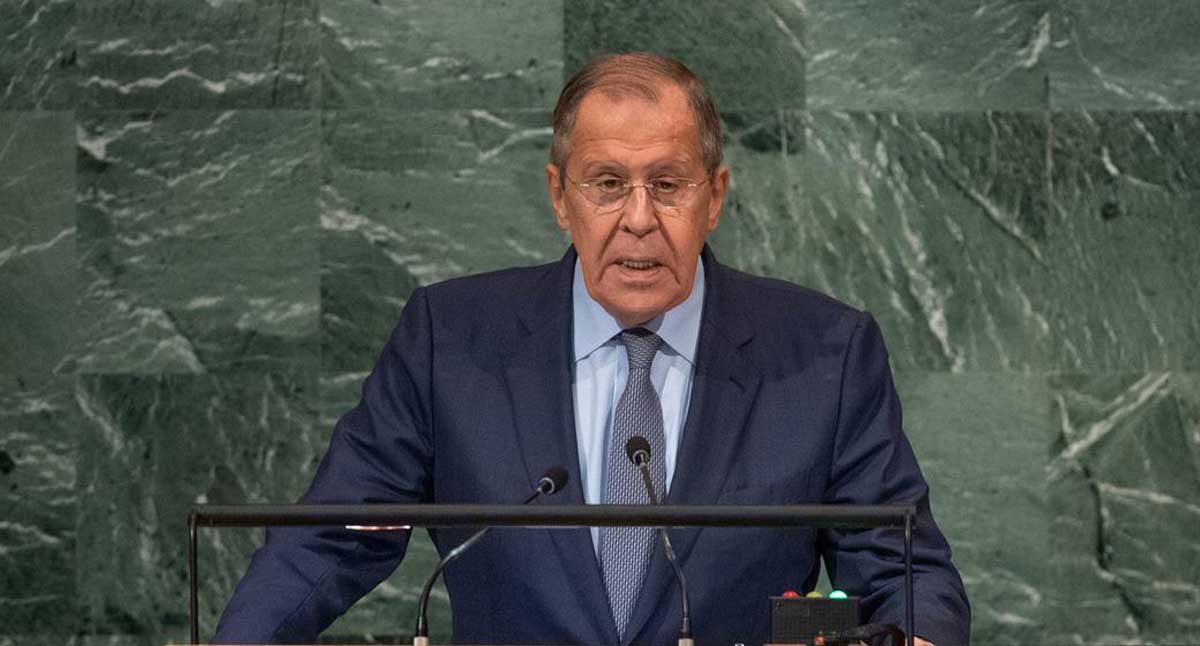 Faced with the "inability" of Western countries to negotiate and the Ukrainian Government's "war against its own people" in the east, Russia had "no choice" but to launch what the Government refers to as its special military operation, Foreign Minister Sergey Lavrov told the UN General Assembly on Saturday.
The operation launched on 24 February had been carried out to protect Russians living in Ukraine's Donetsk and Luhansk regions, and eliminate threats to Russian security, said Mr. Lavrov, that the EU and United States-led NATO military alliance had consistently created in the territory, since what he described as the "bloody coup" by the current "Kyiv regime", in 2014.
"I am convinced that any sovereign, self-respecting State would do the same in our stead, which understands its responsibility to its own people."
'Throwing a fit'
Mr. Lavrov accused the West of "throwing a fit" over this weekend's referenda being conducted in the Donbas and other Russian-controlled areas on becoming a part of the Russian Federation, countering that people there were simply following an order from Kyiv, to "get out and to go to Russia".
The Russian Foreign Minister said the crises surrounding the war were growing, and the international situation was rapidly deteriorating, but instead of having an honest dialogue and searching for compromise, the West was "undermining confidence in international institutions" and encouraging negative tendencies within the United Nations as well.
He said the United States was trying to turn the whole world into its "backyard", and together with its partners, punishing dissenters from its world view, through what he called "illegal unilateral sanctions" which violate the UN Charter, and hurt poor citizens in poorer countries, targeting their medicines, vaccines and food imports.
'Provocations'
Attempts by the US to impose dividing lines, telling nations "you're either with us or against us", meant that instead of "honest dialogue" there was instead "disinformation, crude staging, and provocations".
He praised the UN Secretary-General for mobilizing efforts to overcome the global food and energy crisis fuelled by the war but blamed the West for economic mismanagement in the pandemic, claiming that sanctions against his country amounted to an "economic war against Russia."
He praised the Black Sea Grain Initiative to free up food and fertilizer from Ukraine, and Russia, to alleviate price inflation and supply, but said the poorest countries were still not benefitting, and again criticized the US and EU for not fully removing "obstacles" to Russian exports he said were trapped in European ports.
'Russophobia' claim
Mr. Lavrov told the Assembly that there was now a "crusade by the West against the objectionables", with NATO seeing Russia as simply a threat to its domination of the region and beyond.
Furthermore, Russophobia, he said, had reached unprecedented proportions, with Western powers making no secret of their ambition to militarily defeat Russia, and try to "destroy and fracture Russia…What they want to do is to remove from the global map, a geopolitical entity, which has become all too independent."
He warned countries beyond Europe and North America, that the Western alliance, in an effort to impose its will, was seeking to expand influence and hegemony further into Asia, South America, and Africa, and ended his remarks by quoting the hugely influential and charismatic second UN Secretary-General, Dag Hammarskjöld:
Save humanity from hell
"The UN wasn't created to take mankind to paradise, but rather to save humanity from hell. These are very topical words. They call upon us, to understand our individual and collective responsibility for creating conditions for a peaceful and harmonious development for our future generations, and everyone needs to show political will for that."
Ending his speech on a conciliatory note, and a nod to a brighter future for multilateralism, he said he was convinced that the stability of the world order could be ensured, by returning to "the origins of UN diplomacy", based on the key principle of "sovereign equality of States".
War crimes have been committed in Ukraine conflict
Almost seven months to the day since Russia's invasion of Ukraine, UN-appointed independent human rights investigators said that war crimes have indeed been committed in the conflict.
The finding came in the first report by the Independent International Commission of Inquiry on Ukraine, which was set up in March this year, at the request of Human Rights Council Member States.
Much of the Commission's work focused on investigations in the regions of Kyiv, Chernihiv, Kharkiv, and Sumy, where allegations of the most serious rights violations were made against Russian, or Russian-backed forces, early in the war.
Thorough investigation
Commission chairperson Erik Møse said that investigators visited 27 towns and settlements and interviewed more than 150 victims and witnesses. They also inspected "sites of destruction, graves, places of detention and torture", as well as remnants of weapons.
"Based on the evidence gathered so far during the Commission's existence, we found out after having carried out the investigations in these four areas just mentioned, we found that war crimes have been committed in Ukraine," he told journalists in Geneva.
That conclusion is in line with findings published earlier this year by the UN Human Rights Monitoring Mission in Ukraine (HRMMU).
It documented unlawful killings – including summary executions of civilians – in more than 30 settlements in Kyiv, Chernihiv, Kharkiv and Sumy regions, by Russian armed forces while they controlled these areas in late February and March.
Brutal executions
Other key findings from the report include the surprisingly "large number of executions" in 16 towns and settlements, where "common elements" of the crimes included "visible signs of executions on bodies, such as hands tied behind backs, gunshot wounds to the head, and slit throats".
The report, delivered to the Human Rights Council earlier on Friday, also documented how explosive weapons had been used by the Russian Federation forces, "without distinguishing between civilians and combatants in populated areas".
"We were struck by a large number of executions and other violations by Russian forces, and the Commission received consistent accounts of torture and ill-treatment."
Sexual violence, including against children
Horrific allegations of sexual violence against Ukrainian communities – including children – were also found to be based in fact.
"The Commission investigated cases of sexual gender-based violence. It documented cases in which some Russian Federation soldiers made such crime," said Commissioner Jasminka Džumhur.
Ukrainian forces were also responsible for human rights violations, said Commissioner Pablo de Greiff: "We have found two instances of ill-treatment of Russian Federation soldiers by Ukrainian soldiers, and we mentioned this in our statement. We have found obviously significantly larger numbers of instances that amount to war crimes on the part of the Russian Federation."
Ireland: Rights experts call for redress for 50 years of systemic racism in childcare institutions
UN-appointed independent human rights experts on Friday called on Irish authorities to provide adequate redress for victims of racial discrimination and system racism in Irish childcare institutions, stretching over more than 50 years.
Citing information received, 10 experts issued a joint statement saying that systemic racism in childcare institutions between the 1940s and 1990s, has "resulted in the higher institutionalization rate of children of African and Irish descent".
During their prolonged time there, children were exposed to heightened risk of corporal punishment, sexual, physical and verbal abuse, with lifelong consequences, including infringing their right to enjoy the highest standard of physical and mental health. Some of them were also subjected to vaccine trials.
Exchanging letters
Despite welcoming the Irish Government's Action Plan to provide tangible benefits for survivors and former residents of mother and baby and county home institutions, the experts sent them a letter containing their allegations of racial discrimination in April.
In it, they raised the alarm that children of African and Irish descent were "subjected to differential treatment because of their race, colour and/or descent, leading to further violations of their human rights".
In response, the Irish Government referred to the official State apology offered on 13 January 2021 in which the country recognized the "additional impact which a lack of knowledge and understanding had on the treatment and outcomes of mothers and children with different racial and cultural heritage".
It continued, acknowledging that such "discriminatory attitudes exacerbated the shame and stigma felt by some of our most vulnerable citizens, especially where opportunities for non-institutional placement of children were restricted by an unjust belief that they were unsuitable for placement with families".
Stolen childhoods
Although the State apology is an important element of the restorative justice process, the experts said it was "not enough".
Because of the systemic racial discrimination that prevailed in the childcare institutions at the time, the experts underscored that they had, in effect, had their "childhood stolen" from them.
"We are seriously concerned over the severe and continuing effects that racial discrimination and systematic racism have had on the lives of the adults who are currently seeking redress," the statement read.
Restorative justice
Under international law, States have an obligation to ensure accountability for past human rights violations and provide full reparation to the victims, when these violations still have an impact.
The independent experts called on the Irish Government to "take further action to provide those who were subjected to differential treatment in childcare institutions with effective remedies".
A future scheme to address rights violations, "must recognize and provide redress for all the human rights violations perpetrated against children during the entire duration of their stay in Irish institutions, including mother and baby homes, industrial schools, reformatories, Magdalen Laundries and analogous institutions, as well as life-long impacts", the statement continued.
In conclusion, they noted that a proposed "Bill Payment Scheme" provides an avenue of redress "for the harms caused due to racial discrimination and systemic racism to which children of African and Irish descent were subjected".