The U.S. Government, which had lied its way into invading and destroying Iraq in 2003 (with a little help from UK and Europeans), wants Europeans to pitch-in for more U.S.-run invasions. Europeans find this disturbing, but not repulsive enough to say, flat-out, "No!" to it. However, only that "No!" can stop the onrush toward a massive U.S. war against both Iran and Iraq, which would spread ultimately into a global nuclear war between U.S. and Russia.
On January 6th, Barbara Wessel, a columnist for Germany's Deutsche Welle (DW), headlined a common European sentiment: "Trump has Europeans caught in a trap: Europe is suffering under the way Donald Trump makes political decisions on the fly. The only option left is to appeal to Iran's interest in self-preservation". But Iranians can't stop the sanctions against itself, and can't stop Trump's other outrageous aggressions. Wessel's false underlying assumption was that Europe must lecture Iranians. That's like lecturing to Jews during WW II: "The only option left is to appeal to Jews' interest in self-preservation." Victims already do everything they can to stop their being victimized; they cannot stop the victimizer from victimizing them. They don't cause it. Europe must, at last, say "No!" to U.S., the tyrant over the entire world — Bolivia, Venezuela, Syria, Iraq, Iran, Afghanistan, and more. Wessel, however, understood, at least, that the dangerousness actually comes far more from the U.S., than it does from Iran. So, she recognized that her thinking on this whole matter was confused. She stated:
Any illusions about the possibility of an even partially rational cooperation on foreign policy with the government in Washington have long been shattered. Cynical remarks by US Secretary of State Mike Pompeo, who accuses the Europeans of not giving enough support in the Middle East, underline their helplessness. … Even experienced observers of US Middle East policy have been unable to explain how this [Trump's "bring American soldiers home"] fits in with the strike against Soleimani. … Europeans find themselves in the trap of a kind of US foreign policy that is marked by the emotional eruptions of an unpredictable president and his power-drunk neocon supporters. … Basically, their [the U.S. Government's] only explanation for killing Soleimani is: "Because we can." … Granted, Europe looks weak and helpless when, in joint statements, Europeans call for de-escalation after their presumed partner, the US, has just done everything it can to escalate the situation. … The new year will quickly show how strong the current tendency to suicide is among all those involved. …
The presumption on which such sentiments are based is that things must go on as before, and EU must continue to be allied with U.S., instead of with the rest of the EurAsian Continent — but this presumption (EU with U.S. instead of with all the rest of EurAsia) has been false ever since the U.S. Government went wild in its response to the mainly Saudi Arabian 9/11 assault against the U.S. and Israel cheered that event, and Iran got blamed by the U.S. government for 9/11 as being "The top state sponsor of terrorism" (which was yet another lie), and Obama perpetrated a coup replacing Ukraine's democratically elected Government with a U.S.-imposed fascist and rabidly anti-Russian government such as Obama wanted to be next-door to Russia. He even was intending to replace Russia's largest naval base, which is in Crimea, by yet another U.S. naval base, to be installed there. None of this is in Europe's interest. Nor is it even discussed in Europe or in any other vassal-region of the U.S. empire. It's censored-out there.
Germany, France, Italy, Spain and all the rest of Europe, actually belong with all the rest of the EurAsian Continent, rather than with the formerly democratic but now fascist United States across the Atlantic Ocean. A federal EurAsia, composed of free and independent states within a wider United States of EurAsia, would have 4.618 billion population, almost half of the entire world, and wealth to match that, and economic growth which far exceeds that of what will then be left of the U.S.-and-its-allied-countries: UK, Saudi Arabia, and Israel. All other nations would ally either with EurAsia or with that U.S. group — American and those three core allies (Saudi Arabia, Israel, and UK). NATO is America's aggressive alliance, which routinely invades countries that pose no threat to either U.S. or Europe (such as Iraq). America's plan for NATO is to expand it worldwide, so that the U.S. will automatically have European allies for invasions in places such as Latin America. NATO needs to be replaced by a united EurAsian defense force, which will be able to counterbalance, within its sphere, the world's largest military. The U.S. has around 1,000 military bases, of which around 300 are inside U.S. Though officially the U.S. spends 37% of the global military budget, it actually spends around half of all global military expenditures, but hides around one-third of its annual military spending by listing those costs in other federal Departments, such as the U.S. Treasury Department, so as not to seem as militaristic as the U.S. Government actually is. It's actually a global empire — the largest that the world has ever known. Europe is, and can only be, vassals in that empire. The alternative requires new thinking, and is not to spend more money on the military, but to recognize that when Russia ended the Cold War in 1991, the war secretly continued, and still does continue, on the U.S. side — and Russia and China recognize that this is America's intention. Europe must stop the Cold War, because only Europe can do that.
Barbara Wessel's commentary presumes, instead, that Europe's leaders have no ability to say no to the U.S. That presumed passivity is only bad habit, inherited from a Europe which was wrecked by WW II. That's no longer the reality today. Instead, Europe, joined with Asia, will be the global superpower that can finally end America's endless wars —simply by not joining them. EurAsia will be the world's dominant power, if Europeans want a future that is better than the past, instead of catastrophic. Either way, the future won't be much like the past. Europe needs to wake up now, from its vassalage since WW II ended. Simply continuing that would produce a horrible future.
Another DW columnist on January 6th, Konstantin Eggert, headlined "Opinion: Putin's power games may get out of hand", and he was even more supportive of Germany's vassalage to the U.S. regime. He presented a strong case that by murdering Soleimani, Trump had pulled the trump card in the U.S.-v.-Russia game by eliminating the key person upon whom Putin had been relying in order to transfer dominance in the Middle East away from U.S. and toward, instead, Russia. Soleimani was that key individual for Putin's success in this. "According to sources in Moscow, Putin knew Soleimani very well: He played a key role in creating the Russian-Iranian alliance that saved Bashar al-Assad's regime in Syria from what seemed in 2015 an imminent demise." With Soleimani now gone, Eggert predicted that regardless of what Iraq's Government might want, the U.S. would refuse to terminate its occupation of that country, and Iran would be in a much weaker position than before. He said that "Putin has every reason to wish the Iranians backed off from confrontation with the United States," so as for Russia to avoid being drawn into World War III. "Putin's best chance to avoid this drama is to play peacemaker — not alone but in the company of German Chancellor Angela Merkel and Turkey's Erdogan, who are rushing to meet him in the coming two days. Berlin and Ankara do not want to see the Middle East explode and will be asking Putin to use his close ties in Tehran to hatch a deal and fend off confrontation." In this sense, the missile that hit Soleimani on January 3rd hit not only Iraq and Iran but EU and Turkey. Eggert therefore advises America's vassals to remain America's vassals because Russia now is trapped and Putin might not fold his hand and might not simply let Iran become ultimately swallowed-up — Merkel etc. should urge Putin to fold his hand, is the implication here. Eggert's implication is that, in the final analysis, might makes right, and that therefore any resistance against it (for example, if Putin continues to resist) would only be harmful. Or, as he puts it: "With the Iranian regime massively undermined or destroyed, Moscow's position in the Middle East and Vladimir Putin's personal prestige as the world's topmost authority on stopping 'regime change' and someone who never leaves allies in the lurch, will be badly hit and revealed as much weaker than it seems." Eggert sees Trump's assassination of Soleimani as, in effect, a master-stroke, which has severely weakened Putin. Of course, if Europe's leaders will act this way, then Eggert's might-makes-right view will be vindicated, by them.
Europe is the U.S. regime's indispensable ally. If EU breaks away from U.S. and joins with the rest of the EurAsian continent instead, at least the possibility will exist for avoiding a hellish future of continued and accelerating vassalage to the U.S. regime for the entire world. Passivity and might-makes-right slants such as "Putin's power games may get out of hand" (instead of "America's assassination of Soleimani places entire world in danger") are choices — not inevitable — and Europeans will ultimately be the individuals who will be making the choices here. Europeans will decide whether the U.S. is the world's enemy; or, instead, whether Russia, China, Iran, and, really, all the rest of Asia, will be treated as if they were that (like the U.S. regime wants). Ganging-up against the victims — if that is to be the European response — would be a choice, not an inevitability (such as DW implies). It will be up to Europeans whether to order all U.S. troops to leave, and to tariff all imports from America, and to sanction and boycott U.S. brands and increasingly replace them with EurAsian ones instead. Trump can be trumped, but only Europe has the clout to do it. The future will be decided by Europeans. The voices of passivity, such as DW, are doing the bidding of Europeans' enemy — not of the entire world's future: a EurAsian-led world.
Russian army lends a helping hand to Italy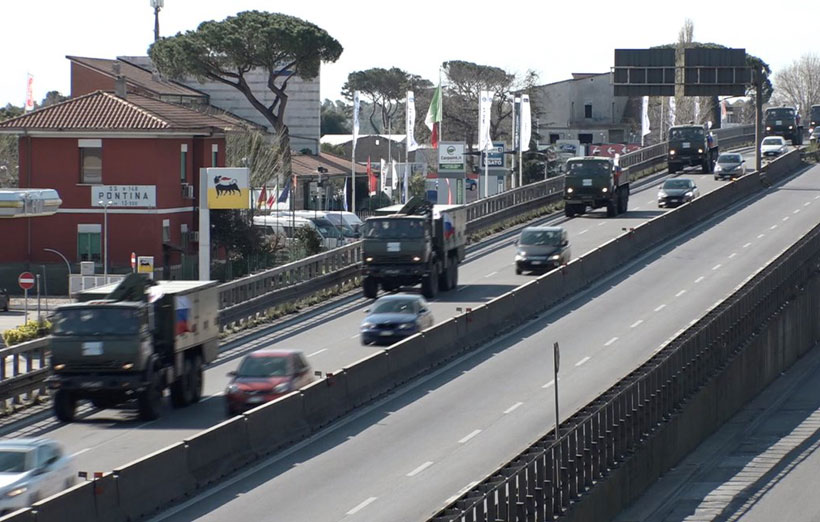 For the past three days, Russian military transport planes with medical specialists and aid on board have been landing at an air base near Rome to help Italy in the fight against the coronavirus outbreak. Critics immediately started looking for some ulterior motives behind Moscow's move, describing it as just a political PR stunt, a demonstration to Europe of the Kremlin's capabilities and its immunity to a global pandemic, completely oblivious of the fact that this unselfish gesture of goodwill is not the first in the history of Russia's relations with the West. Suffice it to recall how, 75 years ago, the Soviet people selflessly saved the world from the Nazi plague without asking for anything in return.
Russians like to joke about there being no such a thing as an ex-doctor, soldier or police officer, but it looks like in Russia there are no former emergency specialists either. Defense Minister Sergey Shoigu spent many years at the head of this country's Emergency Situations Ministry, and is the one who dispatched Russian rescuers to Japan in the aftermath of the 2011 earthquake there. Russians have a predilection for saving everyone; it's a sort of a national trait here. Are they doing this to win kudos abroad? Hardly so…The first thing Japan did after recovering from the consequences of that devastating natural disaster was to reiterate its claim to Russia's South Kuril islands, so Moscow is hardly expecting Italy to make any decisive calls for lifting the EU's anti-Russian sanctions.
Russia was still very quick to send out 14 planes with 100 military virologists and professional nurses, special equipment and instruments to Italy in keeping with an earlier agreement between President Vladimir Putin and Italian Prime Minister Giuseppe Conte. Russia even sent in its most experienced medics – military doctors, who had earlier experience of tending to potential COVID-19 carriers from China, who had fought the Ebola epidemic in Africa, and who have a long history of participation in humanitarian missions. Whether these few dozen people are able to turn the tide in the fight against the pandemic is another question, but in any case, their contribution will be extremely important.
Meanwhile, as a brief interview with one of the Army nurses, staff sergeant Natalya Krivosheyeva, aired on Russia's Channel One television showed, the Russian military doctors arrived in Italy to "help the country out of trouble," and this is exactly what they are all set to do. In any case, 100 professional doctors with vast experience and military discipline are providing urgent vital assistance to Italy, which is struggling with a shortage of medical staff. This assistance is all the more valuable now that the NATO countries have all refused to line up similar support, the Western defense alliance's mobile hospital has moved to Luxembourg, closer to the center of European decision-making, and there is virtually no support coming from Italy's EU partners.
Why is Putin lending a helping hand to Italy? Does he really expect any gratitude from Rome? He is a realist. The news about dozens of professional Russian medics being sent overseas will hardly contribute to his popularity back home. Moreover, on April 22, or later Moscow will hold a referendum that would allow Vladimir Putin to remain in power until 2036. Russians are way more concerned about the situation with the coronavirus pandemic in their own country than in faraway Italy.
And still, Beijing and Moscow have so far been the only ones to provide real assistance to Rome. From the standpoint of national mentality, Russia's actions are fairly understandable. A popular Russian joke says that "if you want to do something well, call the military." Russian military medicine is one of the best around, and Russian doctors are going to Italy to gain experience and hone their skills. They are going because such missions are part and parcel of the algorithm of the Russian military. They do not expect anything in return, all they want is expertise. Some critics were sure to be like "Why ask for help from the Russians?" "What will the Kremlin want in exchange for helping us out?" The thing is, however, that Putin and Shoigu have created a system, which initially implies emergency assistance even for countries that are not Russia's best friends. Moreover, if an epidemic of such magnitude flared up in Poland, which reportedly closed its airspace to Russian planes carrying aid to Italy, Putin would still offer similar help to Warsaw. This is how the Russian Defense Ministry works, for the good of the whole world.
The Russian military specialists are at work now and are sure to save lives. What is more precious than human life? Certainly not politics, and this is exactly what European leaders need to realize.
The Covid-19 epidemics and the issue of Italy's public debt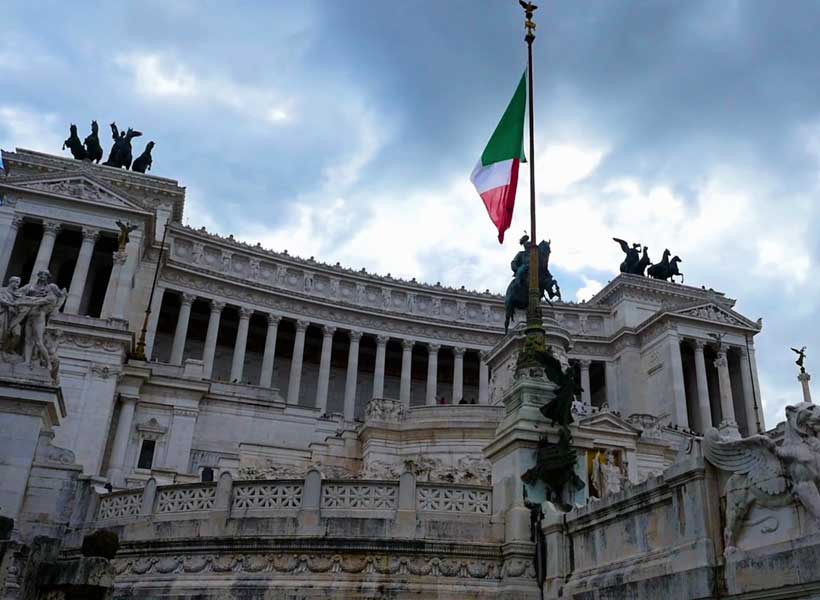 How will the E.U. resources be defined in the near future for the coronavirus issue? The issue is, in fact, much more complex than we may think.
The actual European Funds that are theoretically available are manifold: the European Regional Development Fund, the European Social Fund, the Cohesion Fund and, finally, the European Maritime and Fisheries Fund. All of them have been activated by President Von der Leyen in the initial phase of the COVID-19 spreading to Europe.
The resources identified by President Von der Leyen for providing support against the epidemics and its economic effects are all drawn from these budget items, which are also those transferred to the States, usually as pre-financing, i.e. as advances on operating expenditure.
The unspent part of these advances will soon be renamed without any particular bureaucratic problems and these funds will cover at least some past expenses, precisely as from February 1, 2020.
President Von der Leyen's proposals affect also the General Regulation of European Funds, which will also enable us to use the Regional Development Fund to finance capital and investment, particularly to improve the efficacy of regional health services.
In principle, contributions from these Funds will only be used to cover the losses caused by health crises, climate events, environmental accidents or accidents at sea which, however, account for at least 30% of the turnover of the affected company, calculated on the average of the last three previous years.
For severe diseases and epidemics, this new E.U. system envisages that these Funds can be activated if damage greater than three billion euros or 0.36% of the usual GDP can be proved (well, what next? No end to bad news).
Hence a total of only 8 billion euros are expected to be made available to all the European economies affected, plus further 29 billion euros as cascading effects of investment already being made.
Too little, as is evident to us all.
The 2021-2027 EU budget, however, has not been approved yet. The resources are therefore already scarce and, to tell the truth, completely insufficient for all EU countries. Nevertheless, approximately 850 million euros will be transferred to the Italian regions alone to face the epidemics, in exchange for a not so formal guarantee of "enhancing the managerial approach" to health management – which is already high in Italy – and also to the relationship between spending centres and political authorities.
However, we are back again to the usual routine of a too little too late approach in the E.U., both for the Italian health spending and for the equally high one of the other countries affected by the epidemics, such as Spain, France and Germany, in the very near future.
In the German case, however, the public budget cosmetics – which I am surprised is not well known to the international financial markets – will make it possible to turn a plater, i.e. the German public finance, burdened with colossal debt, into a very fast Varenne.
It will not be with this little money and these post factum bureaucratic criteria that the European Union will rebuild its image in the European productive forces and industrial systems destroyed by the epidemics.
In the meantime, Prime Minister Conte's government has already funded – – with 25 billion Euros, mostly as debt instruments- the whole package of measures to face the Covid-19 pandemic.
The government bonds that can be issued are valid only as from 2020 – as a starting date – but there will be specific "aid" for Air Italy, the Sardinian airline being closed, and the Solidarity Fund for Air Transport and the airport system will anyway have additional 200 million euros available.
All these measures can be found altogether in the Prime Minister's Decree, so that we have the feeling that, in the end, with a view to setting again the economy into motion in the productive Northern regions after the epidemics, there will be less money than it is needed just to rebuild the industrial system of Small and Medium-sized Enterprises, which – as is well-known to all scholars and experts – have a much shorter time of permanence on the markets than large companies.
These 25 billion euros – which are clearly too little – also include funds for the publishing sector, given the unavoidable decline in advertising revenue, as well as an anti-spread shield for insurance companies to face the tension recorded on Italy's public debt bonds. This is a very technical issue on which I will not elaborate in this article.
As always happens, however, if investors know it, they discount the insurance value on the amount of bonds acquired or on their price.
It is a painful mystery how, today, we can take a measure like the spread seriously, considering it measures a difference between the ten-year Bund of an ailing country, namely Germany, with the ten-year BTP of an equally ailing country, namely Italy.
Indeed, I have always had little faith in the average intelligence of private financiers.
Prime Minister's Conte government, however, is ready to implement the E.U. changes to the volatility adjustment, which has always had a very discontinuous trend and a very limited effectiveness.
Thus, by purchasing the tools for estimating the spread parameters, the companies that hold public debt bonds should be in a position to evaluate the functioning of the mass of bonds and calibrate the mix of investment in "paper" instruments, as well as the duration of all the bonds they own. But there is no guarantee in this respect.
With specific reference to business support, the 25 billion additional public spending will allow to apply for the ordinary wage subsidies or for access to the ordinary allowances, but only for a period of nine weeks.
Once again there is not a single word about the companies' operations to recover market shares, as well as to recover the profit already forecast. All these measures would apply for just nine months, which, even if the pandemic ended immediately, would probably not be enough for the many Italian SMEs affected by the epidemics to recover their place and positioning in the E.U. and international markets which, meanwhile, the others will have already taken.
The fact that economic intelligence exists has not yet been understood by Italian politicians.
With specific reference to the healthcare sector, the 25 billion euros – which, as can be seen, are becoming ever less available – also include only 150 million euros for the increase in overtime for the medical and paramedical staff.
Based on the Decree enacted, the potential of specialized military medical staff will be increased by 320 doctors and nurses, but more money will be invested in local control offices for checks on goods and people.
Moreover, a total amount of 340 million euros will be available to use the beds in the private healthcare facilities' intensive care units. What about the already available direct funding for private healthcare facilities?
It should also be recalled that the Supreme Defence Council has not yet been convened, which would be the minimum in the current situation.
Once again, too little too late. There is no reliable data on the permanence of the virus and its distribution throughout the country.
For SMEs, however, the Central Guarantee Fund will have only one billion euros available, which is still too little.
If we overlap the maps of the infection areas, from the province of Lodi to the Veneto region, we can also have the map of the development area of Italy's Small and Medium-sized Enterprises in the North.
They face the international markets "barehanded", just as Karate or Judo men fight. Whatever happens, the COVID-19 epidemics has put an end to Italy's particular system of development and industrial organization, precisely in the most productive regions.
Now for Northern Italy there is a possible future either as a "guaranteed" area or as an area completely dependent on the other countries' economic cycles. This is the real game at stake. Especially for Germany, which thinks strategically about its economy within the EU.
The guarantee, however, will in any case be increased up to 5 million euros per company. For those who are still in difficulty, there will also be easy access to the "Gasparini Fund" for the suspension of mortgage payments. Said Fund has been increased with as many as 500 million euros for the whole 2020.
For the usual nine months after the entry into force of the Decree, access to this Fund will be provided also to the self-employed and freelancers who self-certify – and it will be very easy – a drop in turnover higher than one third which, however, shall be connected with the COVID-19 emergency (although no clear details are provided on how this correlation shall be proved).
For banks, as well as for the other companies' creditors, the turning of debt into tax credits is envisaged for a maximum amount of 2 billion euros.
Hence we are well over the 25 billion euros initially envisaged, as debt instruments, by the Prime Minister's package of measures, well knowing the debt conditions of many and often excellent SMEs in Northern and Central Italy.
For restaurants, cafés, gyms, entertainment and culture, as well as transport services, there is an exemption at source of withholding tax payments on income. However, real income support would be needed rather than the usual tax exemptions on income that is no longer there.
Finally, there is income support for freelancers only to the tune of 500 euros per month. Income support is envisaged also for those who have an active VAT number, as well as for the Made in Italy sector, which has always been the key for the SMEs' economic penetration abroad. As to the latter, this income support – the amount of which is not specified – will be managed by the Institute for Foreign Trade (ICE). What about SACE for the companies which are already active overseas? In this case, everything is too vague.
However, there are already all the signs of the E.U. trip.
In one day the alleged gaffe of current ECB Governor Lagarde has already destroyed the Italian Stock Exchange, which, indeed, is owned by the London Stock Exchange, but the Franco-German banking axis has been speculating for years on the difference between the interest rates paid by Germany and France and the Italian ones.
This is a real industry. Hence Lagarde's alleged gaffe can be easily understood.
Obviously all this is also a prelude to a sale of Italian companies and real estate sector, while it is increasingly likely that the rating agencies will downgrade Italy to junk from the current valuation of its public debt bonds, as a result of the 25 billion euros – albeit insufficient – spent as debt instruments to face the COVID-19 emergency.
As already mentioned above, while describing President Von der Leyen's plan, nobody within the E.U. is still outside the old "austerity paradigm", which works badly even when things go well. Let us not delude ourselves, in the future, about what the Popperian epistemologists called "paradigm shift".
Hence de facto industrial stoppage due to the epidemics and E.U. Member States' subsequent joint speculative action on the Made in Italy companies, as well as downward operations against all listed SMEs. In this regard, we should also recall the 2019 ruling of the Strasbourg Court on insolvent Municipalities, in which it was decided that the whole amount of local debt plus interest shall be taken over directly by the central State.
This is already a huge blow. Currently there are, in fact, 66 large insolvent Municipalities, with 54 small administrations in the Calabria region and 409 medium and small Municipalities in crisis, for various reasons, as well as 111 insolvent Municipalities in Sicily, all for amounts which are currently difficult to assess but, however, very close to the famous 25 billion euros invested as debt instruments to face the COVID-19 epidemics.
This is an evident manoeuvre to circumvent our fiscal and economic crisis, which will be used at the right time by our E.U. and non-E.U. competitors.
Furthermore, if – as many current leaders of the ruling parties maintain – there will be Italy's access to the European Stability Mechanism, a European Court will judge whether private assets should play their role in the default procedure, in addition to the public ones.
It should also be recalled that 91% of Italian Municipalities are at risk of landslides and soil crumbling.
Hence, for all public assets and companies, there would be the classic bankruptcy procedure, which may also involve private assets. Just as happened with Greece.
And as was the case with Germany in Versailles, at the end of the First World War, thus paving the way for Nazism and the Second World War and, above all, for the European one.
What about temporary solutions? A double circulation of the old lira, which should be made interchangeable with the euro – something that, in fact, former Prime Minister Monti prohibited in 2012 and that Germany never dreamed of abolishing – or the circulation of forward and futures contracts, as done by Hjalmar Schacht, the Jewish and Freemason brilliant President of the German Central Bank under Hitler's rule, who invented the MEFO bills to ward off the last blows of Weimar Republic's hyperinflation.
With specific reference to public debt, the Bank of Italy speaks about an increase in debt – precisely with additional 9.8 billion new liquid assets of the Treasury, which brings it to 55 billion euros – with a further central government's debt that has increased by 7.2 billion euros and that of local governments – whose bad financial situation has already been mentioned above – by 0.5 billion euros in 2020.
For the long-standing theory of Eurobonds, called for by many more or less experienced economists, there is still a key question.
What if, in fact – as a result of a possible persistence of the COVID-19 epidemics – the investors, skilfully manipulated – and we can well imagine by whom – turned to other bonds, such as BTPs?
Currently Italy's public debt is held by 80% of private markets/operators, by 33% of European institutions and central banks and by 20% of "other entities", namely small and medium savers or other organizations.
According to the European Commission, with a zero economic growth, at the end of this year the Italian public debt could reach, ceteris paribus, 2,435.7 billion euros out of a total EU-27 debt of 12,814 billion euros.
If the Italian economy is set again into motion at the end of May, as forecast by Cerved, our companies could recover a level of turnover even 1.5% higher than the one recorded at the beginning of the epidemics.
In essence, between 2020 and 2021 the COVID-19 epidemics is expected to cost companies 275 billion euros.
Certainly too much, but nothing that cannot be spread by a public debt carefully managed in its main components, if this data is disseminated among international investors. Hence we can definitely expand the range of buyers of our public debt bonds, carefully calibrated and even renewed, to open up to the financial markets in which we have ventured little in recent years: Great Britain, which certainly has a political, strategic and financial interest in opposing the E.U. policies, now that it is no longer a E.U. Member State; the United States, a market in which we have been present with our large companies, but much less with listed SMEs and other excellent companies; obviously China, but even India, not to mention Australia and New Zealand which, thanks to the London Stock Exchange – which knows the Milan Stock Exchange very well – could buy our bonds confidently.
Hence, we should no longer ask for charity from the E.U. financial markets, which have not shown any interest in our internal and economic situation. We should begin to make high-level propaganda and skilful promotion of Italy's "image", not with a tourist-oriented approach but with excellent financial expertise.
Moreover, there are those who – not heeding danger and experience – propose to turn the European ESM into the E.U. "Economy Ministry", which could issue the famous Eurobonds or other instruments that, hopefully, would "sell like hot cakes" on the markets.
Does anyone know that nowadays countries compete, by all means, on their public debt bonds?
This operation – as debt instruments of the whole EU-27 – could raise the whole E.U. budget, so as to help the less "fortunate" countries.
The idea is good, in principle, but it does not take for granted what now seems obvious: the E.U. project to make Italy end up just like Greece – as in slow motion, like in sport events such as football and athletics.
Moreover, the famous one trillion euro budget for the Green Compact, equal to seven years of the E.U. whole budget, was in fact an advertising idea, but we cannot even imagine where we can get this huge amount of money.
According to other reliable banking sources, the situation of Italian SMEs in the COVID-19 epidemics phase will have an impact on the working capital of our Small and Medium-sized Enterprises equal to over 18 billion euros, out of an already calculated total of 342 trade receivables and payables.
Nevertheless, only for the whole 2020, the requirements for SMEs could reach 46 billion euros, including repayments of debt coming due and investment.
50% of this amount regards companies in Lombardy, Veneto and Emilia Romagna.
Creating debt to set again the economy into motion is of no use in the long run – if not as a stopgap measure. A direct interest-free financing from the Bank of Italy is needed but – and this is going to be tough – also from the ECB, an institution in which experts study the old microeconomics and believe that it is the whole economic theory.
With a view to solving the COVID-19 crisis, the State Rescue Fund – the well-known ESM – could resort to its "toolbox", albeit this is very dangerous.
Within the ESM, there is the possibility to activate the Precautionary Conditioned Credit Line (PCCL), i.e. loans granted quickly to avoid the default, but which are NOT conditional upon a Memorandum of Understanding (MoU) of mandatory cuts in public spending and "structural reforms".
This would mean a significant increase in unemployment, further compression of the internal market, as well as subsequent and obvious impact, as well as knock-on effects, for Italy's companies. For an indebted government it is enough to sign a Letter of Intent, which is similar to a MoU, but is less imperative. Hopefully so, although no one has experienced it yet.
Furthermore, in the case of an Enhanced Conditions Credit Line of the ESM, with MoU-style reinforced guarantees which, I imagine, would be required from Italy, the effects would be directly proportional to the amount of credit granted and the average return time.
The ESM is therefore a trap and, in the long run, it would create the same disasters it would like to solve.
Microeconomics is not the whole economic theory. Today there is no soup, like the Marginalists' one, having the maximum marginal value at the first spoon and the minimum value at the last one. Usually, you finish earlier.
Another nonsense, albeit very widespread, is the wealth tax called for by the IMF and other scarcely experienced economists.
The first house owned does not produce income, but an increase in taxation is created immediately during an economic recession and you do not need to be John Maynard Keynes to understand what would happen next.
Meanwhile, the big financial information agencies say far and wide that "there are 40 billion U.S. dollars of reasons to avoid the Italian public debt".
Hence the real and future struggle will also be fought with the careful and authoritative explanation of how the Italian public debt is made, and above all by avoiding the counter-propaganda of some of our scarcely affectionate E.U. friends.
Germany: CDU – three in one
Germany's conservative Christian Democratic Union (CDU) will hold an extraordinary congress on April 25 to elect its new chairperson, who is almost certain to lead the party to next year's federal elections to culminate in the election of the country's new Chancellor in lieu of Angela Merkel, who has already confirmed that she will not be running again. Meanwhile, judging by the current alignment of political forces in Germany, the CDU remains the main candidate for victory, although not as indisputable as it was a year ago.
The CDU's decision to look for a new face at the helm was prompted by the resignation of Annegret Kramp-Karrenbauer, whose handling of last year's elections in eastern state of Thuringia resulted in an acute political crisis alienating the Christian Democrats' partners in the ruling coalition (CSU and Social Democrats), and many within the CDU itself.
In October 2019, the Left party landed a historic victory in elections to the regional assembly (Landtag) in Thuringia, scoring 31 percent of votes. The far-right Alternative for Germany (AfD) came in second with 23.4 percent, leaving the CDU in third place with just 21.8 percent. The Social Democrats (SPD), the pro-environment Greens and the Free Democratic Party (FDP) garnered five percent, but in the February 5 vote in the Landtag for the head of the regional government, the FDP's candidate Thomas Kemmerich surged ahead of his main rival, the Left party's hopeful Bodo Ramelow thanks to the support that the candidate from the FDP and the CDU had received from the AfD as a result of an earlier agreement.
The outcome of the Thuringia vote sent shockwaves through political Germany because up until then the ruling coalition had banned any party-level cooperation with the extreme right. The SPD leadership accused its coalition partners of violating ethical and inter-party standards, and Annegret Kramp-Karrenbauer said that the local branch of the CDU violated the party's requirements. At a February 6 press conference while on a visit to South Africa, Angela Merkel said that it was "unforgivable" that a state premier had been elected expressly because of the support of the far-right AfD, and accused the Thuringia CDU of abandoning the "values and beliefs" of the party.
Resignations followed shortly after, with Thomas Kemmerich saying he would step down on February 8, and already on February 10, Annegret Kramp-Karrenbauer informed the CDU leadership of her decision to stand down as party leader. The crisis around the elections in Thuringia reportedly came as a shock for Angela Merkel, since Kramp-Karrenbauer was her protégé and was supposed to ensure a seamless power transit within the CDU after Merkel herself resigns in 2021 and after she earlier left the post of CDU leader in October 2018. As for Kramp-Karrenbauer, she did not enjoy the unconditionally support within the CDU. During the CDU congress in December 2018, she was elected its new leader, getting 517 votes, narrowly beating her principal rival, the ex-leader of the Christian Democrats' parliamentary faction, Friedrich Merz, who trailed closely behind with 482 votes.
Friedrich Merz, who is widely viewed as one of the three (and so far the likeliest) contenders for victory in the 2020 Christian Democratic Union leadership election set to take place during the party's upcoming extraordinary congress on April 25. Even though he has recently stayed out of big-time politics focusing on his business interests, Merz still enjoys significant support among the CDU. As to his political views and priorities, they are pretty vague and even contradictory, including when it comes to Russia. On the one hand, he supports President Vladimir Putin's idea of a single economic space between the European Union and Russia stretching from Lisbon to Vladivostok, and wants Germany and the EU to "play ball" with Moscow, arguing that without Russia in Europe there can be no long-term stability, and that in the 21st century "there should be more and more points of contact" between partners.
On the other hand, Merz is fully supportive of NATO's policy of "containing Moscow," and criticizes Russia's policy in the Middle East, considering it just one of the "warring sides" in the Syrian conflict. Overall, he believes that "right now Russia is making life very difficult for us."
Even more critical of Russia is another candidate – a CDU foreign policy expert and the head of the Bundestag foreign relations committee, Norbert Röttgen, who is constantly accusing Russia of "war crimes" it is allegedly committing in Syria, and calling for new sanctions against Moscow. Moreover, while considering France as a key foreign policy partner in Europe, Norbert Röttgen does not share President Emmanuel Macron's desire to mend fences with Moscow. However, he has the least chances of being elected to the head of the CDU.
The most pragmatic attitude towards Russia in the upcoming elections of the CDU leader is projected by North Rhine-Westphalia's state premier, Armin Laschet, who still lags behind Merz in polls. Notably, he is going to the polls in tandem with the young Health Minister Jens Spahn, who enjoys a great deal of popularity within the party. Moreover, while Laschet generally shares Angela Merkel's main domestic and international priorities, Jens Spahn is critical of her alleged departure from "conservative values."
While supporting the EU's sanctions on Russia, Armin Laschet would still like to see them lifted as soon as possible if the Minsk process of ending the crisis in eastern Ukraine "starts developing constructively," and he is generally holding out for a more active search for a way out of the deadlock in relations between Europe and Russia. Moreover, he takes a fairly constructive view even on the issue of the "annexation" of Crimea, arguing that Germany should be able to "look at everything through the eyes of its partner in a dialogue." He believes that "Russia is necessary to resolve many international issues," which makes it imperative to jointly look for mutually acceptable solutions, including when it comes to the conflict in Syria. Armin Laschet is against the "demonization" of Russia in German political and public circles and the media, dismissing this criticism as "one-sided," and the overall picture of the Syrian conflict being projected in Germany as "too superficial."
Meanwhile, clearly disappointed by the entire background of this whole issue, Angela Merkel herself is trying to stay away from the election of her new successor.
"I won't interfere in the issue of who will lead the CDU in the future or who will be the candidate for chancellor," Merkel told a recent news conference. She emphasized that her experience tells her that predecessors should not interfere in such processes, although she does not refuse to "talk" with candidates. Earlier, Bloomberg reported, citing German sources, that Angela Merkel had been too quick (even before the scandal in Thuringia) to "doubt" that her previously tipped successor as CDU leader and candidate for chancellor, Annegret Kramp-Karrenbauer, would be up to the job, and therefore, she will take a more cautious position during the current campaign by distancing himself from the pre-election debate.
The ongoing crisis and divisions within the CDU come against the backcloth of even more dramatic collisions in the ranks of its partner in the "Grand Coalition" – the Social Democrats (SPD), whose electoral rating is down to 13 percent – the worst in Germany's entire post-war history. This may prove fatal for the SPD's chances of staying in power if, according to the party's former leader, Sigmar Gabriel, early elections to the Bundestag are held.
According to the US-based publication Project Syndicate, "the crisis in the CDU comes on the heels of the SPD's own implosion."
"The SPD will likely be replaced by the resurgent Greens, who have enjoyed a remarkable rally in the polls since the May 2019 European Parliament elections. Over the last year, the duo at the party's helm – Annalena Baerbock and Robert Habeck – have increasingly been mooted as potential future leaders of Germany. Habeck currently is the country's second most popular politician, just behind Merkel. If the CDU's current crisis persists and the party fails to win the largest share of the vote in the next general election, then the coveted right to nominate the chancellor will most likely fall to the Greens," Project Syndicate writes.
"A green-black coalition government in which the CDU was the junior partner would be a political first in Germany, and highly unpalatable for the party," CNBC reporter Carolin Roth warns.
"With both of Germany's ruling parties now in turmoil, a quick resolution to the CDU's leadership crisis is essential. Prolonged paralysis could be highly damaging for both Germany and Europe," she concludes.
In view of the above, new internal contradictions within the European Union itself look very much likely now that it is losing one of the key drivers of European integration. This, in turn, may prompt European leaders to take an attentive and constructive view of the need to restore interaction with Russia, all the more so if such a signal comes from the new CDU leader. From our partner International Affairs