Global Leaders Unite Under the Food Action Alliance to Deliver a Better Future for People and Planet
The World Economic Forum, the International Fund for Agricultural Development (IFAD)and Rabobank, together with a growing roster of private and public sector partners have come together to launch the Food Action Alliance (FAA). The FAA brings together the international community to tackle an urgent historic challenge: to reshape the way we think, produce, supply and consume food.
The FAA is a coalition of organizations and initiatives who through collective action significantly strengthen the impact of agricultural value chains to produce food efficiently, sustainably and accessibly, in support of a transition to healthier diets and improved environmental outcomes. The FAA builds on the extensive experience of World Economic Forum's New Vision for Agriculture initiative.
It mobilizes a next generation of multistakeholder partnerships that build on existing synergies and complementary capacities to deliver food systems that are efficient, sustainable, inclusive, nutritious and healthy in line with the United Nations' Sustainable Development Goals (SDGs). It does so by providing a framework for collective knowledge and action on systemic issues such as on food security and nutrition, inclusive growth and decent jobs, environmental sustainability and climate resilience – affecting the sustainability of global food systems.
Partners of the FAA include African Development Bank (AfDB), Alliance for a Green Revolution in Africa (AGRA), Bayer AG, Bharat Krishak Samaj (Farmers' Forum India), Food and Agriculture Organization of the United Nations (FAO), Global Environmental Facility (GEF), Grow Africa, Grow Asia, IDH – The Sustainable Trade Initiative, Indigo Ag, Inter-American Institute for Cooperation on Agriculture (IICA), International Center for Tropical Agriculture (CIAT), International Fund for Agricultural Development (IFAD), Rabobank, Royal DSM, Southern African Confederation of Agricultural Unions (SACAU), UPL, World Business Council for Sustainable Development (WBCSD), WWF International and the World Economic Forum.
"Partners in the Food Action Alliance believe that fragmentation within the current food system represents the most significant hurdle to feeding a growing population nutritiously and sustainably. We urgently need new business models and innovative partnerships to transform the way food is produced, supplied and consumed," said Sean de Cleene, Member of the Executive Committee and Head of Food Systems Initiative, World Economic Forum.
To achieve a vision for efficient, sustainable, inclusive, nutritious and healthy food systems, the FAA brings together stakeholders from all sectors – government, business, farmer associations, international organizations, civil society and academia – to mobilize a country driven agenda towards meeting the SDGs. Ishmael Sunga, Chief Executive Officer of the Southern African Confederation of Agricultural Unions (SACAU) said: "Putting farmers at the heart of discussions for solutions and actions is key to implement pathways for food systems transformation. Partners in the Alliance have the potential to significantly support economic development, decent jobs, sustainable and resilient agriculture practices, benefiting millions of smallholder farmers."
The current food system is not structured to cope with a rapidly growing population, climate shocks and the rise of hunger and obesity. Under business-as-usual scenarios, an estimated 637 million people will be undernourished while health systems could face a bill of $1.2 trillion every year from 2025 for treating medical conditions related to obesity. Today's agricultural supply chain, from farm to fork, accounts for between 21% to 37% of greenhouse gas emissions.
The food system is inefficient in many respects. For example, around one-third of food, accounting for around $1 trillion, is wasted across the supply chain. Many farming methods that are successful in increasing output – and therefore farmer incomes – deplete natural resources such as soils and forests, making them unsustainable in the longer term.
"We need wider and deeper collaboration along the food value chain to de-risk investing in agriculture. This will in turn allow financial system partners and investors to come in and provide the much-needed access to finance. The Food Action Alliance brings these players together in coalitions, which can jointly create solutions for people, planet and markets," said Wiebe Draijer, Chairman of the Managing Board, Rabobank.
The Food Action Alliance will play a key role in advancing the goals toward the United Nations 2021 Food Systems Summit, which will bring together the international community raising the urgency for food system transformation to the highest level. Agnes Kalibata, President, AGRA and the UN Secretary-General's Special Envoy for the 2021 Food Systems Summit said: "We need transformative thinking and action to achieve the goals we have set for ourselves by 2030 – for people, for the environment and for our shared future. By demonstrating concrete business models and pathways to transforming food systems, the Food Action Alliance is a great example of a new approach that can make a significant contribution to the 2021 Food System Summit and, more importantly, deliver on aspirations of countries and all our people."
The Food Action Alliance will be initially active in Latin America, Africa, India and South-East Asia. Various multistakeholder consultations are taking place to identify flagship opportunities for improving the scale and sustainability of existing agricultural value chains. Expert groups focused on generating and disseminating knowledge and developing new solutions on issues such as resilient farming practices, financial solutions and technology platforms will support existing and new initiatives.
"The Food Action Alliance provides the links between projects, initiatives and organizations needed to achieve change at scale. Together, we believe that coordinated action has the potential to improve the economic livelihoods of hundreds of millions of smallholder farming families and create a sustainable food system for future generations", said Gilbert F. Houngbo, President of IFAD.
Six months after coup, Myanmar's political, rights and aid crisis is worsening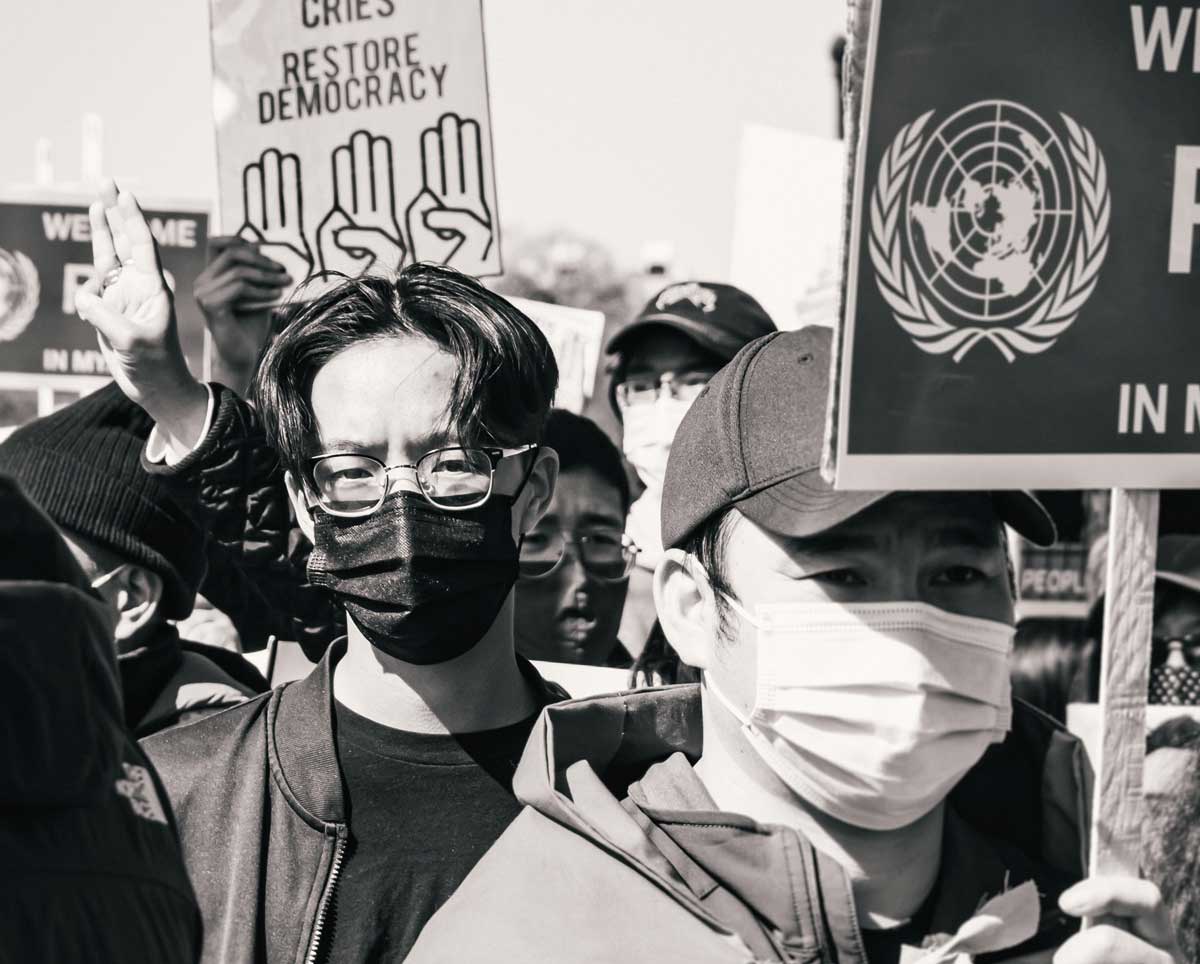 It's been six months since the military coup in Myanmar where there's grave concern over the widening impact of the deepening political, human rights and humanitarian crisis affecting the country's people.
Speaking to UN News, the organisation's top aid official in Myanmar, Acting Humanitarian and Resident Coordinator Ramanathan Balakrishnan, described how people have been severely impacted across the country since the junta's power grab on 1 February.
"The situation in the country is characterized now by instability and a deteriorating socio-economic and security situation and to add to that we have a raging third wave of COVID-19," said Mr. Balakrishnan in an exclusive interview.
Highlighting the ongoing nature of armed resistance to State security forces "in several ethnic minority areas" including in the states of Shan, Chin and Kachin, the UN official said that more than 200,000 people had been uprooted from their homes there to date.
Displacement swelling
In Rakhine state before the coup, the UN Humanitarian Response Plan pointed to some one million people including internally displaced people in need of urgent assistance, but "this number has only swelled", Mr. Balakrishnan insisted.
More widely, "following the coup, an additional two million were identified as those in urgent need of humanitarian aid, and those were largely in the urban areas of Yangon and Mandalay", he said, adding that the intensification of clashes and the worsening socio-economic situation was pushing "tens of thousands of people" into a humanitarian space" every day.
Echoing concerns over rights abuses by UN Children's Fund UNICEF and others, Mr. Balakrishnan condemned the ongoing and widespread use of lethal force by the military against civilian protesters.
Rising hunger
Looking ahead, the UN's priorities include ensuring that millions of people do not fall further into hunger, the aid official said. "There has been an increase in the price of basic commodities for many people…this has also resulted in a reduction of the nutrition value of the food basket that people usually take as they substitute their regular food with cheaper, more readily available items."
Turning to Myanmar's health system, which is facing extreme pressure because of the coronavirus crisis, as well as attacks on medical personnel and facilities in Myanmar – and a civil disobedience movement by some health professionals – Mr. Balakrishnan warned that even basic services had been disrupted across the country.
Standing with Myanmar's people
In a message of solidarity, the top aid official insisted that the UN remained committed to respecting the will of the country's people.
This was despite limited access to parts of the country linked to security concerns and disruption to the banking system, which limited the UN's ability to transfer funds to humanitarian partners responsible for delivering aid.
"The UN will continue to call out human rights violations and is committed to stay and deliver lifesaving humanitarian assistance to the people of Myanmar, in addition to sending in the COVID-19 response," Mr. Balakrishnan said.
Delta variant, a warning the COVID-19 virus is getting 'fitter and faster'
Cases and deaths resulting from COVID-19 continue to climb worldwide, mostly fuelled by the highly transmissible Delta variant, which has spread to 132 countries, said the head of the World Health Organization (WHO) on Friday.
Almost 4 million cases worldwide were reported last week to WHO and the agency expects the total number of cases to pass 200 million, in the next two weeks.
"And we know this is an underestimate", underscored Director-General Tedros Adhanom Gebreyesus during his regular COVID-19 briefing.
Infections have increased in every region of the world, with some even reaching 80 per cent more in the past month. In Africa, deaths have increased by 80 per cent over the same period, the official warned.
Overwhelmed
Tedros blamed the rise of cases on increased social mixing and mobility, the inconsistent use of public health and social measures, and inequitable vaccine use. He said "hard-won gains" are in jeopardy or being lost, and health systems in many countries are increasingly overwhelmed.
"WHO has warned that the COVID-19 virus has been changing since it was first reported, and it continues to change. So far, four variants of concern have emerged, and there will be more as long as the virus continues to spread", he underscored.
A higher viral load
Lead WHO epidemiologist and COVID-19 technical lead, Dr. Maria Van Kerkhove, explained that the Delta variant has certain mutations that allow the virus to adhere to human cells more easily and that experts are also seeing a higher viral load in individuals infected.
She called Delta "dangerous and the most transmissible SARS-CoV-2 virus to date".
"There are some laboratory studies that suggest that there's increase replication in some of the modelled human airway systems", she added.
In terms of severity, Dr. Van Kerkhove highlighted that there has been an increase in hospitalizations in certain countries affected by the variant, "but we haven't yet seen an increase in mortality".
The WHO expert reminded that although there is some data that suggest that people vaccinated can get infected and transmit the variant, the likelihood is much reduced after the second dose has been administered and reached full effectiveness.
She also clarified that Delta is not specifically targeting children as some reports have suggested, but warned that as long as the variants are circulating, they will infect anybody that is not taking proper precautions.
Continuing to evolve
"It's in the virus's interests to evolve, viruses are not alive they don't have a brain to think through this, but they become more fit the more they circulate, so the virus will likely become even more transmissible because this is what viruses do, they evolve they change overtime", Dr. Van Kerkhove warned, echoing Tedros' remarks.
"We have to do what we can to drive it down", she added, reminding that public health and social measures do work against the Delta variant, and that the vaccines do prevent disease and death.
Dr. Michael Ryan, Executive Director of WHO Health Emergencies, said that even with the virus getting "faster and fitter" the gameplan does not change, but It needs to be implemented more efficiently.
"Delta is a warning that this virus is evolving, but it is also a call to action before more dangerous variants emerge", he said.
Shots for Africa
Last month, the WHO chief announced the setting up of a technology transfer hub for mRNA vaccines In South Africa as part of WHO's efforts to scale up production of vaccines and their distribution in Africa.
"Today we have taken another step forward, with a letter of intent that sets out the terms of collaboration signed by the partners in the hub: WHO; the Medicines Patent Pool; Afrigen Biologics; the Biologicals and Vaccines Institute of Southern Africa; the South African Medical Research Council and the Africa Centres for Disease Control and Prevention", Tedros explained.
He added that WHO's goal remains to aid every country in vaccinating at least 10% of its population by the end of September, at least 40% by the end of this year, and 70% by the middle of next year.
"We are a long way off achieving those targets. So far, just over half of countries have fully vaccinated 10% of their population, less than a quarter of countries have vaccinated 40%, and only 3 countries have vaccinated 70%", Tedros warned.
The WHO head reminded that the global distribution of vaccines remains unjust, despite expert warnings and appeals, and said that all regions remain at risk, "none more so, than Africa".
"On current trends, nearly 70% of African countries will not reach the 10% vaccination target by the end of September", he cautioned.
New tool to fight Delta
Tedros also announced that on response to the Delta surge, the WHO's Access to COVID-19 Tools Accelerator is launching the Rapid ACT-Accelerator Delta Response, or RADAR, and issuing an urgent call for 7.7 billion U.S. dollars for tests, treatments and vaccines.
Investing in Key Sectors to Help Nigeriens Recover From the Health and Security Crises
The Covid-19 pandemic crisis and the security situation continue to undermine the Nigerien economy, wiping out years of hard-won gains in poverty reduction. A number of fiscal policy options are, however, available to help the country enhance public expenditure efficiency and increase its GDP by up to 2%. These are the findings of the World Bank's latest economic and poverty update for Niger published today.
The report titled "Maximizing Public Expenditure Efficiency for Rebuilding Better" analyzes the impact of the health and security crises on Niger's economy. The economy grew by 5.9% in 2019, but slowed to 3.6% in 2020, as a result of the combined impact of these crises. This sharp downturn increased poverty levels and pushed an additional 400,000 people into extreme poverty.
"Nigeriens have been hard hit by the volatile security situation and these long months in the pandemic, with hundreds of thousands of children being kept out of school and deprived of proper health care, which will adversely affect their future," notes Joelle Dehasse, World Bank Country Manager for Niger. "Turning this situation around will require massive and effective investments in human capital over the next few years."
The report notes that these investments must be accompanied by bold structural and sectoral reforms aimed, among other things, at mobilizing more domestic resources, modernizing the administration, including the civil service, and promoting sound, prudent, and transparent government spending.
The projections for 2021 are nevertheless positive and economic growth is expected to rebound to 5.5%, driven by the reopening of the border with Nigeria, the resumption of large investment projects, and the normalization of several supply chains. However, these projections remain subject to the duration of the pandemic and the availability of vaccines, as well as to climate hazards and their impact on agricultural production and livelihoods.
"The government of Niger has made tremendous progress in recent years in managing its public finances, giving high priority to social spending," says Paolo Di Lorenzo, World Bank Senior Economist and co-author of the report. "However, public expenditure pressures remain high, partly due to the deteriorating security situation. Against this backdrop, the authorities should take further steps to improve domestic resource mobilization and public spending efficiency."
The report's authors recommend reprioritization across a number of key sectors in order to ensure Niger's strong economic rebound. These recommendations aim to redirect government revenues to basic social services and essential public infrastructure in order to maximize growth opportunities and social welfare. "Implementing the recommendations in the education sector will help improve spending and reallocate resources within the sector," says Blaise Ehowe Nguem, Country Economist for Niger. "This will improve the quality of education, thereby reducing repetition and dropout rates."