UNEP, IUCN to launch new €20m programme on ecosystem-based adaptation
The UN Environment Programme (UNEP) and the International Union for Conservation of Nature (IUCN) are jointly launching the Global Fund for Ecosystem-based Adaptation [2020-2024], which aims to provide targeted and rapid support mechanisms through seed capital for innovative approaches to ecosystem-based adaptation. At the recently concluded UN Climate Change Conference (COP 25) in Madrid, the Federal Environment Ministry of Germany (BMU) announced that it would provide €20m for the new UNEP-IUCN programme, officially titled "Support for the Implementation and Upscaling of Ecosystem-based Adaptation."
Ecosystem-based adaptation (EbA) refers to the set of approaches that involve the management of ecosystems to reduce the vulnerability of human communities to climate change. The restoration of mangroves and coral reefs, for example, protects coastal areas from the impacts of rising sea levels, while planting and restoring vegetation on hillsides and mountains prevents erosion and landslides during extreme rainfall.
EbA is a key pillar of the movement to promote ecosystem-based, or nature-based, measures for climate change adaptation, which have gained scientific and policy interest over the past few years due to their multiple benefits for people and the planet.
Through its International Climate Initiative (IKI), the BMU is now increasing its financial commitments for ecosystem-based adaptation by around €60 million, which includes the new UNEP-IUCN programme.
Germany's Federal Environment Minister Svenja Schulze commented: "Nature often provides the best solutions for climate action and adaptation to climate change. In addition to climate action and nature conservation, such projects often bring social benefits as well: They help people in vulnerable developing countries in particular to adapt to climate change. People in these countries are often much more directly dependent on nature. This is equally true for agriculture and for coastal protection."
The multi-year Global EbA Fund, established by UNEP and IUCN, will draw on and support the growing momentum behind nature-based solutions and EbA, along with major movements such as the UN Decade on Ecosystem Restoration.
The Fund will have a specific focus on working with local NGOs and INGOs with relevant EbA experience and local presence, and with governments on specific gaps in technical knowledge and understanding.
"Nature-based solutions are increasingly recognized as integral to global climate action," said Inger Andersen, Executive Director of UNEP. "With this new programme, we are using the power of ecosystems to help societies adapt to climate change. Ecosystem-based adaptation is now being undertaken by more and more Governments and organizations all over the world."
"This work demonstrates that it's not only us that protects nature, but also nature that protects us," she added. "We are grateful to the Federal Environment Ministry of Germany for its support of this important initiative."
Nature-based solutions, including ecosystem-based adaptation, were a central pillar of the UN Climate Action Summit in September 2019, with the Global Commission on Adaptation (GCA) launching its eight Action Tracks for adaptation, along with a landmark report that argued for the increase of nature-based and ecosystem-based measures for climate change adaptation. UNEP will be leading the Action Track for nature-based solutions, and the results of the Global EbA Fund will contribute to addressing the barriers identified by the GCA process.
"In 2009, IUCN framed the concept of ecosystem-based adaptation, and since then has globally promoted its use to increase society's resilience to climate change," said Dr. Grethel Aguilar, Acting Director General of IUCN. "Ecosystem services and biodiversity are our best allies against climate change, and if we all use them wisely, both the planet and humanity will thrive. The generous contribution of the German government will help us scale up actions that put nature at the centre of sustainable development."
UNEP and IUCN will be supporting target countries in implementing EbA measures to meet their global plans and commitments. The measures funded by this programme will be supported by specific expertise- and capacity-building, while strengthening information, knowledge and political will for nature-based solutions to adaptation. To do so, IUCN and UNEP will draw on their extensive existing networks, tools and expertise, including Friends of Ecosystem-based Adaptation (FEBA), supported by IUCN, and the Global Adaptation Network, supported by UNEP.
The two organisations will serve as catalytic conveners by engaging key stakeholders to proactively scale up commitments through strategic partnerships, building on key high-level political processes.
The partnership between UNEP and IUCN will leverage a long history of EbA approaches and projects. Together, IUCN and UNEP have been involved in more than 80 EbA-related projects since 2010.
China: Developing Green Finance in Agriculture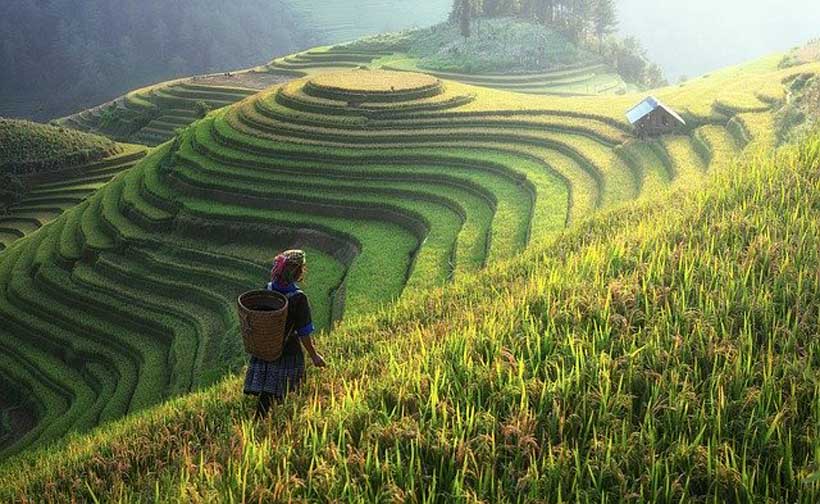 The World Bank's Board of Executive Directors today approved a loan of Euro 267.2 million (US$300 million equivalent) for China to foster green agriculture investments, development of standards, and technological innovation in Henan Province.
"This project will support the development of a green agriculture financing mechanism that can leverage commercial investments and boost the adoption of innovative technologies. It will help China fill the gap in green financing standards and generate useful lessons for other parts of China and increase the quality and safety of agricultural food products," said Martin Raiser, World Bank Country Director for China. "This project has a strong focus on promoting global public goods. Through this project, both China and the world will benefit from reduced agricultural pollution and emissions."
China's agricultural sector accounts for about 14 percent of global agriculture-related greenhouse gas (GHG) emissions and is a major source of two highly potent GHGs: methane and nitrous oxide. The level of green financing in China is low due to a general reluctance of financial sector institutions to finance agriculture investments, which are perceived to be of high risk and relatively low return. Lack of clear green finance standards has also been an obstacle to developing the market and attracting investments.
The Henan Green Agriculture Fund (GAF) Project will support the establishment of a dedicated investment facility to demonstrate the viability of financing green agriculture investments by providing financing for equity investments and on-lending to eligible firms. Henan is a major agricultural province with some of the highest output of livestock and grains in China. At the same time, agriculture has a significant environmental footprint. For example, Henan is the largest consumer of chemical fertilizers and the second largest consumer of pesticides in the country.
The GAF will finance green agriculture projects, which are defined as those that achieve more resource-efficiency and environmental sustainability, are climate-smart, and increase the quality and safety of agri-food produce. Financing could go towards green inputs and equipment production, reduction and elimination of chemical fertilizer, pesticide and plastic use through good agriculture practices; investments in technologies and practices that reduce GHG emissions and nutrients run-off; investments in improving energy and water resource use; and investments in reducing food loss and waste. Seventy-five percent of the project's activities are expected to provide direct climate co-benefits.
The project will foster the development of green agriculture financing standards based on globally accepted green investment principles, good practices and performance benchmarks, as applicable to China's agriculture sector. These would cover such areas as identification of green agriculture investments, improved processes for project evaluation and selection, management of social and environment risks, and measurement and reporting of environmental benefits based on scientific evidence, transparency and accountability.
The project will be implemented by the Henan Agriculture Development Fund Investment Corporation, which will serve as the fund manager and investor. About 60 small and medium enterprises (SMEs) in the agriculture sector are expected to receive financing through the GAF. The project should also have a catalyzing impact by directly and indirectly mobilizing public and private funds to support green agriculture investments by these SMEs.
Coronavirus and Climate Change: Observing World Water Day
A message from Dr. Jennifer Blanke Vice-President, Agriculture, Human and Social Development African Development Bank
The theme of this year's World Water Day, observed on 22 March, is water and climate change. The issue has taken on greater urgency, given the global spread of coronavirus, also known as COVID-19, responsible for over 13,000 deaths worldwide to date.
Hand washing with soap and water is the first line of protection against coronavirus. Scientists say soap renders coronavirus cells inactive and weakens the virus' bonds to the skin.
As we commemorate World Water Day today, an estimated 400 million people in Africa still lack access to safe water, while 700 million lack access to proper sanitation.
Another factor compounding these dire statistics is extreme weather events associated with the impact of climate change. Africa bears the brunt of increased frequency and severity of drought, floods and cyclones – perhaps more than other regions of the world – due to the continent's low capacity to adapt to and mitigate the impacts of climate change.
For example, in the Horn of Africa, drought is exacerbating water scarcity and negatively impacting human health and productivity. According to the United Nations Office for the Coordination of Human Affairs, drought in the Horn of Africa in 2019 left an estimated 11.7 million people severely food insecure and over 785,000 children severely malnourished. The Office notes that escalating food insecurity further heightens risks, especially for women and girls, who must travel longer distances to fetch clean water for household cleaning, washing, drinking and food preparation.
After two major cyclones tore through Mozambique last year, government officials said the extreme weather events and subsequent flooding had caused $2.8 billion in damages and losses. This included an estimated 190,000 damaged sanitation units and more than 211,000 people left with restricted water access.
World Water Day is an opportunity to look at Bank investments that support Sustainable Development Goal 6, which calls for the availability and sustainable management of water and sanitation for all, and Sustainable Development Goal 13 on climate action.
Over the last decade, the Bank invested an estimated $6.2 billion in water supply and sanitation services. The Bank has also mobilized an estimated $150 million in climate finance from the Global Environmental Facility and the Green Climate Fund to co-finance water sector projects. The outcome: an estimated 52 million people getting access to improved water supply and sanitation services. Over the next 12 years, Bank water sector investments aim to provide an additional 154 million people with the same, across Africa.
The Bank also supports the development of climate-resilient, multipurpose water programs for storage and sectoral use – like hydropower, irrigation and river regulation – as well as investments that mitigate water-related disaster risk such as drought, flooding, cyclones and storm surges. For example, the Bank and development partners financed $210 million for the Program for Integrated Development and Adaptation to Climate Change in the Niger Basin. Covering nine countries, the project promotes investment in climate-resilient, hydro-agricultural infrastructure, sustainable land and water management as well as strengthened climate risk management.
We are committed to supporting climate action in the water sector and to scaling up climate finance to achieve water security, while pursuing an Africa with more sustainable and inclusive economic development.
Washing hands with soap is a major defense against COVID-19. It reminds us that water can be a matter of life or death. As we observe World Water Day, the coronavirus pandemic is a call upon all of us – member states, development partners and allies in Africa and beyond – to prioritize and invest in water supply, sanitation and hygiene.
Happy World Water Day!
The wonder trees that nurture marine biodiversity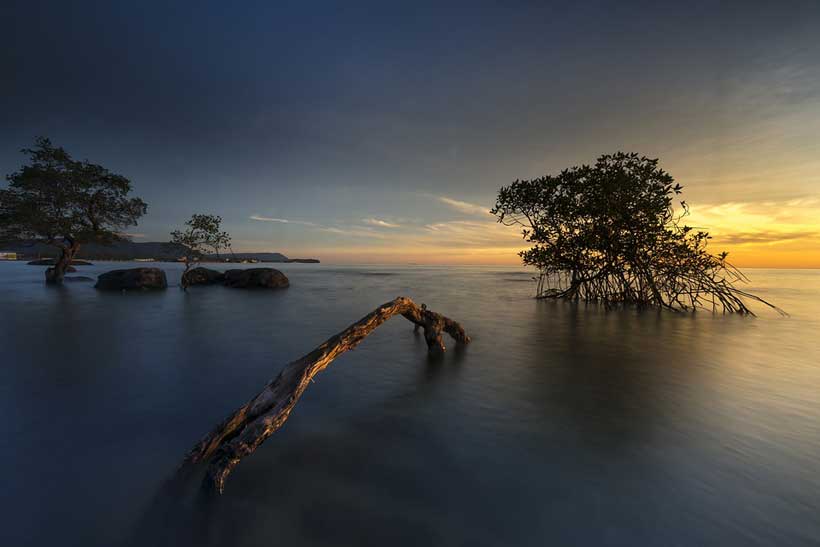 This 2020 theme for the International Day of Forests on 21 March is Forests and Biodiversity. It's an often-quoted fact that forests are home to 80 per cent of terrestrial biodiversity, but did you know that one type of tree also supports marine biodiversity—the mangrove tree?
Awareness is growing among governments and coastal communities in tropical countries of the incredible value of mangroves to nature and humans.
Mangrove trees store more carbon in their rich soils than most other trees, which makes them valuable assets in the fight against global heating. They also buffer storm surges, provide breeding grounds for fish and a host of other marine animals, and serve as effective filtration systems that prevent the influx of saline water which renders soil unfit for agriculture.
Biodiversity is an important ecosystem benefit that mangrove forests provide. Community and biodiversity-based ecotourism in mangroves can help generate incentives for conservation and sustainable management. Tourists have a wide range of options to experience the wonderful biodiversity of mangrove forests, including through boat tours, kayaking, snorkeling, bird watching and nighttime crab fishing. In Madagascar, mangroves are home to lemurs which are among the most threatened group of mammals on Earth. These "swamp lemurs" were documented for the first time just a few years ago.
"Mangrove forests are highly productive ecosystems and their conservation should be the first priority, but where mangroves have disappeared restoration has also proved possible," says United Nations Environment Programme (UNEP) coastal and marine ecosystems expert Gabriel Grimsditch.
In 2019, the United Nations issued a massive global call to action to mobilize the political and financial support necessary to restore the world's deforested and degraded ecosystems. The United Nations Decade on Ecosystem Restoration will run from 2021 to 2030 and emphasize scaling-up of restoration work to address the severe degradation of landscapes and forests, including mangroves, our marine blue forests.
Blue forests restoration initiatives
UNEP and partners have recently been involved in successful "mangrove carbon" finance projects in Kenya, and Madagascar under the Blue Forests Project.
These projects link mangrove forests to the global carbon market, with payments for mangrove carbon supporting the planting and conservation of mangrove trees and other benefits to the local communities. UNEP is currently supporting an exploration of how to similarly link seagrass ecosystems to the carbon market in Kenya.
As the world's only examples of successful community-based mangrove carbon finance projects, the Kenya and Madagascar experiences were profiled last month at the Indian Ocean Blue Carbon Hub Inaugural Think Tank workshop in Mauritius. Results of the workshop included recognition that biodiversity and other ecosystem benefits, including carbon sequestration, are vital for advancing a nature-based healthy blue economy.
In Ecuador, the Blue Forests Project has supported Conservation International's engagement with the government and local communities in setting up mangrove conservation agreements. Under the "socio manglar" programme, indigenous communities are given economic incentives—based on the rich biodiversity that mangrove's support—to commit to the conservation and protection of mangrove forests. In this case, the communities gain exclusive use of the red mangrove crab and black cockle, both lucrative national fisheries.
"Restoration is not a quick win. Considerable financial resources and sustained buy-in from local communities over many years are needed for successful restoration projects," says Isabelle Vanderbeck, a UNEP marine ecosystems expert working closely with the Global Environment Facility on mangrove restoration projects.
A Resolution adopted by the United Nations Environment Assembly on 15 March 2019 "encourages Member States to improve research, education and public awareness, build capacity for the sustainable management and restoration of mangroves and related ecosystems, and, to that end, consider ways in which to mobilize the necessary resources for developing countries."