"The rational is not thinkable without its other, the non-rational, and it never appears in reality without it."-Karl Jaspers, Reason and Existence (1935)
How shall Israel endure in a prospectively non-rational Middle East? It's a complicated question, many-sided and uniquely daunting. More precisely, this question represents an authentically existential query, one never to be answered with simplifying political rhetoric, banal discourse or otherwise empty witticisms. Above all, it is a bewilderingly complex and nuanced interrogative; one not suited for the easily misled or intellectually faint-hearted.
What is altogether plain is that Israel's nuclear forces and posture will soon become more urgently important to the country's national survival.[1]
Indeed, considering a broad assortment of more or less credible circumstances – some of which may even be unwanted and/or inadvertent – the Israeli survival imperative could sometime concern actual use of nuclear weapons.
How might this most markedly unwelcome circumstance actually come to pass? To begin to answer, this is not the time for any continuously unsystematic or fanciful scenarios of prospective nuclear perils. At the same time, it would be mistaken prima facie to assign precise probabilities to any specific categories of nuclear threat or nuclear conflict outcomes. This is the case, inter alia, because (1) mathematically meaningful probabilities must always be based upon the determinable frequency of pertinent past events; and (2) there are (fortunately, of course) no such events to consider.[2]
At a minimum, scholars and strategists should respond to these unprecedented sorts of challenge in regional or geographic terms, thereby highlighting the particular states or clusters of state-sub-state "hybrids" that seemingly pose the plausibly greatest security concern. For Israel, the most obvious locus of nuclear concern remains Iran, including the related prospect of future nuclear terror attacks by Iranian proxies, e.g., Hezbollah. Still, Sunni Arab fears of an impending "Persian Bomb" could prod Egypt and/or Saudi Arabia to "go nuclear" themselves.
Should that happen, Jerusalem could then have to deal with several nuclear "fronts" simultaneously, a staggering geopolitical challenge that would place utterly herculean intellectual expectations upon Israel's principal security planners.
How shall Israel best prevent its presence in any conflict involving nuclear weapons, whether as war, or "merely" as terrorism? In principle, at least, Jerusalem should be able to undertake certain timely and capable preemptions wherever needed, thus substantially diminishing any conspicuous risks of nuclear engagement.[3] Under authoritative international law,[4] such defensive first-strikes could conceivably qualify as authoritative expressions of "anticipatory self-defense."[5] Still, the primary obstacles, going forward, will not be narrowly jurisprudential. Even a defensive first strike that is fully legal might still not "work." Inevitably, for the IDF, principal decisional concerns will be broadly operational and specifically tactical. Not concerns about legality
This understanding brings Israel to the overriding need for coherent nuclear strategy and doctrine, a complicated requirement that must include a counter-value targeted nuclear retaliatory force that would be (1) recognizably secure from enemy first-strikes; and (2) recognizably capable of penetrating any such enemy's active defenses. To meet this imperative security expectation, the IDF would be well-advised to continue with its selective sea-basing (submarines) of designated portions of its nuclear deterrent force. To meet the equally important requirements of penetration-capability, it will have to stay well ahead of all pertinent enemy air defense refinements. Israeli planners will also need to ensure that their own strategic retaliatory forces are always able to get through any such modernized Iranian defenses, and that the Iranian leadership remains fully aware of this particular Israeli ability.
From the standpoint of making sure that relevant enemy states will have no meaningful doubts about Israel's capacity to launch "assuredly destructive" retaliations for certain aggressions, Jerusalem will soon need to consider a partial and possibly incremental end to its longstanding policy of "deliberate nuclear ambiguity."[6] By selectively beginning to remove the "bomb from the basement," Israel's planners would then be able to better enhance the credibility of their country's indispensable nuclear deterrence posture. However counter-intuitive, any mere possession of nuclear forces can never automatically bestow credible nuclear deterrence.[7]
Also always necessary is that would-be aggressors (e.g., an already-nuclear Iran) believe that Israel has (1) the willingness to launch these nuclear forces in retaliation; (2) nuclear forces that are sufficiently invulnerable to their own now-contemplated first-strike attacks; and (3) nuclear forces that can always be expected to penetrate their own deployed ballistic-missile and certain corollary air defenses. Israel, therefore, would soon benefit from releasing certain broad outlines of strategic information supporting the perceived utility and security of its relevant retaliatory forces.
This information, released solely to enhance Israeli nuclear deterrence, would center upon the targeting, hardening, dispersion, multiplication, basing, and yield of selected Israeli nuclear forces. Si vis pacem, para bellum atomicum. "If you want peace, prepare for nuclear war."
Israel must protect itself against Iran or any other potential nuclear aggressor not only by maintaining a credible nuclear deterrent force, but also by fielding assorted and appropriately intersecting elements of national defense. In this connection, an integral core of Israel's multi-layered active defenses is the Arrow or "Hetz." Still, the successfully-tested Arrow, even when reinforced by David's Sling and Iron Dome, could never achieve a sufficiently high probability of intercept to reassuringly protect Israeli civilians.[8] Its main purpose, therefore, will likely be for the protection of Israel's "hard" nuclear deterrence infrastructures, not for ultimate security of the nation's "soft" human targets.
Still, this could change, especially as Israel's Ministry of Defense continues to produce noteworthy breakthroughs in the development of laser-based weapon systems. Here, Rafael and Elbit Systems will be developing prototypes for advanced laser systems, including some designed for missile interception. In essence, the new Israeli technology will make it possible to develop effective interception systems at relatively low cost, thereby adding an additional layer of national defense protection.[9]
Once it is faced with a fully nuclear adversary in Tehran, Israel will need to convince this adversary that it possesses both the will and the capacity to make any intended Iranian nuclear aggression more costly than gainful. Still, no Israeli move from deliberate ambiguity to nuclear disclosure could meaningfully help in the case of an irrational nuclear enemy, whether appearing in Tehran or anywhere else. For dealing with irrational enemies, those enemies that would not value their own continued national survival more highly than any other preference or combination of preferences, even a comprehensive preemption could already be too late.
Eschatology could also matter here. To the extent that an Iranian leadership might authentically subscribe to certain end-times visions of the Shiite apocalypse, Iran – at least in principle – could sometime cast aside the obligations of rational behavior. Were this to happen, Iran could then effectively become a nuclear suicide-bomber in macrocosm. Nonetheless, this riveting but unverifiable prospect is highly unlikely, at least according to the necessarily imprecise forms of measurement available to strategic planners.
For Israel and its allies, it is time to further systematize inquiry about nuclear weapons and nuclear war in the Middle East. What are the tangibly precise circumstances under which Israel could find itself involved with any actual nuclear weapons use? To answer this most basic question, it will be most productive to respond within already well-established canons of logical analysis and dialectical reasoning. Accordingly, four pertinent and plausibly intersecting narratives or scenarios best "cover the bases": Nuclear Retaliation; Nuclear Counter Retaliation; Nuclear Preemption; and Nuclear War fighting.
(1) Nuclear Retaliation
Should an enemy state or alliance of enemy states launch a nuclear first-strike against Israel, Jerusalem would assuredly respond, and to whatever extent possible, with a nuclear retaliatory strike. If enemy first-strikes were to involve other forms of unconventional weapons known as chemical or biological weapons of mass destruction (WMD), Israel might launch a nuclear reprisal. This would depend, in presumptively large measure, upon Jerusalem/Tel Aviv's expectations of follow-on aggression and on its associated calculations of comparative damage-limitation.
If Israel were to absorb a massive conventional attack, a nuclear retaliation might still not be ruled out, especially if: (a) the state aggressors were perceived to hold nuclear, and/or other unconventional weapons in reserve; and/or (b) Israel's leaders were to believe that non-nuclear retaliations could not prevent annihilation of the Jewish State. A nuclear retaliation by Israel could be ruled out only in those circumstances where enemy state aggressions were entirely conventional, "typical" (that is, sub-existential, or consistent with previous historic instances of enemy attack in degree and intent), and hard-target directed (that is, directed only toward Israeli weapons and military infrastructures, and not at any "soft" civilian populations).
(2) Nuclear Counter retaliation
Should Israel feel compelled to preempt enemy state aggression with conventional weapons, the target state(s) response would largely determine Jerusalem's next moves. If this response were in any way nuclear, Israel would expectedly turn to an immediate nuclear counter retaliation. If this retaliation were to involve other weapons of mass destruction, Israel might then also feel pressed to take an appropriate escalatory initiative. Inter alia, any such initiative would reflect the presumed need for what is normally described in formal strategic parlance as "escalation dominance."
All would depend upon Jerusalem's judgments of enemy state intent and on its calculations of essential damage-limitation. Should the enemy state response to Israel's preemption be limited to hard-target conventional strikes, it is unlikely that the Jewish State would then move on to nuclear counter retaliations. If, however, the enemy conventional retaliation were plainly "all-out," and directed toward Israeli civilian populations, not just to Israeli military targets, an Israeli nuclear counter retaliation could not be ruled out.
It would appear that such a counter retaliation could be ruled out only if the enemy state's conventional retaliation were entirely proportionate to Israel's preemption, confined exclusively to Israeli military targets, circumscribed by the legal limits of "military necessity" (a limit routinely codified in the law of armed conflict), and accompanied by various explicit and suitably verifiable assurances of non-escalatory intent.
(3) Nuclear Preemption
It is difficult to imagine that Israel would ever decide to launch a preemptive nuclear strike. Though circumstances could arise wherein such a strike would in fact be perfectly rational, it is unlikely that Israel would ever allow itself to reach such dire circumstances. Moreover, unless the nuclear weapons involved were somehow used in a fashion consistent with the laws of war (aka the law of armed conflict), this extreme form of preemption would represent an especially serious violation of international law.
But even if such consistency were possible, the psychological/political impact on the wider world community would be exceedingly negative and far-reaching. In essence, this means that an Israeli nuclear preemption could be expected only (a) where Israel's enemies had acquired nuclear and/or other weapons of mass destruction judged capable of annihilating the Jewish State; (b) where these enemies had made it clear that their military intentions paralleled their capabilities; (c) where these enemies were believed ready to begin an active "countdown to launch;" and (d) where Jerusalem/Tel Aviv believed that Israeli non-nuclear preemptions could not possibly achieve the minimum needed levels of damage-limitation – that is, levels consistent with physically preserving the state.
(4) Nuclear War fighting
Should nuclear weapons ever be introduced into an actual conflict between Israel and its enemies, either by the Jewish State or by a pertinent foe, nuclear war fighting, at one level or another, would ensue. This would be true so long as: (a) enemy first-strikes would not destroy Israel's second-strike nuclear capability; (b) enemy retaliations for an Israeli conventional preemption would not destroy Jerusalem/Tel Aviv's nuclear counter retaliatory capability; (c) Israeli preemptive strikes involving nuclear weapons would not destroy adversarial second-strike nuclear capabilities; and (d) Israeli retaliation for enemy conventional first-strikes would not destroy enemy nuclear counter retaliatory capability.
It follows that in order to satisfy its essential survival requirements, Israel must now take reliable steps to ensure the likelihood of (a) and (b) above, and also the corollary unlikelihood of (c) and (d).
In all cases, Israel's nuclear strategy and forces must remain oriented to deterrence; never to war fighting. With this obligation in mind, Jerusalem has likely already taken steps to reject any discernible reliance upon tactical or (relatively) low-yield "battlefield" nuclear weapons, and on any corresponding plans for implementing counter-force targeting doctrines. For Israel, at all times, nuclear weapons can only make sense for deterrence ex ante, not revenge ex post.
But, always, rationality must remain a key factor in operational deterrence logic. More exactly, in order simply to be sustained in world politics, any viable system of deterrence must be premised on an assumption of rationality. Essentially, each side must consistently believe that the other side will value its continued national survival more highly than any other preference or combination of preferences.
Indisputably, during the Cold War era, rationality proved to be a consistently reasonable and correct assumption. Now, however, Israel may have good reason to doubt that MAD could work as well in the Middle East as it did more generally during the prior time of US-Soviet bipolarity.[10] Over time, of course, principal decision-makers in Tehran could turn out to be just as rational as were the Soviets. Still, there is no adequately reassuring way of knowing this for certain, or, for that matter, of predicting Iranian rationality with any previously-tested bases of reliable judgment.
This brings up the most sobering question of all: What if Iran should become fully nuclear, and if any consequent nuclear deterrence posture would fail to prevent all-out war between Iran and Israel? What, exactly, would happen if Tehran were to actually launch a nuclear attack against Israel, whether as an atomic "bolt from the blue" or as a result of escalation, whether deliberate or inadvertent?
In considering this basic question, it must be kept in mind that even a fully rational Iranian adversary could sometime decide to launch against Israel because of (1) incorrect information used in its vital decisional calculations; (2) mechanical, electronic, or computer malfunctions; (3) unauthorized decisions to fire in the national decisional command authority; (hacking-related issues); or (5) coup d'état.
In a conceivably worst case scenario, irrational Iranian adversaries would not value their own national survival most highly. Nonetheless, even as irrational foes, they could still maintain a determinable and potentially manipulable ordering of preferences. It follows that Jerusalem should immediately undertake to best anticipate this expected ordering, and to fashion corollary deterrent threats accordingly.[11]
It should also be borne in mind that Iranian preference-orderings would never be created in a vacuum. Eventually, assorted strategic developments in "Palestine" and elsewhere in the region could impact such hierarchies, either as "synergies," (where the "whole" of any determinable effect would exceed the ascertainable sum of its "parts")[12] or (in more expressly military language) as "force multipliers."
There is more. It is frequently assumed that Israel's nuclear weapons and strategy are more-or-less irrelevant to non-nuclear threats. This erroneous assumption stipulates, albeit implicitly, that (1) extraordinary ordnance and posture must refer exclusively to roughly parallel levels of prospective enemy destructiveness; and that (2) non- nuclear threats – whether from individual states, alliances of states, terror-group adversaries, or even state-terror group "hybrids" – must be symmetrically countered. The invariant core of any such assumption is the following seemingly plausible proposition:
A particular state's deterrent credibility must be directly proportionate to calculable enemy threats.
At first, this "symmetry hypothesis" appears to make perfect sense. But authentic strategic truth can sometimes be "recalcitrant" or counter-intuitive. Moreover, because virtually all of the Israel-related scenarios or cases in point are effectively sui generis, or without any determinable precedent, nothing of any true scientific value can ever be extrapolated concerning probabilities.
It follows, inter alia, that any meaningful assessment of hypotheses regarding "asymmetrical deterrence" and Israel's security must always be limited to formal deductive analysis. This indicates, among other things, assessments that are effectively devoid of tangible empirical content, yet are still defined by appropriately stringent standards of internal consistency, logical interconnectedness and conspicuously dialectical thinking.
How to begin? A good place would be with the "grey area" of future enemy non-nuclear threats that are nonetheless unconventional. Most obvious, in this connection, would be credible enemy threats of biological warfare and/or biological terrorism. While assuredly non-nuclear, biological warfare attacks could conceivably also produce grievously injurious or even near-existential event outcomes for Israel.
In principle, at least, Israeli policies of calibrated nuclear reprisal for certain BW attacks could exhibit significant deterrent effectiveness against three of the four above-mentioned adversarial categories. Such policies would be inapplicable, prima facie, against threats from those terror groups functioning without any recognizable state alignments. In such expectedly residual cases, Israel – then plainly lacking operational targets suitable for nuclear ordnance – would need to "fall back" upon the more usual arsenal of counter-terrorist methods and options.
This tactical retrogression would be required even if the particular terror group involved (e.g., Sunni ISIS or Shiite Hezbollah) had already revealed plausible nuclear threat capabilities.
What about those enemy conventional threats that would involve neither nuclear nor biological attack, but were still prospectively massive enough to produce existential or near-existential consequences for Israel? On its face, it seems that in such cases, a would-be conventional aggressor could still reasonably calculate that Jerusalem might actually make good on certain of its decipherable nuclear deterrent threats. Here, however, Israel's nuclear deterrent threat credibility could be largely dependent upon an antecedent doctrinal shift from "deliberate nuclear ambiguity" (the so-called "bomb in the basement") to more overt "nuclear disclosure."
Why? The correct answer must hinge on Israel's presumed operational flexibility. More specifically, in the absence of any prior shift away from deliberate ambiguity, a would-be aggressor state might still not really understand or accept that the Jewish State already had available to it a sufficiently broad array of graduated nuclear retaliatory responses. Of course, in the presumed absence of such an array, Israeli nuclear deterrence could be correspondingly diminished.
As a direct consequence of its presumptively diminished nuclear ambiguity, Jerusalem could signal its relevant adversary or adversaries that Israel would wittingly cross the nuclear retaliatory threshold to punish any acts of existential or near-existential aggressions. Using more expressly military parlance, Israel's shift to apt forms of nuclear disclosure would then be intended to ensure "escalation dominance."
In any such dynamic and complex scenario, the nuclear deterrence advantages for Israel of moving beyond traditional nuclear ambiguity would lie in the compelling signal it is then able to send to particular foes. This signal warns that Jerusalem would not necessarily be limited to launching retaliations that employ only massive and disproportionate levels of nuclear force. A timely Israeli move from ambiguity to disclosure – as long as this doctrinal move were suitably nuanced and incremental – could substantially improve Israel's prospects for deterring large-scale conventional attacks with more consciously "tailored" nuclear threats.
Finally, it is well worth noting that these stipulated nuclear deterrence benefits could extend to certain Israeli threats of nuclear counter-retaliation. If, for example, Israel should sometime consider initiating a non-nuclear defensive first-strike against Iran, a preemptive act that would persuasively represent "anticipatory self-defense" under authoritative international law, the likelihood of suffering any massive Iranian conventional retaliation might then be diminished. In essence, by following a properly prepared path from deliberate nuclear ambiguity to nuclear disclosure, Jerusalem could expectedly upgrade its indispensable deterrence posture vis-à-vis both nuclear and non-nuclear threats.
Ultimately, Israel's nuclear deterrent must be oriented toward dominating escalation at multiple levels of conventional and unconventional enemy threats. For this to work, Israeli strategic planners must bear in mind that all future operational success will depend upon prior formulations of national nuclear doctrine.
Looking over this comprehensive delineation of scenarios that could lead Israel to some future involvement in a regional use of nuclear weapons, Jerusalem will need to steadily refine and systematize its core strategic doctrine. In certain circumstances, the tangible results of any such enhancements could also impact United States security.[13] In absolutely all conceivable circumstances, Israel would need to carefully prepare for both rational and non-rational adversaries.[14]
Though the likelihood of the latter is plausibly small, the consequences could be literally incalculable.

---
[1] Among other things, this development will call for a suitably incremental end to "deliberate ambiguity" or "the bomb in the basement." The point here would not be to reveal the obvious – that is, that Israel merely has the bomb – but rather to communicate to all prospective adversaries (and pertinent allies) that its nuclear forces are usable (not too destructive), well-protected and fully capable of penetrating any nuclear enemy's active defenses. See earlier, by this author: Louis René Beres, "Changing Direction? Updating Israel's Nuclear Doctrine," INSS, Israel, Strategic Assessment, Vol. 17, No.3., October 2014, pp. 93-106. See also: Louis René Beres, Looking Ahead: Revising Israel's Nuclear Ambiguity in the Middle East, Herzliya Conference Policy Paper, Herzliya Conference, March 11-14, 2013 (Herzliya, Israel); Louis René Beres and Leon "Bud" Edney, Admiral (USN/ret.) "Facing a Nuclear Iran, Israel Must Rethink its Nuclear Ambiguity," U.S. News & World Report, February 11, 2013; 3pp; and Professor Louis René Beres and Admiral Leon "Bud" Edney, "Reconsidering Israel's Nuclear Posture," The Jerusalem Post, October 14, 2013. Admiral Edney served as NATO Supreme Allied Commander, Atlantic (SACLANT).
[2] There has never been a nuclear war. The use of atomic bombs against Japan at the end of World War II represented the inclusion of nuclear weapons in a non-nuclear conflict.
[3] Historically, Israel's two major preemption operations concerned with an eventual adversarial access to nuclear weapons were Operation Opera (1981) and Operation Orchard (2007). Much less is known about "Orchard" than about "Opera." In brief, Prime Minister Ehud Olmert reasserted the 1981 "Begin Doctrine," only this time in reference to perceived dangers from the Deir ez-Zor region of Syria. Later, in April 2011, the U.N.'s International Atomic Energy Agency (IAEA) confirmed that the bombed Syrian site had been a developing nuclear reactor. Olmert's decision on "Orchard" – like Begin's earlier one on "Opera" – proved substantially gainful not only for Israel, but also derivatively, for the United States and others.
[4] Regarding international law, it is ultimately deducible from natural law, which is the foundation of both US and Israeli municipal (domestic) law. Inter alia, according to Blackstone, each state is expected "to aid and enforce the law of nations, as part of the common law." See William Blackstone, Commentaries on the Laws of England, Book 4, "Of Public Wrongs." Lest anyone question the significance of Blackstone, we need merely to recollect that his Commentaries represent the original and authoritatively core foundation of United States law, and that they are themselves ultimately based on various scriptural sources. International law is most expressly incorporated into U.S. law by Article 6 of the U.S. Constitution (the "Supremacy Clause"), and also by certain U.S. Supreme Court decisions, especially the Paquete Habana (1900).
[5] In jurisprudential terms, it is always necessary to distinguish preemptive attacks from "preventive" ones. Preemption is a military strategy of striking an enemy first, in the expectation that the only likely alternative is to be struck first oneself. A preemptive attack is launched by a state that believes enemy forces are about to attack. A preventive attack, however, is launched not out of any genuine concern about "imminent" hostilities, but rather for fear of some longer-term deterioration in a pertinent military balance. Hence, in a preemptive attack, the length of time by which the enemy's action is anticipated is very short, while in a preventive strike, the interval is considerably longer. A problem for Israel, in this specific regard, is not only the practical difficulty of determining imminence, but also the fact that delaying a defensive strike until some more appropriately ascertained imminence is acknowledged could be "fatal."
[6] On identifying pertinent nuclear disclosure options, see: Louis René Beres, "Israel's Strategic Doctrine: Updating Intelligence Community Responsibilities," International Journal of Intelligence and Counterintelligence, Vol. 28. No.1., Spring 2015, pp. 89-104.
[7] On this most ambiguous element of Israeli nuclear deterrence, see: Professor Louis René Beres and Admiral (USN/ret.) Leon "Bud" Edney, "Israel's Nuclear Strategy: A Larger Role for Submarine Basing," The Jerusalem Post, August 17, 2014; and Professor Beres and Admiral Edney, "A Sea-Based Nuclear Deterrent for Israel," Washington Times, September 5, 2014.
[8] On prospective shortcomings of Israeli BMD, see: Louis René Beres and (Major-General/IDF/ret.) Isaac Ben-Israel, "The Limits of Deterrence," Washington Times, November 21, 2007; Professor Louis René Beres and M-G Isaac Ben-Israel, "Deterring Iran," Washington Times, June 10, 2007; and Professor Louis René Beres and M-G Isaac Ben-Israel, "Deterring Iranian Nuclear Attack," Washington Times, January 27, 2009.
[9] https://www.israeldefense.co.il/en/node/41573
[10] For scholarly writings by this author on the global security implications of this earlier era of bipolarity, see: Louis René Beres, "Bipolarity, Multipolarity, and the Reliability of Alliance Commitments," Western Political Quarterly, Vol. 25, No.4., December 1972, pp. 702-710; Louis René Beres, "Bipolarity, Multipolarity, and the Tragedy of the Commons," Western Political Quarterly, Vol. 26, No.4., December 1973, pp, 649-658; and Louis René Beres, "Guerillas, Terrorists, and Polarity: New Structural Models of World Politics," Western Political Quarterly, Vol. 27, No.4., December 1974, pp. 624-636.
[11] On deterring a potentially irrational nuclear adversary, most notably Iran, see: Louis René Beres and General John T. Chain, "Could Israel Safely Deter a Nuclear Iran?" The Atlantic, August 2012; and Professor Louis René Beres and General John T. Chain, "Israel and Iran at the Eleventh Hour," Oxford University Press (OUP Blog). February 23, 2012. General Chain (USAF/ret.) served as Commander-in-Chief, U.S. Strategic Air Command (CINCSAC).
[12] The concept of "synergy" here would concern not only various intersections of national security policy, but also of possible attack outcomes. In this connection, regarding the expected consequences of specifically nuclear attacks, by this author, see: Louis René Beres, Apocalypse: Nuclear Catastrophe in World Politics (Chicago: The University of Chicago Press, 1980); Louis René Beres, Mimicking Sisyphus: America's Countervailing Nuclear Strategy (Lexington, Mass: Lexington Books, 1983); Louis René Beres, Reason and Realpolitik: U.S. Foreign Policy and World Order (Lexington, Mass: Lexington Books, 1984); and Louis René Beres, Security or Armageddon: Israel's Nuclear Strategy (Lexington, Mass: Lexington Books, 1986), See also, Ami Rojkes Dombe, "What Happens When a Nuclear Bomb Hits a Wall?" Israel Defense, September 10, 2016.
[13] On vital interconnections between US and Israeli nuclear security, see special 2016 monograph (published at Tel Aviv University) co-authored by Professor Beres and US General (USA/ret.) Barry R. McCaffrey:
https://sectech.tau.ac.il/sites/sectech.tau.ac.il/files/PalmBeachBook.pdf
See also: http://ssi.armywarcollege.edu/pubs/parameters/Articles/07spring/beres.pdf
[14] If facing a still non-nuclear adversary in Iran, a preemption option could appear prudent and rational to Israel if executed before certain new protective measures were put in place. Whether in regard to rational or non-rational foes, newly- nuclear adversaries in Tehran could sometime implement protective measures that would pose significant additional hazards to the Jewish State. Designed to guard against preemption, either by Israel or by other regional enemies, these specific measures would involve the attachment of "hair trigger" launch mechanisms to nuclear weapon systems and/or the adoption of "launch on warning" policies, possibly coupled with hazardous pre-delegations of launch authority. This means, in essence, that Israel would be increasingly endangered by once-preventable steps taken by a nuclear enemy to prevent a preemption. Optimally, Israel would do everything possible to prevent such steps, especially because of expanded risks of accidental or unauthorized attacks against its own armaments and populations. Yet, if such steps were allowed to become a fait accompli, Jerusalem might still calculate, and accurately, that a residual preemptive strike would be both legal and cost-effective: The expected enemy retaliation, however damaging, could still appear more tolerable than the expected consequences of any enemy first-strikes (strikes likely occasioned by the failure of certain "anti-preemption" protocols).
From Strategic depth to Strategic Threat
On 30th December, in broad daylight, the hub of Peshawar and administrative center was targeted by the militants with the explosion of a deadly bomb, leaving behind 59 dead. the attack was claimed by the TTP Mohmand faction, whose leadership is allegedly residing in Afghanistan.
The issue of Afghanistan has occupied a consequential part of the strategic culture of Pakistan. Following the partition, with the specter of Pashtun Nationalism looming large on the horizon, policymakers in Pakistan opted for a policy of Islamic Nationalism, which became a cornerstone of strategic thinking during the era of General Zia-ul-Haq in the wake of the Afghan Jihad War in 1979.
Islamic nationalism was seen as only the means through which Pashtun Nationalism could be confronted and subdued.
With the adoption of this policy, swiftly and generously, aid from US, UAE and KSA began to inundate the territory of Pakistan, carrying each their national interests with it.
Within a short period, thousands of new madrassas were established, cultivating youngsters by inculcating the concept of Jihadism.
This formation of an alliance with the US in the Afghan Jihad war was driven by two factors; first, to subdue the dominant Pashtun Nationalism with Islamic Nationalism, and second, to establish an Islamabad-friendly regime in Afghanistan so that any terrorist group could not use Afghan territory while keeping New Delhi at bay, by not letting her establish any foothills in Afghanistan.
Fast forward to 2023, the facts on the group are now telling a different story. Islamabad's once "strategic depth" is now becoming a distant dream as Pakistan is now confronted by insurmountable problems from all sides
According to the data collected by the Pak Institute of Peace Studies, Islamabad, in the past two years, Pakistan has encountered 100 terrorist attacks, and yet, the recent surge of terrorist activities shows no signs of cooling down in the formidable future. This is clearly evident from the news coming from the casualties on the daily basis of the security forces of Pakistan, mostly on the border areas, and the havoc it caused to the infrastructure. Officially, it is estimated that in the last six months, around 350 military personnel have lost their lives, while the outlawed group has claimed even more than that. These occurrences elucidate the failure of the Pakistani state to effectively persuade the Taliban regime not to let the Afghan territory be used against Pakistan's territorial sovereignty.
Now, who is to be blamed, if not our flawed policies, and the masters of shortsightedness. Lately, upon leaving his office, the ex-COAS scapegoated Imran Khan who initiated the dialogue with the outlawed group, TTP. While Imran Khan, on the other hand, said that the army was on board when the negotiation decision with the TTP was taken. These inconspicuous but powerful statements clearly reveal the uncertainty of our policymakers while dealing with a sensitive topic. Besides that, it also shows how the wizards of policy making and governance are not on the same page while dealing with the Afghanistan issue.
Recently, a document was released by the National Counter Terrorism Authority and presented to the senate committee where discoveries pertaining to the ceasefire between the government of Pakistan and TTP were made. According to the report, the truce initiated by the PTI-led government last year had utterly emboldened the TTP.
With careful planning and shrewd utilization of resources, they were able to revive themselves both logistically and materially. Once the truce between the two parties was over, yet again, a surge in violent attacks was documented.
Beside the challenge of TTP, the Afghan Taliban shows no signs of a positive stance for the Durand line issue. In an interview, the information minister, Zabiullah Mujahid, said, "The issue of the Durand line is still an unresolved one, while the construction of fencing itself creates rifts between a nation spread across both sides of the border. It amounts to dividing a nation".
Another prominent concern is the time to time border shelling. On Dec 11, 2022, the Taliban forces heavily shelled a town on the outstrips of the Pakistani border leaving behind seven civilian casualties. A few days later, on Dec 15, another exchange of fire took place, claiming one more life. Although, not much heed has been given to such reports, it seems the genie is out of the bottle now.
Last but not least, the Taliban had even scapegoated Pakistan through which the US drone was flown that killed the top Al Qaeda leader, Ayman Al Zawahiri.
The cherry on top happens to be the readiness of the new system to exhibit the disposition of candour in their interactions with India. The Taliban defense minister, Mullah Yahoob, has expressed his desire for the training of Afghan troops by Pakistan's arch-rival India. If this goes according to the plan, the dependent policy of Afghanistan on Pakistan will diminish and create new challenges for Pakistan. India, by using Afghan soil, can embolden and logistically support the liberation movements in Balochistan and Sindh, thus exacerbating the already precarious situation.
It's high time to call a spade a spade!
Our Policymakers must accept that the old strategic depth policy inside Afghanistan has begun to fail. Taliban 2.0 are entirely in contrast to its 1.0 version in terms of statecraft. They are more pluralistic in their policies, and economically, they are far more independent compared to the 90s. This time, they want to cut deals directly with the regional states. It may appear unilateral, but rather it's a mutually desired engagement as other states have expressed interests in establishing relations with Afghanistan while considering them a new and inevitable reality.
Meanwhile, China is feathering its own nest, and is more concerned about the East Turkmenistan Islamic Movement (ETIM). She does not want Afghanistan to be used as a pawn by an insurgent group in the great game against China.
Considering these dynamic global realities, Pakistan must abrogate its old policy towards Afghanistan and focus on a unanimous policy towards Afghanistan. For the success of a cohesive and effective anti-terrorism strategy it is contingent for policymakers to align their viewpoints against the new resurgent groups. And last but not the least , a collective action by the military, politicians and society is necessary.
Deciphering Quad's expanding agenda in the Indo-Pacific
Here, I try to throw light on Quad's expanding regional agenda and where it is headed to.
The third in-person Quad summit took place in Japan's Hiroshima, the rendezvous of this year's G7 summit. Following each annual summit, regional observers eagerly look forward to big announcements from the four-nation grouping, via its joint statements. The Hiroshima statement mentions, "Harnessing our collective strengths and resources, we are supporting the region's development, stability, and prosperity through the Quad's positive, practical agenda. Our work is guided by regional countries' priorities and responds to the region's needs."
Every Quad summit since 2021 had seen new initiatives or collaborative ventures being announced that are further carried ahead in the subsequent years. At the same time, Quad has also supported the leadership role of regional institutions of the broader Indo-Pacific region such as the Association of Southeast Asian Nations (ASEAN), the Pacific Islands Forum (PIF), and the Indian Ocean Rim Association (IORA). The grouping also welcomed the Indo-Pacific vision statements of these organisations and also of extra-regional countries and organisations like the European Union (EU).
An oft-repeated sentence in all Quad joint statements is "the promotion of free, open and inclusive Indo-Pacific with respect for a rules-based order and international law", which hints that the grouping has a "balancing character" against coercive behaviour by any regional power. However, the tangible areas of cooperation of the grouping had kept hard security at bay, until recently.
Even though the Quad is not a collective security alliance, the meeting of military chiefs of the four Quad nations in California, United States, earlier this month, in a clear indication of enhanced security cooperation with apparently China in mind. Moreover, they have participated in the Malabar naval exercise four times – in 2007, 2020, 2021 and 2022. Later this year, Australia will host the 2023 edition of Malabar naval exercise. Meanwhile, Quad's Maritime Security Working Group held its first meeting in Washington earlier this year.
Hiroshima 2023
The Hiroshima joint statement further goes on to mention, "We seek a region where no country dominates and no country is dominated – one where all countries are free from coercion, and can exercise their agency to determine their futures. Our four countries are united by this shared vision." However, this vision has its limitations as long as Quad exists short of an alliance. At the same time, the grouping has charted for itself a wide-ranging area of mutual cooperation.
A new 'Quad Partnership for Cable Connectivity and Resilience' was launched in Hiroshima, recognising the urgent need to support quality undersea cable networks in the Indo-Pacific. The leaders, via the joint statement, also announced a 'Clean Energy Supply Chains' initiative and its allied set of principles for accelerating the region's clean energy transition along with a fellowship scheme to boost infrastructure expertise across the region.
The Quad has agreed on a set of principles to augment cybersecurity in the Indo-Pacific along with a new Space Working Group to explore avenues to deliver Earth Observation data and other space-related applications to assist nations across the region to strengthen climate early warning systems and better manage the impacts of extreme weather events. The existing Vaccine Partnership has been elevated to a broader Health Security Partnership.
In a first in the Pacific, the Quad has agreed to join hands with the island nation of Palau to establish Open Radio Access Networks (Open RAN), with the aim of expanding and modernising telecommunications networks in the crucial subregion. A private sector-led Quad Investors Network (QUIN) is also launched to facilitate investments in strategic technologies such as clean energy, semiconductors, critical minerals, and quantum computing.
The first Quad summit
Two years ago, the White House became the venue for the first in-person Quad leaders' summit. In fact, there was one more summit-level meeting that year, in March, but in virtual mode. The joint statement following the March 2021 virtual summit was titled "Spirit of the Quad". It saw the initiation of three key working groups – on vaccine distribution, on climate change, and on critical & emerging technologies – the earliest areas of cooperation since the grouping was elevated to the apex level.
Other than the initiation of the aforementioned working groups, the leaders also pledged "to respond to the economic and health impacts of Covid-19 and address shared challenges in the cyber space, counterterrorism, quality infrastructure investment and HADR…" Moreover, the March 2021 summit specifically took cognizance of issues such as the role of international law in the maritime domain, challenges to rules-based order in the East and South China Seas, de-nuclearization of North Korea and the need for restoring democracy in junta-ruling Myanmar.
In September 2021, in their first in-person deliberations, Quad leaders extensively looked into how vaccine distribution progressed since their first virtual meeting six months ago and what more can be done in this regard by making use of each other's comparative advantages and strengths. The leaders also launched the 'Quad Principles on Technology Design, Development, Governance, and Use' to guide responsible innovation, a fellowship scheme for science and technology students from Quad nations, and has enhanced partnership in the fields of infrastructure, cybersecurity, outer space and humanitarian support to Afghanistan.
Tokyo 2022
March 2022 saw an emergency virtual meeting by Quad leaders in the wake of the Ukraine crisis. Two months later, in May, they met in person in Tokyo and called for demonstrating that Quad is "a force for good, committed to bringing tangible benefits to the region". In this regard, they launched a new partnership for maritime domain awareness in the Indo-Pacific (IPMDA) to work with regional partners in combating illegal fishing and responding to disasters by making use of information fusion centres in the Indo-Pacific sub-regions of the Indian Ocean, Southeast Asia, and the Pacific Islands and by providing near-real-time, integrated and cost-effective data to maritime agencies in these sub-regions.
Tokyo also saw the announcement of a new HADR partnership to further strengthen collaboration in effectively responding to disasters in the region. A new working group on counterterrorism was announced during the Quad foreign ministers' meeting in March 2023 in New Delhi, India. The next summit was scheduled to be held in Sydney, Australia. But the U.S. President's inability to attend the summit led to its cancellation and instead the four leaders met in Hiroshima on the sidelines of the G7 summit. Japan, thus, got to host two Quad summits in a row. In 2024, it will be India's turn to host the leaders' summit.
All Quad countries, along with several other regional countries, chose to participate in the U.S.-led Indo-Pacific Economic Framework for Prosperity (IPEF) launched in Tokyo, just ahead of the 2022 Quad summit. This gives Washington an expanded economic footprint in the region at a time when Chinese economic engagement with regional actors is increasing steadily and progressively. 2022 also saw the launch of the 'Quad Climate Change Adaptation and Mitigation Package' (Q-CHAMP) and the 'Quad Clean Hydrogen Partnership'.
A partnership that predates its name itself
In fact, cooperation among the United States, India, Australia and Japan predates the idea of the Quad itself. Nearly two decades ago, when the Boxing Day tsunami of 2004 wreaked havoc in the Indian Ocean, the four nations came together to coordinate humanitarian assistance and disaster relief (HADR) operations by forming a 'Tsunami Core Group' and acted as first responders to the looming humanitarian crisis and their collective effort continued till mid-January 2005 before handing over the mission to the United Nations.
So, even before the idea of Quad as such took shape, the four-nation grouping had its first item in its agenda – HADR. The phrase "Quadrilateral Security Dialogue" (QSD), predecessor of the present-day Quad, and the maritime construct of "Indo-Pacific" made its entry into the politico-diplomatic lexicon only three years later, led by the persuasive leadership of former Japanese prime minister Shinzo Abe. The first QSD was held in May 2007 on the sidelines of the ASEAN Regional Forum in Manila, only to get disbanded the following year due to Australia's withdrawal and differences on what the grouping's aims and objectives should be in the years ahead.
Australia backed off primarily due to the diplomatic pressure and the prospect of a promising economic relationship with a rising China. Together with unfavourable regime changes in Canberra and Tokyo in the end of 2007, the Quad remained in a dormant state for about a decade from 2008 to 2017. The fact that China successfully managed to persuade Australia to come out of the Quad just a year after its formation says a lot about Beijing's negative perceptions of the grouping, or to be precise the perception of it as a U.S.-led attempt to build an "Asian NATO" to contain its rise.
The grouping was given a new life in 2017 when the Donald Trump Administration in the United States (January 2017 to January 2021) took a special interest in reviving it by initiating a working group for 'consultations on issues of common interest in the Indo-Pacific region'. From November 2017 to March 2021, senior officials from the four Quad nations met seven times and the foreign ministers met thrice, one each in 2019, 2020, and 2021 respectively.
The grouping was finally upgraded to the summit-level in 2021 and then it was followed by in-person summits in 2021, 2022 and 2023, while the foreign ministers continue to meet annually as a precursor to the summits. Today, there is a greater convergence of interests between the Quad partners, which is unlikely to shrink any time soon. The disruptive nature of China's rise has been a constant factor that has influenced, and is influencing, agenda-setting within the grouping, particularly as a "balance of power" mechanism.
Today, the broad range of areas where the Quad countries cooperate on, as mentioned earlier, happen to be arenas of wider strategic competition with Beijing, even though they don't wish to acknowledge it explicitly. Taking into account the current trajectory of conflictual nature of geopolitics in the Indo-Pacific, these areas of cooperation and arenas of competition are poised to expand further and further with time. However, what needs to be seen in the years to come is the extent to which Quad dares to tread when it comes to the realm of hard security outside of a formal alliance.
The Tale of Two Neighbors: India and Pakistan at the SCO Summit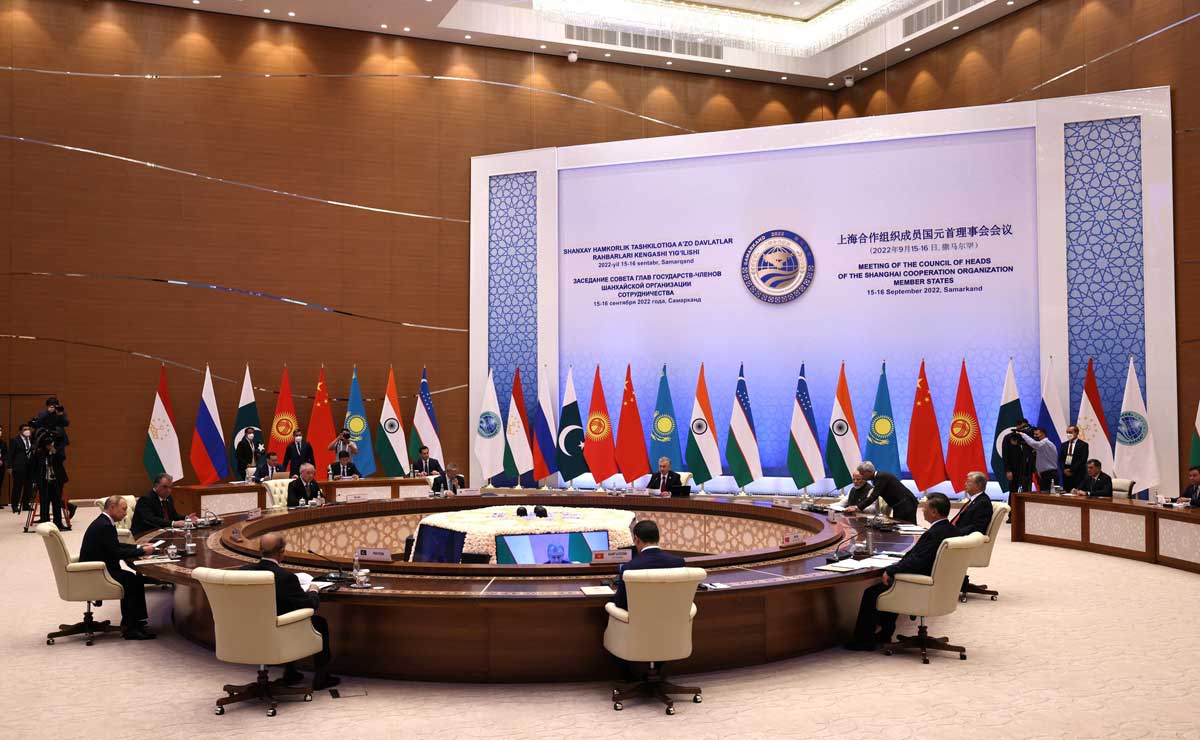 Pakistan and India are bitter neighbors who do not get along very well. Since 1947 they have fought three wars over a disputed region called Kashmir; in the same vein, they accuse each other of supporting terrorism and violating human rights. Moreover, Pakistan and India have sophisticated nukes, making their rivalry even more dangerous.
Unlike Kashmir, the issue of terrorism has had a profound impact on their bilateral relationship. India has since long accused Pakistan of supporting terrorist groups that operate on its soil and carry out attacks on its territory. Similarly, Pakistan has accused India of fueling terrorism on its territory. The most prominent example was the 2008 Mumbai attacks, in which unknown gunmen carried out a series of coordinated attacks in Mumbai, killing more or less 166 people. Surprisingly, the Indian government blamed Pakistan's Inter-Services Intelligence (ISI) for supporting the attack, while Pakistan denied it.
The two countries also disagree on sharing the waters of the Indus River, which flows through both countries. Moreover, the political and diplomatic tension has further complicated the relationship, with incidents such as the 2019 Pulwama attack, air skirmishes and the subsequent military escalation exacerbating existing tension. Despite efforts to improve ties and resolve issues through different channels, bilateral relations remain strained.
Nevertheless, Pakistan and India sometimes have to sit together and negotiate, like the recent Shanghai Cooperation Organization (SCO) summit. However, before the summit, it appeared to be an eminent development after a decade of strained relations between the two countries. The SCO previously paved the way for India and Pakistan to facilitate dialogue. Despite the periodic attempt to advance dialogue and peace talks between India and Pakistan, their relationship remained fraught with suspicion and loathing.
This year the SCO meeting was held in Goa, India. Unfortunately, the summit was not a friendly affair for India and Pakistan; the two foreign ministers, Bilawal Bhutto-Zardari of Pakistan and Subrahmanyam Jaishankar of India, took veiled swipes at each other in separate conferences.
However, it is imperative to note that the SCO is a stage that is foundationally against the "Three Evils," namely, extremism, separatism, and terrorism; the member states can use this forum to set together and discuss the issue and create a common ground to these evils. Nonetheless, the forum does not allow member states to blame or accuse each other directly for supporting these evils. Despite this, the Indian foreign minister Jaishankar deliberately beleaguered Bilawal and accused Pakistan of harboring terrorist organizations inside the country. He further describes Pakistan's position on Kashmir as effectually backing radicalism: "Victims of terrorism do not sit together with perpetrators of terrorism to discuss terrorism, he said" He even blames Bilawal Bhutto Zardari, a "promoter" and spokesperson for terrorism, and it was a ruthless dismissal at the end of the most prestigious visit between two countries in over a decade.
He also said, "Pakistan is depleting faster even its Forex reserve," which he refers to Islamabad's economic situation.
In a forum like the SCO, delegates must respect each other's views and engage in constructive dialogue. Therefore, it is not appropriate for the SCO members to accuse each other directly in the SCO summit, as it would violate the spirit of cooperation and mutual understanding that the SCO stands for. Instead, the SCO members should seek to resolve their differences through peaceful means and constructive dialogue and avoid actions that could undermine the stability and development of the region. Meanwhile, listening is essential for an effective dialogue, and the parties involved must pay attention to each other's perspectives and try to reach a common understanding of the situation and the challenges they face. Instead of resorting to aggressive or discordant strategies that can damage the relationship and hinder the resolution of the problem, parties should cooperate and work together to find a reciprocally useful solution.
Such summits should not result in any negative outcomes, as they would not only undermine the rules and regulations of the forum but also influence the behavior and attitude of the delegates and the people of the participating countries.
Case in point, the one outcome Pakistanis have learned from the recent SCO summit is that India is a terror-sponsoring country with horrific activities in its mind and no sign of respect for foreign leaders, and they are hard to negotiate with; in the same vein, Imran Khan, the former Prime Minister of Pakistan also expressed his displeasure over the way Indian Foreign Minister treated Pakistani Foreign Minister at the SCO summit, Khan accused Jaishankar of being a bad host and lacking etiquette and culture. Meanwhile, Indians, on the other hand, appreciated Jaishankar's words as an act of revenge. It is evident that India has used the issue of terrorism for political gain, often at the expense of bilateral relations. This has led to counterterrorism efforts becoming entangled with broader political and strategic interests, making it more difficult to develop a comprehensive approach to the issues.
In the interim, working together to address terrorism and promote regional stability, the SCO members must trust each other and should not confront each other. The two ministers did not meet bilaterally, and there was no sign of reconciliation in their last-longer strained relations.
However, if there are no outcomes with a sign of trust in each other among the member states, then what was the point of attending the summit? Or it means that India and Pakistan have their reason to be part of the bloc? It is worth noting that India is also a sole member of QUAD, and one of the main objectives of the QUAD is to counterbalance China's growing influence in the Indo-Pacific region. Meanwhile, India also sees China as a strategic rival and a security threat, especially after the border clashes in 2020. Nevertheless, India's participation in the Quad has been seen as a way to counterbalance China, while its participation in the SCO has been perceived as a strategy to isolate Pakistan and portray it as a state sponsor of terrorism in the international arena. Nevertheless, it conveys that India's participation in both organizations reflects a dual-game self-centered strategy.
I do not intend to accuse India of engaging in international organizations but to reveal the inconsistency of its foreign policy. India should not advance its interests at the cost of others. Meanwhile, blaming Pakistan for terrorism or calling Pakistan a terrorist country is not a solution to their ever-lasting rivalry, but such attitudes can only cite hate among the citizens, further escalating bilateral rivalry. Pakistan has long extended its hand for negotiation, and the recently proposed Kartarpur Peace Corridor was another way to improve relations between countries. However, India's choice to scuffle the special status of the undecided region of Kashmir in 2019 undermined the atmosphere for holding talks between India and Pakistan.
Lastly, to bring peace and stability to the region, both countries should foster trust and cooperation and refrain from accusing each other in international forums. South Asia has immense potential for development and cooperation, but the entrenched conflict between India and Pakistan hampers every step toward progress.