241 Companies Commit to Addressing the Disability Inclusion Gap with Valuable 500
Within just one year since the announcement of the Valuable 500 initiative at the World Economic Forum Annual Meeting 2019, more than 241 companies have signed up to the business-led initiative. It is aimed at engaging 500 leading CEOs for catalysing the influence of large private-sector corporations to create a tipping point for disability inclusion. The companies that have committed to the effort represent 9.9 million employees across 24 countries and a collective revenue of more than $3.8 trillion.
Valuable 500 aims to unlock the business, social and economic value of the 1.3 billion people living with a disability, the largest minority group worldwide. To date, only 4% of businesses are focused on making offerings inclusive of disability.
"Realizing the rights of people living with disabilities to full and equal participation in economy and society is not only the right thing to do but benefits everyone in building a common sustainable world. To tap into the full potential of human diversity, business must address this next frontier of inclusion and create accessible and inclusive working cultures for people with disabilities. The Valuable 500 is one of the catalysts for change in this regard, helping to build inclusive businesses and, ultimately, inclusive economies and societies," said Saadia Zahidi, Managing Director, New Economy and Society, World Economic Forum.
"There is a global disability inequality crisis, which cannot be resolved by governments and charities alone. If you're disabled, you're 50% less likely to get a job and you're 50% more likely to experience poverty. This is unacceptable in 2020 – we need business to come to the table," said Caroline Casey, Founder of the Valuable 500.
The Valuable 500 is a platform initiative of the Forum's Platform for the New Economy and Society. By signing up, companies across all sectors commit to closing the disability inclusion gap in their organizations through embedding inclusive leadership, building inclusive cultures and creating inclusive brands.The actions by member companies to date vary widely, from committing to having employees with disabilities represent 5% of their workforce by 2025 to ensuring accessible technology is implemented throughout an organization.
Each Additional School Year for Pakistani Girls Increases Future Earnings by Up To 10%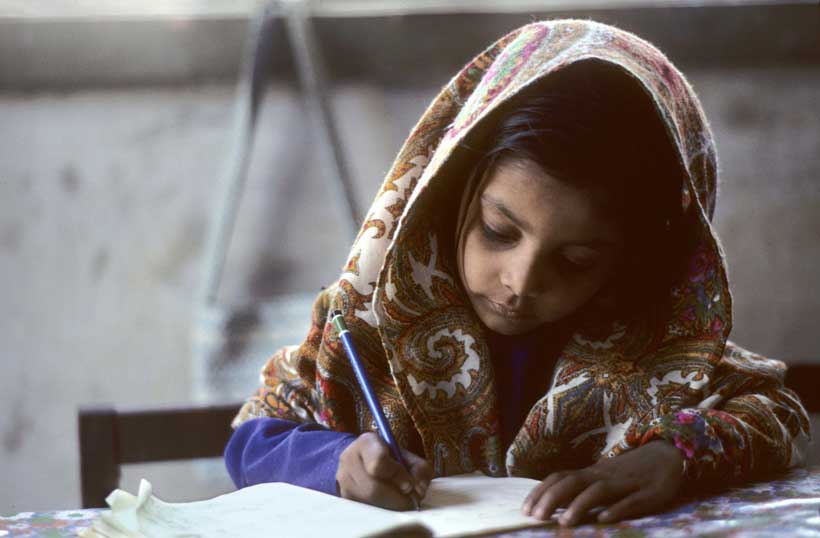 At Pakistan's Second Human Capital Summit held today in Islamabad, participants highlighted the need to invest in girls' education and women's economic empowerment as crucial to Pakistan's sustained growth.
While last year's Human Capital Summit focused on policymaking, the Second Human Capital Summit engaged practitioners, learning from insights on the ground in Pakistan. Building upon the 'Girls Learn, Women Earn' initiative launched in December 2019, the Summit – co-hosted by the Japan International Cooperation Agency (JICA) and World Bank Pakistan – marked the progress being made in Pakistan in efforts to enable girls to excel in school, and women to thrive in the workplace.
The conference was opened with remarks from Dr. Sania Nishtar, Special Assistant on Poverty Alleviation and Social Safety to the Prime Minister, and Dr. Shinichi Kitaoka, the President of JICA.
"Government of Pakistan's Ehsaas program has a very serious intent to drive forward the agenda of women empowerment. Ehsaas stringently follows fifty percent rule across the board for women inclusion in all Ehsaas initiatives including interest free loans, scholarships and asset transfers", said Dr. Sania Nishtar. "Likewise, Kafaalat that has recently been launched by the Prime Minister will ensure financial and digital inclusion of 7 million disadvantaged women across Pakistan who will now benefit from the monthly stipend of Rs. 2,000 along with access to bank accounts and affordable smart phones."
Dr. Kitaoka emphasized on the importance of investment in Human Capital.
"Investments in Human Capital, such as education, health and nutrition, are inevitable for building a progressive foundation for Human Security," said Dr. Shinichi Kitaoka. "Learning from Japan's experience, we know that countries can also enhance their Human Capital by thriving on trust and promoting the role of families and communities in national development. JICA will work pro-actively to build and nurture Human Capital by leading with trust and collaborating in the areas of education, health and nutrition as key building blocks of sustained Human Security for all."
The challenges and constraints of the education system in Pakistan to promote girls learning were discussed by the panels. Poverty, distance from home to schools, and parental perception of schools' safety were noted as three of the main determinants of school attendance for girls. In the 'Girls Learn' panel, it was highlighted that young girls in rural areas are the least likely to have full access to education and the gender gap in enrolment is a persistent issue across education levels. In order to tackle these challenges, panelists showcased Accelerated Learning Program which provides overaged out of school children with learning opportunities for their Human Capital development as a good practice from within Pakistan.
"Every additional year of schooling for a girl increases her future earnings by up to 10%," said Illango Patchamuthu, World Bank Country Director for Pakistan. "Pakistan can use the untapped economic potential of women in the workforce and estimates indicate this can boost the economy by up to 30%, by empowering women and girls to expand their skills, access to information, mobility, and access to finance and assets."
Another panel on 'Women Earn' emphasized the potential for women's access to finance and affordable, safer transport as two key areas that can unlock women's participation in the economy. Current research shows that only 11 percent of women in Pakistan utilize banking services, and Pakistani women are four times less mobile than men.
Representatives from the government, academia, development organizations, commercial banks, telecom industry, startup ecosystem, fashion industry, civil society and media also participated in the Summit.
Girls Learn, Women Earn Initiative
The 'Girls Learn, Women Earn' initiative invites any institution to sign up to be a GLWE champion from December 31, provided they meet the registration criteria, which will be set by an independent panel of advisors. The GLWE campaign began on December 1, 2019 and will continue until March 10, 2020, just after International Women's Day on March 8.
APEC Needs to Look Beyond Numbers, Bring Concrete Benefits to People
The current volatility and uncertainty of the international trade environment requires APEC to be dynamic, said Dato' Sri Norazman Ayob, Deputy Secretary General of Industry of Malaysia's Ministry of International Trade and Industry.
"Integration of the global supply chain carries inherent systemic risk of disruption to domestic economies in the event of a major breakdown along the value chain," he said during his remarks at a dialogue with stakeholders focused on APEC's post-2020 vision in Putrajaya on Wednesday. "Businesses would need to constantly reassess their business models to ensure business continuity."
Notwithstanding, the ever-changing environment requires constant rebalancing measures from regulators and industry players to encourage domestic industrial development to ensure economic growth remains sustainable.
Norazman argued that as the premier economic forum in the region, APEC needs to realign its priorities to look at economic growth beyond creating equal opportunities and prosperity through trade and investment, "but also tangible benefits to the people."
He noted that APEC's goal of free and open trade in the region, otherwise known as the Bogor Goals, has brought integration to the region by reducing trade barriers and addressing regulatory issues.
Average tariffs within APEC have fallen from 17 percent in 1989 to 5.3 percent in 2018. During the same period, APEC's share of world's trade increased from 41 percent to 48 percent. APEC economies account for more than 80 percent of Malaysia's total trade.
"Despite these achievements, we are very much living in a world where uncertainty is the new normal and economies have to be prepared to constantly embrace change in order to survive in the current global environment," Norazman explained.
One of the key deliverables for Malaysia as the host of APEC this year is to lead the development of the new APEC vision that will guide the forum's work in the next decades.
Guided by the overarching concept of "Shared Prosperity", Malaysia plans to introduce initiatives to enable trade and investments to generate concrete outcomes for the people in the region.
According to Norazman, Malaysia will promote the development of the digital economy and encourage effective use of advanced technologies to improve living standards, create equal employment opportunities and achieve a more balanced growth across the region.
"The Post-2020 Vision has to ensure that people are put at the core of the discussion," he concluded. "A more holistic approach that includes inclusivity, equality and sustainability can be explored in ensuring that no one is left behind."
Senior Officials from APEC economies will gather in Putrajaya on 21-22 February 2020 to discuss the initiatives and work plans for the year.
Large Protest Erupt In the Capital of Haiti After Kidnappers Murdered Victims
Multiple protests erupt across Port-Au-Prince, the Capital of Haiti, after kidnapping victims murdered by unknown kidnappers.
After years and months of protests (Peyi Lòk) across Haiti for the resignation of Jovenel Moise and PHTK about the PetroCaribe funds, the country is going through a kidnapping crisis and dozen of people are reportedly going missing and abducted by kidnappers who are demanding a large amount of cash to let the victims go back where they took them from.
In the past few years, after millions of young Haitians spent 2017 to 2019 on the streets, demanding President Jovenel Moise resign over his government's failure to prosecute years of unbridled corruption that siphoned billions in international aid into bank accounts overseas. Unfortunately, after all the protests, 187 protesters killed, 44 police officers killed, 2 journalists killed, President Jovenel Moise refused to step down along with his party named Haitian Tèt Kale Party (PHTK). After all the chaos, the beginning of February 2020, the country can't take a break from unknown kidnappers and gang members.
The kidnapping crisis used to be like this back in 2004 but Police Nationale d'Haiti (PHN) stopped it by arresting and punishing those responsible for these crimes. Unfortunately, the same crisis is happening again across the country and everyone is wondering who's behind these kidnapping acts in 2020.
During a press meeting, the spokesman of the police institution, Michel-Ange Louis-Jeune, had mentioned the absence of formal complaints to agree on the resurgence of acts of kidnapping in the capital until the victims' families told him it's true.
"Nap rezoud problem kidnapin sa yo, epi nap fe tout sa nou kapab pou retire Ayiti nan sa li ye la jounen jodia.", Said the spokesman of the police institution, Mr. Michel-Ange Louis-Jeune.
According to Police Nationale d'Haiti, among those who got abducted by the kidnappers on FEB 8th were 5 members of a Church in Port-Au-Prince called l'Église Baptiste le Phare de Martissant. The kidnappers demanded $3M GOURDES to release the victims in order to keep them alive. The Haitian National Police (PNH), with the launch of Operation "Iron Curtain", seems to be ACTIVE regarding the kidnapping acts across the country in order to solve these issues.
According to local media like Bon Déjeuner! Radio and Rezo Nòdwès, those concerned Christians were on a mission in the commune, that's when they were attacked and then kidnapped by armed men. Relatives of the victims said that the kidnappers demanded $3M Gourdes as a ransom to be able to set them free.
Jean Rubens Eugène, another young person from the same Evangelical Assembly was killed, on the night of Tuesday, February 11, 2020, at 4th avenue Bolosse, south of Port-au-Prince, when he was preparing to give to kidnappers the sum required for the release of the 5 young hostages.
In results of the killing of Jean Rubens Eugène, the teen who got killed by the kidnappers, a huge protest occurs in Port-Au-Prince on FEB 12th to demand justice for those who got abducted and killed by kidnappers and the protesters used this opportunity to demand the resignation of Jovenel Moise and PHTK because the Haitian Government refused to comment on the crisis that the country is going through. The opposition leaders and other political leaders blame the current Haitian Government for these issues in 2020.
"I think the country is going through a lot this year and it's a shame that the current Haitian Government is quiet about those crimes.", said Mr. Werley Nortreus, a political leader and founder of Vanyan Sòlda Ayiti and A New Haiti Before 2045 (ANHB 2045).
From reports, multiple men, women, and children got abducted by the kidnappers. Among those who got abducted are killed and some never got released yet. Unfortunately, the Police department can't help release everyone the kidnappers got, but PNH is doing the best to help save everyone.
"I think Haiti needs young educated leaders and visionary like me and others to lead the country in the right direction this 2020 before it's too late.", said Mr. Werley Nortreus, and other protesters.
Haiti's parliament shut down indefinitely in January 2020 because of the chaos, eliminating the check on presidential power that paralyzed Moise for years. Thursday marks the president's first month of ruling the country by decree, but it looks like the country got worse.