Xiamen Marathon's race towards sustainability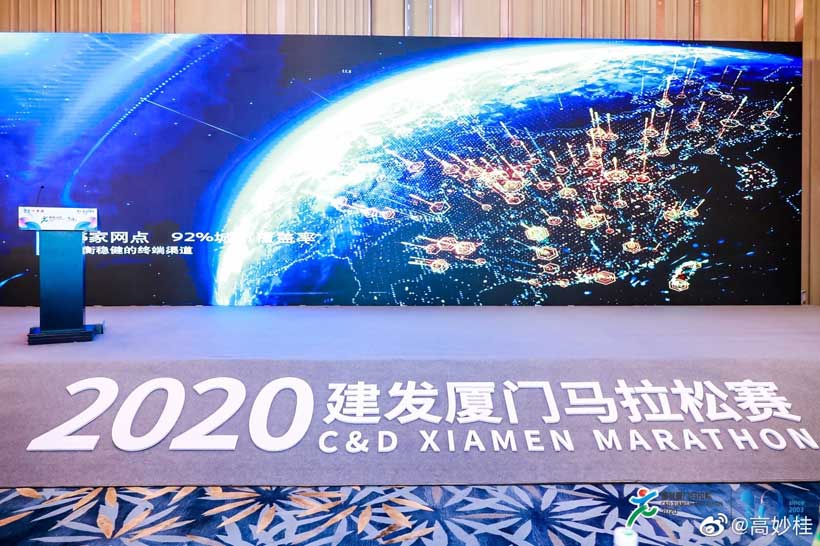 On 5 January 2020, the Chinese coastal city of Xiamen held the first IAAFWorld Athletics Gold Label road race of the year. After 42 grueling kilometres, 35,071 runners from 41 countries and regions successfully finished the race.
However, the marathon's race towards sustainability is only just beginning.
Last year, Xiamen Marathon became a competition with a difference—heavy on sustainability, light on single-use plastics and the first international marathon to join United Nations Environment Programme's (UNEP) Clean Seas campaign. The organizers pledged to reduce plastic waste by 60 per cent through a series of measures that included replacing nearly 1 million single-use plastic cups with biodegradable ones made from maize straw. Single-use plastic bottles were also banned, eliminating some 200,000 bottles that would usually be discarded along the route.
Building on the change from last year, in 2020 the organizers scaled up their green ambitions. They moved towards the concept of "circularity," by reusing and recycling waste from the marathon where possible, and setting up a plastic bank at the end of the racecourse to encourage participants to deposit plastic to be recycled for use at next year's marathon.
A 17-year-old Xiamen Marathon tradition continued; while elite runners sped along the course, family groups followed behind, picking up litter and mimicking a growing global trend known as "plogging". Women pushed buggies as their children walked alongside, collecting rubbish and learning a valuable life lesson at the same time.
Billboards and flags with Clean Seas messaging were exhibited throughout the marathon, spreading the message that the world needs to do more to turn the tide on plastic pollution.
Advancing towards carbon neutrality, participants were able to claim saplings on site which will be planted in the North-Western desert in China through the China Green Foundation.
The organizers also made efforts to reduce the marathon's contribution to air pollution by providing free electric shuttle buses between the race site, the airport and train stations, as well as shared bicycle parking. The start and finish of the race was Xiamen International Conference and Exhibition Center, accessible via public transport, which attendees were heavily encouraged to use. The guiding cars throughout the race were also electric. A total of 35,071 runners from 41 countries and regions participated in the event, with Ethiopian runners dominate in both men's and women's competition in the largest marathon in China. However, the most highlight was arguably the ocean with the Xiamen Marathon setting its own personal best for a sustainable sporting event.
In October 2019, Xiamen Marathon was awarded the 2019 Green Award by the Association of International Marathons and Distance Races, the member organization representing more than 460 of the world's leading distance races. Xiamen Marathon became the first Chinese running event to win the Award, in recognition of excellence in environmental practice through its efforts in fighting climate change, reducing waste and raising environmental awareness.In this year's race, Xiamen Marathon advocates Car-free Day on the race day. The start and finish of the race is Xiamen International Convention and Exhibition Center accessible by many public transport options which are promoted by the race. Free shuttle buses are provided to runners by the race while shared bicycle parking is provided.
The race's collaboration with the Clean Seas campaign was of great significance, said Hua Yun, from the Xiamen Marathon Committee, adding that there is still a long way to go to make the whole race pollution-free. The committee will continue to support the Clean Seas campaign and explore all possible options to reduce, reuse and recycle marathon waste.
"We take our environmental responsibilities very seriously," Yun said. "We have taken steps towards becoming a sustainable and green sport but there is still lots of potential to explore. We are delighted that all of our environmental work has been aligned with this international organization. Partners are increasingly joining the fight against pollution."
UNEP's Clean Seas campaign was set up in 2017 to galvanize mass social change against marine litter. Since then, 60 countries around the world have joined the campaign, committing to reduce their consumption of single-use plastics, and to move towards circularity.
According to UNEP's Head of Public Advocacy and Communication, Atif Butt, "The Clean Seas campaign advocates for the fact that everybody can and should play a part in combatting the issue of marine litter. Individuals can change their consumption behaviour while governments and big businesses can improve their practices and policies. The Xiamen Marathon, as part of this larger mix, highlights the importance of sport and sporting events also having a part to play in combatting pollution. Clean Seas invites other sporting bodies to follow suit."
Celebrate your love for the ocean, virtually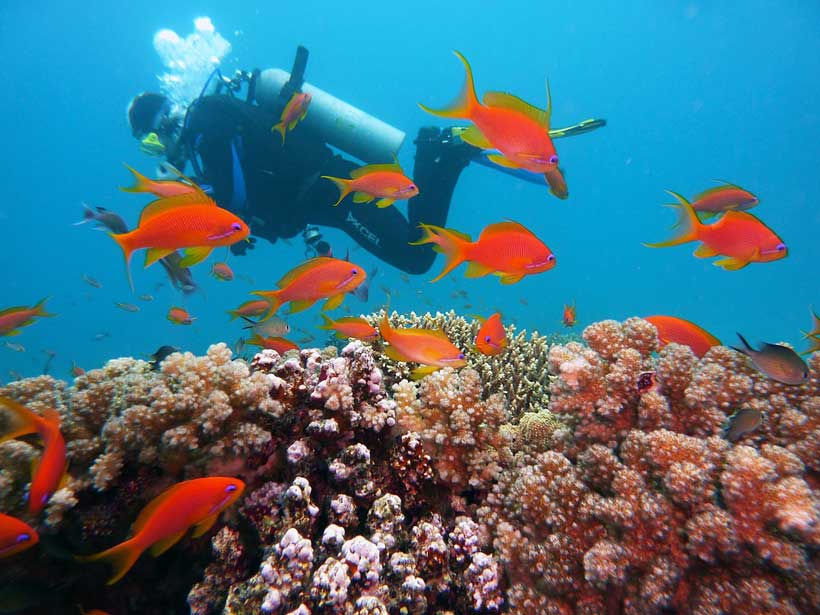 Remote diving is the new remote working.
Schools, events and activities in so much of the world have come to a standstill in the wake of COVID-19, with little or no movement recommended. But that does not mean we cannot still enjoy the world and mysteries that abound below and above its surface.
The Ocean Agency, a partner of the United Nations Environment Programme, is inviting parents and their little ones to experience the ocean and its astounding life forms from the comfort of their homes through a little armchair travel.
Get inspired and engaged with virtual dives, expeditions and ocean quizzes about the fascinating underwater world in a click on your phone or laptop.
Discover coral reefs—some of the Earth's most diverse ecosystems, full of color, life and mystery—and why they are vanishing at an unprecedented rate due to climate change, pollution and other destructive human activities. Find out why corals are glowing and what this means, not only for marine life, but also for our planet through the "Adventure behind Chasing Coral", the Voyager story that features the glowing corals phenomenon.
Who is your kindred reef species? Discover and make your own photo morph to share on social media here.
Get more details about coral reefs, which a quarter of all marine life calls home, and meet some of the ocean's most captivating creatures through the Google Earth Voyager. It is available on desktop, laptop, iPhone and iPad. Download the Google Earth App to dive in to explore the fascinating underwater world, including remnants of World War II as they stand today.
Take an excursion and encounter marine animals, manmade coral reefs and explore shipwrecks using Google Expeditions, available on iPhone and iPad only.
Explore much more here: https://theoceanagency.org/oceanedu
China: Developing Green Finance in Agriculture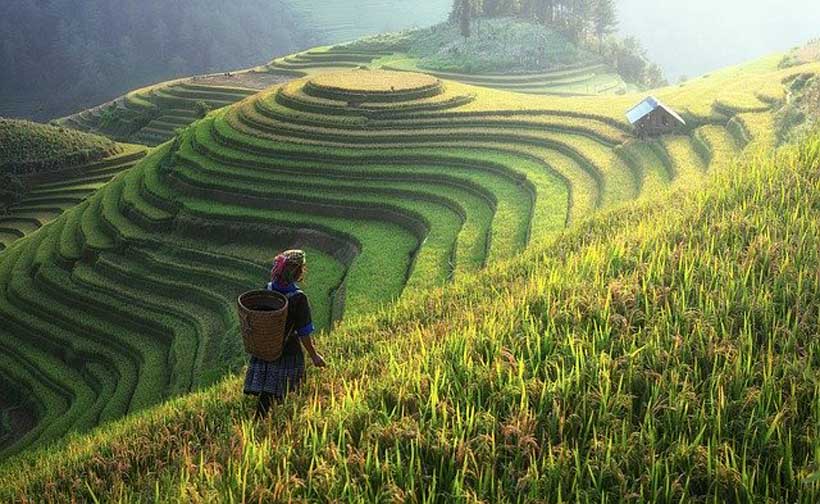 The World Bank's Board of Executive Directors today approved a loan of Euro 267.2 million (US$300 million equivalent) for China to foster green agriculture investments, development of standards, and technological innovation in Henan Province.
"This project will support the development of a green agriculture financing mechanism that can leverage commercial investments and boost the adoption of innovative technologies. It will help China fill the gap in green financing standards and generate useful lessons for other parts of China and increase the quality and safety of agricultural food products," said Martin Raiser, World Bank Country Director for China. "This project has a strong focus on promoting global public goods. Through this project, both China and the world will benefit from reduced agricultural pollution and emissions."
China's agricultural sector accounts for about 14 percent of global agriculture-related greenhouse gas (GHG) emissions and is a major source of two highly potent GHGs: methane and nitrous oxide. The level of green financing in China is low due to a general reluctance of financial sector institutions to finance agriculture investments, which are perceived to be of high risk and relatively low return. Lack of clear green finance standards has also been an obstacle to developing the market and attracting investments.
The Henan Green Agriculture Fund (GAF) Project will support the establishment of a dedicated investment facility to demonstrate the viability of financing green agriculture investments by providing financing for equity investments and on-lending to eligible firms. Henan is a major agricultural province with some of the highest output of livestock and grains in China. At the same time, agriculture has a significant environmental footprint. For example, Henan is the largest consumer of chemical fertilizers and the second largest consumer of pesticides in the country.
The GAF will finance green agriculture projects, which are defined as those that achieve more resource-efficiency and environmental sustainability, are climate-smart, and increase the quality and safety of agri-food produce. Financing could go towards green inputs and equipment production, reduction and elimination of chemical fertilizer, pesticide and plastic use through good agriculture practices; investments in technologies and practices that reduce GHG emissions and nutrients run-off; investments in improving energy and water resource use; and investments in reducing food loss and waste. Seventy-five percent of the project's activities are expected to provide direct climate co-benefits.
The project will foster the development of green agriculture financing standards based on globally accepted green investment principles, good practices and performance benchmarks, as applicable to China's agriculture sector. These would cover such areas as identification of green agriculture investments, improved processes for project evaluation and selection, management of social and environment risks, and measurement and reporting of environmental benefits based on scientific evidence, transparency and accountability.
The project will be implemented by the Henan Agriculture Development Fund Investment Corporation, which will serve as the fund manager and investor. About 60 small and medium enterprises (SMEs) in the agriculture sector are expected to receive financing through the GAF. The project should also have a catalyzing impact by directly and indirectly mobilizing public and private funds to support green agriculture investments by these SMEs.
Coronavirus and Climate Change: Observing World Water Day
A message from Dr. Jennifer Blanke Vice-President, Agriculture, Human and Social Development African Development Bank
The theme of this year's World Water Day, observed on 22 March, is water and climate change. The issue has taken on greater urgency, given the global spread of coronavirus, also known as COVID-19, responsible for over 13,000 deaths worldwide to date.
Hand washing with soap and water is the first line of protection against coronavirus. Scientists say soap renders coronavirus cells inactive and weakens the virus' bonds to the skin.
As we commemorate World Water Day today, an estimated 400 million people in Africa still lack access to safe water, while 700 million lack access to proper sanitation.
Another factor compounding these dire statistics is extreme weather events associated with the impact of climate change. Africa bears the brunt of increased frequency and severity of drought, floods and cyclones – perhaps more than other regions of the world – due to the continent's low capacity to adapt to and mitigate the impacts of climate change.
For example, in the Horn of Africa, drought is exacerbating water scarcity and negatively impacting human health and productivity. According to the United Nations Office for the Coordination of Human Affairs, drought in the Horn of Africa in 2019 left an estimated 11.7 million people severely food insecure and over 785,000 children severely malnourished. The Office notes that escalating food insecurity further heightens risks, especially for women and girls, who must travel longer distances to fetch clean water for household cleaning, washing, drinking and food preparation.
After two major cyclones tore through Mozambique last year, government officials said the extreme weather events and subsequent flooding had caused $2.8 billion in damages and losses. This included an estimated 190,000 damaged sanitation units and more than 211,000 people left with restricted water access.
World Water Day is an opportunity to look at Bank investments that support Sustainable Development Goal 6, which calls for the availability and sustainable management of water and sanitation for all, and Sustainable Development Goal 13 on climate action.
Over the last decade, the Bank invested an estimated $6.2 billion in water supply and sanitation services. The Bank has also mobilized an estimated $150 million in climate finance from the Global Environmental Facility and the Green Climate Fund to co-finance water sector projects. The outcome: an estimated 52 million people getting access to improved water supply and sanitation services. Over the next 12 years, Bank water sector investments aim to provide an additional 154 million people with the same, across Africa.
The Bank also supports the development of climate-resilient, multipurpose water programs for storage and sectoral use – like hydropower, irrigation and river regulation – as well as investments that mitigate water-related disaster risk such as drought, flooding, cyclones and storm surges. For example, the Bank and development partners financed $210 million for the Program for Integrated Development and Adaptation to Climate Change in the Niger Basin. Covering nine countries, the project promotes investment in climate-resilient, hydro-agricultural infrastructure, sustainable land and water management as well as strengthened climate risk management.
We are committed to supporting climate action in the water sector and to scaling up climate finance to achieve water security, while pursuing an Africa with more sustainable and inclusive economic development.
Washing hands with soap is a major defense against COVID-19. It reminds us that water can be a matter of life or death. As we observe World Water Day, the coronavirus pandemic is a call upon all of us – member states, development partners and allies in Africa and beyond – to prioritize and invest in water supply, sanitation and hygiene.
Happy World Water Day!